HipDot x My Chemical Romance Makeup
Calling all My Chemical Romance fans, it's time for us to gear up with colours to take down Better Living Industries together. My Chemical Romance has teamed up with US makeup brand HipDot to bring a vibrant and shimmery makeup collection inspired by their 2010 Danger Days album. 
The Collection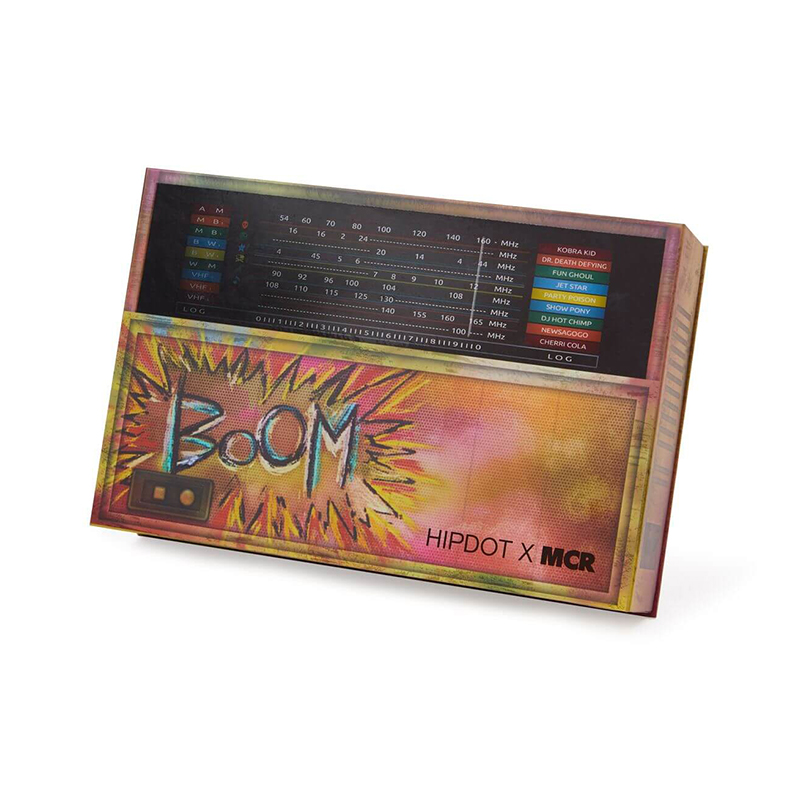 This isn't My Chemical Romance's first collaboration with HipDot. Last year, the band released its first makeup line inspired by their 2004 album Three Cheers For Sweet Revenge that sold out within a day. This time round, the Danger Days Collector's Box will be available for pre-order instead, so fans who missed out on the previous collection should cop this set while they can, stat.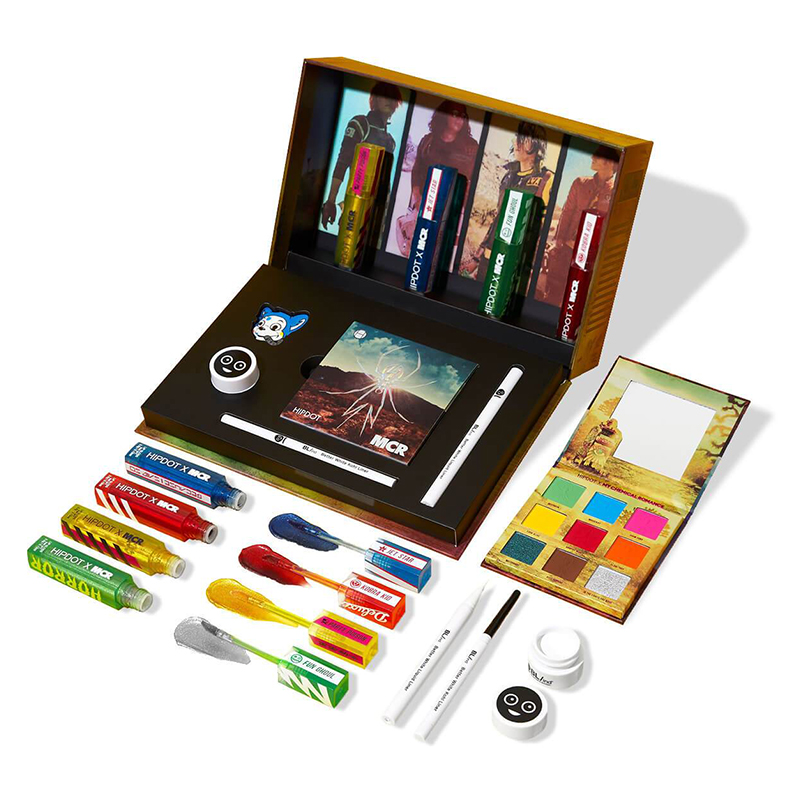 The box itself is a collector's item for fans to keep alongside their MCR albums. Featuring an eyeshadow palette, lippies, eyeliners and a primer pot, all of the items in this collection are vegan and animal cruelty-free as well.
Eye makeup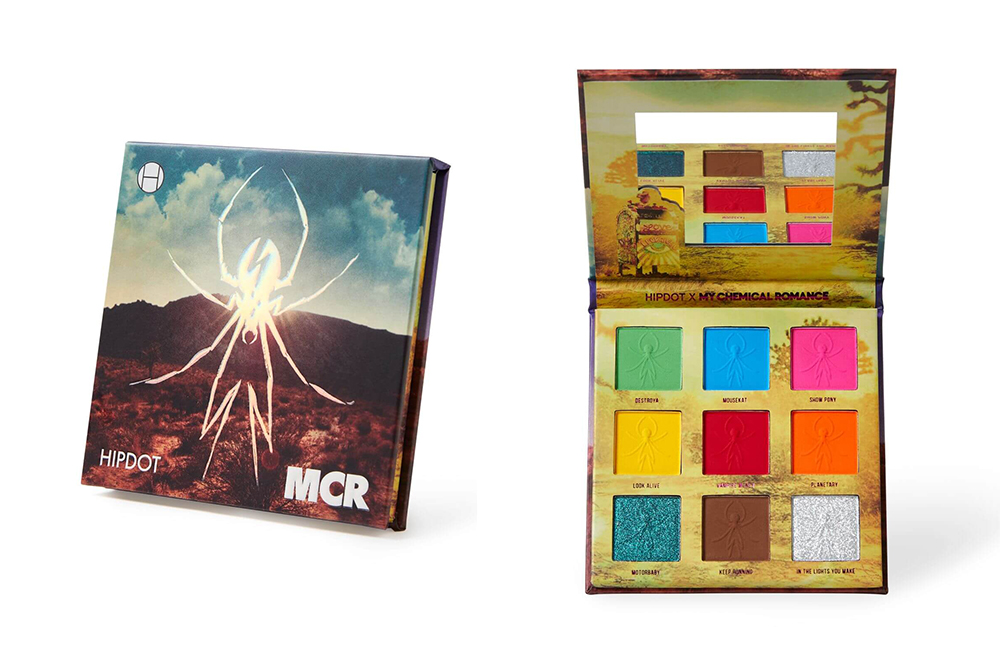 From first glance, any MCR fan will be able to tell that the eyeshadow palette cover looks just like the album Danger Days: The True Lives Of The Fabulous Killjoys. Unlike the conventional goth punk vibes with intense black eyeliners that MCR used to go for, the theme of this album took on a much more colourful look that is reflected in the palette. 
The eyeshadow palette is named after one of the songs in this album, Art Is The Weapon.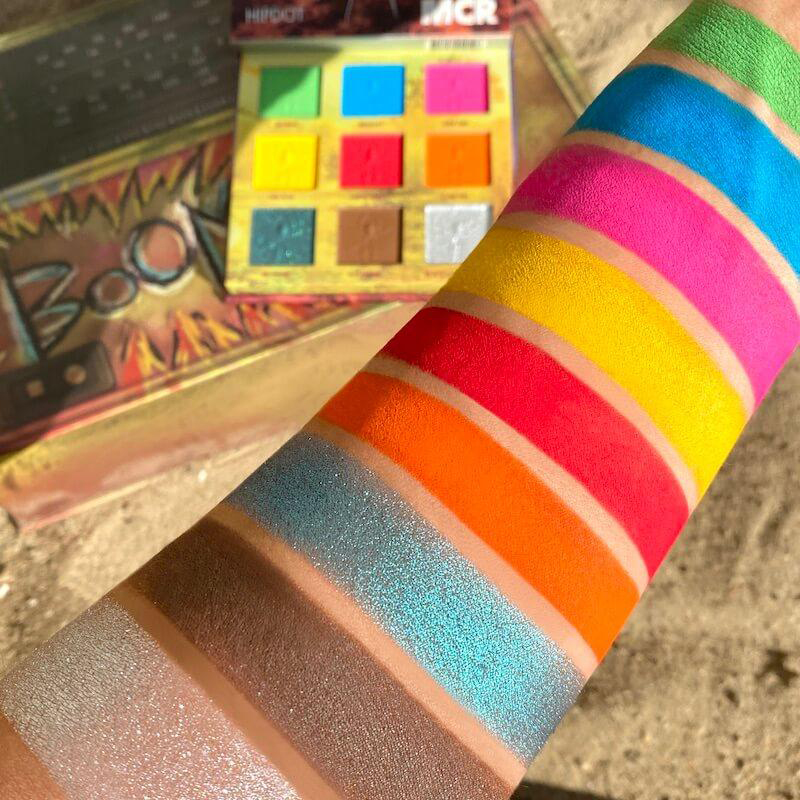 Fans won't be disappointed with the vibrant matte colours such as pink, green, blue and red. After all, HipDot is known for their highly pigmented shades. Shimmery colours such as blue, brown and white can be used to blend into the eye crease for a more dramatic effect. 
These unique colours are perfect for making a bold makeup statement when music festivals and concerts resume again.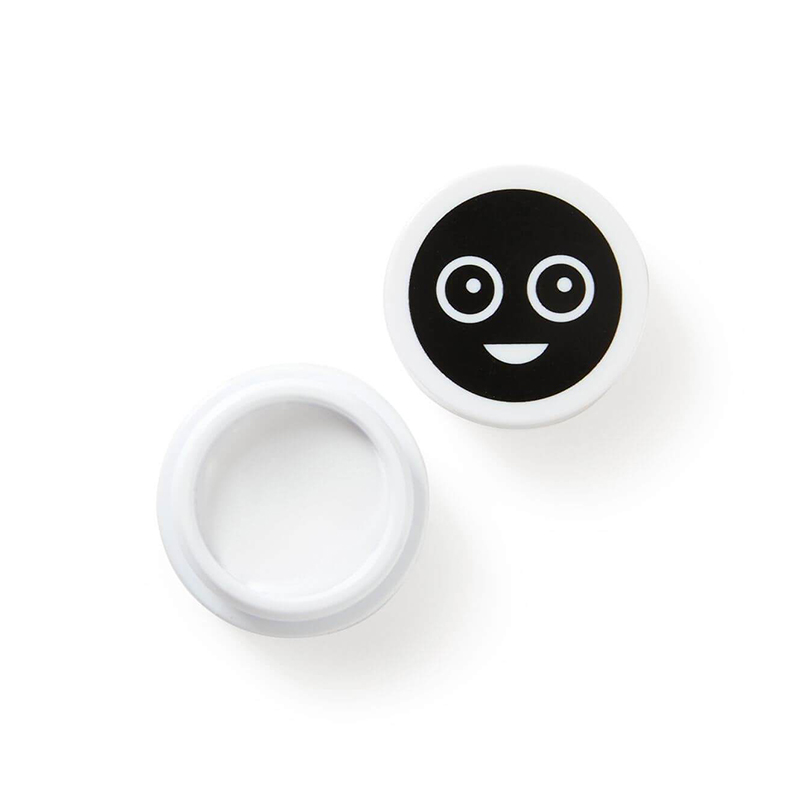 Don't be fooled by the seemingly adorable smiley on the primer pot, as Killjoys – what MCR fans are called – can recognise the logo for the evil corporation, Better Living Industries, anywhere. The white eyeshadow primer base is long-lasting too. It can be applied prior to the eyeshadow to bring out the full potential of the colours.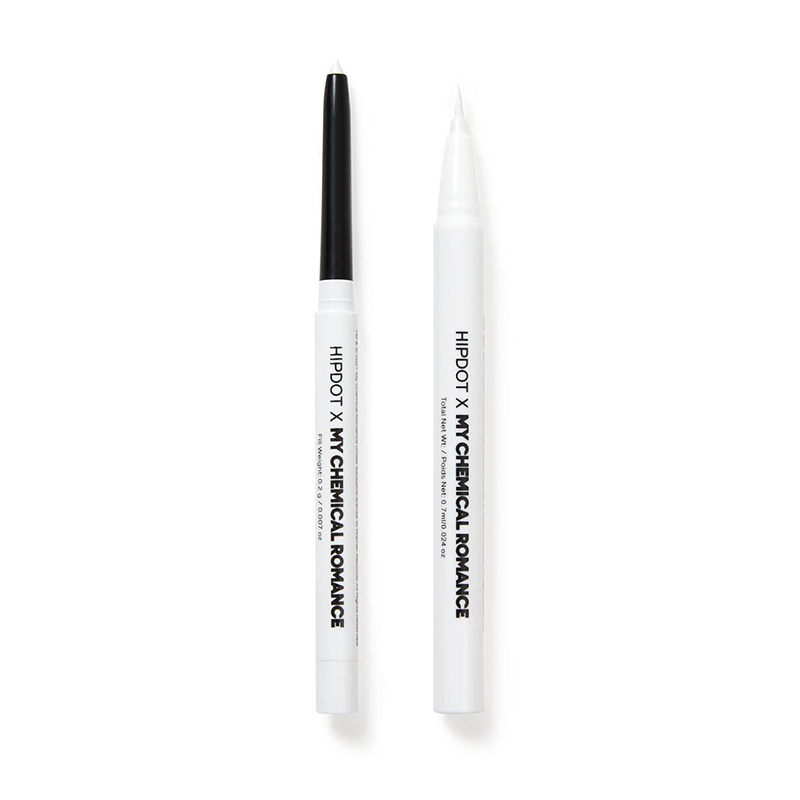 Complete your eye makeup look by applying the Better White Liner Duo Set to your waterline. As graphic eyeliners continue to become a popular makeup trend, explore beyond the standard colours of black and brown with this pencil and liquid eyeliner.
Also read:
This Mahjong Eye Shadow Collection Has 42 Shades To Make You Win Both Your Gambling & Beauty Game
Lippies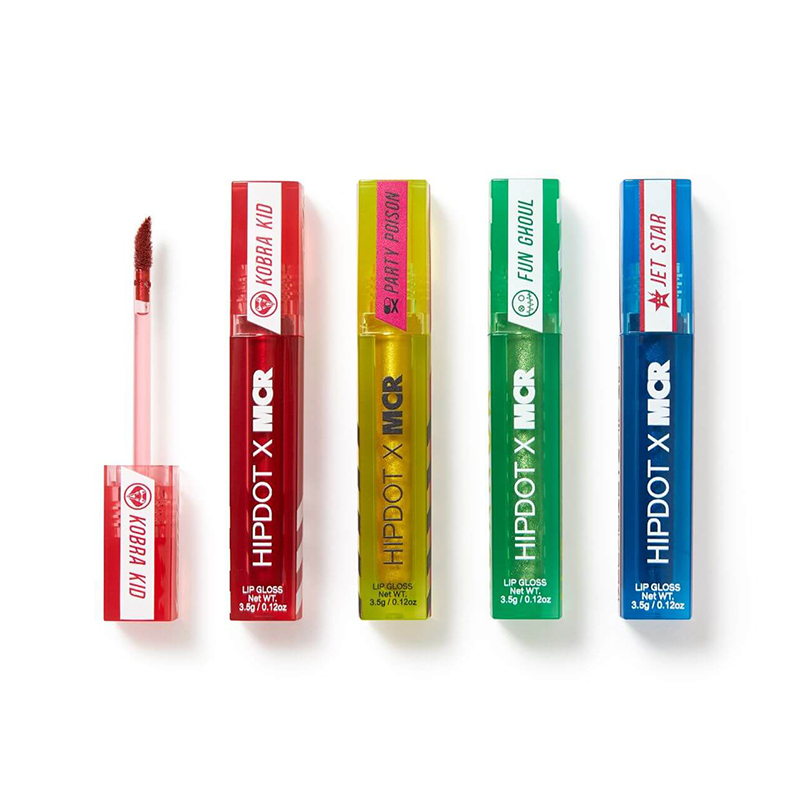 The Fabulous Killjoy Lipkit comes in 4 bright liquid lipstick shades inspired by each member's alter egos. These shades are named Kobra Kid in red for Mikey Way, Party Poison in yellow for Gerard Way, Fun Ghoul in silver for Frank Lero and Jet Star in blue for Ray Toro.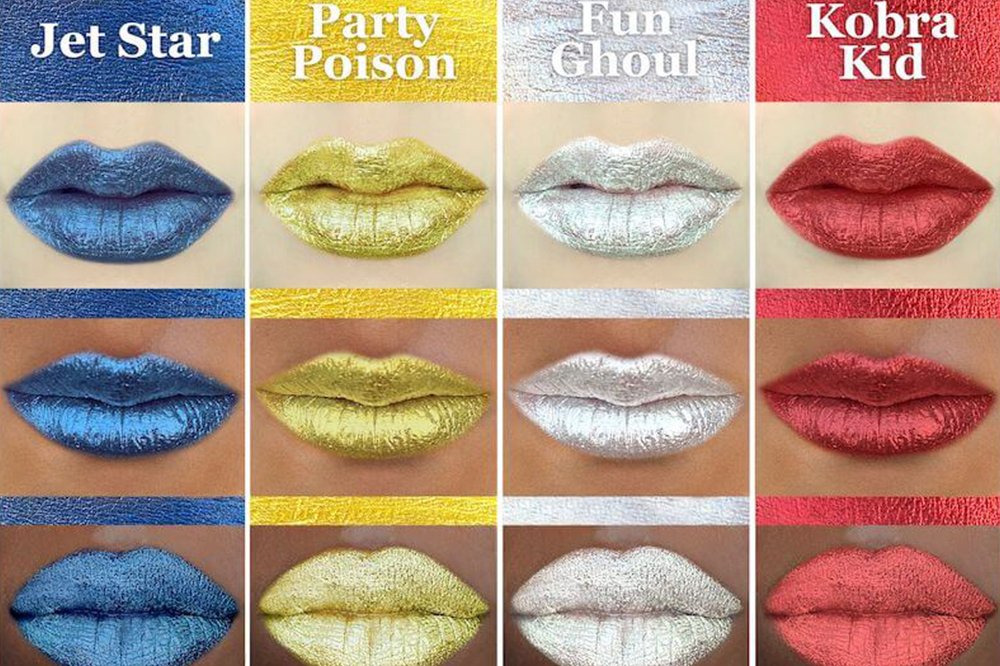 While the Fun Ghoul lippie packaging is in green, its actual lipstick shade is in silver. Once again going against conventional lipstick colours of red and pink, these metallic shades are sure to stand out no matter your skin type.
Accessories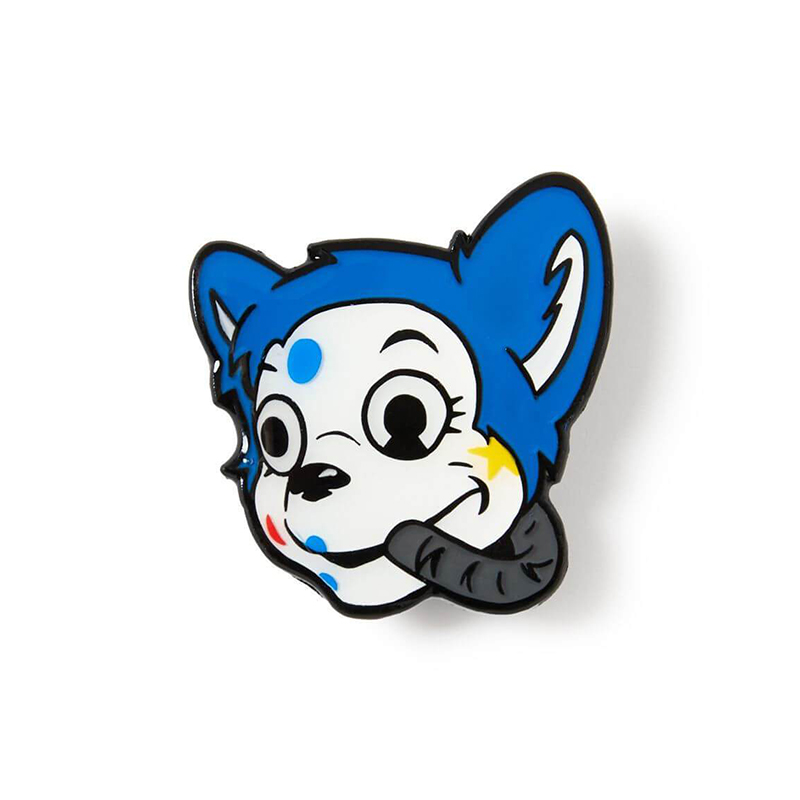 There is also a limited edition MCR Mousekat head pin that reminds us of Hazel and Cha-Cha's masks in The Umbrella Academy. Not surprising, since the band's lead singer Gerard Way wrote the hit Netflix TV series.
The Umbrella Academy was heavily inspired by the Danger Days album. Fans have also speculated that these fictional scenarios took place in the same realm.
The My Chemical Romance Makeup Collector's Box Invites Fans To Take Down Better Living Industries Together
Change the world and take down the enemy of Better Living Industries with your fab makeup looks from this collection. My Chemical Romance Danger Days Collector's Box x HipDot is available for pre-order on My Chemical Romance's website for USD$98 (~SGD$133). 
When My Chemical Romance announced their disbandment in 2013, fans all over the world were devastated, only to be shook by a sudden comeback 6 years later. Unfortunately, their 2020 comeback tour had to be put on hold because of the pandemic. So this makeup collection feels like a gift while we're waiting for the day to see the band perform live again. 
In the meantime, check out this list of cute compact mirrors to take with you on-the-go to ensure your makeup is always on fleek. 
All images courtesy of HipDot.
Also read:
The New ColourPop x Powerpuff Girls Collection Will Be The Chemical "X" To Your Makeup Routine