Otters At Gardens By The Bay
From Jewel Changi to the Apple store at Marina Bay Sands, we have no shortage of icons that make us feel proud to be a citizen of Singapore. Another iconic landmark is, of course, Gardens By The Bay. Combining this well-loved attraction with our love for otters is a brand new otter-themed pop-up, Otah & Friends at Gardens By The Bay. 
The first otter-themed escapade in Singapore, Otah & Friends is a hide-and-seek experience that is suitable for all ages. The pop-up opens on 15 December but you can already start booking your slots on the Otah & Friends website.
Otter-themed pop-up
The main character of this themed pop-up is Otah. In case you were wondering, he is not a part of the Bishan or Marina otter families in Singapore. You have 15 minutes to find Otah by solving clues scattered around his pink house. 
Stepping into his house for the first time, you will be greeted by brightly coloured walls and furniture. While busy sourcing for clues, don't forget to snap some pictures against the vibrant backdrops to update your Instagram feed!
Even though you only have 15 minutes to find Otah, the full experience will take 45 minutes. This includes a 15-minute pre-show and a 15-minute tea party with Otah and his friends. 
At the end of the game, you'll get to go into Otah's backyard and treat yourself to some lemonade and treats from local bakery Whiskdom. After that, head to the merchandise store where you can purchase super cute Otah & Friends collectibles.
Spend Quality Time With Your Loved Ones Alongside Otters At Gardens By The Bay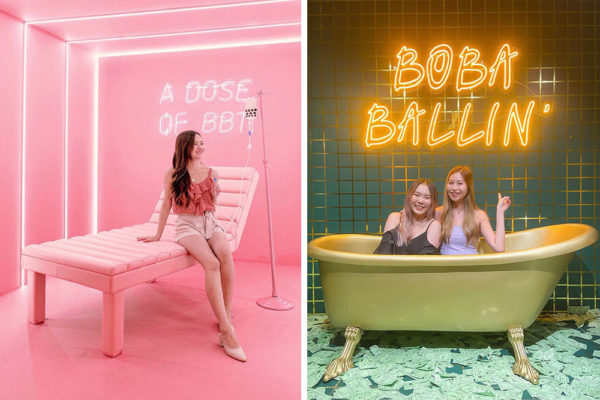 Bubble Tea Factory in 2019
Otah & Friends is organised by El Masnou, the same company behind another IG-worthy pop-up, the Bubble Tea Factory in 2019. According to the company, this is the first instalment of a series of otter-themed experiences they have planned. 
The pop-up will run from 15 December 2020 to 26 February 2021. Tickets are available on the Otah & Friends website at $15 per person, with a maximum of 5 visitors for each time slot. Groups of 5 will enjoy a special rate of $12 per person, and get to have the whole space to themselves. Jio your besties and create precious memories while solving clues together and taking loads of photos with Otah & Friends. 
All images courtesy of El Masnou.
Also read:
Sentosa Will Have Giant Light Installations With Sanrio Characters & IG-Worthy Backdrops, Admission Is Free