Pinball Wizard At Sim Lim Square
Pinball Wizard is a new bar at basement 1 of Sim Lim Square. But chances are, you might miss its humble facade. Located right next to Subway and near a food court, the entrance is just a door without any obvious signage.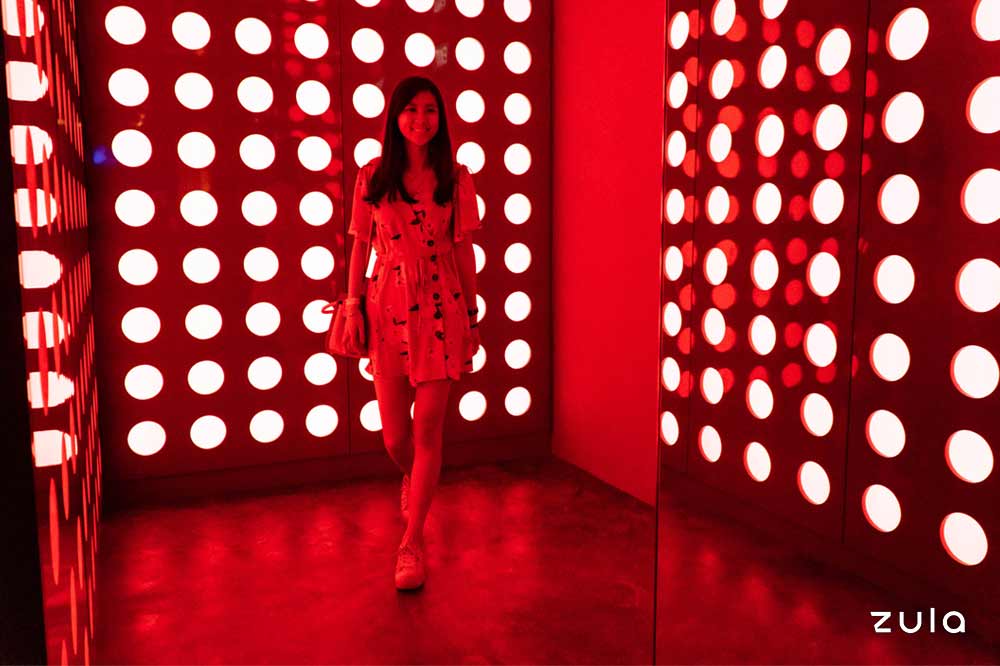 Once you push past the door, you will find yourself in an entryway lit with red LED lights.
Besides the spacious dance floor, the first thing that will probably catch your eyes in the bar will be the pinball machines on display. 
All-you-can-play pinball machines 
The bar boasts 8 digital and analogue pinball machines of different themes to keep you entertained all night long.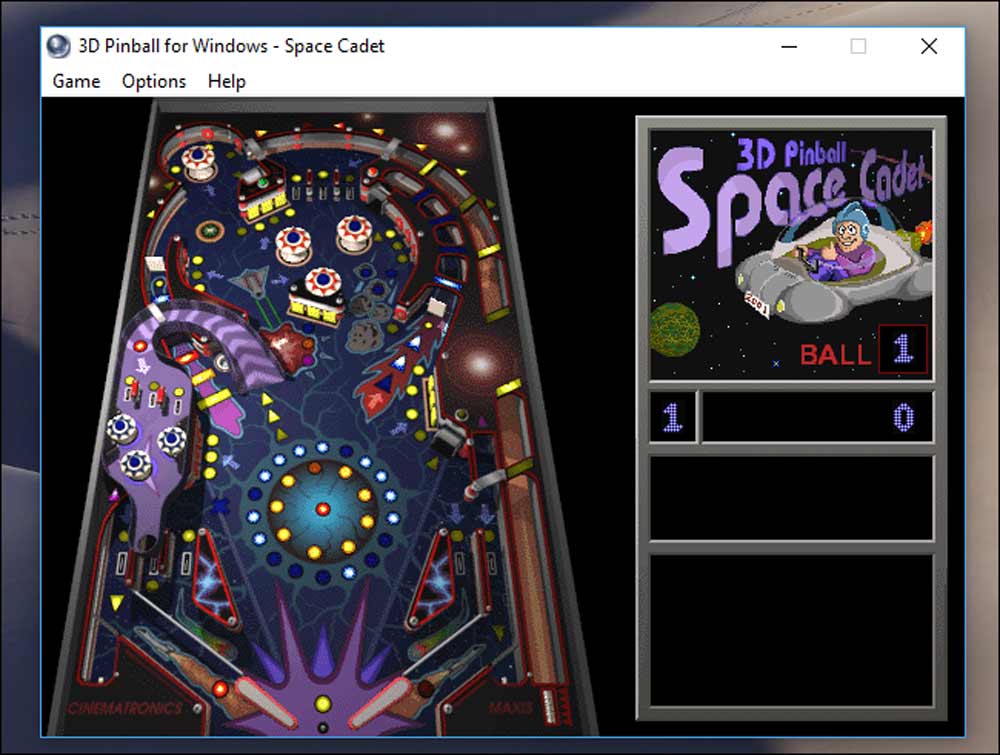 Source
If you grew up in the '90s, you might remember the 3D Pinball Space Cadet game pre-installed on your Windows PC. I don't know about you, but I spent hours trying to accumulate bonus points on this game.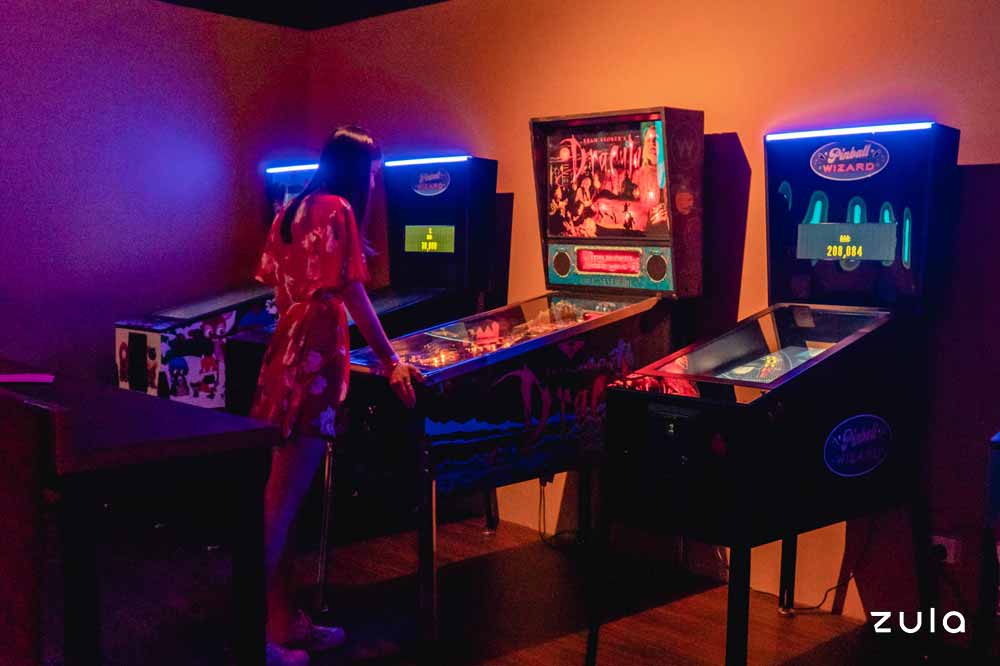 At Pinball Wizard, you can relive the good times with their 8 machines.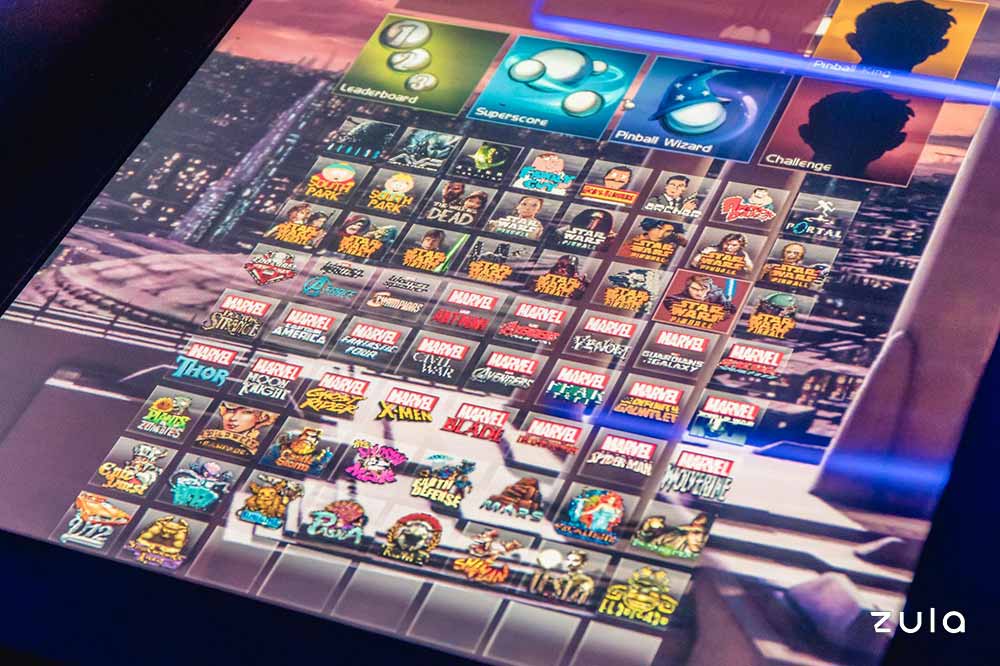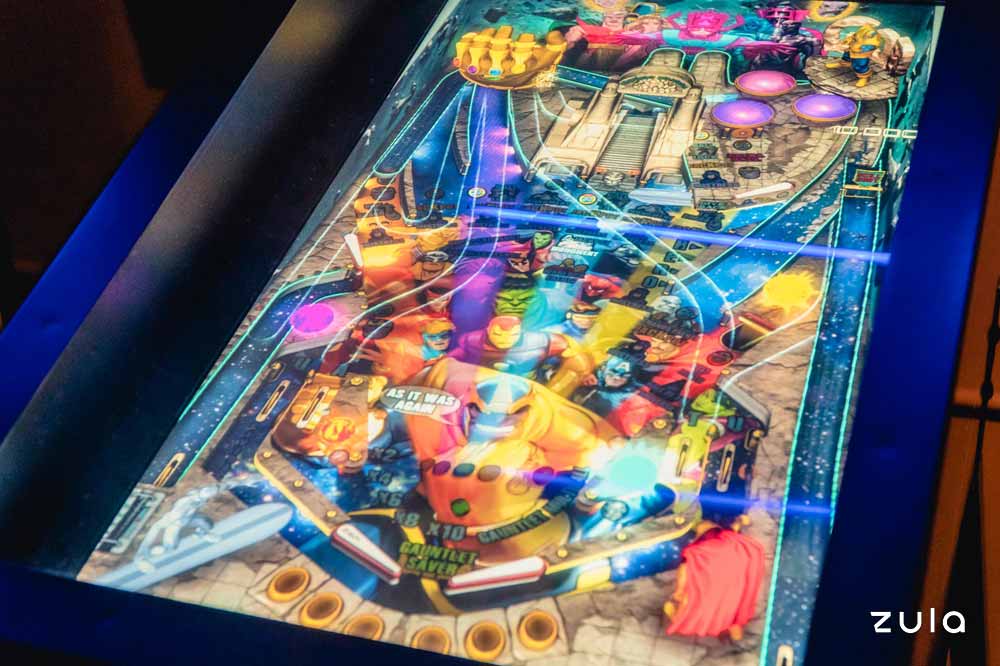 The digital machines are great, especially if you are a Marvel fan. They allow you to pick from more than 50 skin choices, many of them Marvel-themed.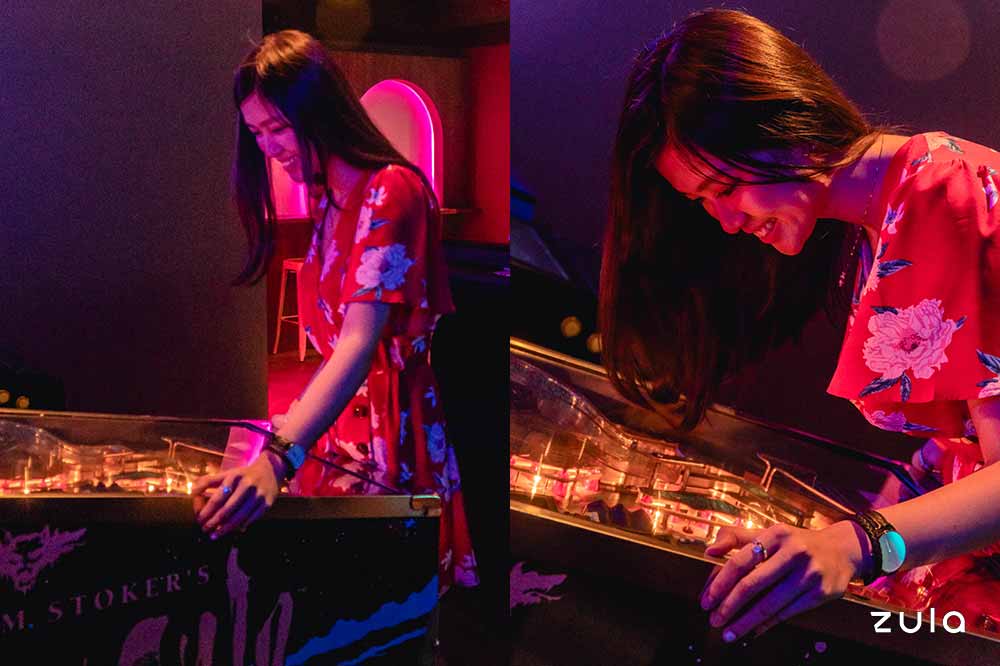 However, I enjoyed playing the analogue machines much more—the feel of the flippers' movement and how the machine buzzes gently when you score is extremely satisfying. 
Also read:
10 Rooftop Bars in Singapore For Grand Views, Great Drinks And Good Vibes
Drinks at Pinball Wizard
I had the chance to taste a range of cocktails available at the bar. Here are some recommendations.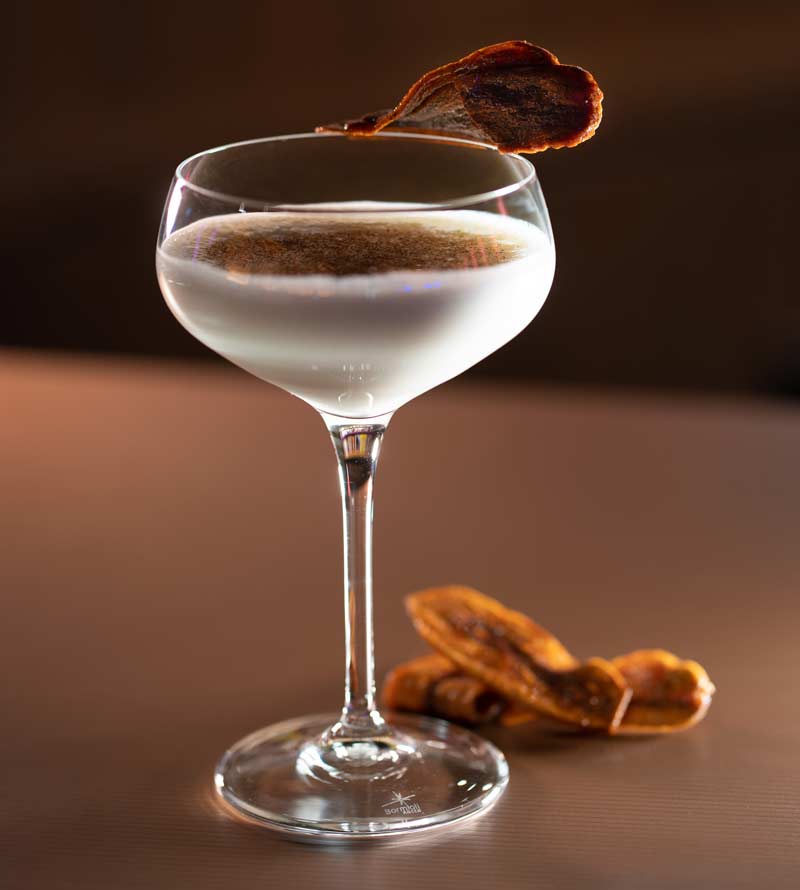 Photo courtesy of Pinball Wizard
My top pick is the Banana Julius Flip, which consists of vodka, crème de banana, maple syrup and buttermilk. Doesn't that sound yummy already? When I sipped it, I felt like I was eating banana bread but in the form of a milkshake with an alcoholic bite at the end.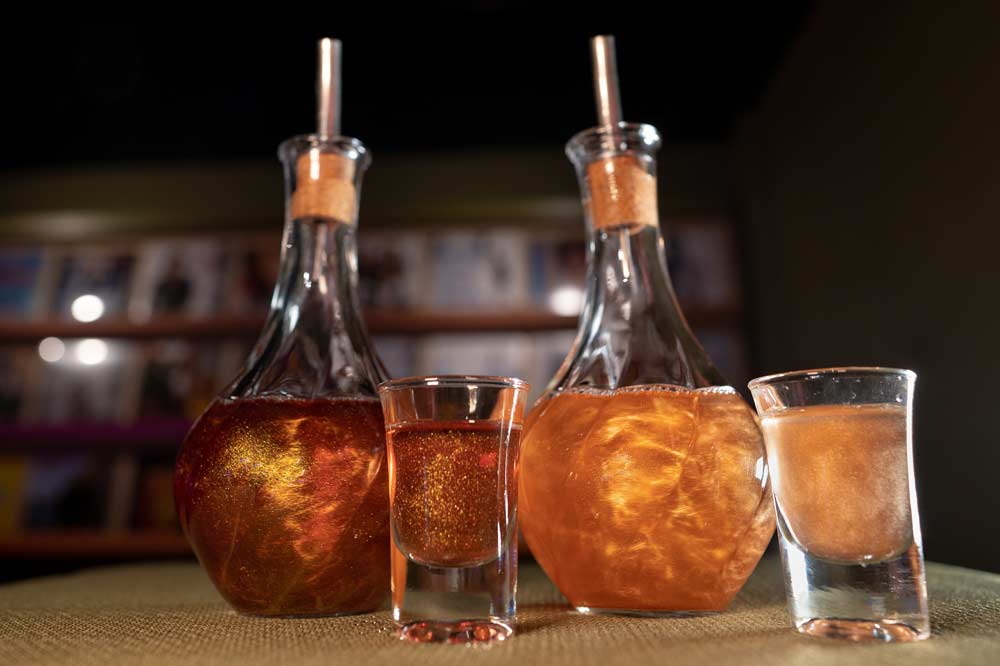 Peanut Butter & Jelly shooter (left) and Crouching Tiger shooter (right)
Photo courtesy of Pinball Wizard
The other drink I enjoyed was the Peanut Butter & Jelly glitter shooter. I was enchanted by its dark and sparkly appearance, as if it was a magic potion out of Harry Potter. Although I hardly tasted peanut butter, the black raspberry and hazelnut liqueur mixed to create a familiar yet unidentifiable taste. It went down smooth as silk.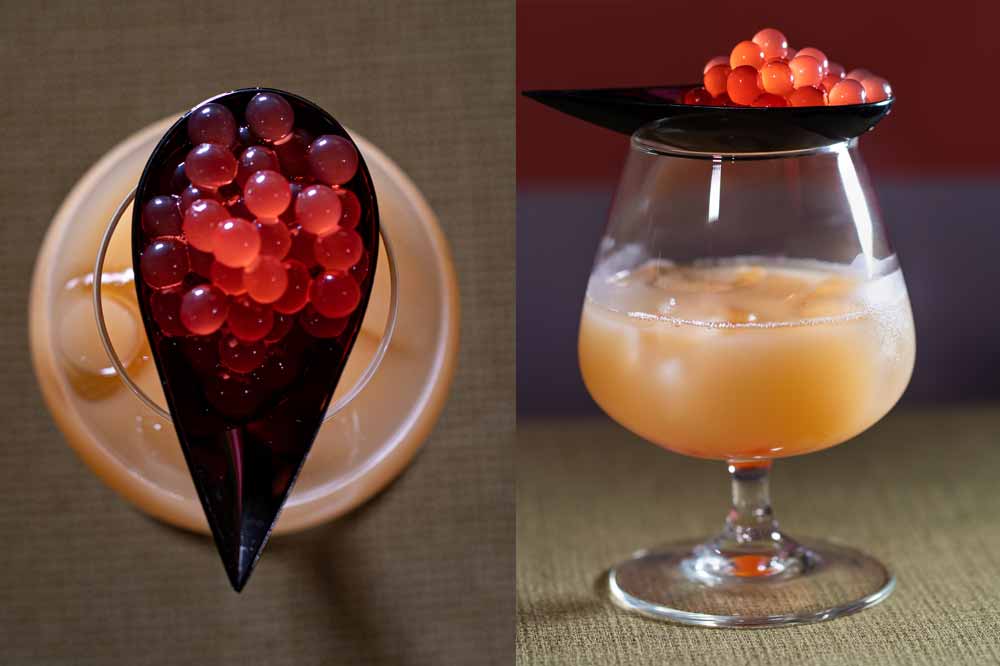 Photo courtesy of Pinball Wizard
My last recommendation is the Berry Poppins. Its unique selling point is the ladle of 'strawberry caviar' that comes with it, which I mistook at first for ikura. The 'strawberry caviar' bursts in your mouth with fruity sweetness and balances the strong taste of bourbon in the drink.
The cocktails retail for $18 each and the shooters are $80 for a bottle of 10 shots. 
Ambience and music
The bar is '70s themed, and its launch is part of an initiative to revitalise Sim Lim Square. If you find the concept familiar, that is because it is an initiative by the same people behind retro bar NINETEEN80.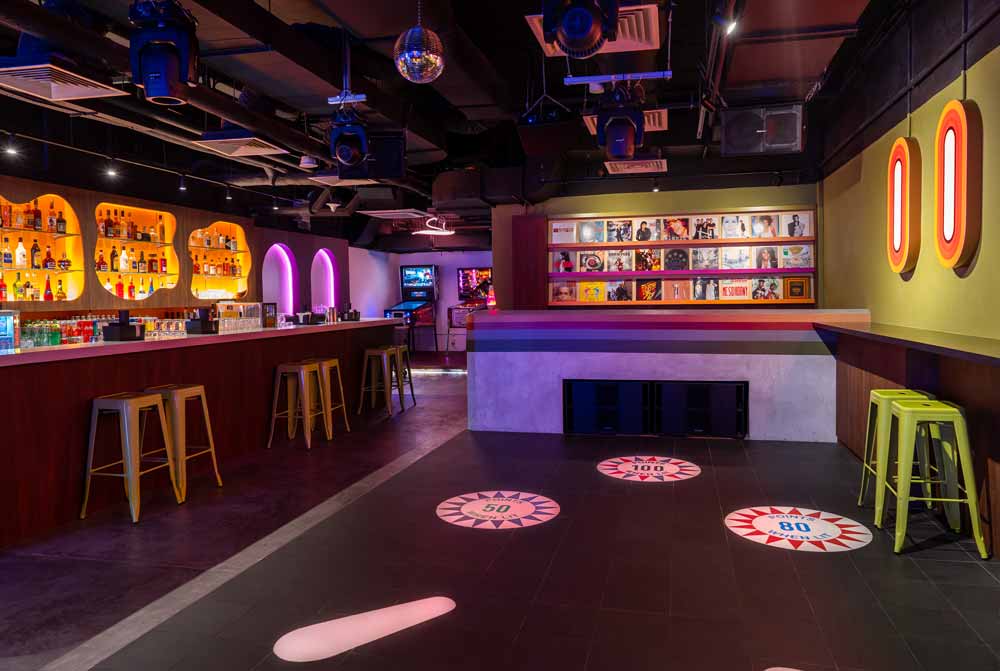 Photo courtesy of Pinball Wizard
The decor is minimal and the acid colours utilised reminded me of artwork from The Beatles' record Yellow Submarine (also a drink on their menu).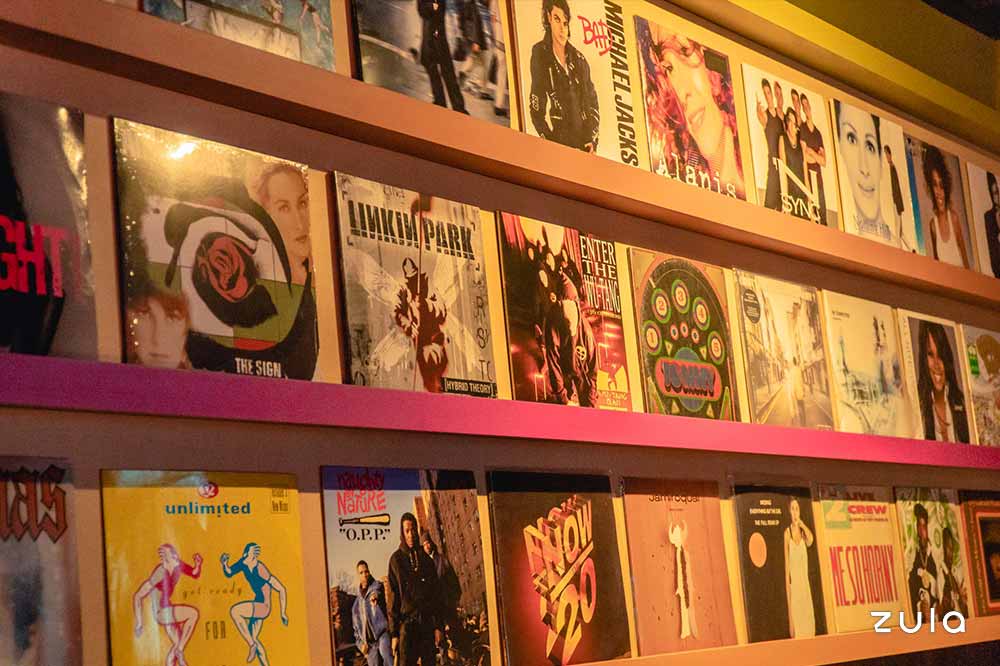 Its centrepiece is the DJ console decked out with record covers of Michael Jackson, Whitney Houston, Alanis Morissette and the Notting Hill soundtrack.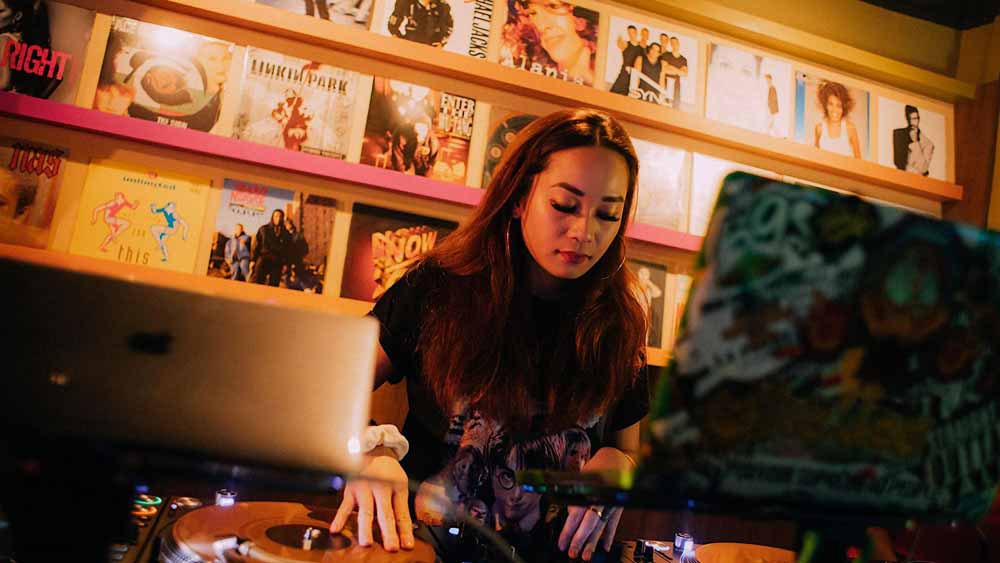 DJ Nicolette / Photo courtesy of Pinball Wizard
As for the music, you can expect plenty of '90s hits like the Spice Girls, Britney Spears and all the boy bands from your youth (or childhood). Eatmepoptart's DJ Weelikeme and DJ Nicolette who spins at Canvas and Empire will be hitting the decks for some throwback magic.
Pinball Wizard At Sim Lim Square
More than just a gimmick, I believe the pinball machines will keep people entertained for hours, the same way we used to play Marvel vs. Capcom at arcades with our pocket money.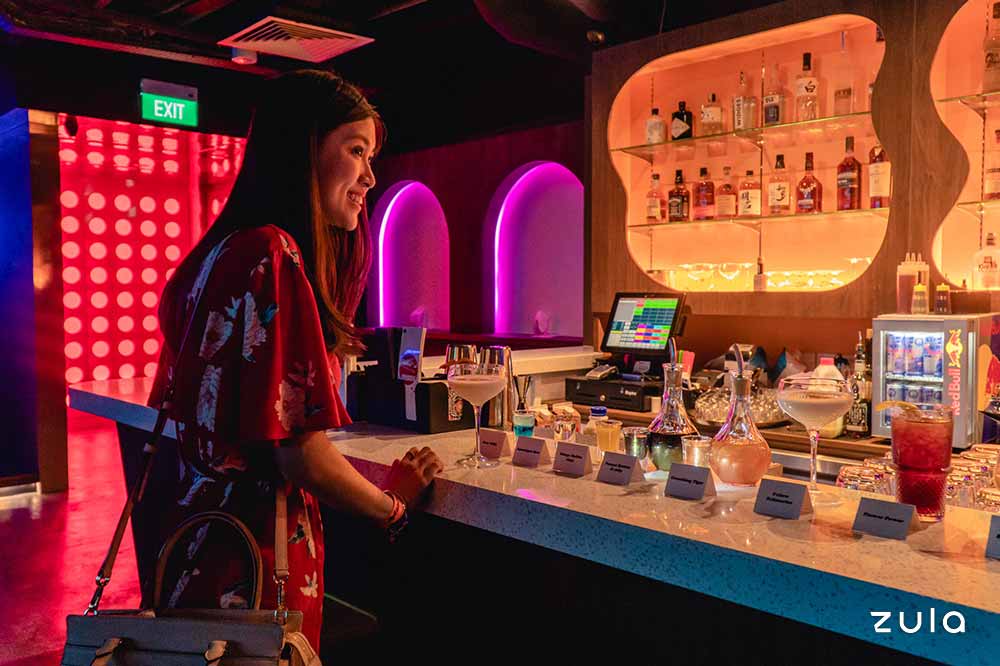 The drinks were strong but fell short of extraordinary. With some aesthetic bars in Singapore dishing out original and tantalising drinks for the same price of $18, they felt a tad lacklustre. 
I wish the retro theme was translated more fervently and not in a piecemeal manner. The interior design felt rather minimal, reflecting today's aesthetic. But during the '90s, we liked to go big or go home.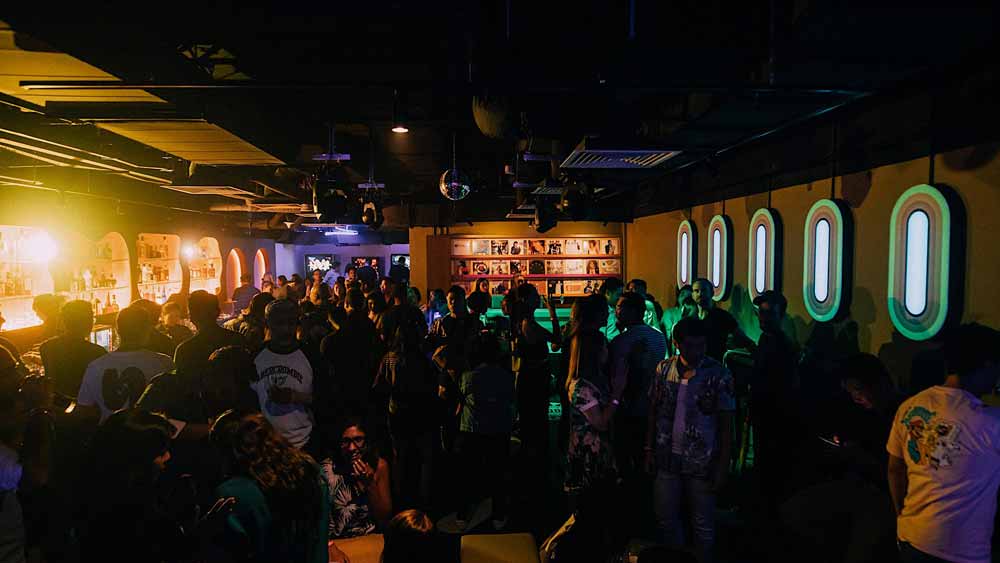 Photo courtesy of Pinball Wizard
As a casual speakeasy, Pinball Wizard does the job of transporting you to another place. I'm just not sure what that place is—a mish mash of the '60s, '70s and '90s. 
There will not be a cover charge for the next few months, so why not take the opportunity to try out the pinball games while having some glitter shots to start the weekend off! 
Address: 1 Rochor Canal Road, #B1-29, Sim Lim Square (Entrance facing Prinsep Street), Singapore 188504
Opening hours: 6pm to 1am (Tuesdays and Wednesdays) | 6pm to 3am (Thursdays and Fridays) | 6pm to 4am (Saturdays)
Website | Facebook | Instagram 
Also read:
25 Happy Hour Deals From S$2/Beer Pint Across Singapore—Including S$1 Oysters, S$5 Tacos
Zula photography by Sebastian Tan