Pokémon Center Blue Homeware Collection
Earlier this year, Pokémon Center Singapore treated trainers to an adorable Pikachu claypot set with a matching tail-shaped spoon. It seems like fans can't get enough of unique Pokémon household items to zhng up their home, as the store has just released a new blue-themed collection featuring a high tea set.
Kitchenware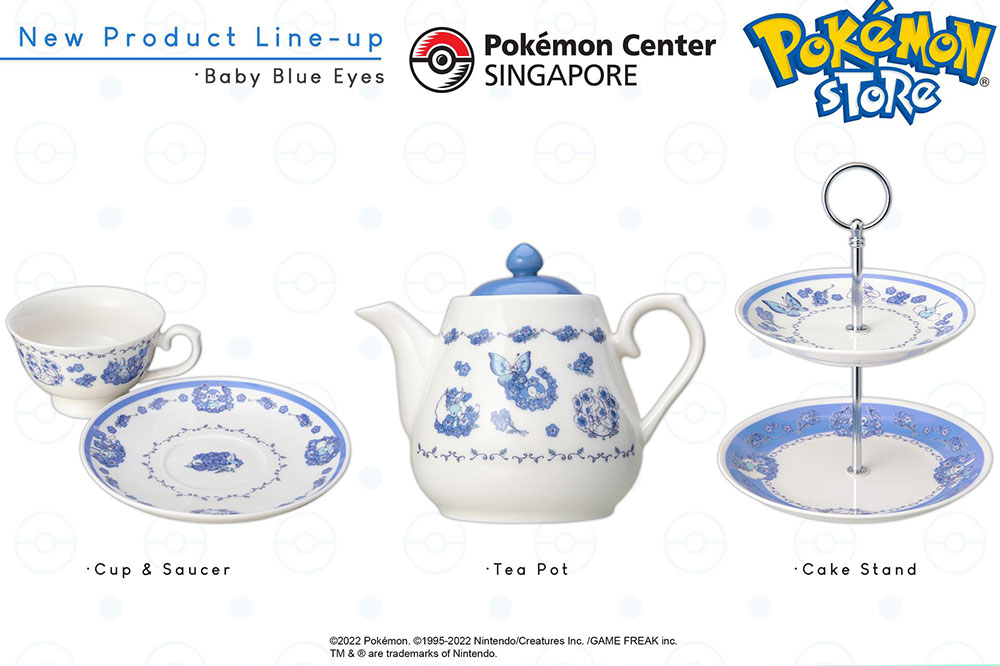 Homebodies who prefer to stay in can now recreate their own atas high tea experience from the comfort of home. The collection includes a cup and saucer set for $30, teapot for $42 and cake stand for $58. 
Each tableware design reminds us of expensive chinaware, but the subtle prints of blue Pokémon such as Piplup, Sobble and Swablu add to the special charm.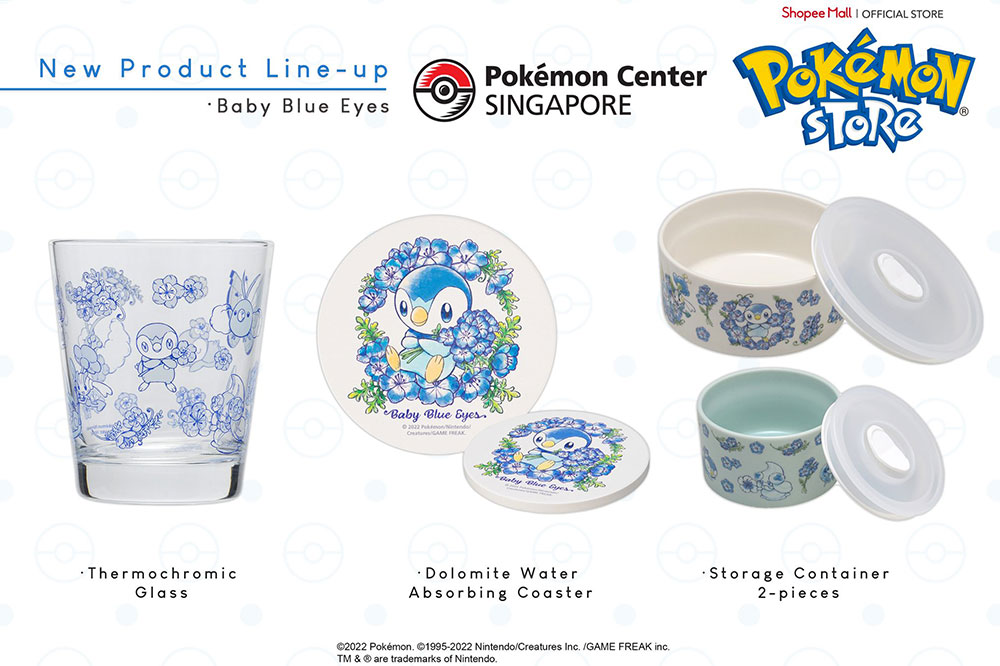 If Piplup was your favourite Generation 4 starter, complete your kitchenware collection with these Piplup-themed kitchenware. The thermochromic glass, coaster and 2-piece storage container set includes a sweet design of Piplup surrounded by flowers. 
These are retailing at $22, $15 and $48 respectively.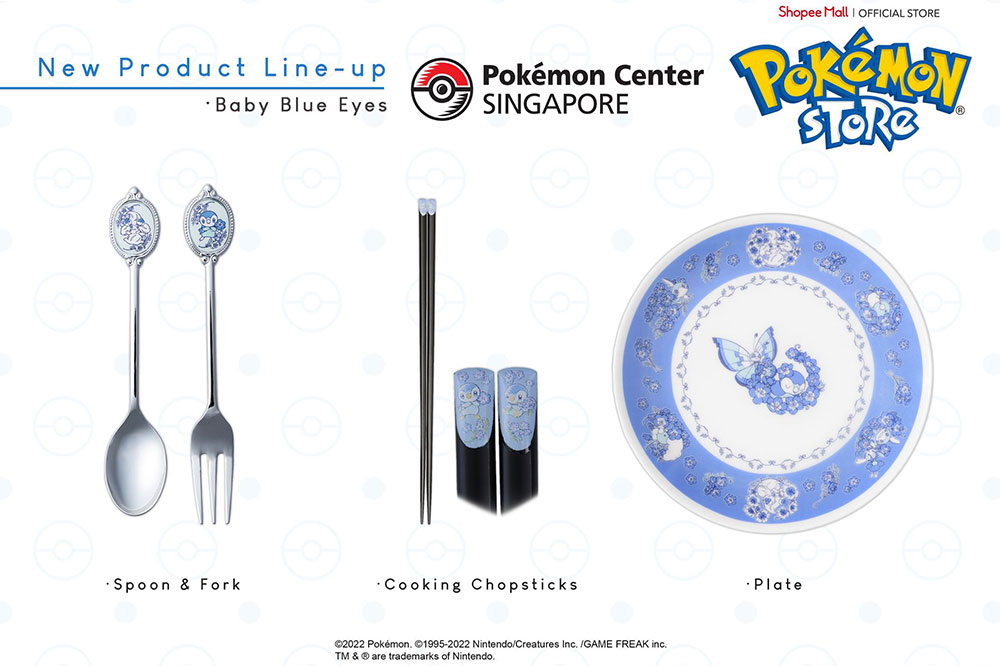 Impress your guests at the dining table with the spoon and fork set, featuring Vanillite and Piplup on the base. These serve as companions while you dig into your meal, retailing at $20. The Piplup cooking chopsticks also come with subtle Piplup designs on the tip, retailing at $18. 
If you can't decide which Pokémon is the very best, get them all on the 15cm plate, retailing at $24.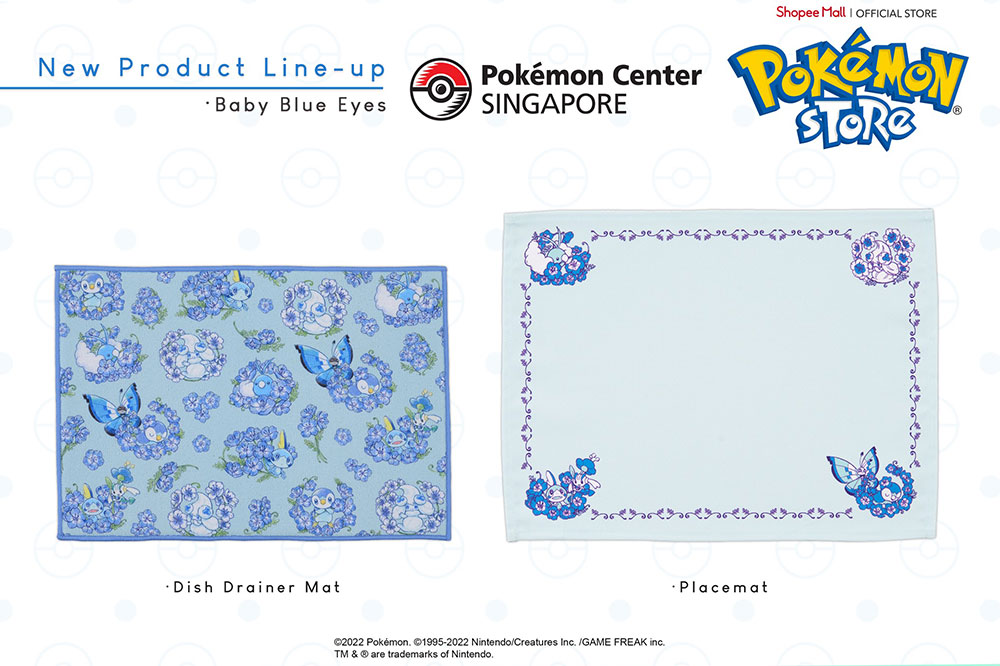 Keep your kitchen clean and tidy with the dish drainer mat and placemat, once again decked in chio blue hues. Both mats are retailing at $16 each.
Accessories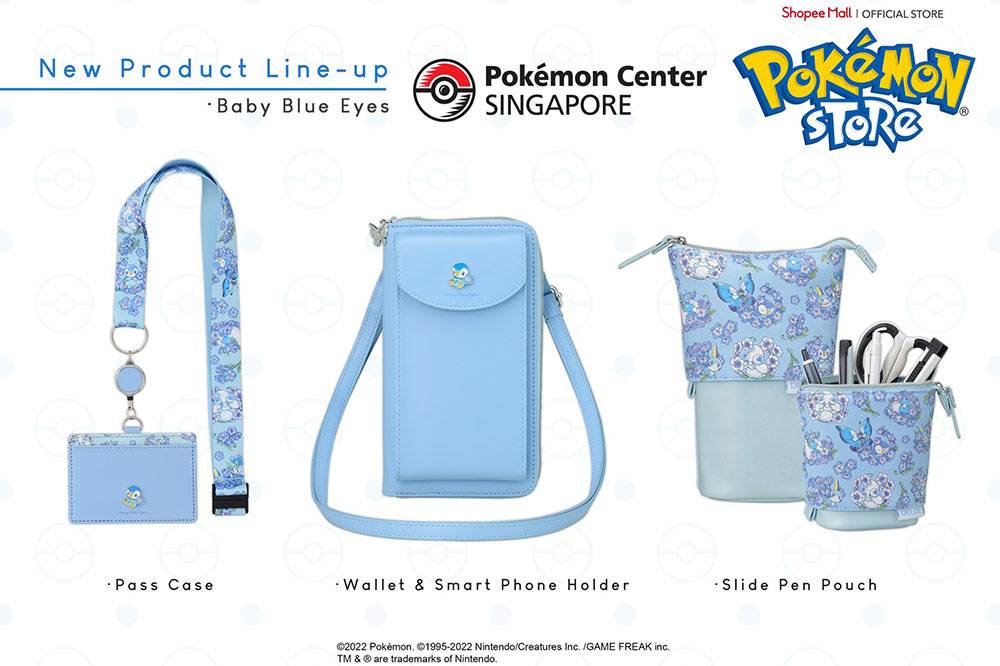 On top of the kitchenware, Pokémon fans are also treated to accessories to take with them on their next adventure. The pass case and wallet holder come with straps so you can go hands-free on your Pokémon Go catching spree. These are retailing at $26 and $58 respectively.
Keep your stationery safely tucked in your bag with the slide pen pouch, decorated with prints of blue Pokémon and flowers. It's retailing at $28 each.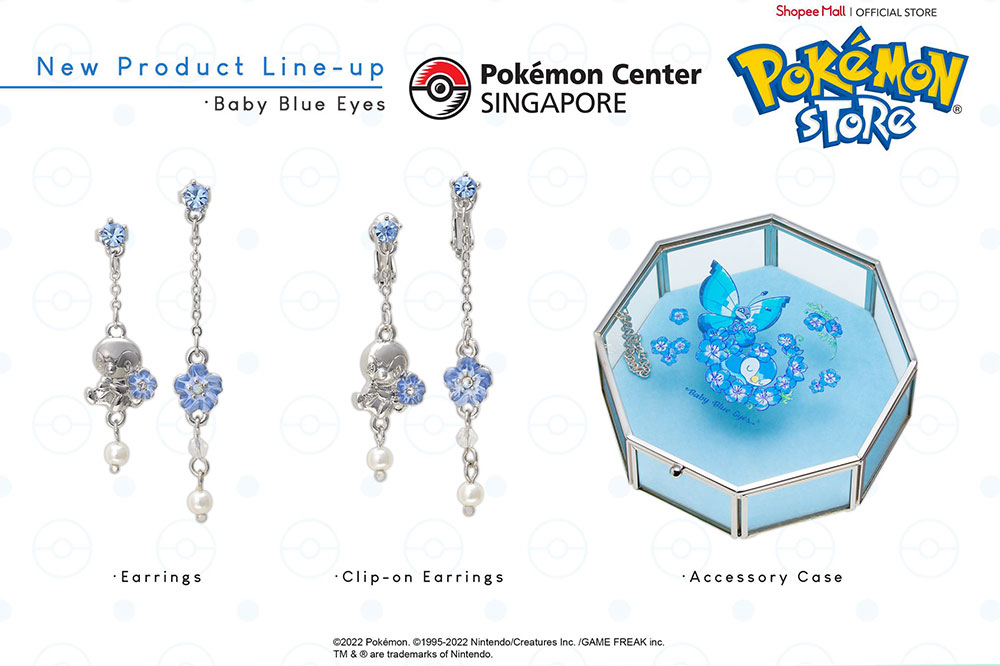 For trainers who missed out on the previous Pokémon Center accessory collection, not to worry. This time round, Pokémon Center is introducing a new dangle earring design featuring Piplup. The earrings are available as clip-ons as well, retailing at $18 each.
Keep all of your earrings and accessories safe in the transparent blue accessory case, retailing at $52.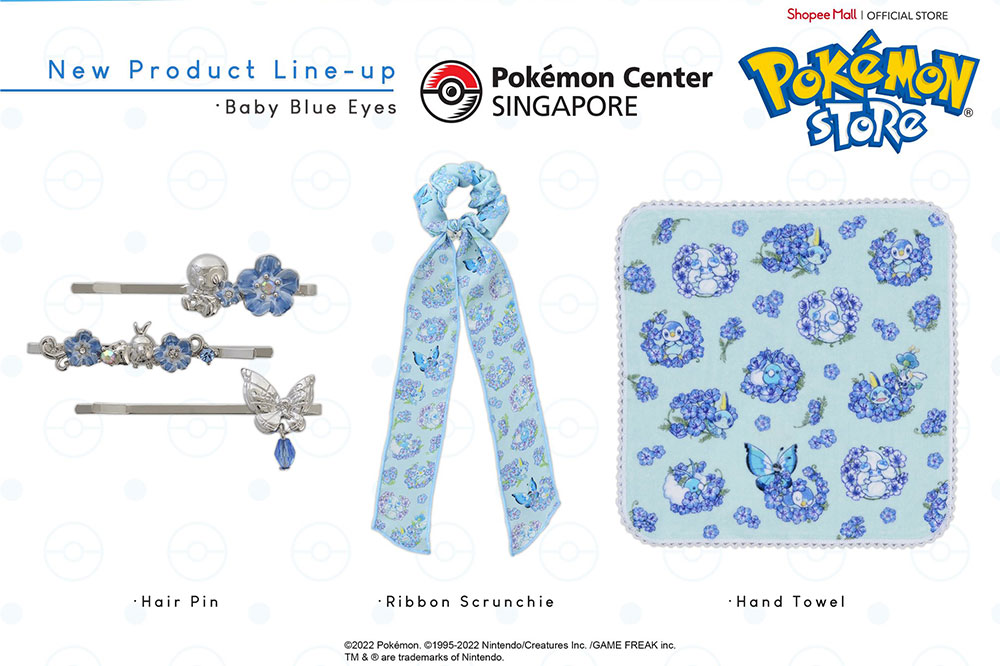 Go for a soft girl look with the hair pin set or ribbon scrunchie, retailing at $18 and $20 respectively. 
While we've transitioned into a new normal, hygiene still remains a priority. Ensure that your hands remain squeaky clean after washing them with the blue hand towel, retailing at $10.
Stationery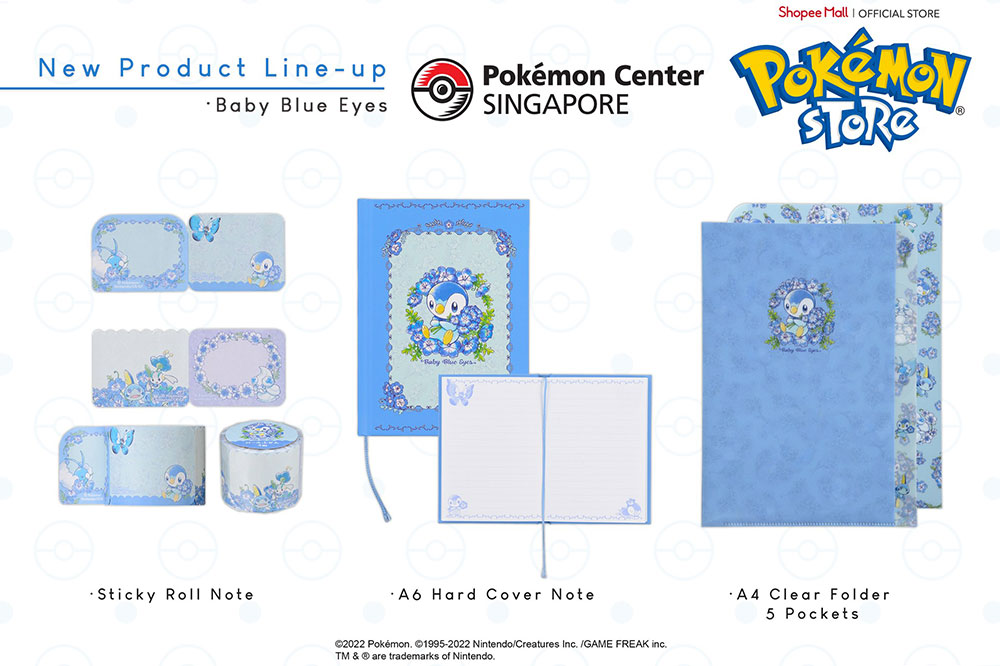 Brighten up your dull work-from-home days with the Piplup-themed stationery collection, showcasing floral sticky roll notes, hard cover notebooks and a set of five clear folders. These are retailing at $10, $14 and $8 respectively.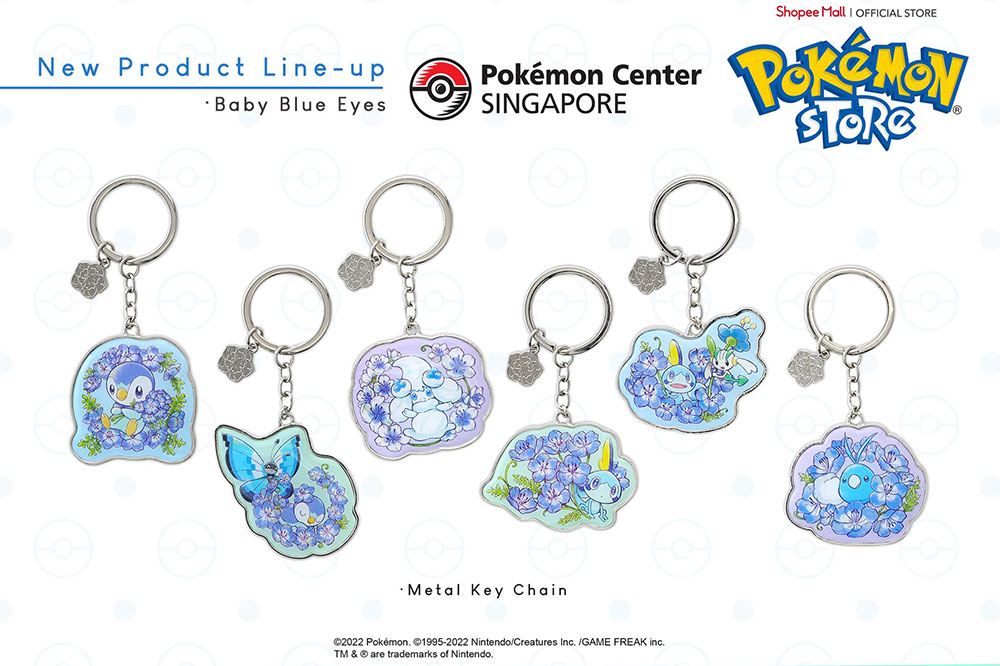 While we can't carry a set of six Pokéballs with us everywhere we go, these metal key chains serve as the next best alternative. Hang these kawaii characters on your backpack, available at $10 each.
Pokémon Center Singapore's Blue-Themed Homeware Will Add Cuteness To Your Home
From unique kitchenware to fun accessories, Pokémon Center Singapore has been treating trainers to endless merch to add to their growing collection. The full Pokémon Center blue-themed homeware collection is available on their official Shopee website and at Pokémon Center Singapore Jewel. 
All images courtesy of Pokémon Center Singapore.
Also read:
Pokémon Center Singapore's New Accessory Collection Has Pikachu Cuff Earrings & A Leafeon Hair Stick