Pokemon Eyewear
Maybe you're looking for a pair of versatile glasses you can wear every day, or just want a pair of cute eyewear to elevate your WFH look. Either way, these glasses decorated with adorable Pokemon monsters and details will fit the bill.
Pokemon has partnered with Taiwanese eyewear retailer Kobayashi Optical on a series of spectacle frames. The designs are subtle yet stylish, and can be paired with any outfit.
Printed designs
The collection includes glasses decorated with some of your favourite Pokemon characters. The Eevee glasses, for example, are mostly black with a portion of the temples in brown to represent the character, along with little Eevees running along the inside.
Apart from the glasses, there are also cases for you to store your eyewear. The white case (above) has 1st generation starter Pokemon like Charmander and Bulbasaur, along with other popular ones like Pikachu.
Can't choose a favourite Pokemon? Why not try and catch them all? Since Pikachu is the star of the show, this series would not be complete without a yellow pair featuring the fan-favourite Pokemon.
There is also a blue and green pair with one of the original starter Pokemon, Bulbasaur. The Grass-type Pokemon lines the inside of the frame accompanied by a green background.
Also read:
Xiaomi x Pikachu Gadgets Will Keep You & Your Devices Recharged With The Pokemon's Electric Powers
Metal frames
While the above designs are already lowkey, there are even more minimalist designs that look almost like regular glasses. All the frames are durable enough for you to wear them when you're exercising or on your Pokemon GO walks.
This range has more intricate details, such as Pokeballs located on the nose pads, hinges and temple tips.
If your favourite Pokemon is Pikachu, this pair is probably calling out to you. As we all know, Pikachu is an Electric-type Pokemon. The tiny lightning bolt sitting atop the right rim is a small nod to its powers as well as its lightning bolt-shaped tail.
To fit the minimalist aesthetic, it comes with a black case and matching cloth with Pikachu's silhouette in the middle.
Pikachu stand
At the end of the day, you'd definitely need to set your spectacles aside when you get ready to sleep. Sure, you can leave it on a table or on your nightstand, but why not let Pikachu hold it for you while you rest and recharge through the night?
The Pikachu stand would make a useful addition to your Pokemon merch collection even if you don't wear glasses. You could hang your accessories on him or simply have a friend to accompany you when you're working from home.
Pokemon reusable cups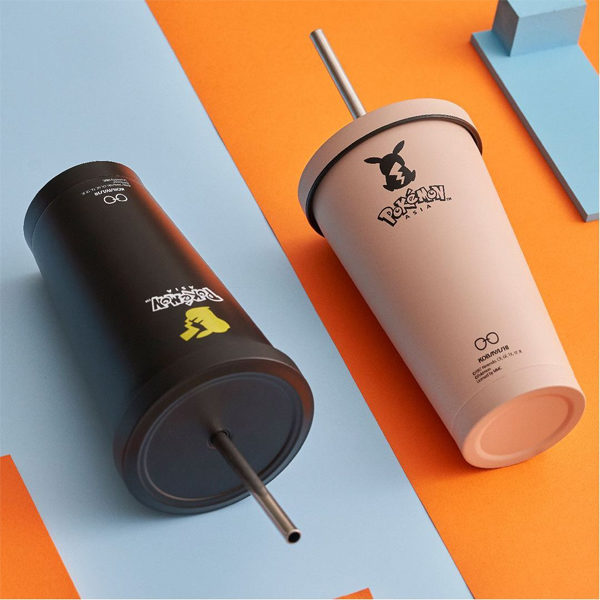 While you're out and about trying to catch Pokemons, you may appreciate an ice cold drink. Apart from eyewear, cases and stands, Kobayashi has also introduced black and pink thermos cups for you to carry around your iced coffee or tea.
Pokemon Eyewear Collection Has Frames For Both Minimalists and Those Who Love Patterns
No matter what your aesthetic or style is, as long as you're a Pokemon fan, there will be something in this collection for you. Unfortunately, it's only available in Taiwan at the moment. Check out Kobayashi Optical's Instagram for more designs and details. In the meantime,  you can cop other Pokemon merchandise, like Pokemon x Longchamp bags or Pokemon x Casetify phone cases instead.
All images courtesy of Kobayashi Optical
Also read:
Pokemon x Longchamp Has Pikachu Bags For Your Real Life & Pokemon GO Adventures