Xiaomi x Pikachu
Even if you're not a Pokémon fan, there's no escaping the adorable yellow creature known as Pikachu. Chinese electronics brand Xiaomi just released 5 Pikachu gadgets and bags. They're so cute, you'll want to carry them with you everywhere you go.
Pikachu gadgets

Source
Pikachu is an electric-type Pokémon, which means that he can conduct electricity to attack. Now, Pikachu can use his electric powers to charge your phones and electronic devices as well. The Pikachu Powerbank is a new take on Xiaomi's Powerbank 3 with a battery capacity of 10,000 mAh. There are 2 outlets to charge 2 devices simultaneously, a USB-C port and a micro-USB port. Unfortunately, it does not go "pika pika" when in use.

Source
Brighten up your Zoom calls with the Pikachu edition of the Xiaomi Air 2s. The case features a winking Pikachu, while the wireless in-ear headphones themselves take on the colour of the small ball of fur.
It claims to have 24 hours of battery life, which makes it perfect for long hours of running or training to be the next Pokémon master. It also has voice command control and supports wireless charging.

Source
To capture your memories in photographs, there is the Xiaomi Mi Pocket Photo Printer with Pikachu's face and iconic red cheeks. It features various filters, as well as offers Bluetooth printing, image stitching and even AR video printing.
The printer also allows multiple people to connect at the same time, so you and your fellow Pokémon buddies can share pictures of your favourite creatures or outings.
Also read:

Sanrio x The Coop Idea Collection Includes Wireless Earbuds Featuring Hello Kitty, My Melody & Little Twin Stars
Pikachu bag and luggage

Source
With your new gadgets in tow, you'll also need something to carry them in. Cue: A trusty backpack with Pikachu's face printed on the front pocket. The Pikachu-themed Xiaomi Mi Backpack measures 22.5cm by 13cm by 34.5cm, and has a capacity of 10L. It is also waterproof, which means you can bring it along on your next adventure. The zippers come in the shape of Pikachu's tail, a small but adorable detail that Pikachu fans will surely appreciate.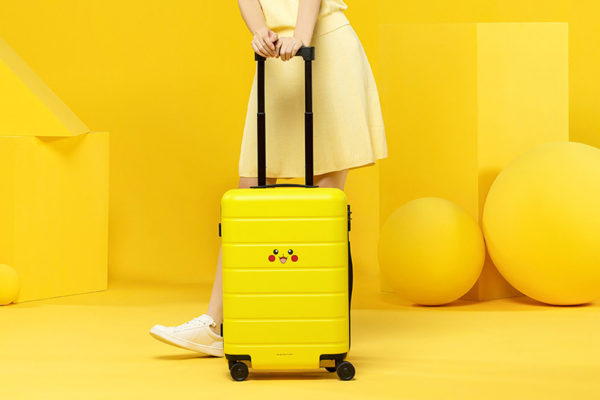 Maybe you were planning a trip to Pikachu's homeland in Japan next year when air travel is possible again. Well, if you're going on a short trip, consider a yellow luggage with Pikachu's face neatly placed on the front.
With a colour as bright as this, you won't have to worry about being unable to recognise it at baggage claim. The Xiaomi Suitcase measures 35.6cm by 22.5cm by 50.5cm, so rest assured you'll be able to store all your Pokémon merch on your way back.
The Xiaomi Pikachu Gadgets And Bags Are Perfect For Your Next Adventure
We hate to be the bearer of bad news, but the products are currently only available in China at the moment. However, you can keep your eye on Xiaomi Singapore's website to find out if the items will arrive on our shores in the future. 
Also read:
Pokemon x Longchamp Has Pikachu Bags For Your Real Life & Pokemon GO Adventures