Pokémon x Puma Apparel Collection 
With the recent release of the Pokémon x Puma sneaker collab, the Pokémon trend has continued to reign even after 20 years. To add some apparel to match your new Pokémon kicks,  Puma is launching a collection that includes hoodies, T-shirts and bags to give you a full drip of a Pokémon trainer. 
Adult collection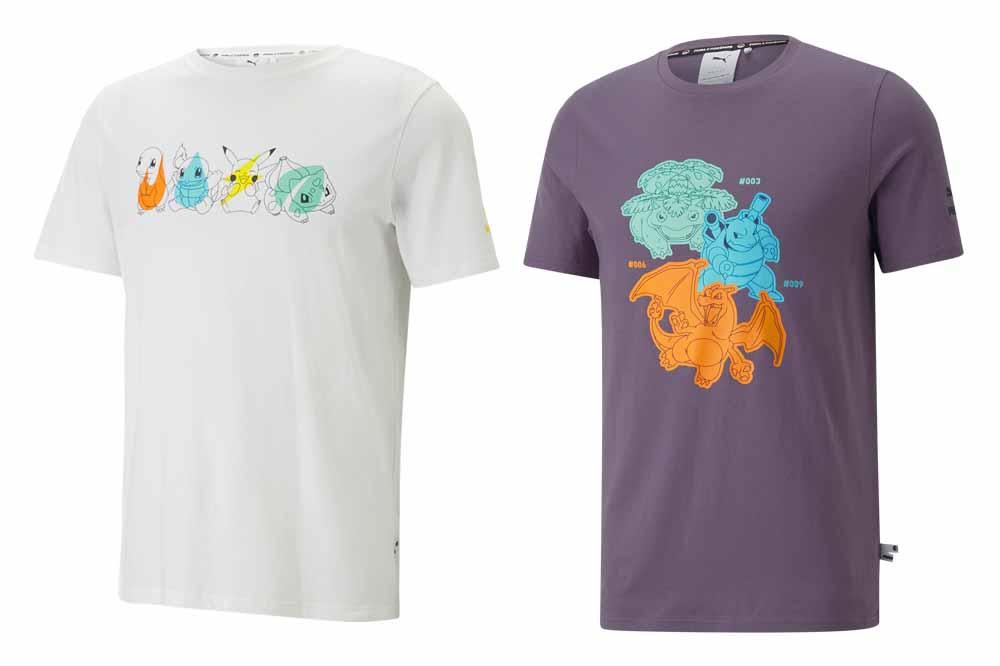 These two T-shirts are decked with Pokémon designs for the ultimate OG fan. The white shirt has the four starter characters – Charmander, Pikachu, Squirtle, and Bulbasaur, with a coloured symbol of their elements, giving the shirt a watercolour feel. 
The purple T-shirt features the most evolved forms of the Kanto region starters, namely Venusaur, Charizard and Blastoise. With their Pokédex numbers labelled beside each design, opt for this shirt if you're going for a more intimidating vibe.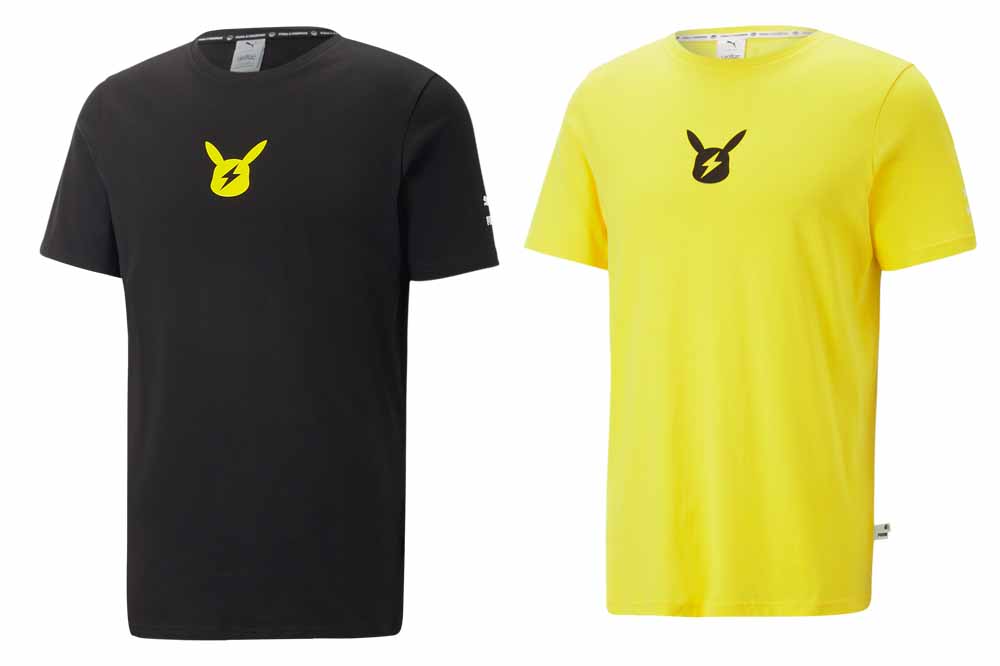 If you prefer a simple look, these two solid colour T-shirts come in yellow and black, and feature an outline of Pikachu with a lighting bolt in the middle of their face.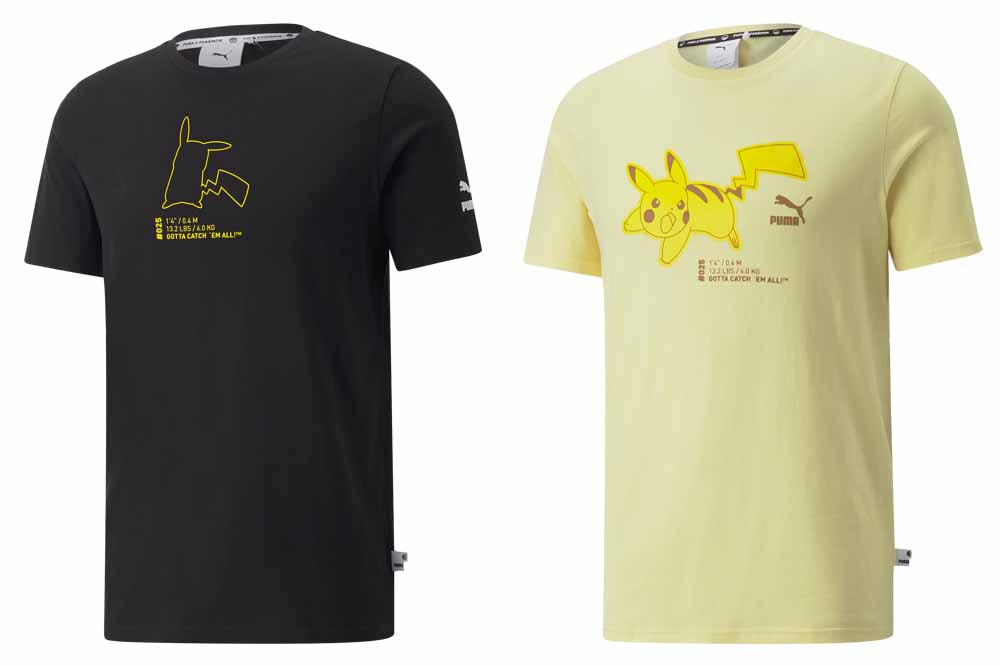 Pikachu is one of the most well-known Pokémons for a reason. Both of these shirts are character-inspired, with the tee in black featuring an outline of the character and the phrase "gotta catch em all!" below. The yellow tee has an adorably angry Pikachu, with the same phrase below. 
The T-shirts retail at $69 each.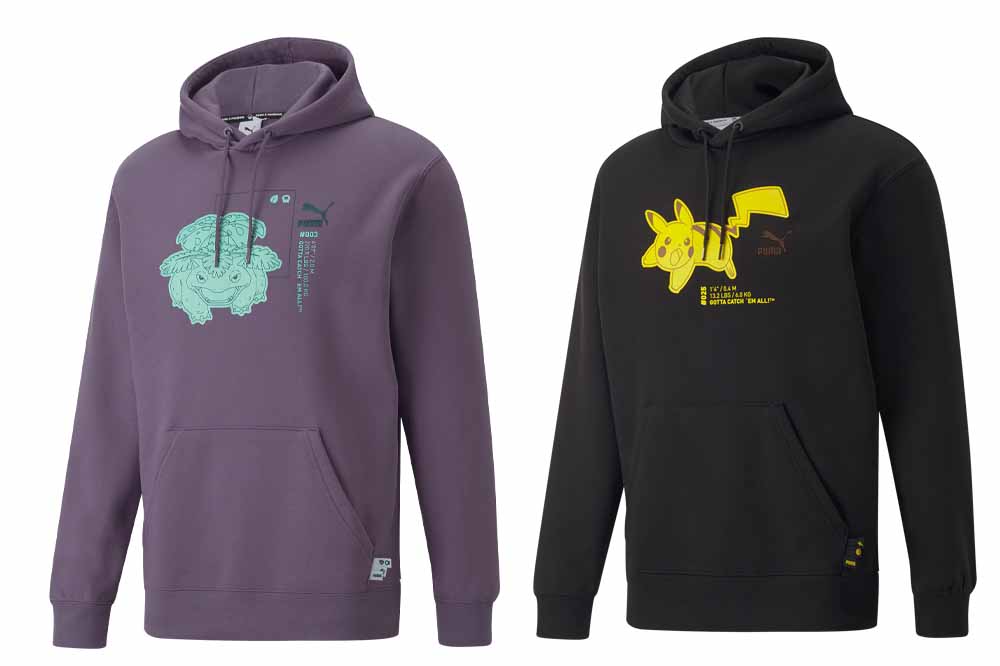 Cuddle up with these purple and black hoodies for the upcoming Christmas season. The purple hoodie has a green design of Venusaur, while the hoodie in black features a Pikachu. 
The hoodies retail at $139 each.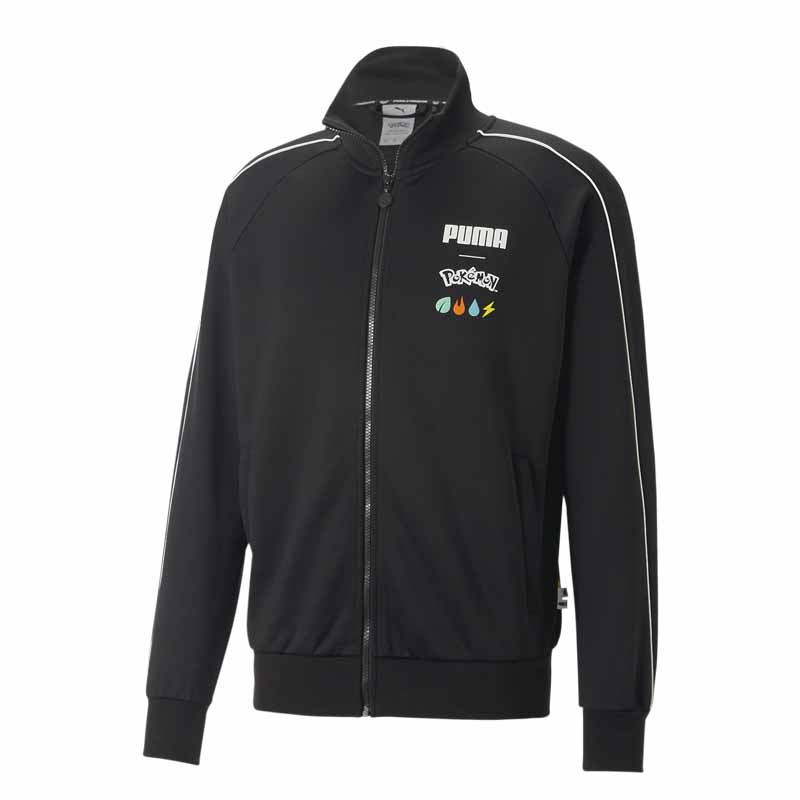 This jacket comes in black, along with the brand logos and the four element sigils on the left chest corner. Throw this on top of one of the T-shirts to complete your trainer OOTD. 
The jacket retails at $149.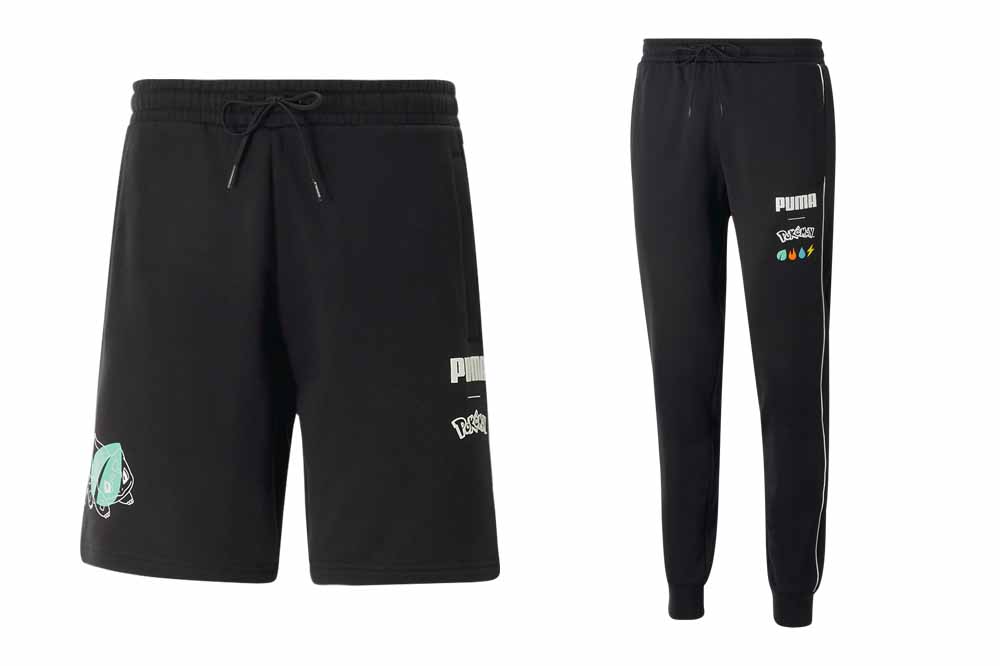 Whether you're chilling at home or catching up with friends, these sweatpants and shorts are cosy enough for both occasions. The shorts feature a design of Bulbasaur and the brand logos, while the sweatpants have the logos and a design of all the four elements. Both come with drawstrings for easy adjustment.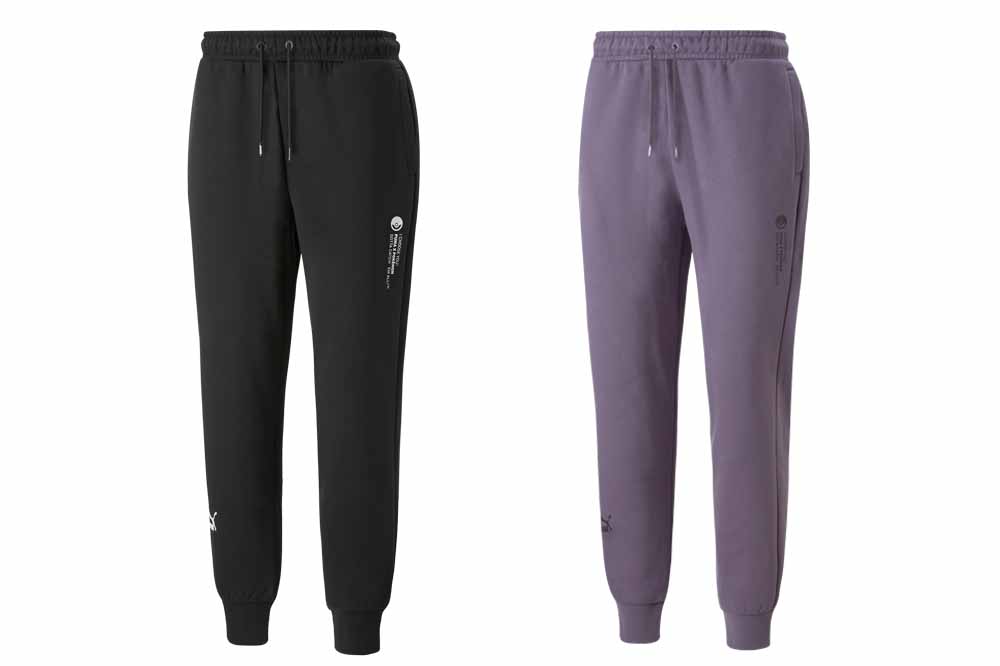 Two more sweatpants designs come in black and purple, with the words "I choose you" and "gotta catch em all!" on the sides. 
The pants retail at $119 each while the shorts retail at $89. 
Kids collection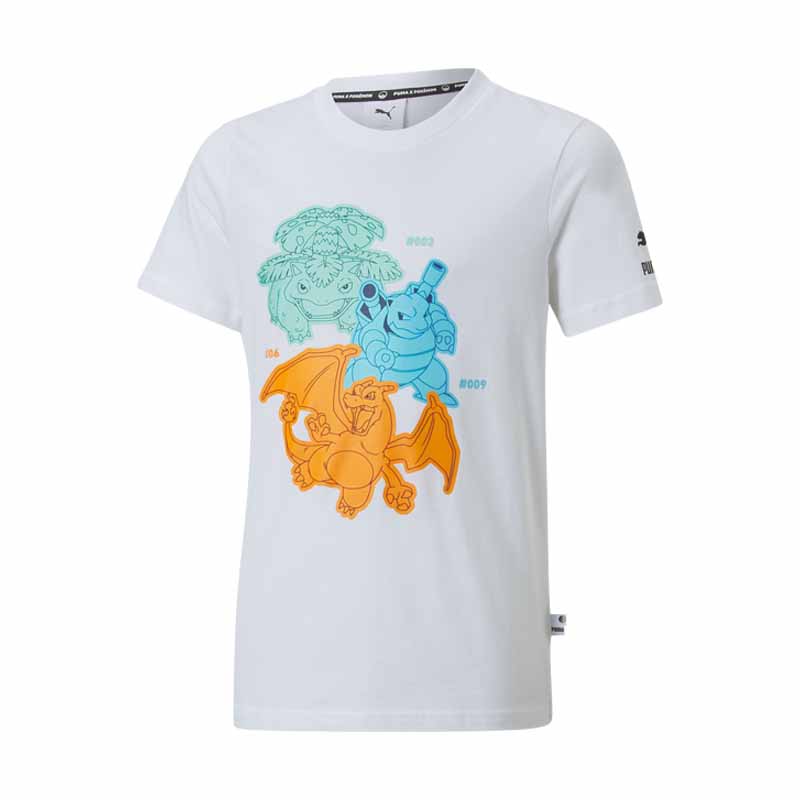 In a similar design to the adult T-shirt collection, this T-shirt comes in white, with the three Pokémons and their Pokédex numbers beside them. If you have a little one, you can consider this shirt as a matching tee for the upcoming holidays.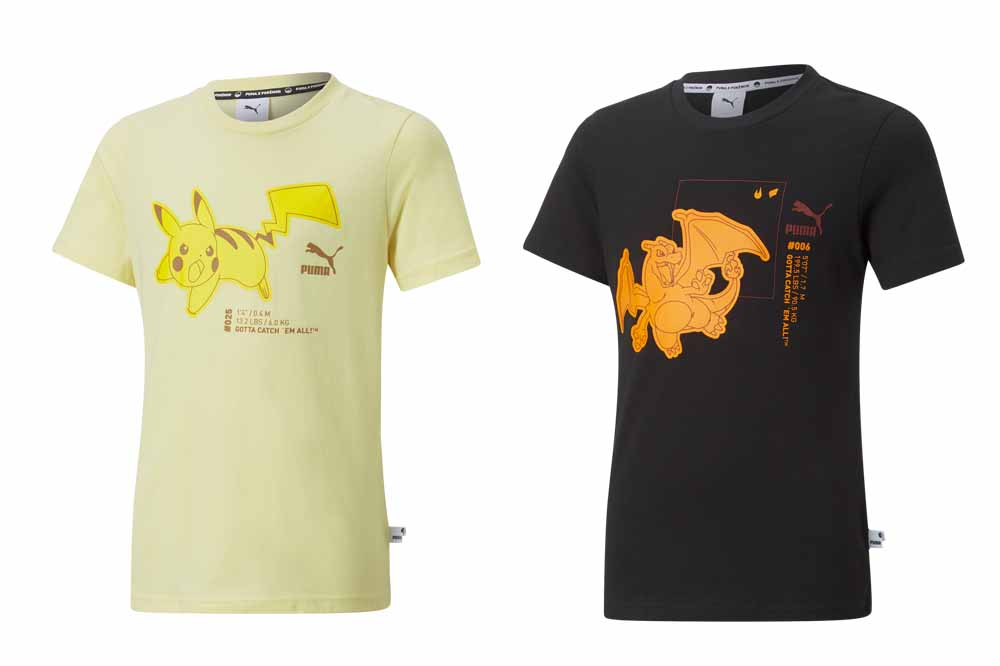 Kids can also express their angst with these two T-shirt designs featuring Pikachu and Charmander, which come in pale yellow and black. The sides read "gotta catch em all!". 
The T-shirts retail at $45 each.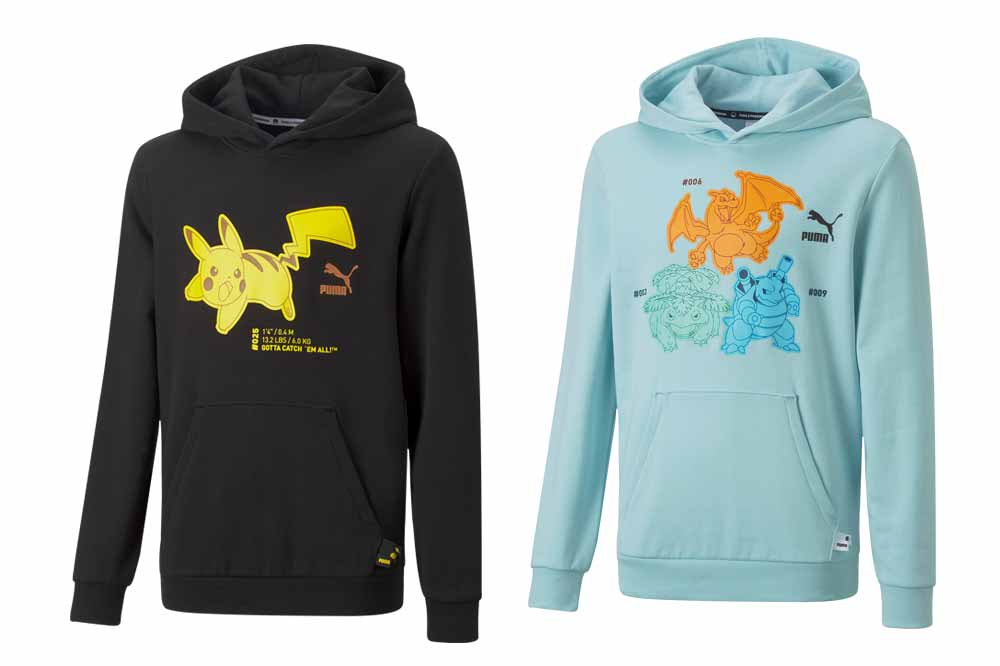 To keep the little ones warm, the hoodie in black comes with a Pikachu design, while the blue hoodie has Venusaur, Blastoise and Charizard stitched on the front. 
Each hoodie retails at $99.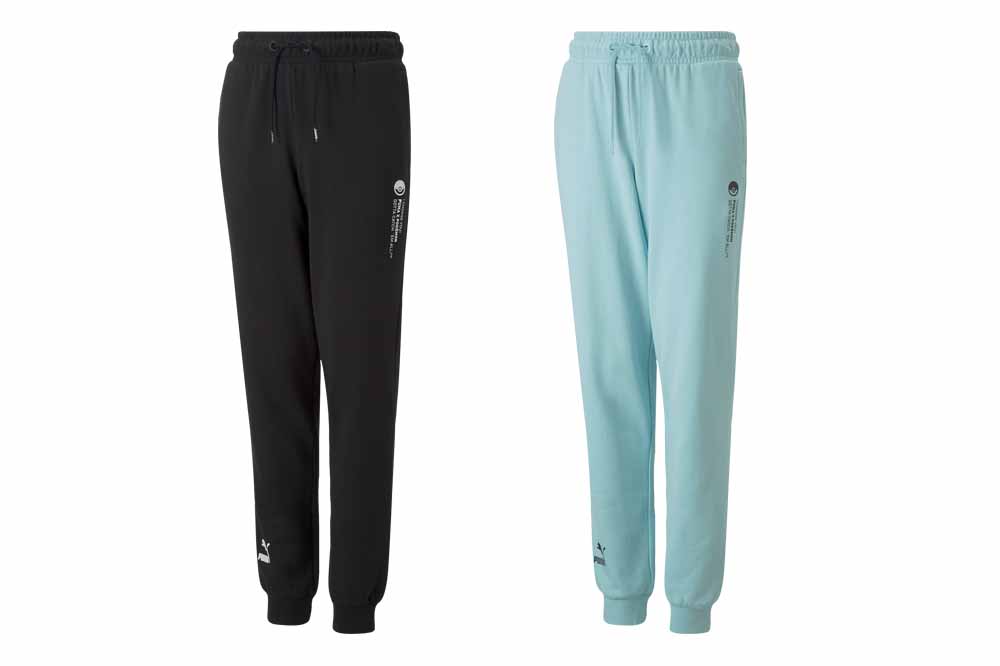 Suited perfectly for young and active kids, these sweatpants come in bright blue and black, and have the words "gotta catch em all!" printed on the side. 
These pants retail at $79 each. 
Additional products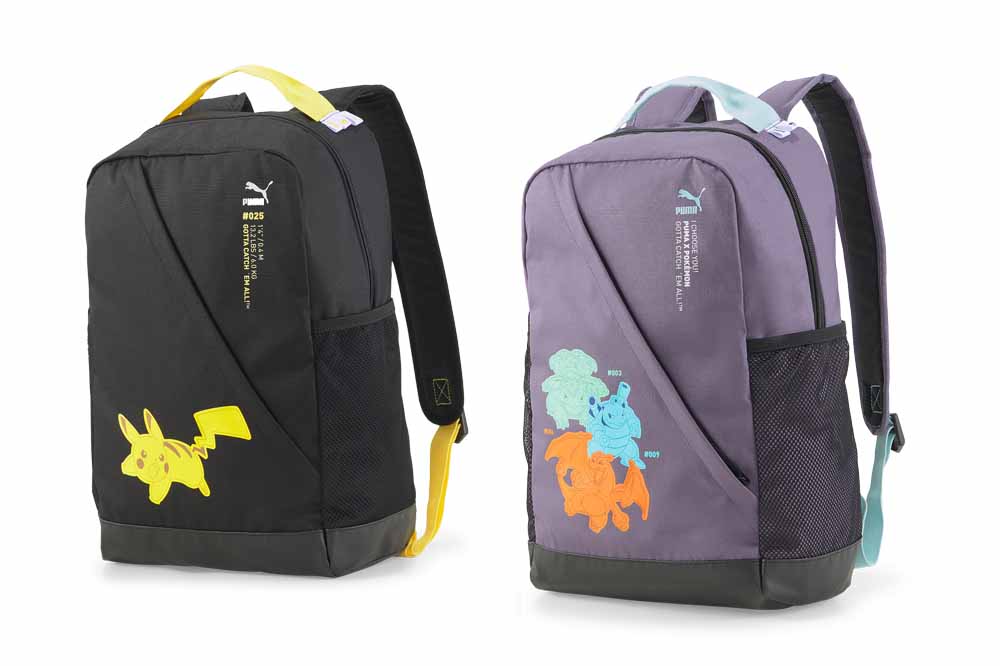 Pokémon-lovers can express their love for the characters through these backpacks as well. Coming in black and purple, the bags are able to carry essentials and other daily necessities, such as a laptop. 
The backpack in black comes with a yellow handle and straps, along with a design of Pikachu at the corner. The purple backpack comes with blue straps and handles, with designs of Charizard, Blastoise and Venusaur at the corner. 
Each bag retails at $69.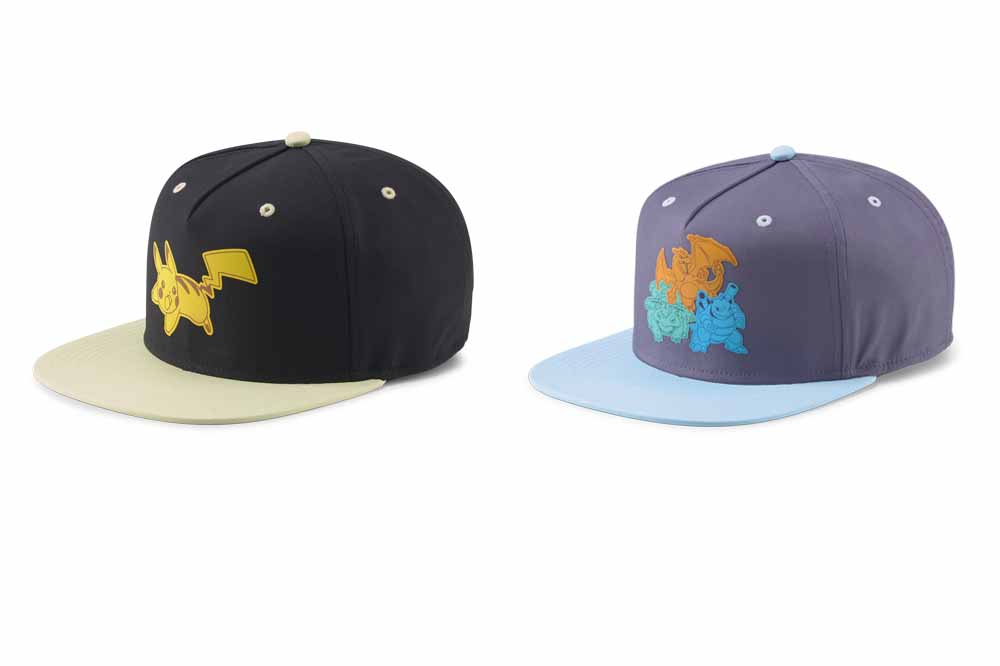 For a more hypebeast look, these flat brim caps come in black and purple, with a similar design to the backpacks. Now you can have a matching set when you head out and pretend you're a trainer IRL. 
Each cap retails at $35.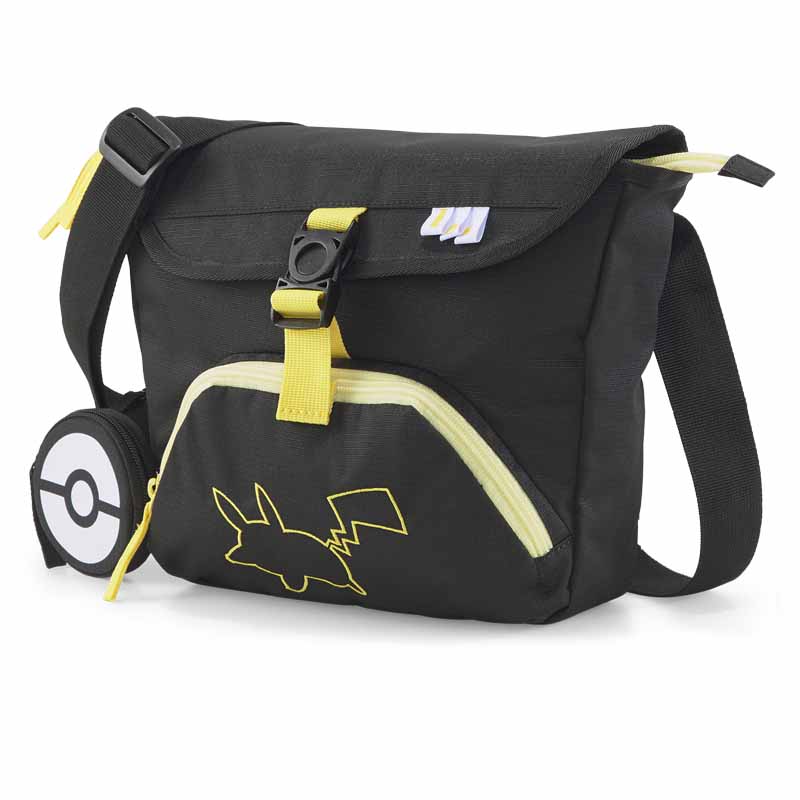 This messenger bag comes in black, along with a yellow outline of Pikachu. 
With the straps designed in yellow as well, this bag will be perfect for a casual day at the park or beach. It also comes attached with a Poké Ball pouch at the corner, so you can put your airpods or keys in them for easy access. 
This bag retails at $99. 
The Pokémon x Puma Apparel Collection Will Ensure That You'll Look Like A "Catch" 
The Pokémon x Puma collection is also available in family sizes so you can match up with the whole gang. With the festive season just around the corner, you can get these items as a gift, or even as something to treat yourself with.
Catch 'em all quick, as the whole collection is now available while stocks last in Singapore. You can purchase these items at Foot Locker and selected Puma stores, and on Footlocker and Puma's website.
All images courtesy of Puma. 
Also read:
The Pokémon x Puma Collab Has Designs Like Pikachu & Squirtle For You To Look Your Very Best