Prada x Adidas Superstar Collaboration 
The Prada x Adidas Superstar collaboration launched to rave reviews last December. Fans were enchanted by the all-white design, subtly embossed 'MADE IN ITALY' insignia and the classic Superstar silhouette that many of us remember from our school days.
3 new colourways might be available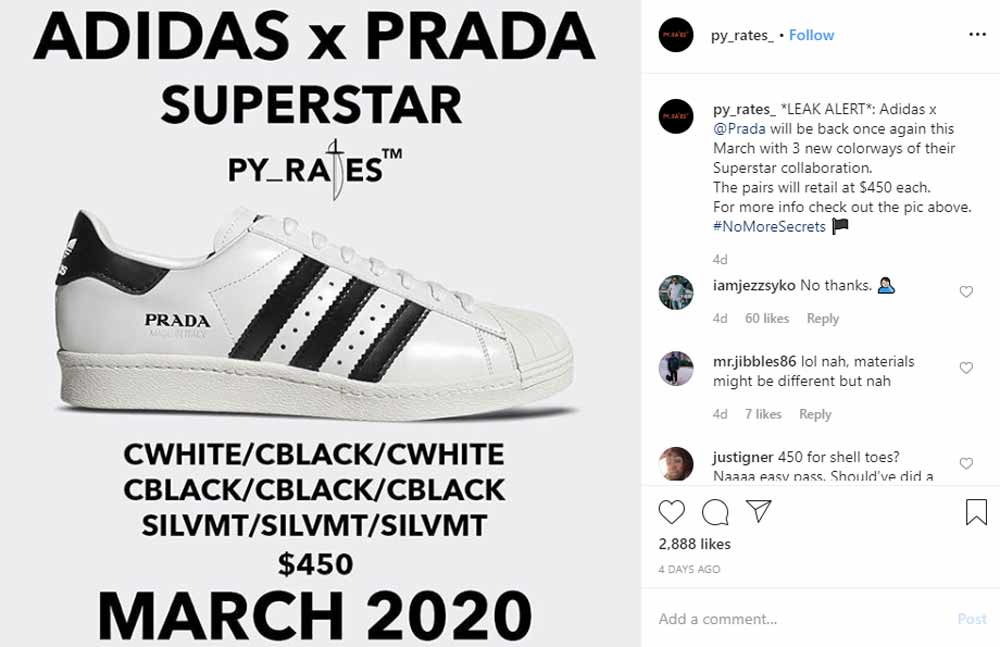 Source
According to a sneaker news Instagram account, @py_rates_, 3 new colourways of the Prada x Adidas Superstar collaboration might be launching in March 2020. They will purportedly be priced at US$450 (~S$608) per pair. Considering these items are branded with an Italian luxury label, it could be a steal.
Rumours are that the designs will be in 3 colourways:
White / Black / White
Black  / Black / Black
Silver / Silver / Silver
The black-on-white design is a classic Adidas Superstar look that many of us sported in school. With the brand Prada stamped on it, these new shoes will help you feel like you have made it in life. 
The other all black and all silver pairs will definitely make your sneakerhead friends take a second look with their unique colours. 
2019 Prada x Adidas collaboration


Source
The 2019 sneakers and bowling bag set retailed for US$2,500 (~S$3,380) and were limited to a 700-piece run. Unsurprisingly, the designs flew off the shelves. Resellers have priced the collaboration at US$1,200 (~S$1622) for the sneakers alone, on popular sneaker trading site StockX. 
Prada x Adidas Superstar Collaboration Prizes "Craft Over everything"
You can sign up on the Adidas-Prada site to be first to be informed of the upcoming sneaker releases. Meanwhile, you can enjoy the promotional video for the collaboration, that features ASMR sounds from the creation process of these calf leather goods.
From the site and the video, it seems like this line of goods is getting some special attention from Italian craftsmen who prize "craft over everything."  
Also read: 
Prada & Adidas Have Revealed Their First Collab & More Designs Will Be Released In 2020