HipDot x Reese's Makeup
Earlier this year, ETUDE's HERSHEY'S Kisses collection featured eyeshadow palettes shaped just like its small chocolate Kisses. This time around, U.S. beauty brand HipDot has launched another HERSHEY's favourite. Introducing a collection of Reese's makeup and brushes, scented just like its famous Peanut Butter Cups. Don't worry if you have any allergies—actual peanuts were not used in any of these products.
Eyeshadow palettes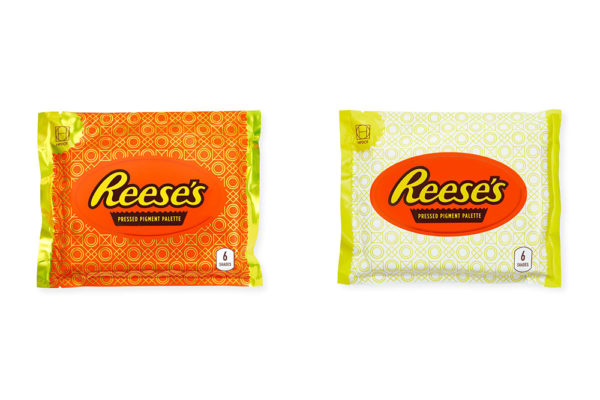 The collection has 2 eyeshadow palettes: Milk Chocolate Cup Pigment Palette and White Chocolate Cup Pigment Palette. Both palettes come adorably wrapped just like typical Reese's Peanut Butter Cups. While you unwrap this sweet treat, you'll also be rewarded with the smell of chocolate and peanut butter.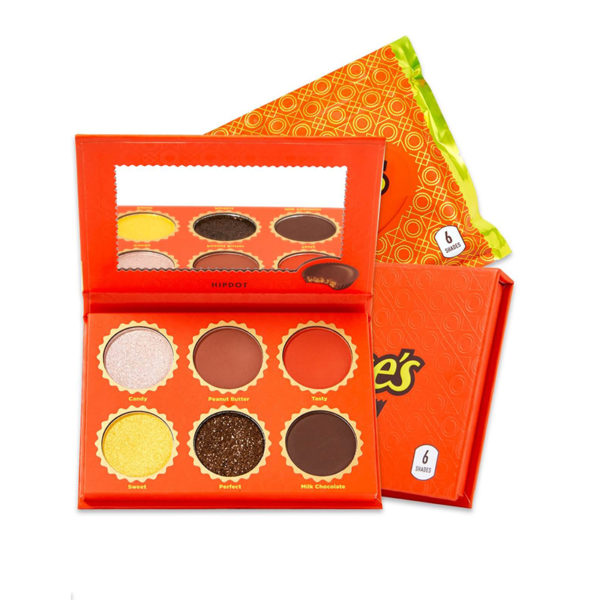 The Milk Chocolate Cup Pigment Palette takes on bolder and deeper hues to reflect its bright orange packaging. If you're feeling glamorous, combine the Milk Chocolate and Perfect shades for a classic smokey eye. 
Tasty and Sweet, on the other hand, are anything but classic. For a fun girl's night out, blend the highly pigmented orange and yellow tones respectively to achieve a more dramatic look.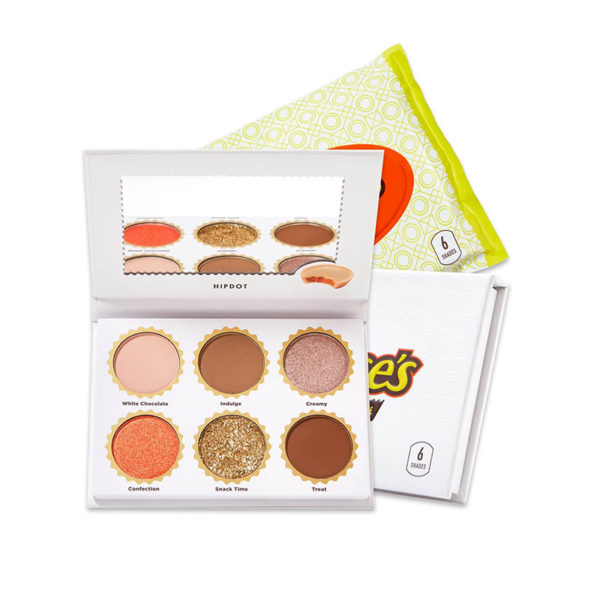 The White Chocolate Cup Pigment Palette features soft neutrals that are perfect for your everyday, no-makeup makeup look. To add a pop of colour, make use of the bright orange shade, Confection. Blend Creamy or Snack Time into your crease to add a last touch of shimmer.
Also read:
ETUDE x HERSHEY'S KISSES Has Eyeshadow Palettes Shaped Like The Tiny Sweet Treat For Valentine's Day
Brushes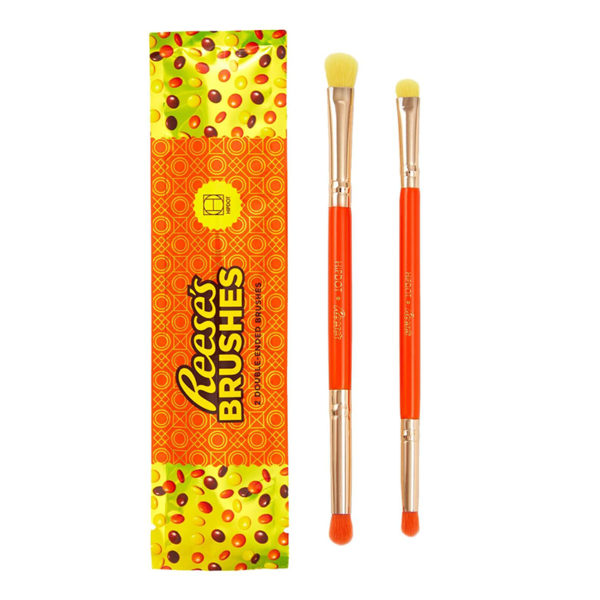 Pair your eyeshadow palettes with matching brushes from the Double-Ended Brushes Duo in this collection. With the small rounded tips, these brushes are great for reaching around the small spaces of your eyelids, such as the arch beneath your brows.
Lip balms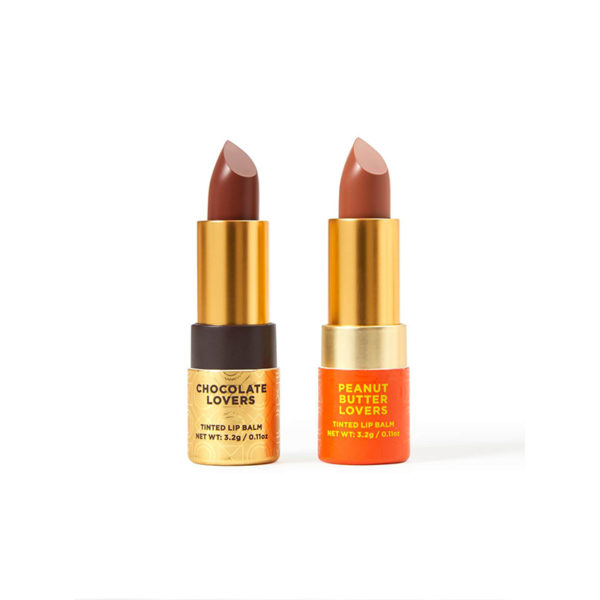 Whether you like peanut butter or chocolate, Reese's has you covered with both options. The Reese's Lips Duo features 2 shades of tinted lip balms. 
Chocolate Lovers takes on a sheer nude tint to moisturise your lips for everyday wear. Meanwhile, Peanut Butter Lovers comes in sheer brown, inviting a stronger hint of colour that can be coupled with the shades in the Milk Chocolate Cup Pigment Palette.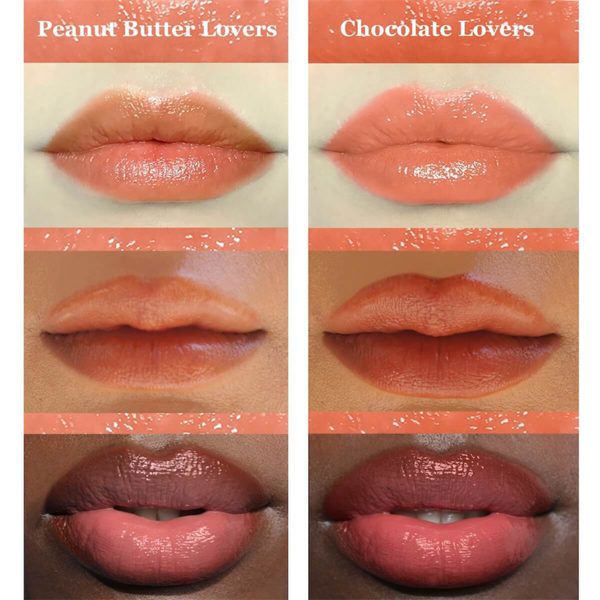 Like the eyeshadow palettes, the lip balms are also infused with the sweet aroma of the Peanut Butter Cups. The colours are suitable for any skin type as they are more subtle compared to a regular lipstick. Now you can literally have, as quoted by Flo Rida, lips like sugar.
Bag set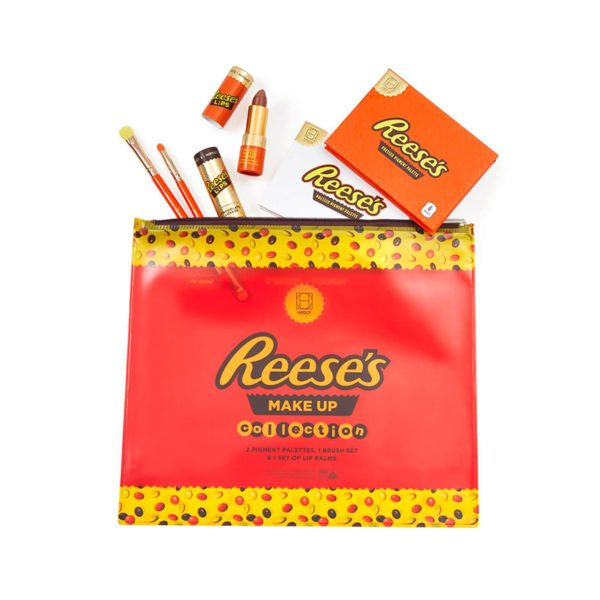 Can't make up your mind? There's also a limited edition collector's bag set that includes every item in this collection. This is the ultimate bundle for all candy lovers who can't get enough. The additional pouch is also large enough to fit other makeup products to take with you on the go.
This Reese's Makeup Collection Is Made For Candy Lovers & Beauty Gurus Alike
The HipDot x Reese's collection only ships to the U.S. and Canada, but you can use a freight-forwarding service like vPost to get your hands on the makeup items. In the meantime, if you're looking for more kawaii lip balms, check out this Pokemon lip balm collection, which is already available in Singapore.
All images courtesy of HipDot
Also read:
This Pokemon Lip Balm Collection Features 5 Kawaii Characters & You Can Catch 'Em All Today