Sanrio Lip Balm
Sanrio is no stranger to beauty collaborations. In the past, it's collaborated with companies such as Japanese fragrance brand Vasilisa on Sanrio perfume sticks. However, this time around, Sanrio Japan has launched its own scented lip balm and hand cream, featuring almost the whole gang. You'll spot familiar faces such as Hello Kitty, My Melody, Little Twin Stars, Cinnamoroll and Pompompurin on the adorable packaging.
Lip balm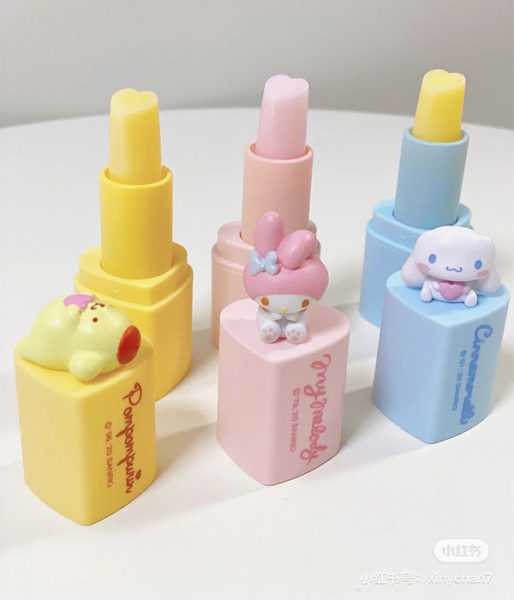 Source
The Sanrio lip balms come in heart-shaped tubes with adorable figurines of the characters atop the lids. The tips of the lip balm are heart-shaped too.
The Pompompurin lip balm is completely yellow to match the puppy, and is formulated with a mango fragrance. The My Melody lip balm is pink with a strawberry scent. Cinnamoroll comes in blue to match its eyes and mouth, and is available in a grapefruit flavour.
Source, source
If you're a sucker for roses and Hello Kitty, the Hello Kitty lip balm will serve as the perfect encouragement to moisturise your cracked lips. Bonus: the packaging will look great on your desk or dressing table too.
Besides the usual suspects, there is also the addition of Kuromi, Badtz-Maru, Pochacco and Hangyodon. 
As with the rest of the lip balms in this collection, they feature the mini figures staring back at you from the top of a heart-shaped stick. Scent-wise, Kuromi comes in a rose scent and Pochacco has a peach scent. Both Badtz-maru and Hangyodon lip balms are formulated with a green apple scent. 
Also read:
New Sanrio x The Sophia Label Collection Has Kawaii Accessories Starring Hello Kitty, My Melody & Cinnamoroll
The set
Now that we are in the middle of a pandemic, putting on hand sanitiser regularly has become the norm. However, hand sanitisers can be drying for our hands. Luckily, the lip balms also come in a set with a hand cream.
The packaging matches the colour of the lip balm, and the scent as well. These sets will be the perfect encouragement to moisturise both your dry lips and hands. 
Sanrio Lip Balm & Hand Cream Are Perfect For Lazy Sanrio Fans  
Stay safe and stay moisturised with the new Sanrio lip balm and hand cream. The lip balms are retailing for ¥715 (~S$9.19) and the hand creams for ¥605 (~$$7.78) each. The set is retailing for ¥1,100 (~S$$14.14) each. They are now all available on Sanrio Japan's website. For now, shipping to Singapore is not available. However, you can try your luck on freight forwarding sites like Airfrov or even Shopee and Carousell.
Also read:
Hello Kitty x LeSportsac 2020 Features Sanrio Characters In New York So You Can Get Your Travel Fix