TK TrichoKare Scalp Detox Treatment 
For millennials and Gen Zs in the prime of your youth, hair loss and thinning are not problems that usually come to mind. However, these issues can creep up on us, slowly exacerbated by our day-to-day activities like hair styling and sun exposure. One fine day, the horror of hair loss sinks in as we notice our once luscious locks now visibly thinner than before. 
Hair loss and thinning from daily styling
Our colleague Zhin is heavily involved with shoots and works in a client-facing role so he constantly needs to style his hair – think loads of wax and hair spray on a daily basis. Coupled with hair that gets oily real fast, some form of damage is inevitable. 
Lately, Zhin had been noticing some hair loss too, often finding stray strands on his pillow in the morning or when he's shampooing his hair. As a result, he now confronts the dreaded possibility of thinning hair and a receding hairline at the age of 28. To top it all off, he faces the beginnings of the M-shaped crown, something which strikes fear into the hearts of all men. 
Therefore, we decided to sign Zhin up for an Advanced Scalp Detox & Care Treatment at TK TrichoKare to see if it could help in promoting hair growth to prevent further loss and to restore the original thickness. 
Hair treatment process at TK TrichoKare
The consultation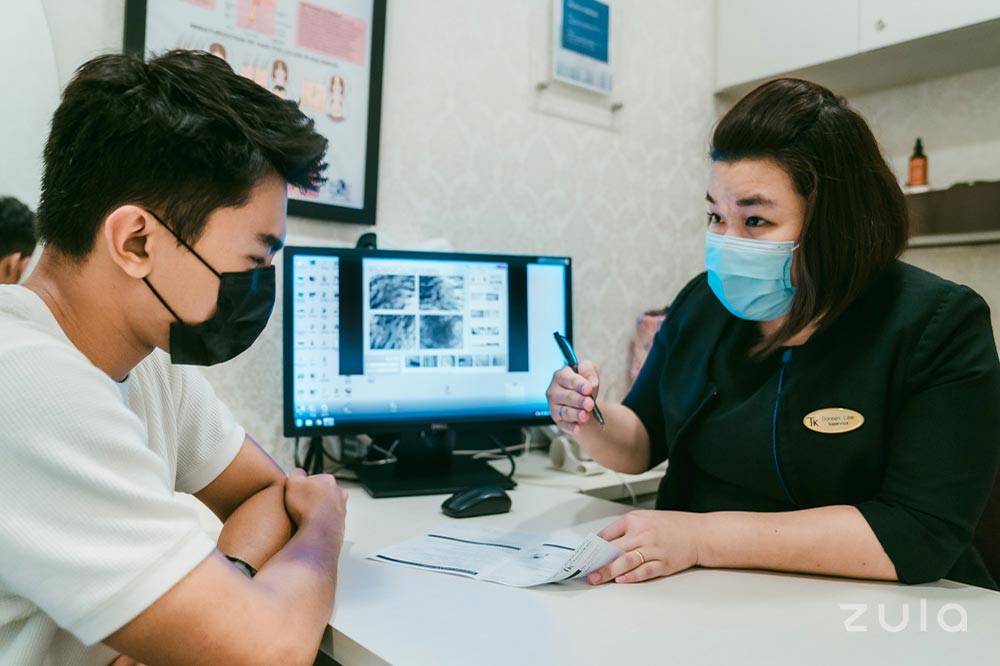 Every treatment session at TK TrichoKare begins with a consultation conducted by a Trichologist or Hair & Scalp Specialist. Zhin's was no exception. At this stage, he was quizzed by the specialist with detailed questions on his diet, hair washing routine and whether he was taking any dietary supplements. 
This allowed the specialist to get a good understanding of Zhin's lifestyle habits so she could get to the root cause of Zhin's hair and scalp issues.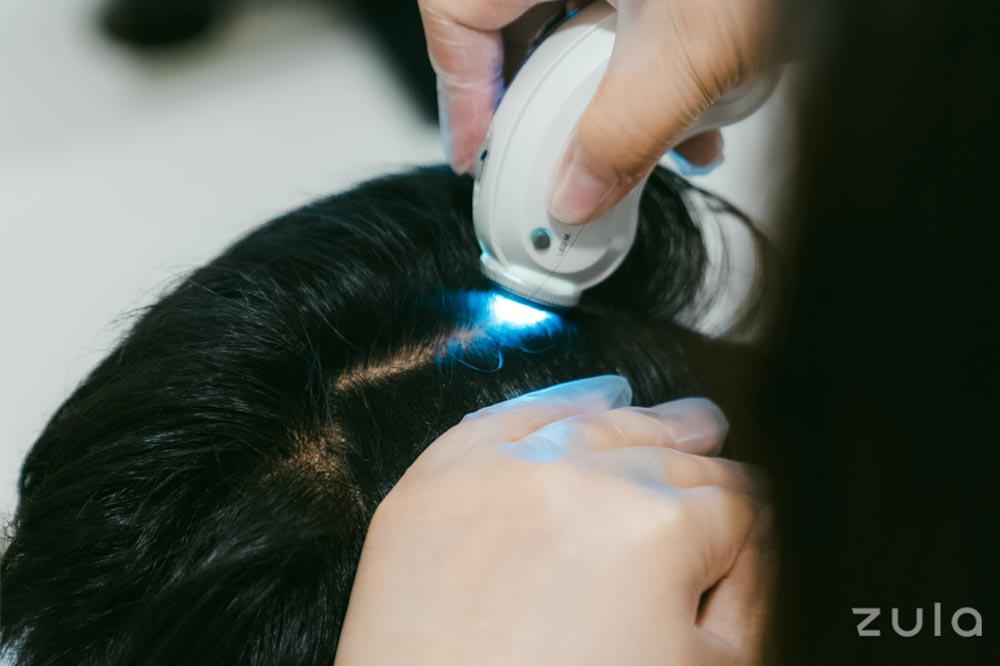 During the consultation, the specialist  performed a detailed hair and scalp analysis. Using a lens that magnifies up to 200X, she made a comprehensive assessment of Zhin's scalp condition. 
Pictures of your scalp are also displayed on a monitor screen so you can get a deeper look at the crown of your head. Looking at your scalp up close and finally realising how clogged and oily your pores are can be likened to an unpleasant epiphany, just like it did for Zhin – not realising the damage hair products had done.
Following the assessment, the specialist confirmed Zhin's suspicions of thinning hair and a receding hairline caused by shrinking follicles. She also added that his scalp was oily due to overactive sebaceous glands. To combat this, she recommended a customised treatment involving their copper peptide ampoule. This is essentially a serum containing amino acids (the building blocks of proteins) to stimulate follicle growth. 
The treatment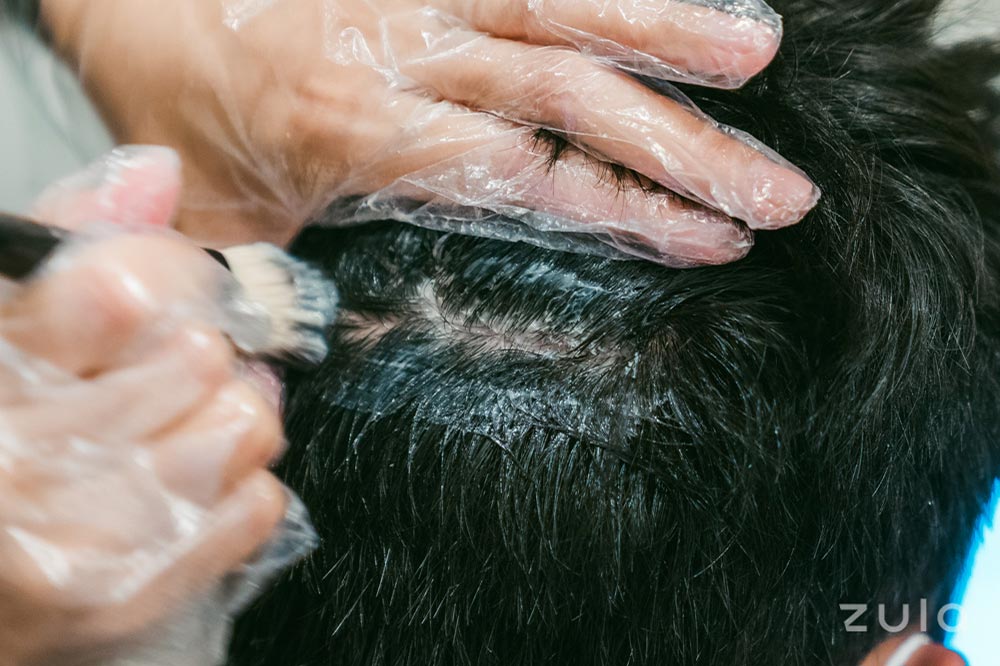 The treatment started with the application of a hair masque. For those who've been to salons to get a new coloured-do, this step will feel almost the same as getting your hair dyed – just that the result involves healthier roots than a change of hair colour. The goal of this step is to detox the scalp by removing impurities and excess sebum, thereby unclogging the pores.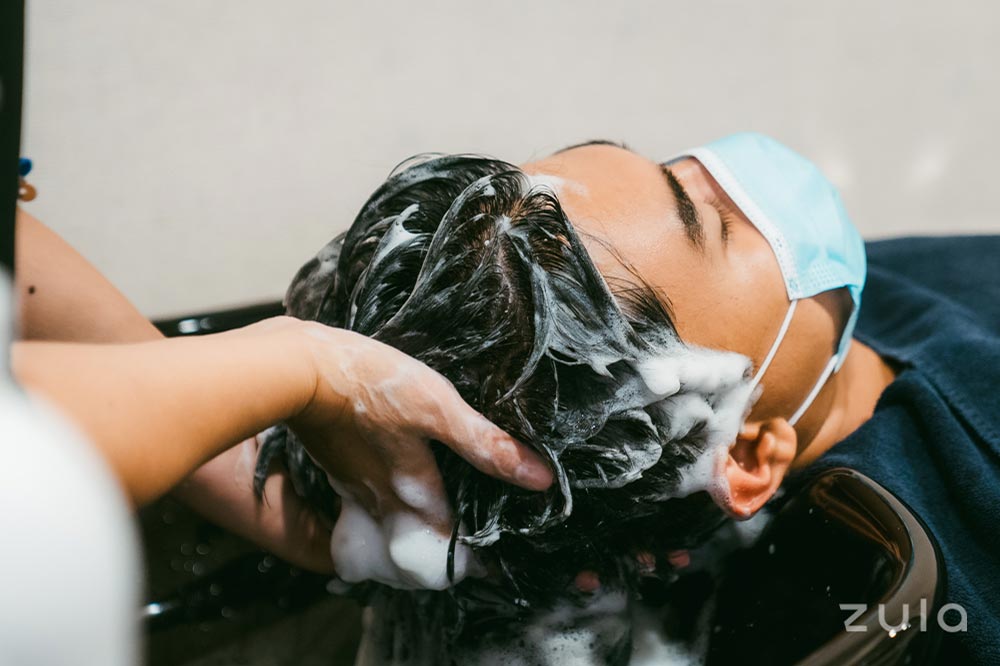 After about 15 minutes, Zhin was directed to receive a revitalising hair bath to get a refreshing scalp cleanse and restore sebum balance. His hair was shampooed twice, which as explained by the specialist, works to ensure the pores are opened. Ladies will get a triple cleanse, with the third wash using conditioner instead. 
Zhin particularly enjoyed this step as the mini head massage during shampooing felt like "much needed downtime" while still undergoing the hair treatment.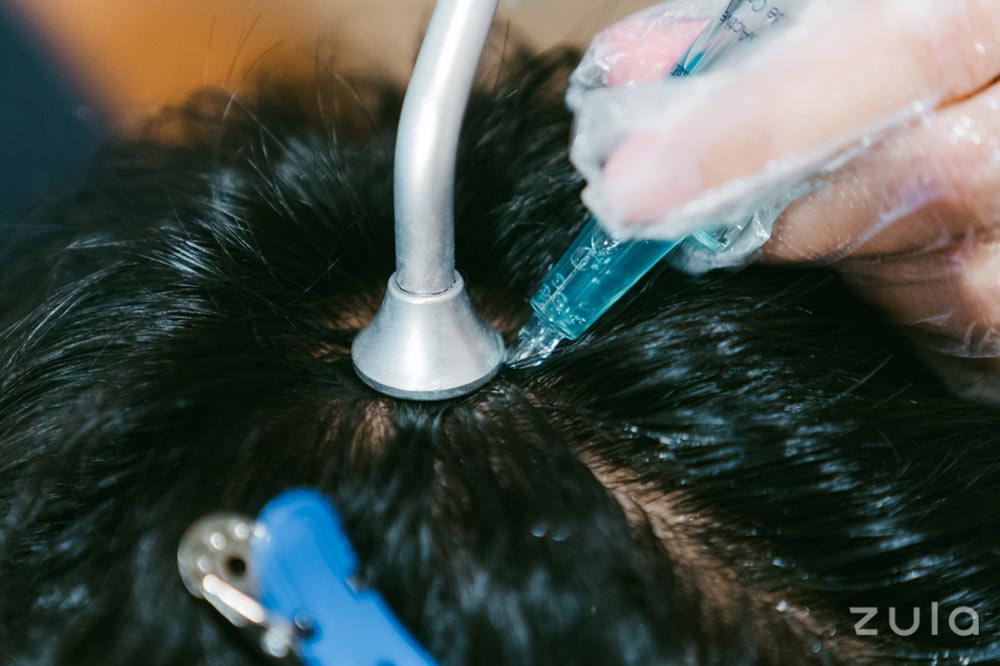 Now that the pores were adequately opened and properly cleansed, they were ready to receive the nutritional goodness of TK TrichoKare's signature Customised Ampoule. A copper peptide serum was chosen to address Zhin's concerns. This particular ampoule was selected due to its regenerative properties. Not only does it stimulate follicle growth to prevent hair loss, it aids in restoring hair follicles to their original size leading to an improvement in hair thickness as well. 
While the ampoule was being applied, their OxyJet machine was used simultaneously. It sprayed pure oxygen to targeted areas on Zhin's scalp, facilitating absorption of nutrients by accelerating scalp cell metabolism and improving blood circulation. 
Don't be intimidated by the idea of jet-spraying air onto your scalp. According to Zhin, this process felt just like someone blowing air onto his head. Plus, the ampoule also felt cooling on his scalp.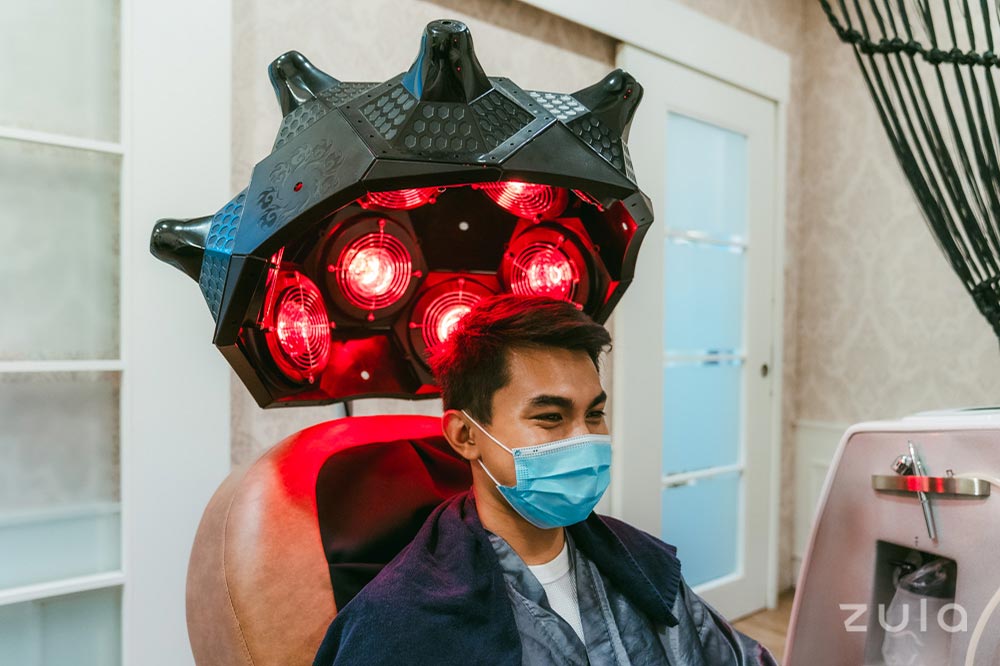 Rounding out the treatment session was TK TrichoKare's Photodynamic Therapy. Described as "Professor X Cerebro"-esque by Zhin, this futuristic device uses infra-red technology to boost hair regeneration, blood circulation and helps to kill bacteria in the scalp. 
The results 
Zhin's entire treatment process took around 2 hours from start to finish, which was faster than he expected. Upon completion, he was led back into the consultation room for a second scalp analysis to see the results.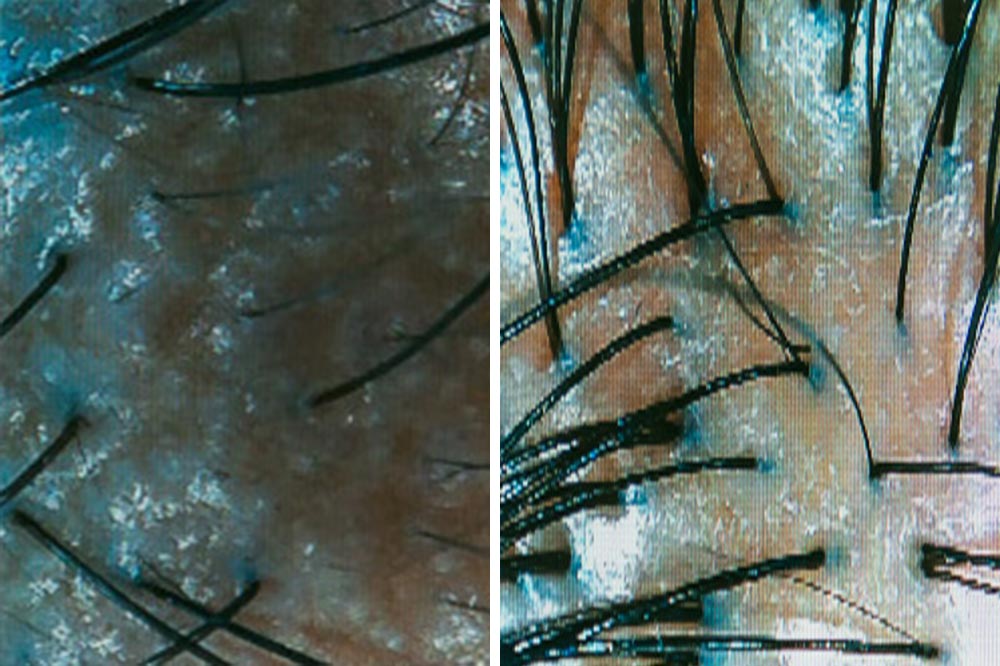 Zhin's scalp analysis before treatment (left) and after treatment (right) 
The second scan showed that the scalp was now a lot less oily and accumulated gunk had been removed. Pores were also less clogged, allowing for healthier hair follicle growth. 
Overall, Zhin noted that his hair felt "stronger". There was no hair fall the night after the treatment when he was shampooing and conditioning. And, only 1 strand of hair was found on his pillow the morning after.  
You might be wondering, "is this a one-and-done deal?" or "will I have to constantly go back for more treatment?". Well, TLDR, it depends. In Zhin's case, the specialist recommended for him to come back once every 2 weeks to truly revitalise his hair growth. For severe cases, more consistent visits might be necessary. But, one thing's for certain, you can trust that the specialists at TK TrichoKare will give you the most professional advice. 
Visit TK TrichoKare For Your Hair Loss And Thinning Concerns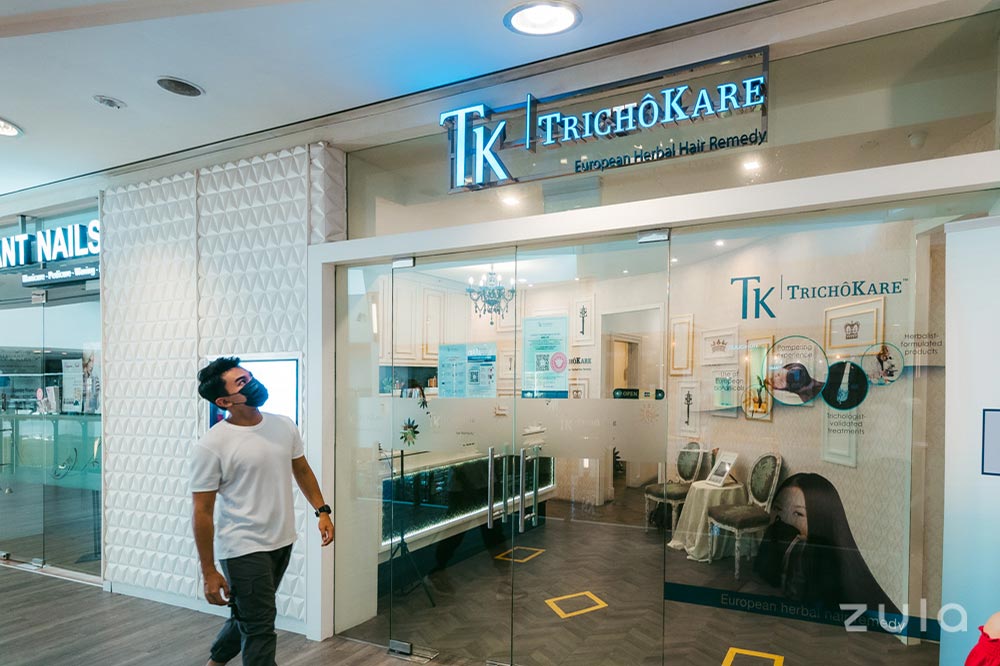 Hair loss and thinning lurk around the corner no matter your age. When we spoke to specialists at TK TrichoKare, they shared that some of their youngest clients include 18 to 19 year olds. Early intervention is key to reversing hair loss and thinning problems so it's best to get your concerns checked out ASAP if you notice any signs.  
From now till 31 December 2021, you can do so at an incredible bargain too. For $40 nett (U.P. $745), you can give your hair some atas tai tai-style treatment with TK TrichoKare's Advanced Scalp Detox & Care Treatment. You'll also be treated to freebies, namely their Hair Care Kit and Hair Ampoule so make sure not to FOMO on this deal. 
This post was brought to you by TK TrichoKare.
Photography by Clement Sim.
Also read:
6 Common Hair Loss Myths vs Facts Confirmed By A Hair Doctor & How To Properly Treat Damaged Hair