Adding A Serum To My Skincare Routine
When it comes to skincare, many of us get intimidated by the variety of products that adorn the shelves of beauty stores. Unlike most of my skincare junkie peers, I'm not committed to an elaborate skincare routine—just a typical face wash and toner every morning and night. 
I've always been psycho-ing myself that this was all I needed, but with acne-prone skin and stubborn blemishes that never seemed to go away, it was time to do something about it.
Because of this, I've been wanting to level up my skincare routine a small step at a time. Looking for new skincare products that would best suit me, however, proved to be tougher than I expected. So when I was recommended to try DR Secret's Aqua Boost Serum 10 for a week to see if it would make a difference, I readily agreed.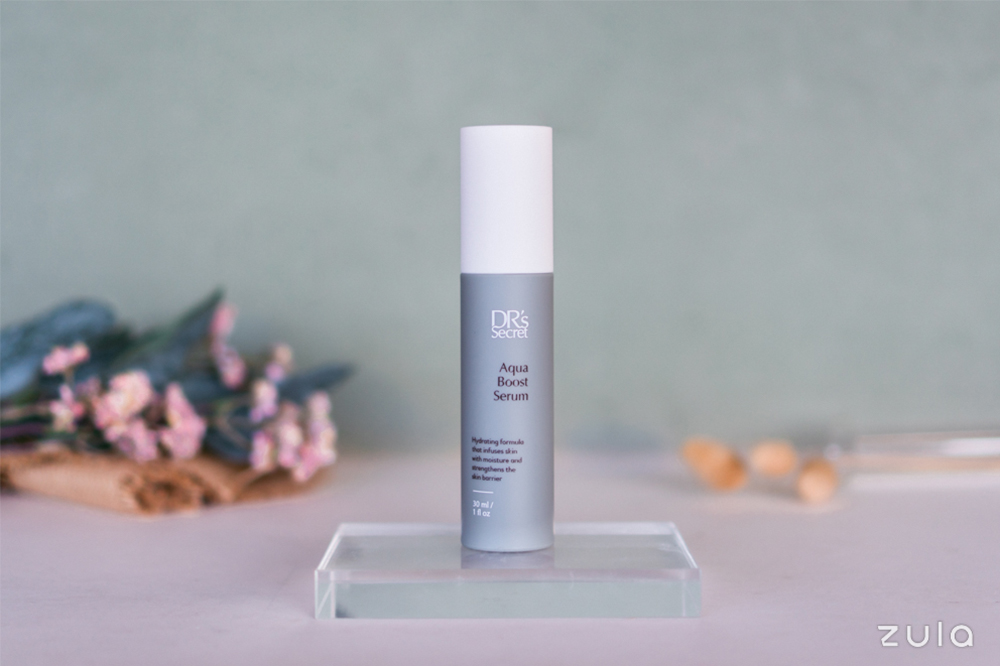 Whether you have dry or oily skin, DR's Secret Aqua Boost Serum 10 contains 12 types of Hyaluronic Acid (HA) with varying molecular forms and weight. FYI, for those who aren't as well-versed in the skincare department like me, HA is a natural substance that can help to increase skin elasticity, soothe redness and improve fine lines. The different HA molecules in Aqua Boost Serum 10 are able to penetrate into different layers of our skin to achieve well-rounded hydration.
After hearing how this serum can hydrate and strengthen my skin barrier, there was no reason to not count me in. Over the course of a week, I looked forward to seeing if adding a new step to my barely existent skincare routine would make an improvement to my skin, as per its claims.
Current skin condition and expectations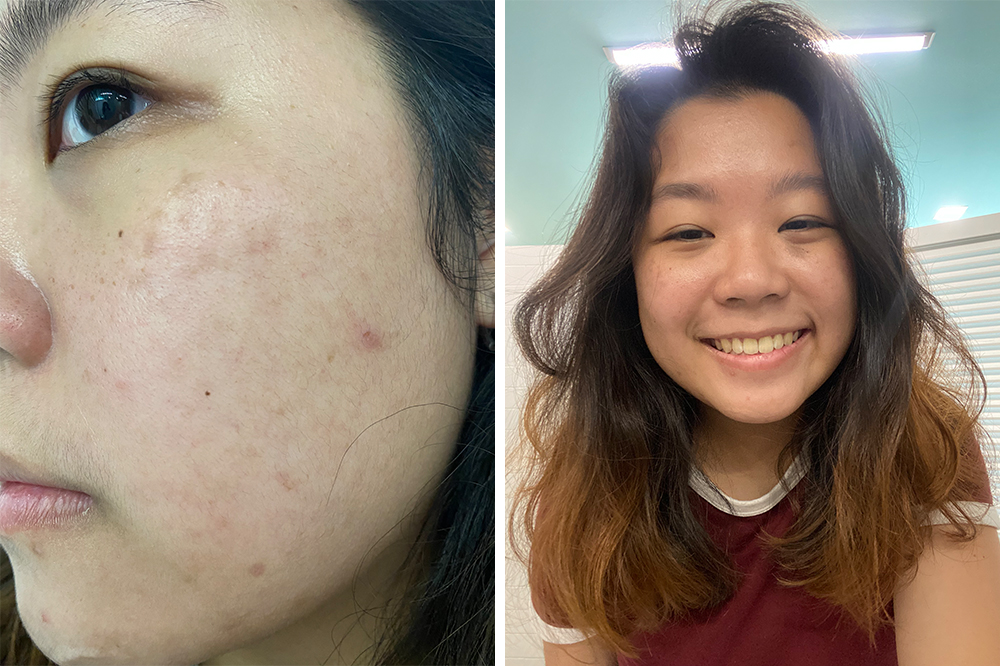 My skin type is oily, often resulting in more pimples on my forehead and cheeks when the weather is humid or when I'm on my period. I have a bad habit of picking and squeezing at my pimples as well, resulting in dark blemishes and scars on my face. 
In the past when I used to go for facials, beauticians would tell me that my skin lacks moisture. This has resulted in it feeling tight and dry on the inside. Since I don't have any products in my usual skincare routine that helps with replenishing moisture, I had high hopes that this serum could hydrate my skin and counter my other skin concerns over the course of the trial.
Day 1: First impressions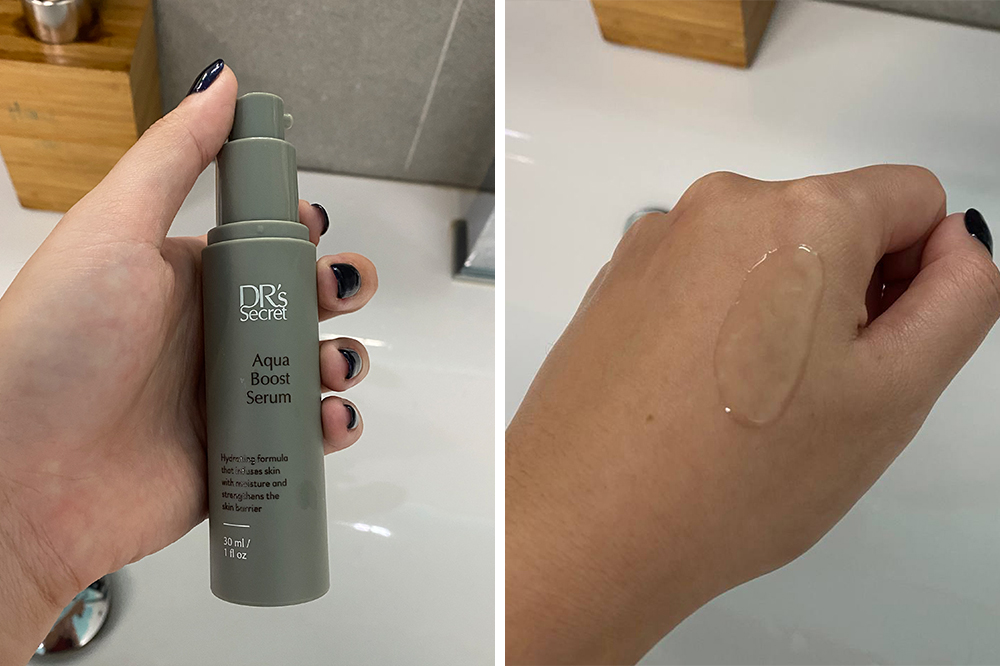 The serum came with a pump at the top that allowed me to easily squeeze out its contents on my hand. My first impression of the clear gel was that it smelled really good, as lavender oil was added to enhance its scent.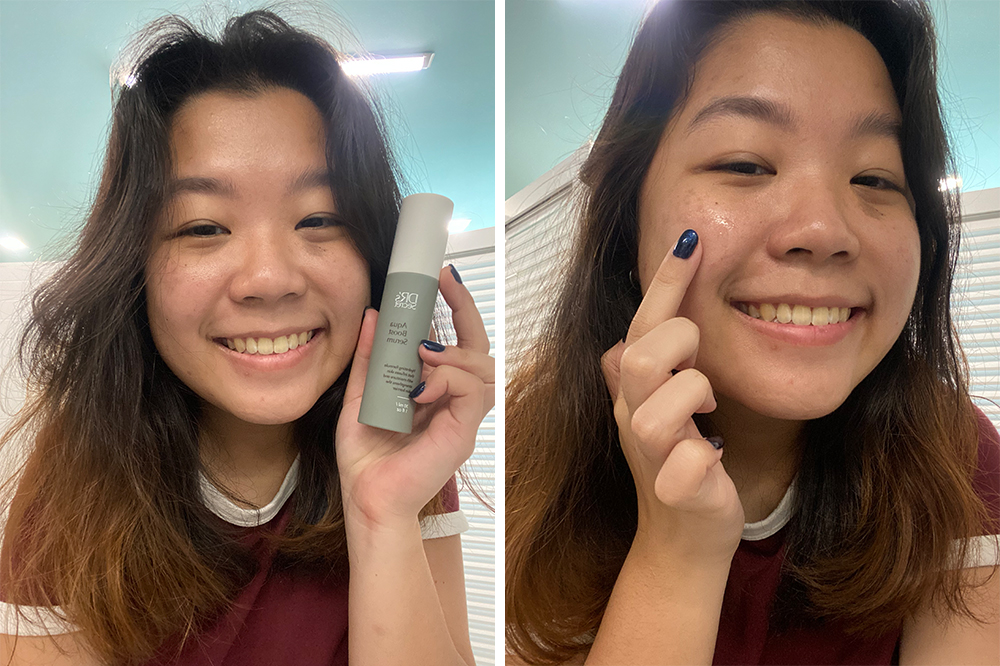 After using my usual facial cleanser and toner, I applied the serum onto my skin. Prior to using the serum, I often found myself avoiding moisturisers and creams because I didn't like the sticky feeling it leaves on my skin before I go to bed. 
However, the serum pleasantly surprised me as it felt light and moisturising without leaving any slimy residue. It spread easily on my face and absorbed into my skin almost instantly.
Day 3: Mid point check-in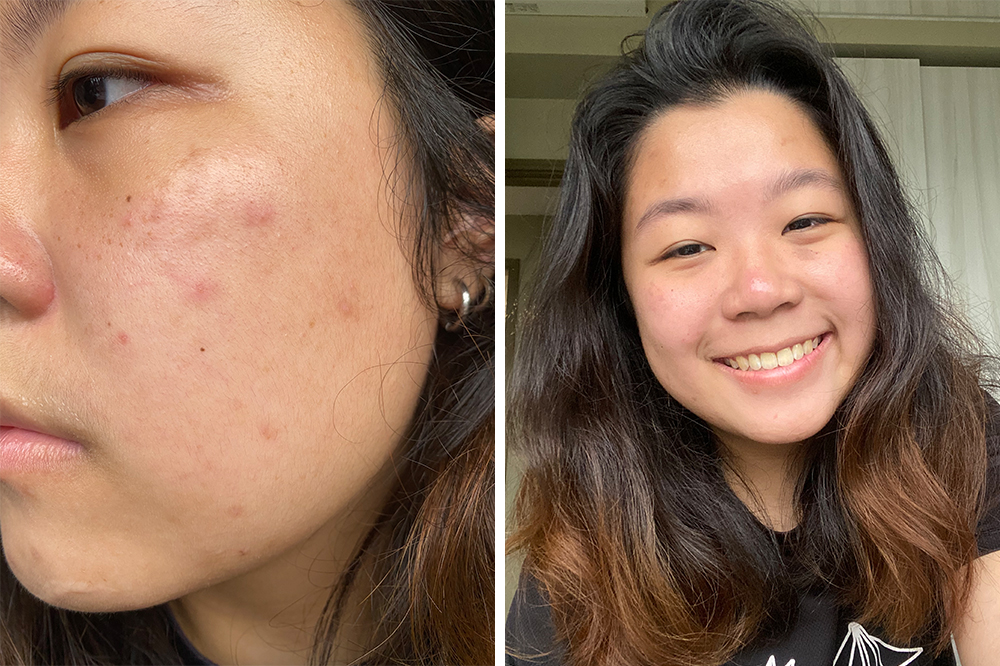 My skin noticeably felt and looked less oily after 3 days
After 3 days, my skin was less oily as compared to before. Unfortunately, I did get that time of the month, so inevitably sprouting new pimples wasn't a surprise to me. I'm prone to these breakouts every month, and sometimes they take a long time to recover. 
Despite that, I found myself using lesser oil blotting sheets. My skin also felt smoother and more hydrated right after using the serum.
Day 7: Final thoughts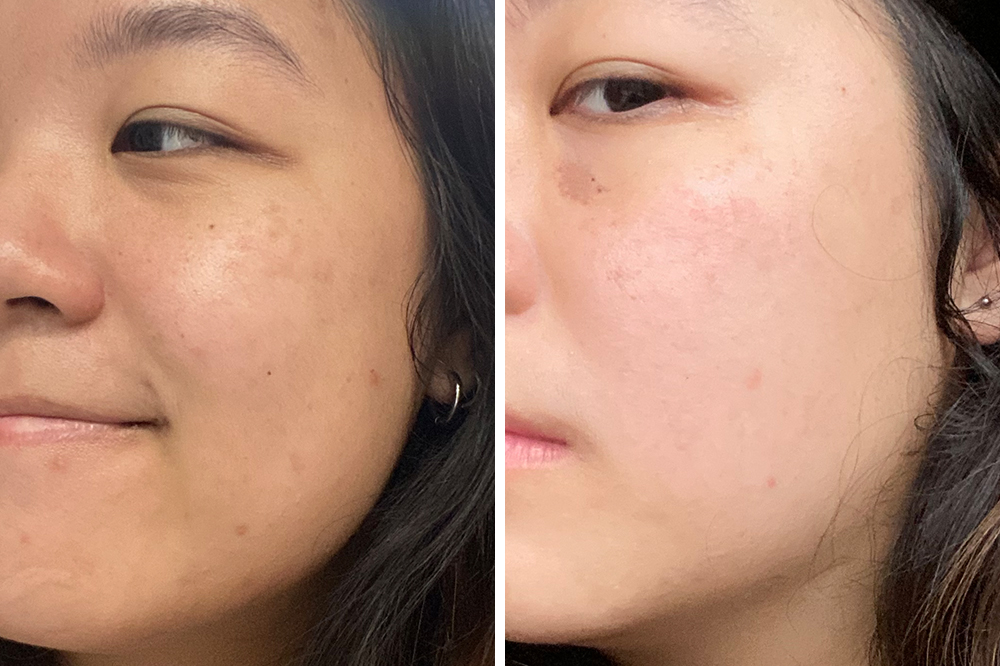 Before (left) vs after 1 week of using the serum (right)
At the end of the week, my skin appeared brighter and maintained its smoothness. I was impressed to find out that most of the pimples I saw from day 3 were controlled. They managed to heal quickly, without leaving any harsh marks on my face. My skin also appeared less dull, creating a more even tone across my cheeks.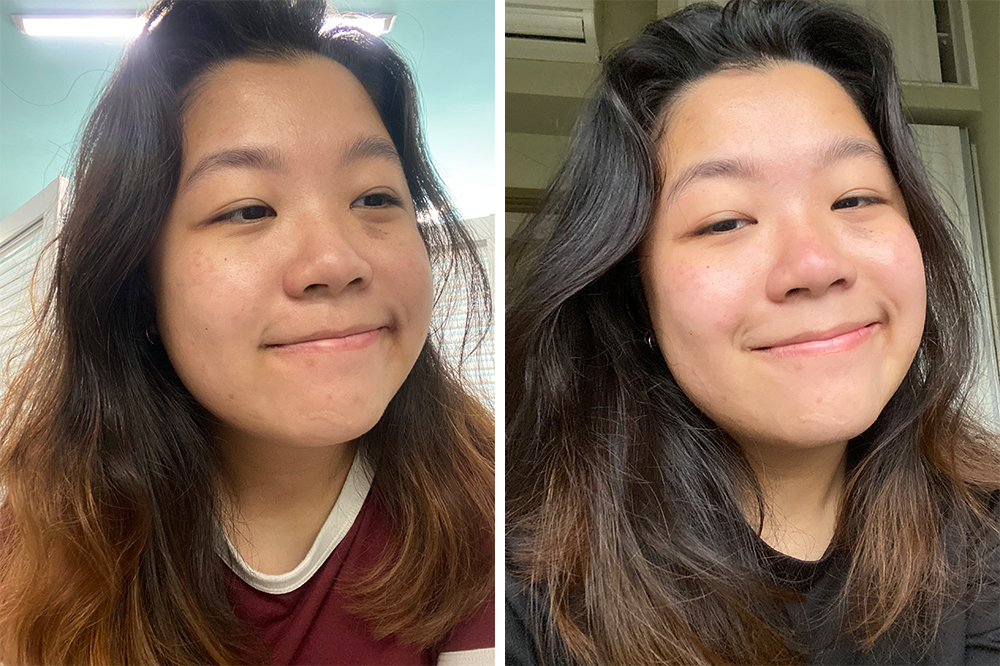 Before (left) vs after 1 week of using the serum (right)
I really liked the way my skin felt softer and refreshed too. Though some of my darker scars and blemishes are still visible since they've been stubbornly on my skin for a long time, there were a couple that have faded throughout the week. 
For someone like me who was unable to commit to a fixed skincare routine, applying the serum every day turned out to be simple and fuss-free. Pushing past my cautious approach towards new skincare products, I'm glad to say that I managed to achieve positive results on my skin within just a week.
I Tried Adding DR's Secret Aqua Boost Serum 10 To My Skincare Routine For A Week
While work-from-home continues to remain a norm, going makeup-free at home is the best opportunity to pamper my skin. Adding this small step made me realise that you don't have to necessarily follow an elaborate 10-step Korean skincare routine for it to help your skin.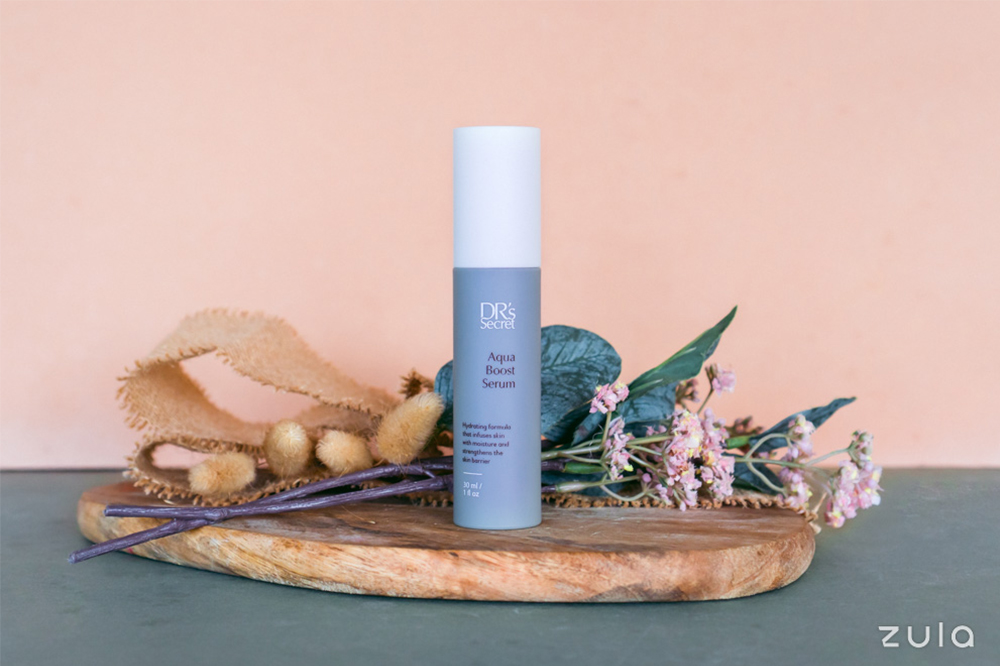 Hydration is key to any skincare routine. Besides acting as a water reservoir for the skin, DR's Secret Aqua Boost Serum 10 also contains a fusion of ingredients such as panthenol (provitamin B5) and ferment extracts to restore and repair the skin barrier.
Within the serum itself, a range of ferments work closely together as a team: centella asiatica (a.k.a Cica), baikal skullcap root and lactobacillus. These are your skin's BFF clique that balances sebum levels, reduces effects of UV exposure and prevents the invasion of microbial organisms. 
You can get DR's Secret Aqua Boost Serum 10 on DR's Secret website. The website will also lead you to the DR's Secret skin quiz, which will generate a customised skincare routine based on your skin needs. This is perfect for those who are looking to level up your skincare routine but feel unsure of how to take the first step. 
Plus, you'll also receive personal product guidance via Whatsapp from a DR's Secret Skin Buddy—an independent sales representative and experienced real user. After all, trying new things always feels less scary if you have experienced support to accompany you along.
Learning about DR's Secret Aqua Boost Serum 10 has made me want to work towards achieving healthy and hydrated skin in the future. With positive changes to my skin within a week of using, I'm more determined to keep up with my newfound skincare routine. 
This post was brought to you by DR's Secret.
Photography by John Low.
Also read:
Dermatologist Shares How To Shop For Foundations, BB Creams & Cushions That Won't Wreck Your Skin