Singapore Athletes From The '90s-2000s
While Singapore may be just a little red dot on the map, we do have our fair share of amazing athletes who've made us proud through their international representation. From skilled swimmers such as Tao Li and legendary footballers like Fandi Ahmad, most of us grew up with these athletes who inspired us with their achievements. 
Dive down memory lane with these 17 familiar faces of Singapore athletes from the '90s to 2000s, and find out what they've been up to since retiring from their sport.
Swimmers
1. Joscelin Yeo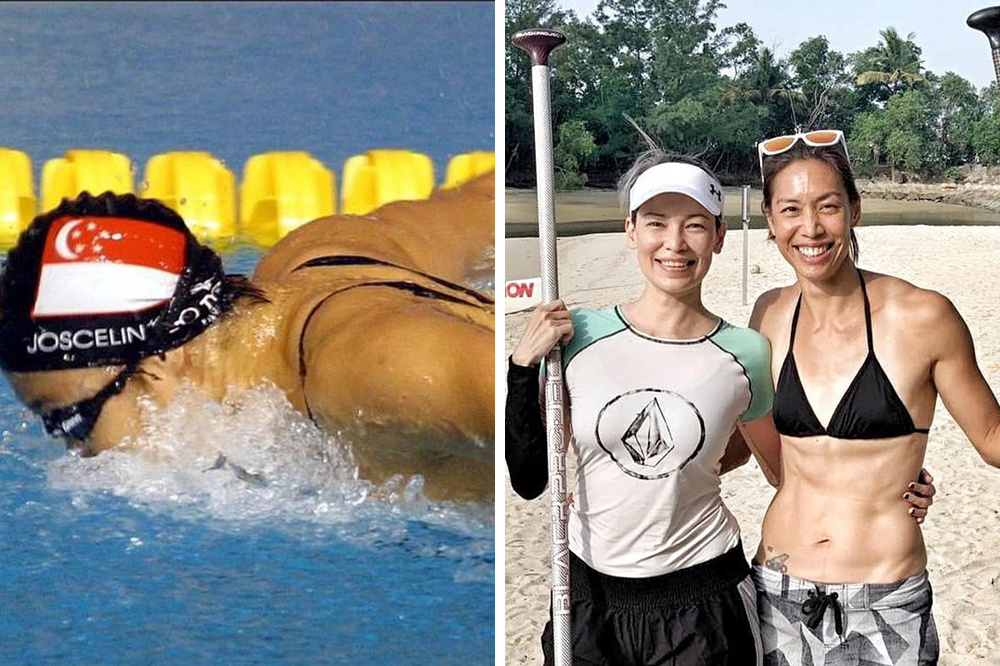 Joscelin Yeo began competitive swimming from as young as 11 years old and ended her career in 2007. As a competitive swimmer for 16 years, she has won 40 gold medals in total at the Southeast Asian (SEA) Games. She currently holds the record of the most gold medals won in SEA Games history.
In 2009, Joscelin was a nominated member of the parliament for a term of 2 and a half years. The following year, she married Joseph Purcell, a pastor of New Creation Church. They are both involved with the youth ministry of New Creation.
Nowadays, the mother of 4 enjoys spending time being active with her kids and friends. She continues to explore a variety of sports through stand-up paddling, mountain biking, hiking and more. 
Follow Joscelin on Facebook, Instagram and Twitter.
2. Leslie Kwok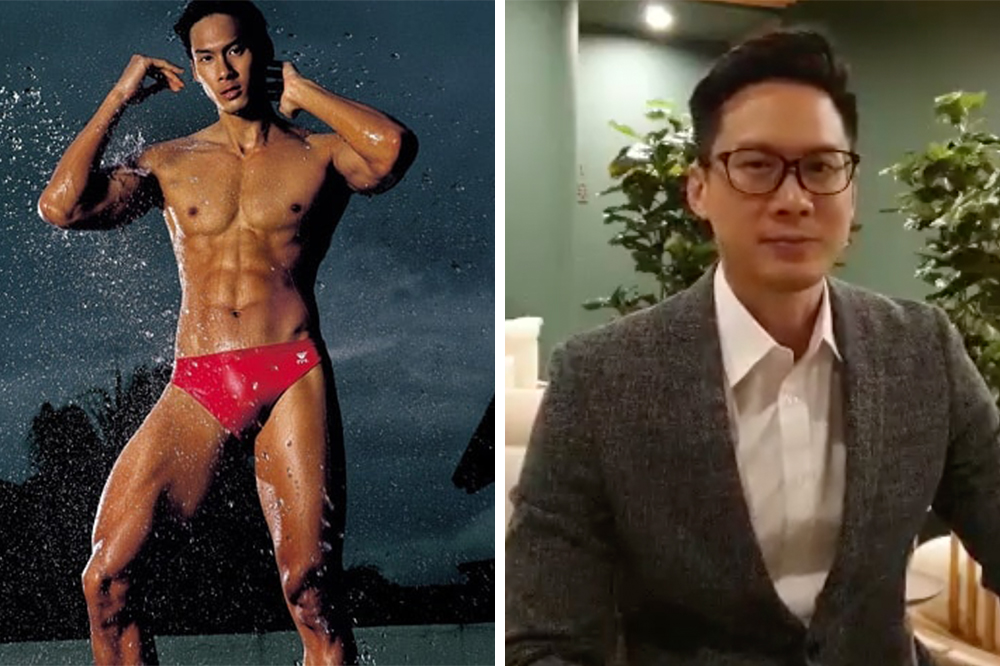 Previously specialising in freestyle sprints, Leslie Kwok earned 3 bronze medals from the SEA Games and later went on to represent Singapore at the 2000 Summer Olympics. On top of that, he has also represented Singapore in many more competitions such as the World University Summer Games in Fukuoka, Japan (1995) and the 9th World Swimming Championships in Perth (1998).
In 2006, Leslie announced his retirement from swimming and went on to explore modelling, entrepreneurship and other lifestyle businesses. Him and former swimmer Joel Tan founded Bbounce Studio, a fitness studio involving the use of trampolines. He is also the founder of Elements Wellness Group, a spa, wellness and beauty brand. 
Follow Leslie on Facebook and Instagram.
3. Tao Li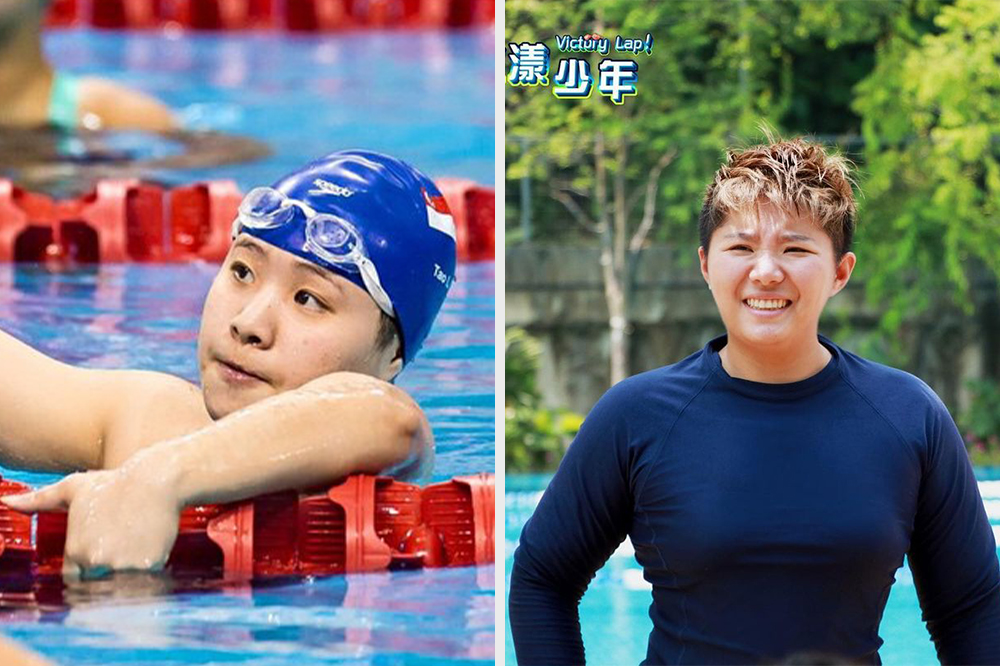 Tao Li is a well-known name to many Singaporeans, with many national records to her name. She started swimming at the age of 5 and competitive swimming at 10, as the only child of parents who are swimmers as well. 
She was the only female swimmer who qualified for an Olympic final, specialising in backstroke and butterfly. At the age of 15, Tao Li won 4 gold medals and 1 bronze at the 2005 SEA Games in Philippines. 
Till today, Tao Li continues to swim and inspire the younger generation through founding and coaching at Tao Li Swimming Club. She also made an appearance on Mediacorp last year, coaching actors Zong Zi Jie, Gavin Teo and Glenn Yong at her swimming club. 
Follow Tao Li on Facebook and Instagram.
4. Mark Chay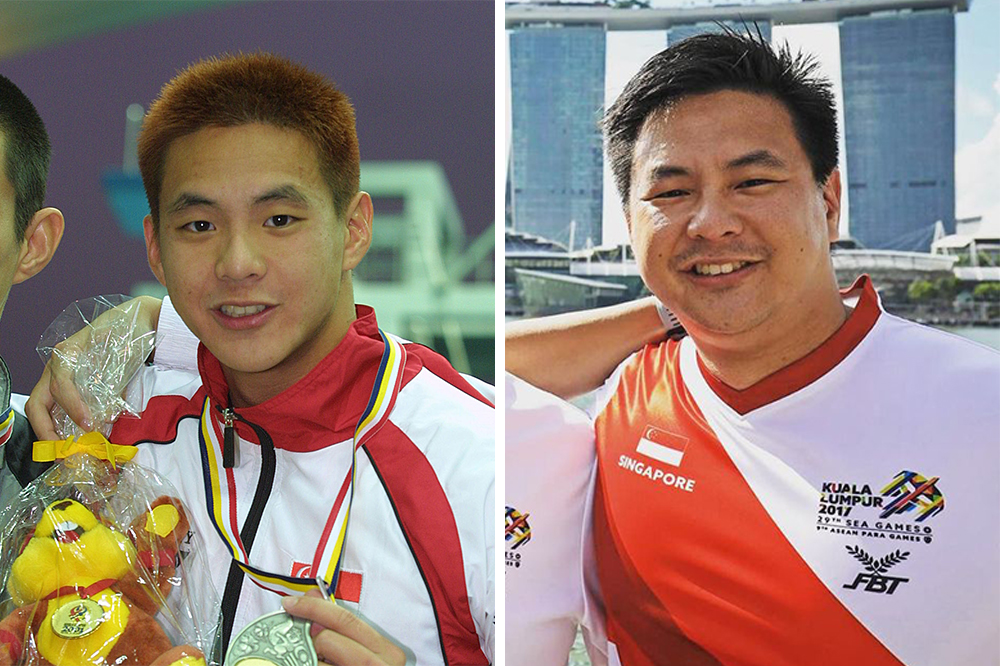 Mark Chay made his Olympic debut at the age of 18 at the 2000 Sydney Olympic Games. He achieved a national record in the 200m freestyle event, placing 23rd out of 57 competitors. Mark was awarded Sportsman Of The Year in 2001. By his next Olympic appearance, he clinched 8 medals in total, 4 of them being gold. 
Retiring from swimming in 2007, Mark tied the knot with his girlfriend in November 2020. In January 2021 he was chosen as one of the 9 nominated members of the parliament in Singapore for the 14th Parliament. He intends to speak up more about sports, with the Covid-19 pandemic's impact on sports being his main reason for joining. 
Follow Mark on Instagram.
5. Nicolette Teo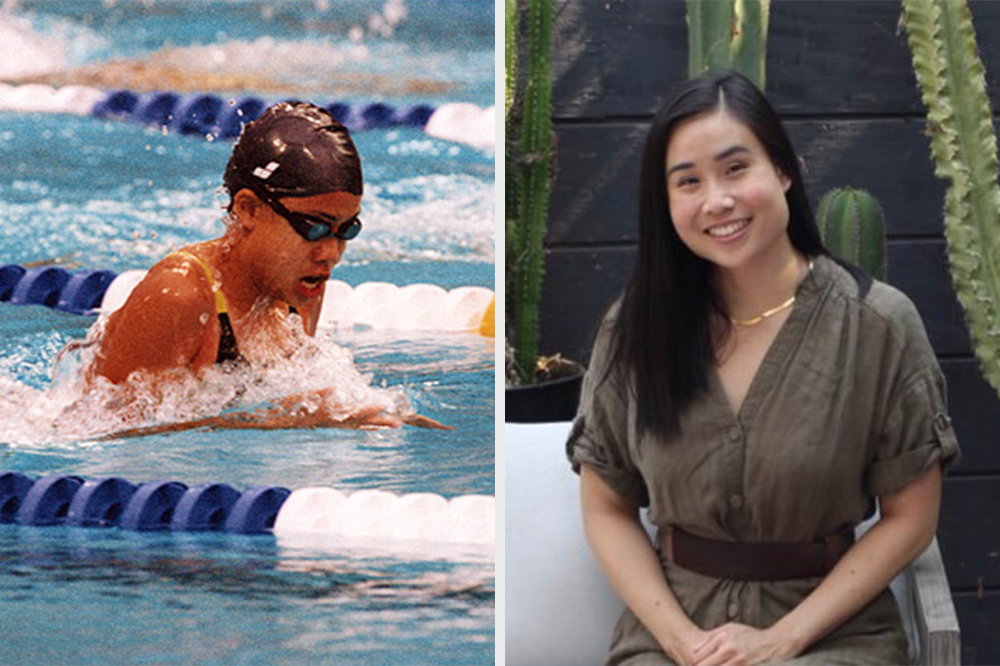 Nicolette Teo took part in 3 Olympic games in 2000, 2004 and 2008, specialising in backstroke. She debuted at the Sydney 2000 Games at 14 years old, and to date she has 9 SEA Games gold medals.
Nicolette swam for the University of California, Los Angeles and earned an All-American honours at the National Collegiate Athletic Association. She's currently residing in the U.S.
From 2015 to 2018, Nicolette was the managing director of the San Francisco World Spirits Competition (SFWSC). She then went on to be the co-director of L.A Spirits Awards in 2019 alongside Joel Blum, whom she has been working with for many years. 
Follow Nicolette on Twitter.
Table tennis players
6. Li Jia Wei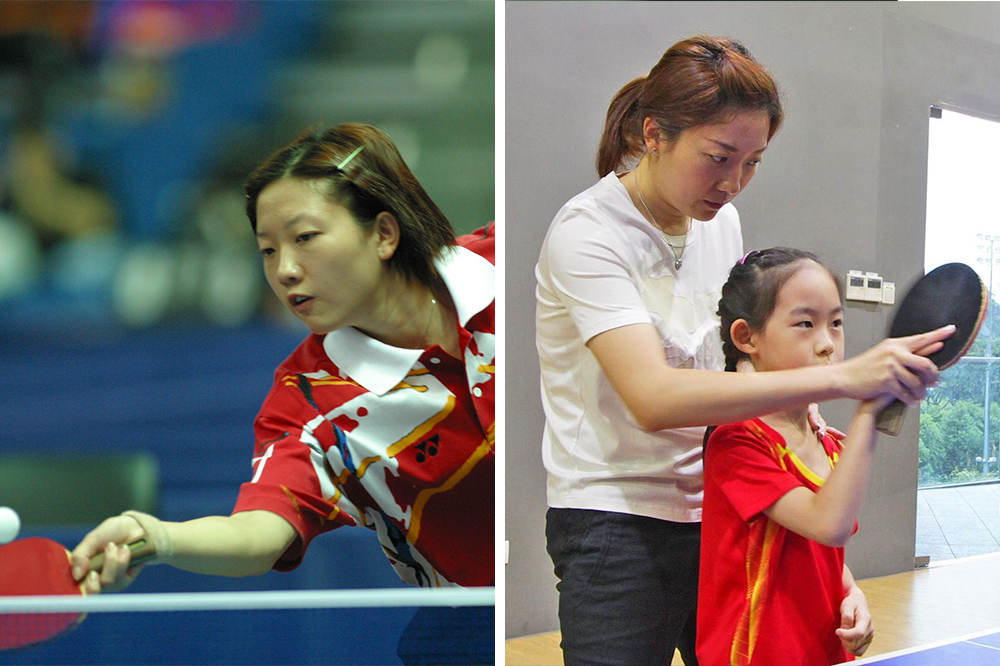 As a 4-time Olympian and twice Olympic medalist, Li Jia Wei broke records in the 2008 Summer Olympic Games in Beijing. After her team lost to China in the finals and earned a silver medal, this marked the first time that Singapore had won an Olympic medal since 1965.
Jia Wei dated Indonesian-born badminton player Ronald Susilo in 2002 and the couple was engaged in 2004. After 5 and a half years of dating however, they broke up in 2008 over financial disputes. Jia Wei went on to marry Li Chao, a Chinese businessman. 
Jia Wei retired in 2012 and launched the Jia Wei Table Tennis Academy in 2017. Though she coaches kids often, Jia Wei shared that teaching her own son table tennis had been a struggle in an interview with The Straits Times in 2017. Her son Tian Rui, then 8, would "crawl under the table" to avoid learning the sport.
7. Jing Jun Hong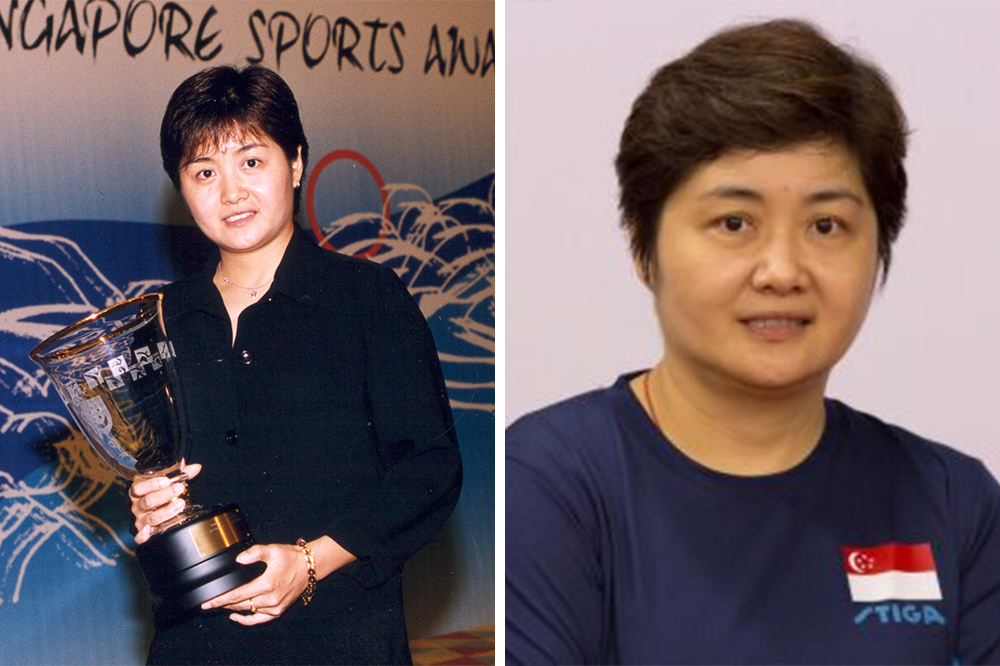 Jing Jun Hong was formally a highly-ranked table tennis player in China before moving to Singapore. She took part in 3 Olympic games and retired in 2004 with 11 SEA Games gold medals in total. 
Jun Hong went on to serve as Singapore's national team head coach after retiring. However, she was forced to step down in 2015 after paddler Yu Meng Yu accused her of disrupting her preparations before a match. She now oversees the association's youth development programs.
Badminton players
8. Li Li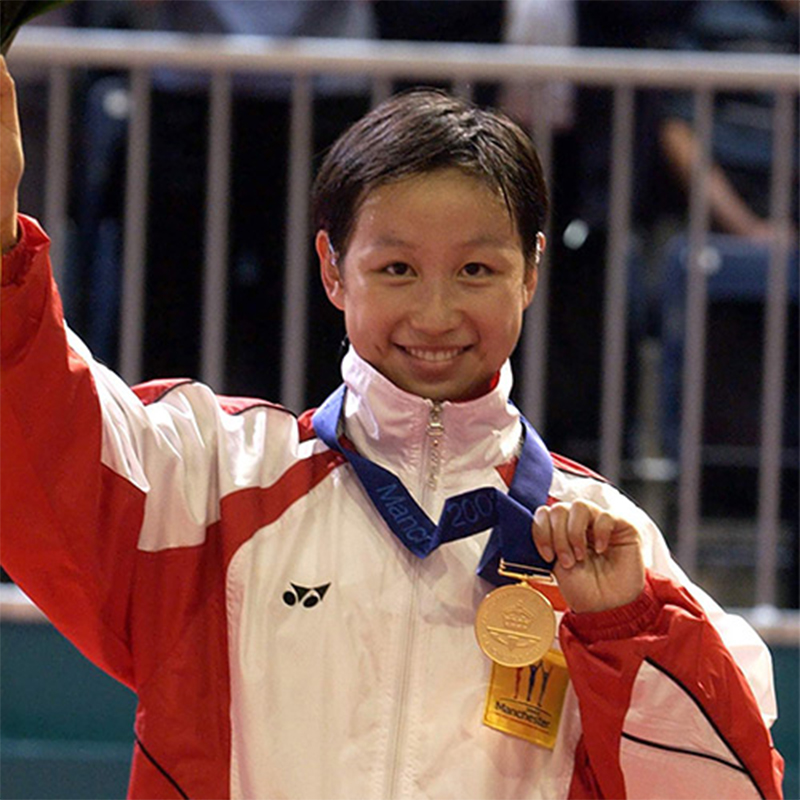 At the age of 19, Li Li claimed a gold medal at the 2002 Commonwealth Games, crowning her Singapore's first women's badminton singles champion. The next year, her team was awarded gold at the 2003 SEA Games in Hanoi, followed by bronze at the 2006 Asian Games in Doha.
In January 2008, Li Li resigned from the Singapore Badminton Association and returned to Wuhan, China. There has not been any public updates about her since.
9. Ronald Susilo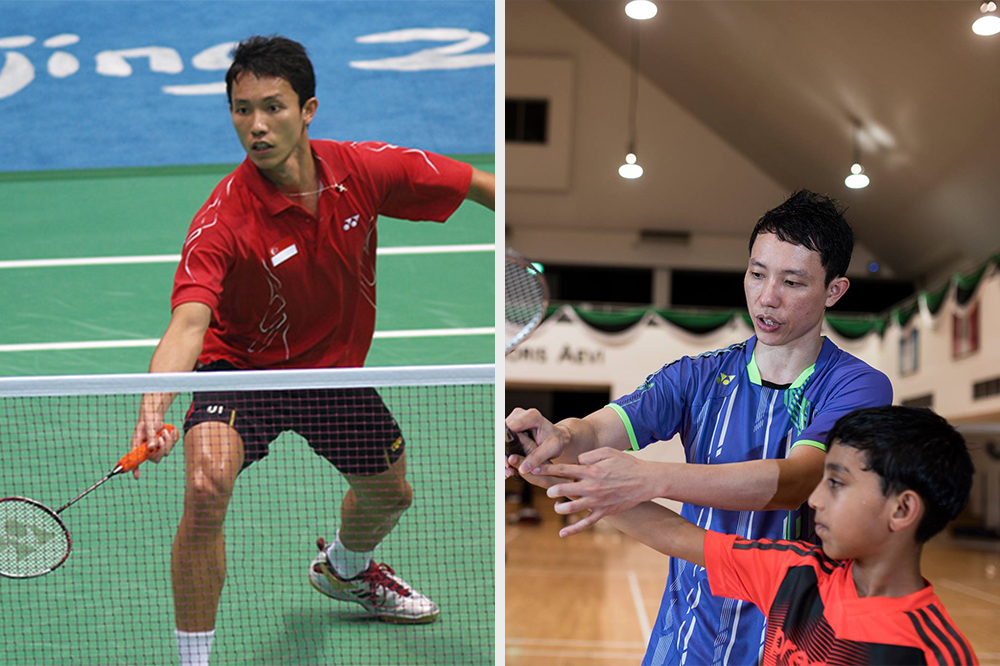 Ronald Susilo joined the Singapore Badminton Association when he was 19 years old. He is a two-time bronze medalist at the 2003 SEA Games. Many might recognise him as the national flag-bearer at the 2004 Summer Olympics opening. 
In his very first Olympic match, Ronald beat world number 1 badminton player Lin Dan in straight sets and made it to the quarter-finals. However, he retired from the sport in 2010 due to injuries on his shoulder. 
Ronald founded the Ronald Susilo Sports Enterprise in 2010 and is currently leading the academy as head coach. He married Widyana Mulia in 2011 and the couple welcomed a daughter 3 years later.
Ronald made a surprise comeback in 2014, but was forced to pull out from the 2015 SEA Games due to a muscle tear in his hip. 
Follow Ronald on Facebook.
Also read:
Miss Universe Singapore Winners Across 20 Years And Where They Are Now
Footballers
10. Fandi Ahmad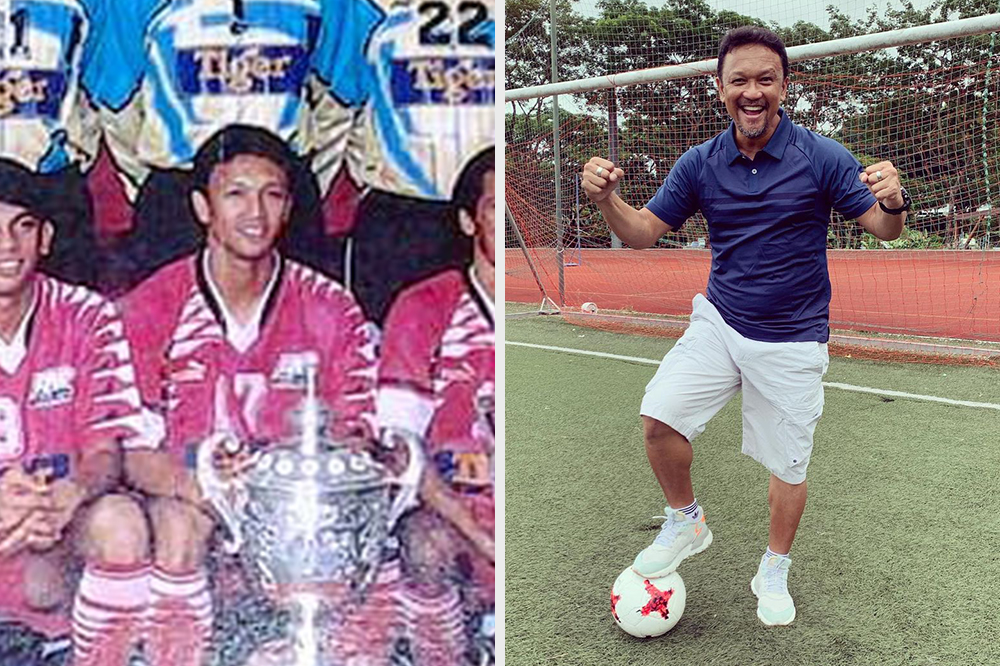 Fondly known as the "David Beckham of Singapore", Fandi Ahmad is a legendary name when it comes to football. With the Singapore team, Fandi scored 55 goals and won 3 SEA Games with silver medals. He was also the team captain from 1993 to 1997, and was the first Singaporean footballer to play in Europe.
In 1996, Fandi married South African model Wendy Jacobs and the couple have 5 children together. His 2 eldest sons, Irfan and Ikhsan, are currently following his footsteps as footballers. Iman Fandi, his only daughter, is a successful model and singer. 
After his retirement from playing football in 1997, Fandi went on to become the coach of Singapore's national team. His contract with the Football Association of Singapore was extended in 2019, with the new role as head of elite youth. 
Follow Fandi on Facebook and Instagram.
11. V. Sundramoorthy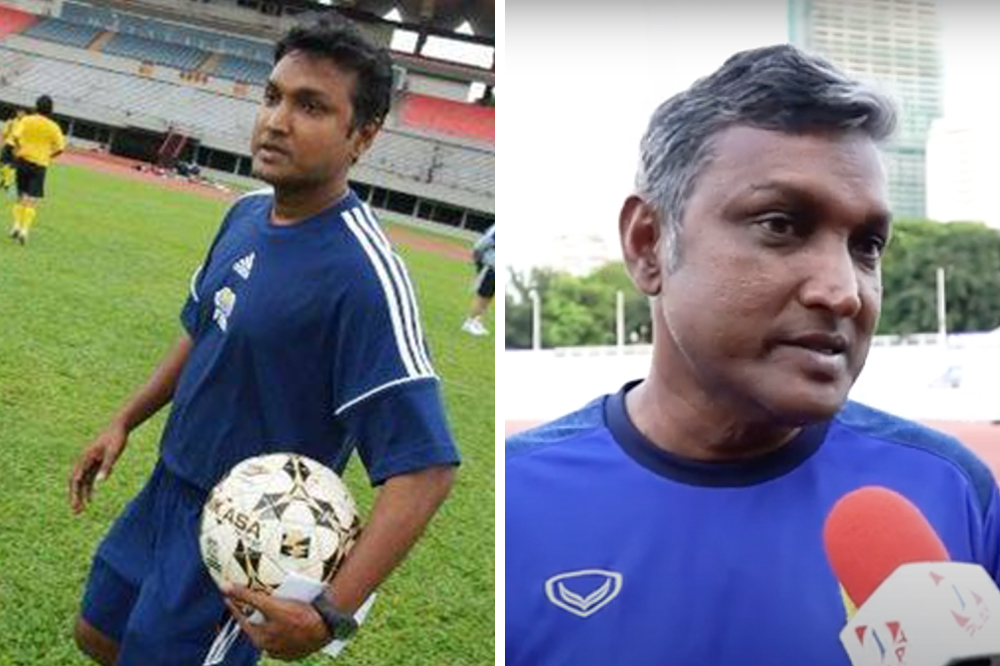 V. Sundramoorthy is known as one of the best and most capable footballers in Singapore. At the age of 18, he entered the Singapore Malaysia Cup team and became the top scorer of the tournament. At the height of his football career, he was nicknamed "The Dazzler" as well as "King Cobra" while he was the player-coach of Jurong FC.
In 2012, he became the head coach of LionsXII and went on to become head coach of the Singapore national under-23 football team for the 2013 SEA Games. 
In 2018, V. Sundramoorthy signed a 3-year contract with Laos and is currently the football manager of the team.
12. Lim Tong Hai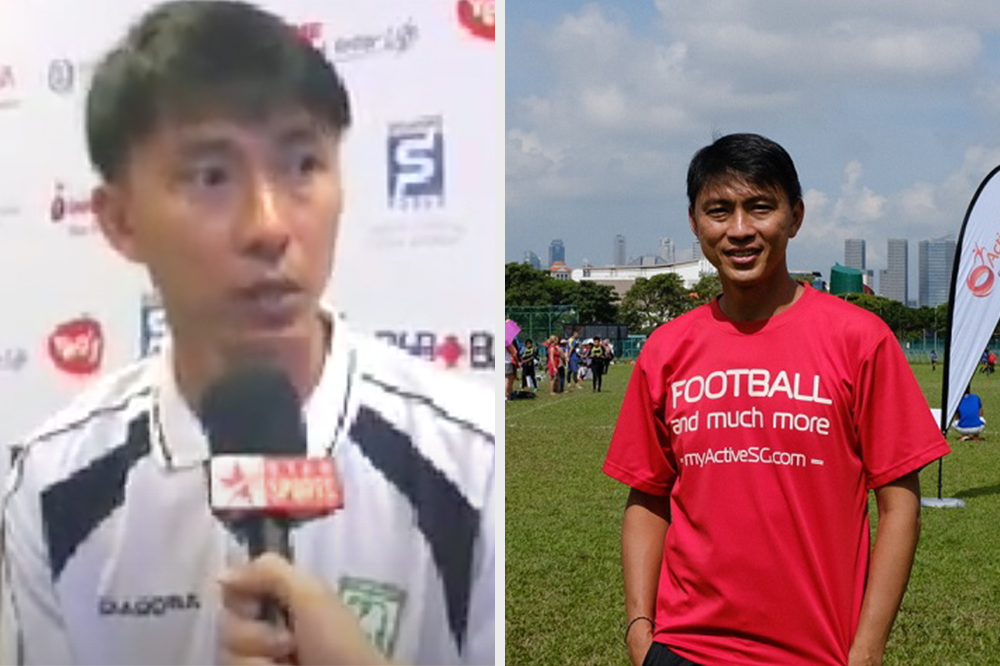 Lim Tong Hai played for the Singapore national football team from 1989 to 1999 as the position of centre-back. 
However, he made an unfortunate mistake during the SEA Games in 1993 against Myanmar that haunted him for years. Scoring 2 own goals despite the lead Singapore had achieved during the first 23 minutes of the game, the team eventually lost to Myanmar 4-5 during the penalty shoot-out. 
He retired from playing football in 2003 and coached Geylang United in the following year, later becoming team manager in 2007. From 2018 till today, Tong Hai has been involved with Sport Singapore as Team Lead, inspiring kids to learn the values of friendship and teamwork through playing football.
13. Aide Iskandar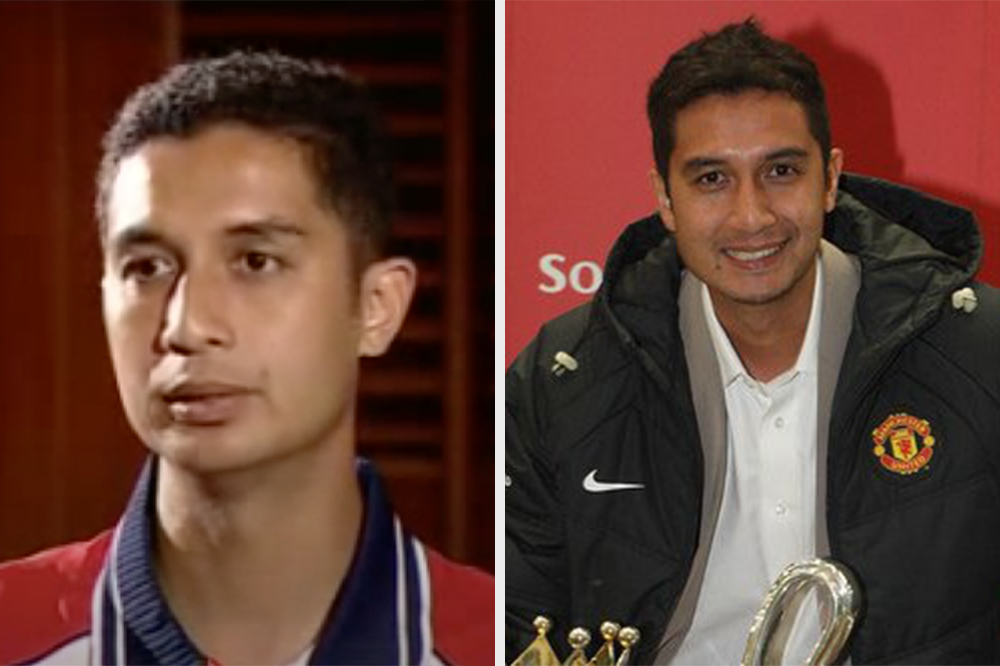 As a former member of the Singapore national football team, Aide Iskandar won the ASEAN Football Championship in 1998, 2004 and 2007. He scored his first international goal against Malaysia in 2006 and joined the FIFA Century Club in 2007.
In 2007, Aide accused the referee of being biased when his team, Geylang United, lost to Home United in a league game. The Football Association Singapore placed a ban of 5 games and fined him $2500 for this incident. He also dropped out of the national team. 
Aide went on to become the technical director and coach of various teams, eventually retiring as coach of the National Under-23 football team in 2016. He teamed up with Singaporean rapper Sheikh Haikel to found Sports Star Network, a sports talent agency that represents sportsmen and sportswomen in Southeast Asia. 
14. Lionel Lewis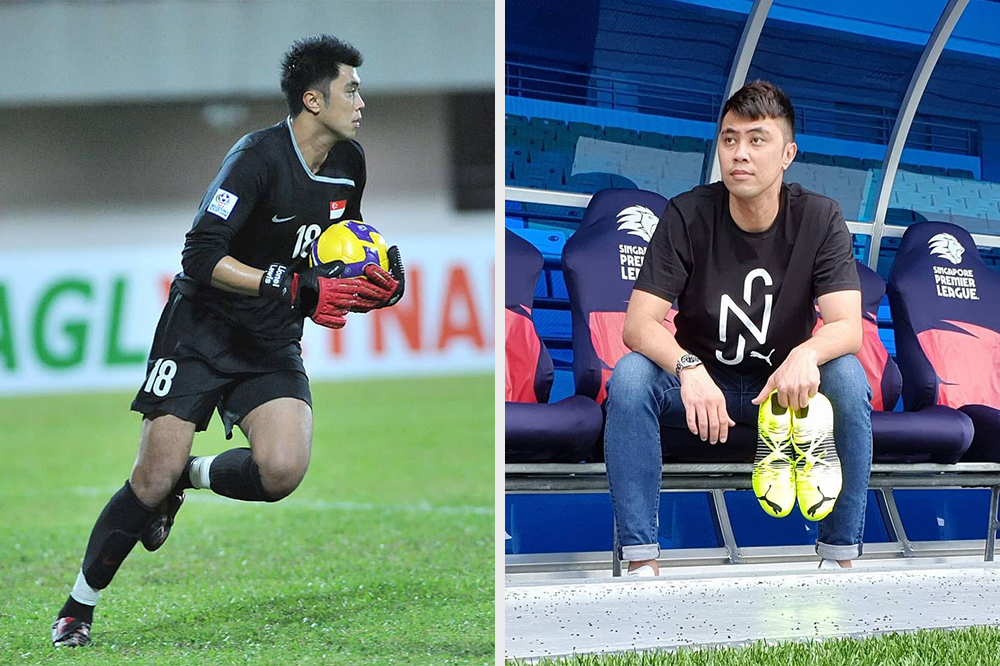 As one of the greatest goalkeepers in Singapore, Lionel Lewis made Singapore proud as the only Singaporean to train with Premiership club's Manchester City. He played 3 SEA Games in 2001, 2003 and 2005. He was also nominated for the 2006 Asian Footballer of the Year— the first Singaporean nominee in history.
Lionel signed a contract with Puma in 2010, continuing to be sponsored by the company till today, as seen on his Instagram. He retired in 2012 and now works at Nanyang Polytechnic as the staff-in-charge of the Taekwondo and Silat club. 
Follow Lionel on Instagram.
Track and field
15. U.K. Shyam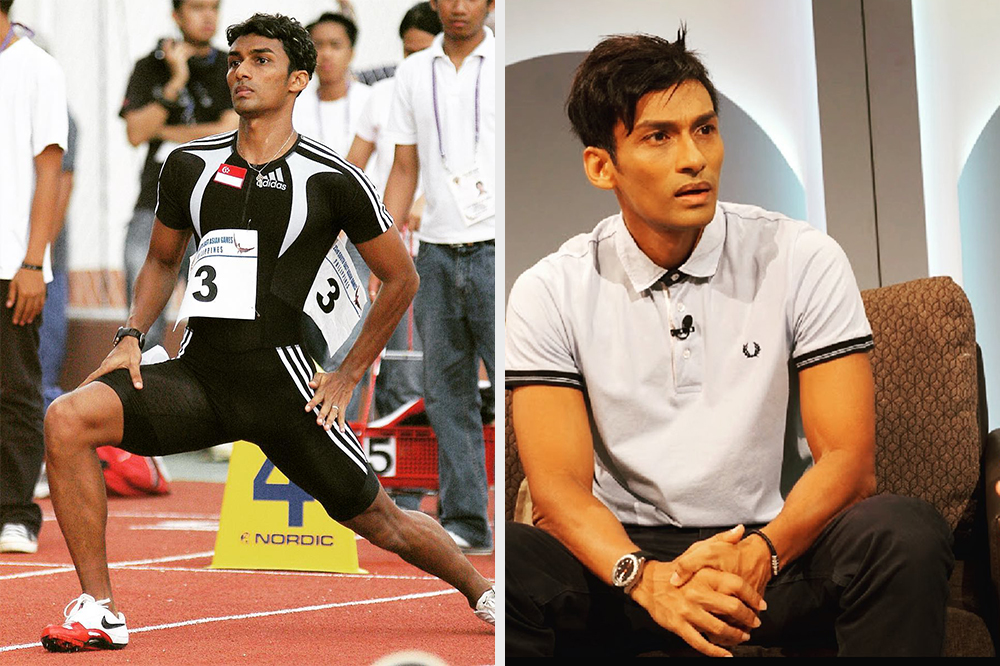 U.K. Shyam, dubbed the Singaporean Usain Bolt, currently holds the national record of 10.37 seconds in the 100m sprint category. In 2001 at the World University Games in Beijing, he broke the 33-year-old record of 10.38 seconds set by C. Kunalan.
At the 21st SEA Games in Kuala Lumpur, he equalled his own national record. This timing still stands to be the fastest ever SEA Games silver medal in history.
Claiming to be a "philosophy enthusiast" on his Instagram bio, it's clear that U.K. Shyam's passion for learning never ends. He's currently a teacher mentor at Raffles Institution as of January 2021. He previously taught General Paper, Knowledge & Inquiry and Project Work in Hwa Chong Institution as well.
Follow U.K Shyam on Instagram.
Discus thrower
16. James Wong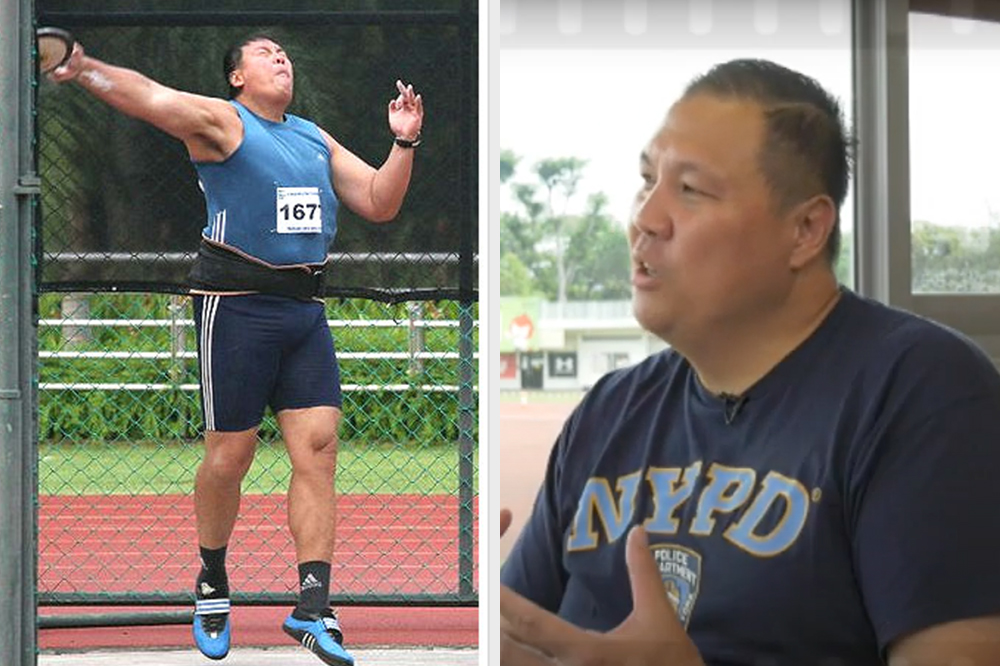 Discus thrower James Wong had won 7 consecutive SEA Games gold medals from 1993 to 2005. On top of that, he also claimed the discus-hammer title in 1997. He earned his 10th SEA Games gold in 2011, claiming it would be his last SEA Games competition.
However, he participated again in 2013 SEA Games in Myanmar and received his worst distance record, losing out on a medal for the first time in 20 years. James eventually retired after that game and became the chairman of Teck Ghee CSC.
He was also the general manager of Singapore Athletic Association (SAA), but he quit in 2014 after being accused by the vice-president of being involved in irregular practices. SAA cleared him of any wrongdoings afterwards.
He was a teacher in Nanyang Polytechnic and is currently teaching at ITE College West, according to an interview with SG Sports TV.
Marathon/Triathlon
17. Mok Ying Ren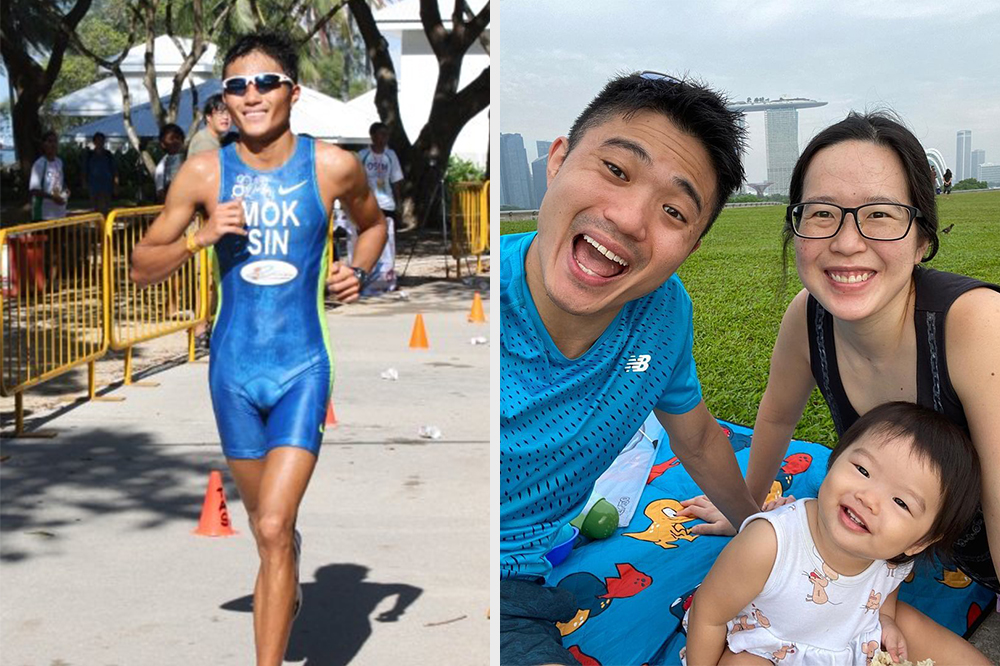 Marathoner Mok Ying Ren is a 7-time Singapore marathon local champion from 2009 to 2016. He won 2 gold medals during the SEA Games triathlon event in 2007 and the marathon event in 2013. He holds the national record of the 5000m event.
Ying Ren is currently an orthopaedics surgeon at the National University Health System (NUHS) after graduating from National University of Singapore (NUS) in 2012. He writes bible reflections on a blog called Run To Truth and personal reflections on #runwithmok.
In 2017, Ying Ren married Belinda Ooi and they had a daughter together. Lately, he enjoys spending time with his small family—going on picnics at MBS and fun trips to the zoo. 
Follow Ying Ren on Facebook, Instagram and Twitter.
These Singapore Athletes Are Our Pride And Inspiration
While some athletes continue their journey with sports, others have chosen different paths that make them equally happy. No matter what they're doing now, these nostalgic figures were our pride and inspiration at some point, making us feel proud to be Singaporean. 
If you're interested in finding out more about iconic names in Singapore, check out this list of 22 Singapore Idol contestants to find out what they've been up to now.
Also read:
22 Singapore Idol Contestants Across 3 Seasons And What They Have Been Up To