Miss Universe Singapore
They were crowned Miss Universe Singapore, but what did that title mean for these 20 ladies years down the road? We did some stalking researching and uncovered where these beauty queens landed up after they handed over their coveted crowns.
2020 – Bernadette Belle Ong
Source
Crowned Miss Universe Singapore on 10 December 2020, Bernadette Belle Ong has been preparing to represent Singapore, though the training in the Philippines is on hold due to the pandemic. It's safe to say that the model and actress is beautiful on the inside and out. She wants to use her platform to help migrant workers who have faced physical and psychological abuse. She's also passionate about sustainability, and has an accessories brand, Cora Line, which sells repurposed designer jewellery. 
Before Bernadette was Miss Singapore, she self-funded her bachelor's degree in accounting and finance at a university in Melbourne by taking up 4 part-time jobs. On top of that, she has also undergone culinary arts training. 
Follow Bernadette on her website, Facebook and Instagram.
2019 – Mohana Prabha
Source, source
Despite not bringing home the crown in 2018, Mohana Prabha tried again and won Miss Universe Singapore 2019, proving to us all that one should never give up. Before embarking on her modelling journey, she pursued a diploma in biomedical science at Republic Polytechnic and a degree programme at PSB Academy.  
Mohana has mentioned that she wants to pursue a career in the fashion industry or be a medical technologist, if the fashion industry does not work out. For now, she's signed with Upfront Models.  
Follow Mohana on Facebook and Instagram.
2018 – Zahra Khanum
Source, source
2018 was the year of the Trump-Kim summit in Singapore. You may recall Zahra Khanum in the now-legendary Miss Universe Singapore costume, which featured a handshake graphic between the North Korean and American flags. After her win, Zahra continued to pursue modelling. She has since partnered with fashion and beauty brands such as Estee Lauder and Daniel Wellington. She's also the ambassador for HAACH, a beauty salon. 
Follow Zahra on Facebook and Instagram.
2017 – Manuela Bruntraeger
Source, source
Before taking part in Miss Universe 2017, Manuela Bruntraeger pursued her Bachelor of the Arts degree at Lasalle College of the Arts. The pageant queen has been putting her creative talents to use by creating artwork for charity auctions. In 2018, she appeared on local television by co-hosting the Manhunt Singapore 2018 Media Conference.
Follow Manuela on Facebook and Instagram.
2016 – Cheryl Chou
Source, source
After returning from the Miss Universe 2016 pageant in Manila, this dazzling babe finished her studies at LASALLE College of the Arts as a fashion student. Following her graduation, she continued pursuing modelling and acting, scoring herself a lead role in the 2019 Channel 5 drama, Love By Numbers. 
Follow Cheryl on her website, Facebook and Instagram.
2015 – Lisa Marie White
Source, source
As Miss Universe Singapore 2015, Lisa Marie White witnessed one of the most cringeworthy moments of television history, when the wrong girl was crowned Miss Universe. Moving on from her win, she's currently pursuing modelling and appeared in Pierre Cardin's campaign, Start Everyday With a Miracle, in 2019. 
Follow Lisa on Facebook and Instagram.
2014 – Rathi Menon
Source, source
Rathi Menon was Miss Universe Singapore's first Indian winner since 1993, and has candidly spoken about how she never expected to win due to her race. The leggy goddess credits her modelling career to her pageant experience and has taken up the role of Talent Director and Runway Instructor for Miss World Singapore. 
According to her Instagram bio, it looks like she has ventured into the fitness industry. She's currently a personal trainer and studio manager at F45 Alexandra/ Balestier, a fitness studio.
Follow Rathi on Facebook and Instagram.
2013 – Shi Lim
Source, source
After facing serious internet hate since competing in Miss Universe Singapore, Shi Lim took some time off social media and continued assisting her father's business investments instead. Thankfully, the mean comments did not knock her down as she rose again and became an official judge for Miss Universe Singapore 2017. She has also taken up modelling and acting gigs including a role in the 2019 Channel 8 drama, Dear Neighbours.
Follow Shi Lim on Instagram.
2012 – Lynn Tan
Source, source
Lynn Tan moved on to be a client advisor for UHNW (ultra high net worth) Singapore at UBS Wealth Management till 2019. She is now married with a son and is currently a homemaker. 
Follow Lynn on Facebook and Instagram.
2011 – Valerie Lim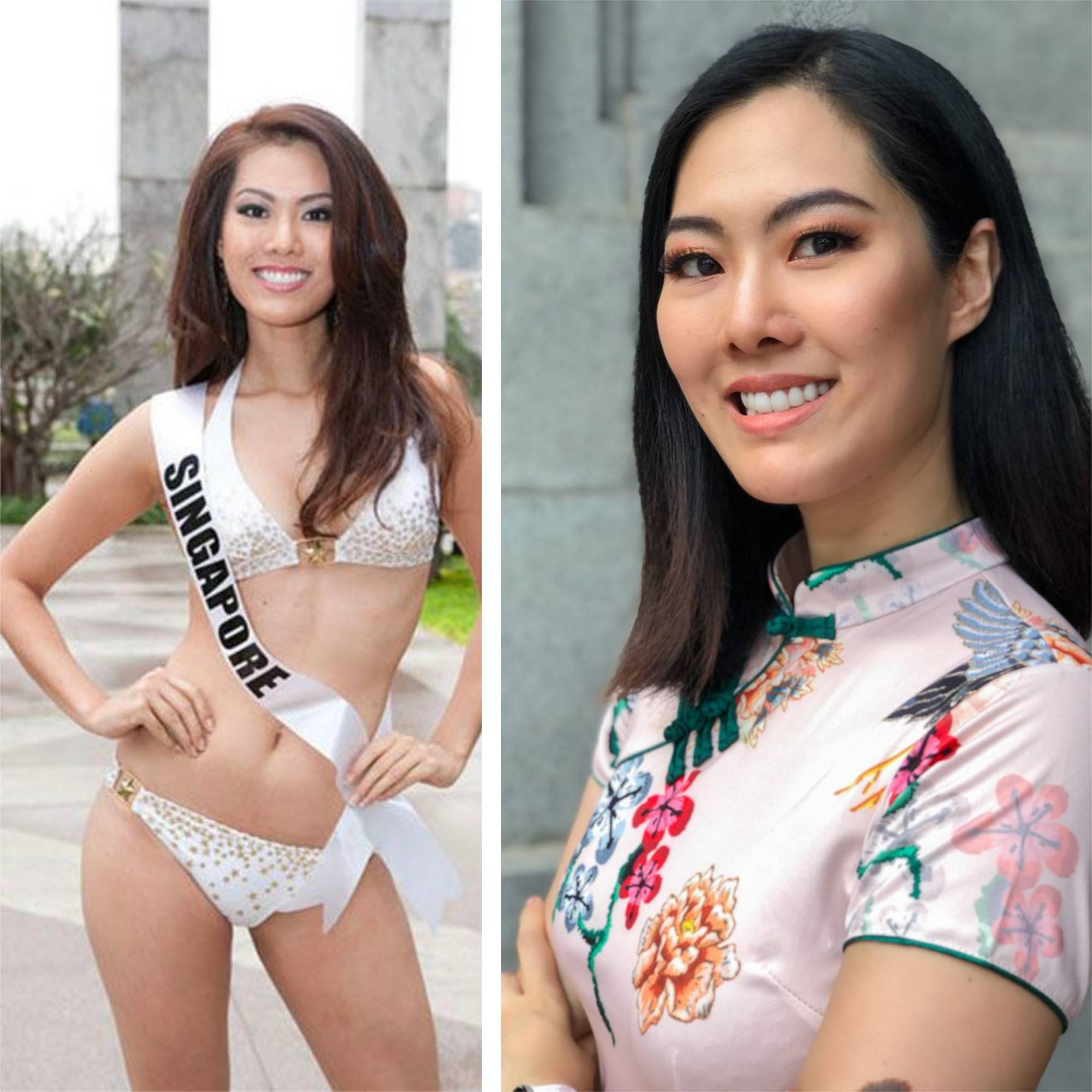 Source
After being crowned Miss Universe Singapore, Valerie Lim went on to be a model, blogger, as well as social media and image consultant. She used her experience to break into fashion, and moved to Manila to start Fashion Exchange International—a platform that introduces and establishes ASEAN fashion labels in the global market. She is now a director of Miss Universe Singapore.
Follow Valerie on Instagram.
Also read:
6 Iconic Singapore Fashion Items That Have Stood The Test Of Time
2010 – Tania Lim Kim Suan
Source, source
Tania Lim faced major backlash for clinching the crown when she beat 2010's hot favourite, Annabel Tan. After her win, Tania has maintained a low profile, and hasn't been in the public eye in recent years.
2009 – Rachel Kum
Source, source
After her win, Rachel was almost stripped of her title after a slew of racy photos were found on her personal blog. Controversy followed her in 2015, when multiple news sites reported her impending marriage to Facebook co-founder and billionaire Eduardo Saverin, whom she had never dated. Unfazed, Rachel founded cosmetics label, Rachel K Cosmetics, which has since been sold.
2008 – Shenise Wong
Source, source
Shenise Wong may be remembered as the queen who rocked one of the most hated gowns in Miss Universe Singapore history (hint: it was a Merlion-inspired piece). But in recent years, this pageant veteran has set aside her tiaras to be a full-time wife and mother of three.      
Follow Shenise on Facebook and Instagram.
2007 – Jessica Tan
Source, source
It's hard to imagine anyone calling Jessica Tan ugly or fat, but this Miss Universe Singapore had her own struggles along the way to the top. She continues to put her good looks to use as a model and actress in Hong Kong. 
Follow Jessica on Instagram. 
2006 – Carol Cheong
Source
It's been over a decade since Carol Cheong's time as Miss Universe Singapore, and things have definitely changed since her pageant days. She made a career shift after she started a family, and went from being an art director to working as a recruiter at Wellington Management.
2005 – Cheryl Tay
Source, source
The epitome of beauty and brains, Cheryl Tay, graduated from the University of Luxembourg for the European School for Advanced Veterinary Studies. The Veterinary Surgeon took her time as Miss Universe Singapore to support animal welfare charities, and continues to care for animals today. Dr Cheryl Tay is currently residing in Switzerland with her husband and kid. 
Follow Cheryl on Instagram. 
2004 – Sandy Chua
Source, source
Sandy Chua credits her time as Miss Singapore for exposing her to charitable causes that made her more humble, and for giving her some of her closest friends she has today. The former beauty queen is currently a full-time homemaker and mother of three.    
2003 – Bernice Wong
Source, source
To some, Bernice Wong shouldn't be on this list. The 2003 winner of the pageant faced major backlash when her ang moh husband, Anton Casey, insulted Singaporeans across the country. Bernice has since relocated to Perth with the rest of her family after receiving numerous death threats.
Follow Bernice on Instagram. 
2002 – Nuraliza Osman
Source, source
After Nuraliza Osman took the crown home in 2002, the bar-certified lawyer dabbled in acting and hosting on Suria. Not only is she a lawyer today, she is also the National Director of the Miss Universe Singapore Organisation, and mentors new hopefuls on their Miss Universe Singapore journey.
Follow Nuraliza on Facebook. 
2001 – Jamie Teo
Source, source
Jamie Teo is a familiar face, not just because of her Miss Universe Singapore win. She has acted, hosted and sung on our screens for years after the pageant, and was even in Singapore-Taiwanese girl group "One Fifth". She still acts and hosts occasionally, but is now best known as the former co-founder of local dessert chain, Twelve Cupcakes.
Follow Jamie on her Facebook and Instagram.
2000 – Eunice Olsen
Source, source
Possibly one of the most well-known winners, Eunice Olsen went from beauty queen to actress, host, youngest Nominated Member of Parliament and active volunteer worker. As if that wasn't enough, this #ladyboss founded WomenTalk TV in 2013, an online interview series that features inspiring Asian Women with empowering stories. She is also constantly seen championing causes such as awareness on human trafficking, mental health and people with disabilities.
Follow Eunice on her website, Facebook and Instagram. 
These Miss Universe Singapore Winners Are More Than Beauty Queens
While some of these Miss Universe Singapore winners chose the low-profile life, others used their prime time as a stepping stone to achieve bigger dreams. But one thing's for sure—holding a national beauty queen title is a huge responsibility, especially when the internet world can be savage. Despite public scrutiny, we respect the ladies who can still keep their poise years down the road.
Cover: Source, source, source
This article was first published on 1 February 2017 and last updated on 2 February 2021.
Also read:
16 Stylish Activewear Brands For Women In Singapore Cheaper Than Lululemon, Including Sports Bras From $20