Common WFH Skincare Mistakes
It's been months since the pandemic swept the globe, and working from home (WFH) has become the norm. At first, you probably thought that this arrangement would do wonders for your skin. After all, you're barefaced and indoors most of the time, away from external elements such as dust and pollution. Spoiler alert: you're still experiencing breakouts, dry patches and other skin woes. The culprit? Common skincare mistakes you didn't even realise you were making as you WFH.
Here are some of the most pressing mistakes, as well as immediate solutions, to make both your skin and WFH experience as smooth as possible. These include minor tweaks to your daily routine and quick-fix dermatological skincare products from Dermaskinshop to add to your arsenal.
1. Not applying skincare products after cleansing
When you're spending weeks at a time just sitting at home, you might think that skipping your skincare routine won't make much of a difference. But while splashing water on your face and calling it a day may have been adequate as a kid, your skin could do with some additional TLC as you get older.
We're not saying you need an intensive 10-step skincare routine. At the very least, a moisturiser, an eye cream and sunblock are stay-home skincare essentials…which brings us to our next point.
2. Skipping moisturiser
If you WFH with just a fan on, the heat and humidity can prompt you to skimp on moisturiser, especially since some can feel greasy and take ages to absorb into your skin.
To keep your complexion plump and hydrated, swap your usual moisturiser for a lightweight version instead. Exuviance Multi-Protective Day Creme, for example, uses a potent formula that's not too heavy. It protects the skin's natural moisture layer and is loaded with antioxidants, so your complexion gets a boost from inside out.
3. Not applying sunblock when you're indoors
Sunblock is an integral part of most people's "getting ready to head out" routine. We're somehow wired to think that it's a must-have if we're stepping out, but totally unnecessary if we're staying in.
Unless you reside within a windowless chamber, however, UV rays are still able to penetrate even through curtains and reach your skin. Just as you would before heading to the office, start each WFH day by applying a broad spectrum sunblock to protect your skin from UVB and UVA rays.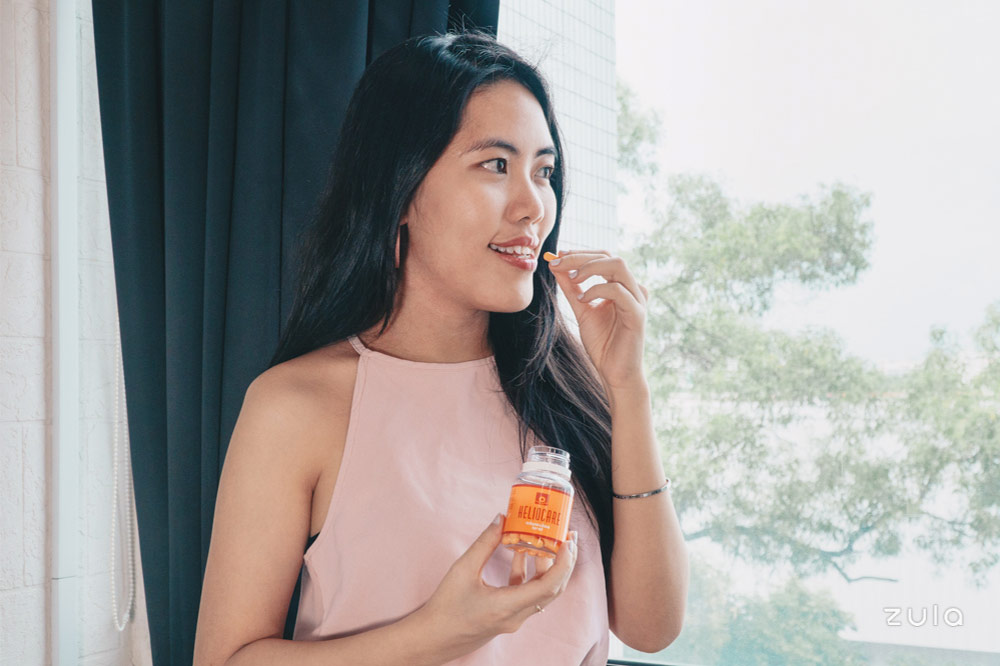 Pro-tip: For added protection, supplement your regime with an oral sunblock. Heliocare Oral Capsules are able to prevent hyperpigmentation, inhibit collagen depletion and even repair existing damage on a cellular level. 
Pop a capsule to accompany your regular topical sunblock and rest assured that you can work by the window and enjoy the natural light, without the harmful rays wreaking havoc on your skin.
4. Touching your face more
When you're working in the office with makeup on, you tend to avoid touching your face so as not to ruin the fruits of your labour.
Even when you WFH barefaced, be conscious of keeping facial contact to a minimum. It takes a while to quit this habit. But after a few weeks, you should notice a marked reduction in blemishes on commonly touched areas; namely, the chin, cheeks and forehead.
5. Over-washing your face throughout the day
Now that you're stuck at home all day, it's tempting to wash your face each time you spot a little grease or shine. After all, there's no such thing as too clean, right?
However, excessive cleansing actually strips the face of its natural oils, eroding the skin's barrier and leading to patches of dryness. As a result, your skin overcompensates by producing more oil. 
Instead of washing your face multiple times a day, opt for a gentle yet effective cleanser like the Exuviance Professional Gentle Cleansing Crème. It gives you a thorough cleanse, and you'll be  good to go about the rest of your day without that icky feeling of gunk in your pores. 
You can also squeeze the cream onto a cotton ball and use it as a gentle makeup remover. It'll come in handy when you need to look put together for a Zoom meeting, but want to return to being barefaced for the rest of the day.
6. Skipping pampering facial sessions to save time and money
Since we can now snuggle up in our pyjamas and crank out proposals while on the couch, facials and pampering sessions may not seem as crucial.
That said, our skin could still stand to benefit from regular treatments. And with both WFH and millennial burnout on the rise, self-care sessions are more crucial than ever. Pamper yourself with a stay-home facial product like the Exuviance Rejuvenating Treatment Masque. The soothing gel formula goes on clear, peeling off in a satisfying layer after stimulating cell renewal with vitamins A, C, E and B complex.
Avoid These Skincare Mistakes While WFH With Stay-home Skincare Essentials From Dermaskinshop
These common skincare mistakes prove that committing the same bad habits at home daily can damage your skin over time.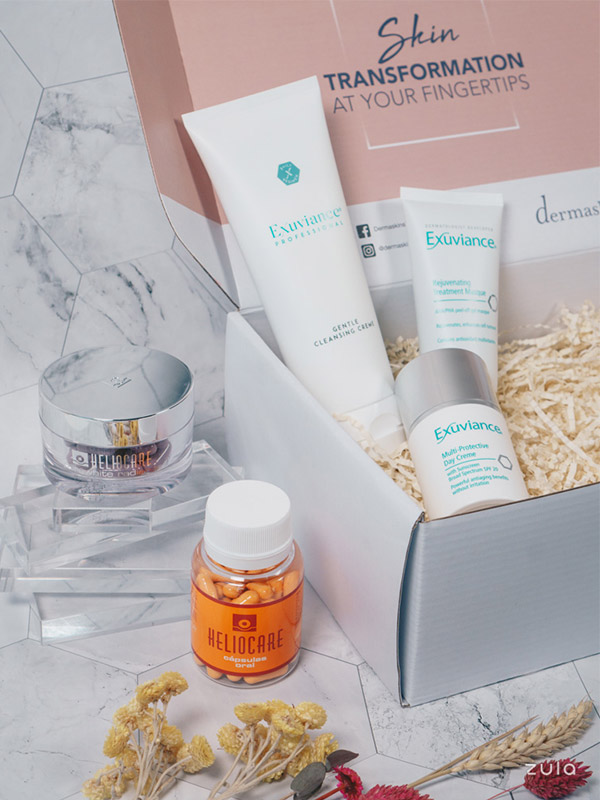 Take care of your skin by stocking up on WFH skincare essentials from the comfort and safety of your own home through Dermaskinshop. A one-stop destination for your skincare needs, the online store has cult international brands including Exuviance, NeoStrata, Vivier and Iraltone, which are hard to find at local pharmacies. This means you'll be getting top quality products from Canada, Spain and the United States shipped directly to your abode!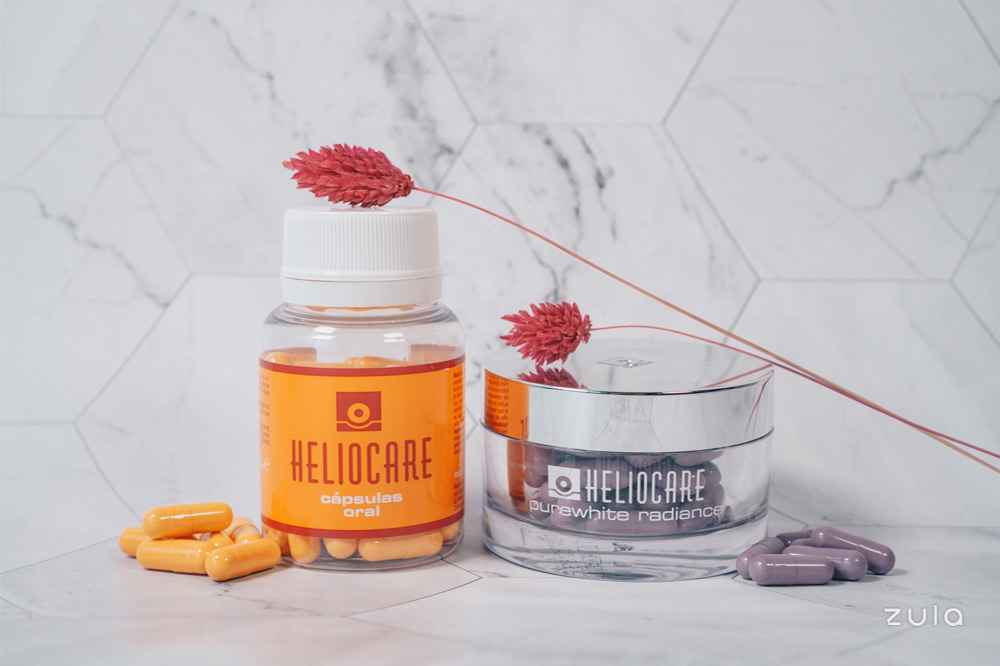 You can also find Heliocare products on Dermaskinshop. As mentioned earlier, Heliocare Oral Capsules help to enhance sun protection on top of your sunblock. And if you're looking to give your complexion a naturally radiant boost, try the Heliocare Power Duo, which comes with Heliocare Purewhite Radiance. Simply pop these oral supplements 30 minutes before sun exposure and go about your business, without having to waste any application time or wait for your cream to absorb!
For skincare goodies that are backed by scientific research and recommended by doctors worldwide, give Dermaskinshop's offerings a shot. They also have free shipping for orders of $40 and above, so you can just chillax while waiting for your new goodies to arrive at your doorstep. To get a taste before your first purchase, sign up for a Free Dermaskinshop Trial Kit and receive 10 different samples, worth $52 in total.
This post is brought to you by Dermaskinshop.
Photography by Nadia Loewito.
Also read:
6 Work From Home Tips To Help You Cope With Isolation & Stay Motivated, According To A Seasoned Freelancer