Song Hye Kyo Facts And News
Song Hye Kyo is known for her elegance and beauty in the Korean entertainment industry. If you're curious to know what the actress has been up to after the Song-Song couple's split, including her public appearances and getting back together with her ex, here are 20 Song Hye Kyo facts for you.
1. Was not expected to survive as a baby
Song Hye Kyo was born on 22 November 1981 in Daegu, South Korea.
She fell sick as a newborn and was not expected to survive beyond a few days. Fortunately, she recovered, and her parents registered her birth on 26 February 1982 instead of her actual birthday on 22 November 1981.
2. Did figure skating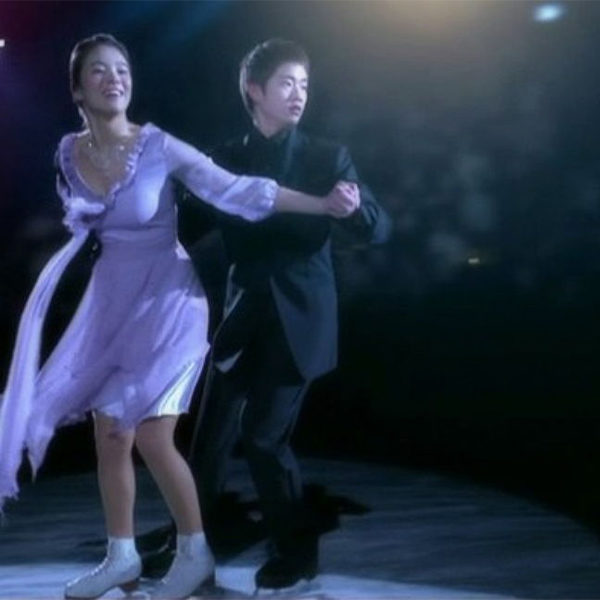 Source
The actress trained as a figure skater in her elementary school days up until eighth grade. Though she has stopped pursuing the sport, she has flaunted her figure skating skills in the K-drama Full House (2004) and an advertisement for a mobile phone brand.
3. Started out as a model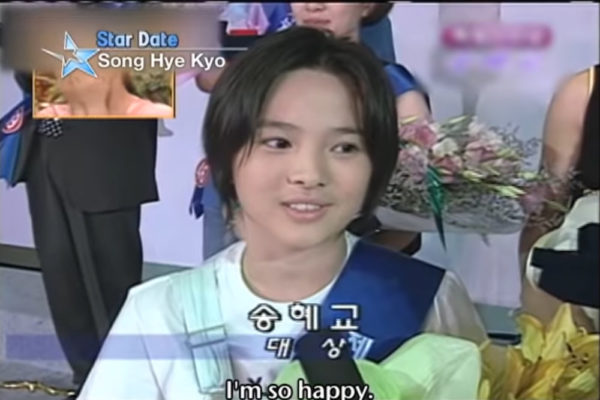 Source
After winning the SunKyung Smart Model Contest at the age of 14, she went on to model for a school uniform company. She was then cast in New Generation Report: Adults Don't Know (1995) and First Love (1996) as minor characters.
4. Used to be a host for music programmes
Song Hye Kyo was a host for Korean music programmes Inkigayo in 1998 and Music Bank in 2000. Her appearance as a host on those programmes marked her increasing popularity in Korea.
Other A-list actors and actresses who hosted music programmes early in their career include Song Joong Ki, Park Seo Joon and Jun Ji Hyun.
5. Had her breakthrough with Autumn in My Heart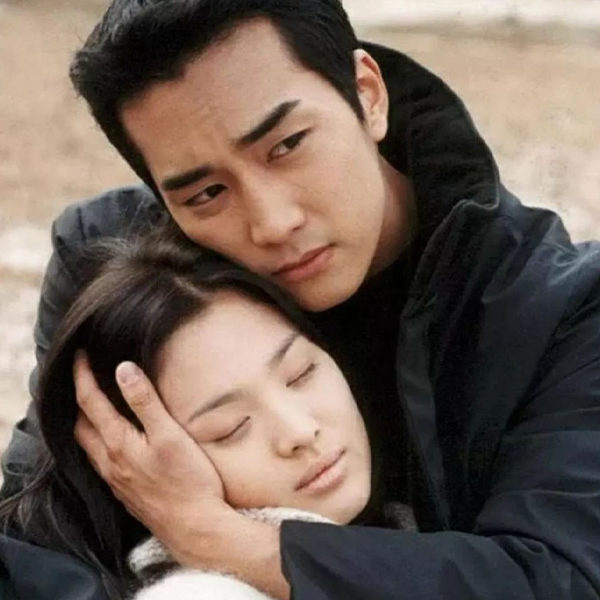 Source
Five years after her acting debut, Song Hye Kyo rose to fame with Autumn in My Heart (2000).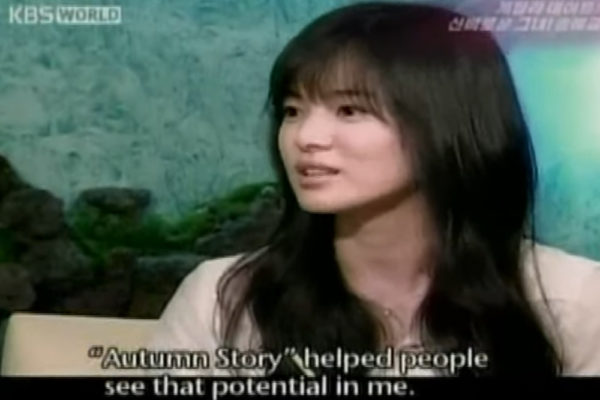 Source
In an interview, the actress singled out Autumn in My Heart as a turning point in her career. Prior to the melodrama, she had only acted in small or comedic roles. Her role as the unfortunate female lead in Autumn in My Heart alongside Won Bin and Song Seung Heon gained her recognition in the acting industry.
6. Has been in several chart-topping dramas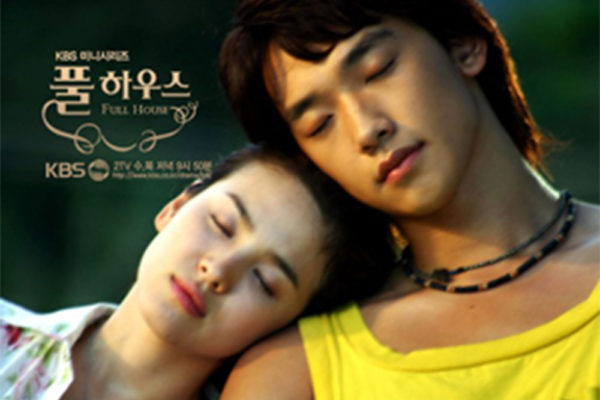 Song Hye Kyo and Rain for Full House (2004)
Source
Song Hye Kyo followed up on the success of Autumn in My Heart with one chart-topping drama after another, such as All In (2003) and Full House. 
Her most recent hit Korean dramas include That Winter, the Wind Blows (2013), in which she acted as a blind woman who doesn't believe in love, and Descendants of the Sun (2016).
7. Has won numerous awards
On top of the other numerous awards she has won throughout her career, the actress has won the Daesang (aka the Grand Prize) award twice. Once in 2013 at the APAN Star Awards for her work in That Winter, the Wind Blows, and a second time in 2016 at the KBS Drama Awards for Descendants of the Sun. 
Song Hye Kyo's double wins cemented her status as a Hallyu star.
8. Speaks 5 languages fluently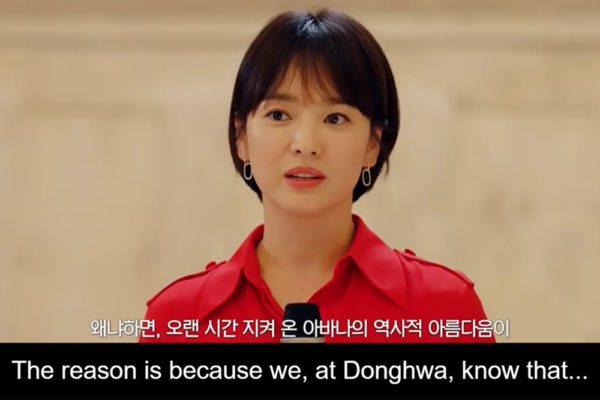 Song Hye Kyo speaking English in Encounter (2019)
Source
The actress is able to speak a total of 5 languages, namely Korean, English, Mandarin, Cantonese and Japanese.
9. Has been in international works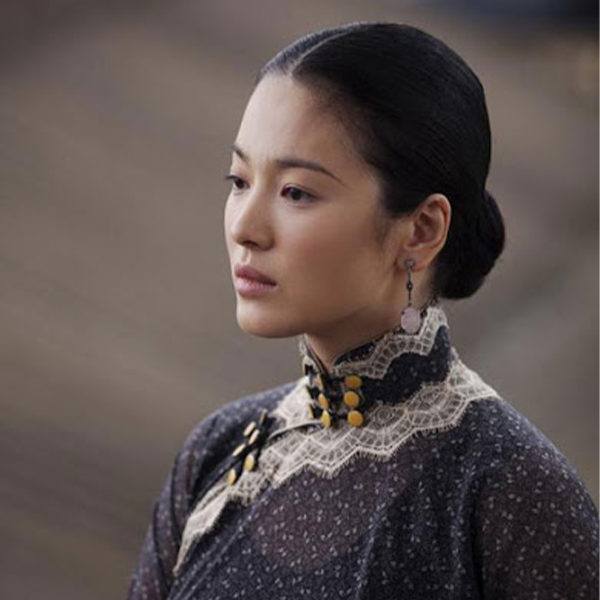 Song Hye Kyo in The Grandmaster (2013)
Source
Song Hye Kyo made her Hollywood debut with the movie Make Yourself at Home (2008), a story about a Korean woman who moves to New Jersey and becomes obsessed with her neighbours. She also starred in the Hong Kong film, The Grandmaster (2013), by Wong Kar Wai.
10. Signed with a Hong Kong production company
Song Hye Kyo announced in early 2019 that she had joined Jet Tone Films. The production and talent management company was established in 1992 by Wong Kar Wai.
Also read:
20 Song Joong Ki Facts Including His College Life, Divorce & Upcoming Projects
11. Has two sides to her personality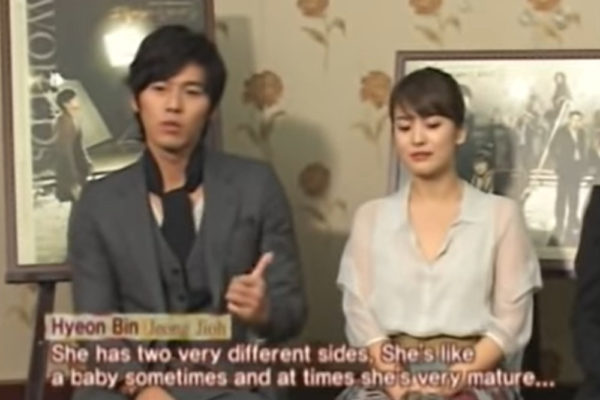 Source
Song Hye Kyo is known for her grace and elegance, yet her co-stars have revealed that she also has a quirky and fun side that we don't always get to see. You can catch a glimpse of it on the sitcom, Soonpoong Clinic, where she plays the very funny and relatable Oh Hye Kyo.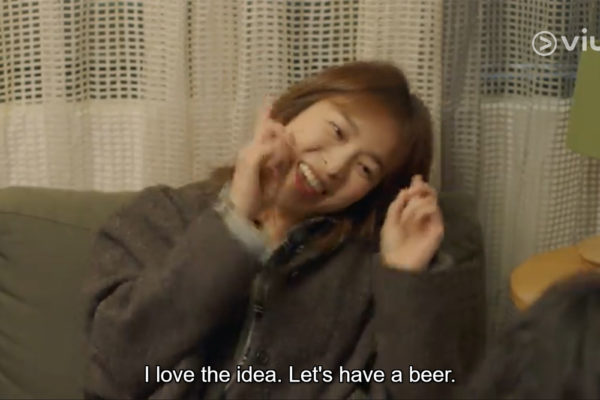 Source
No wonder her drunk acting in Descendants of the Sun looks pretty natural.
12. Is good friends with Fin.K.L members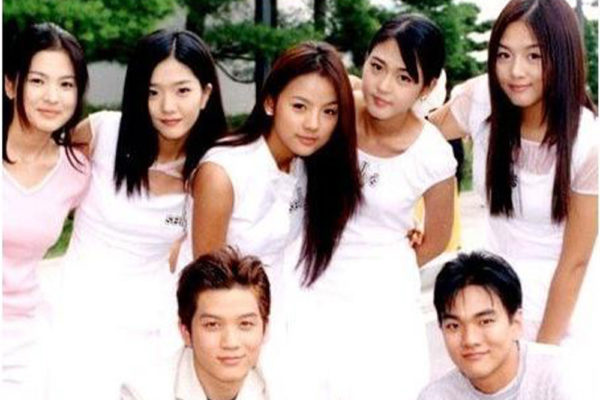 The actress with Fin.K.L members
Source
For those of you who don't know Fin.K.L, it's a 4-member K-pop group consisting of Lee Hyo Ri, Sung Yu Ri, Ock Joo Hyun and Lee Jin. They debuted in 1998, and were massively popular in Korea. 
Song Hye Kyo is closest to members Ock Joo Hyun and Lee Jin as they met in high school and are still friends to this day. They often comment on each other's posts on Instagram showing love and support for one another.
13. Dated famous actors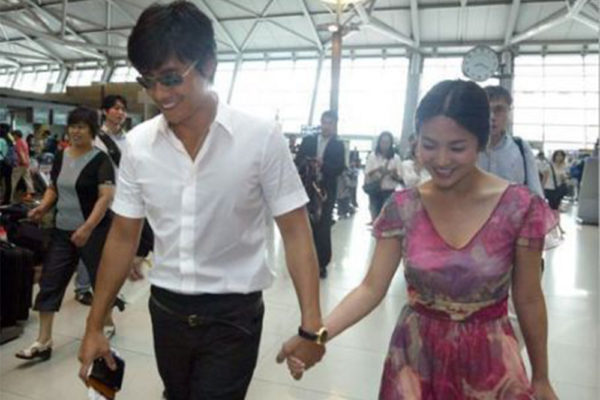 Lee Byung Hun and Song Hye Kyo
Source
The actress dated her All In (2003) co-star Lee Byung Hun in 2003. They broke up in 2004.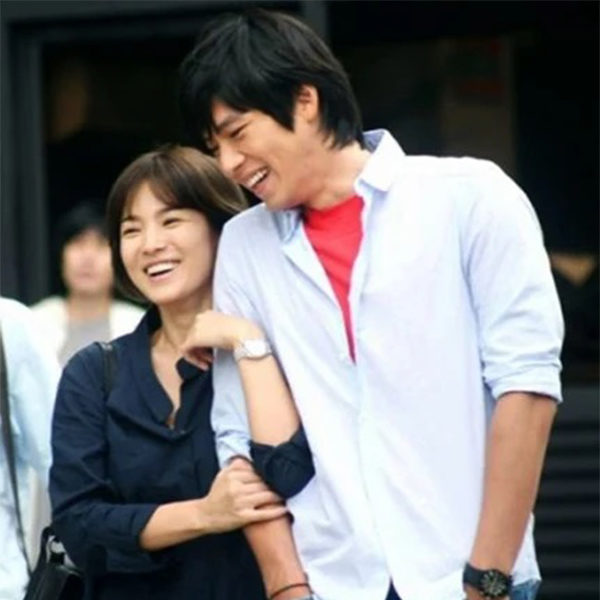 Song Hye Kyo and Hyun Bin
Source
In 2008, she dated her co-star from Worlds Within (2008), Hyun Bin. The pair broke up in 2011 after Hyun Bin enlisted in the Marine Corps. 
14. Married and divorced Song Joong Ki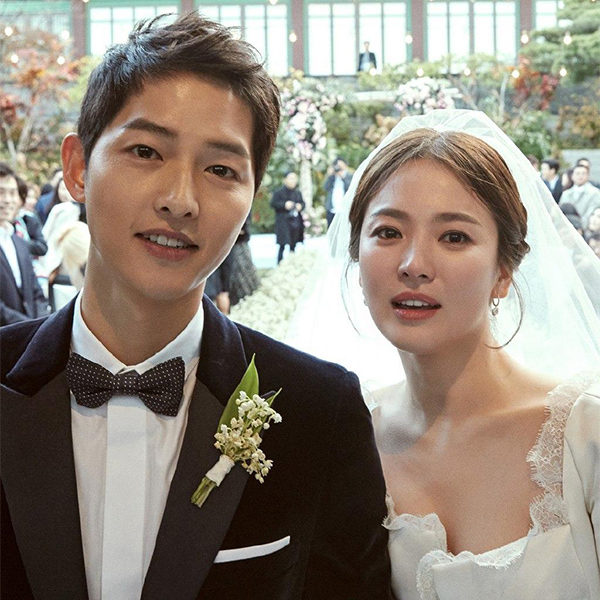 The Song-Song couple on their wedding day
Source
While filming the hit K-drama Descendants of the Sun, Song Hye Kyo got into a relationship with actor Song Joong Ki. The power couple were married on 31 October 2017 and divorced on 22 July 2019. According to a statement from Song Hye Kyo's agency, the split was due to a "difference in personality."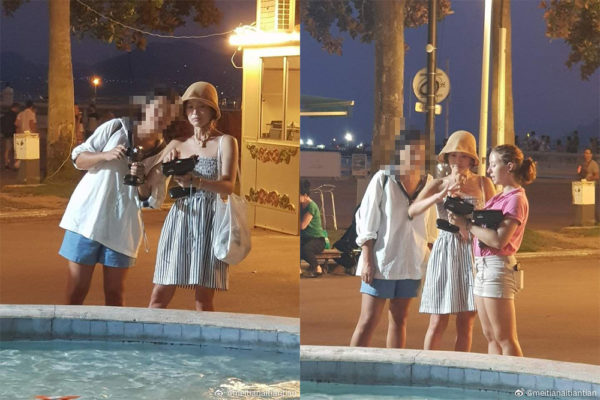 The actress spotted in France
Source
Following her divorce, the actress stated that she would be taking time off work for the rest of 2019. Shortly after, she was spotted in France on a holiday. She also enrolled in an art school in New York City. 
Word on the street at the moment is that she's back with her ex-boyfriend Hyun Bin, the hunk from Crash Landing On You. Fans have dug up proof to back up the claim, citing evidence such as Song Hye Kyo's necklace bearing the initials 'S' and 'H' (for herself and Hyun Bin). For now, the rumours remain as mere speculation.
15. Faced criticism for her dating life
Her romantic relationships with her co-stars have caused her to receive flak from the Korean online community. Korean netizens are notorious for being critical of K-idols' actions, including when it comes to dating. 
The actress took legal action against her haters in July 2019, about a month after her divorce news made the headlines.
16. Maintained her public image even after her divorce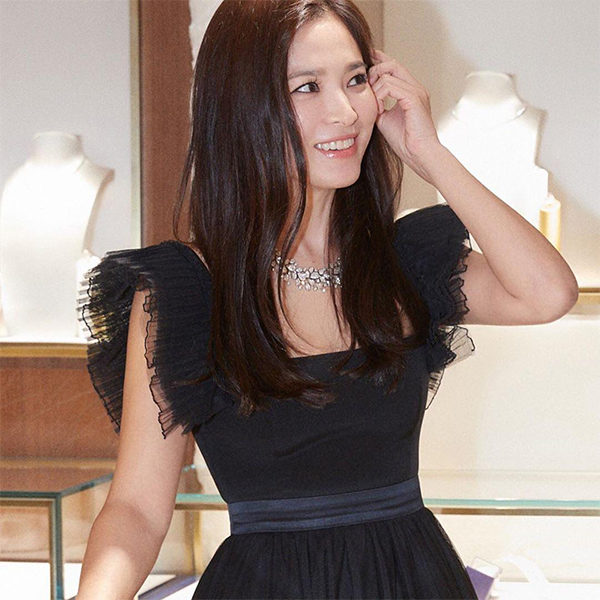 Song Hye Kyo at an event for Chaumet in October 2019
Source
The actress made her first public appearance 3 months after her divorce at an event in Seoul for jewellery brand Chaumet.
17. Is an ambassador for many renowned brands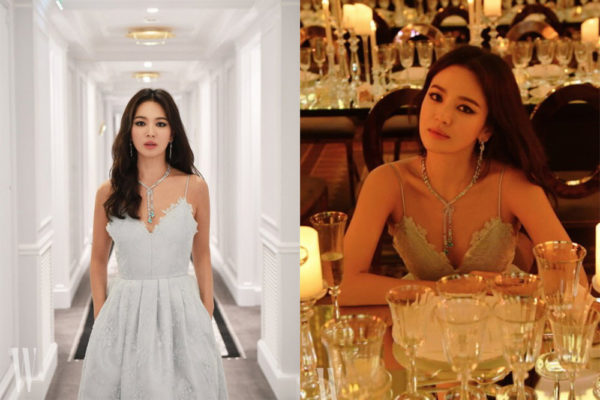 The actress attending Chaumet's gala dinner in Monaco
Source
Song Hye Kyo is currently the Asian ambassador for Chaumet. She has also been the face of brands such as Dyson and Sulwhasoo.
18. Considered one of Korea's most beautiful women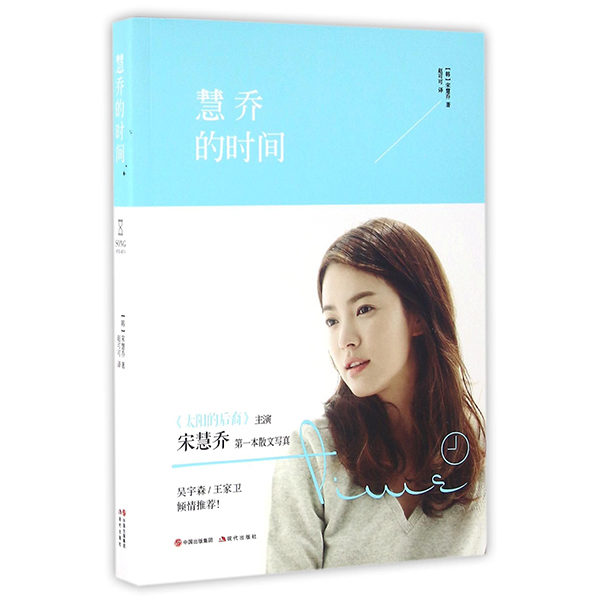 It's Time For Hye Kyo book
Source
Song Hye Kyo has released 2 photobooks to date. The first book, Song Hye Kyo's Moment, includes photographs of her shot by top photographers in New York City, Buenos Aires and Paris. In 2012, she released It's Time For Hye Kyo. It is available on Amazon.
19. Is philanthropic
The actress is known for her frequent donations, most of which are towards helping children and animals.
Along with professor Seo Kyoung Duk from Sungshin Women's University, she has also been donating guide books about the Korean independence movement overseas for the past 8 years to raise awareness about Korean history.
20. Is in talks to start on a new movie
Song Hye Kyo was offered a role in June 2019 for an upcoming movie, Anna. She is said to be "positively reviewing it".
Besides the film offer, there has been no news about her on-screen appearances since her divorce.
Song Hye Kyo Is One Of South Korea's Biggest Stars
If you've been waiting for Song Hye Kyo's on-screen comeback after her split, keep yourself updated with her occasional posts on Instagram to see what she's been up to.
Also read:
20 Hyun Bin Facts Including His Acting, Dating & Military Life For Fans Of The Crash Landing On You Oppa
Cover image: Source, source, source