Sports Massage In Singapore
With home workouts and gym sessions increasingly becoming a norm for many, it is no surprise that we suffer from self-inflicted injuries at times. Getting injured is never fun, especially if you were working towards a hot summer body. 
That's where sports massages come into play to help you loosen knots and soothe any tight muscles. Here are 11 sports massage places with female masseuses and therapists so you can feel more comfortable and relaxed during the session. 
1. Knotty Strokes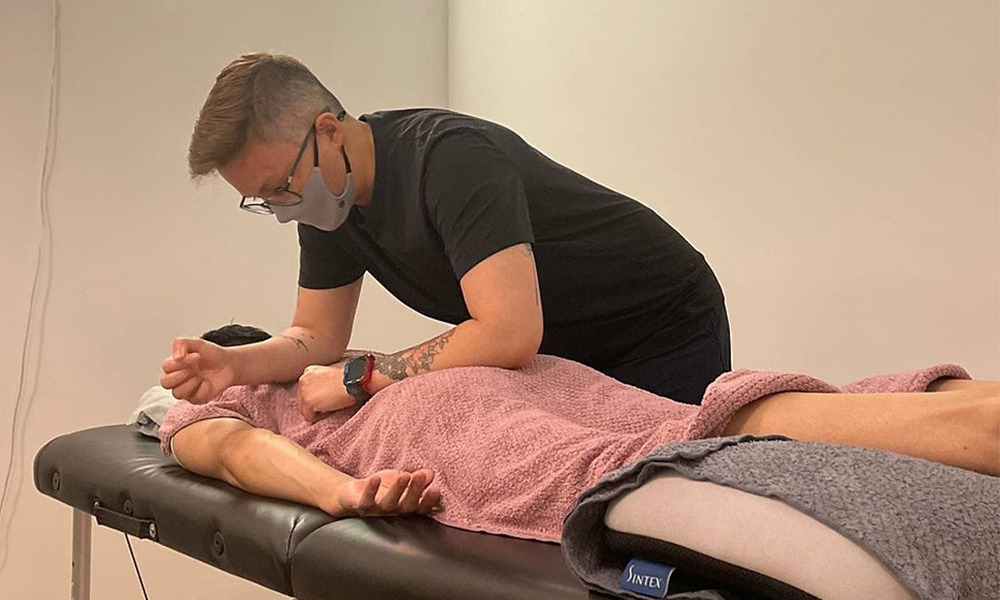 Source
Loosen up at Knotty Strokes with Gloria, a sports massage therapist who was once a National Athlete for Women's Contact Rugby. 
At Knotty Strokes, they provide upper and lower body massages, depending on the location of your injury. You can also occasionally find some sports advice on their Instagram page too. They also welcome individuals from all walks of life and take pride in being as inclusive as possible.
Price: $68 for First Time Trial | $85 for a single session | $170 for a full body massage | 5 Session Package: $400 | 8 Session Package: $608 | 10 Session Package: $720
Address: 183 Jalan Pelikat, #B1-98, The Promenade @ Pelikat, Singapore 537653
Booking: Call 88741225
Website | Facebook | Instagram
2. SportsRelief Therapy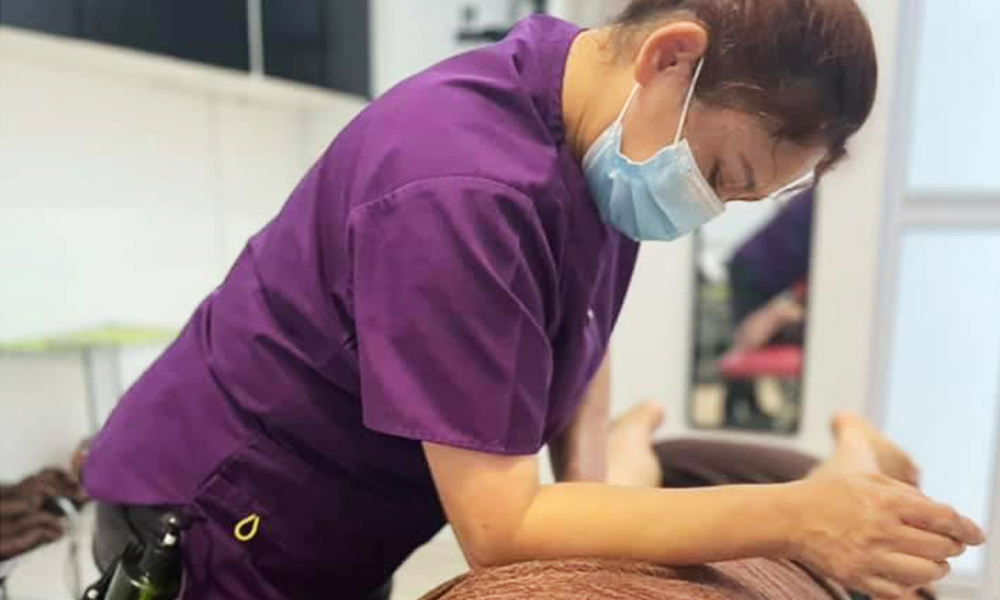 Source
SportsRelief Therapy provides services from sports massages to sports nutrition advice, so you can leave the session with newfound wellness knowledge too.
Founder of SportsRelief Therapy, Wendy Lee, focuses on injury prevention and rehabilitation recovery, through the application of sports tapping, craniofacial therapy, deep tissue massage, exercise rehabilitation and clinical sports massage. 
She also treats non-running related health problems, in addition to targeted sports injuries. With more than a decade of experience, her expertise will be evident with every push.
Price: Flat rate of $120 for 45-50 mins
Address: No. 101 Irrawaddy Road, #15-11, Royal Square, Singapore 329565.
Booking: Call 9616 7579
Website | Facebook | Instagram
3. My Sports Center
With 3 female therapists on hand, My Sports Center offers treatments for everything from sports injuries to work-related injuries so you can settle your WFH aches while you're there.
Before starting your session, a physiotherapist will provide a holistic assessment of pain, injury severity and functional movement patterns according to your own specific needs. Based on a firsthand customer review on Google, My Sports Center is "extremely attentive to details and has helped to improve workout regimens".
Do note that My Sports Center does not accept walk-ins, so remember to book an appointment before heading down.
Price: $95 for the first visit | $80 for subsequent sessions, subject to therapist's recommendation
Address: 1 Queensway, #03-01J, Queenstown Shopping Center, Singapore 149053
Booking: Call 8868 4581 or email ​mysportscentersg@gmail.com
Website | Facebook | Instagram
4. heal360 Physioclinic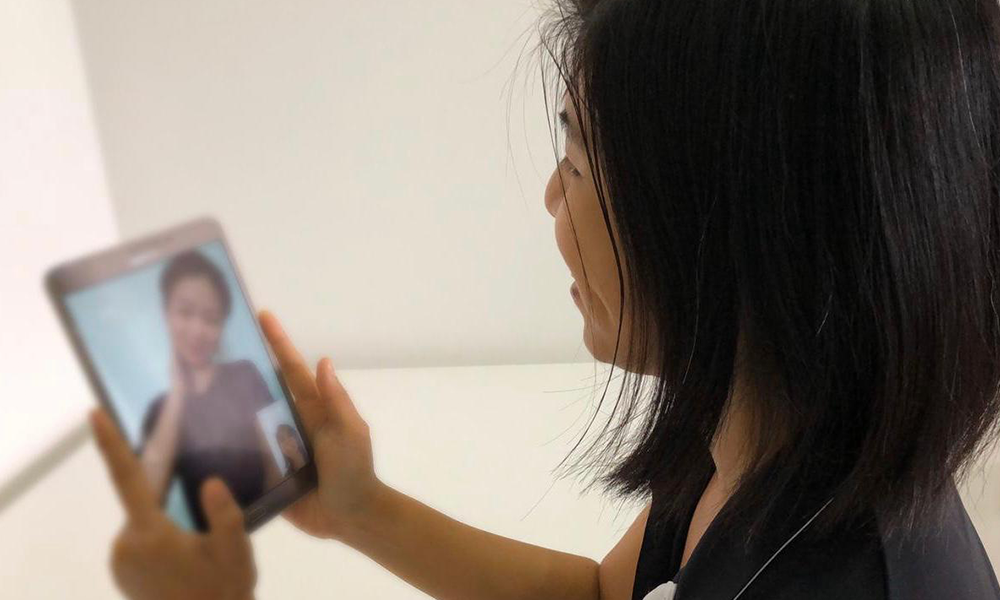 Source
heal360 Physioclinic focuses on the holistic recovery of their customers and provides a thorough examination of injuries. Consisting of mainly female therapists, they have services from physiotherapy to even home therapy.
All of their massage therapists work closely with physiotherapists and rehabilitation therapists, who can perform a variety of muscle tension release techniques that will significantly assist in the daily function of affected muscles.
If you have a specific problem that you would like to work on, you can consider joining their 360 programmes like Sports360 and PainRelief360. Backed up by research, these therapy programs are specially curated by the therapists and will be modified to fit your individual needs.
They have treated notable figures like Singapore MMA Champion of ONE FC Juan We Jie, so you can be guaranteed a top-notch treatment at heal360. 
Price: $90 for 30 mins | $130 for 1 hour
Address: 46 Tras Street, Singapore 078985 | 1 Marine Parade Central, #11-01, Parkway Centre, Singapore 449408
Booking: Call 6224 4178 (Central) | 6344 4688 (East)
Website | Facebook
5. FHYSIO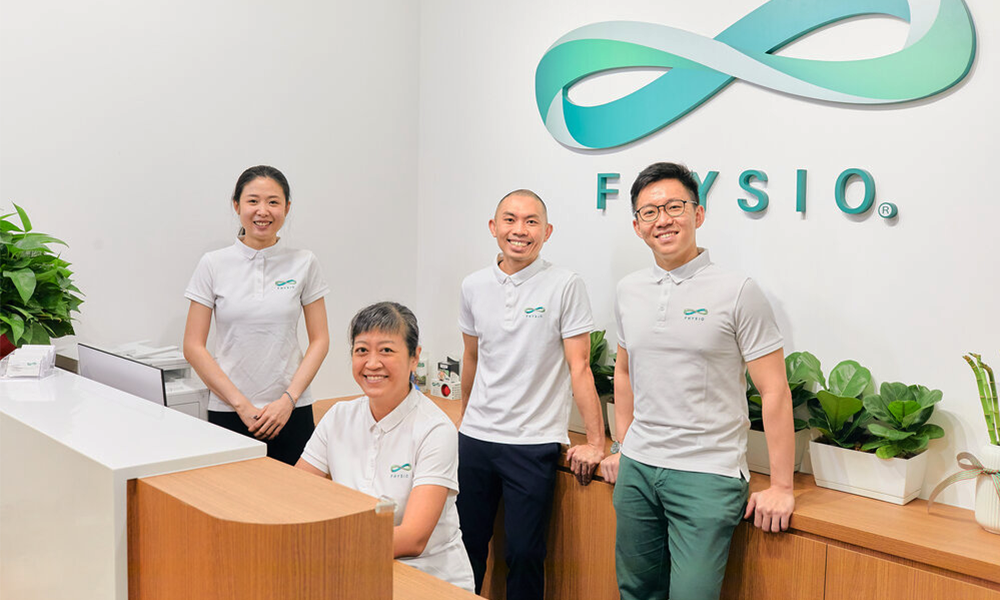 Source
Combining practices used in the East and West, FHYSIO offers 3 different types of massage therapy — Functional, Hala (håla) and Ya ​​(压). Each massage therapy has a different purpose and focus, which the therapists will determine after accessing your condition.
Celis, the only female in her team, combines her years of massage therapy experience from previous places of practice into her Sports Massage Therapy techniques at FHYSIO.  
Good news for anybody who has never been to FHYSIO — all first-timers will get to enjoy 40% off their first treatment!
Price: First Timers: $96 for 60 mins | $126 for 90 mins | $162 for 120 mins | Subsequent visits: $160 for 60 mins | $210 for 90 mins | $270 for 120 mins
Address: 402 Orchard Rd, #02-01/02, Delfi Orchard, Singapore 238876
Booking: Call 6970 7257 or email wellness@fhysio.com
Website | Facebook | Instagram
Also read:
10 Non-Lupsup Late Night Massage Spas That Open Past 12am For Some Bonding Time With Your BFFs
6. Project Armstrong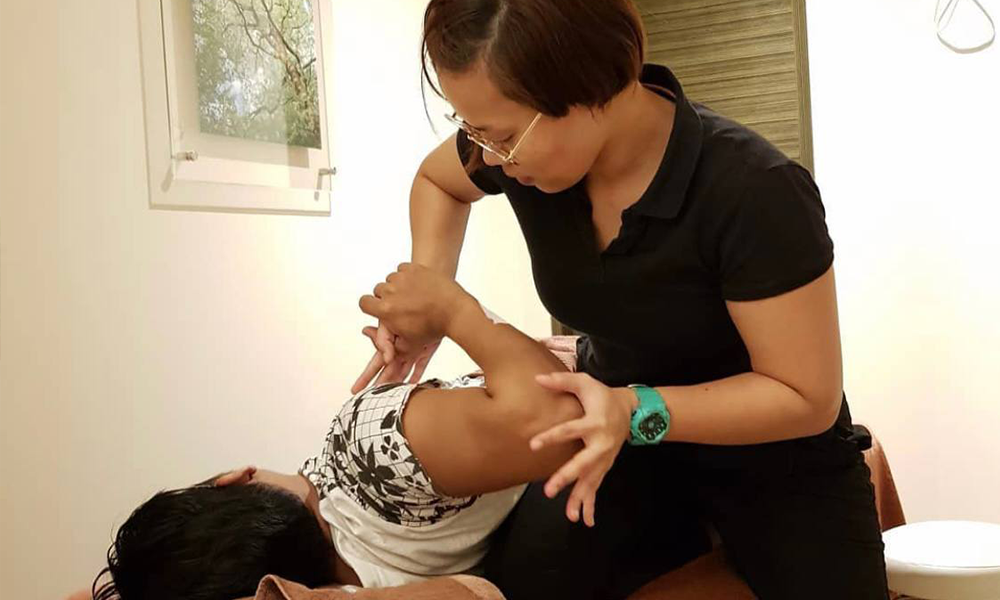 Source
At Project Armstrong, they have Deep Tissue Sports Therapy, Sports Retail and Physical Training for individuals facing muscular imbalances.
They offer full-body massages and partial massages. A partial massage would be for the upper body, lower body or posterior chain, including the calf, hamstrings, glutes and back. They also provide stretch therapy which focuses on improving a person's range of motions.
You can choose between 2 female therapists — Liyanna and Sarah, who are both available for all treatments except Targeted Area Corrective Therapy.
If you're a student in need of some treatment for your soreness, there are also student prices for people under 21. You can contact them through WhatsApp to find out more about the deal.
Price: Targeted Area Corrective Therapy: $25 for 15 mins | Partial Body Therapy: $50 for 30 mins | Full Body Therapy: $90 for 60 mins
Address: 6 Sin Ming Plaza, #01-08, Tower 2, Singapore 575585
Booking: WhatsApp 9232 5123 or through this link
Website | Facebook | Instagram
7. The Muscle Lab Singapore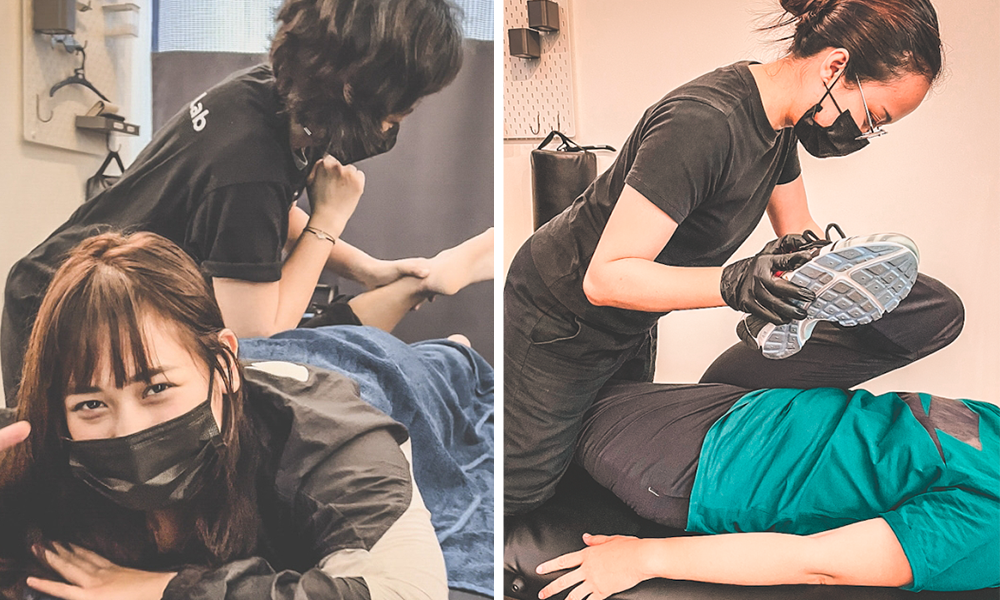 Source
The Muscle Lab Singapore provides Clinical Sports Massage, Muscle Therapy, Muscle Rehabilitation and Injury Therapy. 
The female therapists and practitioners available are Ariana, Rahil and Madam Rose. Within the booking form, you'll be able to select the "Female Therapists" option, which will show you the types of services available.
Located near Kampong Glam, you can even go cafe hopping with your girlfriends after a relaxing time at The Muscle Lab.
Price: Sports Massage: $99 for 60 mins | $139 for 90 mins | Isolated Stretch Therapy: $89 for 50 mins
Address: 371 Beach Road, B1-52 & B1-53, City Gate, Singapore 199597
Booking: Email themusclelabsg@gmail.com or through this link
Website | Facebook | Instagram
8. Singapore Physio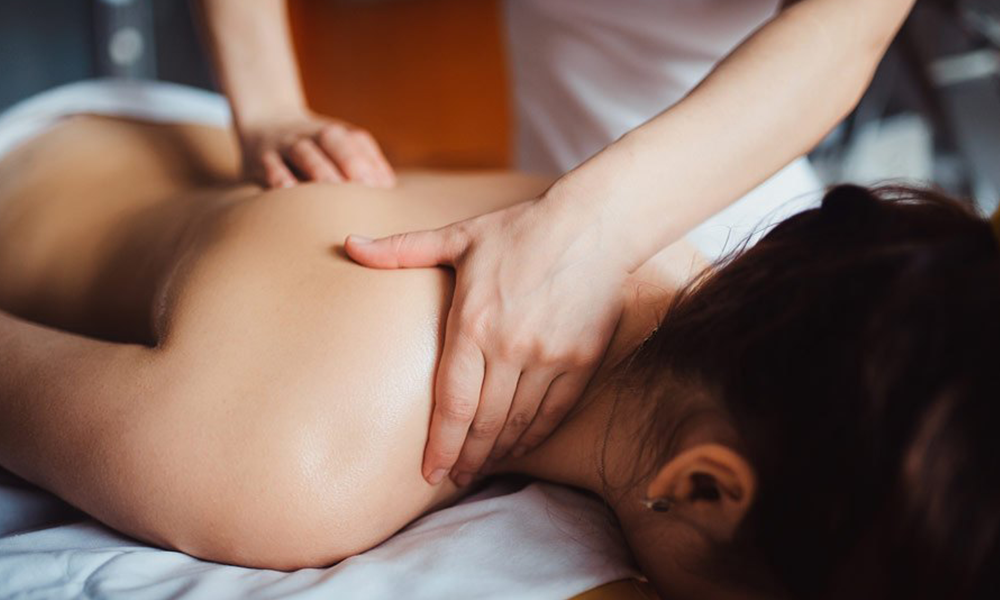 Source
Operating in Asia since 2002, Singapore Physio specialises in treatments for endurance sports, knee injuries, back and neck pain, women's health and post-operative rehabilitation. They practice an Australian style of physiotherapy, which is said to be one of the best practices in the world. 
Using a combination of remedial and sports oil massage techniques, Singapore Physio aims to restore balance to the musculoskeletal system, assist post-exercise muscle recovery and relieve the shoulder, neck and back tension associated with the stresses of everyday working life.
They are also able to provide care to pregnant ladies and have therapists readily available to attend to concerns regarding women's health.
Price: One-Off Sessions: $90 for 45 mins | $110 for 60 mins | $180 for 90 mins
Address: 282B River Valley Rd, Singapore 238323
Booking: Call 6887 4190, WhatsApp 9738 3874, email info@singaporephysio.com or through this link
Website | Facebook 
9. PhysioActive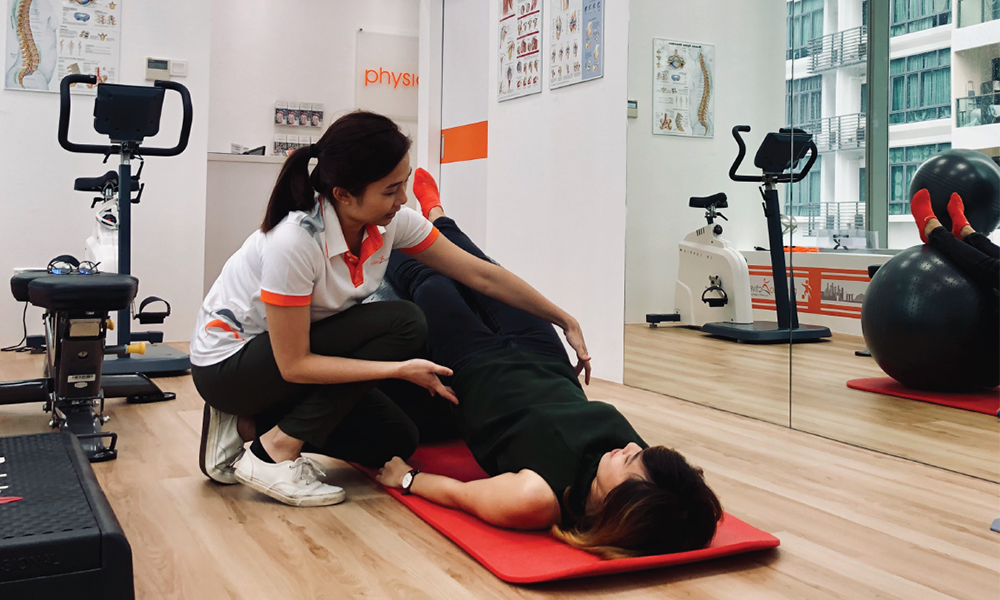 Source
Having treated athletes like Singapore Handball Player Michelle Leow, PhysioActive has been named one of the best physiotherapy clinics in Singapore. 
Their experts will listen carefully to your needs and concerns, tailoring a custom sports massage designed to relax you and increase your performance potential. And if that doesn't sway you enough, they also provide complimentary cold packs, hot packs, and ultrasound during your massage.
PhysioActive has 5 clinics in Singapore, with a majority of females across all branches, so you'll never have to worry about not being able to book a female massage therapist.
Price: $95 for 30 mins | $115 for 45 mins | $140 for 60 mins | More details can be found here
Address: View the full list of branches here
Booking: View the full list of contacts here, email at info@physioactive.sg or through this link
Website | Facebook | Instagram 
10. Heartland Rehab
Founded with a goal to increase health standards in the heartlands through mobility and exercise, Heartland Rehab has physiotherapists who are all fully registered with the Singapore Allied Health Professions Council (AHPC). 
Depending on the athlete's sport, the sports massage will be concentrated on different parts of the body. As each type of sports massage uses different massage techniques, combining techniques will allow the physiotherapist to achieve the maximum desired result for the athlete.
They are located within the heartlands of Singapore neighbourhoods like Somerset and Joo Chiat, making them easily accessible to everybody. 
Price: $110 for 60 mins | $165 for 90 mins
Address: View the full list of branches here
Booking: Call 94247154, email at info@heartlandrehab.sg or through this link
Website | Facebook | Instagram
11. Health2U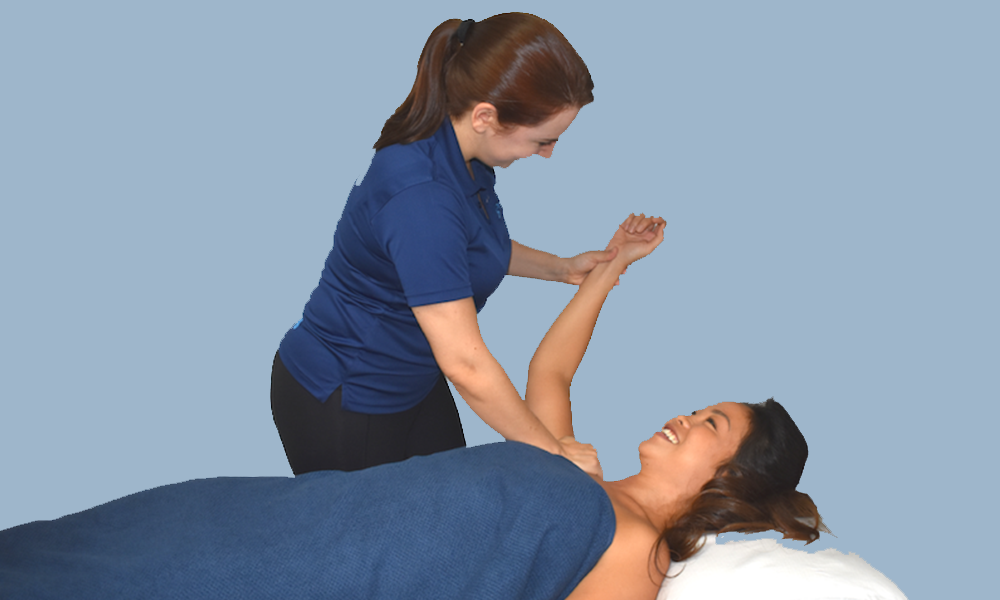 Source
Health2U was started in Singapore to provide professional physiotherapy, occupational therapy, and speech therapy services to adults and children. Their service is perfect for people with busy schedules as they have available appointments throughout the day.
The sports massages at Health2U are carried out by experienced physiotherapists who have an in-depth knowledge of the body and how it can be affected by different sports. You can also ask for a home session if it hurts too much for you to move around. 
Price: $150 for 45 mins | $175 for 60 mins | $225 for 90 mins | Package deals can be found here
Address: View the full list of branches here
Booking: Call 83582144 or email at info@health2u.sg
Website | Facebook | Instagram
These Sports Massages Are For Everyone To Consider, Not Just Athletes
There is a very fine line between regular massages and sports massages, as regular massages are mainly for leisure purposes, but a sports massage aims to correct and improve mobility.
If you've been suffering from an injury after an intense workout, it's perhaps time for you to book an appointment at one of these sports massage places as leaving it untreated can often cause other long-term problems. And if you're more comfortable consulting with a female therapist, now you know where to look. 
Also read:
12 Spas In The West Of Singapore For You To Relax At With Massages Starting From $28