Squid Game Nails
Last week, Netflix launched a collection of Squid Game apparel featuring tees with customisable player numbers and graphics. To complete the whole Squid Game OOTD look, you can now get press-on nails inspired by characters such as Gi Hun and Sae Byeok, as well as the featured games in the show. 
Characters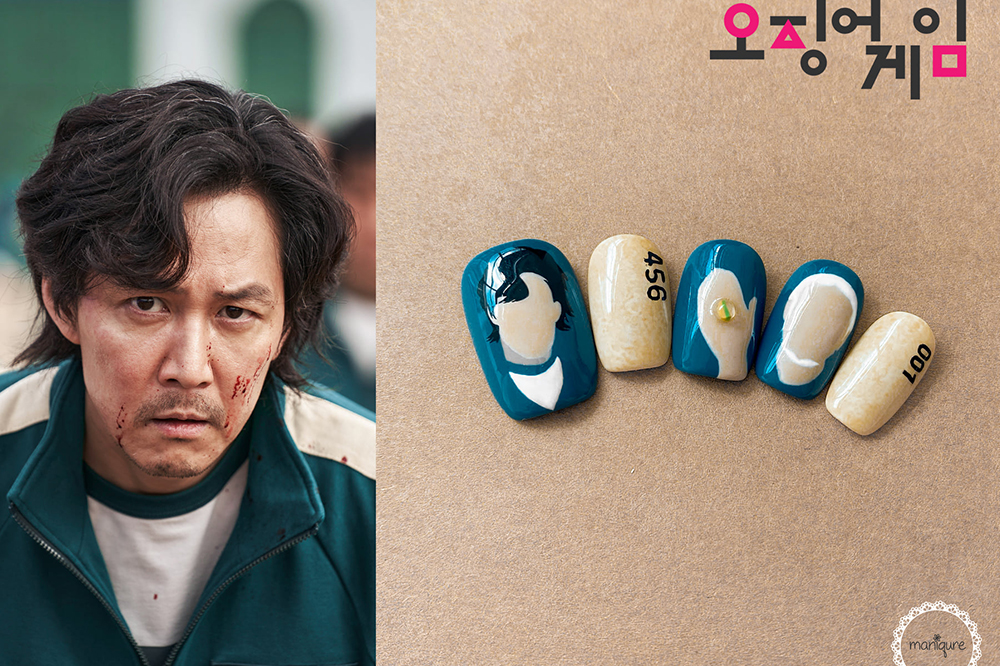 Source
The marbles game in episode 6 left us all in an emotional wreck — especially when Gi Hun and Il Nam had to play against each other to survive. This press-on nails set pays tribute to the scene where the pair promised to be Gganbu together, meaning neighbourhood best friends in Korean slang.
The set comes with outline designs of the 2 characters and their player numbers, with a 3D marble jewel on a player's hand. It is retailing at RM154 (~SGD$49.90).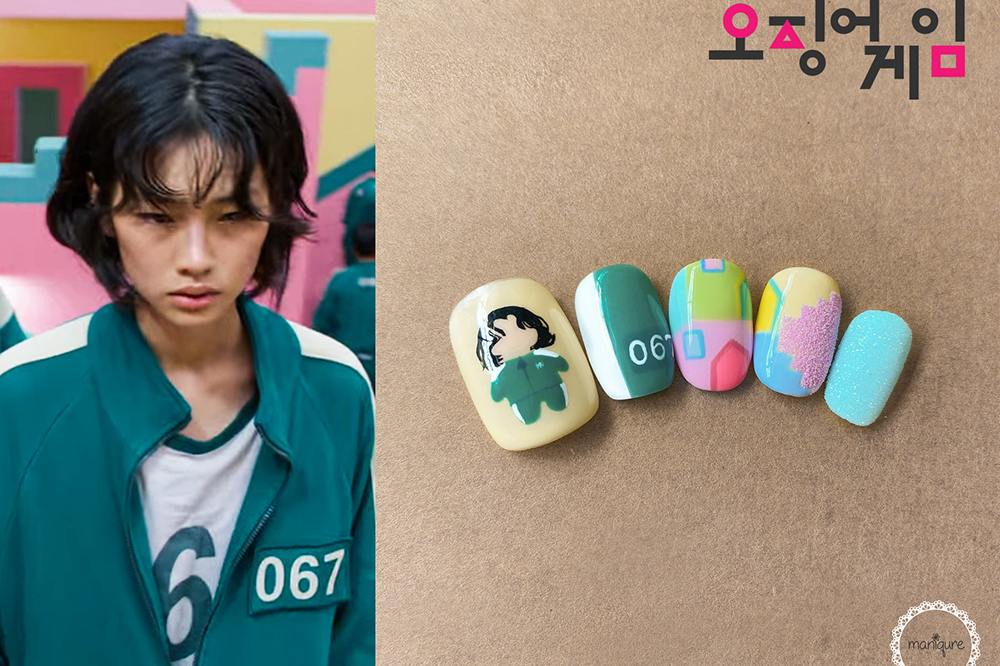 Source
At this point, simping for Jung Ho Yeon, aka the actress who plays Sae Byeok, is pretty much second nature to fans. This Sae Byeok set has an outline of her character wearing the green jumpsuit and additional colourful designs of the game arena. 
This manicure set is retailing at RM169 (~SGD$54.80).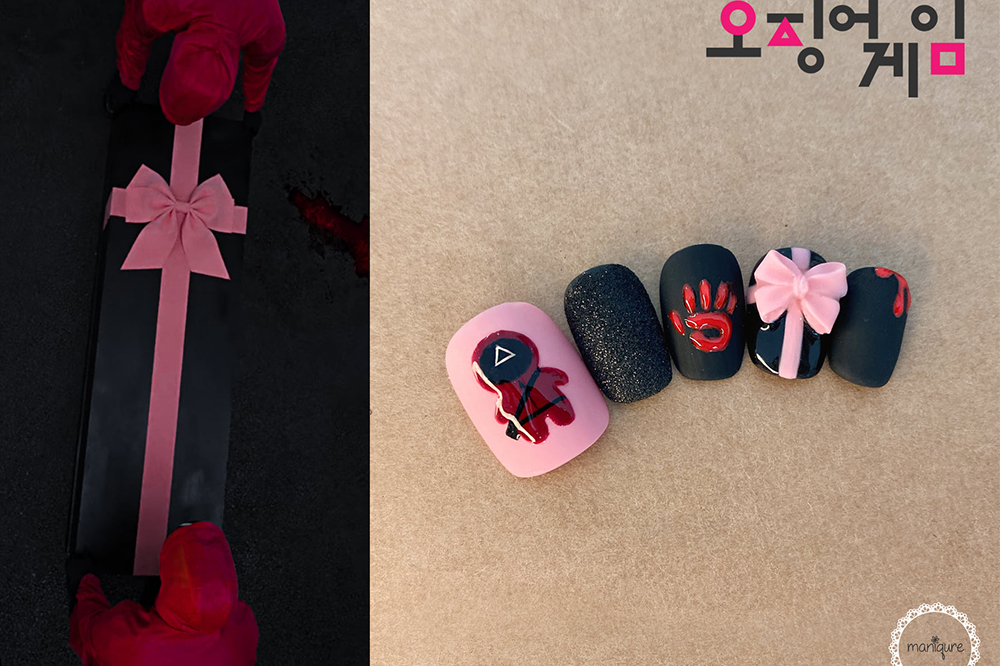 Source
Masks play a big role in Squid Game, especially when it comes to hierarchy. Making use of black and pink colours of the masked soldiers and coffin boxes, this manicure set gives off an eerie vibe. Complete with a 3D bow on the coffins, it is retailing at RM159 (~SGD$51.50).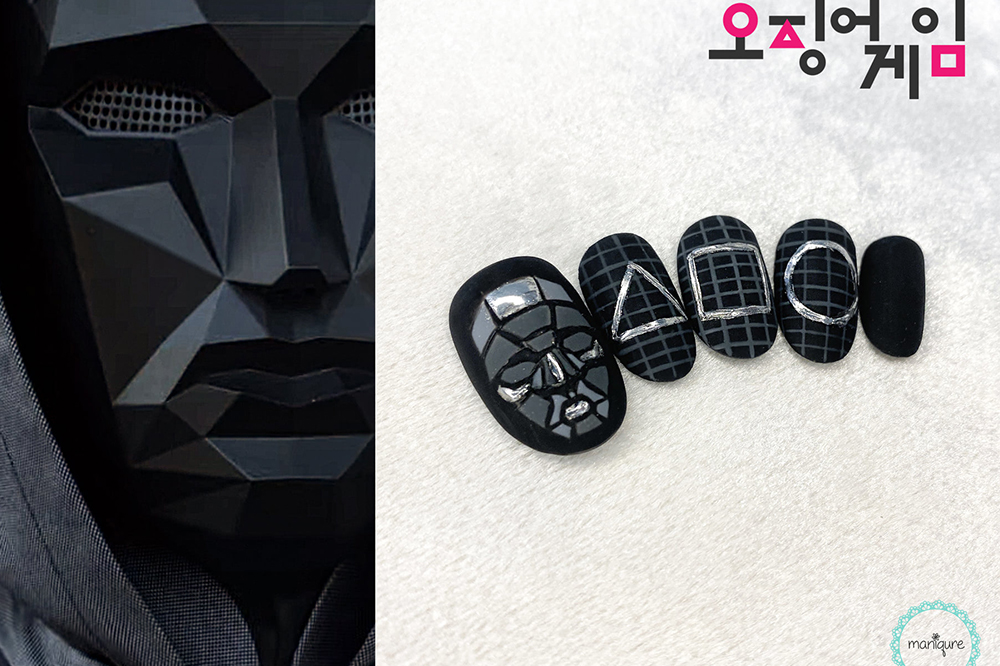 Source
One mask clearly stands out from the rest of the soldiers. Influenced by the mysterious vibe of the Front Man, this manicure set features the leader of the games, as well as the Squid Game shapes, in a full black theme. It is retailing at RM181 (~SGD$58.70).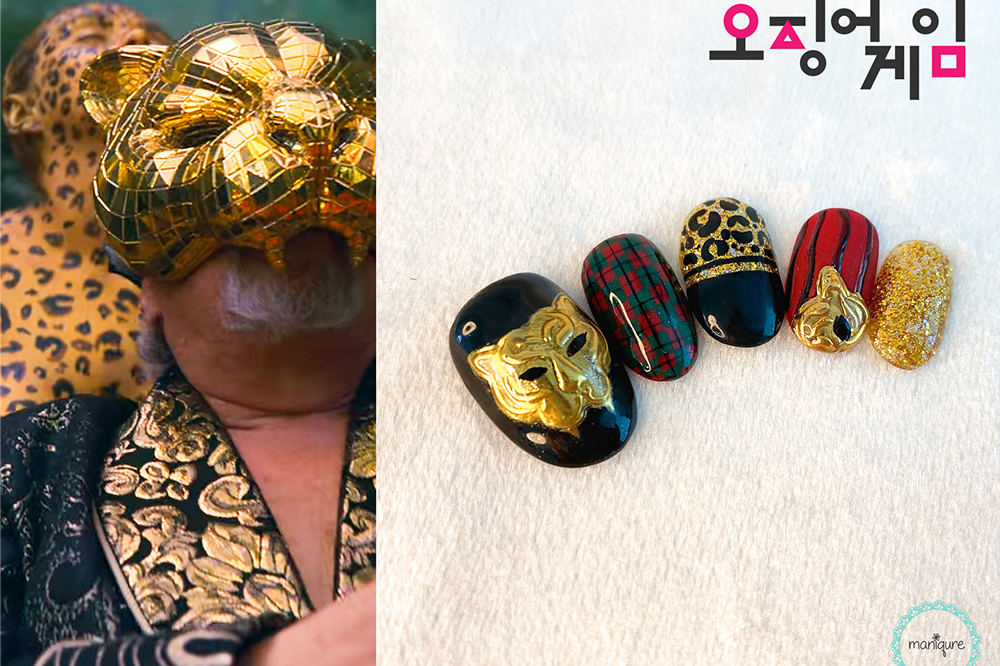 Source
With flashy animal masks and expensive suits inspired by the rich VIPs, this manicure set looks exotic and elegant at the same time. It is retailing at RM186 (~SGD$60.30).
Games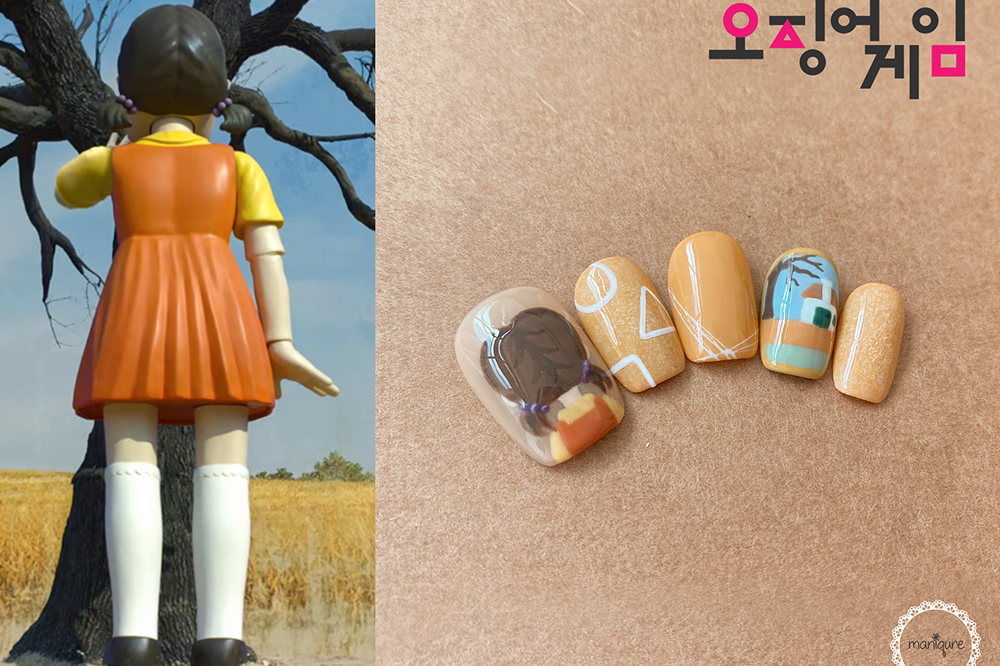 Source
Red Light, Green Light is an iconic episode that kickstarts the cruel reality of the games — players who are "eliminated" will be ruthlessly killed. Not only that, the creepy looking doll that echoes the phrase "Mugunghwa kkoci pieot seumnida (the Mugunghwa flower has blossomed)" is a haunting line that's stuck to our minds. 
Inspired by this scene, this manicure set features the doll and her surroundings from the game. It is retailing at RM140 (~SGD$45.40).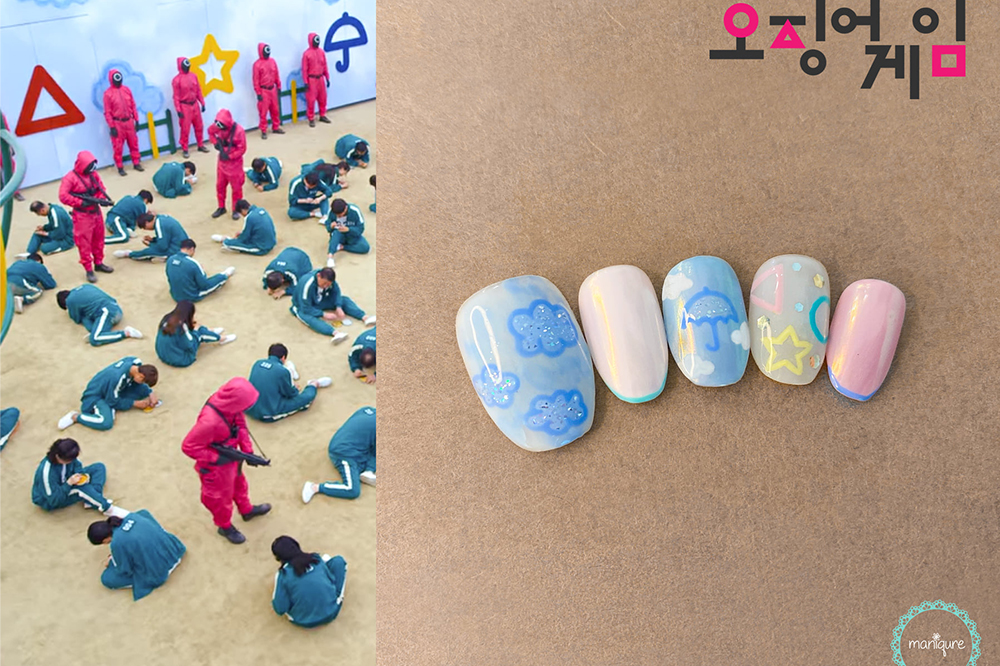 Source
While the Dalgona game was filled with nerve-wrecking violence, this manicure set takes on a cute twist. Its whimsical pastel colours mimic the child-like setting of the game arena. Additional Dalgona shapes and cloud designs on the wall make an appearance as well.
This set is retailing at RM161 (~SGD$52.20).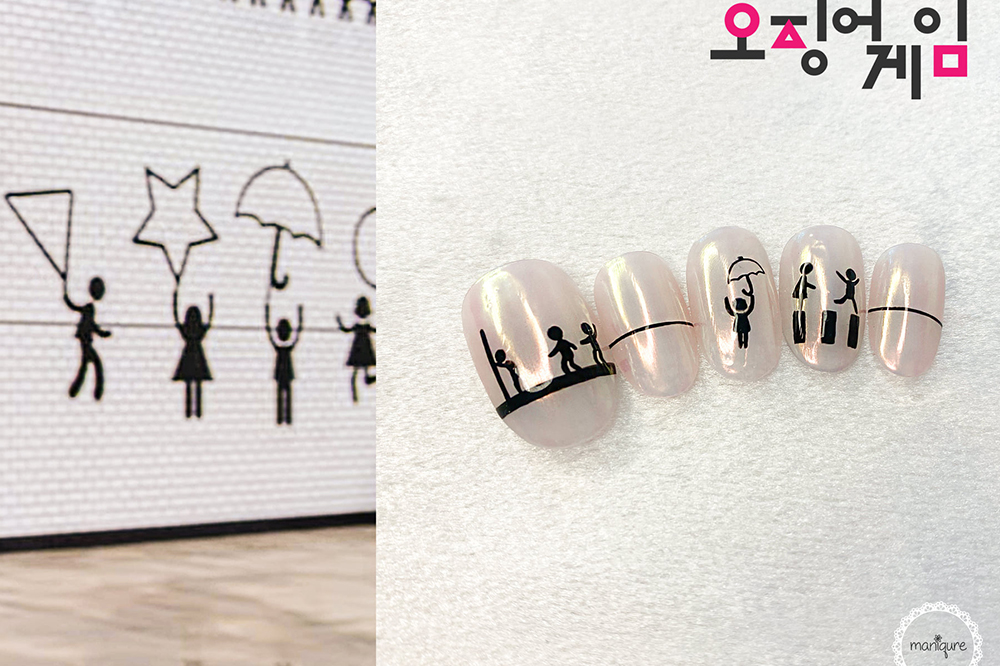 Source
For those who missed out on this small detail, it was revealed that the walls of the dorm contained hidden clues on the games. These simple graphic designs of the traditional Korean games were hidden behind the players' beds. 
This monochrome manicure set perfectly imitates the Red Light, Green light, Dalgona and bridge game designs all on one hand.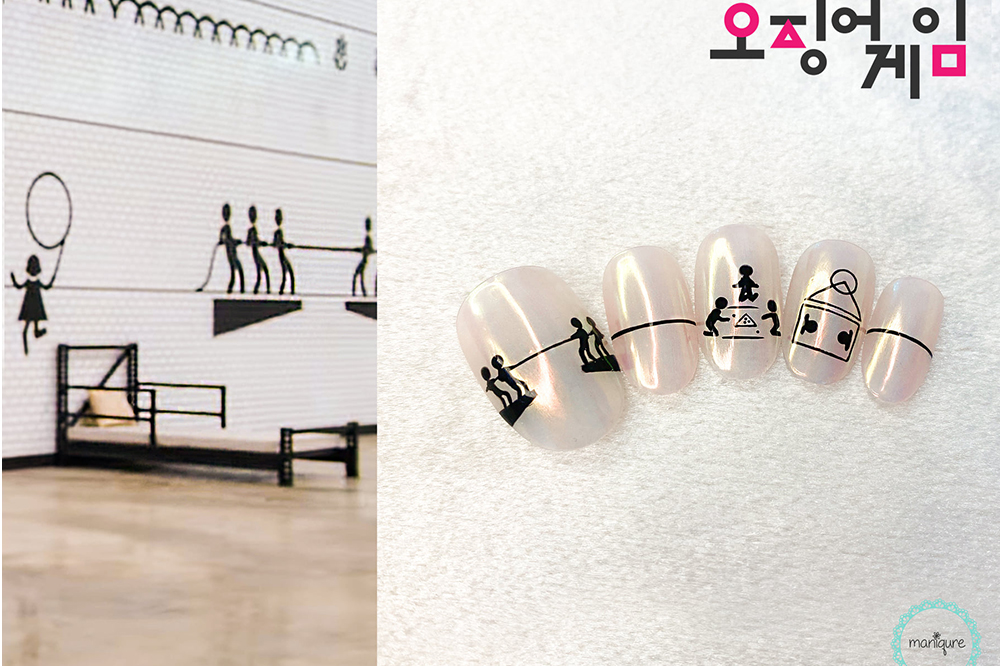 Source
Complete the set on your other hand with the rest of the game designs such as tug-of-war, marbles and the final squid game. Both of the game nail designs retail at RM184 (~SGD$59.70) per set.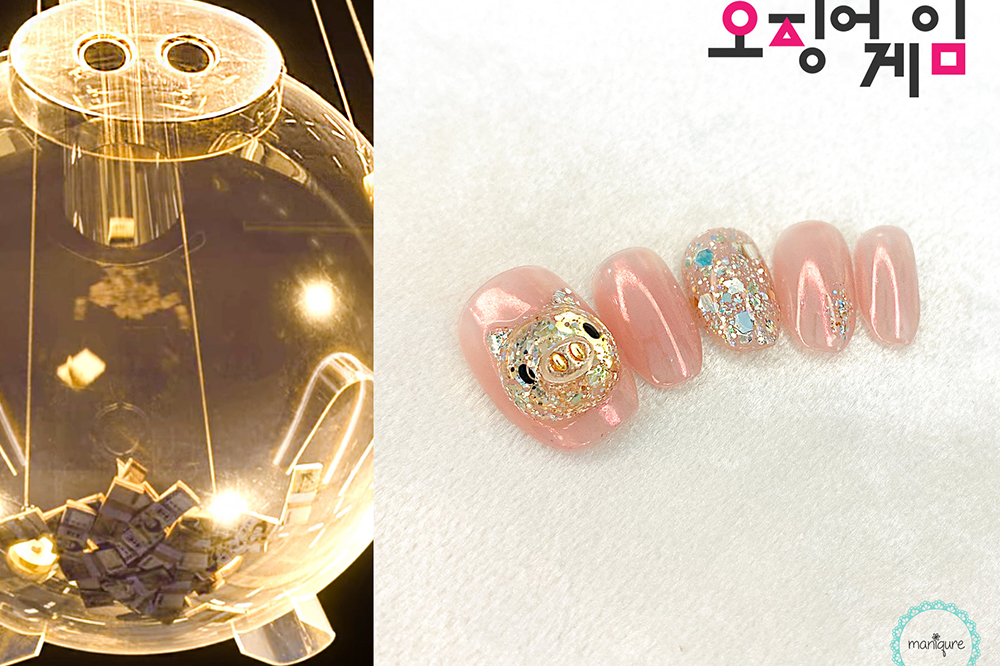 Source
All of the Squid Game players have one thing in common: the desperate need for money. This manicure set comes with a pig logo to represent the giant piggy bank filled with the prize money. Hopefully, wearing this set will give you extra huat for your next mahjong session too. 
It is retailing at RM154 (~SGD49.90).
These Squid Game Nails Can Zhng Up Your OOTD While Waiting For Season 2
These Squid Game press-on nail designs were created by Malaysian nail salon Maniqure, which offers international shipping to Singapore on their online website. It seems like the Squid Game hype won't be going away any time soon, so we can expect to see more merch inspired by the show in the future.
Also read:
12 Times Jung HoYeon's Character In Squid Game Proved How She Is An Absolute Girl Boss