Starbucks Chinese New Year 2021
Last week, Starbucks launched its Chinese New Year collection with stylish red, gold, floral and ox designs. Now, Starbucks is expanding its Chinese New Year 2021 offerings with a pretty pastel blue theme. Besides drinkware, the highlight of this collection is a music box with an ox brewing coffee beans.
Mugs
Whether it's coffee or tea, these ox-themed mugs will be the best way to start your mornings. The 12oz mug on the extreme left replicates the body of an ox with a protruding white head at the front, and the handle as its tail. The bottom of the mug is also shaped in a squarish manner to represent its stumpy legs. 
The 12oz mug beside it does not have these 3D details. Instead, it takes on a simpler ox illustration surrounded by colourful leaves. The inside of the mug is in a complementary pastel pink colour that is similar to strawberry milk. 
One mug design clearly stands out from the rest. Featuring the only transparent mug in this series, the 8oz double-walled mug with a minimalist ox head design reminds us of Starbucks' popular dog paw and cat paw cups. While filling up the cup with your favourite coffee, you'll be treated to the fun of colouring the ox's head in a lovely brown colour. 
The last 12oz mug on the extreme right has a more subtle nature design whilst still following the pastel blue colour scheme. A white ox head lid sits on top of it, helping to keep your coffee nice and warm while you're busy at work.
Tumbler and phone stand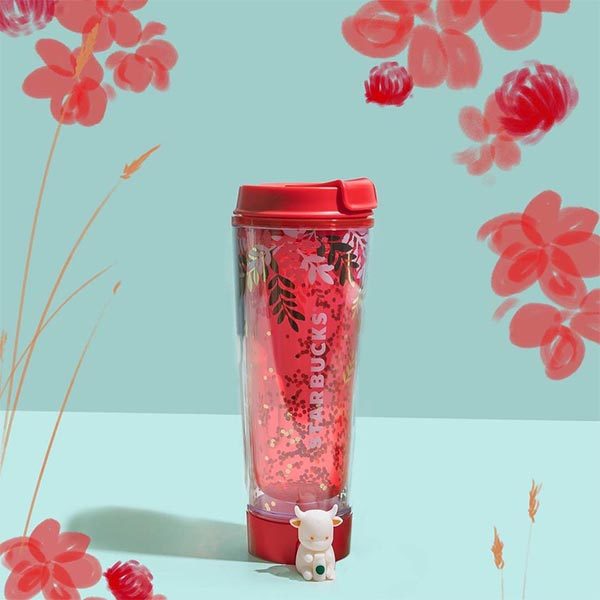 Tumblers are a must-have for every avid Starbucks drinker. Of course, it is not Chinese New Year without the auspicious colour red. While this tumbler follows the bright red shades of the elegant tumblers in the first release, it takes on a cuter twist. This glitter epoxy tumbler contains red sequins that gently float around the tumbler as you carry your coffee to-go. 
The tumbler comes with an adorable Year of the Ox phone stand. Now you can easily catch up on your Netflix shows in comfort while sipping on your coffee! The 16oz tumbler and phone stand is retailing at $32.90.
Also read:
Starbucks Just Launched A CNY Collection With Red, Gold, Floral & Ox Details Including A Chio Teapot Set
Cold Cup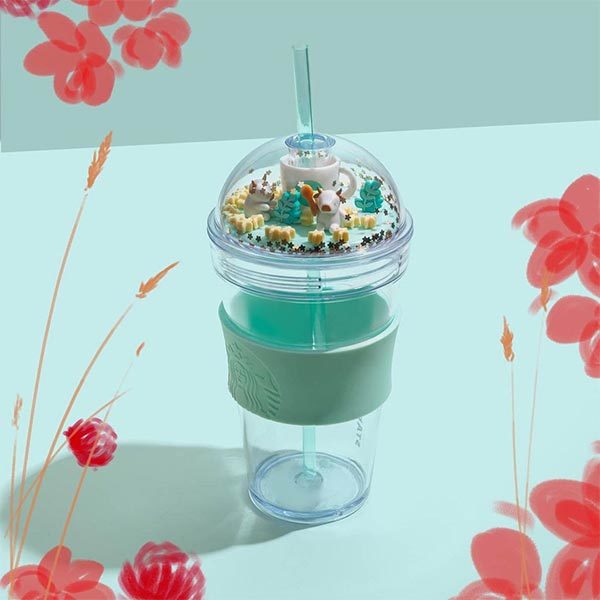 Carry your own miniature ox farm with you anywhere you go with this transparent Cold Cup. The lid features tiny oxes having the time of their lives in a field of hay. This sweet design also comes with a rubber cup sleeve in the same pastel blue colour scheme. Feel free to take your frappuccino to-go without having to constantly wipe away the condensation that forms on the side. This 16oz cold cup is retailing for $29.90.
Music box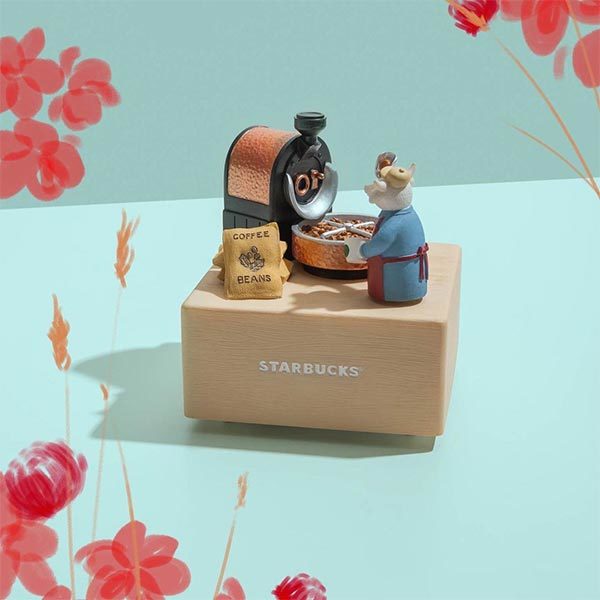 The last item of this ox collection isn't another piece of drinkware. Instead, we are pleasantly greeted by an ox-themed music box. Starbucks' brew master, Mr Ox, is perched on top of a music box brewing fresh coffee beans. This music box is retailing for $89.90, and will be perfect as a gift for your loved ones as a symbol of good luck for the new year.
Starbucks Is Releasing More Ox-Themed Chinese New Year Merch On 11 January 2021
As if we haven't already been blessed with a whole collection of ox-themed items, these additional cute designs are fuelling our Chinese New Year mood even more. Find it in Starbucks stores from 11 January 2021 onwards, or on Starbucks Singapore's official Lazada and Shopee sites. 
All images courtesy of Starbucks.
Also read:
Starbucks Hong Kong's Bee Mine Collection Is The Cutest Way To Ask Someone To Bee Your Valentine