Starbucks x 3.1 Phillip Lim
Along with the Starbucks 50th anniversary collection, which comes out on 10 March 2021, Starbucks continues to celebrate the wonders of nature with a new collaboration. Working with American fashion label 3.1 Phillip Lim, this collection features drinkware detailed in colourful flower fields, rainforests and coral reefs. Starbucks fans can also look forward to tote bags and pouches in these designs too. 
The 3 vibrant themes were created by artist Isabel Souza, representing the importance of sustainable choices to keep our planet healthy.
Flower field collection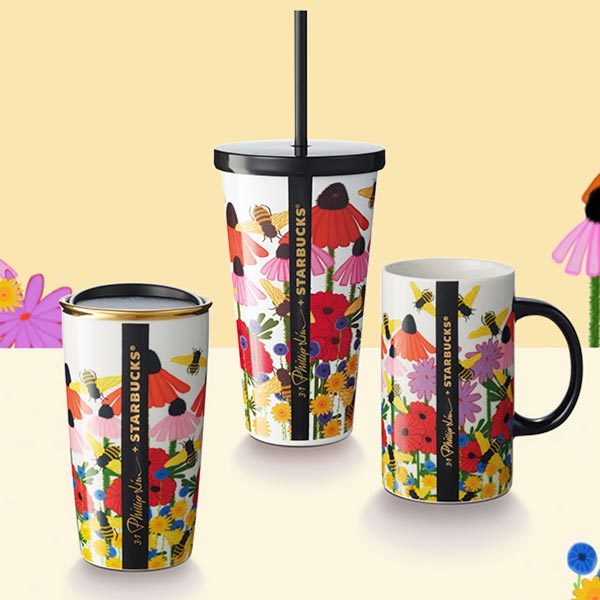 From left: 12oz tumbler, $44.90; 16oz cup, $45.90; 12oz mug, $34.90
Inspired by flower fields, the first design in this collection is a lush array of colourful flowers surrounded by honeybees. The bees serve as a reminder of the critical role they play in pollinating the flowers we love to receive. 
Bring these tumblers and cold cups along with you to brighten up a study date. For those who love to lounge in the comfort of their homes, the 12oz mug is the perfect size to brew your morning coffee.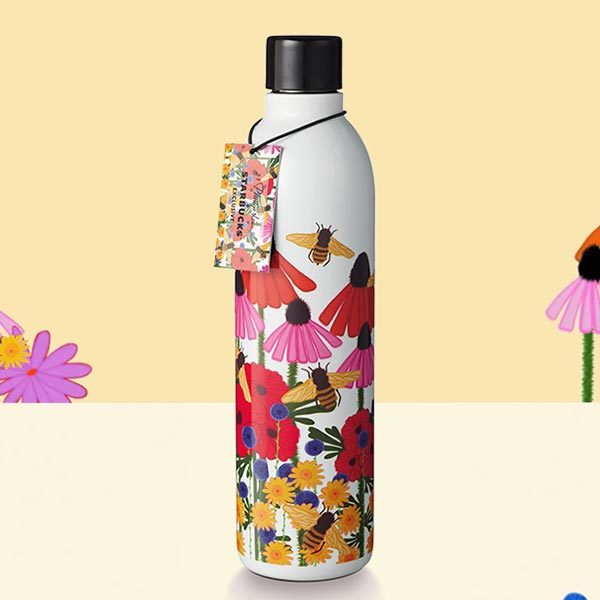 The flower field collection also includes a 15oz bottle, providing a little sparkle of fun and vibrancy while you're staying hydrated. It is retailing for $46.90.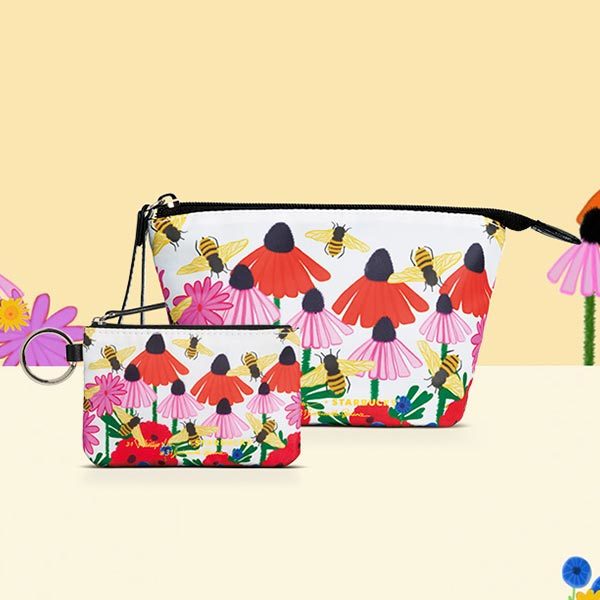 From left: card case, $19.90; pouch, $24.90
Starbucks isn't limiting itself to drinkware in this collab. Flex your flower power with card cases and pouches, only available in this flower field design. These are convenient for carrying your ez-link cards and extra change while you're out for a walk.
Also read:
Starbucks Is Celebrating Its 50th Anniversary With Mermaid Mugs, Tumblers & Ornaments
Rainforest collection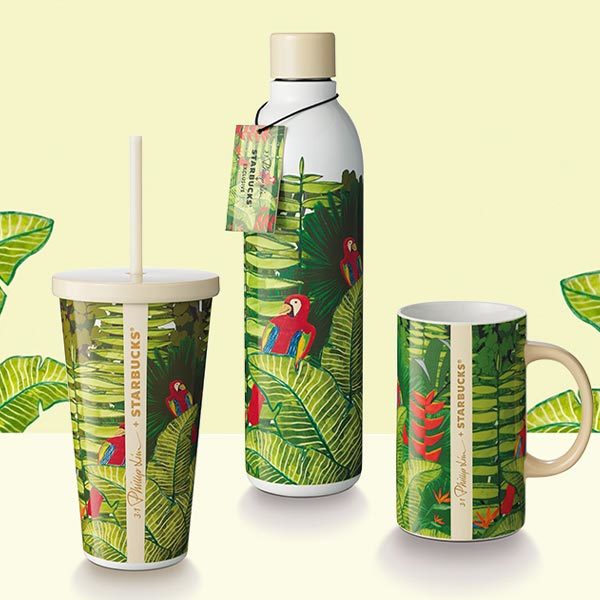 From left: 16oz tumbler, $45.90; 15oz bottle, $46.90; 12oz mug, $34.90
The rainforest collection features 3 drinkware detailed in luscious and rich shades of green. Bright, red parrots perch amongst the leaves, providing a tropical vibe that suits our sunny Singapore. With this fresh design, kick back and enjoy a latte to go, as a small sip can visually transport you into the relaxing realms of the rainforest. 
Coral reef collection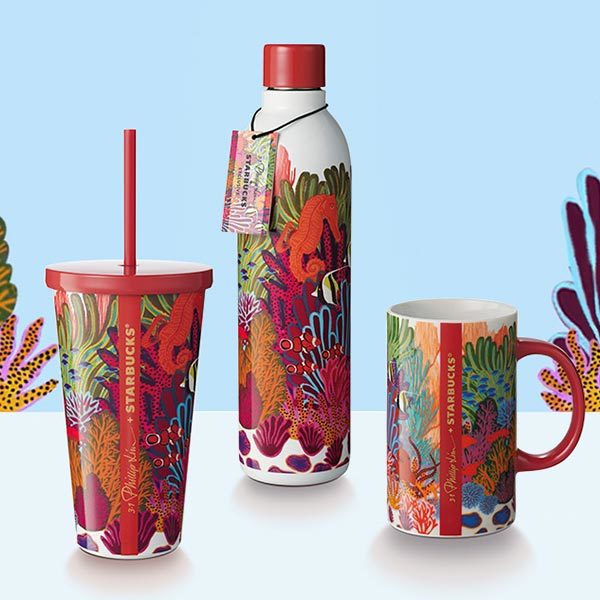 From left: 16oz tumbler, $45.90; 15oz bottle, $46.90, 12oz mug, $34.90
From land to sea, the next theme of this collab stars a bright and energetic display of coral reefs. For people who love scuba-diving and would like to remember the beauty of the reefs that keep our oceans clean, these are the cups for you. Little angelfish can also be spotted swimming across their home of coral reefs.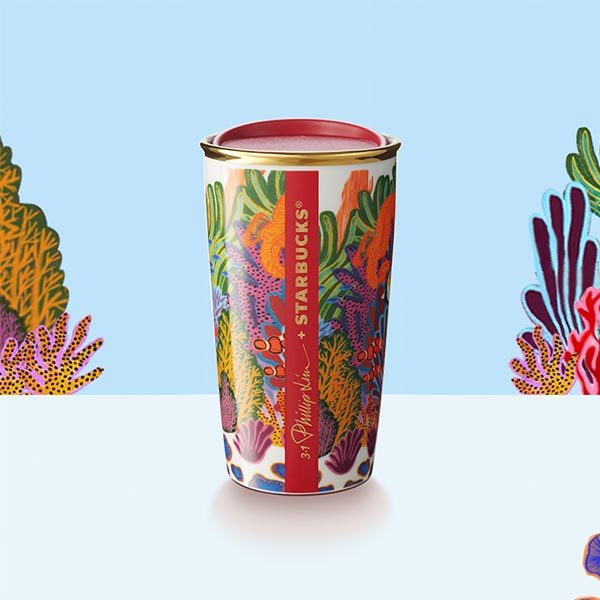 Grab this 12oz tumbler for a chill day of relaxing at the beach. With the sun, the sea, and good coffee, there's no way your day can go wrong. The tumbler is retailing at $44.90.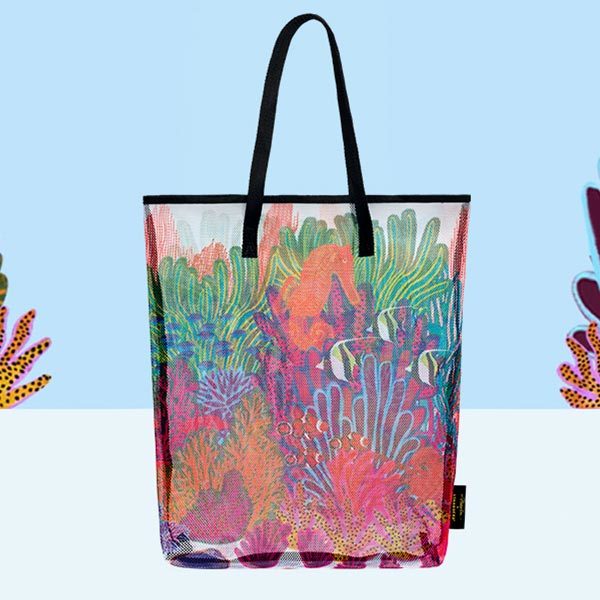 It's always an exciting feeling to match the theme of your outfit to what you're about to do for the day. Store your sunscreen, beach towels, swimming suits and more with the coral reef tote bag when packing for a trip to the beach. If not, this 31.75cm by 44.5cm tote bag is spacious enough to carry whatever you need, no matter where you go. It is retailing for $34.90.
Starbucks x 3.1 Phillip Lim Nature Collection Reminds Us To Protect Our Mother Earth
The Starbucks x 3.1 Phillip Lim collection was inspired by nature's beauty, bringing us sustainable and reusable products in unique designs. This collection will be available in Starbucks Singapore stores and Starbucks on LazMall from 10 March 2021. Each item is limited to 1 piece per customer, so don't miss out on getting this limited edition merch.
Let's all do our part to make sure our planet remains as beautiful as these cups, bringing our reusables out as often as we can.
All images courtesy of Starbucks.
Also read:
8 Baby Steps To Sustainable Living In Singapore That Even Lazy People Can Follow