Starbucks Rainbow Collection
As we're expecting more thundery showers this August, this means that we can catch glimpses of rainbows when the sun shines afterwards. To add some joy and colour in your life as well, Starbucks Singapore has launched a whimsical rainbow collection titled "Joy of Connection". This collection aims to bring smiles to our faces as we indulge in our morning coffee.
Cold Cups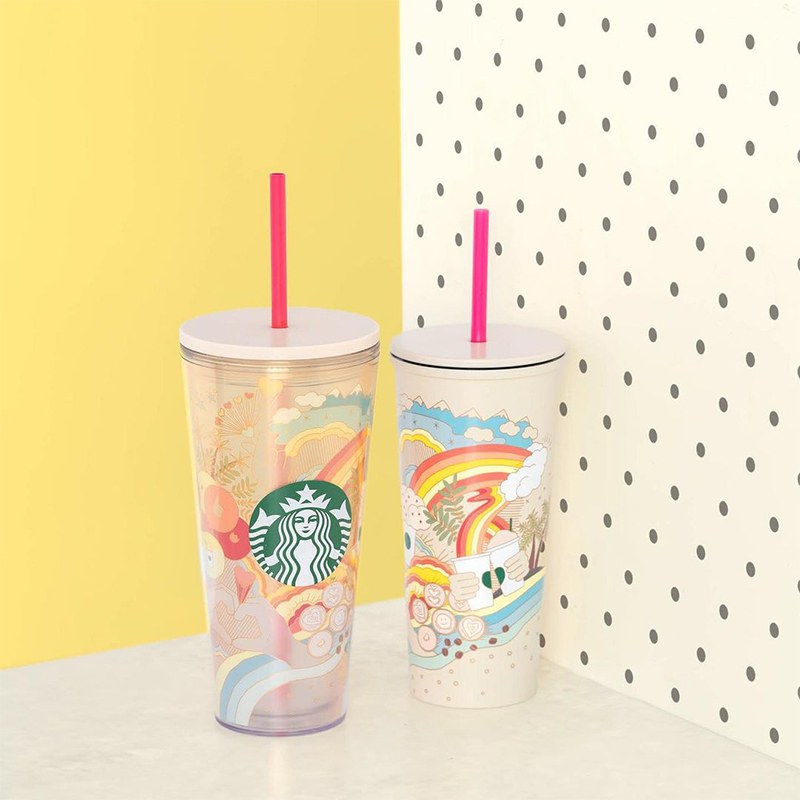 From left: 20oz Cold Cup, $26.90; 16oz Cold Cup, $36.90
It's not a Starbucks collection without their iconic Cold Cups for easy takeaway of our favourite lattes. The first set of Cold Cups comes with intricate rainbow and nature designs in soft cream colours.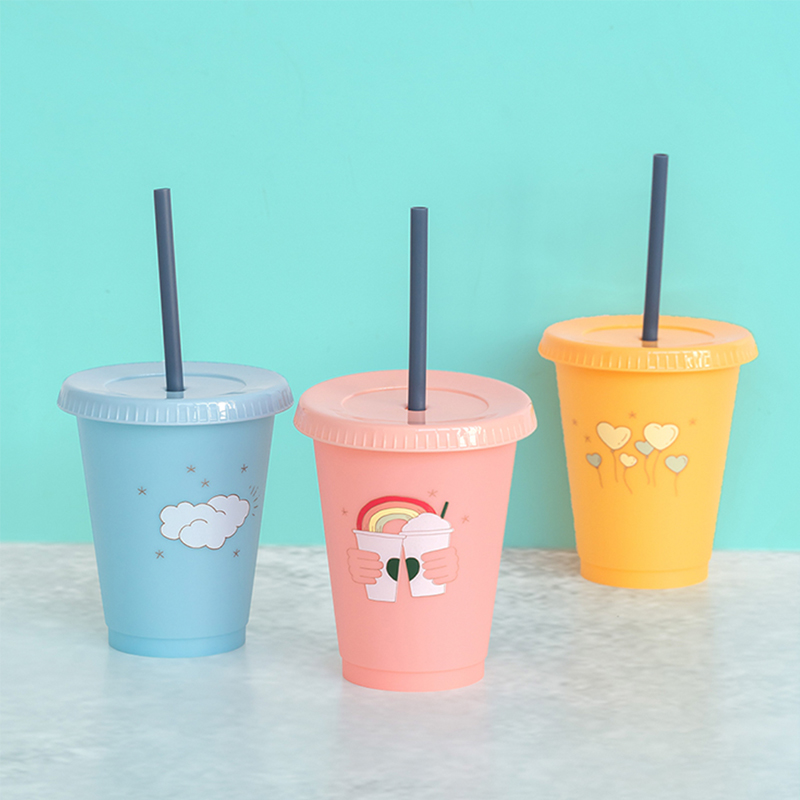 Starbucks has released many popular colour-changing Cold Cups, such as the confetti cups that came out earlier this year. It seems like we can't get enough of this adorable feature, as the colour-changing Cold Cups in this collection come in a set of 3 and a canvas bag to store them. 
Jio your besties to get matching friendship cups as they come in pastel colours of blue, pink and yellow with cute graphic designs. The 16oz Cold Cups are retailing at $37.90 per set.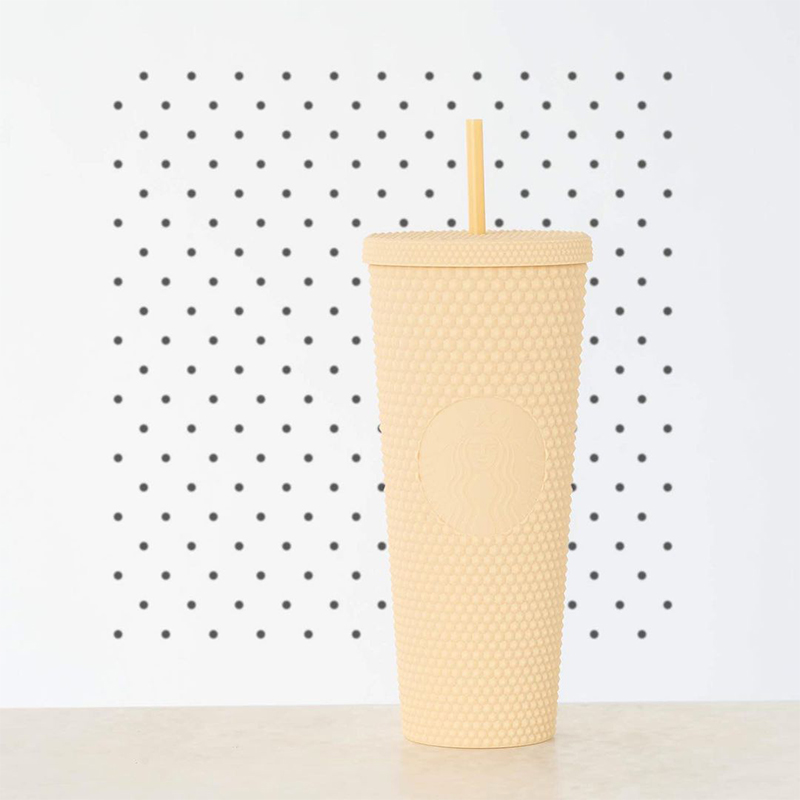 Keep your drinks cold and take a sip of sunshine with the 24oz yellow studded Cold Cup. It's retailing at $39.90 per cup and is limited to 1 purchase per customer.
Bottles and tumblers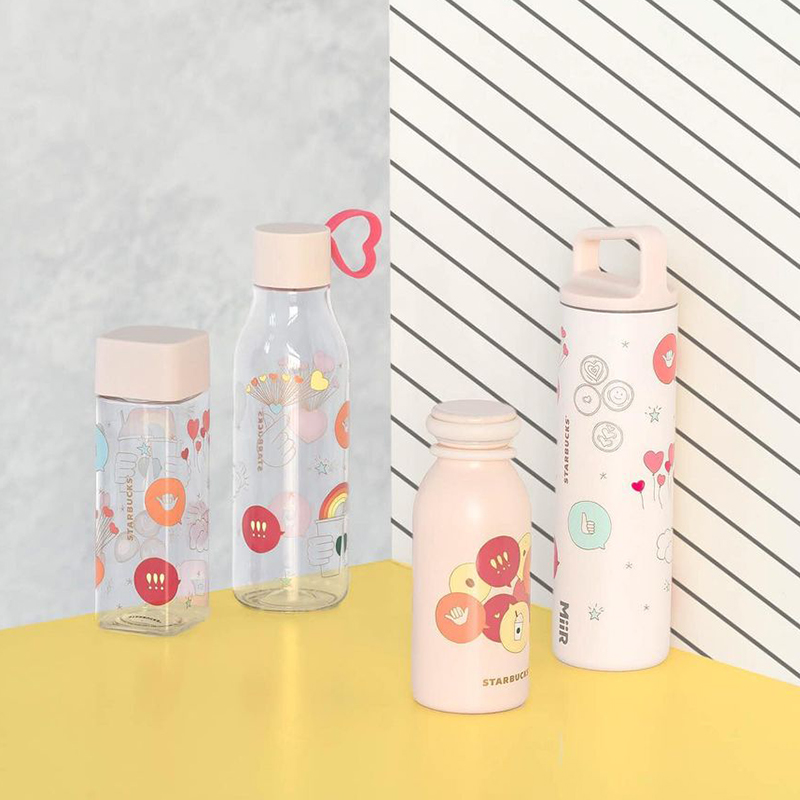 From left: 14oz bottle, $24.90; 24oz bottle, $33.90; 12oz bottle, $33.90; 20oz bottle, $52.90
Despite the rainy season, the weather in Singapore remains humid. Taking a water bottle when you're out and staying hydrated remains as important as ever. There are 4 water bottles in this collection filled with colourful hearts and smiley emoji designs to brighten up your day.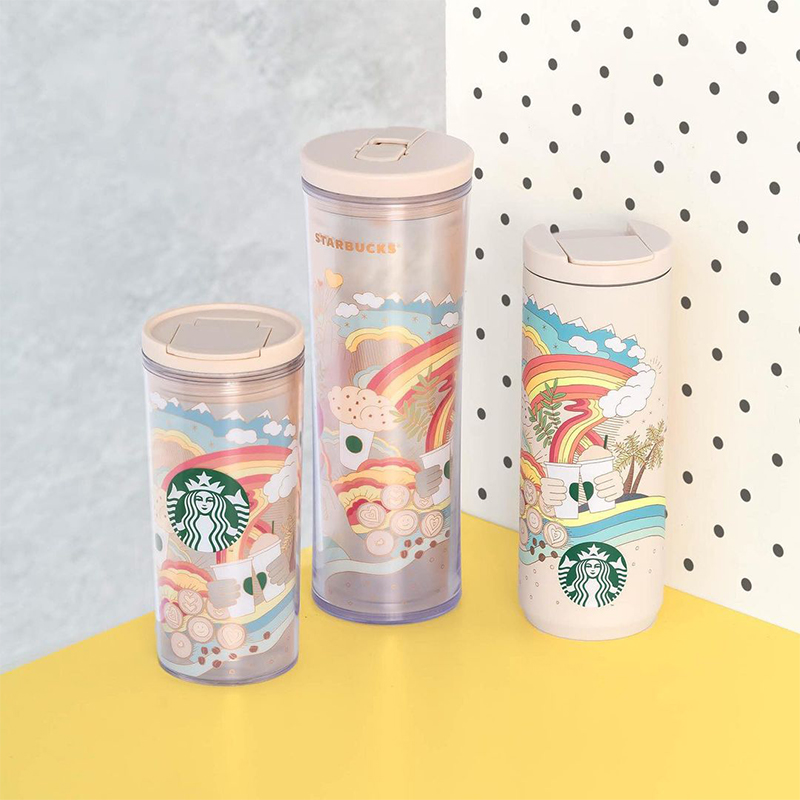 12oz tumbler, $24.90 (left); 20oz tumbler, $30.90 (middle) 
Spread the joy and cheer with your colleagues by taking these colourful tumblers to accompany you at work. The tumblers are double-walled and come with tropical rainbow designs surrounded by coffee cups.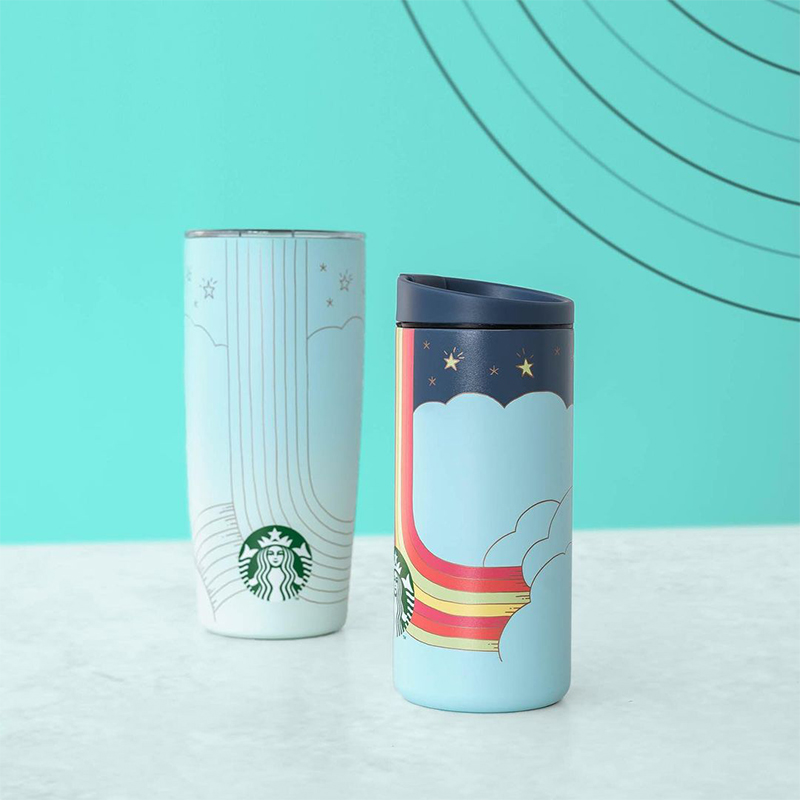 From left: 20oz tumbler, $49.90; 12oz tumbler, $42.90
The next 2 tumblers come in shades of blue to represent fluffy clouds which the rainbows appear from. Made from stainless steel to keep your drinks cool, take a trip down rainbow road with your cold brew in hand.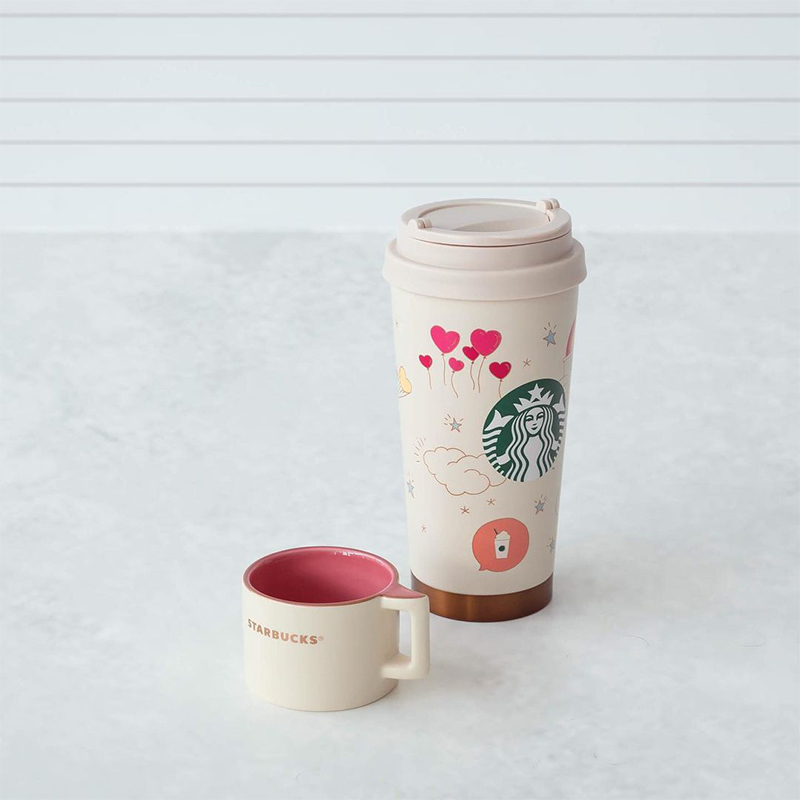 From left: 3oz mug, $18.90; 16oz tumbler, $45.90
There is another stainless steel tumbler available in cream with hearts and clouds surrounding the Starbucks siren logo. Pair this tumbler with the matching 3oz mug so you can easily pour your hot coffee out to cool when on a picnic date with bae.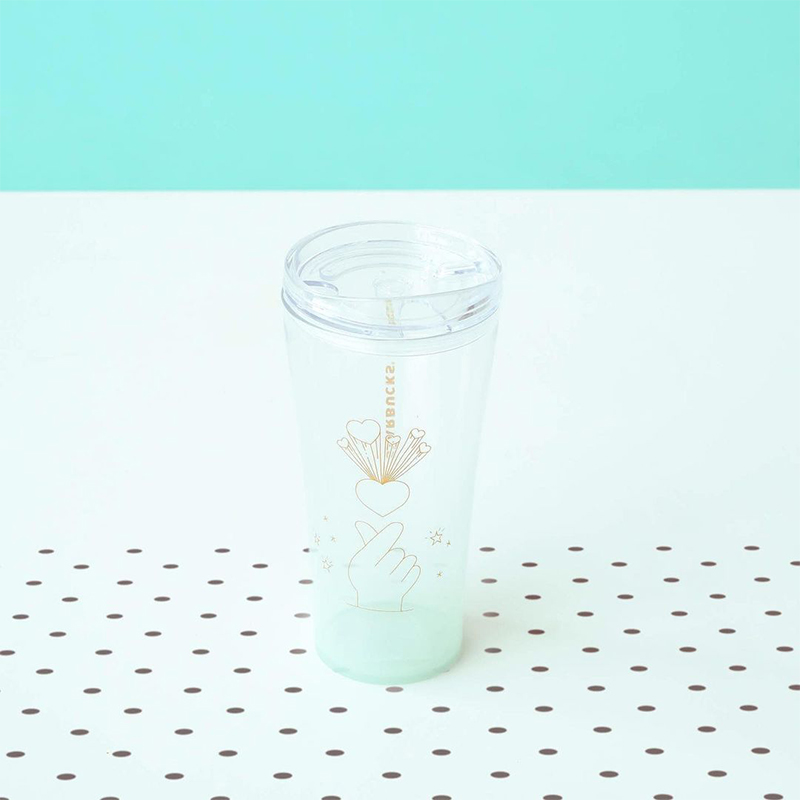 The last transparent tumbler is perfect for minimalists who need a small perk-up during busy peak hours on the way to work. Grab your favourite coffee or tea to-go with this 16oz tumbler with simple heart details. The transparent tumbler is retailing at $27.90.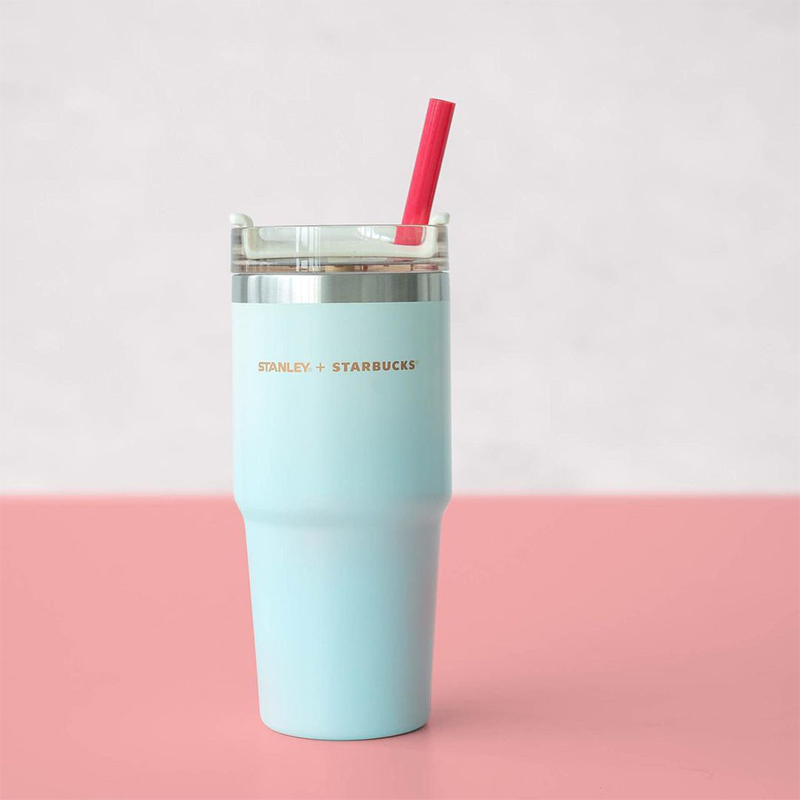 Starbucks has also released a collaboration with Stanley, a drinkware brand that produces steel vacuum tumblers and containers. The baby blue colour scheme of this 16oz tumbler reminds us of the drinkware in Starbucks Korea's camping collection that was released earlier this year. 
Since we can't travel to Korea, this tumbler is a great alternative for those who are looking to get their hands on this unique Stanley collab drinkware. It retails for $39.90.
Also read:
Starbucks SG x FILA Are Launching A Collab With Drinkware & Bags For Hypebaes To Kick-Start Mornings In Style
Coffee kettle and filter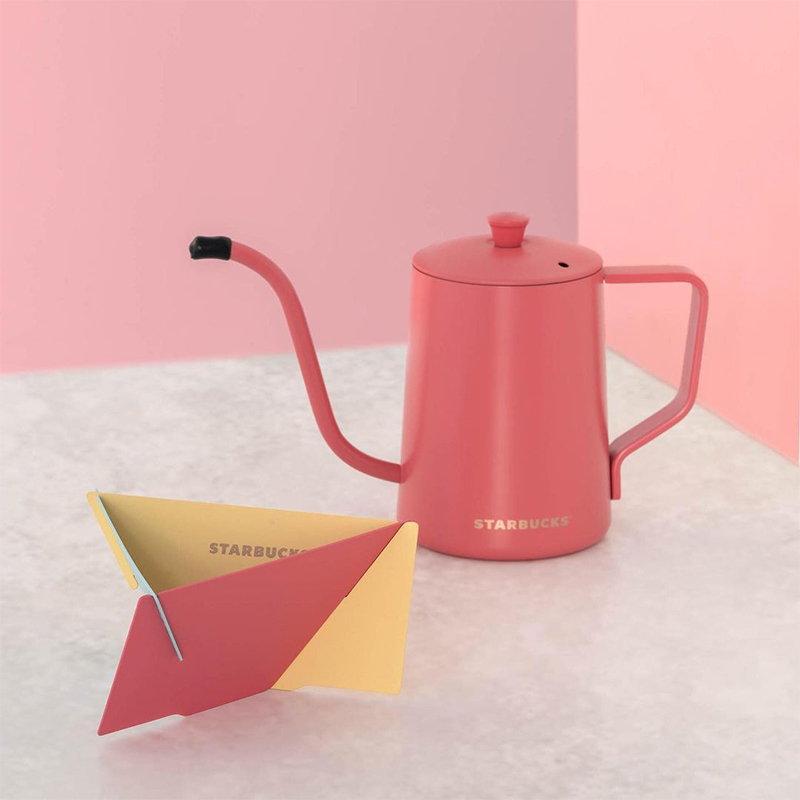 From left: Pourigami, $49.90; 19oz coffee kettle, $49.90
For those who love to brew their own drip coffee while working from home, this 19oz coffee kettle can serve all your caffeine needs. Pair this chio pink kettle with the matching Pourigami, an environmentally friendly and portable travel coffee dripper. 
Mugs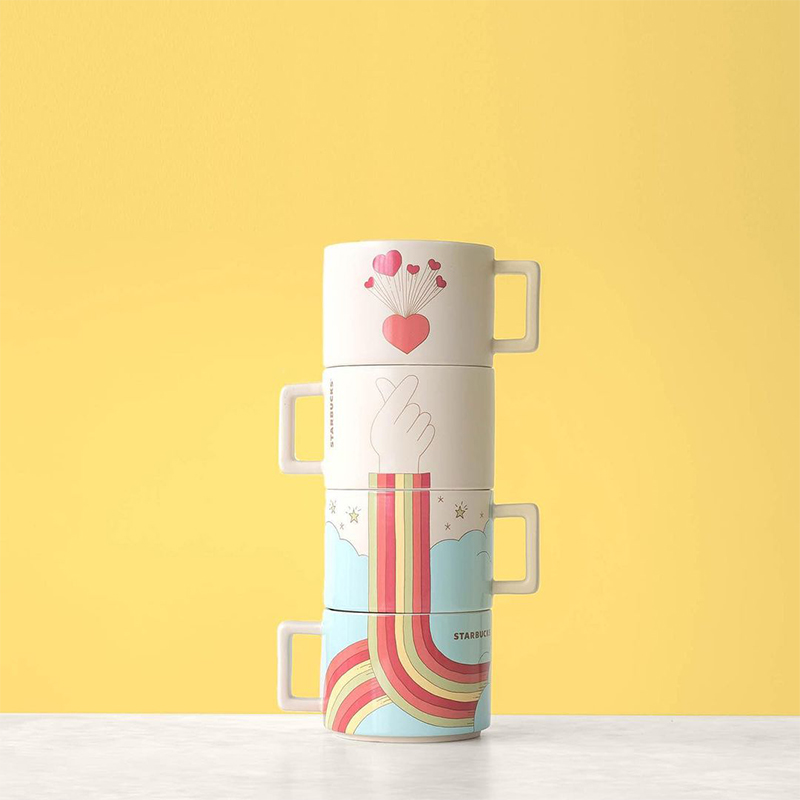 Brew a mug of your favourite morning coffee with these adorable 12oz mugs. They can be stacked together to form a connecting rainbow with hearts, perfect for inviting your close friends over for a catch-up session. Made of ceramic stoneware, each mug retails at $24.90 each.
This Starbucks Rainbow Collection Is A Ray Of Joy After A Rainy Day
Treat yourself to this Starbucks rainbow collection and add a little ray of joy on days where you need a boost of motivation. The Starbucks Joy of Connection collection is available in stores from 11 August 2021 onwards and on Shopee and Lazada. Find out more information about this collection on Starbucks Singapore's website.
All images courtesy of Starbucks.
Also read:
Starbucks Thailand's BLACKPINK Collection Has Tumblers, Bags & Keychains Of Your Bias For Coffee-Loving Blinks