Starbucks Cold Cups
Starbucks is no stranger to super chio merchandise, leaving fans constantly spoiled for choice with its frequent releases. After its recent Starbucks Chinese New Year and Starbucks Bee Mine collections, the coffee chain just dropped 5 more aesthetic AF Cold Cups. 
The designs
Source
First up, the Starbucks Kaleidoscope Cold Cup with an iridescent rainbow effect. The cherry on top has to be the dazzling cap, which resembles a huge gem so you can pretend you're a part of Bling Empire. A complementary pink siren logo in the middle and a matching reusable straw complete the eye-catching look.
Source
If you missed out on the pink studded cup for Starbucks Singapore Rewards members last year, here's your second chance. Embellished with pink studs, you can take "On Wednesdays, we wear pink" to another level. 
Source 
The Starbucks Rainbow Studded Cold Cup was first released in the U.S. and Canada last year as part of the Starbucks Pride 2020 Collection. While it is not yet Pride Month, you can still get one of these to show your support for the community all year round.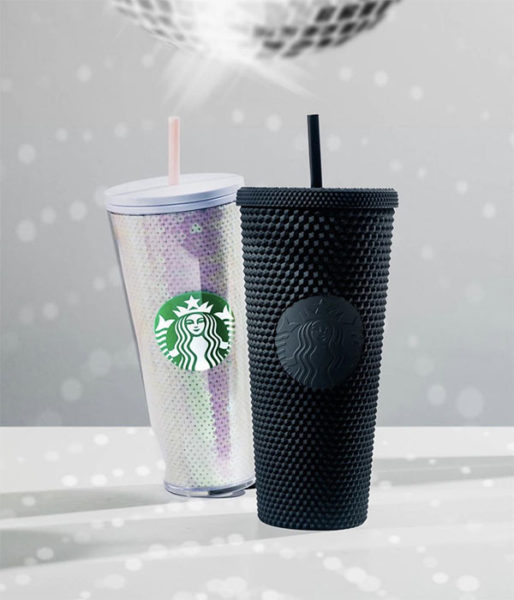 Source
When talking about all things bling, you can't leave sequins out of the chat. The pink-tinted Starbucks Sequin Cold Cup has a layer of sequins, making the drinkware extra colourful. 
If you'd rather go the opposite route, turn to the Matte Black Studded Cold Cup instead. The diamond cut surface design adds texture and also makes it easier to hold onto. From the main body to the Starbucks logo as well as the lid and straw, everything is in classic matte black. 
The Latest Starbucks Cold Cups Collection Has Something For Everyone  
Whether you're a Disney Princess typa girl or into The Devil Wears Prada aesthetic, Starbucks' latest cold cups collection has a cup to suit your preference. The cups are all 24oz and are retailing for $39.90 each. Nab one on Starbucks' LazMall flagship store or pop by any Starbucks store today. 
Cover: Source
Also read:
3 SG Millennials On Why They're Still In Love With Starbucks Even After A Decade Of Green Tea Lattes