Starbucks Sakura Reusable Cup
We've all heard of buyer's remorse. But non-buyer's remorse is just as real. If you're still kicking yourself for missing out on the Starbucks sakura collections from Singapore, Japan and Korea, you can finally put an end to your misery. We spotted a capsule set that comes with a complimentary Starbucks sakura reusable cup on Starbucks Malaysia's LazMall Flagship Store.
Capsule set 
The set consists of 2 boxes of Starbucks Cappuccino capsules. Each box contains 6 coffee capsules and 6 milk capsules, for you to enjoy 6 cups of cappuccinos at home. The capsules are compatible with the Nescafé Dolce Gusto coffee machine.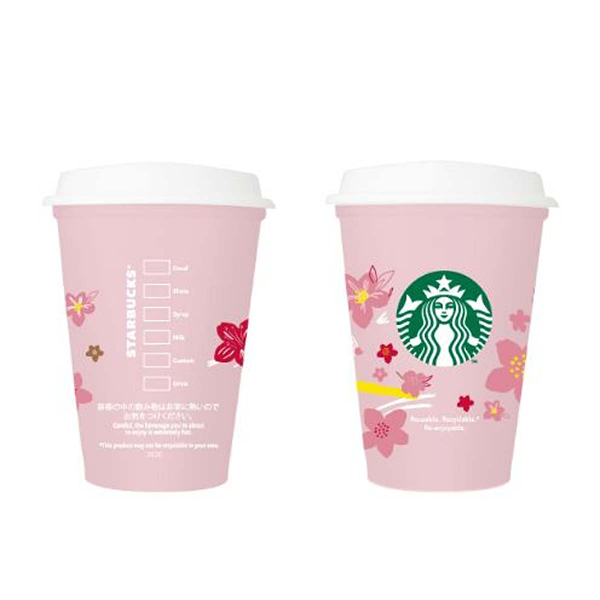 NGL, the star of the set for us isn't the coffee itself. It's the freebie that comes with it. The complimentary sakura reusable cup is in a pretty pastel pink. Swirling sakura flowers in pink, red and yellow float across the cup, just like they do when falling to the ground in real life. The Starbucks siren logo in green sits front and centre.
Turn the cup to the back and it resembles a Starbucks takeaway cup. There are boxes to indicate the specifics of the cup's contents, be it syrup, milk or decaf.
Also read:
This Sleek Water Bottle Has A Hidden Reusable Coffee Cup For That Minimalist Zero-Waste Life
Starbucks' current reusable cup policy 
Drink your cappuccino from the sakura resuable cup at home to recreate the chill vibes at a cafe. Or bring it out with you on your next coffee run, and fill it with kopi or whatever your heart desires.
Ironically, you can't use it at Starbucks stores in Singapore for the time being. The coffee chain has temporarily stopped accepting reusable cups and tumblers at many of its stores around the world amidst the COVID-19 pandemic. It will, however, continue to honour its existing discount policy for customers who carry their own cups or tumblers during this time.
Starbucks' Sakura Reusable Cup Is Pretty In Pink
The Starbucks White Cup Capsules Promo Set is retailing for RM60 (~S$19.60) on Starbucks Malaysia's LazMall Flagship Store, aptly called Starbucks Coffee At Home. While Lazada Malaysia does not ship to Singapore, the chances of you having friends or relatives in the country are high. Ask them to do you a solid and help you order it first, with the reassurance that you'll make it up to them when you're finally reunited.
If you can't wait that long, the cup alone has been spotted on Carousell, going for between $12 to $18.95.
All images courtesy of Lazada.
Also read:
10 Aesthetic Reusable Food Containers That Will Sustain Your Eco-Friendly Habits Even After CB