Aesthetic Reusable Food Containers
Despite how it seems like everyone has become a masterchef and/or circuit baker during Circuit Breaker, there are times when it's simply easier to head out and tapau a meal. Hopefully, you've been bringing along your own containers when doing takeaways from your nearby kopitiam. If not, then this list of aesthetic reusable food containers will come in handy.
From collapsible silicone bowls to stackable stainless steel bento boxes, there's a reusable container to help you kickstart your sustainable living journey.
Silicone containers
1. Lexngo Silicone Collapsible Flexibox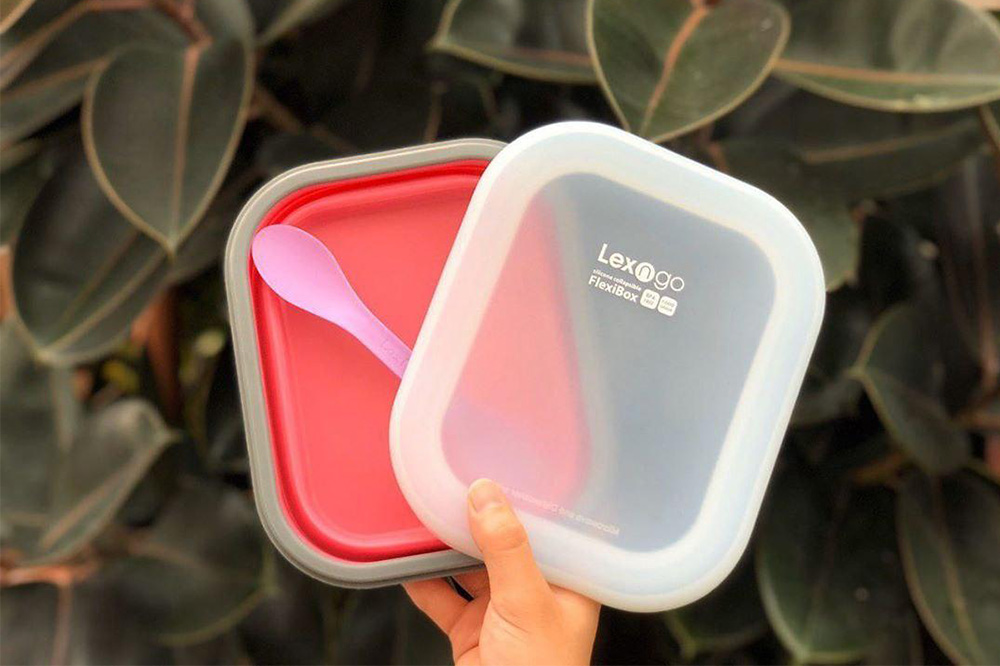 Lexngo's Collapsible FlexiBox comes in 2 sizes: small (580ml) and Medium (850ml, spork included). It collapses to half its size so you can bring it with you on the go, even if you tend to carry smaller bags instead of a giant tote. The box and lid are made from 100% food grade silicone, and the lid is leak-resistant. 
Lexngo also has a selection of other sustainable silicone products in vibrant colours and interesting designs, including a reusable straw bracelet so you won't ever misplace yours again. 
You can buy Lexngo's Collapsible FlexiBox for $25 (Small) and $30 (Medium) from its online store and Tangs.
Website | Facebook | Instagram
2. Seastainable Co. Collapsible Silicon Bowls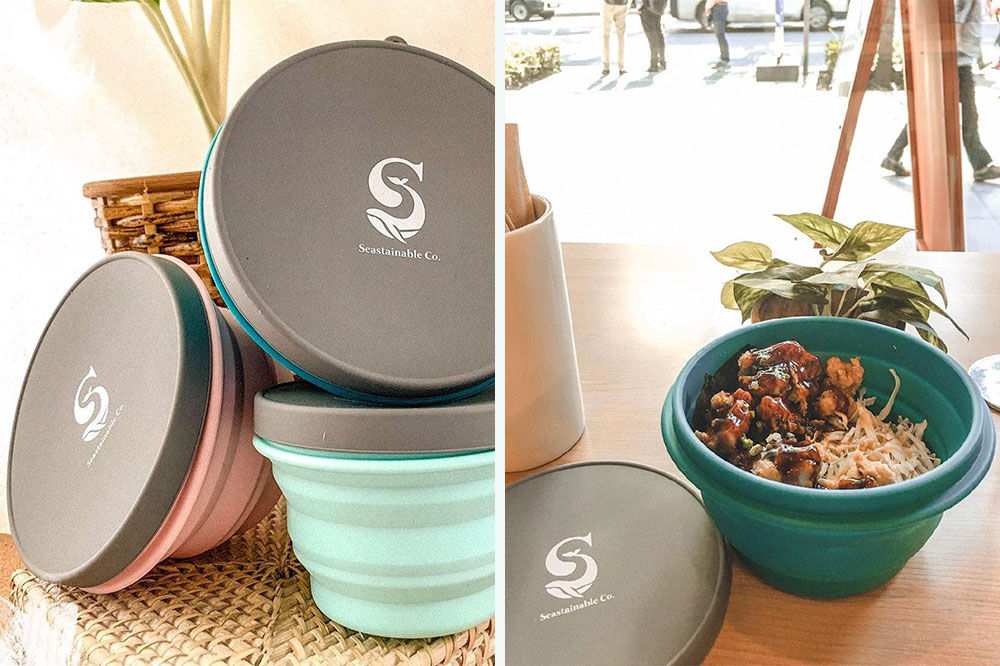 Seastainable Co.'s aesthetic and affordable collapsible bowls come in 2 sizes and 3 colours: pastel pink (1 litre), turquoise (1 litre) and sea foam (500ml). The compact and lightweight bowls are topped off with a grey lid that can keep liquids from spilling even when you're out and about. 
A homegrown start-up founded by 26-year-old Samantha Thian, Seastainable Co. directs 50% of its profits back to marine conservation, so you can rest assured that your purchase will go towards a larger cause too. 
You can buy Seastainable Co.'s Collapsible Bowl for $14 from its online store, and for $15 from The Sustainability Project and Trove of Gaia.

Website | Facebook | Instagram
3. Stasher Reusable Silicone Half Gallon Bag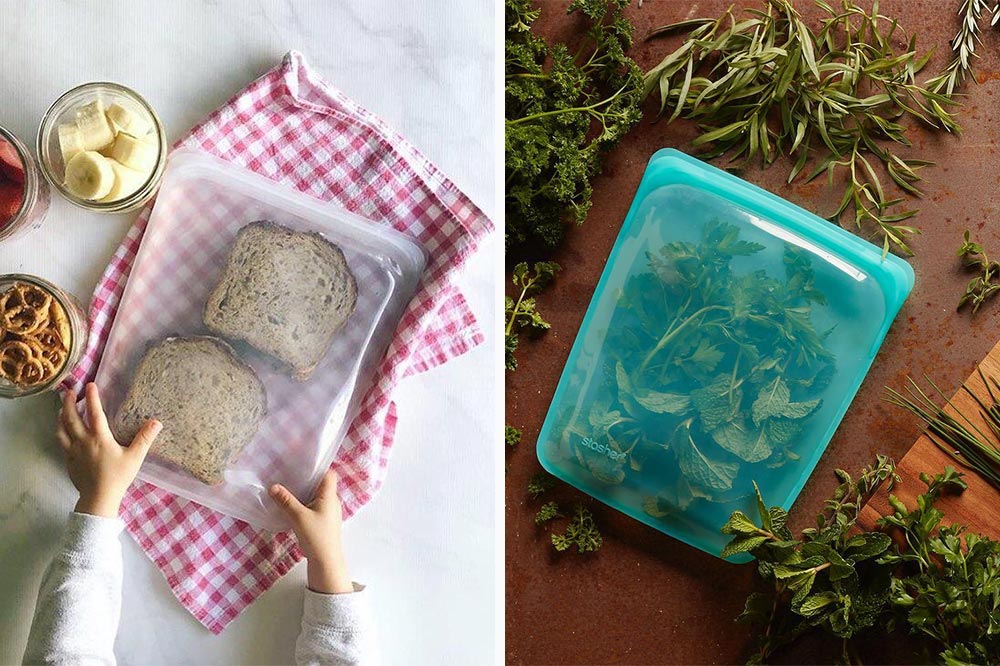 You've probably come across Stasher's reusable silicone bags on Instagram. For the sake of takeaways though, we'd recommend going all out with the largest size, the Half Gallon Bag, equivalent to about 1.9 litres. 
This one is great for the soup lovers out there. Of course, you can also use it to store salads, pizza, and anything else that doesn't need its components to be separated. Most stores in Singapore seem to carry the clear and aqua versions for now, so go ahead and pick the one that better suits your aesthetic. 
You can buy Stasher's Reusable Silicone Half Gallon Bag for $34.90 from Hipvan, Motherswork, Pupsik Studio, Shopee, The Paper Bunny and Your Sustainable Store.

Website | Facebook | Instagram
Bento boxes
4. Bamboo Straw Girl Mindful Bento Box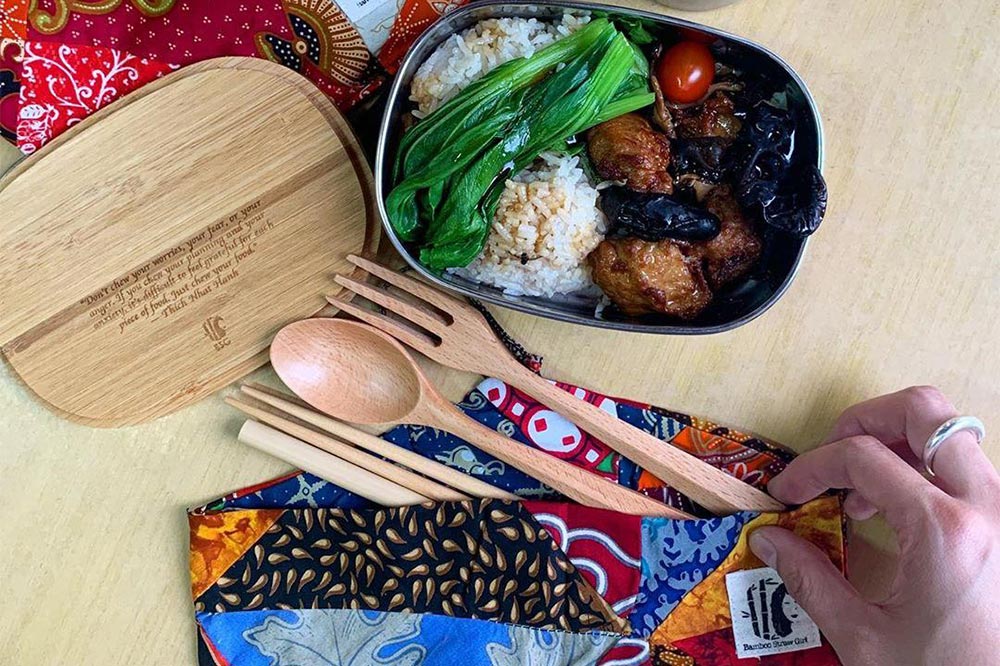 Melissa Lam (i.e. Bamboo Straw Girl) is one of the OG greenfluencers in Singapore. In an Instagram post, Melissa shared that she "think[s] about the materials that go into products A LOT." 
With a bamboo lid and a 304 stainless steel base, the Mindful Bento Box has "zero plastic components, which makes it easy to deal with [it] at the end of [its] useful life." Every box also comes with a surprise engraving on the interior of the lid, so you can engage in a mindfulness session while having some me-time during lunch.  
Since it is made of stainless steel, it is not microwave-safe, so use it on days when you're not opting for hot food.
You can buy Bamboo Straw Girl's Mindful Bento Box for $25 (500ml, U.P. $29.90) and $30 (800ml, U.P. $35) from Bamboo Straw Girl.

Website | Facebook | Instagram
5. Ever Eco Stackable Bento Box 3-Piece Set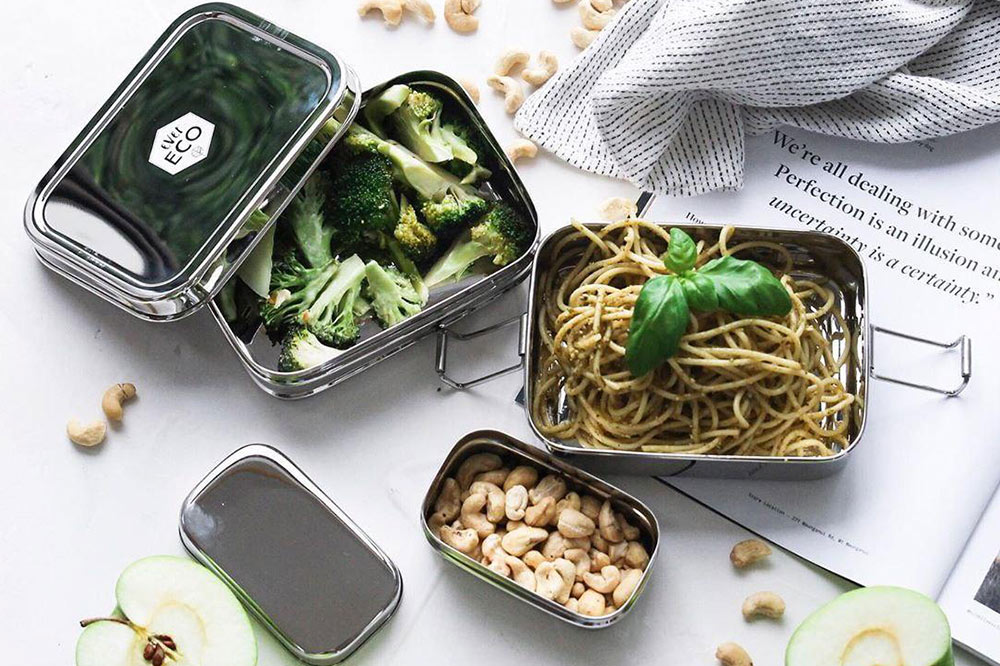 No matter what your go-to takeaway option is, Ever Eco's Stackable Bento Box 3-Piece Set will be able to accommodate it—as long as there are no liquids involved. 
The stainless steel box has 2 tiers that can be stacked atop each other. The top tier has a 400ml capacity and can be used as a separate container if you wish. The bottom tier has a 620ml capacity. It also includes a mini container with a 180ml capacity for things you want to keep separate, such as sauces and garnishes.
As with the stainless steel bento box above, this is not suitable for use in the microwave. 
You can buy Ever Eco's Stackable Bento Box 3-Piece Set for $44.95 from HealthTree and Lazada. 

Website | Facebook | Instagram
Also read:
8 Baby Steps To Sustainable Living In Singapore That Even Lazy People Can Follow
6. Ommo Noon Bento Box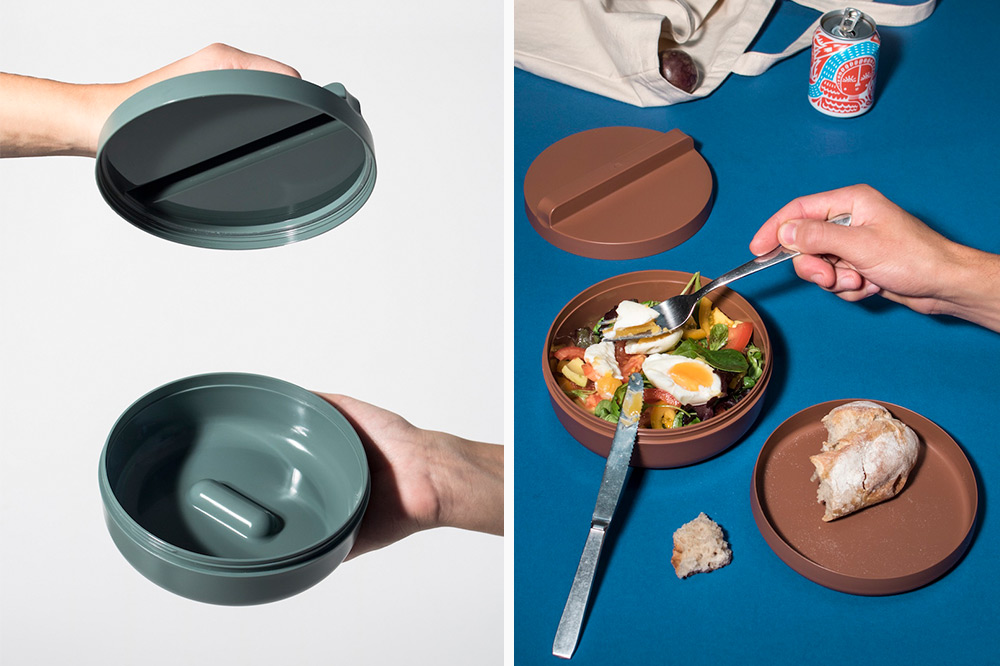 Available in olive and brown for a utilitarian feel, there's more to Ommo's simple and stylish Noon Bento Box than meets the eye. The upper compartment fits neatly into the main bowl, so you can store your sides on top and your carb base on the bottom. 
A silicone seal around the lid means no leakages, while the handle on the lid and finger rest at the bottom allow you to open and close the box easily with a twist.  
You can buy Ommo's Noon Bento Box for $29 from Robinsons.

Website | Facebook | Instagram
Bowls and jars
7. W&P Porter Bowl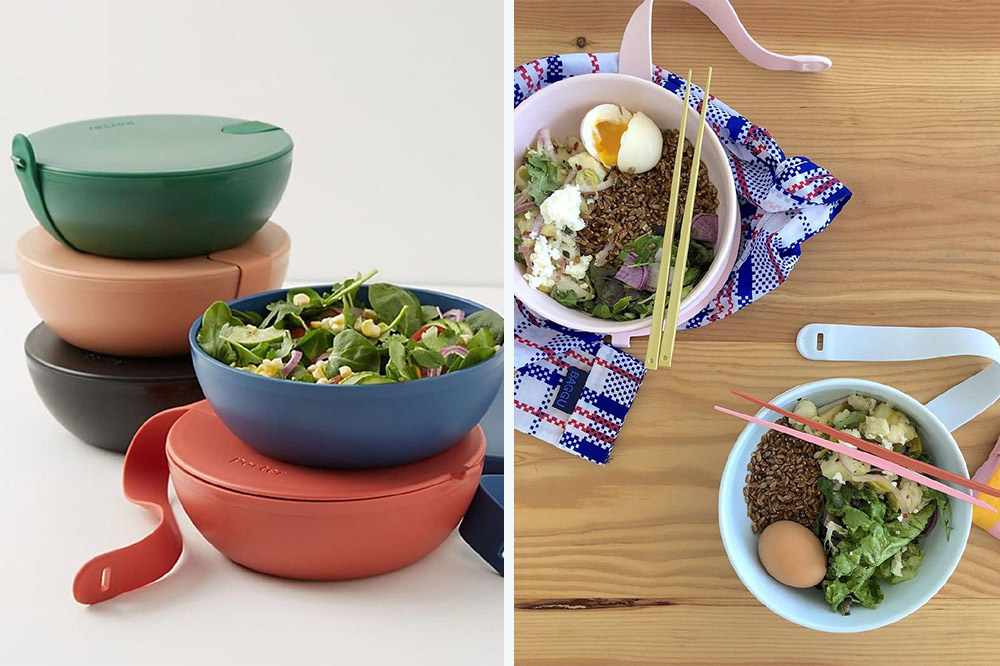 Decked out in a rainbow of millennial-friendly colours, W&P's Porter Bowl is about as aesthetic as food storage gets. The plastic bowl has a 1-litre capacity, which means it can hold a salad from your go-to grain bowl place or its local equivalent, good ol' cai png. 
A snap-tight silicone strap ensures the plastic lid remains secured to the bowl but as it is not leak-proof, it's best to avoid storing soups and liquids in it. 
You can buy W&P's Porter Bowl for $34.90 from The Paper Bunny.
Website | Facebook | Instagram
8. Zojirushi Vacuum Food Jar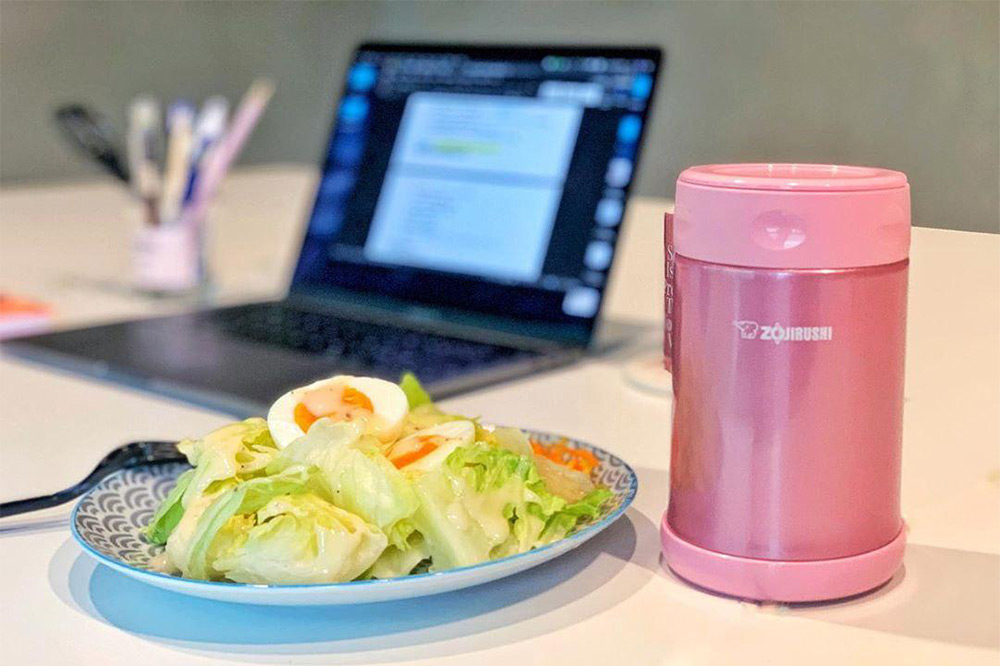 Unlike the Zojirushi x Hello Kitty rice cooker, this container doesn't sport an exclusive design of your favourite feline. But Zojirushi's stainless steel Vacuum Food Jar in 2 pearlescent pastel hues, Shiny Pink and Aqua Blue, is no slouch in the form and function departments. 
The vacuum insulation will maintain the temperature of your food for 6 hours, so you can use it to store both hot and cold food. A gasket seal and screw-type lid means you can safely use it to tapau soup and porridge without fear of spillage.
You can buy Zojirushi's Vacuum Food Jar for $65 (U.P. $72) and $75 (500ml) from Robinsons.
9. Lékué Jar To Go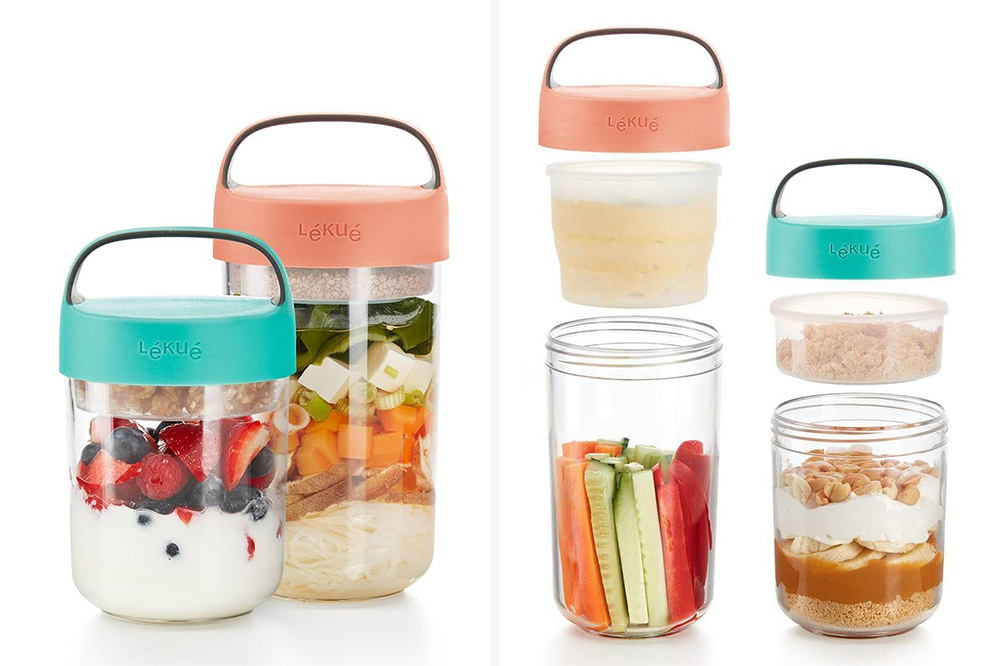 If you're disappointed to see that a lot of the reusable food containers on this list might not be suitable for soups, fret not. Lékué's Jar To Go is here to keep your soup and noodle dishes safe until you can consume them; right out of the bowl, no less. 
The 100% airtight container comes in pleasing coral and turquoise, with an easy-to-carry handle. It even has a height-adjustable collapsible silicone container so you can separate ingredients of different textures. Whether that means yoghurt and granola or laksa and bee hoon is up to you. 
You can buy Lékué's Jar To Go for $29.90 (400ml) and $35.90 (600ml) from Tangs. 

10. Tingkat carrier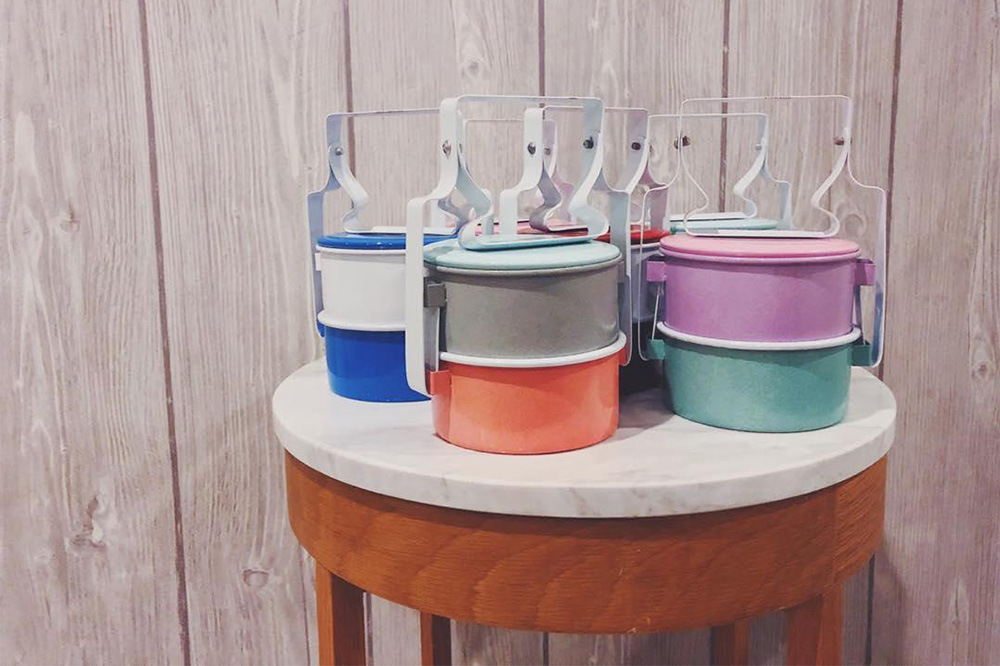 Few things say "nostalgia" like a tingkat. This version is handmade in Thailand in different contrasting colours for a modern take on a traditional carrier. Keep things classic with a red-and-white or pink-and-white pairing, or go for a bold take with a violet-and-green combination. 
Each layer has a height of 5cm and a 10.5cm diameter, which means you can store your main course in 1 layer and a snack in the other.

You can buy the Tingkat for $15.90 from Three Plus Two Kids. 

These Aesthetic Reusable Food Containers Let You Look Good While Saving The Environment
Do your bit for the earth and reduce the amount of single-use plastics when you tapau your food with these aesthetic reusable food containers. 
Also read:
How 4 Millennial Greenfluencers Advocate Sustainable Living Using Social Media