Street Style Snaps Around Orchard, Somerset & Dhoby Ghaut
Last year, we scoured art schools like NAFA and polytechnics like TP for a dose of sartorial inspiration. This time, we took to Orchard Road, Somerset and Dhoby Ghaut to find out what's trending on the streets of Singapore.
1. Mandy (@_2singular), hairstylist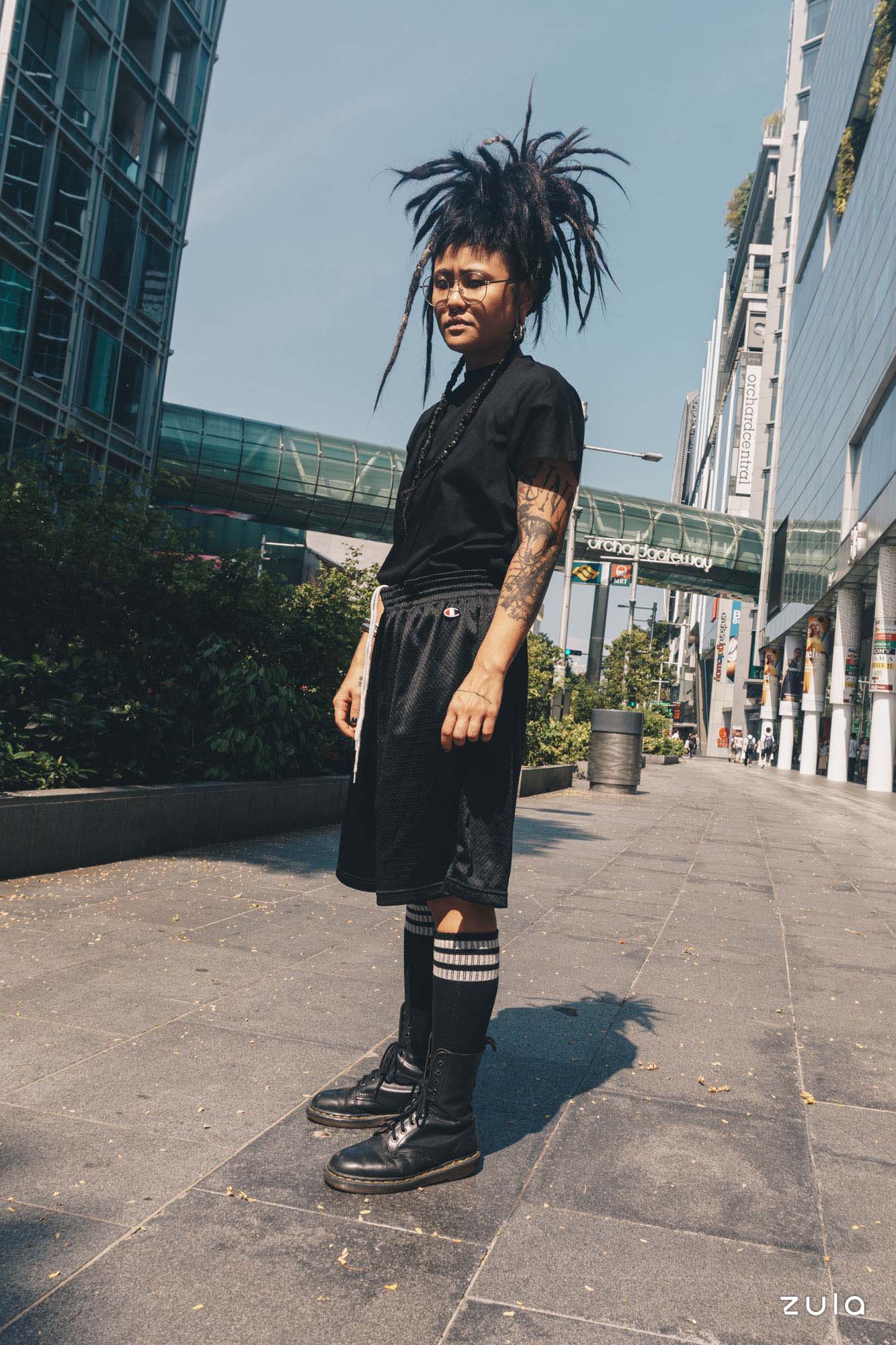 Top: PICKNWEIGHT in Berlin
Bottom: PICKNWEIGHT in Berlin
Glasses: Night market in Bangkok
Socks: PICKNWEIGHT in Berlin
Boots: Dr. Martens
From satin to leather, Mandy opted for pieces of varying textures to keep an all-black ensemble interesting. Here, she paired a black tee with basketball shorts and layered up with knee-high socks and black Dr. Martens boots.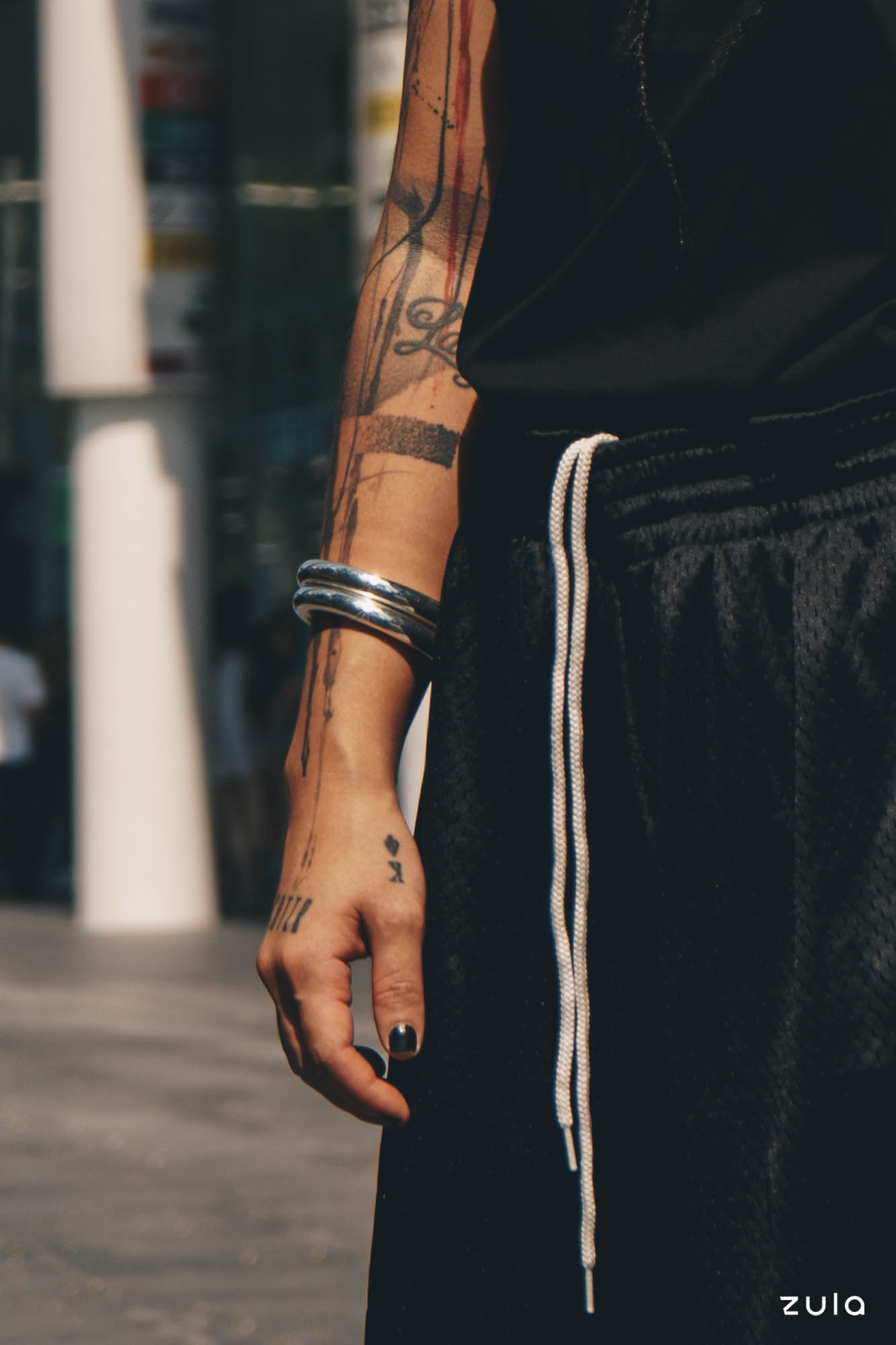 With her sombre aura and silver accessories, we weren't surprised when Mandy told us Michèle Lamy is her style icon of the moment.
2. Reno (@r89eno), hairstylist
Top: Flea market in Japan
Bottom: FBT
Glasses: Flea market in Japan
Bracelets: Parts Of Four
Bag: Freitag
Sandals: Dr. Martens
A fellow hairdresser and friend of Mandy's, Reno sported a similar aesthetic. By putting a spin on the common T-shirt, denim shorts and flip flops combination, Reno stood out from the crowd.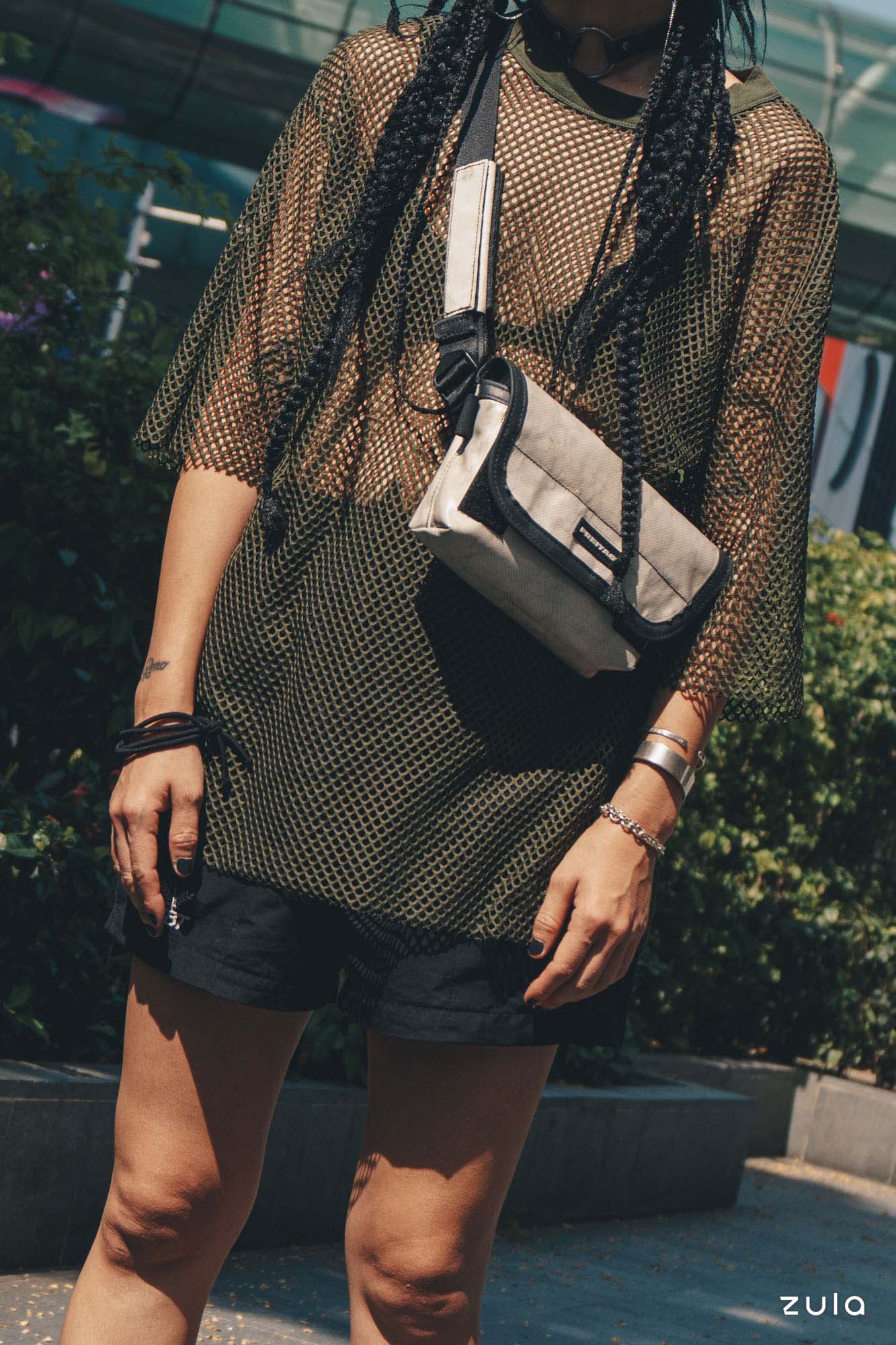 She elevated her look with a mesh top, black shorts and leather sandals, taking the outfit farther with unexpected accessories such as a leather choker. If you don't wish to compromise your full black outfit for the humidity, go for shorter lengths and lighter layers.
3. Peony (@peonxy), 16, high school student

Top: Korean boutique in Macau
Bottom: Nike
Earrings: Taobao
Necklace: Taobao
Bag: New York Yankees
Shoes: Nike
A high school student from Macau, Peony gravitates toward streetwear, so you'll typically spot her browsing through the racks at Bershka for bright pieces with an edge.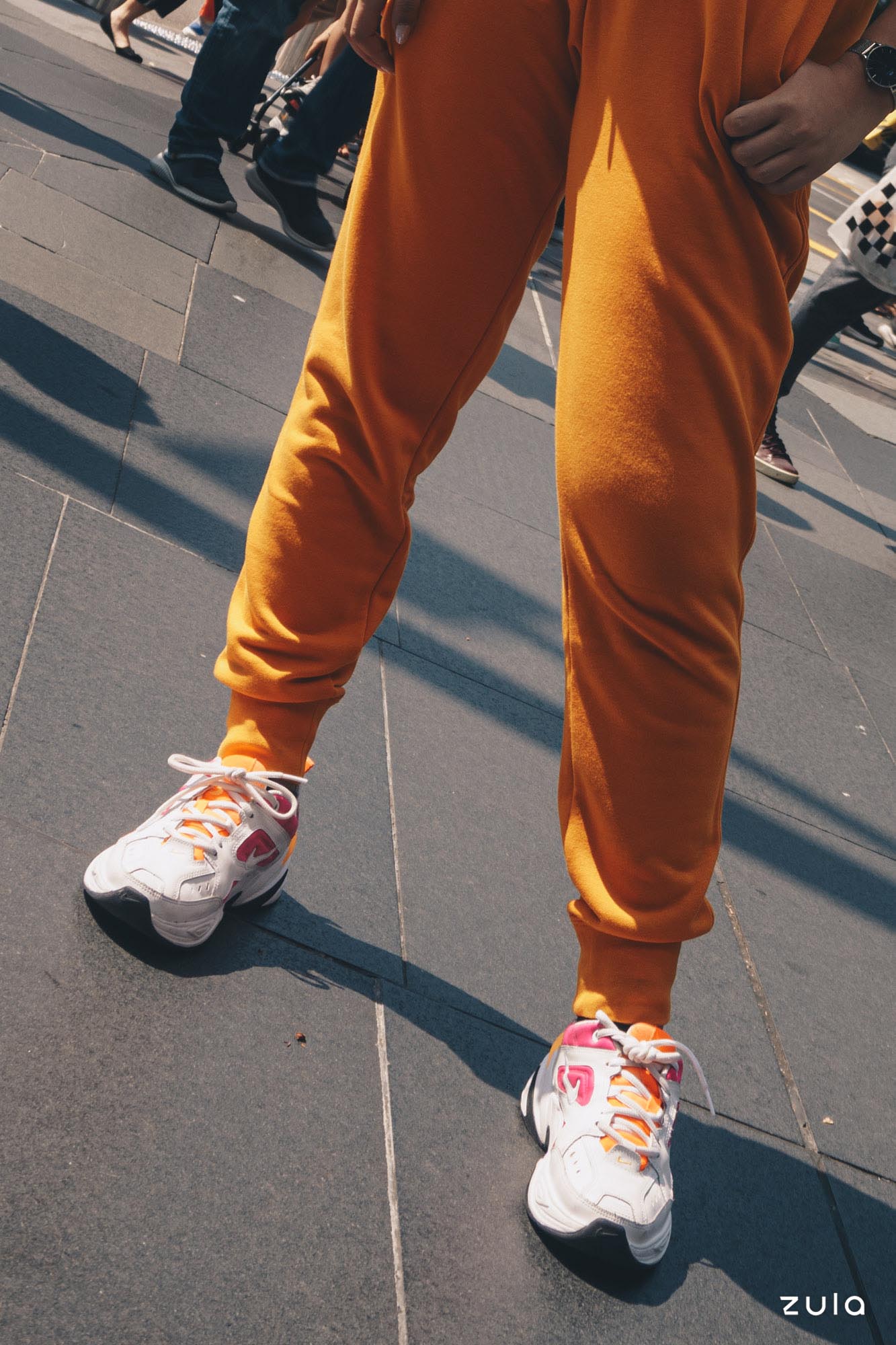 She took a page from Billie Eilish's style for her outfit, sporting a lime green tee and mustard sweatpants. She dialed up the neon theme with a yellow bum bag and candy-coloured details on her shoes to complete her bold look.
Also read:
Singapore Street Style: NAFA's Fashion Students On Dressing For SG Heat (Sept 2018)
4. Suggy (@suggyluk), 25, Hairdresser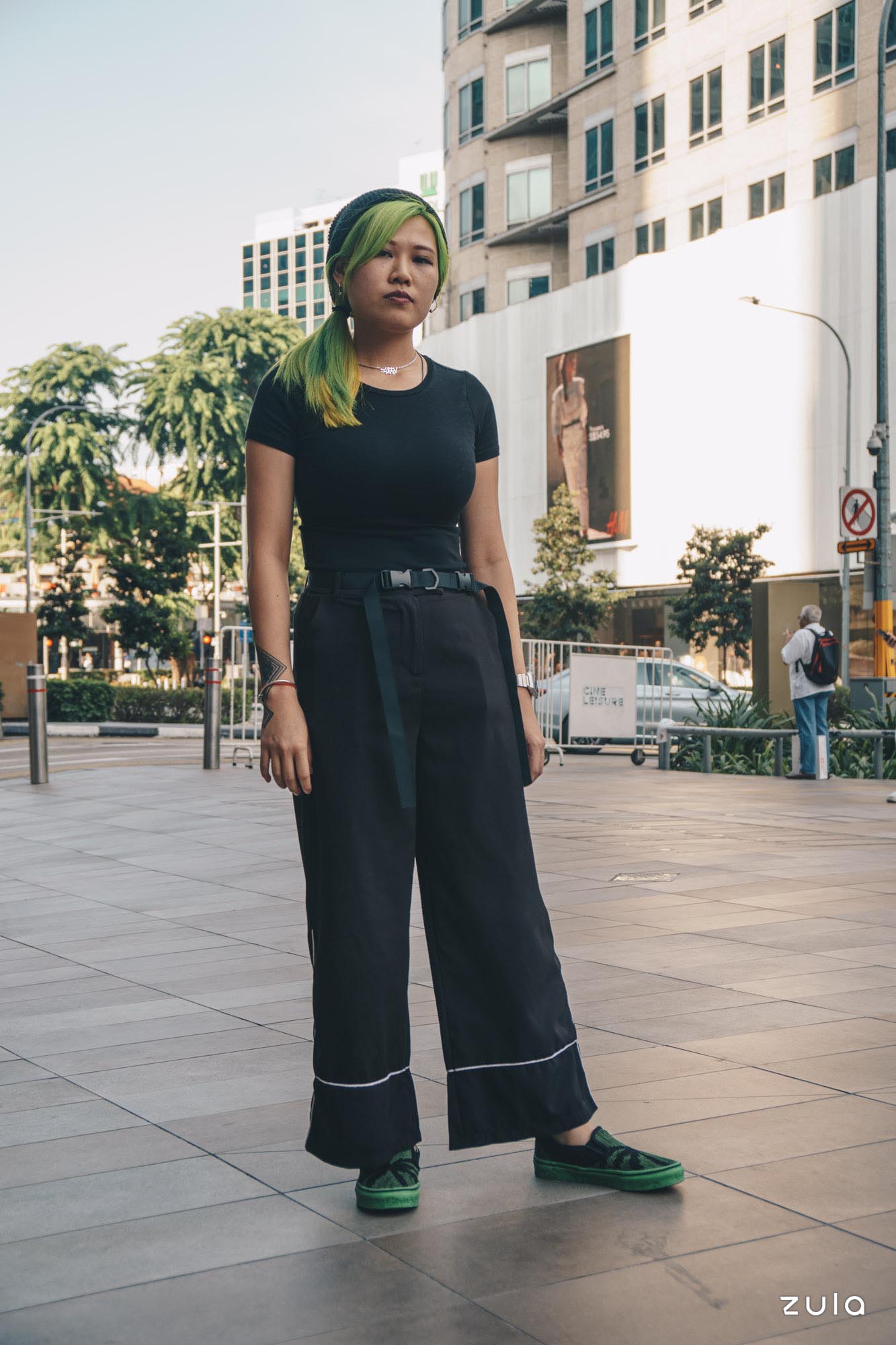 Bottom: Zara
Beanie: H&M
Necklace: The M Jewelers
Bracelet: Pandora
Watch: Casio
Shoes: Vans
Suggy's vivid lime-coloured hair caught our attention, along with her green sneakers. And if you work in an air-conditioned space like Suggy does, an all-black outfit shouldn't be a problem.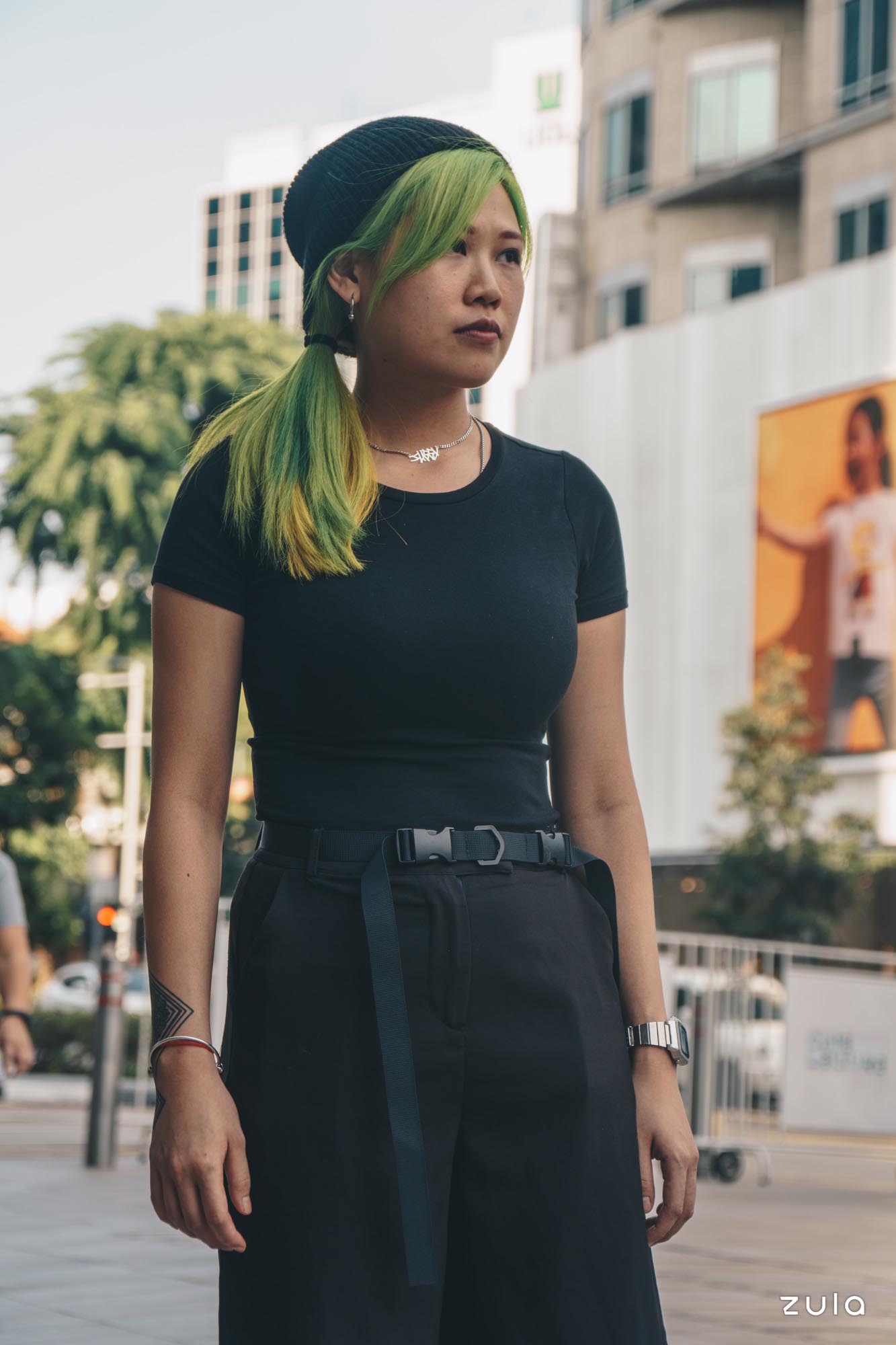 Commit to the colour by pairing a black tee with flared black trousers, and cinch it in with a clip fastening buckle belt. To offset a monochromatic look with an edgy touch, experiment with bright accents on your shoes and accessories.
Jumpsuit: Warehouse
Earrings: The Iconic
Bag: Oroton
Shoes: Robinsons
If a T-shirt and jeans pairing is your go-to outfit, try switching things up with a polka dot jumpsuit like Michelle. It shares a similar relaxed feel, but with an unexpected pop of colour and print.
A brown leather satchel complemented the green shade, while black mule loafers made comfortable footwear to stroll in. Michelle is a vet based in Perth, so she frequents "secondhand shops, Consigner's Closet and Dress Circle Emporium."
6. Schira (@schixen), 32, housewife
Top: Borrowed from her husband
Bottom: Muji
Scarf: Thrifted in Malaysia
Bag: Freitag
Socks: Muji
Shoes: Muji
From Schira's outfit, it's safe to say she's a fan of Japanese minimalism. She's partial to pieces from Muji, but she feels "it's a bonus if the brand is local, or one that practices sustainability."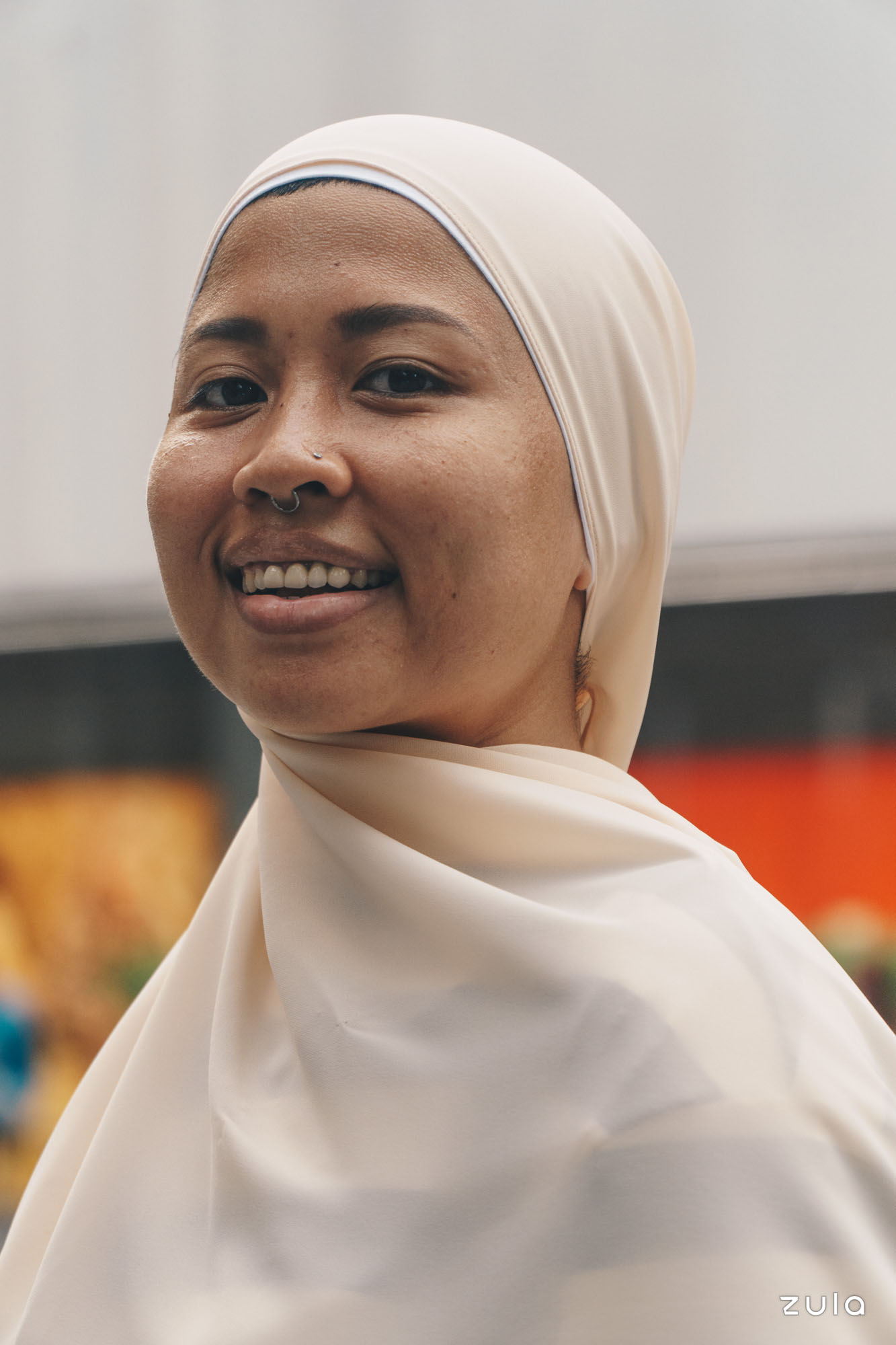 Her tip for hot weather dressing? Opt for clothes made of linen or cotton for comfort and breathability. Inspired by her fashion icon Yohji Yamamoto, Schira's baggy, slouchy silhouette also helps her stay cool when it's warm out.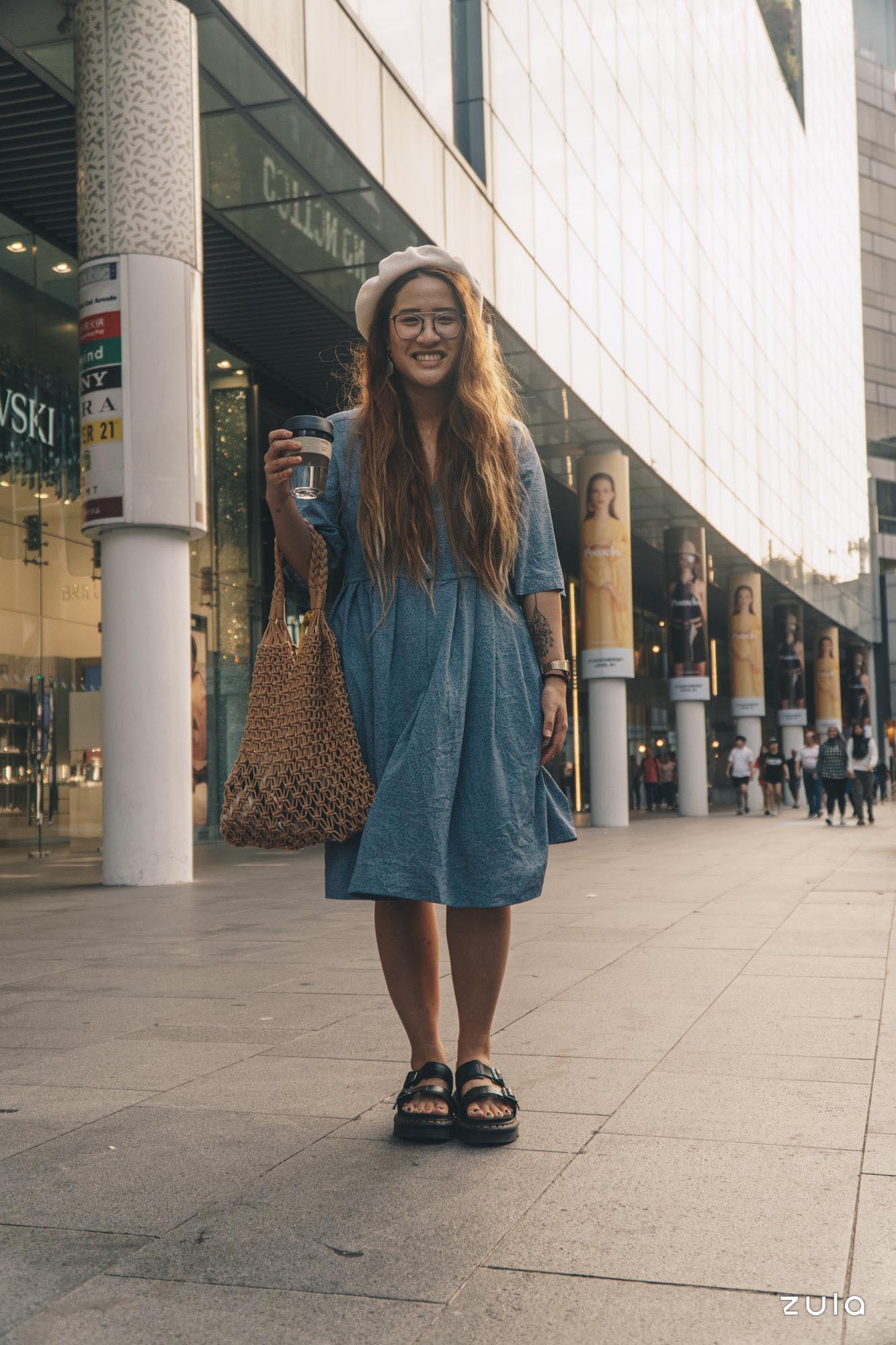 Dress: Thrifted from Japan
Beret: Thrifted from Japan
Glasses: Ray-Ban
Earrings: Lovisa
Bag: Thrifted from Korea
Shoes: Dr. Martens
"You're dressed like a grandma," Zoe's friend noted. And if you know us, you'll know that we're fans of ah-ma fashion. On her way to catch the Aladdin musical, Zoe topped off a roomy blue dress with a cream-coloured beret.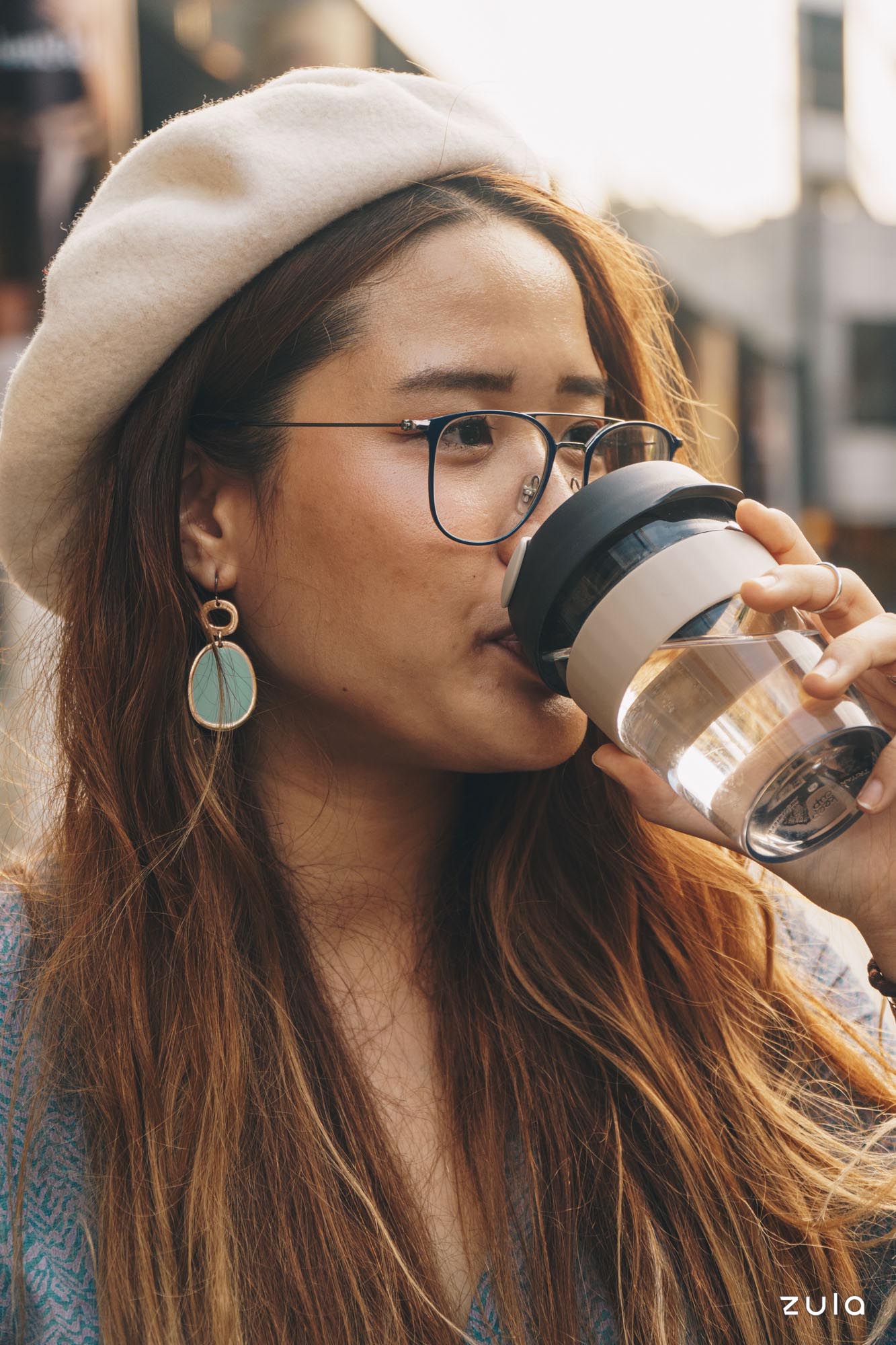 If you're fond of thrift stores and you're visiting Japan soon, Zoe suggests checking out "2nd Street in Tokyo. There are lots of vintage shops, especially in Shimokitazawa." In fact, she's "planning to go back for more."
Street Style Snaps Around Dhoby Ghaut, Orchard & Somerset
These unique individuals surprised us with their affordable finds and thrifted gems from all around the globe. We're definitely heeding their advice on dressing for the humidity in Singapore too.
We hope to see you at our next street style hunt!
Photography by Sebastian Tan & Atiqah Azhar
Also read:
Singapore Street Style: Temasek Polytechnic Design School (Nov 2018)