The Return Of Superman Kids
Whether you're a K-drama or K-pop fan, you can't deny the immense popularity of Korean reality shows. First aired in 2013 and continuing to receive love from fans all around the world, The Return Of Superman is a reality show where celebrity fathers are left alone with their kids for 48 hours while their wives take the time off to relax. 
Featuring dads ranging from actors to sport athletes and K-pop idols, the programme documents the precious bonding moments of fathers with their children. Take a look back at 15 The Return Of Superman kids and siblings we fondly watched, and where they are now.
1. Choo Sarang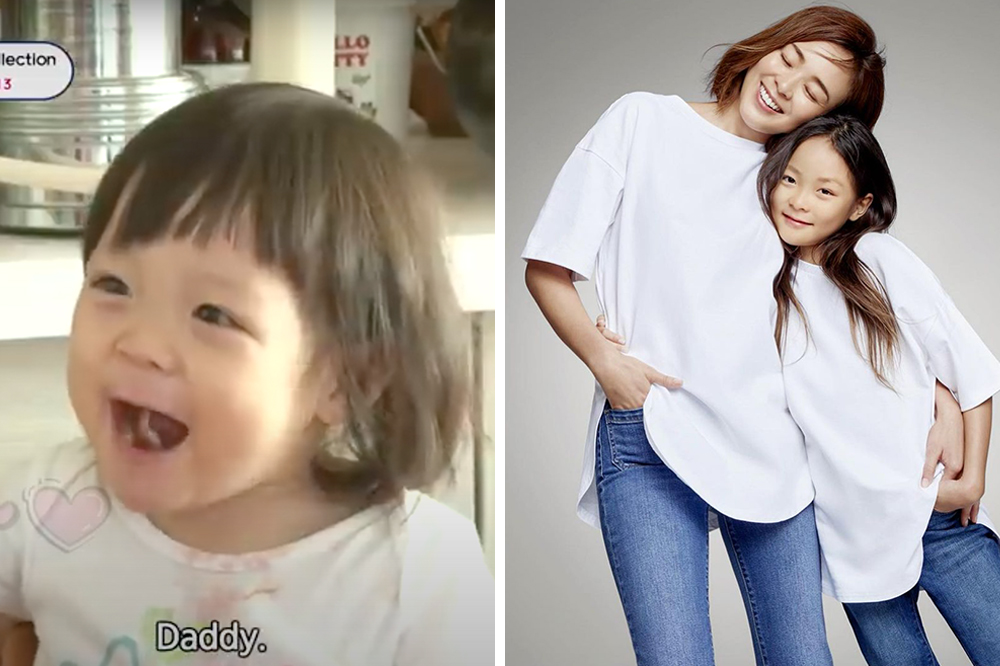 From left: Sarang in 2013 vs Shiho (mother) and Sarang in 2021
Source, source
Years on the show: 2013 to 2017
As one of the original cast members, MMA fighter Choo Sung Hoon had a lot of fun raising his daughter Sarang to be as tough as him while on the show. Sarang first appeared as an adorable 2 year old who was unable to speak fluent Korean since their family lived in Japan. 
With the help of The Return Of Superman, her Korean improved and she became one of the most well-loved cast members on the show. Even after she left in 2017, she continued to make guest appearances with members such as Park Naeun, who's still in the current cast in 2021.
In 2018, Sarang's family moved to Hawaii and she's currently schooling there, while still remaining close with her long-time Japanese friend Yuto, who also occasionally appeared on the show. Both Sarang's parents continue to update about her life on their Instagram pages, showing how Sarang remains active through doing sports like yoga.
2. Lee Seoeon and Seojun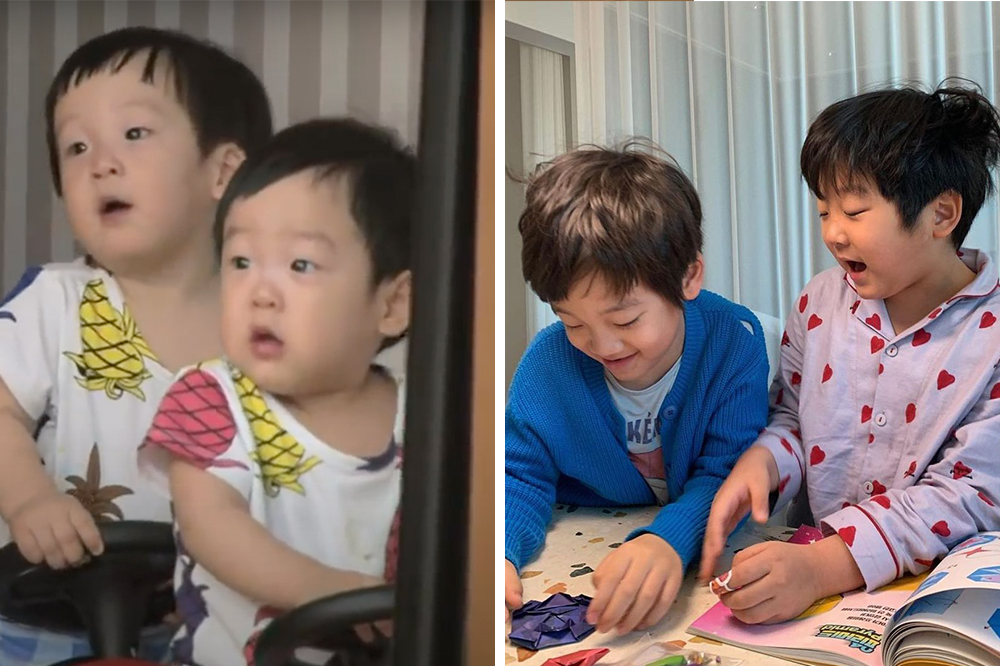 Seoeon and Seojun in 2014 vs 2020
Source, source
Years on the show: 2013 to 2018
Gagman Lee Hwijae's mischievous twins were not only original cast members, but they also stayed the longest on the show. Both Seoeon and Seojun were only a few months old when they were first introduced — Hwijae had such a hard time dealing with their needs that he broke down and cried while filming an episode.
In 2020, the twins entered elementary school and their mother shared that the staff from The Return Of Superman celebrated with them by sending a cake. Now 8 years old, Seoeon and Seojun continue to take care of each other and enjoy doing activities like baking and cycling as shared on their Instagram page. 
3. Lee Haru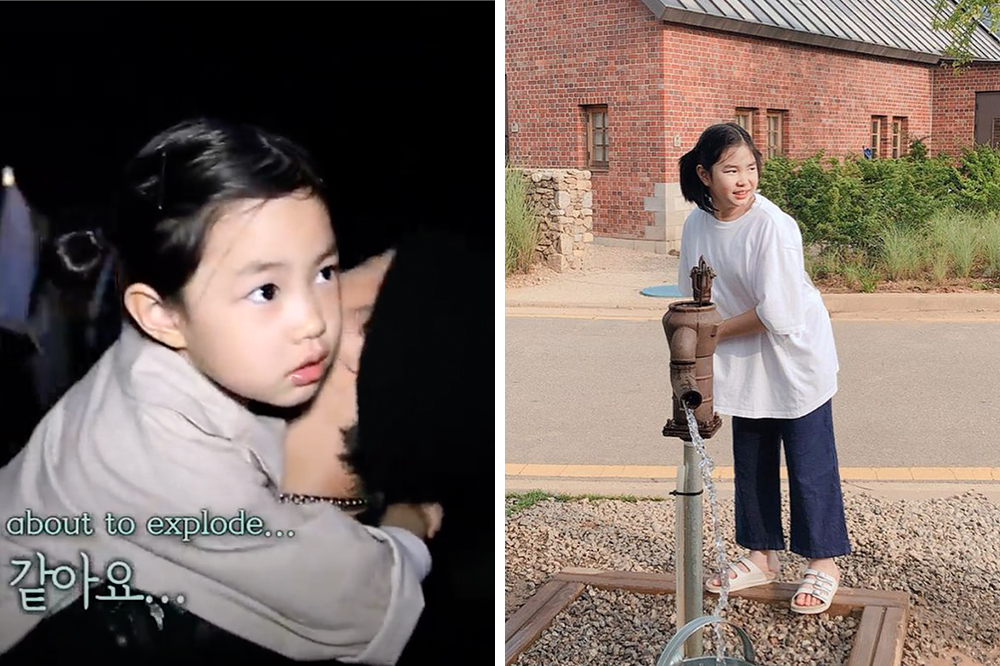 Haru in 2014 vs 2020
Source, source
Years on the show: 2013 to 2015
When it comes to the big 3 K-pop companies, YG Entertainment is a familiar name that most are aware of. Tablo from Epik High was one of the original cast members in 2013, introducing his 3-year-old daughter Haru to popular boy groups such as Big Bang and Winner while filming. 
Fans will never forget the huge crush Haru had on Big Bang's leader G-Dragon, even giving him a kiss on the cheek before his live performance. After leaving the show, Tablo continued to update about Haru's life on an Instagram account he made called @tabloisdad. With Haru now 11, Tablo still fondly shares snippets about his fatherhood moments in interviews and podcasts.
4. Jang Junwoo and Junseo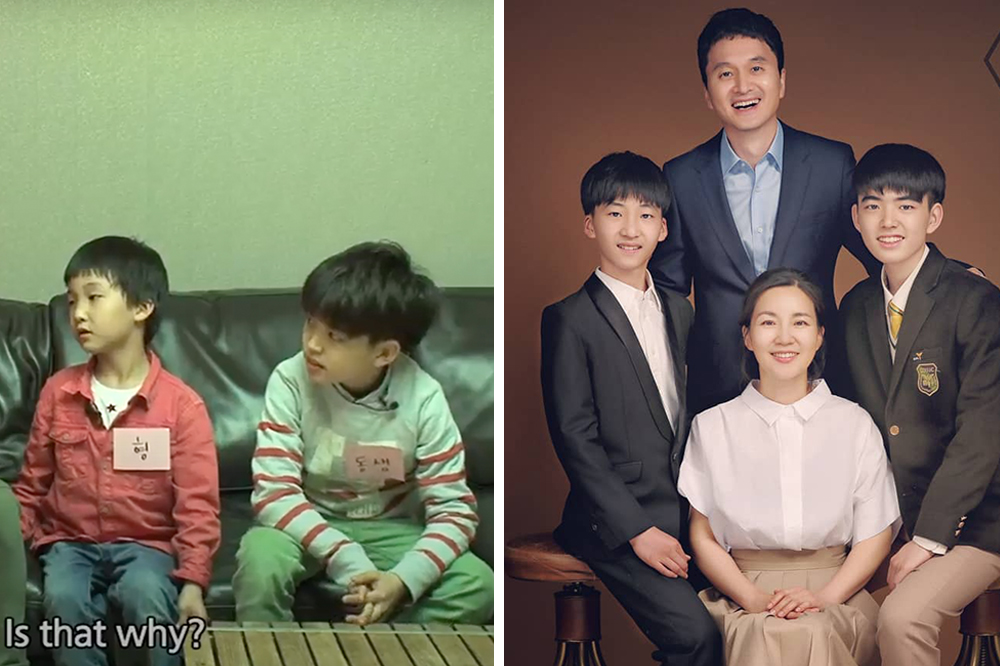 From left: Junseo and Junwoo in 2014 vs Junseo, Hyun Sung (father), Junwoo and Hee Jung (mother) in 2019
Source, source
Years on the show: 2013 to 2014
Brothers Junwoo and Junseo were the oldest kids among the original cast members at ages 10 and 6 respectively. While younger children on the show had problems that could be easily solved, actor Jang Hyun Sung was dealing with emotional conflicts between the 2 brothers. 
Despite their differences, the brothers looked out for each other and supported their father, eventually moving to live in Jeju Island for 3 years after the show.
In 2019, Junwoo entered his first year of high school and a cute selfie of him and his friend was uploaded online. The 2 boys have grown up so fast in the blink of an eye that Jang Hyun Sung shared in a Happy Together episode that he's been struggling to help them with schoolwork now.
5. Song Daehan, Minguk and Manse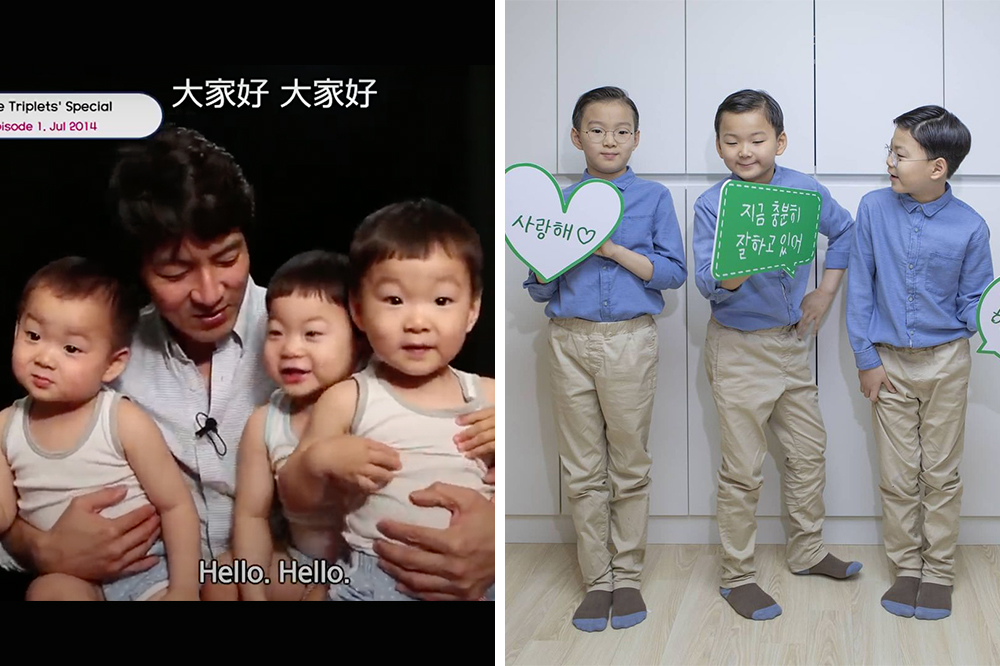 From left: Minguk, Il Gook (father), Manse and Daehan in 2014 vs Daehan, Minguk and Manse in 2020
Source, source
Years on the show: 2014 to 2016
As the nation's triplets who stole the hearts of international fans around the world, 2-year-olds Daehan, Minguk and Manse were a joy to watch. Despite being triplets, the 3 boys shared very different personalities, but always came together to share their immense love for dinosaurs or cause trouble for their father.
Though Song Il Gook is an actor based in Korea, their family moved to France for a year in 2017 as the triplets' mother was pursuing her further studies there. Il Gook continues to post pictures and videos of the triplets on his Instagram account, occasionally sharing throwback moments from when they were babies. 
Earlier this year, Il Gook uploaded a video of Daehan skillfully playing the piano. But in 2020, he mentioned that he's been posting less as the triplets don't particularly enjoy the attention from the public. 
6. Lee Jaesi, Jaeah, Seolah, Suah and Sian
From left: Jaesi, Seolah, Dong Gook (father), Sian, Jaeah and Suah in 2015
Source
Years on the show: 2015 to 2019
When these 5 siblings were first introduced to the show, many fans were shocked to find out that soccer player Lee Dong Gook is a father of 2 pairs of twins and a son. At the start, he couldn't do things without the help of his older twin girls, Jaesi and Jaeah, who were 8 at the time. 
The beagle sisters, Seolah and Suah, were 2 years old while their youngest Si An, fondly known as "daebak", was only a few months old. Though the show focused more on the 3 younger siblings, Jaesi and Jaeah continued to make occasional appearances on the show over the years.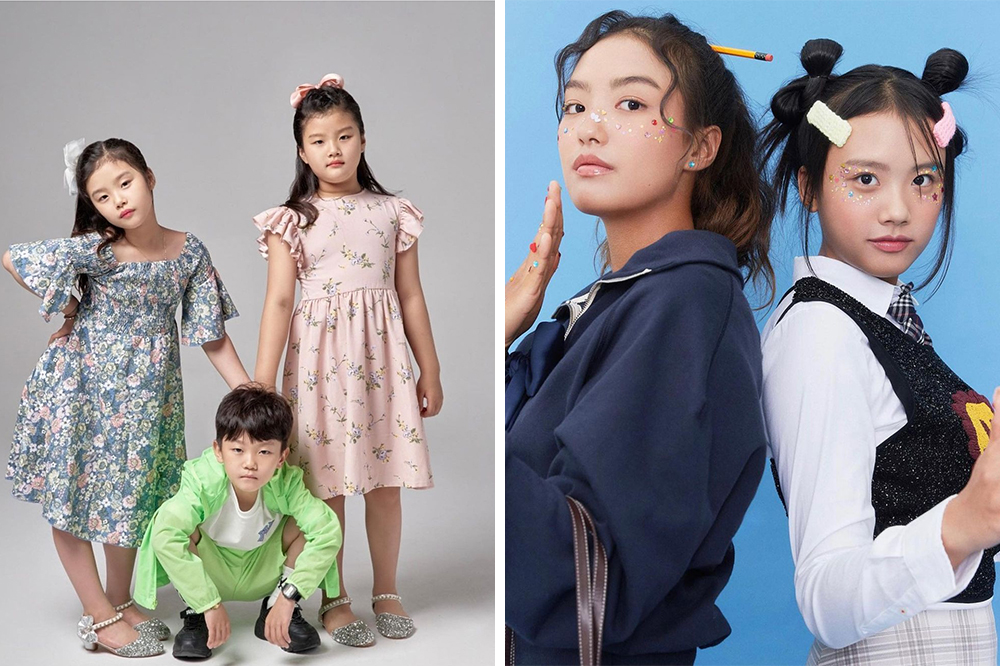 From left: Seolah, Sian, Suah, Jaeah and Jaesi in 2021
Source, source
The 5 siblings remain active in the entertainment industry even after leaving the show. Jaesi and Jaeah, both 14 now, each have their own Instagram accounts where they share how they are pursuing their dreams of becoming a model and tennis player respectively. 
The 5 siblings' mother regularly posts updates about their family life on her Instagram page as well, aside from vlogs on Youtube titled DAEBAK FAMILY. Till today, all of them continue to go on fun shoots and reality shows together with their father, showcasing their strong bond as a large family. 
7. Kim Rohee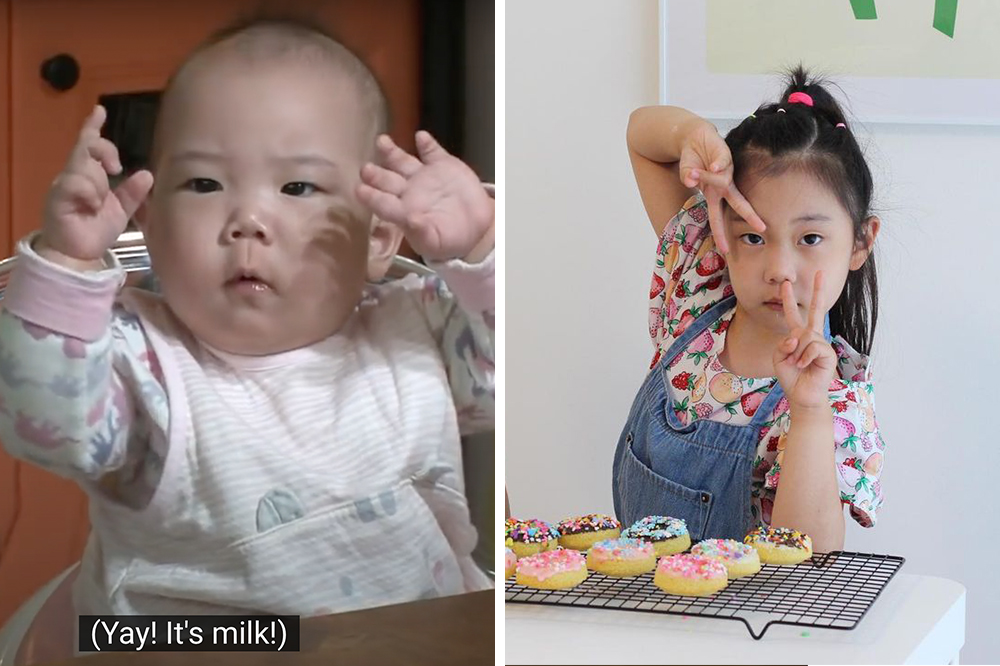 Rohee in 2016 vs 2021
Source, source
Years on the show: 2016 to 2018
Kim Rohee's parents are one of the few Korean celeb couples who are so cute together, they remind us that true love exists. Both of them are actors, while mum Eugene was also a first generation K-pop idol from the group SES. 
Rohee was only a few months old when she first appeared on The Return Of Superman, and fans swooned over how loving and patient Ki Taeyong was with his daughter. Rohee's younger sister Lorin was born 3 years later, but didn't appear much on the show before they left.
Eugene continues to share updates about the 2 sisters on her Instagram page and fans were surprised to see how much Lorin actually resembles Rohee when she was on the show. The trio appeared on an episode of Master in the House earlier this year, where Rohee proudly declared that her mother is "more awesome than BLACKPINK".
8. Lee Soeul and Daeul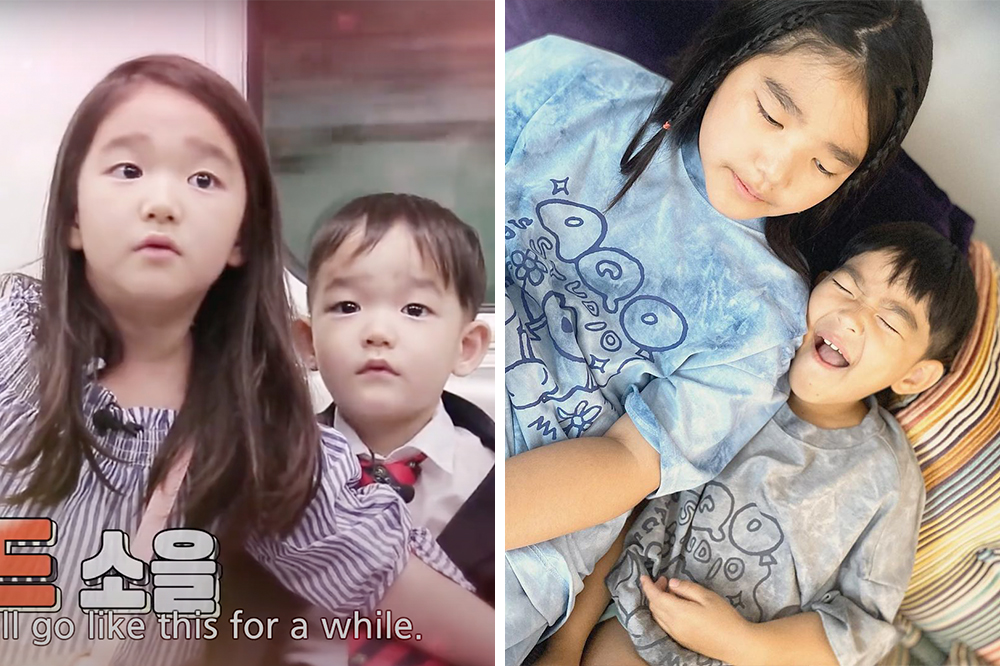 Soeul and Daeul in 2016 vs 2021
Source, source
Years on the show: 2016 to 2017
Soeul was best known for being the sweetest noona to her younger brother Daeul on the show. Though she was only 5 years old at the time and Daeul was 2, both of them rarely fought and got along well, proving that they were the ultimate #siblingsgoals. 
A lot of attention was drawn to the SoDa siblings because fans felt that Daeul looked similar to EXO's Chen. This resulted in an episode where EXO's Chen and Xiumen spent the day together with them and their father Lee Beom Soo, who's an actor.
As of 2021, their mother shares vlogs of the siblings going on adventures and trying out new activities together, on a Youtube account called SoDaGenie. She also regularly updates her Instagram page with pictures of the siblings. 
Also read:
13 MTV Asia VJs We Had Crushes On Growing Up And Where They Are Now
8. Ko Seungjae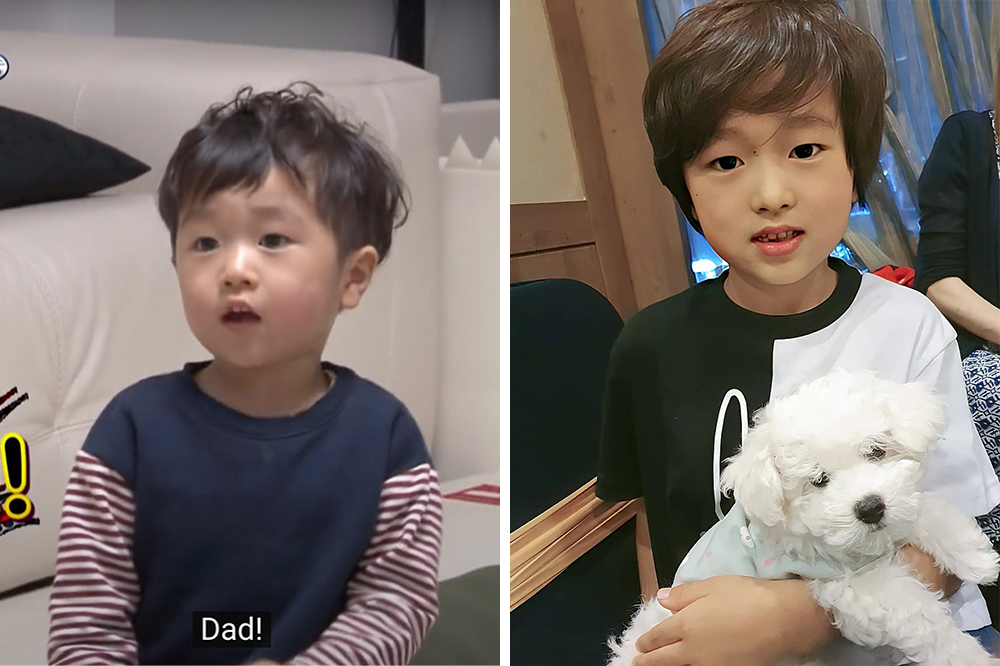 Seungjae in 2017 vs 2020
Source, source
Years on the show: 2017 to 2019
When Seungjae first appeared on the show at 3 years old, he proved to be part of the 0.1% of kids his age with high intelligence. As someone who loves speaking to others, Seungjae was able to communicate well and made use of advanced vocabulary.
Seungjae's father Ko Ji Yong used to be a former K-pop idol from Sechskies, but he eventually retired and became a successful businessman. Even after he left the show, Seungjae made a guest appearance with Sian from the 5 siblings household in 2020 – a comeback that was akin to how the pair used to appear together when they were younger. 
Ji Yong created an Instagram account to post updates about Seungjae's life. Earlier this year, the family also made an appearance on The House Detox together, highlighting how Seungjae is now 7 years old. 
10. Yena and Yuseop Kelly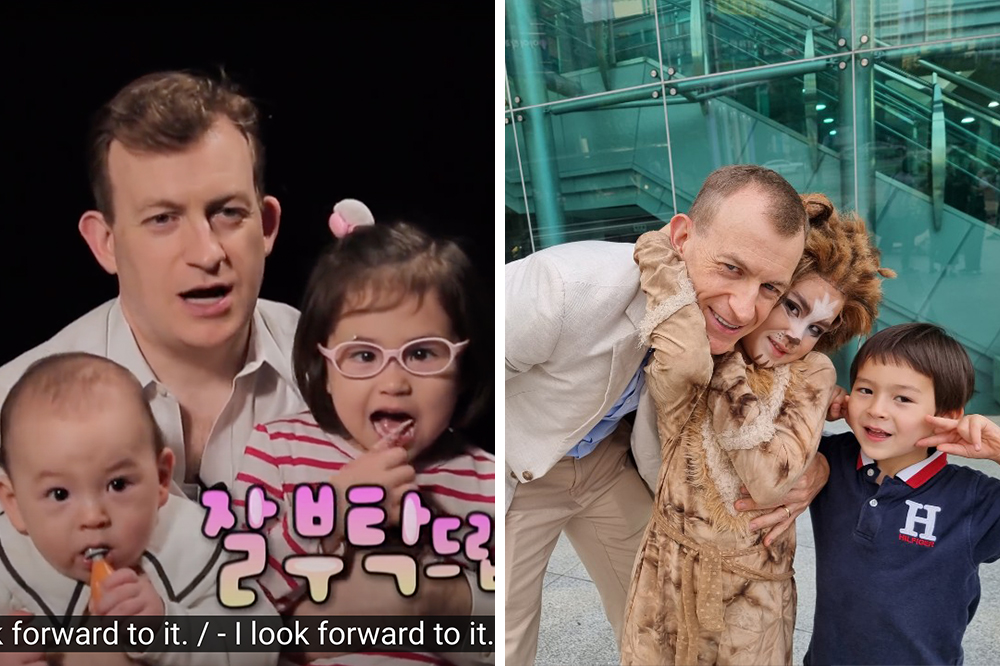 From left: Yuseop, Robert (father) and Yena in 2017 vs Robert, Yena and Yuseop in 2021
Source, source
Years on the show: 2017
In 2017, a professor on BBC News went viral after his children interrupted a live interview by barging into his room and crying loudly when their mother dragged them out. That professor was none other than Robert Kelly, the iconic father who also appeared in a special episode of The Return Of Superman with his 2 children Yena and Yuseop, also known as Marion and James. 
On top of discussing news and politics on Twitter, Robert often updates his followers about his children, calling these tweets his "BBC Dad Content". He recently shared a photo of Yena's most recent performance of "Cats" for school, stating that it was "one of our best family pictures in a while". 
11. Shin Ahsel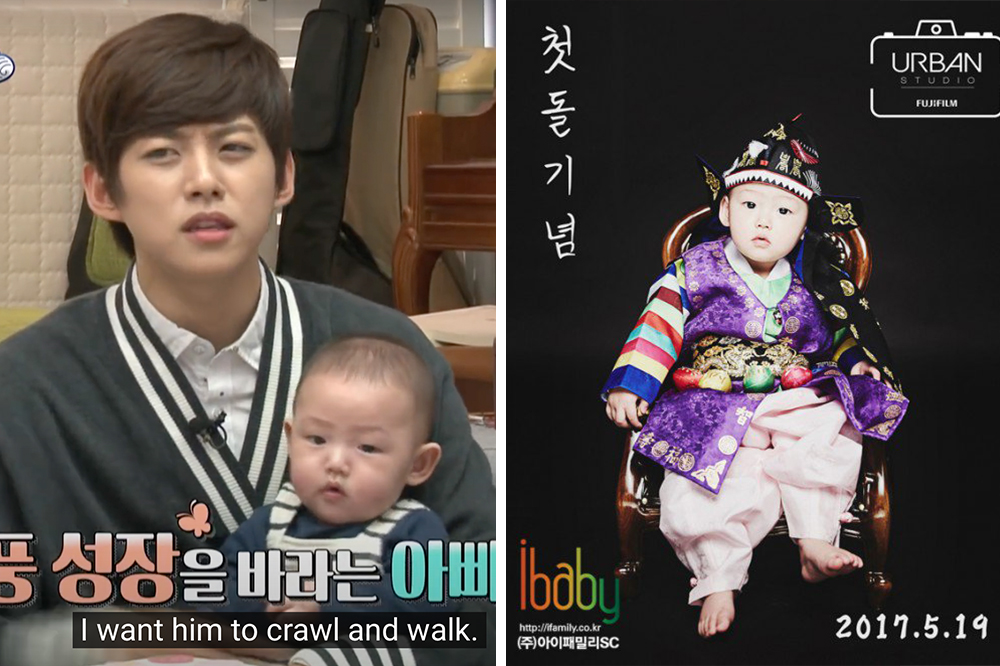 From left: Dongho (father) and Ahsel in 2017, Ahsel in 2018
Source, source
Years on the show: 2017
Featured in another special cast episode, ex U-KISS maknae Shin Dongho and his son Ahsel made a guest appearance together with Rohee. As a former K-pop idol, Dongho surprised many fans when he announced he was leaving the group to be married at 22 years old and became a father at 23.
While on the show, Dongho showcased his struggles as a young father since Ahsel was only a few months old — even seeking advice from watching Taeyong take care of Rohee. 
However, in 2018, Dongho announced that he was getting a divorce after 3 years of marriage. Since posting images of Ahsel's first birthday party, there hasn't been any public updates about him as Dongho doesn't live with him anymore. 
12. Moon Heeyul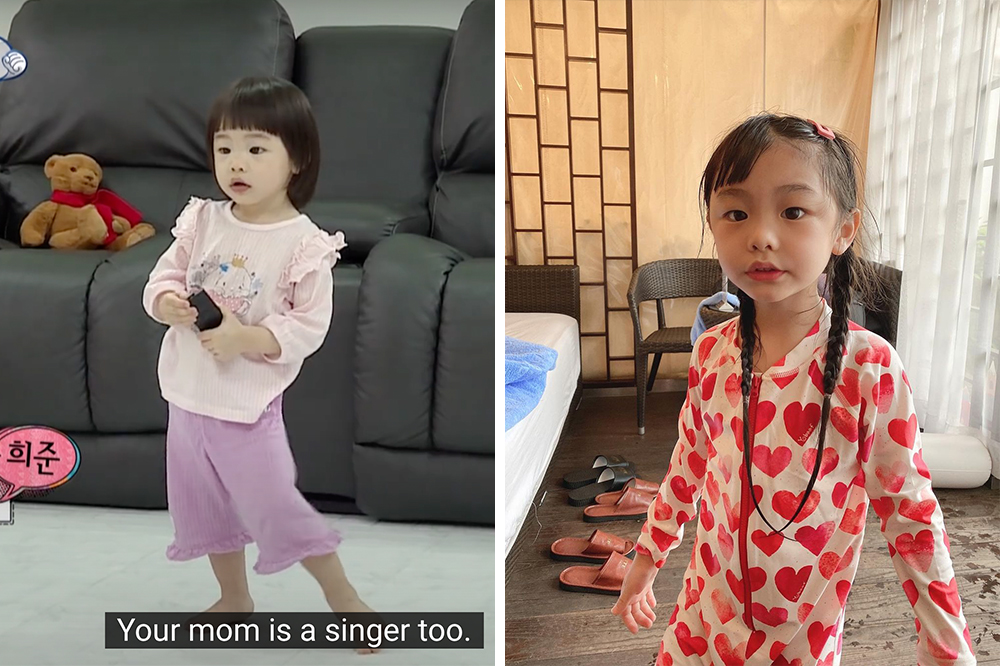 Heeyul in 2019 vs 2021
Source, source
Years on the show: 2019 to 2020
Similar to Rohee, Heeyul, fondly nicknamed as Jam-Jam on the show, is also known for having celebrity parents. Her father Moon Hee Joon was the leader of a first generation K-pop idol group called H.O.T while her mother Soyul was from a girl group known as Crayon Pop.
It's no surprise that Jam-Jam herself loved singing and dancing at home on the show — after all, it's basically in her genes. After leaving the show, her family opened a Youtube channel called Jam2 House, featuring vlogs about their life, and also an Instagram account filled with Jam-Jam's fun milestones like birthday celebrations and completing art classes. 
13. Kang Haoh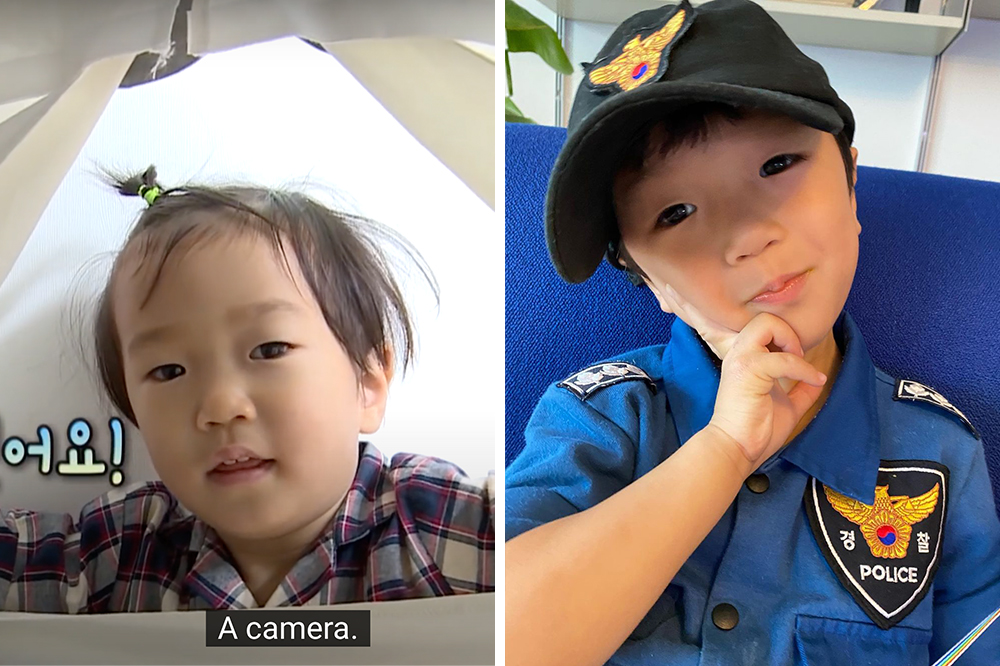 Haoh in 2020 vs 2021
Source, source
Years on the show: 2020
It's impossible to keep the name "Kang Gary" out of your mouth when talking about Running Man. In 2016, Gary announced that he was leaving the show to focus on his music career — a decision that left many fans devastated. He eventually appeared on The Return Of Superman in 2020 with his son Haoh after a long hiatus from reality shows.
Haoh is good friends with Jam-Jam, who was a cast member on the show at the same time, and the pair often went on adventures together hand in hand. When Haoh found out that they were leaving the show, he tearfully bade goodbye to the viewers and expressed his wishes to see them again. Gary also opened an Instagram account for Haoh where he regularly updates about Haoh's activities. 
It seems that both Haoh's and fans wishes will be fulfilled again, as on 2 September 2021, Gary announced on his Instagram page that he and Haoh will be joining back as cast members on The Return Of Superman! 
14. Park Naeun, Geonhoo and Jinwoo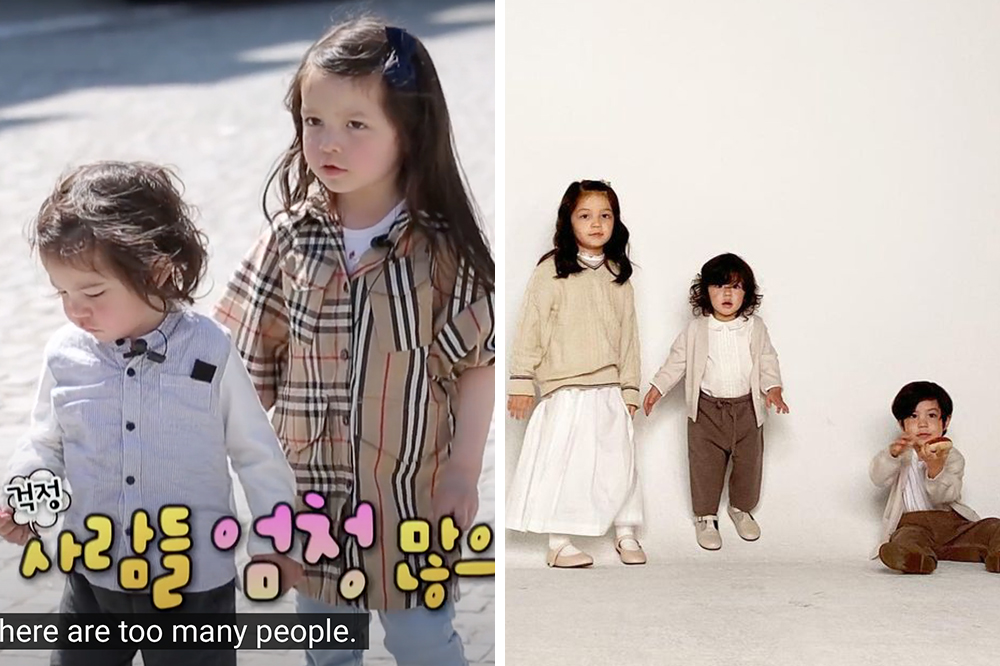 From left: Geonhoo and Naeun in 2019 vs Naeun, Jinwoo and Geonhoo in 2021
Source, source
Years on the show: 2018 to 2020, 2021 to present
Following Lee Dong Gook, another soccer player father stole the show with his adorable children. Park Naeun, also known as Eden, stunned fans by being able to switch between 4 languages with ease and is fluent in all of them.
Naeun is also always sweet to everyone around her, especially when it comes to taking care of her younger brother Geonhoo, also known as Aciel. She even helped out as a German to Korean translator when Korean MC Kwanghee brought the pair to Switzerland, even though she was only 4-years-old at that point of time. 
In 2020, the family announced that they would be taking a hiatus from the show as they were expecting a new baby. But as of 2021, Park Joo Ho's youngest son Jinwoo, also known as Élyséen, has joined the show, where they remain as current cast members. If you want to keep up further with the trio, they have a shared Instagram account called @lovelyparktrio and Youtube account run by their mother. 
15. William and Bentley Hammington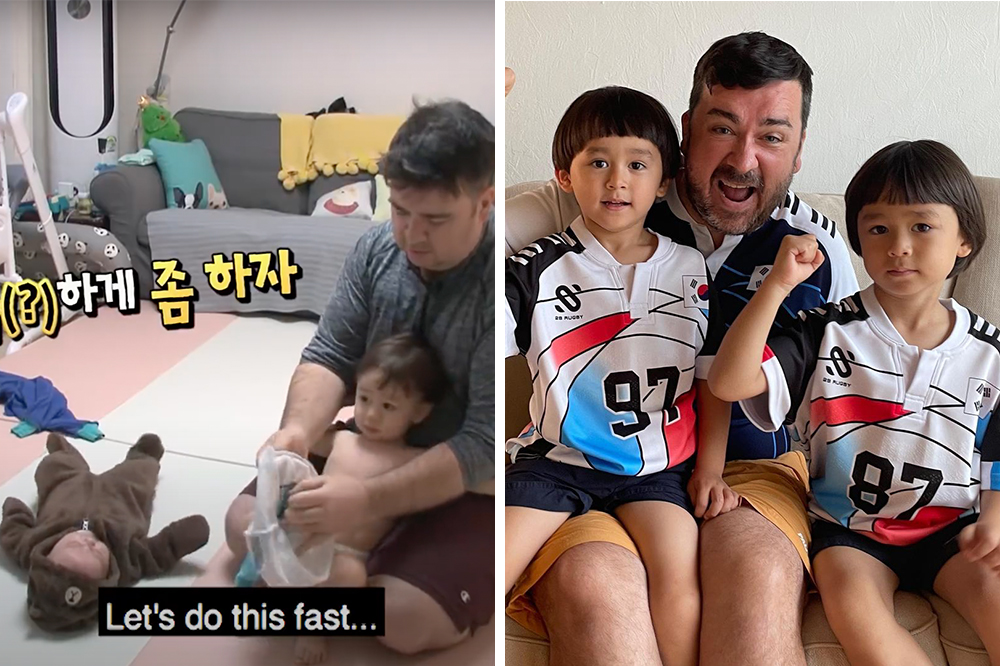 From left: Bentley, Sam (father) and William in 2018 vs Bentley, Sam and William in 2021
Source, source
Years on the show: 2016 to present
After Seoeon and Seojun, comedian Sam Hammington and his 2 sons William and Bentley are the next family to have stayed on the show the longest. William was only a baby when he first appeared on the show in 2016, and fans got to watch the birth of Bentley in an episode in 2018.
William and Bentley are best known for their naughty antics, ice hockey training and struggles with speaking English despite being half-Australian. In 2020, Sam announced in an episode of K-Friends Show that he and his wife are trying for a 3rd child. The couple has also created Instagram accounts for both William and Bentley, where they update about their lives while also remaining current cast members on the show. 
The Return Of Superman Kids Remain Adorable & Dear To Our Hearts After All These Years
From watching The Return Of Superman kids grow up, many fans may feel a sense of nostalgia and pride seeing how far these kids have come. Throughout the years, the kids remind us of how fondly we loved them, especially in the peak of their childhood innocence and playfulness. 
For those who grew up watching MTV as well, discover 13 MTV Asia VJs we all had crushes on when we were younger and where they are now.
Also read:
17 Singapore Athletes From The '90s-2000s And Where They Are Now