Korean Celeb Couples
Whether you've been through multiple heartbreaks or are suffering from dating app fatigue, many of us have found ourselves disillusioned with love and relationships. But even the most jaded will be swayed by these 15 Korean celeb couples. 
Given the sensitive nature of the Korean entertainment industry, celebrities tend to hide details of their personal lives to avoid potential public backlash. In contrast, some of these Korean celeb couples have been together for over 10 years and have kids, while others have recently confirmed their relationship. Then there's IU and Lee Jong Suk, who just broke the internet with news that they have been dating for a few months now.
Read on to find out more about these celebs' K-drama-like romances, which might just restore your faith in the L word. 
1. IU and Lee Jong Suk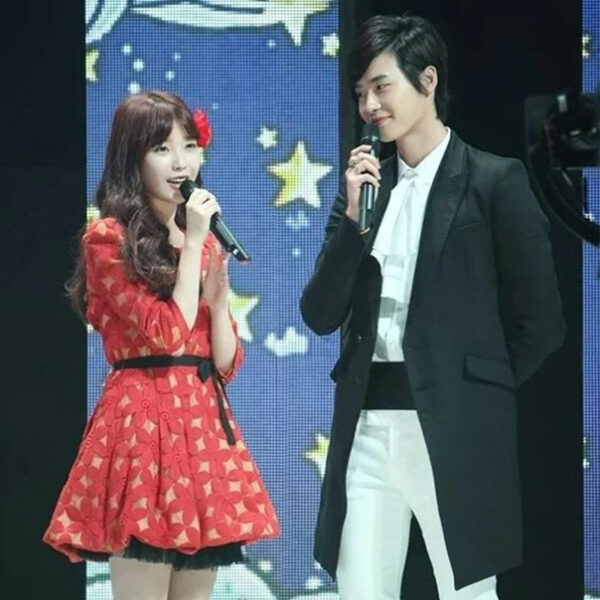 IU and Lee Jong Suk as Inkigayo hosts in 2012
Source
2022 certainly ended on an exciting note for both Uaenas (IU's fans) and Sukkies (Lee Jong Suk's fans). This began on 30 December 2022, when Lee Jong Suk won the grand prize for his drama "Big Mouth" at MBC's annual year-end award ceremony, a broadcasting channel in Korea. 
During his acceptance speech, he mentioned, "there was someone who helped me to find a good direction as a human being and to think positive thoughts." Since then, fans have been speculating that the actor is currently dating. 
Luckily, the suspense didn't take long. Just one day after his speech, Lee Jong Suk's agency released a statement that the actor and K-pop idol IU are confirmed to be in a relationship. The couple then took to Instagram to share heartfelt letters to their fans.
IU expressed that they will "date quietly so as to not worry fans", while Lee Jong Suk's letter felt like it was straight out of a K-drama. He compared IU to Kang Dani, the female lead character in his drama "Romance Is A Bonus Book", and shared that he felt an interest towards IU "beyond puppy love" when they first met in 2012.
FYI, Lee Jong Suk and IU were both Inkigayo hosts then, meaning that he's been harbouring a crush for her for a decade now. Who would've thought that his seemingly unrequited love would bloom again in 2022? We're not crying, you are.
2. Song Joong Ki and Katy Louise Saunders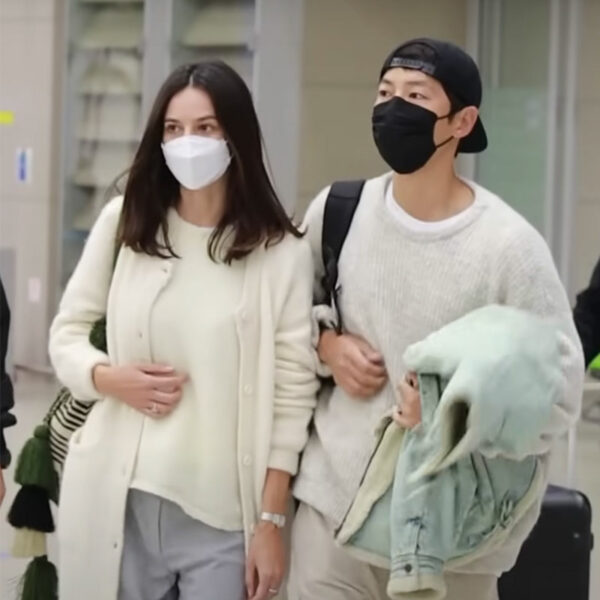 Song Joong Ki and Katy photographed together at the airport in 2022
Source
Song Song couple fans were heartbroken when Song Joong Ki and Song Hye Kyo announced their divorce back in 2019. But it seems like the actor is back in the dating game, as he is now in a relationship with Katy Louise Saunders, a British ex-actress.
The pair were spotted together at the airport in December 2022. This took place after Song Joong Ki came back to Seoul following his latest K-drama Reborn Rich's press conference in Singapore. 
Not long after the couple were photographed together, Song Joong Ki's agency confirmed that they are in a relationship. We're glad that despite the stigma surrounding divorcees in Korea, Song Joong Ki is able to move on and seek his own happiness.
3. Rocky and Park Bo Yeon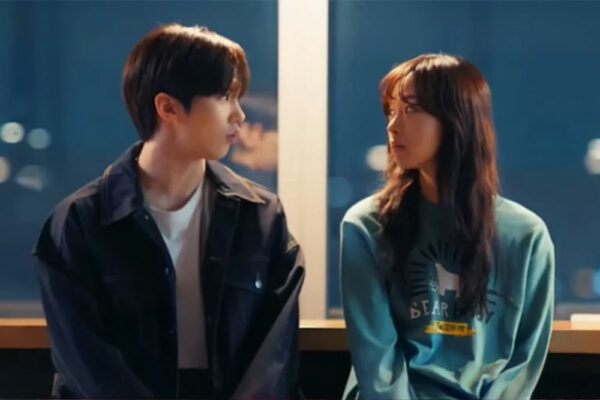 Rocky and Park Bo Yeon in the YouTube web drama "Find Me If You Can" in 2021
Source
It's rare for Korean celeb couples to make their relationship public, especially for K-pop idols whose job scope includes "boyfriend-like" fanservice to their fans. In some cases, dating is even regarded as a scandal that could ruin their career. However, ASTRO's Rocky took the leap of faith by pursuing his YouTube web drama "Find Me If You Can" partner, Park Bo Yeon.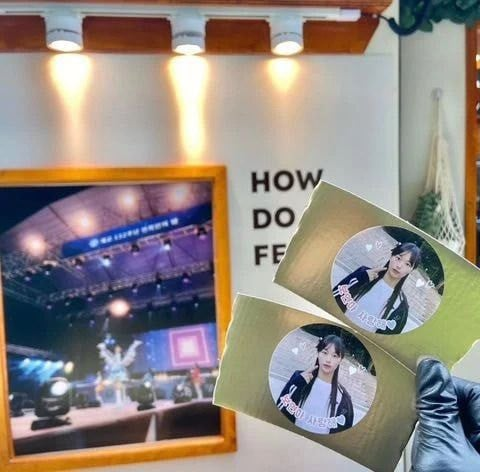 The cup sleeves with Rocky's message on them
Source
In November 2022, Rocky sent Park Bo Yeon a food truck while she was filming her latest drama, Cheer Up. On her Instagram page, she snapped a picture of the cup sleeves with a special message on them: "Bo Yeon, I love you".
While their agencies denied the dating rumours at first, as they did not want to announce the couple during the national mourning period of the Itaewon crowd crush, it was eventually revealed that they are dating. 
Fun fact: Since Bo Yeon became an actress, this was actually the first time she received a food truck — and it came from her own boyfriend. Ladies, if he wanted to, he would. 
4. Gong Hyo Jin and Kevin Oh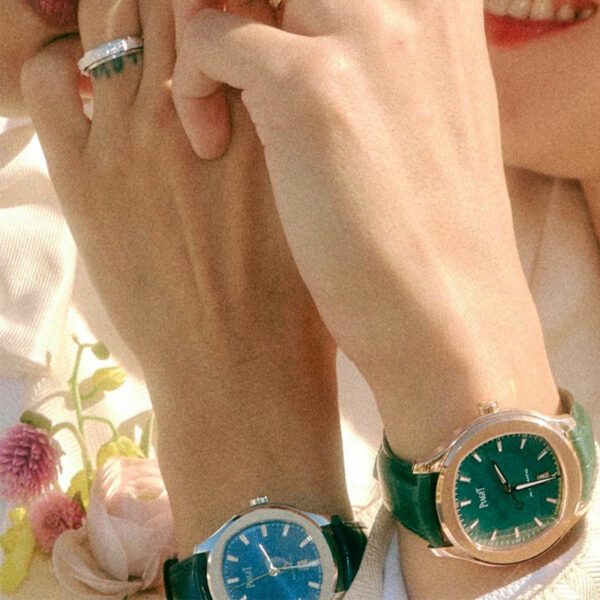 Gong Hyo Jin and Kevin Oh on their wedding day in 2022
Source
Actress Gong Hyo Jin and Korean-American singer Kevin Oh started dating publicly back in April 2022. It seems like she's certain of him being her Mr Right, because just five months later in August 2022, she announced their plans for marriage. 
Following their wedding ceremony in October 2022, Gong Hyo Jin shared a photo of them with their beautiful engagement rings and matching watches. Other famous celebrities such as Son Ye Jin, Shin Min Ah and Lee Jung Hyun also commented their heartfelt congratulations to the couple on the post.
5. Son Ye Jin and Hyun Bin
Son Ye Jin and Hyun Bin at a filming site for Crash Landing on You in 2019
Source
Unless you've been living under a rock, you would have heard of Hyun Bin and Son Ye Jin's dating news, aka the power couple of 2021. 
According to Nielsen Korea, Crash Landing on You's drama viewership hit 21.7% in South Korea. With the high ratings and the drama being a global hot topic, it is an understatement to say that fans were in love with the chemistry between the two leads and plotline. When the drama ended, fans were convinced that the pair were dating IRL too. 
On 1 January 2021, Dispatch released photos of Son Ye Jin waiting for Hyun Bin to pick her up, and fans around the world rejoiced. The actress also turned to Instagram to share that she has found a "good person" to be with. 
6. Kim Woo Bin and Shin Min Ah
Kim Woo Bin and Shin Min Ah in a Giordano campaign in 2015
Source
If you think that K-dramas don't exist in real life, think again. Although Kim Woo Bin and Shin Min Ah have not tied the knot, the pair has demonstrated what "for better or for worse, in sickness or in health, to love and to cherish" looks like. 
After Kim Woo Bin was diagnosed with nasopharyngeal cancer in 2017, Shin Min Ah stayed by her boyfriend's side, including following him to his treatment sessions at the hospital. During Shin Min Ah's comeback with the drama, Chief of Staff in 2019, the actor sent her a food truck as a sign of support.
2023 marks their eighth year together and fans are looking forward to seeing their wedding announcement one day. 
7. Taeyang and Min Hyo Rin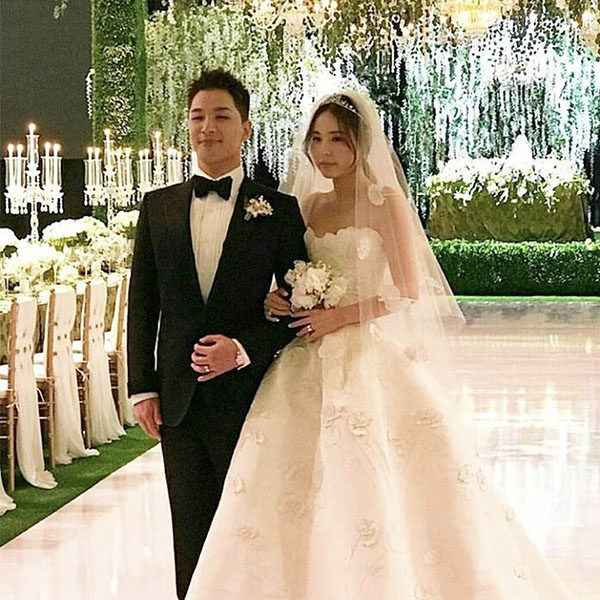 Taeyang and Min Hyo Rin at their wedding ceremony in 2018
Source
K-dramas commonly feature storylines where the male lead marries his first love. It may seem unrealistic but Taeyang is here to give you hope. The Big Bang member married his first girlfriend, Min Hyo Rin, in 2018. It seems like the singer is a romantic as he wrote the popular song, Eyes Nose Lips, for the actress during their temporary break-up. They eventually got back together and the rest is history. 
As a bonus, in a 2020 documentary, the singer said, "Even now, she's the only person who continues to change me as a person. And those changes always make me into a better, more solid person. That's why I decided to walk along with her for the rest of my life." How cute. 
8. Rain and Kim Tae Hee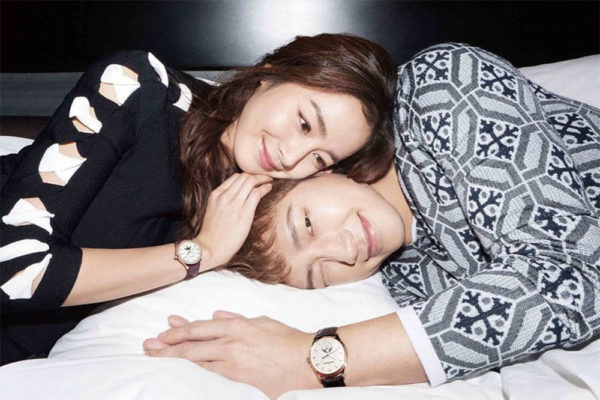 Kim Tae Hee and Rain in a Harper's Bazaar shoot in 2017
Source
Rain and Kim Tae Hee's relationship was first disclosed by Dispatch on 1 January 2013, as part of the news outlet's tradition of revealing Korean celeb couples on New Year's Day. Four years, the couple got married and now have two kids. The soloist and actor told his fans last year on his web variety show, Season B Season, that it took a year for Kim Tae Hee to accept him. 
Even after wooing her for a year, Rain had more sweet acts up his sleeve. Before they got married, the singer wrote a proposal song 'The Best Present' for Kim Tae Hee. The lyrics conveyed everything he wanted to say to her, such as "Your name will forever be the biggest happiness".
Fun fact: The 'Tae Hee' in Kim Tae Hee's name literally translates to the "greatest joy". 
9. Lee Kwang Soo and Lee Sun Bin
Lee Kwang Soo and Lee Sun Bin's behind-the-scenes selfie on a Running Man episode in 2016
Source
You may have seen Lee Kwang Soo on Running Man and Lee Sun Bin in hit dramas like Criminal Minds. Throwback to 2016, when Lee Kwang Soo invited Lee Sun Bin to Running Man because the actress once expressed her interest in him on another variety show. During that episode, they went on a date and played arcade games together. 
In 2018, their agencies confirmed that they had been dating for five months. The couple are still together and in 2020, Lee Kwang Soo did a drinking interview with Illgan Sports. As per a translation by Soompi, the interviewer commented, "It seems you're just experiencing real-life romance."
Lee Kwang Soo laughed and replied, "We can't see each other often but things are going well. Yes." No matter your gender, don't be afraid to shoot your shot.
Also read:
8 Married Couples In SG Share Their Top Tips On Maintaining A Relationship When Living Together 24/7
10. Sooyoung and Jung Kyung Ho
Sooyoung and Jung Kyung Ho spotted hugging by Dispatch Korea in 2017
Source
Girls Generation member, Choi Sooyoung, and Hospital Playlist actor, Jung Kyung Ho, met through a mutual friend and have been dating for ten years now. In an interview with Illgan Sports that was translated by Koreaboo, the actor said that "Sooyoung gives me so much strength" and "all that's left is for me to treat her well". It looks like Jung Kyung Ho is a man of his words. He gave Sooyoung 1,000 roses on their 1,000-day anniversary. 
Sooyoung and her sister on an episode of Taxi in 2017
Source
Sooyoung's sister also shared on a variety show, Taxi, that she thinks Jung Kyung Ho "is the only guy for Sooyoung" because he never gets angry and does everything that she says. When it comes to marriage, Jung Kyung Ho told Illgan Sports that he wants to marry but he has to think of his partner too. He added, "I don't want to burden her or disrupt her career with marriage. I want to see Sooyoung working actively. I think we can get married afterward." 
11. Moon Hee Jun and Soyul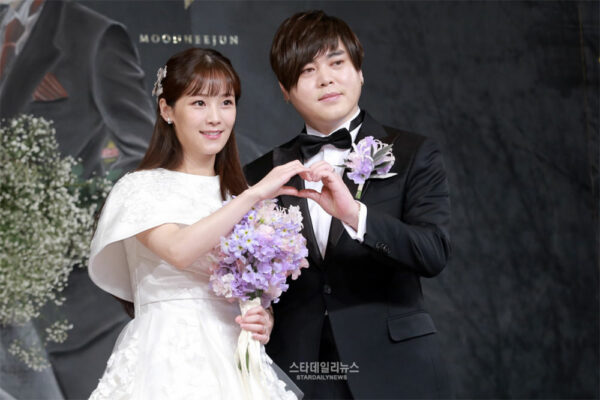 Moon Hee Jun and Soyul's wedding in 2017
Source
H.O.T.'s Moon Hee Jun and former Crayon Pop member Soyul surprised the internet when they announced their wedding ceremony in 2017. Especially since they have a large age gap of 13 years, fans were curious about how the sunbae (senior) and hoobae (junior) crossed paths in the industry. 
The couple welcomed a daughter later in that same year, Moon Heeyul, affectionately known as Jam Jam on the TV programme The Return Of Superman. They also opened a YouTube channel called Jam2 House, featuring adorable family vlogs of the trio. 
The family has now expanded to four members, as in September 2022, Soyul announced the birth of a baby son on her Instagram story. 
12. Gummy and Jo Jung Suk
Gummy and Jo Jung Suk at their pre-wedding photoshoot in 2018
Source
Soloist Gummy and actor Jo Jung Suk's history goes back to 2013, when they met each other through a mutual friend. They got married in 2018 and welcomed their first child in 2020. The Hospital Playlist cast member wrote a letter to his fans on his fancafe, revealing why he decided to marry Gummy. Namely, because they are "both big sources of energy for each other and she is someone who will encourage and support me to become a better person in the future."
True to these words, Jo Jung Suk mentioned in an interview with Sports Chosun that Gummy has been an avid viewer of all his projects. Jo Jung Suk also shared the ways that he changed after marriage, including how he "life itself feels much more comfortable and stable than before." 
13. Lee Bo Young and Ji Sung
Lee Bo Young and Ji Sung at their wedding ceremony in 2013
Source
Everything about these two actors screams couple goals. Having dated for seven years, they got married in September 2013 and went to Spain to snap their pre-wedding photos. There, Ji Sung surprised Lee Bo Young with a proposal event where he read a letter he wrote, sang for her and gave her a new engagement ring. 
Lee Bo Young and Ji Sung's children drew this for
their parents' seventh wedding anniversary in 2020
Source
Ji Sung is also known to be a family man. In an episode of variety show, Run, aired in 2020, the actor mentioned that there have been a lot of times when he and his wife wanted different things, so being unconditionally considerate of each other's wishes is important. He also shared that he restrains himself from drinking because he wants to be healthy enough to be by his family's side for longer and walk his daughter down the aisle when she gets married. To him, his family gives him strength.
14. Won Bin and Lee Na Young
Won Bin and Lee Na Young's wedding ceremony in 2015
Source
While Won Bin has not made his comeback in any films or dramas since 2010, he's still one of Korea's most reputable actors. In 2015, he married Lee Na Young, whom you may have seen in Romance is a Bonus Book alongside Lee Jong Suk. 
Although the couple has kept their relationship very private, there have been times when they have touched on their relationship. Lee Na Young revealed in a 2018 interview with Korean news outlet, OSEN, that she and Won Bin are like best friends. She added that she also looked through her script for Beautiful Days with her husband and he cheered her on to work hard. We stan a supportive relationship.
15. Eugene and Ki Tae Young
Eugene and Ki Tae Young's selfie on their ninth wedding anniversary in 2020
Source
Compared to her character, Oh Yoon Hee, in The Penthouse, who did not have much luck in her marriage, former first-generation girl group S.E.S member, Eugene, is happily married to Ki Tae Young. 
The two met on the set of Creating Destiny (2009) and were married in 2011. Eugene said on Please Take Care Of My Refrigerator in 2019 that they still go on dates together to spend some time on their own as they now have 2 young children. She further added that the stage of ennui will only come after 40 years, showing her confidence in their loving relationship. 
In an episode of the talk show Life Bar, Ki Tae Young also shared that after Eugene gave birth to their first child, Rohee, he assured her that he would take care of their child so that she could work comfortably without worrying.
16. Lee Sang Woo and Kim So Yeon
Lee Sang Woo and Kim So Yeon's wedding ceremony in 2017
Source
Unlike the dark and twisted Cheon Seo Jin in The Penthouse, actress Kim So Yeon is actually a cheerful and soft-spoken person IRL, as seen in variety shows like Running Man and How Do You Play? The Penthouse star met her husband, Lee Sang Woo, as an on-screen couple in the weekend drama, Happy Home and they got married in 2017. 
On the programme, Happy Together, she gave the audience a glimpse of their dating life in which they went on a 15-hour long date almost every day. When asked if she wanted anything from her husband by the hosts, she said that she likes him as who he is and would still marry him if she was born again. Their relationship feels like a K-drama, just that it's actually reality. 
17. Sean and Jung Hye Young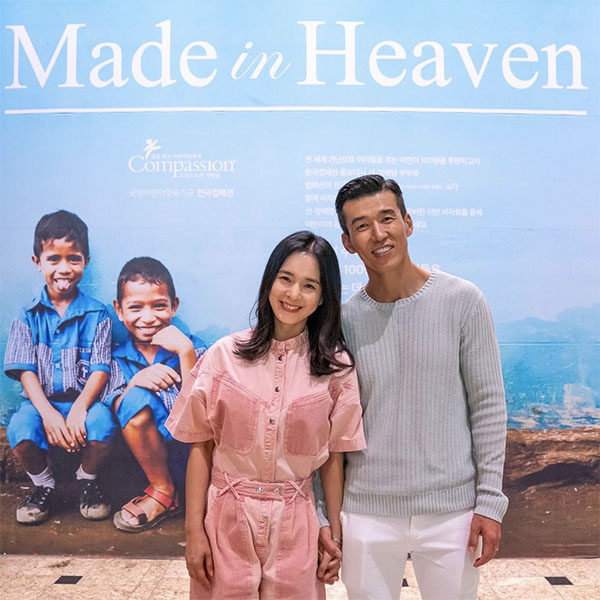 Jung Hye Young and Sean at a donation fair, Made in Heaven, in 2019
Source
Last but not least, in this list of Korean celeb couples, we have Sean, a member of the hip hop duo, Jinusean, and actress Jung Hye Young. Having been married for 17 years with 4 kids, it seems like the couple are still crazily in love with each other. Sean still keeps track of the number of days it has been since their first meeting and their anniversary date.
On Christmas Day in 2020, Sean took to Instagram to upload a beautiful photo of them with the caption: "20 years ago today, Christmas evening, I met Hye Young. It was like a movie, love in first sight. After that day, Christmas became more special for me. 7305 days with my love of my life." 
That's not all. On their 14th anniversary, Sean uploaded 3 posts on Instagram. The first was a picture of a bouquet of flowers, accompanied by the words: "2004.10.08 14th Anniversary. As I promised, I will always love you till death do us apart.". 
The second post was a shot of 14 red roses and the caption: "14 roses. My little event which stands for our happy 365 days for every rose. She gave me a big smile when she came back from her drama reading." 
The last, which may be the sweetest, was a photo of Jung Hye Young in her wedding gown. Sean wrote in Korean: "Jung Hye Young, the woman who still makes my heart flutter even though it's been 14 years.". No wonder Sean is regarded as one of the sweetest husbands in South Korea. 
These Korean Celeb Couples Will Make You Believe In Happily Ever After
The next time someone tells you that unchanging love only exists in Korean dramas, show them these 17 Korean celeb couples. From cheering each other on to overcoming obstacles together, the lovebirds in this list demonstrate to us what a healthy relationship should look like. 
This article was originally published by Yi Hui Tan on 24 February 2021 and updated by Nicole Yong on 6 February 2023.
Cover: Source, source, source
Also read:
7 Ways Son Ye Jin Breaking Her 20-Year Official Dating Hiatus For Hyun Bin Shows Us That We Shouldn't Settle