Wearing THINX In Singapore
From overlapping pads to using super absorbent tampons, I've tried them all. Yet, I've stained my underwear on an almost-monthly basis since first getting my period at 12. So when I received a pair of THINX period panties as a gift, I hoped they'd be the answer to all my bloody problems.
THINX are washable and reusable period panties that absorb one to two tampons' worth of menstrual blood. The panties are designed in New York, so I wasn't sure their moisture-wicking and odour-trapping claims would stand up to Singapore's heat and humidity.
Was my vagina going to smell like rotting fish after a few hours? Testing the panties was the only way to find out.
Putting them on
THINX recommends you wear their panties in a way which complements your flow. If you have a heavier period, pair them with tampons and menstrual cups. Those with a lighter flow can wear THINX without other period products.
I decided to review the period panties on the fourth day of my period, since it had become light enough to test THINX on its own.
That afternoon, I pulled out the period panties from the recesses of my underwear drawer. I would be lying if I said I wasn't apprehensive—I was going to be out till late and I didn't have time for a period crisis.
The pair I tested was the black Hiphugger Panties from the brand's classic line. They were extremely comfortable, and only slightly thicker than my usual underwear. Not bad for four layers of fabric.
Still, I noticed they were a little baggy at the back, giving me diaper-butt. This definitely wasn't a pair I would wear under yoga pants, but THINX has period thongs if you need something more discreet.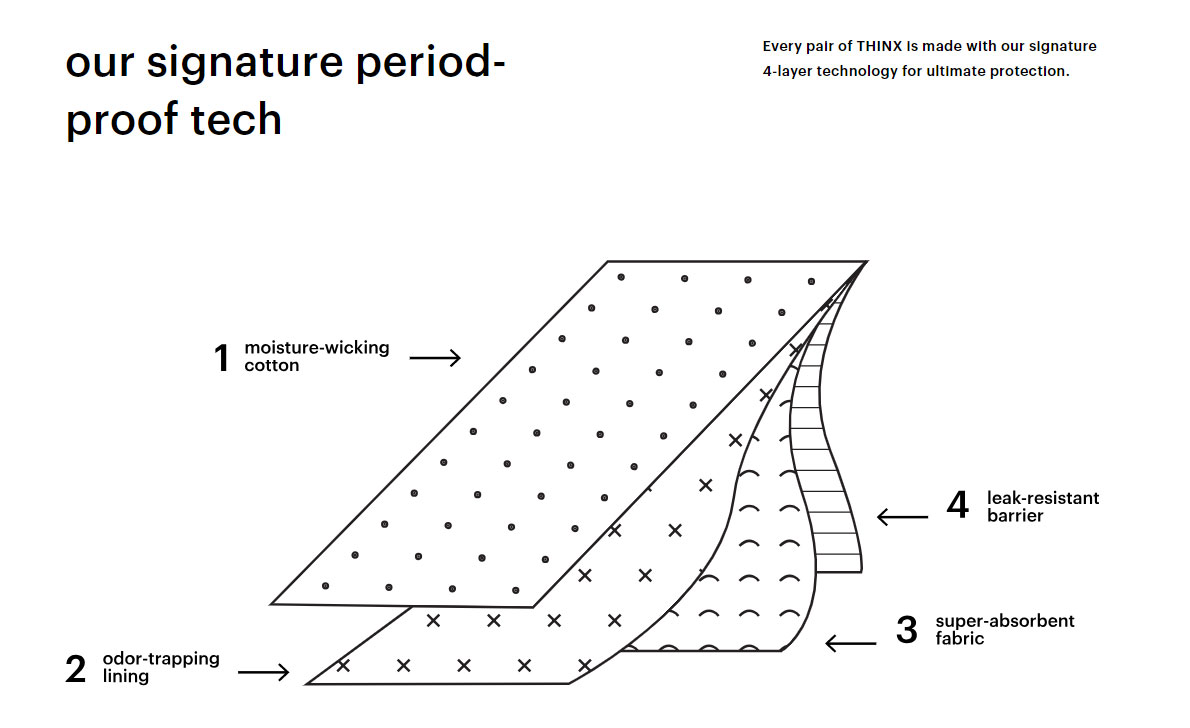 Going with the flow
My first few hours wearing the panties were uneventful, which is praise in itself. They didn't feel any different from my usual underwear and I forgot I was wearing period panties then.
I found I got a little sweaty down there at some point, but I couldn't attribute this solely to the panties. Because, let's be real, you're sweating your butt off in Singapore even if you go commando.
The THINX started to feel a little damp after a while, but not more so than a disposable pad. I also noticed that the fabric didn't absorb blood clots as easily as pads did. I wasn't too bothered by this, but I wasn't thrilled either.
Intermittently, I'd ask my boyfriend to check if I'd stained my dress. I was delighted to find there were no leaks—the period panties were holding up really well!
Also read:
5 Menstrual Pad Alternatives To 'Period Diapers' And Where To Buy Them In Singapore
No fishy business
Next came the smell test.
Forgive me for being 'TMI', but you girls know what I mean when I say soiled pads have a fishy, metallic tang. I was afraid the same would happen with period panties. Unlike disposable pads, I couldn't rip them off and throw them into the bin if they got nasty.
To my amazement, I detected no smell at the end of the day, even after a whopping 12-hour wear time.
The clean-up was also much simpler than expected. I brought my panties into the shower with me and rinsed them with cold water, according to THINX's instructions. In a matter of seconds, the water ran clear and I hand-washed the panties with detergent. Easy!

THINX Period Panty Review
At close to $50 per pair, THINX isn't cheap. I probably wouldn't have bought them if they hadn't been gifted to me.
However, I was honestly shooketh by how pleasant the whole period panty experience was. I'd expected it to end up a hot, stinking mess, but I found an effective and eco-friendly menstrual product I actually enjoyed. Three cheers for period panties!
Also read:
I Use A Menstrual Cup During My Period And This Is How You Insert It Into Your Vagina