Tiffany & Co. Mahjong Set
As CNY draws ever nearer, it looks like more and more luxury brands are taking an interest in mahjong. Hot on the heels of Hermès' mahjong set and Louis Vuitton's mahjong trunk comes American luxury jewellery brand Tiffany & Co.'s own mahjong set.
The design
Housed in a leather case in the brand's trademarked colour, Tiffany Blue, there is no doubt that this mahjong set hails from Tiffany & Co. The case looks like a giant version of the iconic box that its jewellery comes in. 
The beautiful case also comes with a lock and 2 keys, so you won't have to worry about anyone touching your precious mahjong set.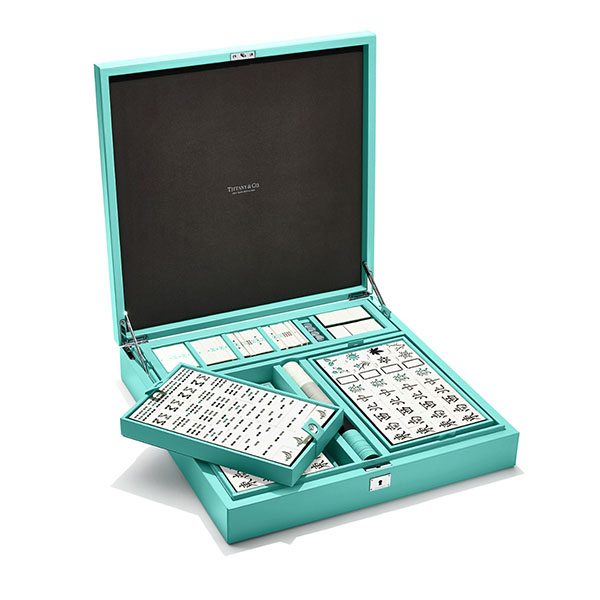 Open up the case and you'll be greeted by a suede interior with Tiffany & Co.'s logo in the middle. The Tiffany Blue colour palette extends to the interior as well, down to the 4 removable trays.
In addition to all that leather, this classy mahjong set comprises another leather box with a magnetic closure to store your dice and scoring sticks, so you can finally say goodbye to losing your dice.
The tiles, dice and scoring sticks
All 150 mahjong tiles are made of 3 layers. Namely, an American walnut wood base, a Tiffany Blue, black and grey core and a white surface. The symbols on the mahjong tiles have also been given a glow up. The flower tiles, in particular, are almost unrecognisable from their usual iteration. 
Tiffany & Co.'s mahjong set includes 4 American walnut wood tile rests, each engraved with the Tiffany & Co. logo. Clearly, facing your tiles down on the table is for plebians only.   
On top of the American walnut wood tiles and leather boxes, this atas set also includes sterling silver dice with Tiffany Blue enamelled dots. The 80 coins come in Tiffany Blue, black, grey and white, with the numerical characters carved out. 
Also read:
This Mini Mahjong Bag Can Be Attached To Your Everyday Bag For Maximum Huat On The Go
Tiffany & Co. Travel Poker Set
Complete your games collection with Tiffany & Co.'s Travel Poker Set.   
Whip out this travel poker set the next time you have a few friends over. Like the mahjong set, it comes in a Tiffany Blue leather box with a lock and 2 keys.
Tiffany & Co.'s poker set includes 100 porcelain poker chips in white, grey, Tiffany Blue and black with metallic rings. 
If the porcelain chips are not atas enough for you, the 2 decks of Tiffany Travel playing cards come with the Tiffany Travel logo and a metallic silver foil edge. 
Get Yourself A Matching Tiffany & Co. Mahjong Set Plus Travel Poker Set
If you have USS15,000 (~S$20,233.95) to spare and need to score some major brownie points with someone this Christmas, Tiffany & Co.'s Mahjong Set is guaranteed to get the job done. You can also consider getting its Travel Poker Set as a bonus, which is priced at US$2,750 (~S$3,709.47). The mahjong and poker set both seem to be available only on Tiffany & Co.'s U.S. website for now. Here's hoping these novelty items will make their way over to shores soon. Otherwise, you can still splash out on a mini mahjong bag that's perfect for storing their TraceTogether tokens.
All images courtesy of Tiffany & Co.
Also read: