Delvaux Mini Mahjong Bag
The Hermès mahjong set might be the ultimate flex for your home, but you can't exactly carry it around with you. For all the hardcore mahjong fans out there, Belgian luxury leather goods brand Delvaux's China Dream collection includes a mini mahjong bag, which you can actually bring with you everywhere you go. 
Mini mahjong bag
If you're a fan of tiny bags like Louis Vuitton's mini backpack and bumbag bracelets, Delvaux's Les Miniature series will have you squealing with joy. Just look at how adorable the mini mahjong bag is here, attached like a bag charm to the top handle of a Delvaux Brillant bag. 
Each of the Les Miniatures bags in Delvaux's China Dream series measure 9cm by 5cm by 12cm. You can loop them around a bigger bag as a statement piece, or use them on their own. They're just the right size for your AirPods, cards and some emergency cash… or your TraceTogether token. 
White leather acts as a blank slate for various mahjong tiles in 3D and embossed forms to stand out on the Les Miniatures China Dream Mahjong bag. The 'fa' tile, which translates to 'huat' or 'get rich', is cleverly positioned on the buckle. Carry this mahjong bag along to your mahjong session if you need extra luck to 'fa' at the table. 
Flip the bag around and you will spot a few more tiles repeated on the back. 
An auspicious red lining around the edge of the bag and a gold horseshoe buckle complete the huat vibes.
Also read:
Louis Vuitton Has A Monogram Mahjong Set With Jade Tiles To Flex At Your Next Family Gathering
Lantern bag
This year's Mid-autumn Festival might be over. But the Les Miniatures China Dream Chinese Lantern bag is still fitting for CNY, thanks to its red and gold hues.
The middle portion of the bag is translucent to resemble an actual Chinese lantern, along with a red tassel on the side. If the 'fa' tile on the mini mahjong bag is not huat enough for you, this mini lantern bag has the word 'fu' (prosperity) plastered in the middle. A 'fa' plus a 'fu' will definitely make your Year of the Ox super huat. 
Qipao bag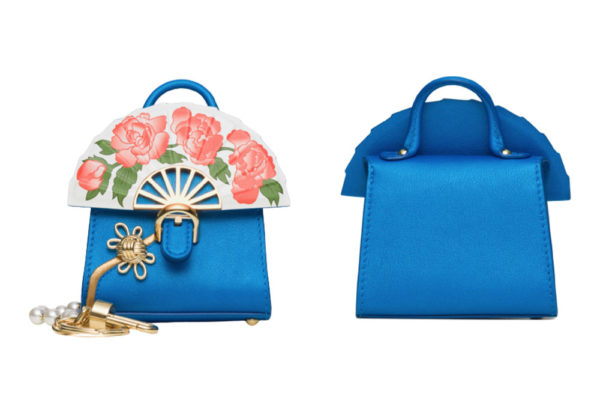 The last bag in the China Dream collection is the Les Miniatures China Dream Qipao bag, which comes in a striking electric blue.
The top half of the bag comprises a traditional Chinese folding fan with a beautiful floral illustration. A gold Chinese knot and pearl strap further up the elegance of the bag. 
This Mini Mahjong Bag Will Give You Extra Luck During Your Mahjong Sessions
Whether it is CNY or just a casual mahjong session with your kakis, this mini mahjong bag will make you feel lucky and hopefully, give you a winning strike. 
Delvaux's Les Miniatures China Dream bags are retailing from $1,600 to $1,800. Check them out online on Delvaux's website and in real life at Delvaux's boutiques located at Marina Bay Sands and Takashimaya Department Store. 
All images courtesy of Delvaux
Also read:
These Nike CNY 2021 Sneakers Are Super Huat For Those Who Can't Wait Until 2020 Is Over