Wearable Sex Toys
Sure, straightforward sex is great, but just like eating chicken rice every day, doing the same thing repeatedly can become quite dull. That's where spicing things up in the bedroom comes in, and if you need some direction, we compiled a list of wearable sex toys so you and your partner can up the kink factor at home. 
From vibrators, stimulation rings and even strap-ons, here are 16 wearable sex toys you and bae can use to maintain a healthy and fun sex life. For those who even want to bring their sex life outside the bedroom, we've got you — some of these can even be discreetly worn under your clothes while you go about your day.
Vibrators
1. We-Vibe Moxie –  Panty vibrator with remote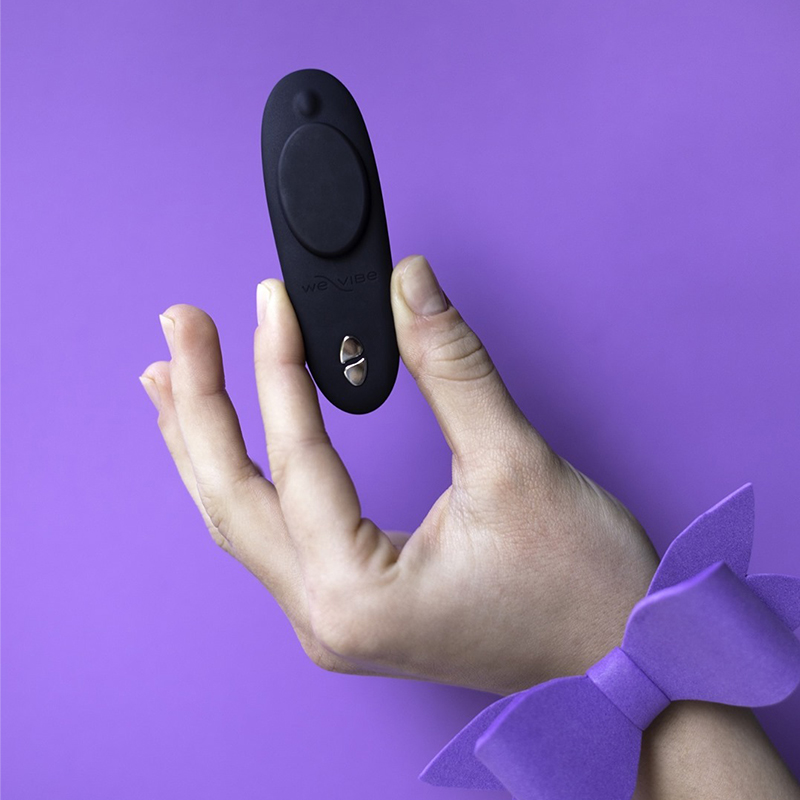 Source
The We-Vibe Moxie takes vibrators to the next level — it can be placed on your underwear and secured using a magnetic clip so that it stays in place. This hands-free vibrator is able to stimulate the clitoris while your partner can control the fun with the remote or the We-Connect app.
Whether you're out for a late-night movie date or for some drinks at a bar, this sexy little secret allows for discreet pleasure anytime and anywhere. Despite its 10 vibration modes, it's quiet enough so you don't have to worry about coming up with an excuse if you get caught.
Price: $180
Where to buy: Guardian
Website | Facebook | Instagram
2. We-Vibe Chorus – Remote control couple vibrator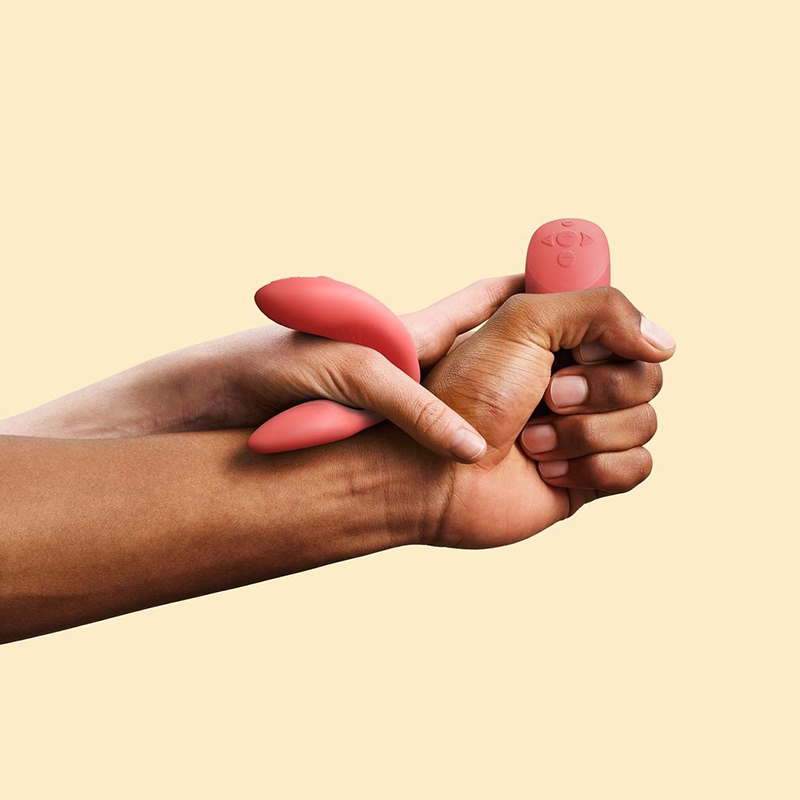 Source
Similar to the Moxie, We-Vibe Chorus is an intuitive vibrator designed for couples, with a unique shape to fit your body. After staying in the perfect position, the squeeze remote functions according to your natural instincts of pleasure — the tighter you squeeze, the stronger the vibration gets. 
It can also be connected to the We-Connect app so your partner can have some fun being in control and dominating your pleasure — a feature that might fuel those with a daddy kink.
Price: $280.90
Where to buy: Horny.sg
Website | Facebook | Instagram
3. Maison Mika – Wearable g-spot & anal-remote controlled long bullet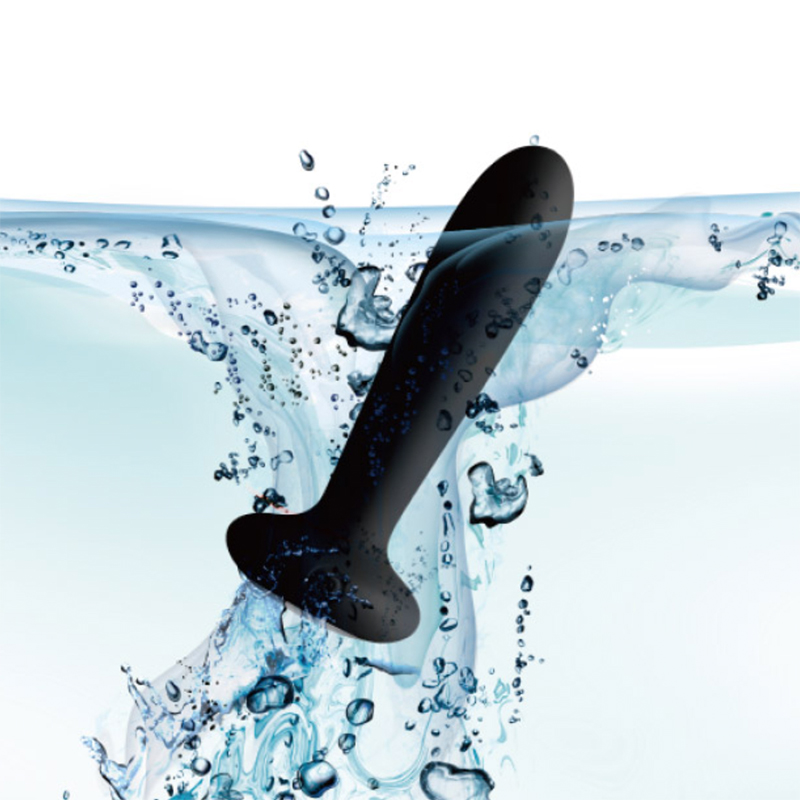 Source
Anal sex may seem intimidating AF at first, but Maison Mika's wearable long bullet is a vibrating plug that mimics the warmth of a real penis to reduce discomfort. As the world's first warm plug vibrator, it is lightweight with silent vibrations to remain discreet.
The design of this butt plug isn't gendered either — both men and women can make use of it to create new and different sensations during sex. That's right, we're looking at you, toxic masculinity. Time to throw bedroom traditions out the window and enter a whole new world with this vibrating butt plug.
Price: $159.95
Where to buy: Maison Mika
Website | Facebook | Instagram
4. Maison Mika – Wearable bluetooth vaginal vibrating egg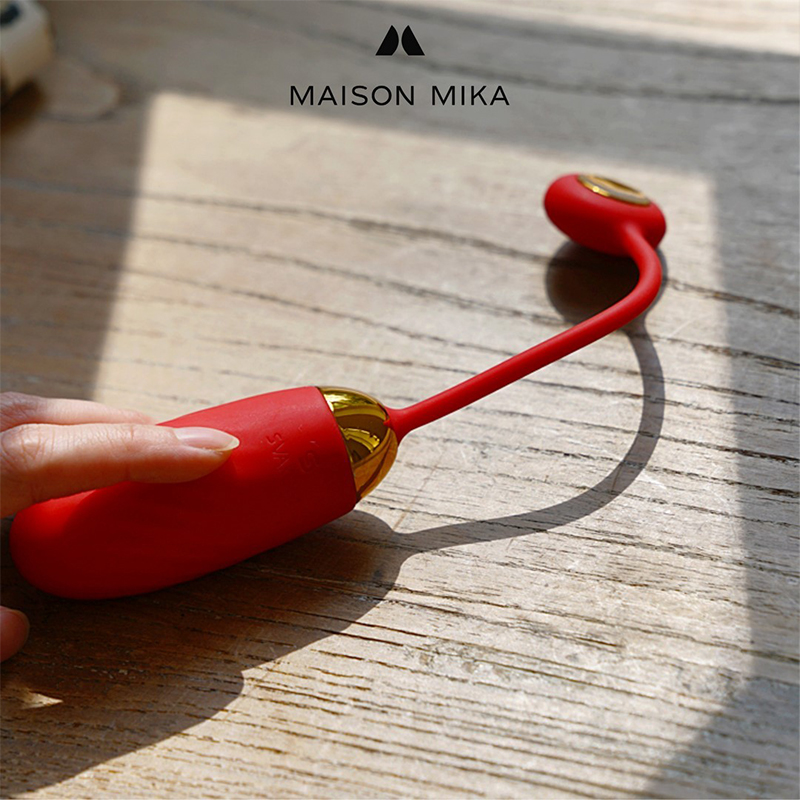 Source
The long "tail" of Maison Mika's wearable bluetooth vibrating egg may resemble a tampon, but it is in fact a button to control the vibrating modes. If you're feeling lazy to reach down while you're in the mood, play through its different intensities through the app instead. At this point, there's nothing your phone can't do. 
Its ribbed design offers better stimulation and it can also be slipped in between you and your partner during sex. Not to mention that it's also completely waterproof, so you can turn that porn dream of sex in the bathtub or the swimming pool into reality.
Price: $169.95
Where to buy: Maison Mika
Website | Facebook | Instagram
5. Tracy's Dog – Butterfly G-spot vibrator wearable dildo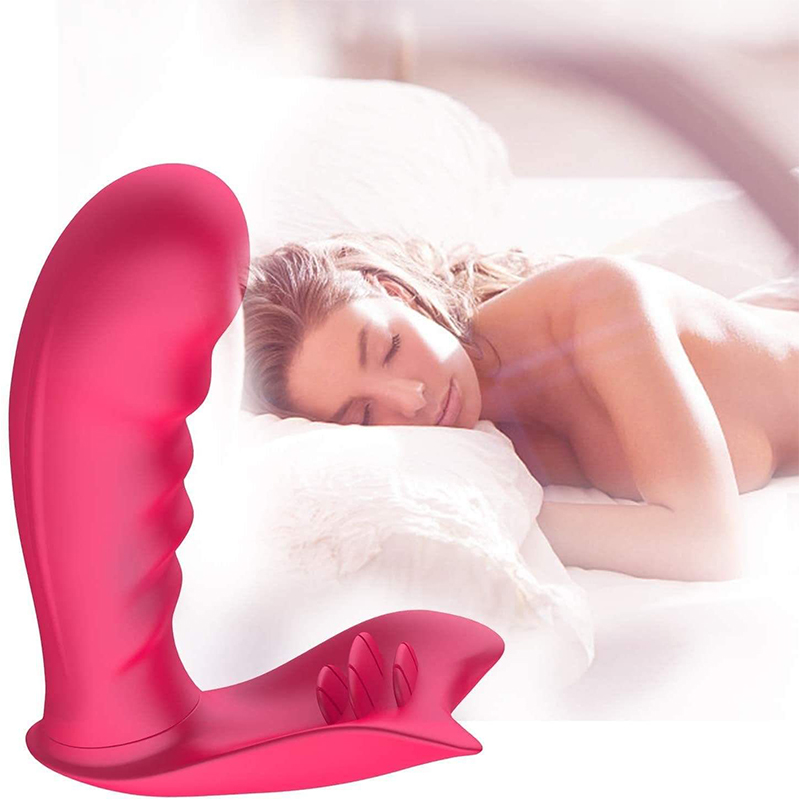 Source
Enjoy direct thrills from Tracy Dog's wearable dildo that can easily slip in to find the G-spot — something which some men struggle to do, if we're going to be honest here. It remains in place as you move and can be controlled remotely so your partner can sit back and watch you go wild with pleasure. 
Price: $70.70
Where to buy: Cherry Affairs
Website | Facebook | Instagram
Stimulation rings
6. We-Vibe Bond — Wearable stimulation ring for him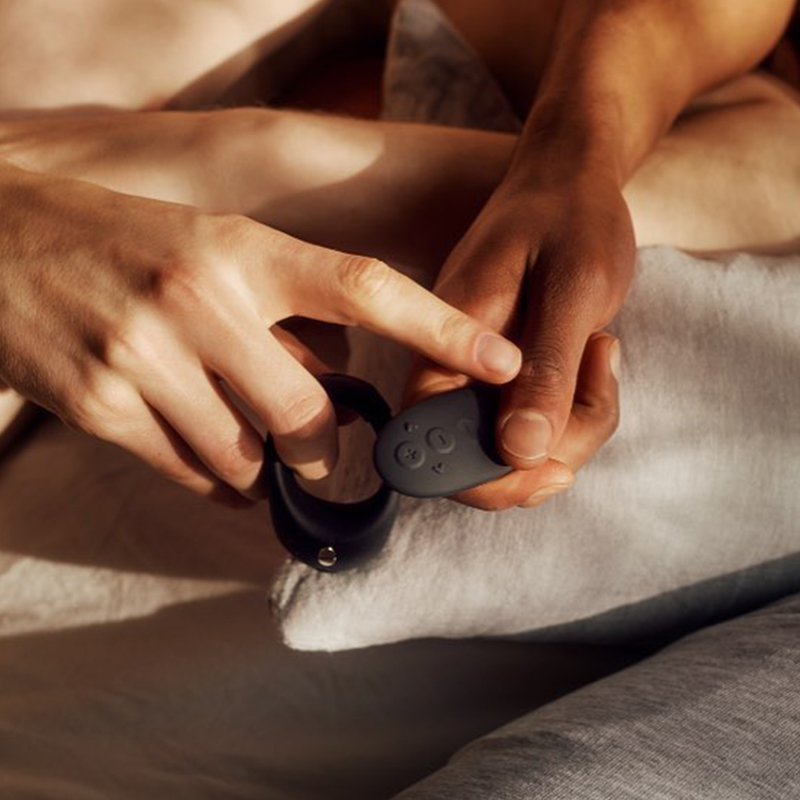 Source
There's just something extra hot about orgasm denial that awakens the domineering trait in all of us. The We-Vibe Bond encourages you to explore these adventures outside the bedroom with their wearable stimulation ring. Men can wear it beneath your clothes and experience the thrilling pleasure of giving your partner full control of your pleasure. 
The easy-on quick-release design and custom fit link also allow for easy wearing and taking off. 
Price: $180
Where to buy: Loveislove
Website | Facebook | Instagram
7. Screaming O — Charged Monarch wearable butterfly cock ring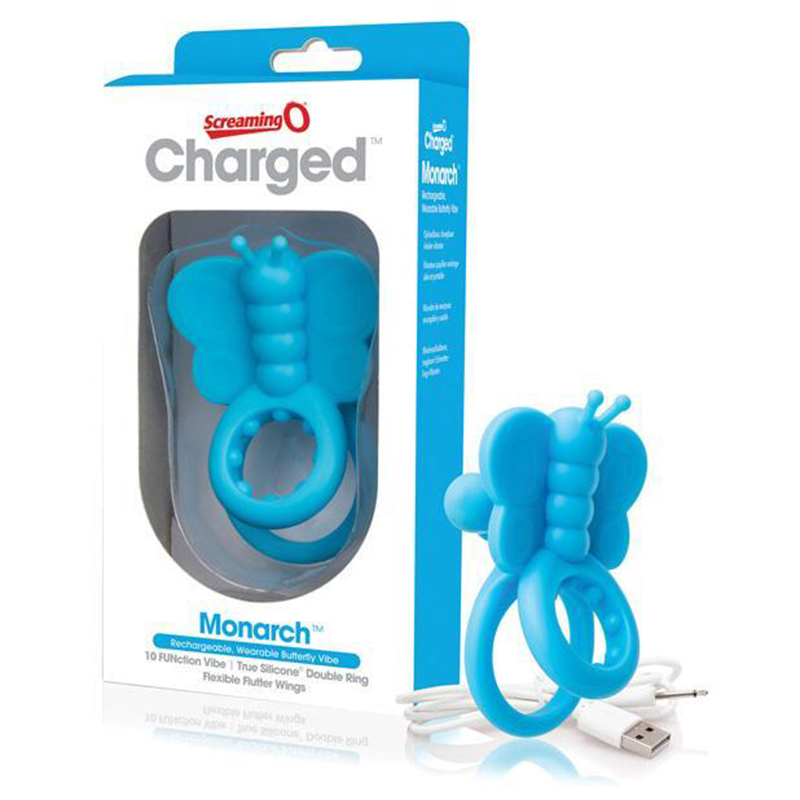 Source
Don't let this adorable butterfly fool you, the Screaming O wearable butterfly cock ring is definitely not a kids toy. Its 2 silicone rings are meant for front-fitting around the penis and the testicles to provide stable positioning.
Additionally, the flexible wings will flutter and flit the clitoris while giving an erection enhancement — we stan a toy that pleasures both him and her in bed. I guess it's time for your sex life to take flight on this little butterfly.
Price: $58.11
Where to buy: Cherry Affairs, Watsons
Website | Facebook | Instagram
8. Maison Mika — Remote control clitoris simulating vibrating penis ring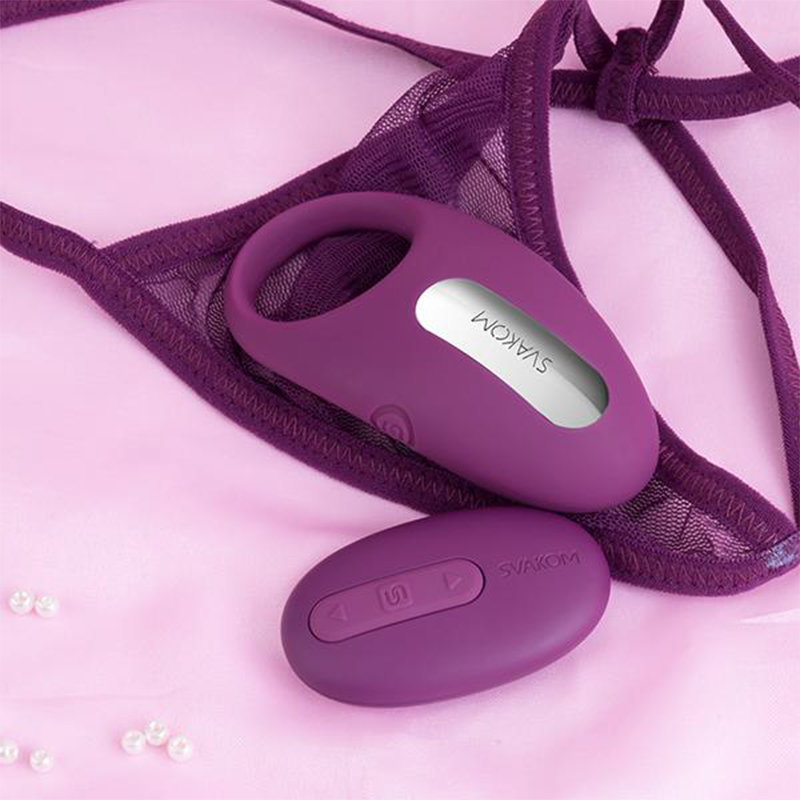 Source
Maison Mika's remote control vibrating penis ring increases stamina and allows men to last longer in bed. Whether it's during sex or masturbation, limiting blood flow to the penis enhances pleasure while its insistent buzzing remains "quieter than a ticking clock". 
Considering it has 5 modes with 5 intensities, they're a welcome feature to prevent you from getting caught being secretly naughty in public.
Price: $159.95
Where to buy: Maison Mika
Website | Facebook | Instagram
Also read:
10 Aesthetic Sex Toys On The Market Now, Ranked From Best To Worst For Some Excitement In The Bedroom
9. ElectraStim — Electrosex cock loops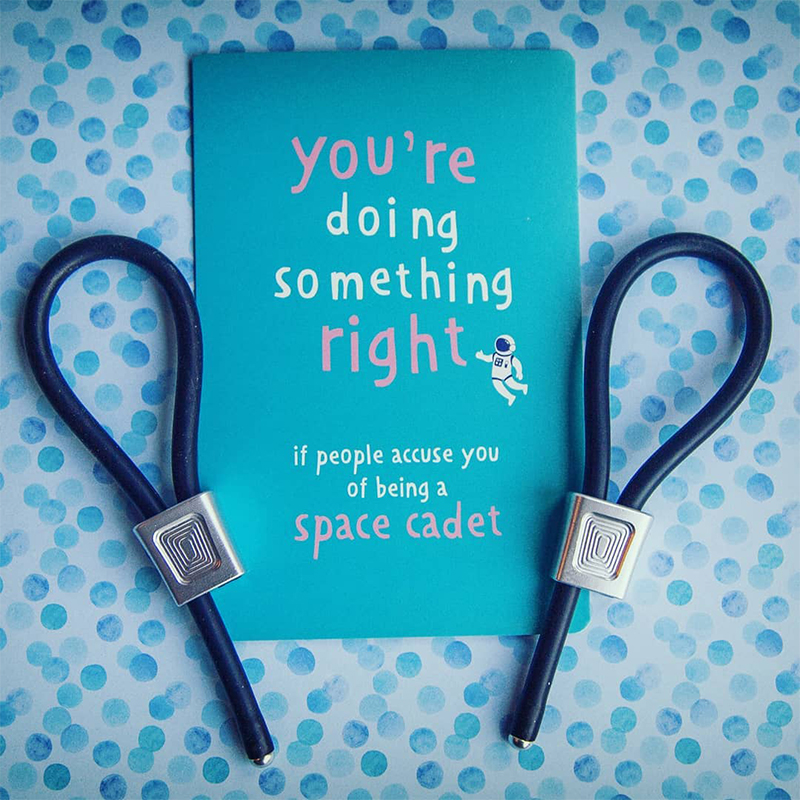 Source
Vibrating cock rings are one thing, but playing with electricity takes Pikachu's thunderbolt to a whole new meaning. The Electrosex cock loop is an adjustable cock ring made of rubber to evenly conduct electricity throughout the shaft of the penis. 
While it has to be used with caution, you'll be dancing on the fine line between pain and pleasure for a shock-ingly good session.
Price: $118.76
Where to buy: PleasureHobby
Website | Facebook | Instagram
Plugs
10. We-Vibe Vector+
Who said you had to be homosexual to enjoy the pleasure of anal sex? To get even straight couples into the world of butt-play, We Vibe's Vector+ helps males explore their prostate with ease. The device is an adjustable fit with 4 intensity levels and 6 pattern modes, so you can customise your enjoyment level to your liking.
Price: $200
Where to buy: Horny.sg
Website | Facebook | Instagram
11. Blush Novelties — Luxe wearable vibra slim anal plug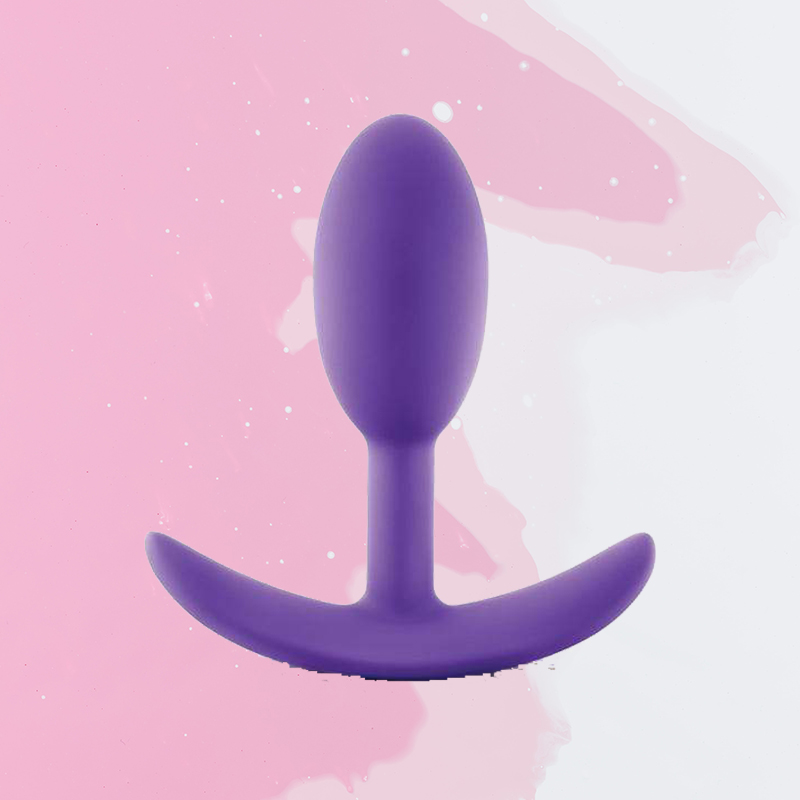 Source
If you're looking to take it slow with anal sex, the Luxe wearable vibra slim anal plug is great for beginners. The tapered design allows for easy insertion, while the anchor base for gentle removal. 
Here's the best part: no batteries or recharging is required. Even the slightest movement of your body will trigger silent vibrations to deliver pleasurable sensations throughout the day.
Price: $32.50
Where to buy: Cherry Affairs
Website | Facebook | Instagram
12. Doc Johnson Booty Bling – Wearable silicone beads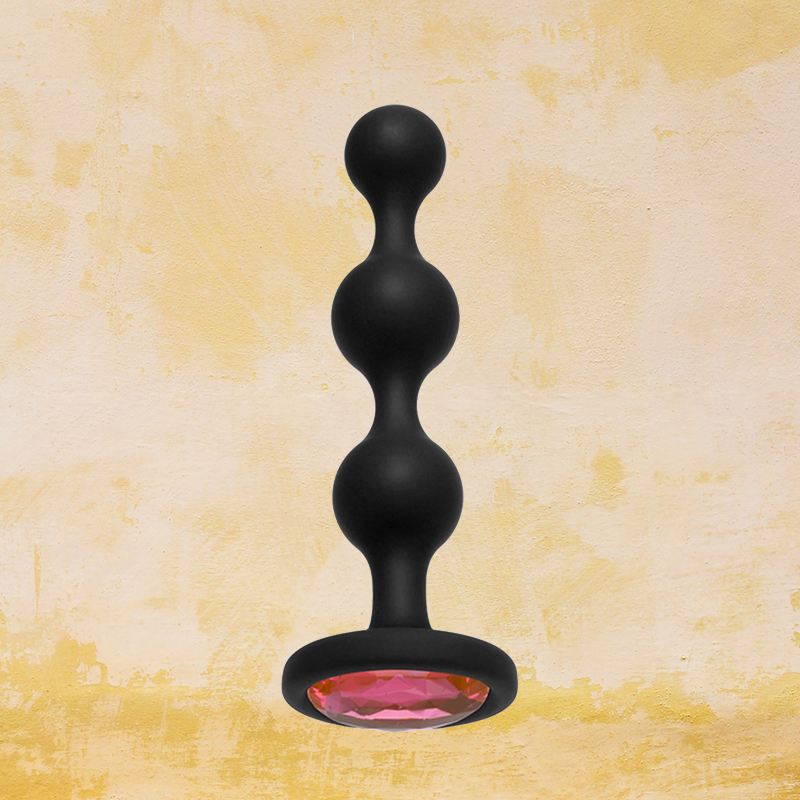 Source
Okay we'll admit, the Doc Johnson Booty Bling looks like it came straight out of a crude South Park episode. But these silicone anal beads are in fact comfortable for extended wear — a playful addition to spruce up your anal sex life. 
The flared base set with a sparkling pink jewel adds some beauty to your booty so you can feel extra sexy in bed.
Price: $56
Where to buy: Loveislove
Website | Facebook | Instagram
13. CalExotics – 3-piece wearable vaginal dilator set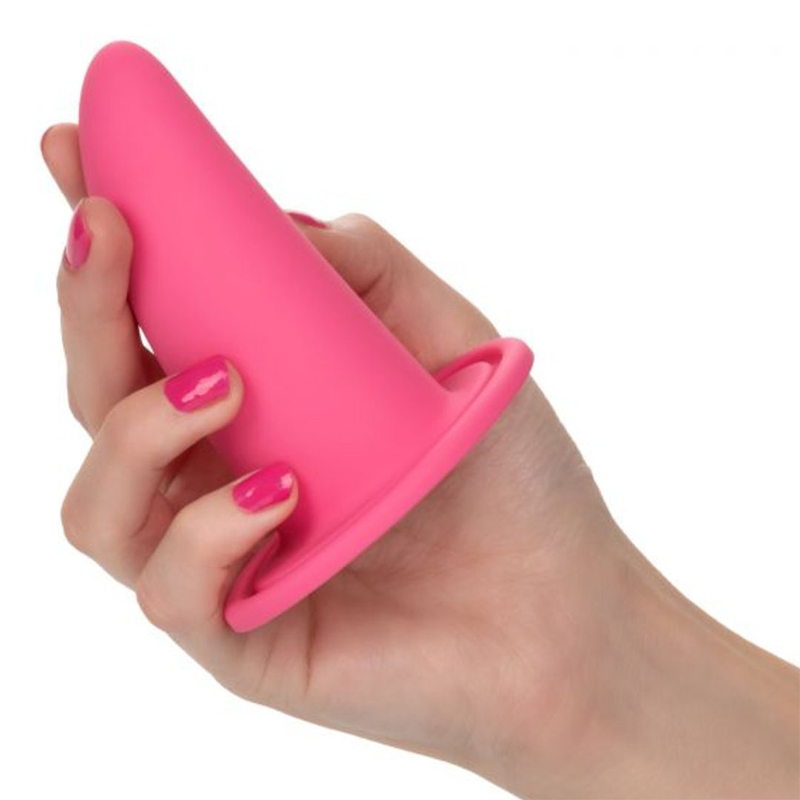 Source
For couples who just can't wait to get it on when you meet, the She-ology 3-piece wearable vaginal dilator can help to reduce time spent on prep. This uniquely designed dilator kit is curved for easy insertion and gradually sized as an alternative to the standard fingering.
Dilators help to enhance vaginal muscle strength and reduce the discomfort from him sticking it in, all while keeping your sensitive spots happy and healthy during the day.
Price: $79.30
Where to buy: Loveislove
Website | Facebook | Instagram
Strap-ons
14. CalExotics — Silicone remote control venus penis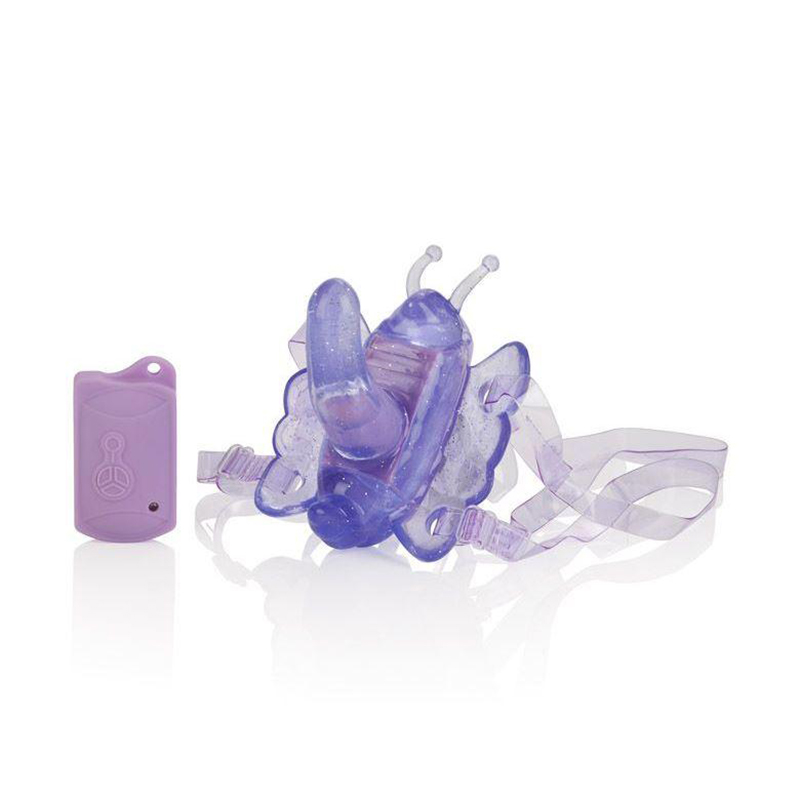 Source
Here's another butterfly toy to add to your list of wearable sex toys — the CalExotics remote control venus penis is an intimate massage toy with a far-ranging wireless remote. Complete with adjustable transparent straps, discover the best fit beneath your clothes with its barely-there appearance.
The butterfly massager comes with ticklers, a G-spot stimulator and fluttering wings for added feminine pleasure. It's innocent appearance prevents us from ever hearing the childhood song "ay ay ay, you're my little butterfly" the same way again. 
Price: $70
Where to buy: Loveislove
Website | Facebook | Instagram
15. CalExotics — Rechargeable lover's thong with pleasure beads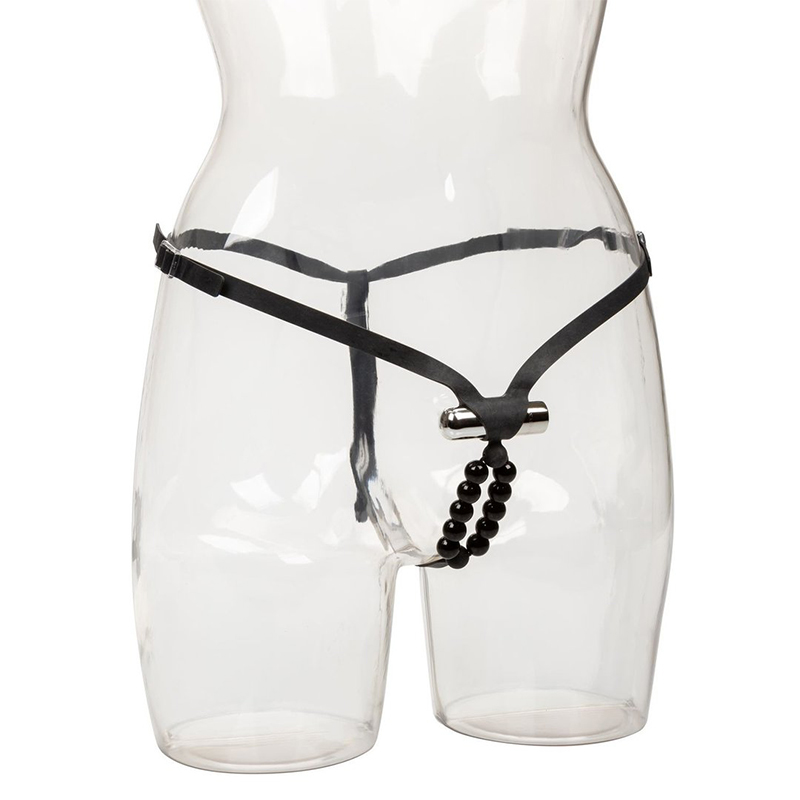 Source
If you're still looking for sexy lingerie stores in Singapore to show off your assets in bed, go for this rechargeable thong with pleasure beads instead. 
Unlike male orgasams that can be easily achieved, female orgasms still remain a Pandora's box for many females. Not to worry if you can't satisfy your queen. Combining the pleasure of the stroker beads and the powerful 3-speed bullet massager, this toy can achieve maximum pleasure for both him and her almost instantly. 
Price: $46
Where to buy: Loveislove
Website | Facebook | Instagram
16. Master Series — Bauhaus precision nipple clamps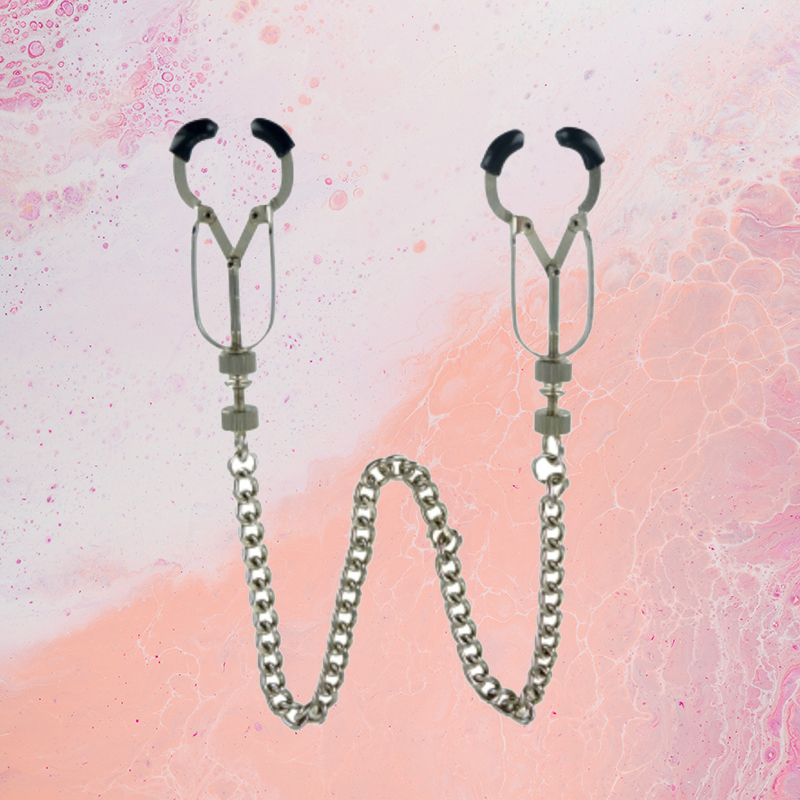 Source
When it comes to sex toys, we're all familiar with plugs and cock rings that make use of what's down there to achieve pleasure. However, many of us tend to forget the nipples, which are sensitive enough to invoke pleasure during sex.
Master Series' precision nipple clamps are Fifty Shades of Grey-worthy enticing chains with a delicate curve at the end to assist in gripping. According to one reviewer, who has "tried just about every type [of nipple clamps] and they all fall off, these actually stay on large nipples" as well.
Price: $39.90
Where to buy: Loveislove, Amazon
Website
17. Japan NPG Emi Fukada — Remote controlled breasts stimulator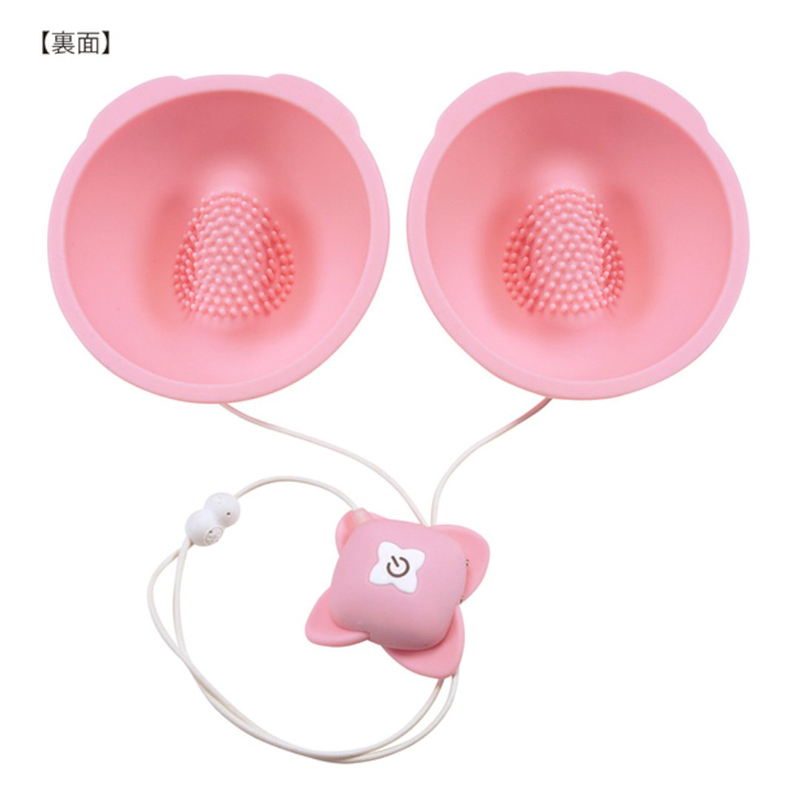 Source
As Japan is known for all things kawaii, not even their sex toys are spared from this detail. The Eimi Fukada remote-controlled breasts stimulator is more than just a nipple clamp, but it also comes with tickling teasers with 10 modes of vibration.
Sure, it may look a little like Kirby or Hello Kitty, but don't underestimate its abilities. Whether you want to up your foreplay or masturbation, it can definitely take care of an area that's often too under-appreciated.
Price: $90.80
Where to buy: Loveislove
These Wearable Sex Toys Are Perfect For Spicing Up Bedroom Activities With Bae
As society has progressed to be more open with conversations about sex, there's no shame in seeking wearable sex toys for a kinkier bed experience. As long as it's consensual and comfortable, you're in for a long night of intense fun with bae. 
Also read:
15 Sex Toys For Men To Level Up Bedroom Adventures Including Massagers & Strokers