WhatsApp Channels In Singapore
NGL, WhatsApp's recent updates have been fire – it's no wonder that it is one of the most used messaging apps in the world. If you're looking for a convenient and fuss-free way to keep up on the latest trends, events and deals, WhatsApp channels will be your new source of info. FYI, freebies are involved too. 
We've compiled a list of WhatsApp channels for you and your besties to join because good things must be shared. 
1. SG Budget Babes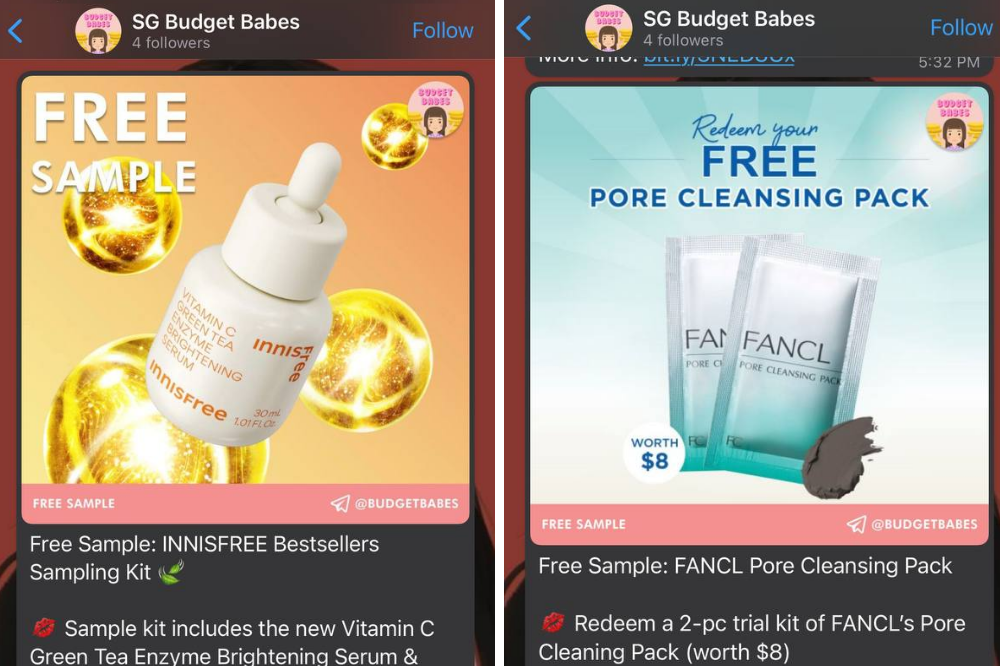 You can upkeep your material girl lifestyle with SG Budget Babes. With daily updates for beauty and fashion discounts, freebies and promos, everyday can be a self-care day without breaking the bank. 
Join SG Budget Babes on WhatsApp.
2. TheSmartLocal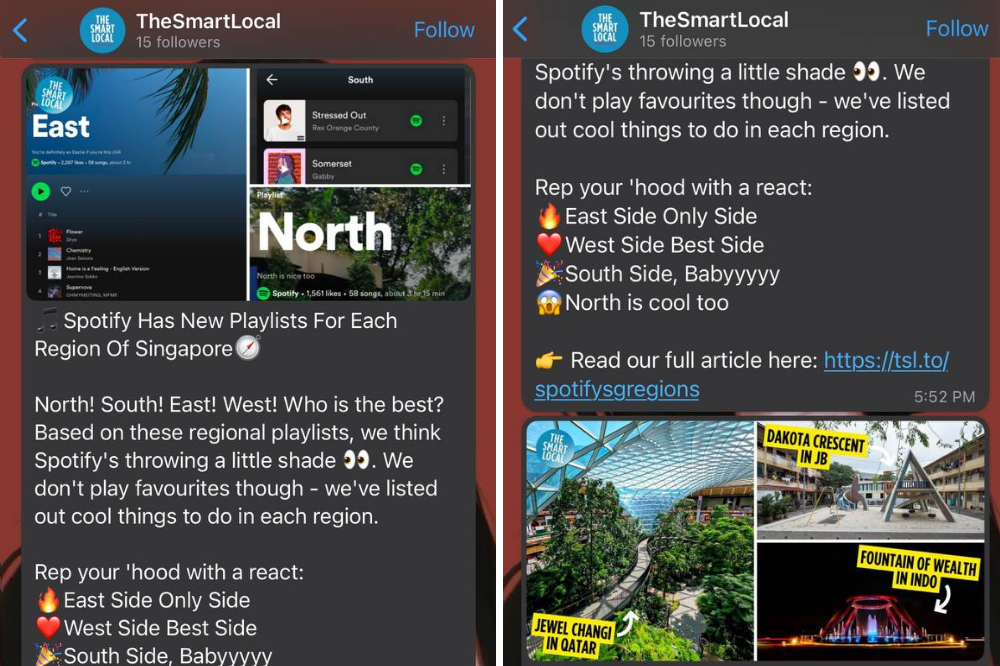 From culture to events, TheSmartLocal is the best lifestyle and travel channel that you need when planning for a fun day out with the girl gang. Expect to receive updates about the latest promos and offers about almost anything in our small island. 
Join TheSmartLocal on WhatsApp.
3. ZULA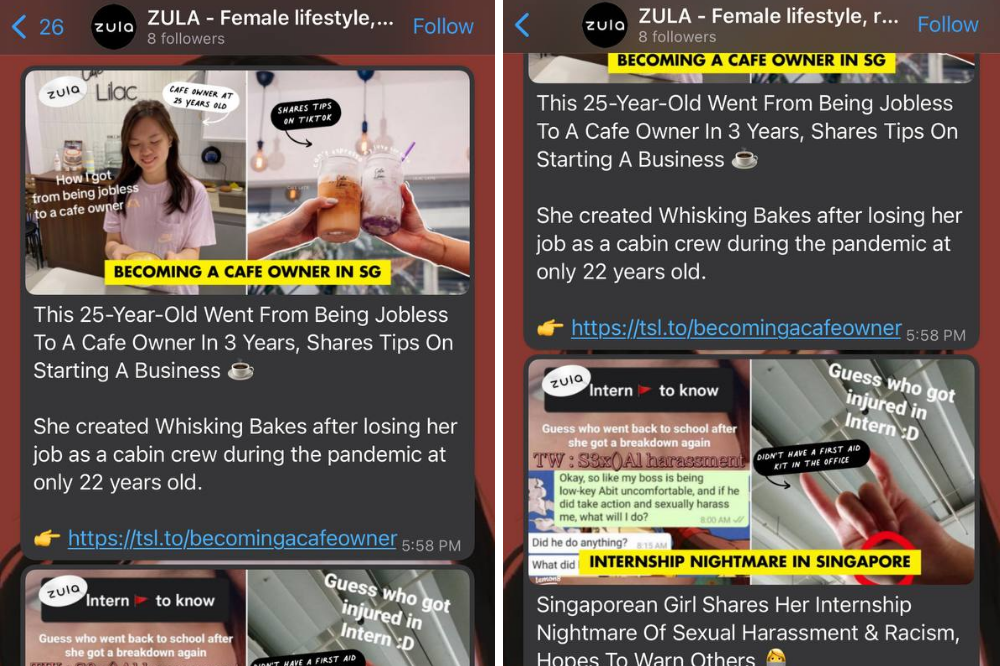 Totally no bias here but of course what's fashion, beauty and relationship stories without our site, ZULA? You can subscribe to our WhatsApp channel and scroll through super slay advice on love and piping hot celebrity tea. 
Join ZULA on WhatsApp.
4. SG Giveaway & Freebies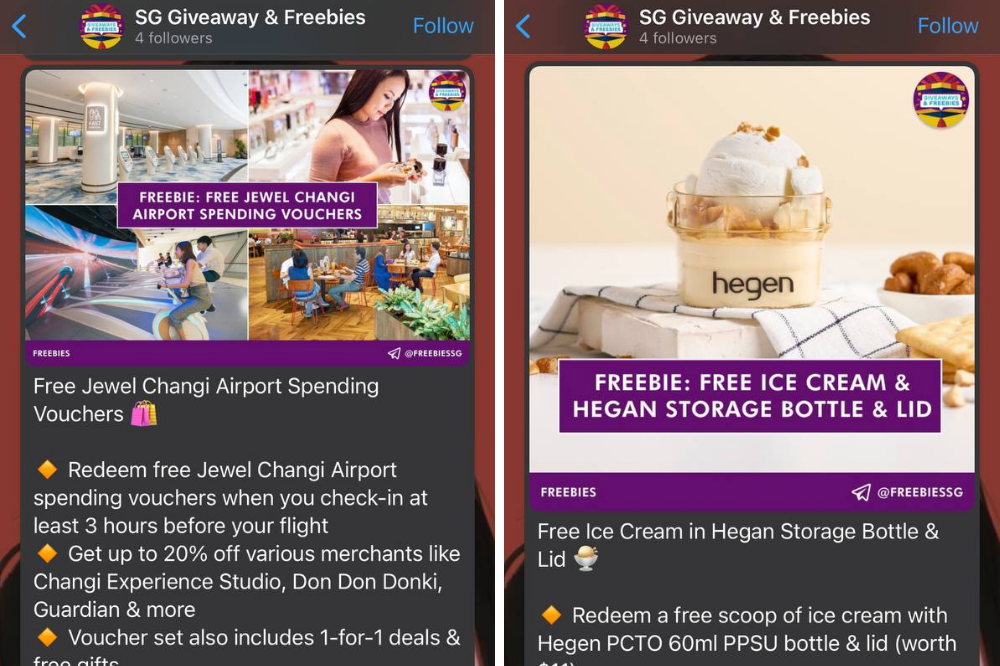 Let's be real, Singaporeans love complimentary stuff so naturally there has to be a channel to summarise all the lobangs out there. Follow SG Giveaway & Freebies and you'll be treated to frequent updates on where to get the best food, lifestyle and beauty drops. 
Join SG Giveaway & Freebies on WhatsApp.
Also read:
ARK 11 Is A Futuristic Theme Park Nightclub With AI Bars & A Giant Pulsating Heart On The Dancefloor
5. SG Student Promos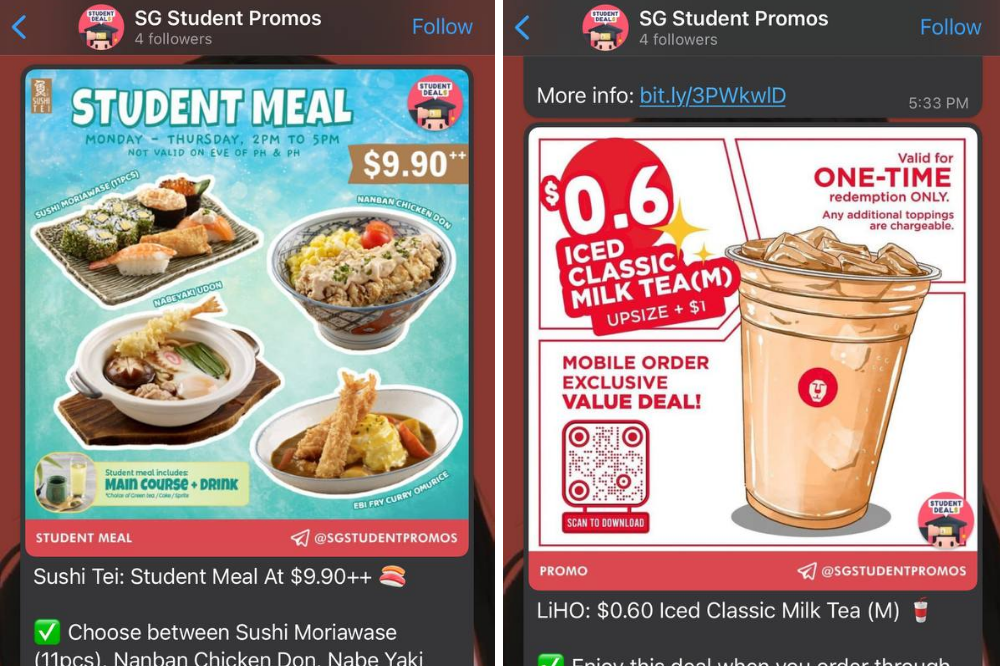 I understand how it feels to be a broke AF student so SG Student Promos is a lifesaver.  Thrifty students can jio their kakis for some delicious food or fashion deals without breaking the bank with the help of this. After all, who can turn down 60-cents bubble tea?
Join SG Student Promos on WhatsApp.
6. SG Travel Promos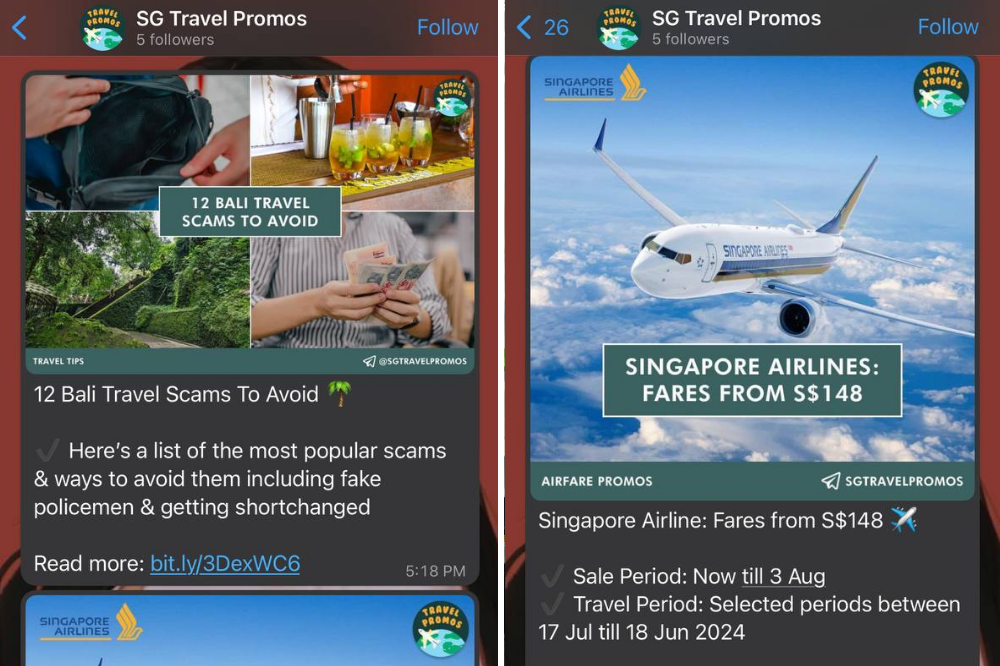 Thinking of a romantic getaway with bae but the prices are too high to even consider a short holiday? With SG Travel Promos, you can worry less about your bank account and focus on your next getaway with fare deals. Plus, they also provide useful travel tips so you can have a smooth-sailing trip no matter the destination. 
Join SG Travel Promos on WhatsApp.
7. SG Fitness & Health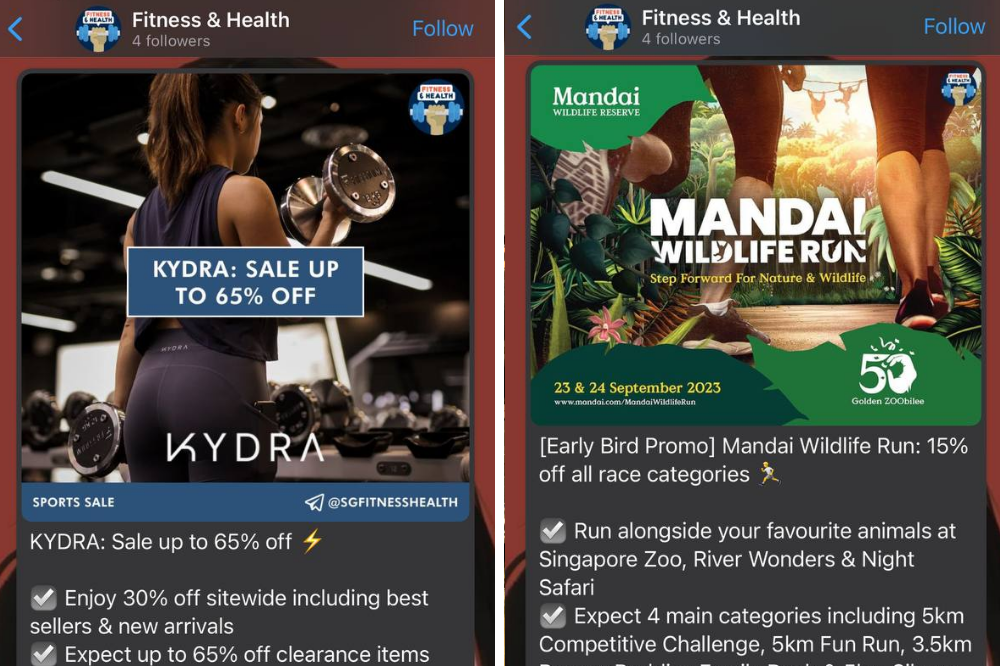 SG Fitness & Health has discounts, event updates, free trials and tips to kickstart your fit girl era. Athleisure girlies can also look forward to promos from brands such as KYDRA, Nike and Adidas to spruce up their gym OOTD. 
Join SG Fitness & Health on WhatsApp.
8. SG Cab Promos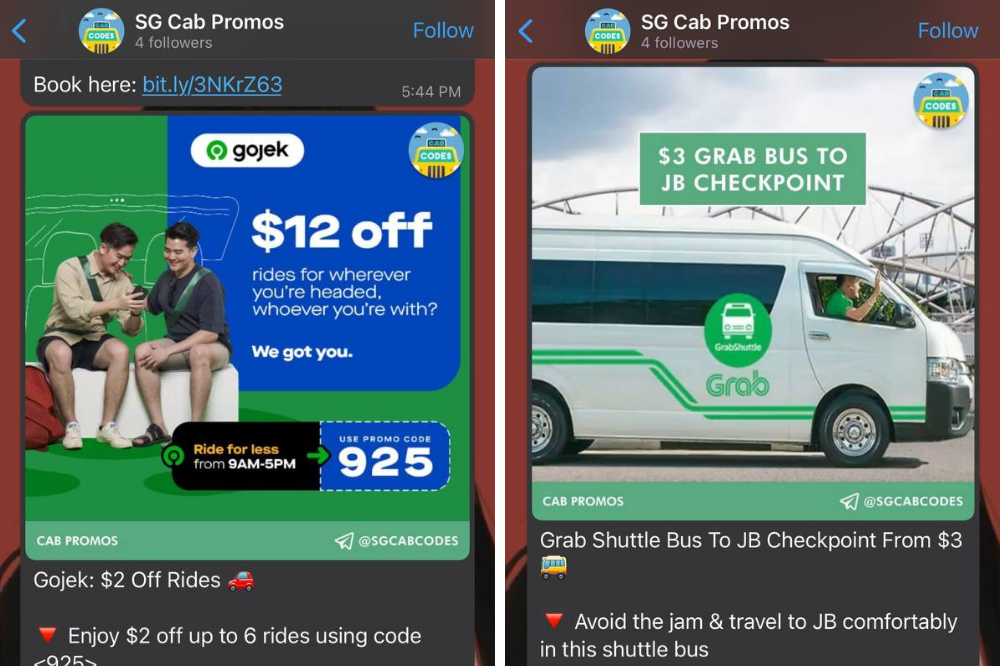 If you want to be a passenger princess on a budget, SG Cab Promos has frequent updates on promo codes and cashback deals for Grab, Gojek and ComfortDelGro. Who says travelling needs to be costly?
Join SG Cab Promos on WhatsApp.
These WhatsApp Channels Will Keep You Updated On The Latest Trends & Deals
With these WhatsApp channels, you need not worry about constantly trying to search for the latest deals and interesting events in Singapore. You can also check out our article on Telegram channels so you can be informed about deals and steals on two different messaging platforms 2
Cover: Images courtesy of writer
Also read:
Kosé And Disney Has New Skincare Featuring The Little Mermaid, Moana & Finding Nemo To Encourage Going Green