Xixi Lim Facts
For the longest time, "beautiful" women were deemed by society to be conventionally slim and skinny, while chubby ones were considered "unattractive". Fortunately, things have changed for the better ‒ conversations about the plus-size community are finally gaining positive traction, especially with the advocate of Xixi Lim. 
For the unacquainted, the 35-year-old actress, singer, and comedian has made her name through platforms like YouTube, and acted in Mediacorp dramas and local movies. Get to know Xixi better by checking out interesting facts about her below. 
1. She was a child actress
Fun fact: Xixi has been in showbiz for 17 years. She shared during a MeWatch video that she was a child actress, and currently dreams of playing the role of a mistress. Based on another source, Xixi was also the champion of a children singing competition hosted by Mediacorp when she was 7 years old. 
Perhaps with these exposures since she was young, Xixi was destined to become an artiste.  
2. Has been single for 11 years 
It is common to have the misconception that singles are "unhappy" because they don't have a significant other. However, there is nothing wrong with being single, especially if a person chooses to do so.  
In the same MeWatch video, Xixi revealed that she has been single for 11 years, meaning her last relationship was when she was around 24 years old. While we are unsure if she is currently seeing anyone, Xixi shows that there are many more things in life than prioritising in finding the one. 
3. Clapped back at haters who fat-shamed her
Receiving hate comments is probably unavoidable, especially if you're a public figure like Xixi. Back in June 2022, Xixi gained limelight from the public when she clapped back at one particular hater who constantly targeted her figure. 
She shared on Instagram a series of screenshots of the mean comments, and replied that she understands the health risks that come along with her plus-sized figure. Plus, she highlighted that she never encouraged anyone to be fat and that it is alright to be overweight. 
Concluding the saga on a lighter note, Xixi also said that "everyone is unique and everyone deserves to be loved no matter how [they] look". Slay. 
4. She is close to Glenn Yong
For someone who has been in showbiz for almost two decades, it is not surprising that Xixi has many celebrity friends IRL. 
One such example is Glenn Yong, an actor and close friend of Xixi who got closer thanks to their appearance in the Ah Girls Go Army movie series, and on YouTube channel Outcasts. Because of their close relationship, fans even created their ship name "Glenxi", which also resulted in rumours of them dating.  
5. Acted in Ah Girls Go Army
Unless you've been living under a rock, you'd probably have heard of local movie Ah Girl Go Army, which raked in more than SGD$1.67 million within its opening week in February 2022. 
Xixi was part of the cast and played the role of recruit Yuan Yuan Yuan, which caused a lil' hoo-ha due to her character's name ‒ netizens believed that Xixi was fat-shamed because "yuan" means round in Chinese. However, Xixi didn't see it as fat-shaming, but rather, commented that it was just a name.  
She reprised her role in the sequel Ah Girl Go Army Again, which was released later in June 2022. 
6. Appeared in numerous Mediacorp shows 
Before the appearance of streaming platforms like Netflix and Disney+, Singaporeans tuned in mostly to Mediacorp channels for entertainment. Xixi made her acting debut in the local scene through the Mediacorp Mandarin series The Oath in 2011, which kickstarted her career as an actress.
Since then, she has acted in other productions on Channel 8, Toggle, and Okto, and also snagged a role in English web series Girl Band Called Girl Band. 
7. She is a plus-sized model under Basic Models
Not many people know this ‒ Xixi is represented by Basic Models, a Singapore modelling agency. She has modelled for brands like Pomelo and Sephora, and was also featured in local magazines like L'officiel. Plus, she scored her first commercial deal with Bifesta alongside celebrity model Fiona Fussi in 2019. 
Proud to be a plus-size model, Xixi is an inspiration to those with similar body types who wish to step into the modelling industry.  
Also read: 
11 Facts About The Ah Girls Go Army Movies, Like Wild Boar Sightings & Making $2.5 Million At The Box Office
8. Advocates for the plus-size community
Assuring other plus-size ladies that they are not alone out there, Xixi advocates for body positivity and the plus-size community on her social media. The reason behind her actions is simple ‒ she hopes that others won't suffer fat-shaming like her because she knows how painful it could be. 
Hopefully, by sharing her unpleasant stories when she was a teenager, Xixi wishes to "help others in similar situations and let them know that it's really okay to be different." 
9. Lost 30kg in 6 months
Xixi has many impressive qualities, and one of them is no doubt staying disciplined. 
Together with the help of a professional slimming program, Xixi managed to shed 30kg in 6 months. She documented her journey on several Instagram posts, and updated her followers on how she was doing both physically and emotionally. 
While some might argue that she was able to transform drastically thanks to professional help, you have to give it to Xixi for committing to a rigorous schedule.
10. She is also a singer
It is not an exaggeration to say that Xixi is a multi-faceted artiste ‒ she acts, hosts, models, and also sings. Back in October 2022, she dropped her first single "I am Xixi" which is available on streaming services such as Spotify, YouTube Music, iTunes, and Google Play Music. 
The song showcases her confidence as an empowered female, and how she embraces her body and loves the way she looks. What's even more impressive is that Xixi also wrote the lyrics of the song.  
11. Pursued undergraduate studies at the age of 26
Xixi was 26 years old when she decided to pursue her undergraduate studies at Murdoch University. Since most people would have already graduated from university at that age, her decision suggests that she was willing to take a leap of faith by further educating herself. 
As a polytechnic graduate, Xixi mentioned on Instagram that she experienced "RP to Uni culture shock" when she first failed an assignment. Nonetheless, she managed to clear her courses, and graduated successfully with the support of her friends and family. 
12. Has a close relationship with her mother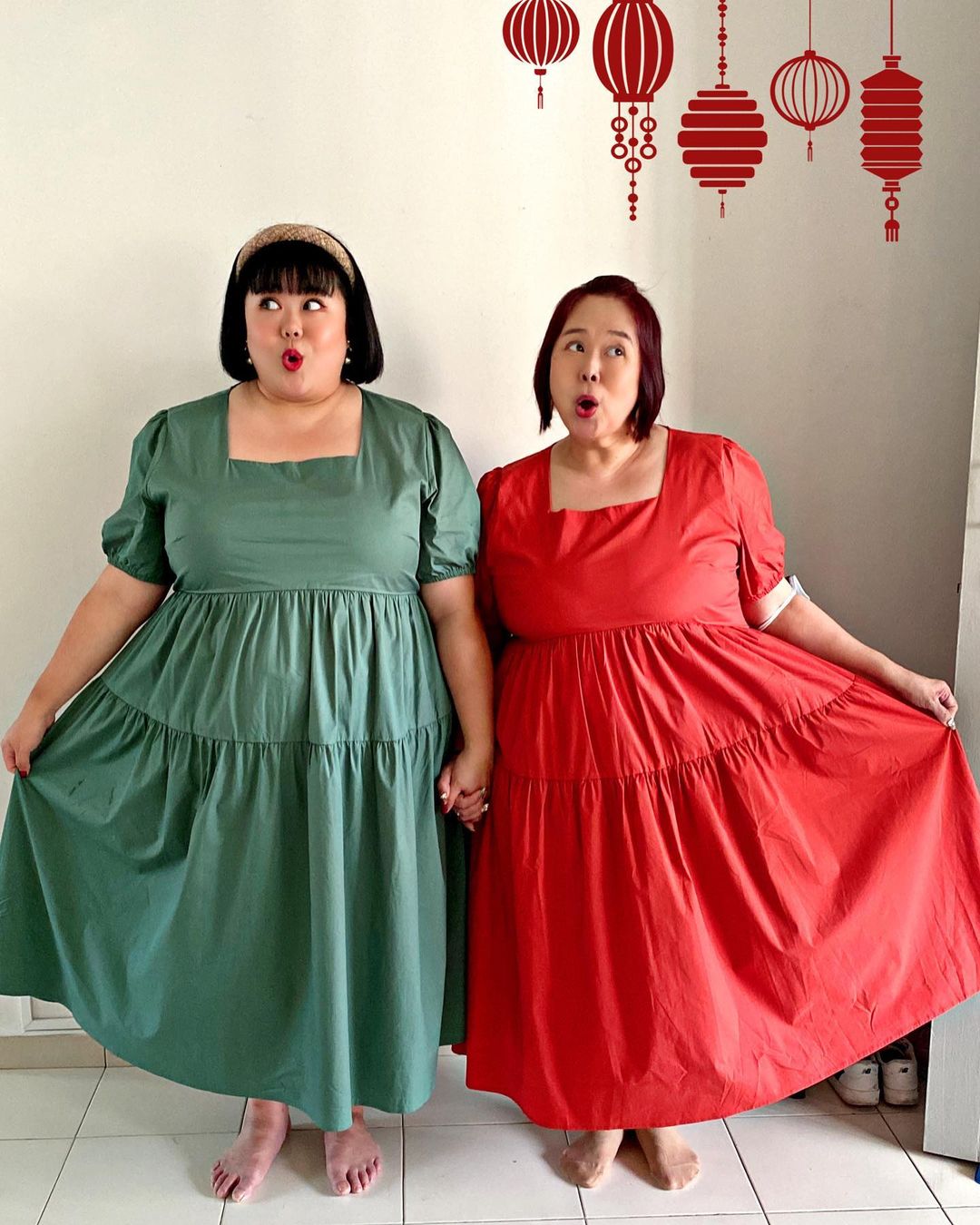 Xixi and her mother twinning during CNY celebrations
Source
A glance at Xixi's Instagram and you'll notice how she has dedicated numerous loving posts to her mother ‒ be it for her mother's birthday or any festive occasions. Their close relationship suggests their close bond, and it is touching to see just how much Xixi loves her. 
We can't help but stan a filial daughter. 
13. Her fan club is called "Aprexiation"
Nothing beats knowing that you have a strong pillar of support, whether it is from your loved ones or fans who silently support you behind the scenes. 
Xixi has a dedicated fan club called "Aprexiation", which promotes upcoming activities and events that she is hosting. Not to mention, they also create their own social content occasionally to express the love they have for Xixi. 
As a way to show appreciation right back, Xixi has also acknowledged their hard work and dedication by giving them a shoutout on her social media. 
14. Owns a pet dog
Xixi may have a busy work schedule, but she definitely has time for her furbaby aka her pet dog En En. The white pomeranian is not her first pet dog since she previously devoted a tear-jerking video message to her pet dog Xiao Xiao, which passed in 2020. 
Hopefully, we will see Xixi share more about En En in her future Instagram posts. 
These Xixi Lim Facts Show That She Is An Up & Rising Star 
Despite haters and mean comments, Xixi Lim is proving to be an inspiring individual who dares to speak up for herself and others. Her bright personality is a delightful addition to Singapore's showbiz, and we can't wait to see what the future holds for her. 
Also read: 
11 Facts About Glenn Yong, The Sergeant In Ah Girls Go Army, Like Not Dating Since NS & Studying CLB