Bling Empire Netflix
[Warning: Major spoilers ahead for Bling Empire on Netflix]
I went into Bling Empire, aka the reality series described as Crazy Rich Asians meets Selling Sunset, thinking it was going to be nothing more than trashy entertainment. Of course, the show delivered outlandish drama in spades (or rather, diamonds). But what I didn't expect was that, by the end of 8 episodes, I would also be served scenes of growth, poignancy and empowerment, courtesy of a line-up of strong female characters. In the words of Ariana Grande, the women of Bling Empire on Netflix see it, like it, want it, got it. And no, I don't just mean when it comes to shopping.
1. Anna: There ain't no dick that good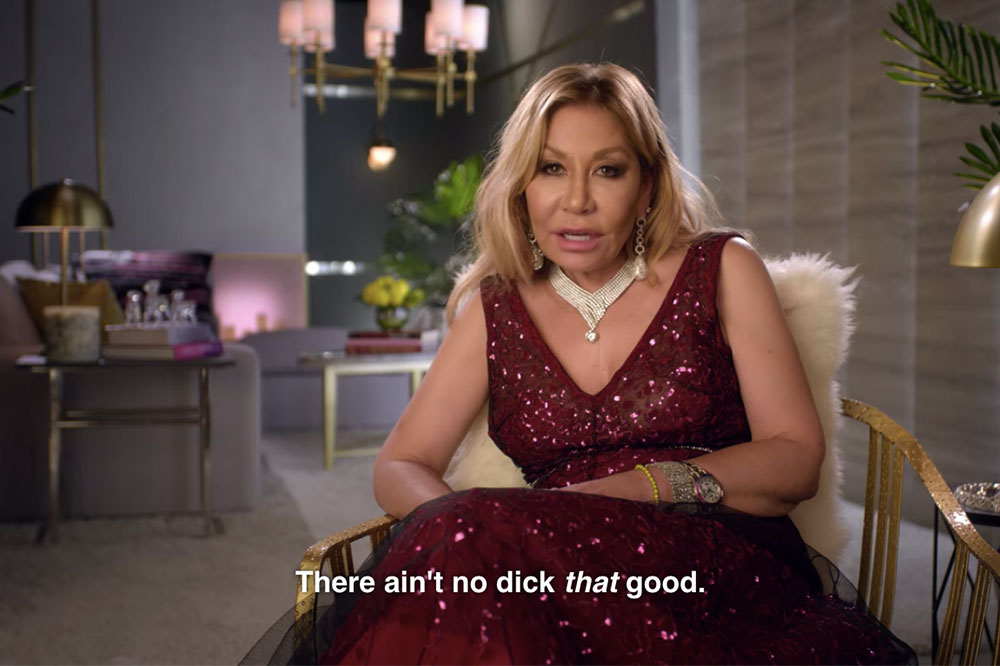 Image courtesy of Netflix
While some of the characters evolve over the course of the show, Anna Shay is brilliant from the get-go. The socialite is like a one-woman meme machine brimming with quotable quotes, including the now-legendary life lesson known as: "There ain't no dick that good."
She says this in reference to another cast member Kelly Mi Li's toxic relationship with Andrew Gray, after hearing Andrew explode over the phone about being abandoned by Kelly (see point number 6 for more).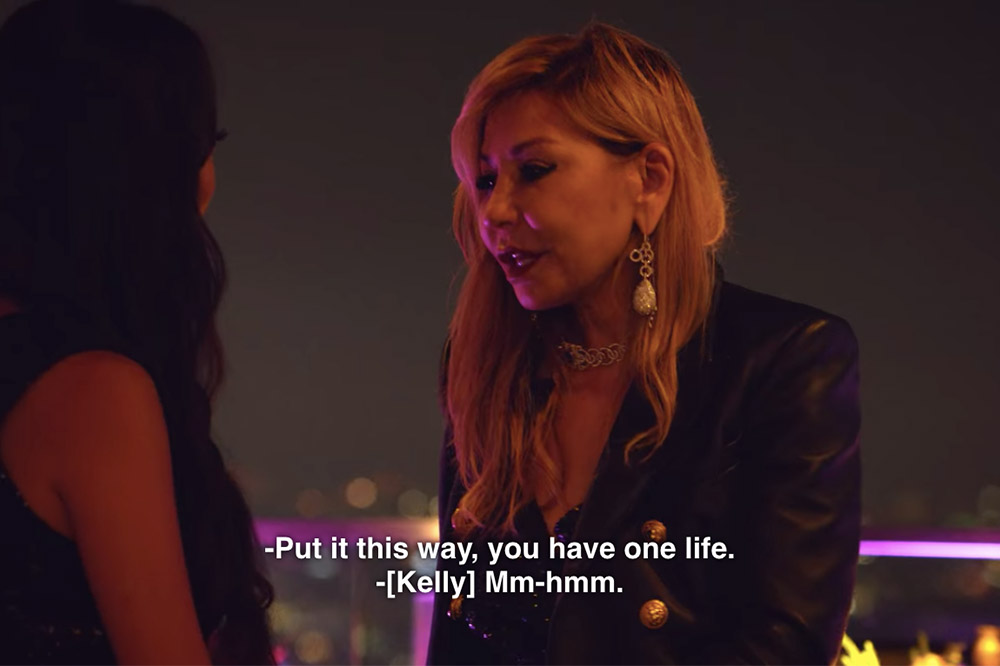 Image courtesy of Netflix
She then repeatedly tries to counsel Kelly, telling her that we all have one life, and you should live it to the fullest.
Rest assured she puts her money where her mouth is. After all, it's her life experiences that have turned her into the sage she is now. In one episode, she shares how she's been married 4 times. Each time, she had a great time. "Even the divorce part was good. I think it's all how you look at it, that people come into each other's lives to have an experience and move on to the next chapter."
Whether it's her age, marital status or sex life, Anna is unapologetic about how she lives her life. Essentially, Anna DGAF. We can only hope to be as wise and young at heart as she is when we're her age.
2. Christine: Fight for your own body and rights
Christine engaging Anna in childish one-upmanship is not a good look. However, there are moments when we see a more genuine side to her.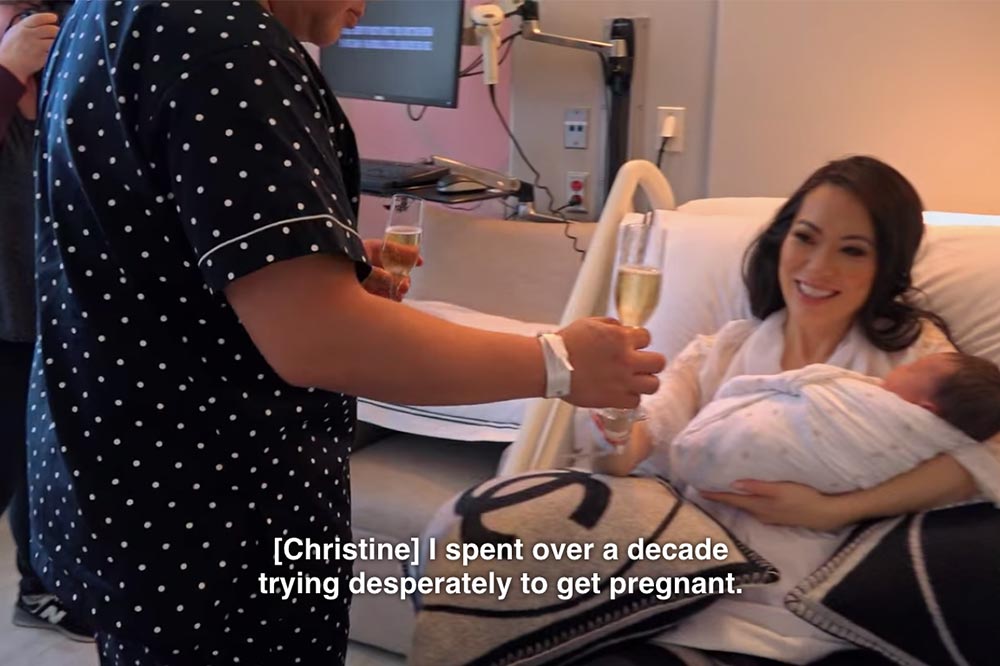 Image courtesy of Netflix
In the trailer for Bling Empire on Netflix, Christine announces that her husband, Gabriel Chiu, is a direct descendant of the Song Dynasty. She shares how, in Chinese culture, your expectation as a wife is to provide a male heir. Because she was unsuccessful in getting pregnant for 11 years, she was deemed unworthy by his family. It's only after the birth of their child that Christine finally feels accepted. 
The burden of feeling like it's your duty as a wife to reproduce and carry on the family legacy, dynasty or not, is a universal one. Women across history have found themselves subject to the demands of their partner, parents and in-laws; even if it is their own body at the crux of the matter.
Image courtesy of Netflix
So when Gabriel brings up the fact that he wants another child, it's empowering to see Christine stand up for herself. Over several scenes, we see her break down the reasons why she is against it, including because of the trauma she endured while trying to conceive.
Even after her traditional in-laws okay the idea of having a surrogate, she sticks to her guns. In a firm and calm manner, she shuts down the idea. She might be prone to games over diamond necklaces and what not. But when it comes to her body and her rights, Christine isn't playing around.
3. Cherie: Know what you want and go for it
It's easy to dismiss women like Cherie Chan. She speaks with a high-pitched voice and is fond of wearing crowns. As it turns out, Cherie is proof that just because you look like a demure princess, it doesn't mean you are a pushover.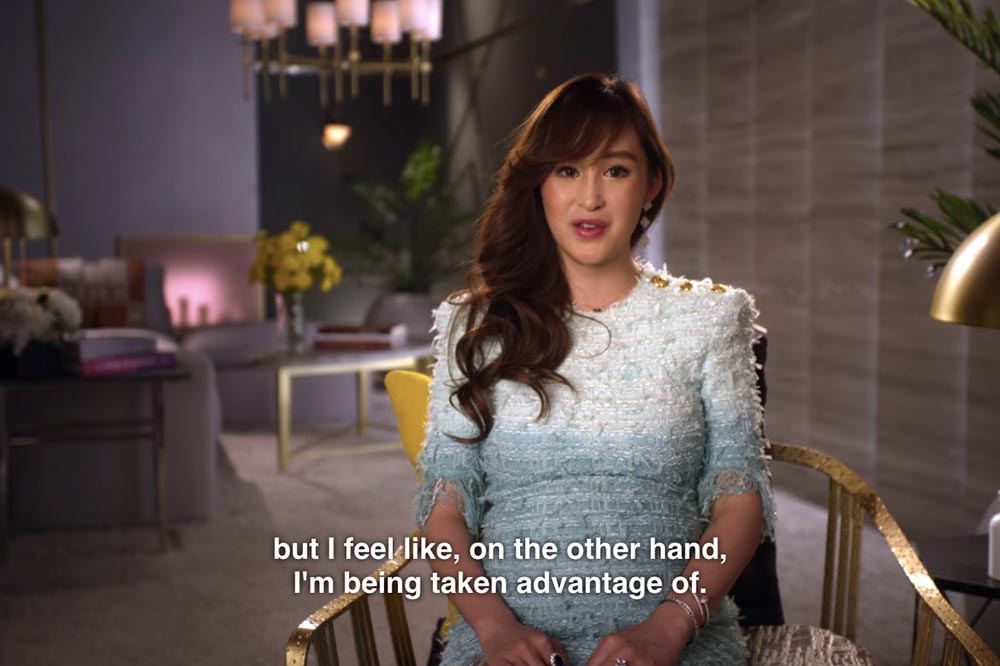 Image courtesy of Netflix
Cherie is sick and tired of waiting for her boyfriend of 5 years, Jessey Lee—with whom she has 2 kids—to propose, despite her asking him repeatedly when he will do so. She shares in an episode, "I don't want to take the lead and tell him what to do, but I feel like, on the other hand, I'm being taken advantage of…I don't know how much longer I can wait. Something needs to change." 
It's a sentiment that many women, no matter the size of their bank account, can relate to: the idea of taking a backseat in a relationship, instead of the driver's seat, because that's just how it is. 
Image courtesy of Netflix
In the final episode, Cherie takes matters into her own hands. She proposes to Jessey, on-stage and in front of all their friends, no less.
She does so despite another cast member, Christine Chiu, warning her against it (which, even if she meant well, was pretty retrograde). Cherie knows it's what she wants, and she is not here to waste any more time—even if she knows that there is a high chance that Jessey will be angry with her; even if a woman proposing to a man is still not the norm.
Also read:
20 Kane Lim Facts Including His Family, How He Amassed His Wealth & Bling Empire Season 2 News
4. Kim: Everyone deserves a second chance
After the penis pump incident, it's safe to say that Kim Lee did not leave a good impression. Barging into someone else's house and throwing their personal items out the window is rude and disrespectful, no matter what culture you're from.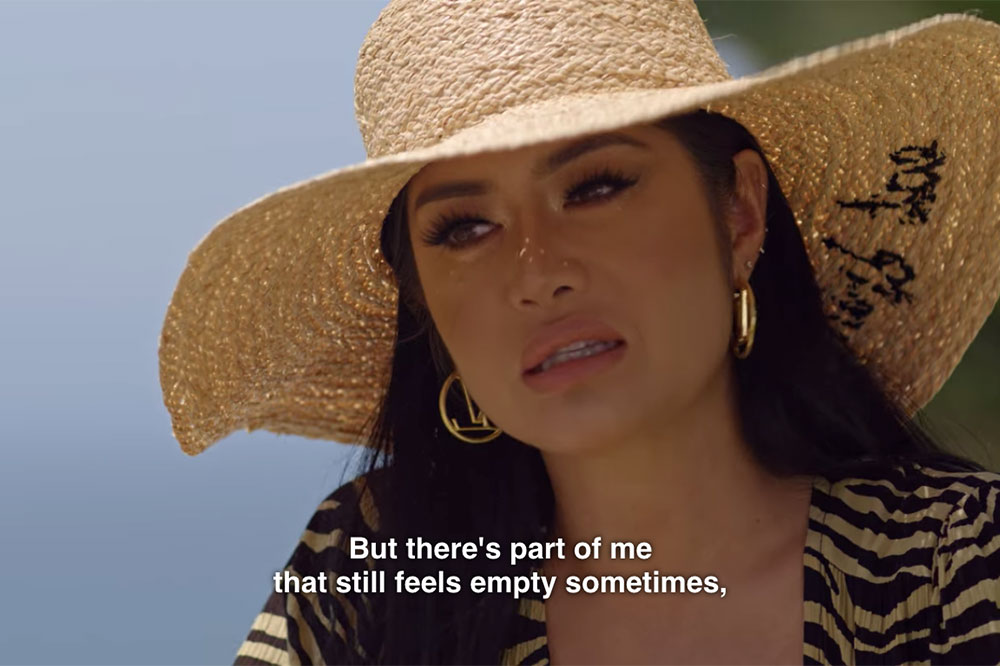 Image courtesy of Netflix
But as she goes through the journey of trying to find her estranged biological father, and eventually finds out that he is dead, we see Kim evolve in front of us.
The scene below from the season finale can be summed up in 2 words: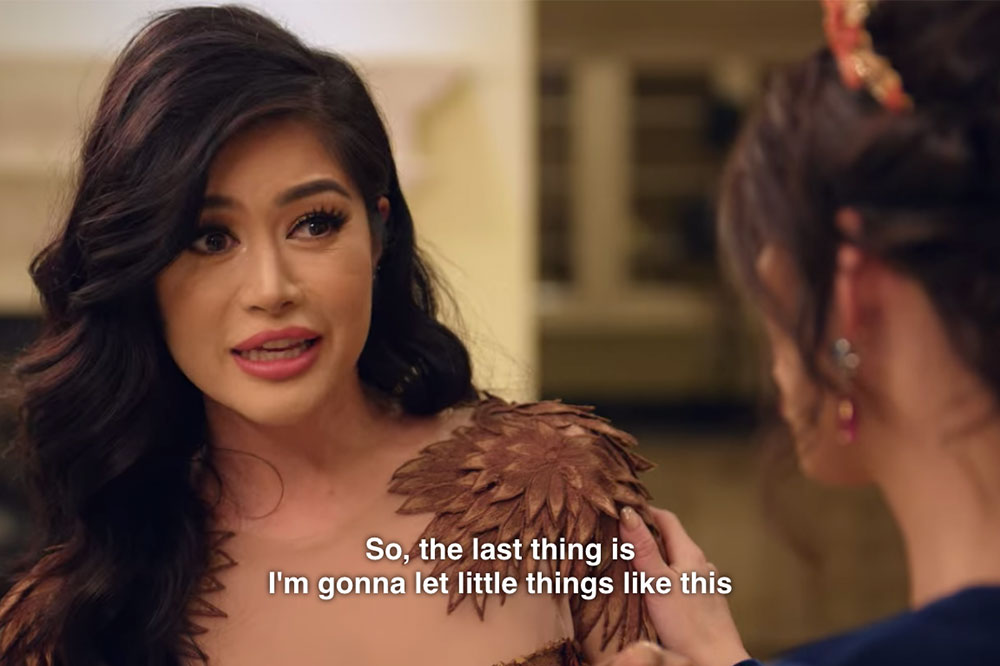 Image courtesy of Netflix
Character…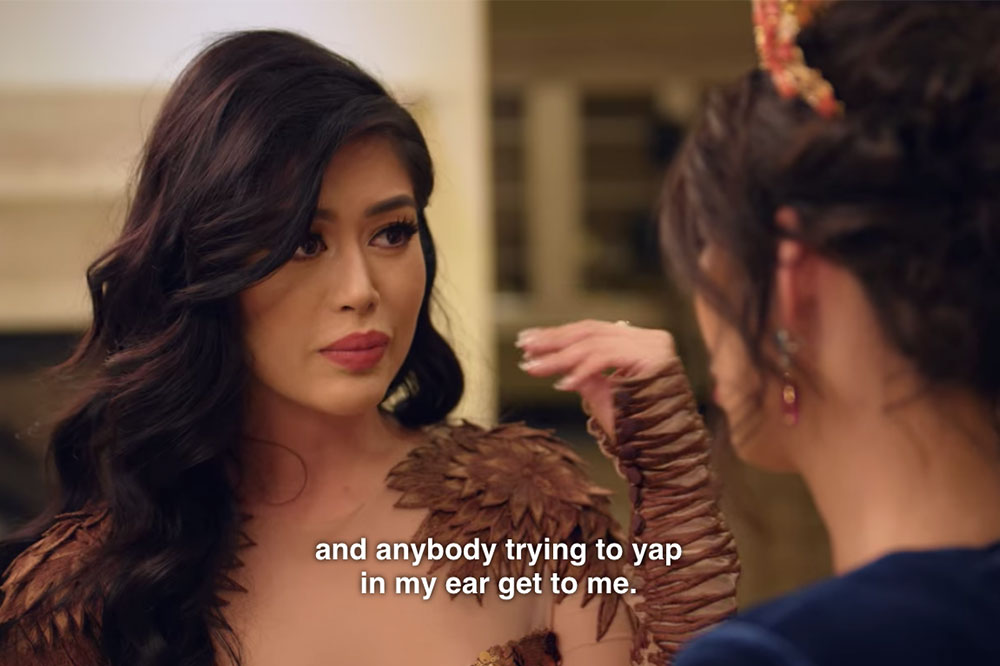 Image courtesy of Netflix
…development.

Ultimately, we see how Kim, like the rest of us, is trying to grow and mature as a person, one day at a time.
5. Jaime: Drama is overrated
Bling Empire is a reality show. Naturally, there needs to be drama in every episode, whether it's scripted or not.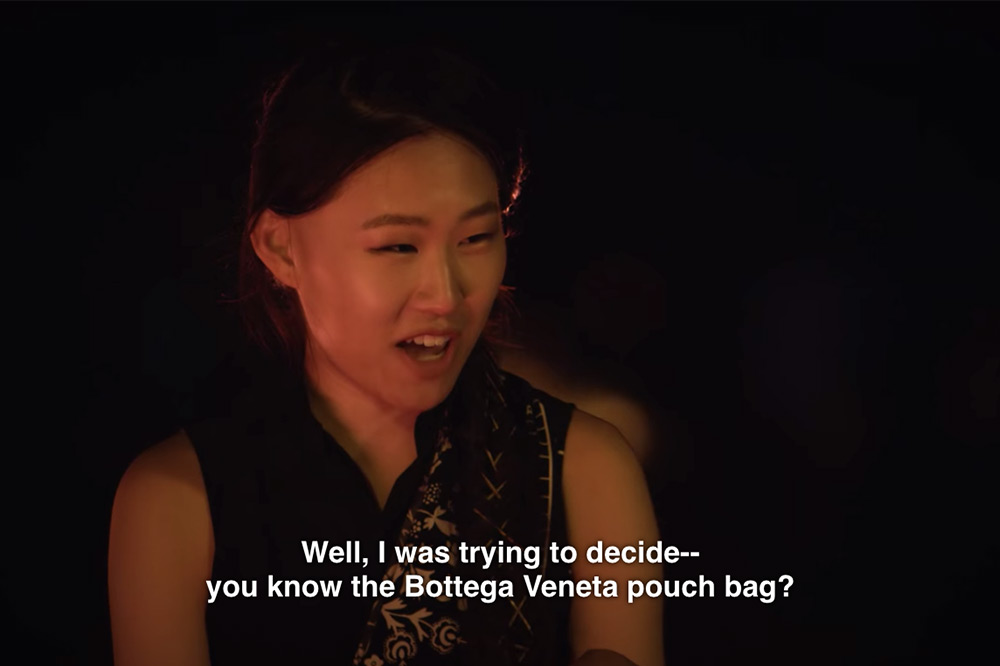 Image courtesy of Netflix
One of the funniest moments of the show is when some of the Bling Empire cast members consult a shaman over a beach bonfire. During Jaime Xie's one-on-one with the shaman, he tells her that she needs to trust herself, instead of consulting everyone all the time. She concurs, and brings up the fact that she had difficulty choosing between a nude or mist-coloured Bottega Veneta bag. 
Sure, you could say she is a trust fund baby who has nothing to worry about other than what bag to buy. But to be fair, isn't that almost everyone on the show? 
Anna and Christine's frenemy relationship proves that it is possible to create drama out of nothing, even when you have everything. But Jaime shows us that you can choose not to let the drama run your life. She does her own thing, and leaves the theatrics to everyone else.
Source
In a follow-up interview with the cast released by Netflix on YouTube, the cast was asked which member they would drop from the group chat. The answer was unanimous: Jaime, because she never responds. Instead, she's busy getting that bread by growing her social media following. 
6. Kelly: We are all works in progress
We all know someone like Kelly. That is, a woman who seems to have every part of her life together, other than her love life.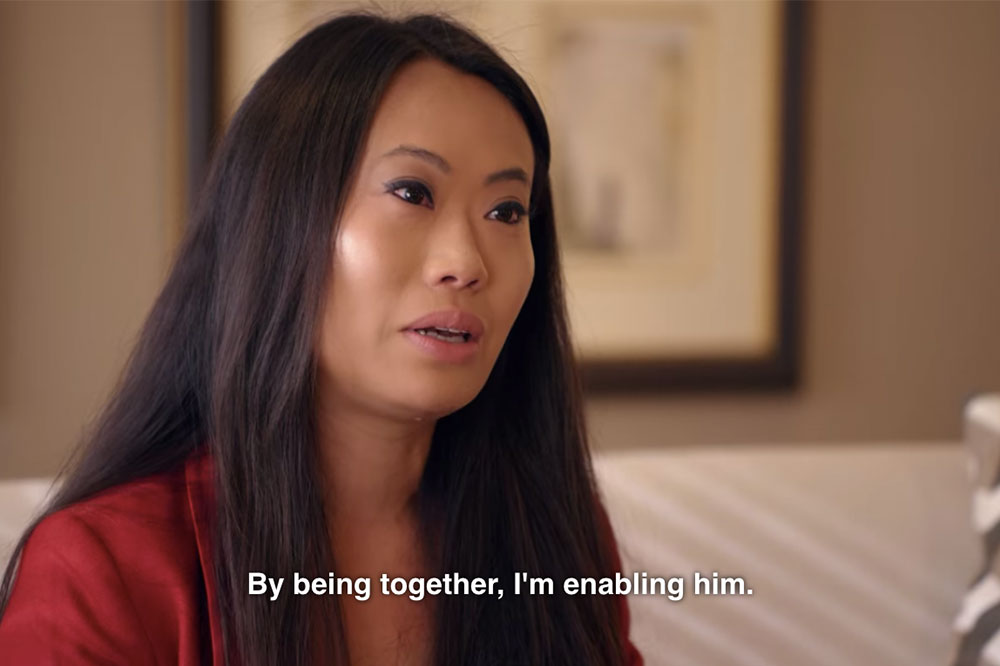 Image courtesy of Netflix
Kelly is stuck in a toxic relationship with her on-off boyfriend, Andrew. Her friends (and everyone watching) wish she would just end things with him completely.  
Yet, you can't say that she's not self-aware. Kelly suggests couples therapy after the fight in Paris. She understands that their relationship is toxic, and that she is enabling Andrew. She also initiates the separation, and asks Andrew to move out.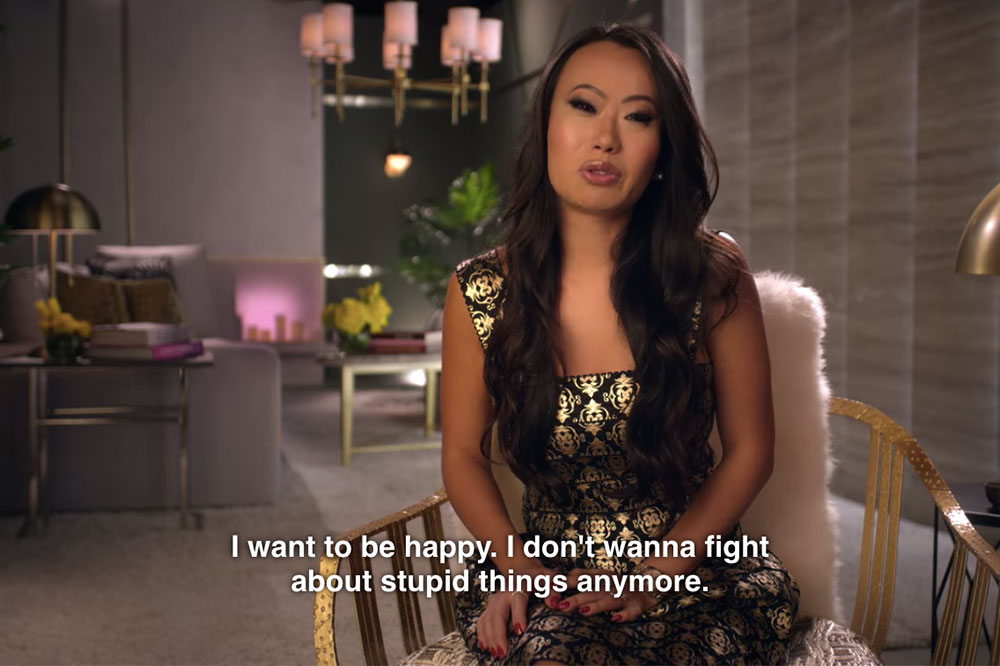 Image courtesy of Netflix
She's trying, and that counts for something too. Now, let's hope she tries harder next time, and every time after that.
7. Cindy, Emily and Kimmy: Mums are awesome
Main cast aside, Bling Empire on Netflix also gives us the chance to meet some of the women who raised them.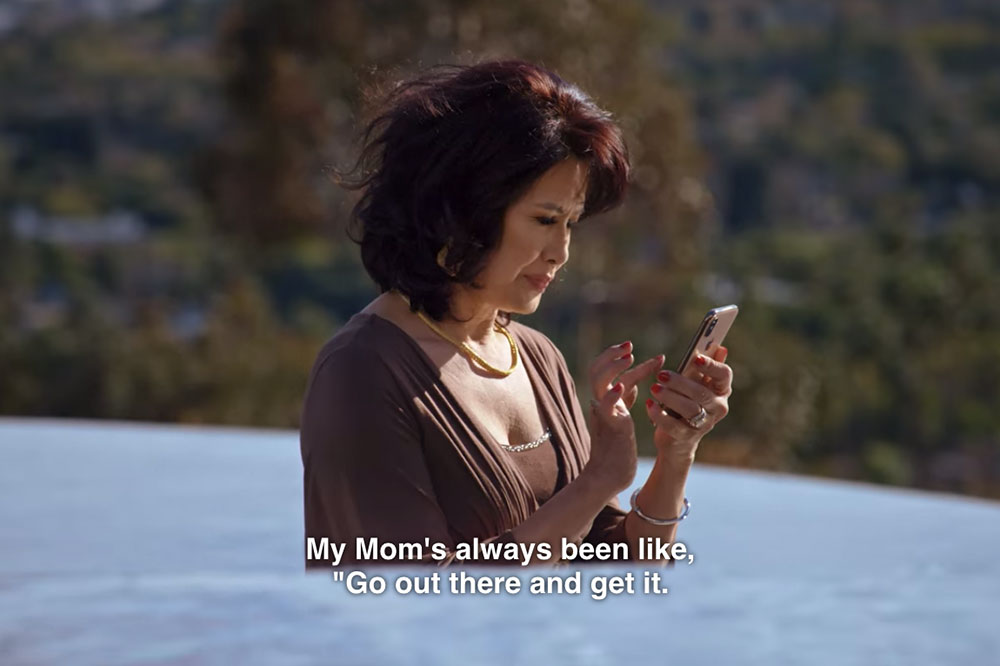 Kim's mother, Kimmy, is her daughter's biggest hype woman. She art directs Kim's Instagram shoots, advises her on her best angles and asks her to flaunt what she's got.
And, when Kim decides to look for her biological father, she puts aside her own reluctance to talk about her ex-husband and supports her unconditionally.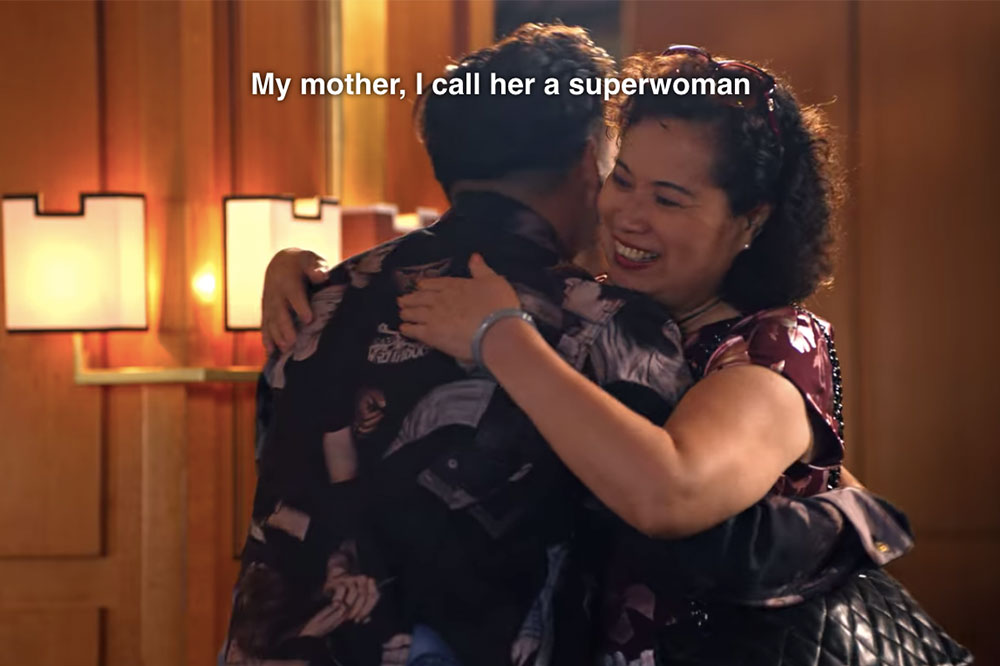 Kelly calls her mum, Emily, a superwoman. She left a stable job in a high position in China for the U.S., and took on 3 jobs so her then 10-year-old daughter could start a new life.
The pair's love and respect for one another come through whenever they appear on-screen together, whether it's when Kelly is introducing Emily to her friends, or they're kicking off a mid-autumn festival party.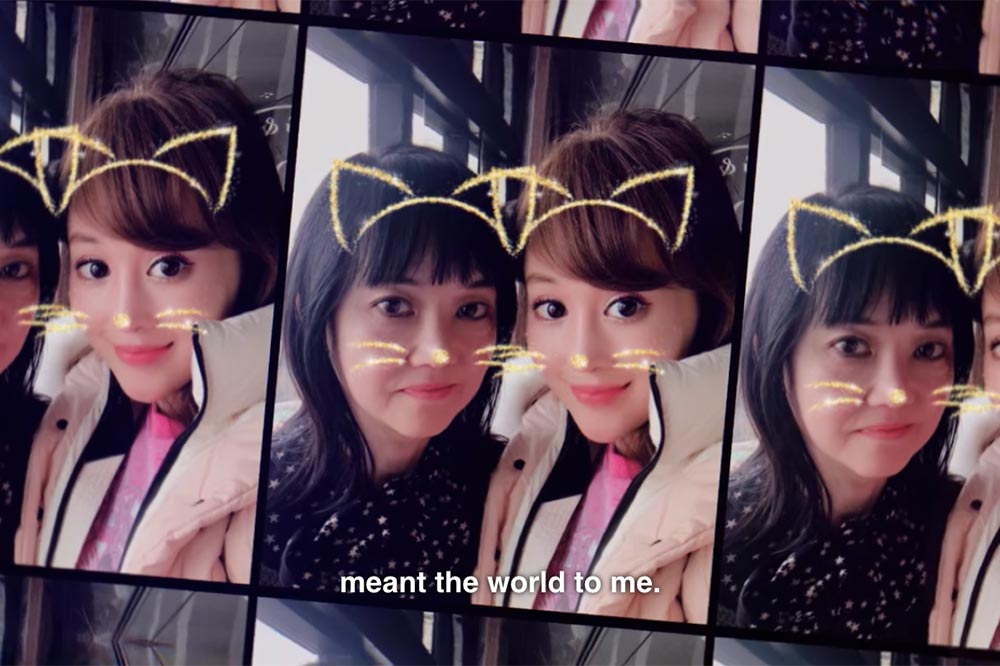 Then there is Cherie, whose mum passed away from pancreatic cancer in 2019. While we don't see Cindy appear on-screen, her daughter's love for her, and the strength of their bond, is clear as day.
For those who think that "Asian mum" means "tiger mum", Bling Empire on Netflix offers viewers worldwide a first-hand look at some Asian mother-daughter relationships that flip the notion on its head. 
The Women Of Bling Empire On Netflix Taught Me Not To Judge A Book By Its Cover
Of course, the men of Bling Empire on Netflix also have life lessons to share with us. Kane Lim and Kevin Kreider are the heart of the show, showing us what kindness, friendship and loyalty look like. Gabriel and Jessey are unwavering in their support for their partners, backing them up in their decisions and being the voice of reason when needed. As for Andrew and Guy Tang, TBH, I'm not sure what exactly they bring to the table.
But watching Anna, Cherie, Christine, Kelly and Kim made me realise how even though some of us might wear haute couture and some of us wear high street, there are some qualities that are universal to being a woman: courage, tenacity and vulnerability among them. And that there's always more than meets the eye to people, no matter how fabulous your life might seem on the outside.
Cover: Source, source, source, source, source, source
Also read:
Why Bling Empire Reminds Me That Being Ordinary Is Extraordinary