Bling Empire Season 2
After leaving us hanging with only 8 episodes, Netflix has finally confirmed a release of Bling Empire season 2. For those who have yet to watch the show, it features the lives of wealthy Asians and Asian-Americans (think Crazy Rich Asians) who have too much time and money on their hands. Cue the cameras and the drama, as we're excited for more secrets to unfold in season 2.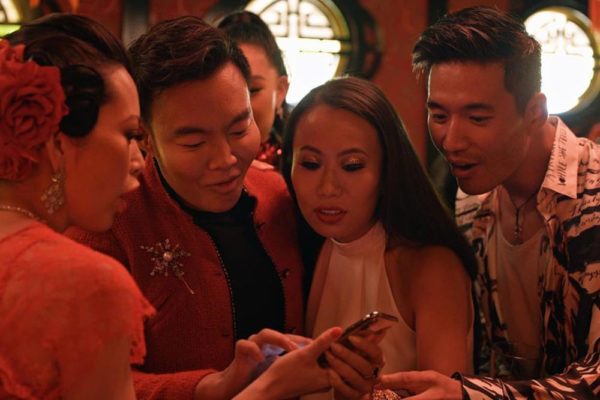 Source
On 11 March 2021, Netflix took to social media platforms to drop a video trailer teasing new seasons of Bling Empire and Selling Sunset. While the actual release dates haven't been confirmed, the caption read, "Your favourite docusoaps, Selling Sunset and Bling Empire, have been renewed for more seasons only on Netflix! Bring on more fabulous parties, more breathtaking real estate, more jaw-dropping drama and, of course, more Botox". 
Fingers crossed that all the original cast we know and love will be returning in season 2. And, hopefully, some new faces as well.
Where we left off 
Warning: spoilers ahead for Bling Empire season 1.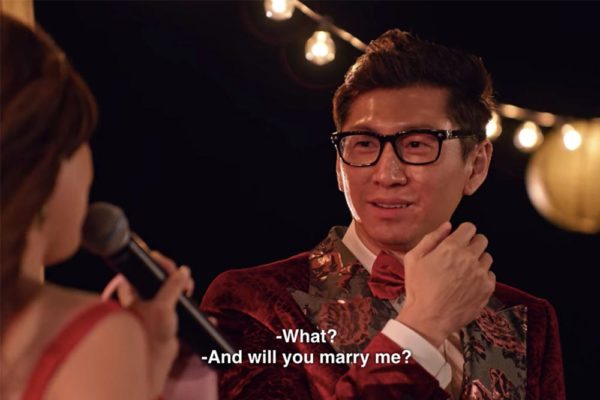 Image courtesy of Netflix
There's so much tea to keep up with in just 8 episodes, we're not sure if we can remember them all. While season 1 ended with Cherie Chan boldly proposing to her boyfriend, Jessey Lee, the status of the toxic relationship between Kelly Mi Li and Andrew Gray was, well, far from black and white.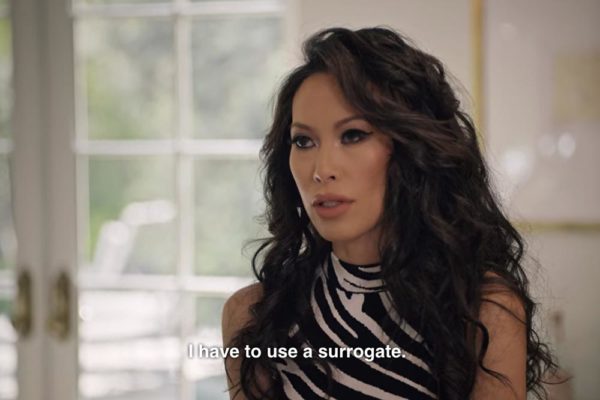 Image courtesy of Netflix
Meanwhile, Anna Shay and Christine Chiu couldn't seem to settle their jewellery feud. Despite gunning for the title of Queen Bee on the show, it's clear that Christine is struggling with her in-laws' expectations as well. We still don't know if she's willing to give Baby G a younger sibling, as much as Dr. Chiu wishes she would.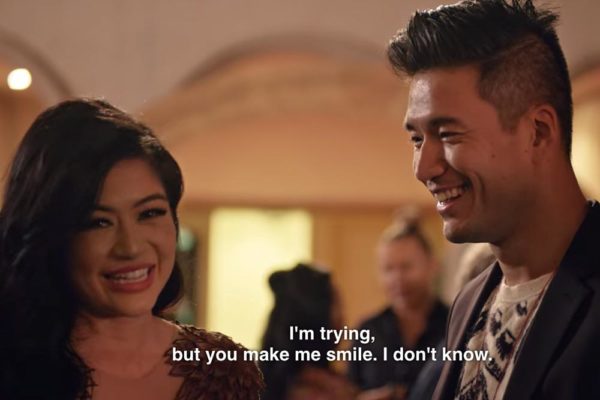 Image courtesy of Netflix
Will Kevin Kreider make a move on Kim? We all felt the sexual tension through the screen when the pair almost kissed at the end of the season 1. Regardless of if he gets the girl or not, we do know that BFF Kane Lim will always have his back.
Also read: 
7 Life Lessons From The Women Of Bling Empire On Netflix Including That "There Ain't No Dick That Good"
What we know so far
Since Bling Empire season 1 ended, many fans have been left wondering what the cast are up to now. Based on their social media, here're some updates.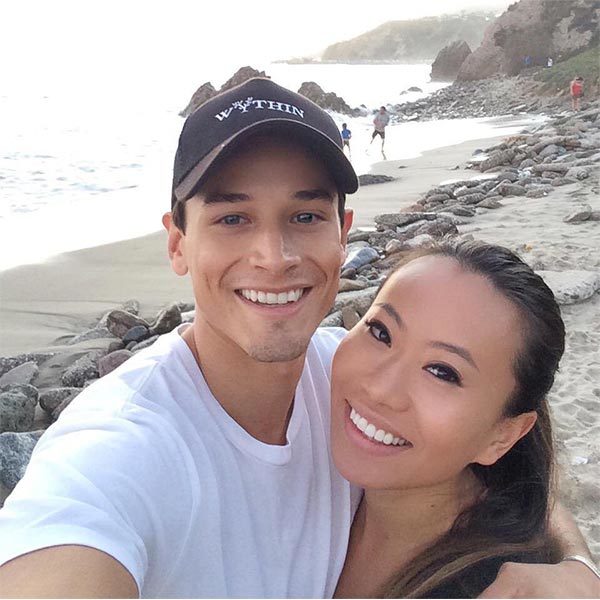 Source
Previously, in an interview with Netflix, Kelly announced that her and Andrew were back to seeing each other again. However, on 10 March 2021, Kelly took to her Instagram to declare that they are over for good. Kevin hilariously commented, "Again?! I don't believe you now!", a sentiment most fans of the show agreed with.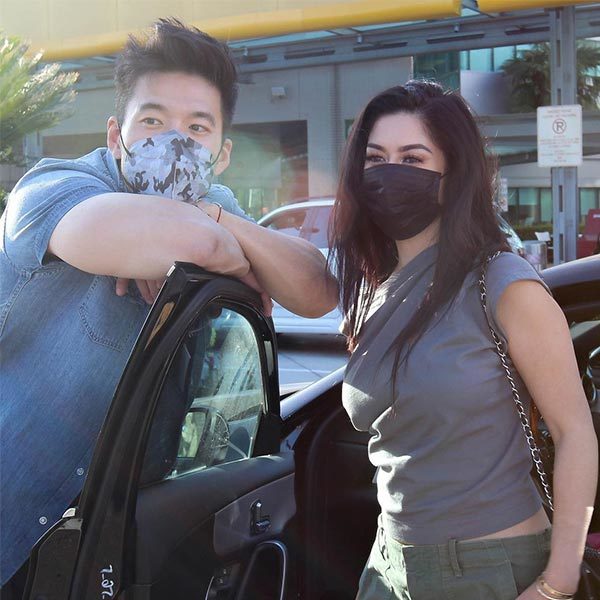 Source
Meanwhile, it seems like Kevin has been hanging out with Kim quite often lately, with photos and stories on his Instagram. I guess we'll never find out if they're official or not until season 2 drops.
What we hope to see in Bling Empire season 2
Following the announcement of Bling Empire season 2, fans took to Twitter to showcase their excitement and hopes for the new episodes.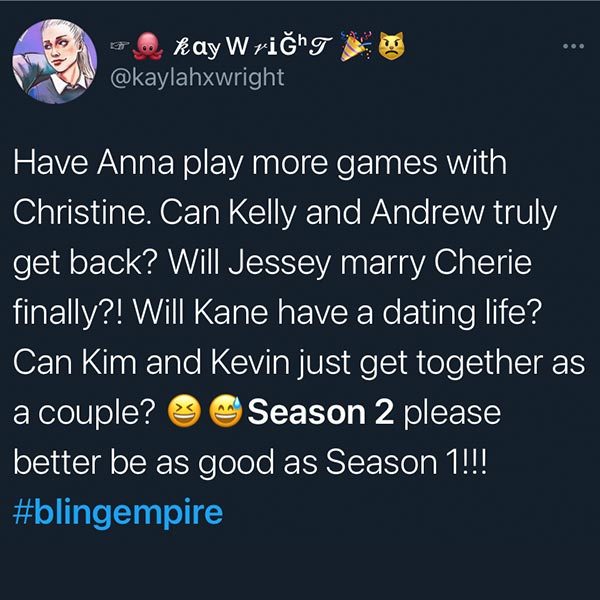 Twitter user @kaylahxwright summed up all the questions we've been dying to get answers to perfectly well. We're all hoping for another season just as awesome as the first.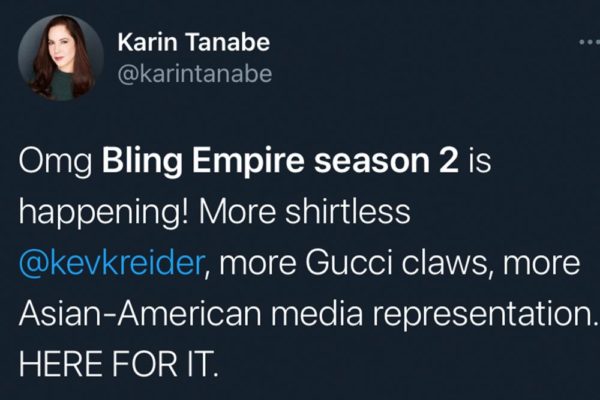 While nothing has been confirmed regarding what will be shown in season 2, Twitter user @karintanabe reminds us that there're things that will never change. "More shirtless Kevin Kreider, more Gucci claws, more Asian-American media representation". We're here for it too.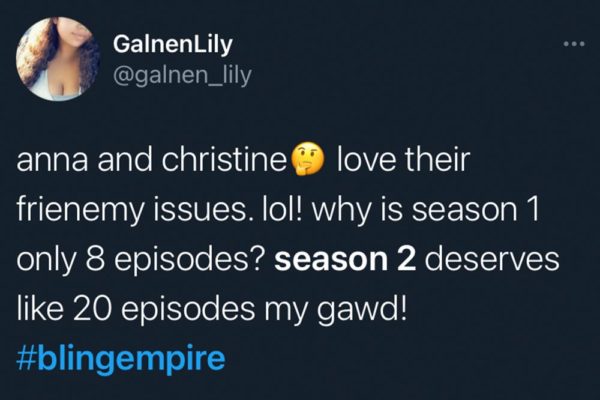 Another Twitter user, @galnen_lily, expressed the same hopes as many others for more episodes in the upcoming season, saying, "Season 2 deserves like 20 episodes my gawd!" It's clear to see that 8 episodes weren't enough to satisfy all of us.
In a previous interview with Entertainment Tonight, Kane expressed that he would like to fly the whole cast to Singapore in season 2. While we're not sure if that is possible with the pandemic still going on, perhaps we can look forward to smaller, more intimate and lavish parties in LA instead.
Look Out For More Drama And Romance On Bling Empire Season 2
Whether you love Bling Empire or hate it, you can't deny that you're curious to find out more about how the episodes will unfold.
Also read:
20 Kane Lim Facts Including His Family, How He Amassed His Wealth & Bling Empire Season 2 News