Bling Empire Season 2 Fashion Looks 
By now, you'd know that the Bling Empire series is the IRL version of Crazy Rich Asians. The reality TV show gives a sneak peek of what it is like to live like the rich, and it also features dramatic catfights that you wouldn't want to miss. 
While some viewers watch it for the drama, there's no denying that there are also people like me, who look forward to seeing the outfits worn by the cast members ‒ even the ones by their little ones. From Jaime's alien-inspired outfit to Kane's tie-dye hoodie, we've ranked the 9 best fashion looks on the show, so you can get inspiration for your next OOTD. 
9. Jaime's alien-inspired one-piece
Jaime never fails to impress with her attire every time she appears onscreen. Not only is she capable of pulling off quirky apparel, she is also in tune with the latest fashion trends, highlighting the fact that she is indeed a fashionista. 
Out of all her looks on this season of Bling Empire, the one with her wearing a 2-piece, lime green outfit with perforated mesh details stood out the most for me. The neon colour brings to mind an alien, whereas the huge yellow ribbon on her chest adds a dose of girliness to Jaime's look. 
Whimsical as the outfit might be, it is unfortunately something not suitable for daily wear. 
8. Christine's white lace corset 
According to an interview with Christine, Netflix only started filming the second season of Bling Empire around May 2021. This also happened to be the time when corset tops began to trend. Surprise or not, the 39-year-old fashionista hopped on the fashion bandwagon by pairing a corset top with a pair of black pants.  
Unlike standard corsets, her number of sheer lace featured straps and off-shoulder details. The corset flaunted Christine's figure, showing off her hot mama bod even after giving birth to Baby G. 
7. Mimi's Disney princess-inspired dress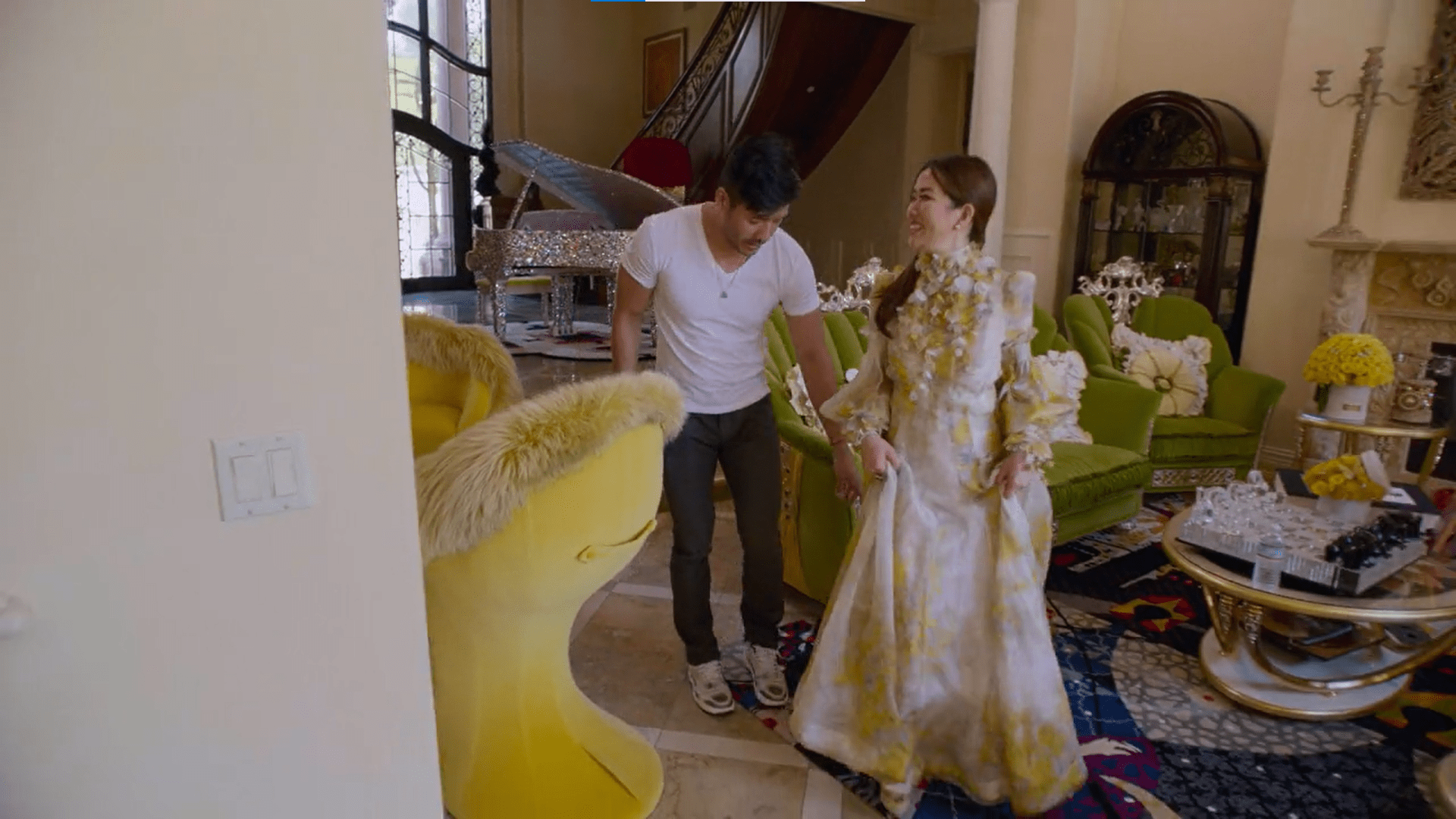 Even before finishing all 8 episodes of this season, you might already have noticed that yellow is Mimi's favourite colour ‒ she has yellow flowers, yellow furniture, and yellow cushions in her house. She even wore a yellow and white dress when Kevin visited her. 
The Disney princess-inspired dress, with its ruffled neckline and sleeves, flatters Mimi's figure. While it did seem a lil' over the top to wear such a gorgeous dress at home, there's no denying that Mimi rocked the look. After all, she is the boss of her household. 
6. Kelly's sparkly diamond top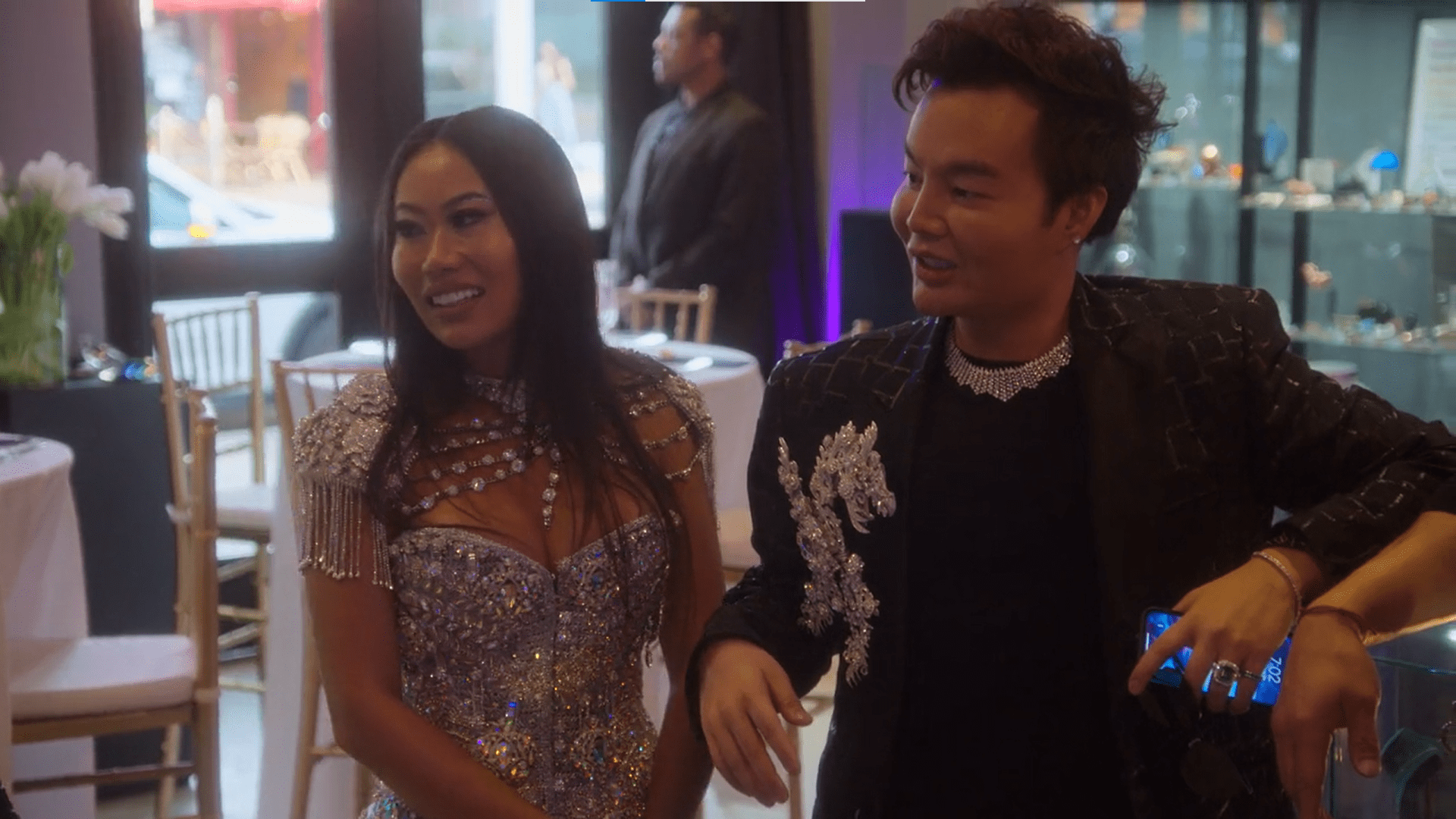 When it comes to choosing between comfort and wow factor for clothes, Kelly definitely went for the latter this season.  
She stepped up her fashion game with a dazzling, crystal-encrusted military band uniform-inspired top with tassel epaulettes on the shoulders when she attended the truffles and diamond-themed party. Complete with a sweetheart neckline and more strings of crystals keeping the epaulettes on her shoulders, the ensemble is literally the 'bling' in Bling Empire.  
If you ever need any sparkly fashion inspo, look no further.  
Also read: 
10 Bling Empire Season 2 Love & Life Lessons, Like Not Poking Your Nose Into Other People's Business
5. Kane's casual tie-dye hoodie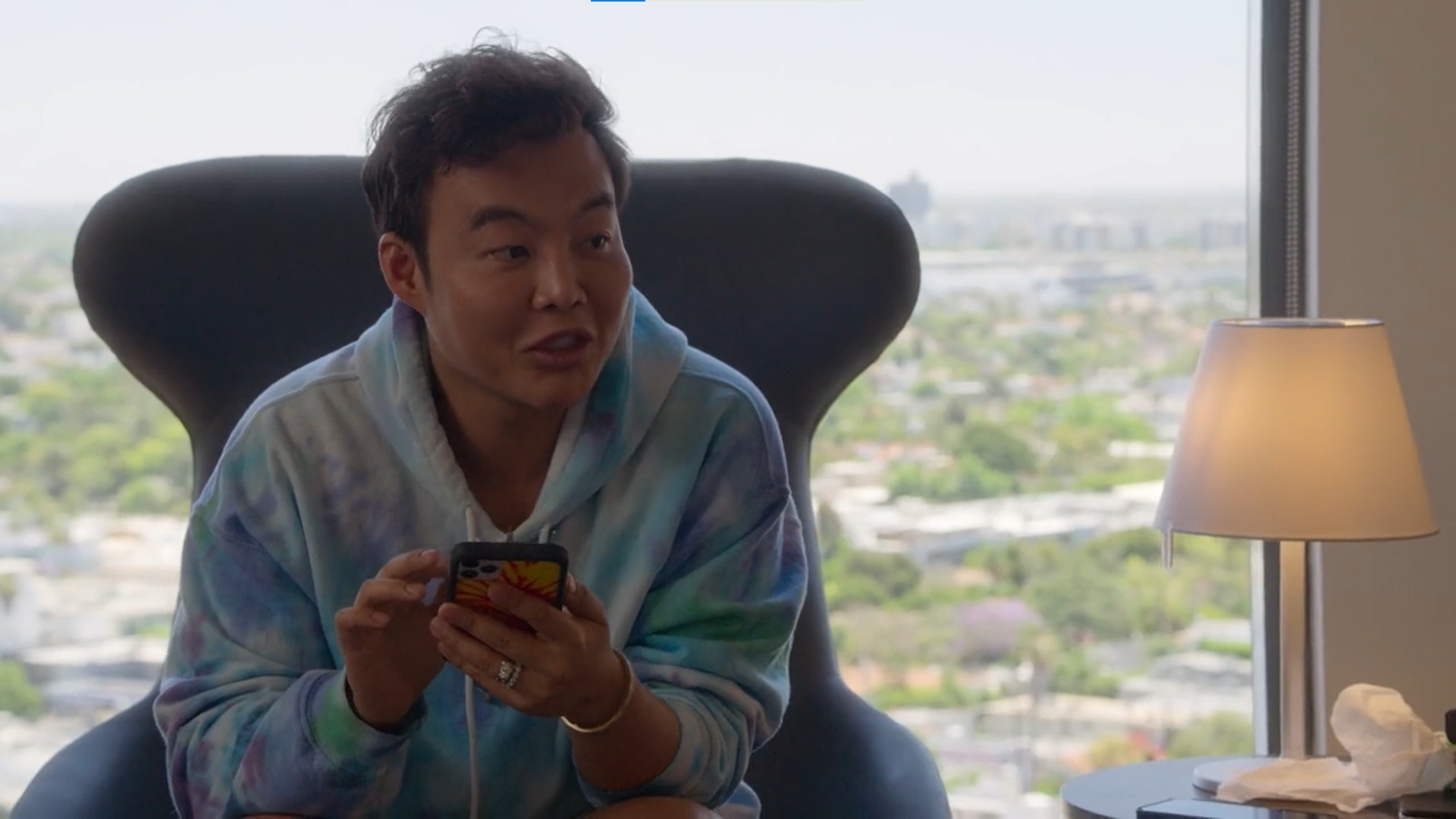 Viewers would agree that Kane is a person who loves blinged-up fashion, so it came as a surprise when he visited Jaime's apartment while wearing just a tie-dye hoodie. Thanks to the white, blue and purple hues, the hoodie brings Paddle Pop ice cream to our minds. That's not all, as the look also showcased a casual side of Kane that we don't normally see. 
If I were to choose Kane's best look, this would be it.
4. Kim's flowy white dress 
Kim clearly understood the assignment when she was invited to Kelly and Kane's truffle and diamond-themed party. 
She made a grand entrance with Guy and his partner trailing behind her, holding up the train of her figure-hugging mini dress. The extravagant look didn't end there, what with its strategic cut-outs and crystal embellishments. 
As Kim's purple-pink hair also was a vivid contrast to the white of her dress – like Kevin, many of us couldn't our eyes off Kim. 
3. Christine's eye-catching grey feathered get-up
Christine is always on point for her OOTD, even if it's just an interview with the producers of the show. She showed up in a metallic grey dress, and spruced it up with a grey feathered capelet with beaded details around the neck. Although the ensemble gives off slight Maleficient vibes, it shows that Christine isn't shy to experiment with different styles. 
To date, Christine has never repeated an outfit on the show, and it makes us wonder what showstopping outfit she'll turn up in next. 
2. Anna and Jaime's adorable white and orange dresses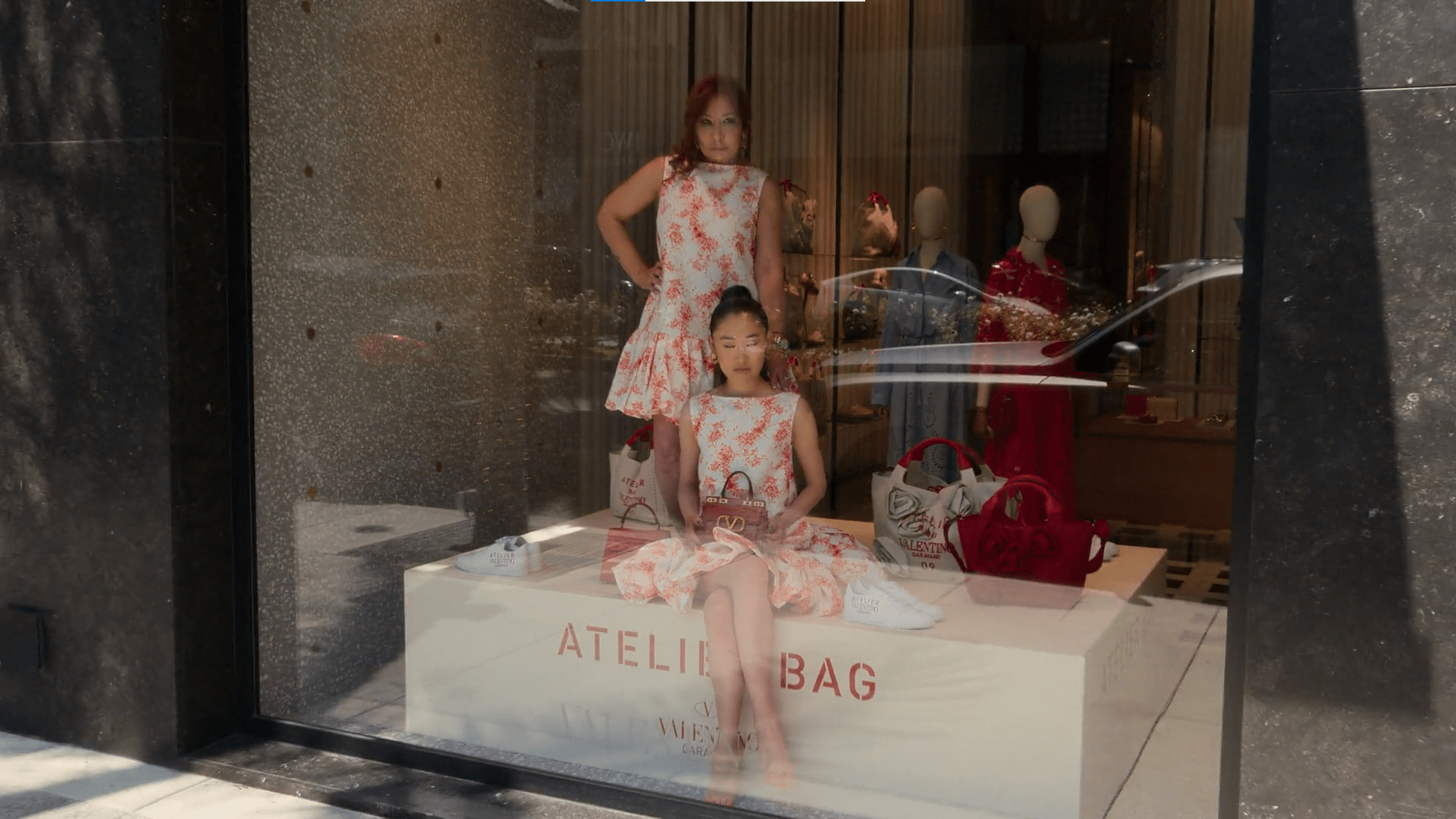 Anna and Jaime share many similarities ‒ their no-BS attitude and love for shopping.
When the two visited the Valentino store, they went for a twinning look with the same floral shift dress. The classic boatneck and bright floral print make this a classy summer look, excellent for a casual day out yet dressy enough for a date; as Anna and Jamie prove, it's a timeless look that ladies of any age can rock. After all, Mark Twain once said "Age is an issue of mind over matter".
1. Kelly's lit-up ball gown 
Source (right)
The pale orange taffeta gown that Kelly wore during the House of Skye fashion show had built-in fairy lights under the skirt that contributed to its jaw-dropping element. Even with the lights off, the gown still impresses with the sewn-on silver paillettes that give the gown extra bling.  
KIV this gown for reference, in case you have occasion to light up the night like Kelly.  
These Bling Empire Season 2 Fashion Looks Show That Fashion Is Enjoyed By People Of All Ages
These looks show that fashion is for people of all ages. As long as you carry yourself with confidence and class, there's nothing stopping you from standing out as an individual. 
All images courtesy of Netflix. 
Also read: 
15 Facts About Dorothy Wang, The Latest Addition To Bling Empire