Lynn Ban Facts
For loyal viewers of Bling Empire like me who have been watching the series since the first season, the latest spin-off that features the rich from New York definitely didn't disappoint. In fact, I enjoyed it much more than the original for plenty of reasons, like how Singaporean jewellery designer Lynn Ban inspired me that no person is too "old" to have fun. 
Get to know more about the 50-year-old designer through these 15 facts. 
Warning: Spoilers for Bling Empire: New York ahead, proceed at your own risk if you've yet to watch the reality series!
1. Lived in different countries
Born in Singapore, Lynn and her parents left the country when she was just 4 years old to New York City. Later, they moved to Hong Kong, and back to Singapore because of her father's job as a banker. It was only after she graduated from Singapore American School in 1989 did she finally settle in New York City. 
According to The Straits Times, Lynn mentioned that the frequent moving between countries allowed her to become "more adaptable and open to new experiences and opportunities". Plus, she is also "not afraid of change" and "welcomes the challenge and adventure that it brings". 
2. Her father opened Genki Sushi in Singapore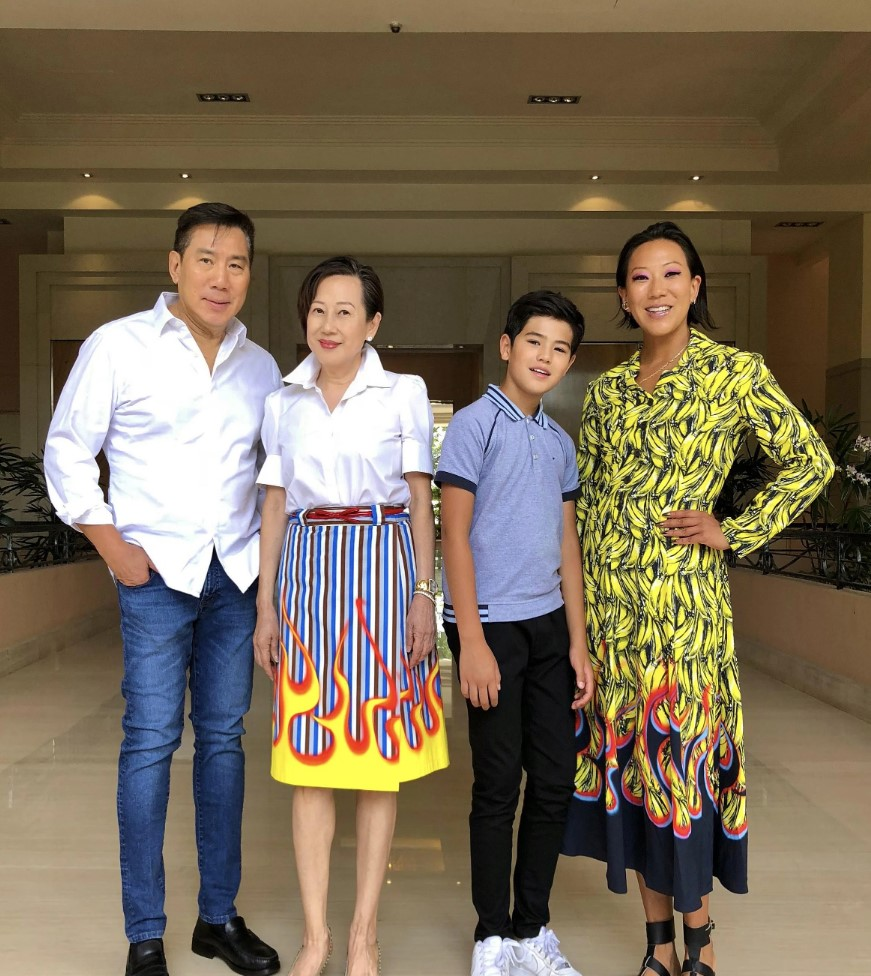 Lynn with her parents and son
Source
Chances are, you've heard of Genki Sushi ‒ the Japanese eatery chain which was first launched in Singapore and Hong Kong by Lynn's father, David Ban. Based on an interview from AsiaOne, David is a property tycoon and the executive director of Venus Assets, a developer based in Kuala Lumpur. P.S: Venus Assets owns Four Seasons Place in Malaysia. 
Since Lynn is currently living in New York City, she flies back to Singapore every summer to visit her parents who live in an estate in the Orchard Road area. 
3. Married to her husband for 26 years and counting
Like many couples who met through social gatherings, Lynn got to know her husband Jett Kain at a New Year's Eve party in 1994. According to The Cinemaholic, Jett was a then-producer and reporter for MTV, who noticed Lynn because of how she was dancing on a speaker in high heels and a short skirt. Later, he asked for her number but Lynn accidentally gave him the wrong one. 
Thankfully, fate was on their side as the two met again during a dinner gathering hosted by their mutual friends a few months later. From then, Jett was no longer subtle about his advances and they tied the knot a few years later. 
4. Her first Chanel piece is a biker-style belt
It is no surprise that Lynn grew up loving fashion and jewellery as her mother was a certified gemologist. Based on an interview, Lynn started collecting statement fashion pieces when she was 16, and her first Chanel piece was a biker-style belt. She mentioned that she still has it and takes good care of her entire fashion collection.  
Hopefully one day, we would be able to peek at more of her hidden gems with a house tour.
5. Started her own fashion boutique in 2002
Before embarking on her jewellery business, Lynn opened her fashion boutique The Lynn Ban Vintage in 2002. According to an article, Lynn sold curated couture pieces from Yves Saint Laurent, Chanel, and Valentino that dated back between the '60s and '90s. 
She later opened her store's first pop-ups in London and Tokyo ‒ the latter pop-up was located in a members-only club in the penthouse of the Louis Vuitton flagship store. After almost a decade, Lynn closed her store in 2011. 
6. Her jewellery business was affected by the pandemic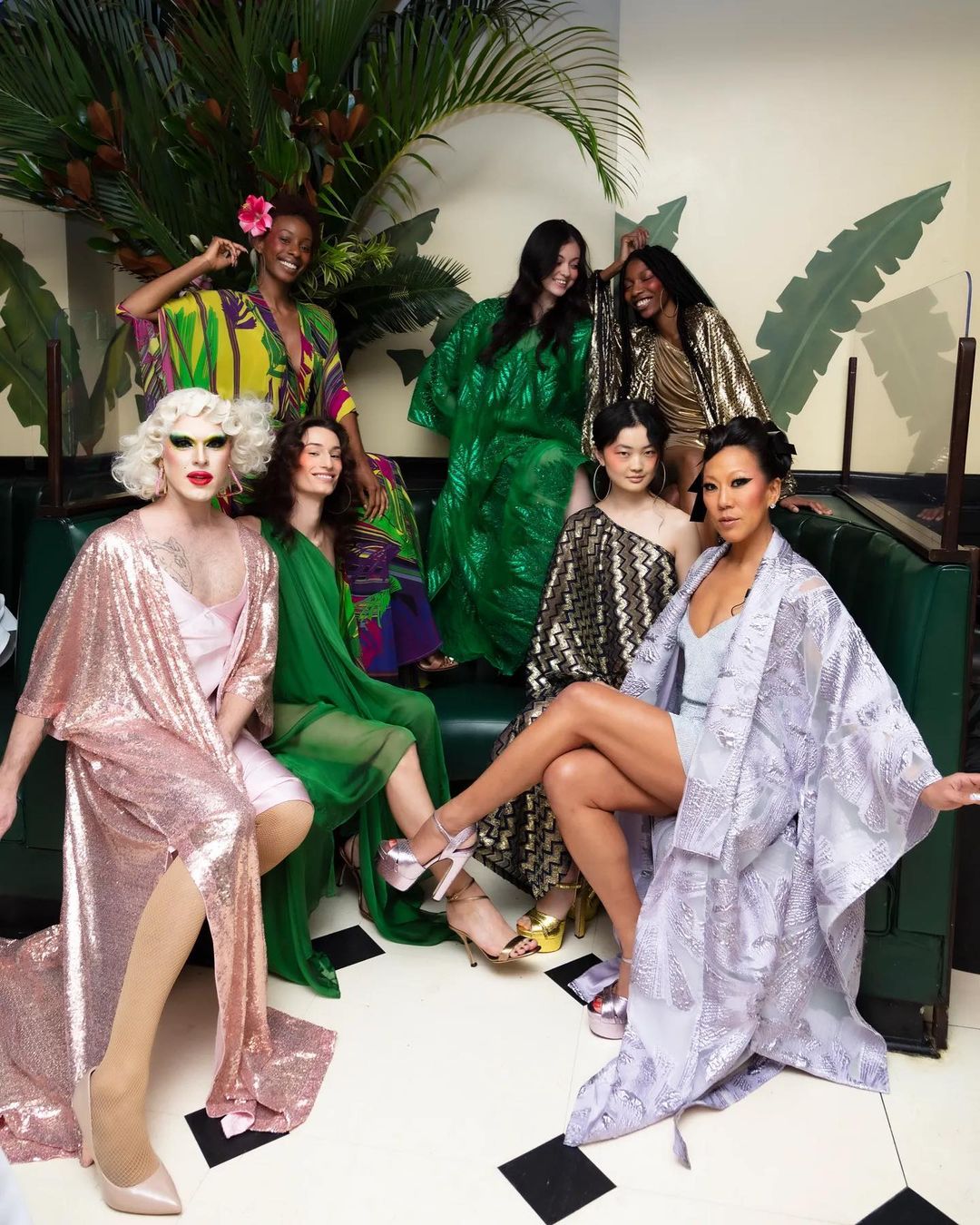 Lynn launched her resort collection in 2022
Source
When Lynn first launched her jewellery collection, her designs were a hit and bought over by companies like Barneys, Maxfield, Dover Street Market, and Net-A-Porter. However, due to the pandemic, Lynn had to scale down her business and only accepted customised commissions from private customers. 
Luckily, Lynn still has plans to reintroduce her jewellery brand to the public since she recently released her new resort collection in March 2022. She featured herself as a model wearing her own designs, and also invited fellow Bling Empire: New York cast members for the launch party. 
7. Her clients include Rihanna, Beyonce, and Lady Gaga
Lynn once thought that if she couldn't sell out the jewellery she designed, she could always keep them for herself. It turned out that didn't happen since her designs caught the eyes of top celebrities like Rihanna, Beyonce, and Lady Gaga. 
Based on an article, her unconventional designs are inspired by ancient armour and pop art,   and she tends to mix them with a variety of stones. Lynn's A-list clientele suggests that she has a much wider connection than we imagine, and who knows which celebrity would be wearing her jewellery next. 
8. Her designs can be found in Four Season Hotels Singapore
Lynn's jewellery business might be based in New York City, but you can still take a peek at her designs IRL when you make a trip down to Club 21 at Four Seasons Hotel Singapore. According to The Straits Times, her unique jewellery comes with a hefty price tag of 5 figures and above. 
Unless you have extra cash and don't mind flexing your bank account, you might want to reconsider getting one of Lynn's jewellery as your next vanity item. 
Also read: 
16 Facts About Christine Chiu, The Rich Tai Tai & Fashionista On Bling Empire
9. Has a net worth of USD$5 million (~SGD$6.5 million)
As a jewellery designer who earns at least 5 figures per design, Lynn has an estimated net worth of USD$5 million (~SGD$6.5 million). 
It might not come as a surprise to some since she owns full ownership of her business, and has a list of high-end clients. Now that she has gained exposure to even more audiences through the Netflix series, we won't be surprised if her net worth rises even more. 
10. Doesn't care what others think of her fashion
Throughout the entire series of Bling Empire: New York, Lynn never gave the impression of someone who cares about what others think of her. She loves flaunting her unique fashion finds, and always makes use of opportunities to express herself through apparel. 
What's so amazing is that her positive attitude also reminds us that life is too short for us to give a damn about what others think. 
11. Her IG feed photos are taken by her husband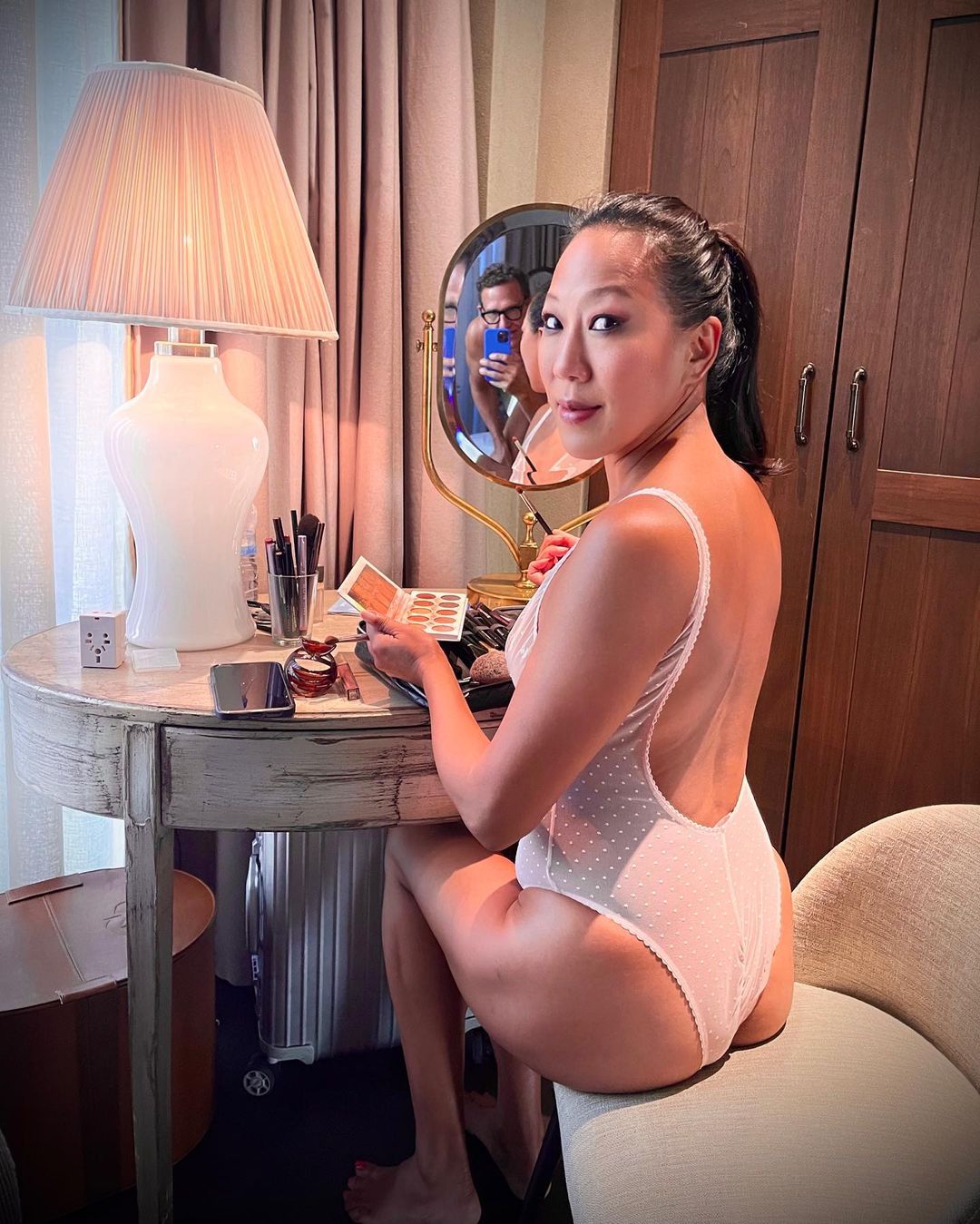 Spot Jett's reflection in the mirror
Source
If you're wondering who documents Lynn's daily adventures, she has her own private photographer in the form of her husband Jett. The photos uploaded onto her Instagram account were mostly taken by him, and she mentioned on the reality series that they love taking photos of each other. 
Jett only needs an iPhone to snap those gorgeous photos, and we can't help but be jealous of having such a dedicated IG husband. 
12. Studied at New York University and Cornell University
Lynn's passion for art and culture should be taken seriously. After graduating from Singapore American School in 1989, Lynn returned to New York City and pursued French literature at New York University. She later also studied art history at Cornell University. 
If that's not impressive enough, Lynn also spent another two years at Paris-Sorbonne University studying art history. Respect. 
13. Is friends with Kane Lim 
Like how birds of a feather flock together, Lynn is friends with fellow socialite Kane Lim from the OG series of Bling Empire. According to The Straits Times, she mentioned that she connects with Kane through social media and exchanges texts from time to time. 
Although we haven't seen the two fashion and jewellery lovers together yet, fingers crossed that we might just see an on-screen crossover in future seasons.
14. Is generous with her friends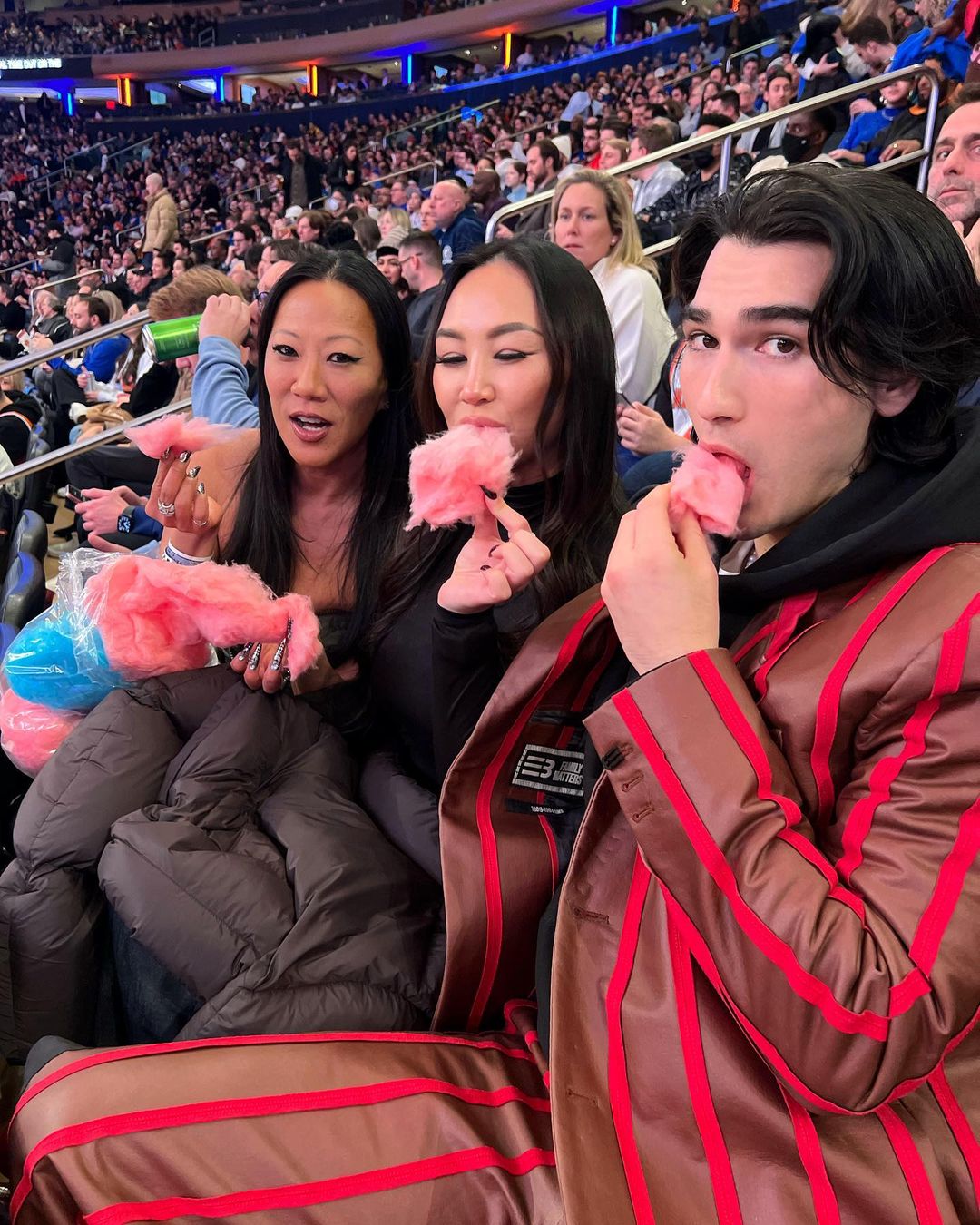 Tina with Dorothy and Blake
Source
Let's admit it ‒ we would all want a friend like Lynn. When Tina was feeling down and stressed, Lynn decided to have a girls-only trip to the Bahamas. Not only did she book a private plane for the gang, but she also went all the way out and reserved dinner on a deserted island just for them. 
Her generous gestures toward her friends prove her caring and thoughtful nature as well. 
15. Does not accommodate rude people, even her husband
It is normal to side with your loved one, but when Lynn noticed Jett was in the wrong, she didn't hesitate to confront him. The incident happened when Jett was photographing Blake, but the former offended the latter with his harsh words. 
Although Jett meant it as a joke, Lynn snapped back and said that it definitely didn't sound like one to Blake. She made him apologise to Blake and showed that she doesn't tolerate rude people, even if the person is her husband. 
What I personally like about Lynn is the fact that she didn't just make her husband apologise for his mistake, but she also educated him on things that he shouldn't say. 
These Lynn Ban Facts Show That She Is A Passionate Person Who Lives Her Life To The Best
Lynn's interesting background and successful career show that she is not your average rich tai tai. She takes pride in her work and enjoys expressing herself through fashion and art. 
While we can't be sure if Bling Empire: New York will be returning with a second instalment just yet, our fingers are crossed that it does so that we can see more of Lynn's glamorous life.
Also read: 
18 Facts About Dorothy Wang, The Sassy Female Cast Member On Bling Empire: New York