BT21 Drinkware Collection
ICYMI, BTS came up with and designed unique BT21 characters for LINE Friends. So if you're feeling down from BTS taking a group "hiatus", you can cheer up knowing that there are plenty of BT21 merch that will remind you of them. 
Just recently, BT21 dropped a new drinkware collection with glass mugs and cold cups for you to chill with a cuppa as you listen to the band's latest album. Read on to find out more about the collection.  
Glass mugs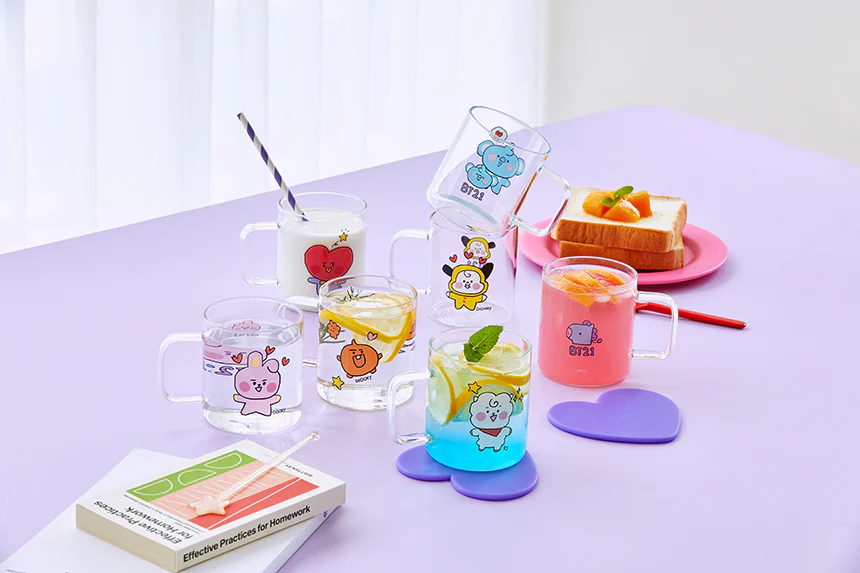 TBH, you don't need any practical reason to get your hands on one of these BT21 glass mugs as they are simply adorable AF. Available in seven designs, each glass mug features one BT21 baby character like Tata, Chimmy, RJ, Kookie, Shooky, Mang, and Koya.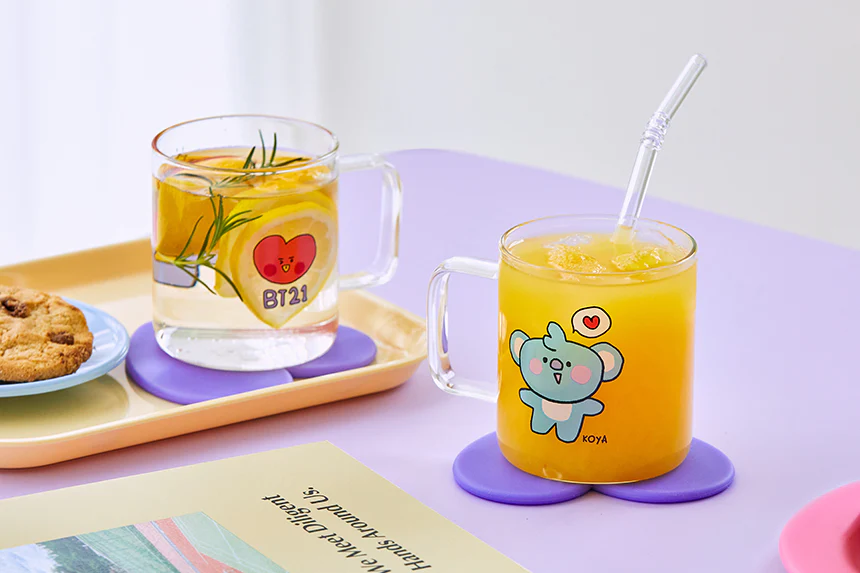 You'll find what appears to be a hand-drawn motif of the baby character with hearts and stars on one side of the glass mug. Flip the mug around and you'll be greeted with another motif of just its face and the BT21 wording.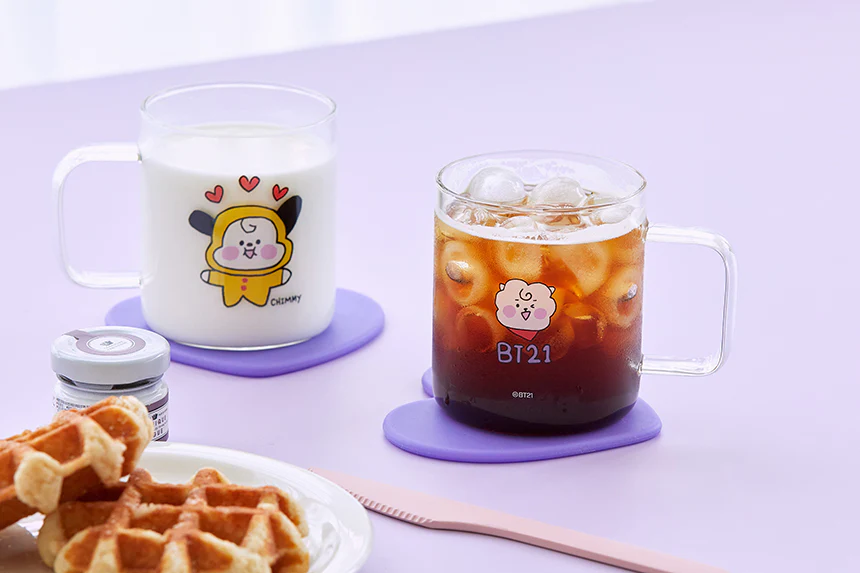 Since these mugs are made of glass, they are perfect to hold colourful beverages like lattes and blue lemonades. You can even make this your chance to create a home cafe and host friends with these aesthetically-pleasing glass mugs.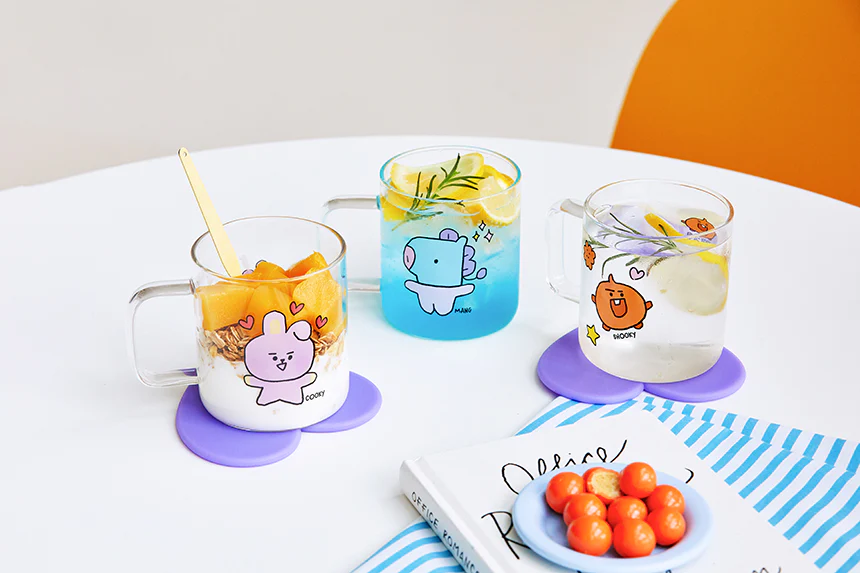 With dimensions of 12cm x 12cm x 12cm, these glass mugs are also the right size for a cereal bowl or to make a yoghurt snack.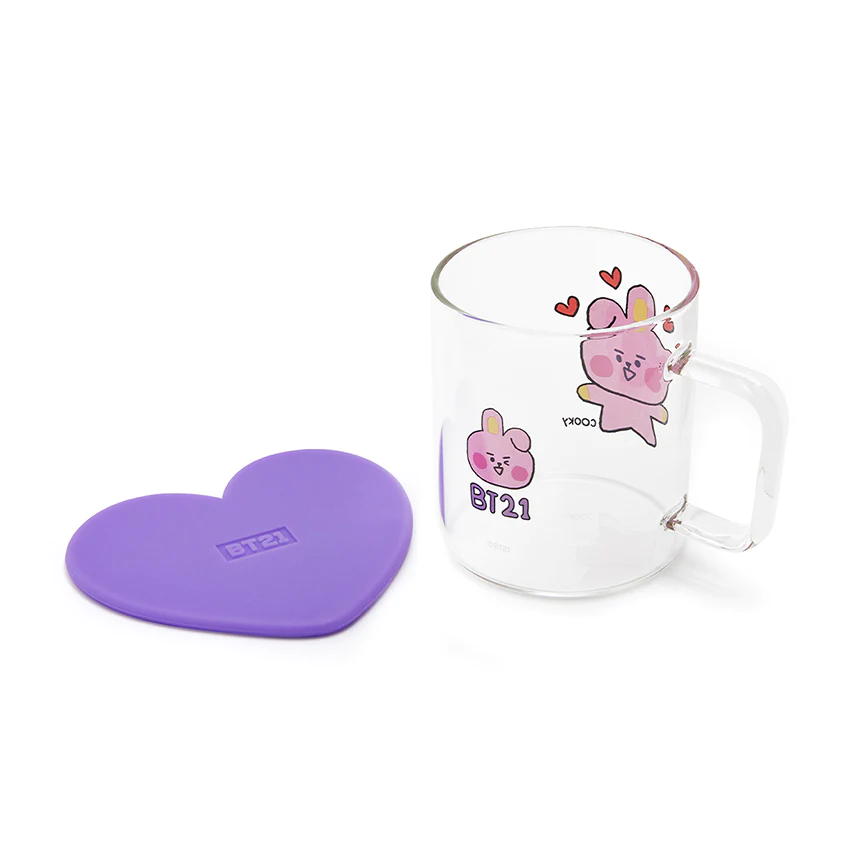 What's more, each glass mug comes with a purple heart-shaped coaster which reminds us of the term "I Purple You" that BTS's V coined. For the unacquainted, it means "I'll love you till the end of days". 
Each glass mug retails at USD$29 (~S$40.20). 
Cold cups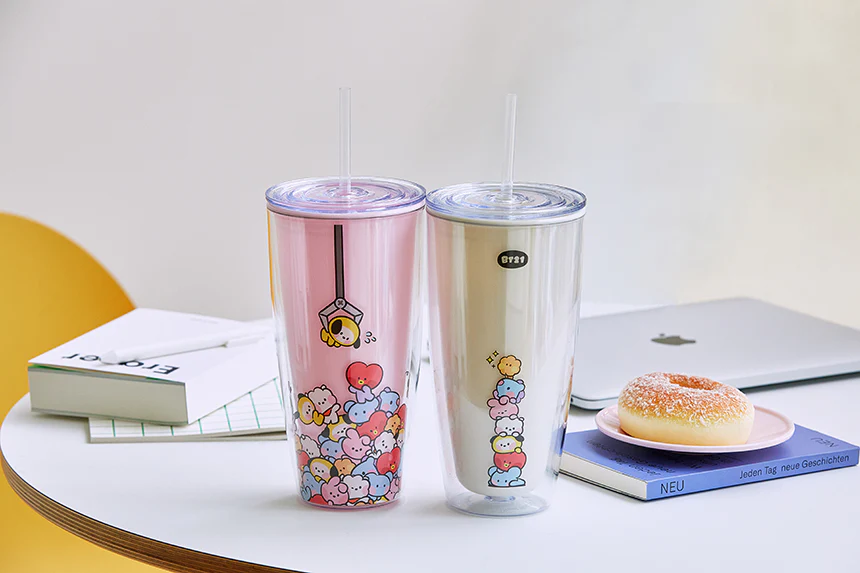 Stay hydrated and chill with your favourite beverage when you have it stored in one of these adorable BT21 baby cold cups. They come in two designs that have either a white or pink base.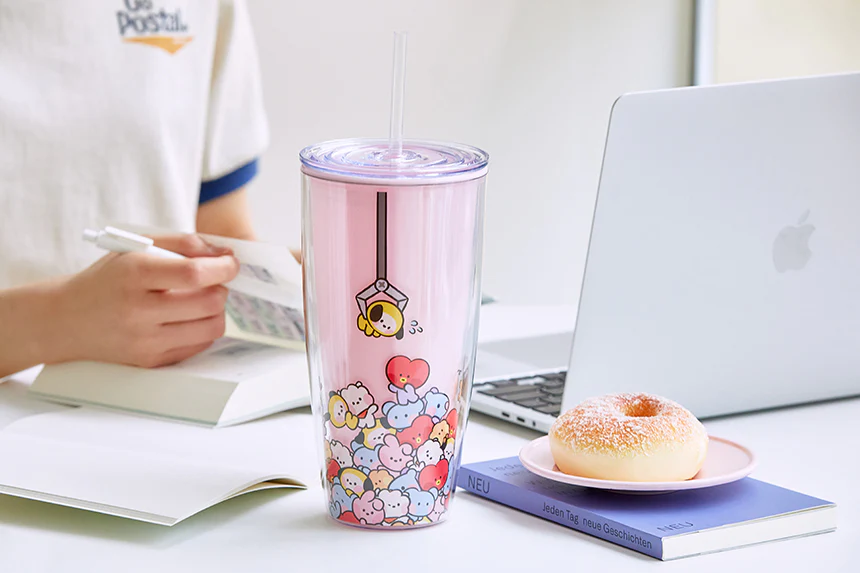 Similar to standard cold cups, these ones have dimensions of 10.5cm x10.5cm x 27.5cm.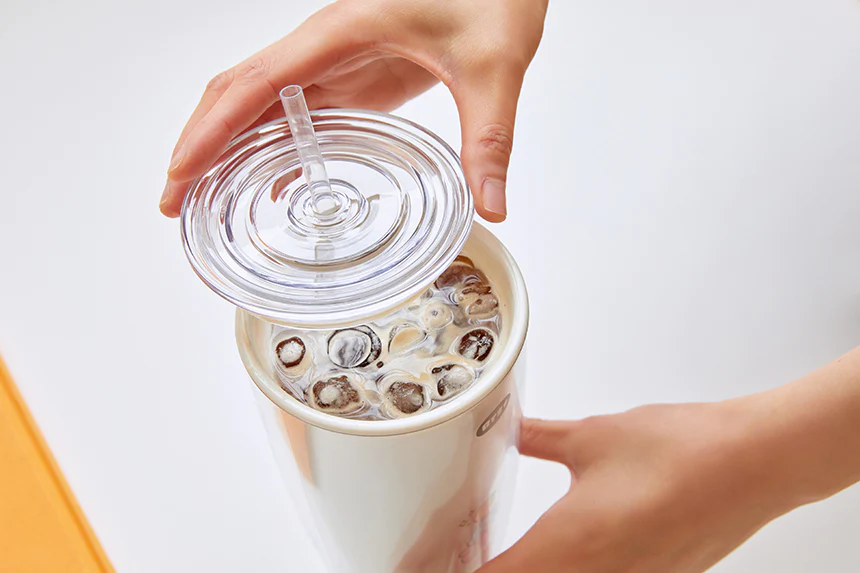 It comes with a lid and reusable straw to promote sustainability and for you to make a difference in greener living. 
Unlike the glass mugs, the BT21 baby character designs found on the cold cups call to mind Disney Tsum Tsum.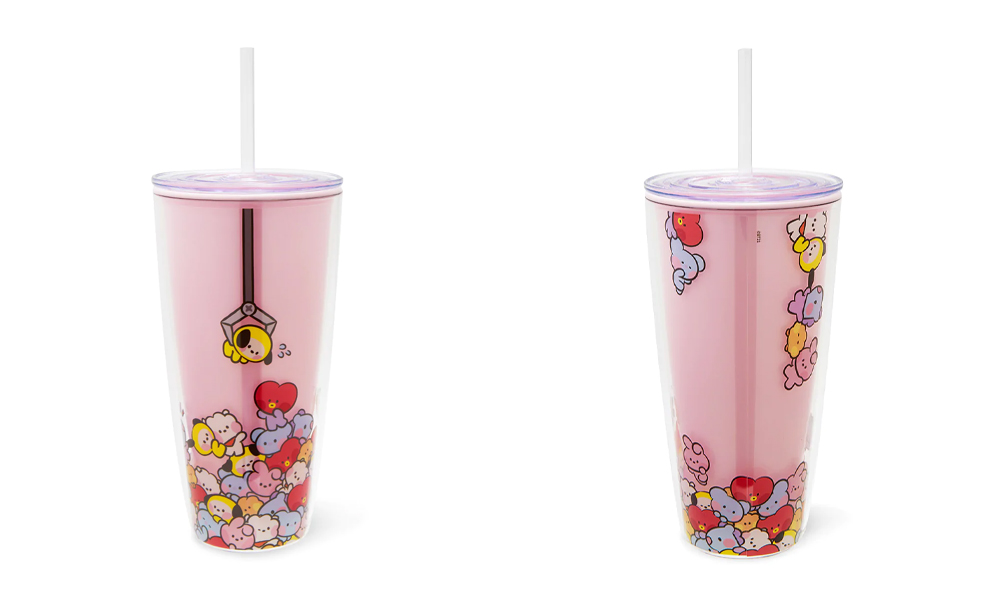 The pink cold cup features them "trapped" in a UFO catcher machine with Chimmy being kiapped away. On the other side, you'll even find more baby characters hanging onto each other.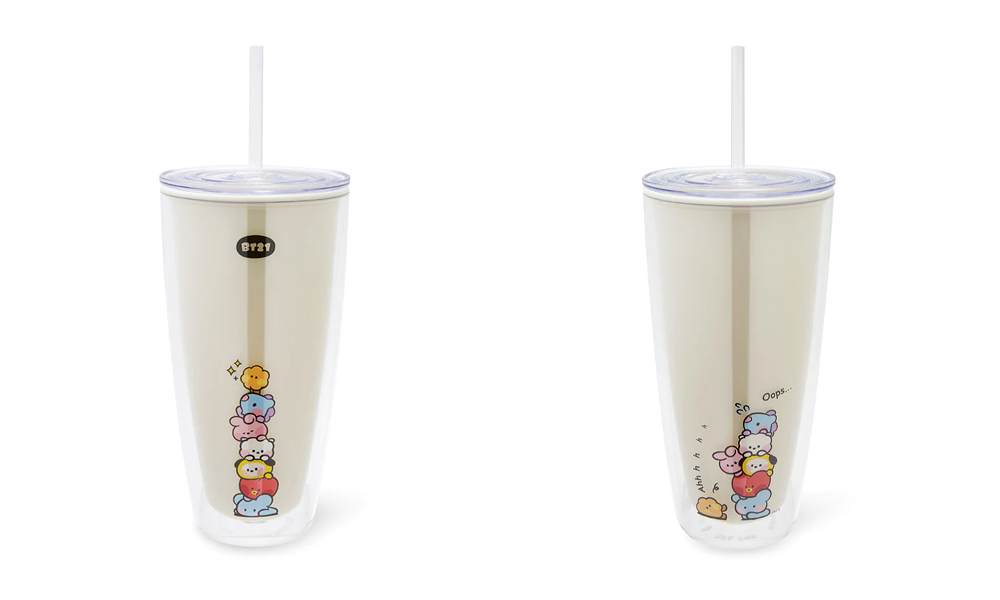 The white cold cup shows the baby characters stacked on top of each other in a cute manner – almost akin to the Singaporean "taupok" move we used to do with friends. On the other side of the cold cup, it looks like Little Shooky fell down with Little Mang saying "Oops…".
Each cold cup retails at USD$14 (~S$19.40). 
Fight Off The Hot Weather With These BT21 Glass Mugs And Cold Cups
Whether you're adding them to your collection or surprising a friend who's a BT21 fan, these adorable glass mugs and cold cups are not to be missed. They are available for purchase on LINE Friends' official website and ship to Singapore with an additional delivery fee. 
For more BT21 goodness, there is also a BT21 exhibition at Jewel Changi happening now till 17 July 2022. 
All images courtesy of LINE Friends. 
Also read: 
Jewel Changi Airport Has A BT21 Glamping Experience, IG-Worthy Photo Spots & Exclusive Merch For Fans