Dr. Martens x BT21
If last year's BT21 x Crocs collab didn't quite satisfy the fashionista in you, here's a piece of good news. British fashion brand Dr. Martens has partnered with the universal BTS characters  for a collection that is dropping on 30 March 2023. Featuring iconic boots adorned with BT21 sketches and purple laces, this collection will no doubt win the hearts of ARMYs. 
Boots
Dr. Martens' 1460 is an 8-hole boot that needs no introduction. Made of black Kiev leather, the shoewear stands out with Dr. Marten's signature yellow sole stitching, and a comfortable air-cushioned sole for long hours of walking.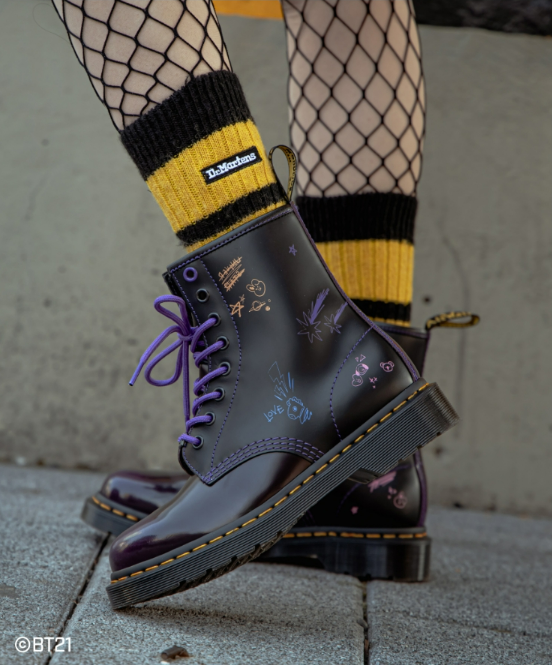 In this collection, the 1460 greets us with colourful BT21 character sketches, purple laces, and purple stitchings as a tribute to K-pop boy band BTS. The highlight? The purple gloss on the front of the upper for a sleek finish.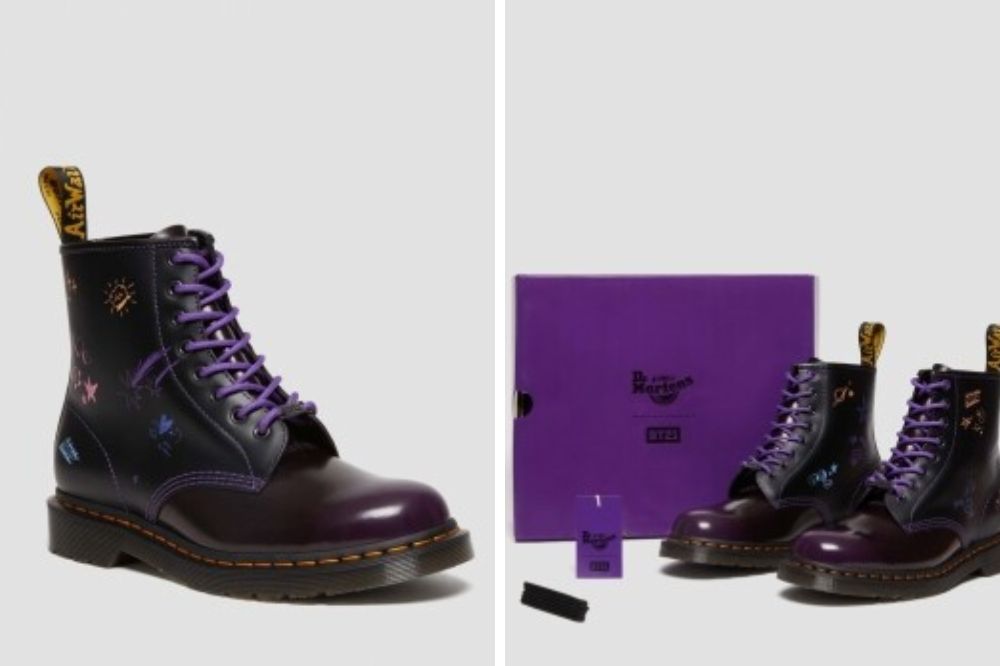 Since the graffiti-like designs on the boots are rather subtle, the 1460 is perfect for ARMYs to express their love for BT21 and BTS. 
The BT21 1460 retails at KRW280,000 (~S$288.90).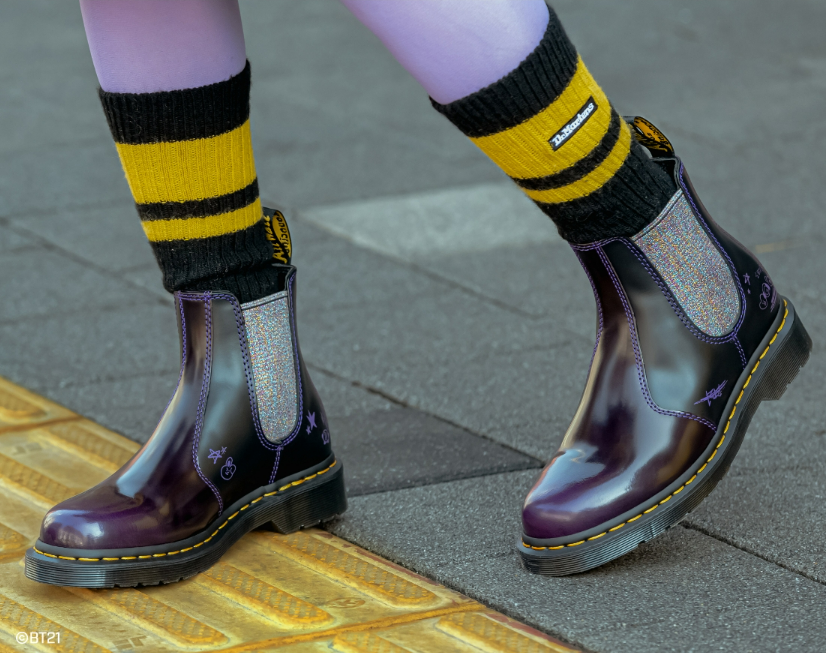 Chances are, most of us know how tedious it is to put on and remove boots with laces. Enter the 2976 Chelsea boot, a pull-on shoe with elastic gussets that makes it easy for anyone to slip into them. 
Unlike the original, the BT21 version of the 2976 Chelsea boot features purple BT21 character sketches, purple stitchings that trace the upper, and a holographic elastic gusset that adds shimmer to your OOTD. Of course, it also comes with the same purple gloss finish on the front.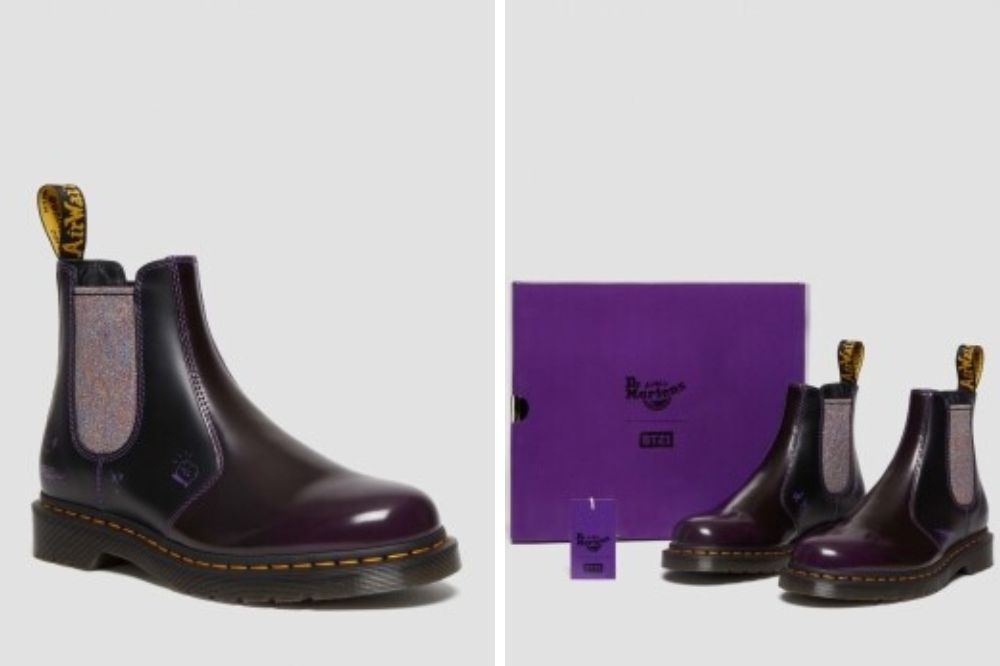 In terms of functionality, the 2976 Chelsea boot also has a comfortable air-cushioned sole, and is made of highly durable leather. This means you won't have to worry about them wearing off easily, whether it is after long hours of queuing for BTS merch or having a dynamite time with your fellow ARMYs. 
The BT21 2976 Chelsea retails at KRW280,000 (~S$288.90). 
ICYMI, chunky loafers are quite the trend these days for reasons like checking both boxes of style and function. 
This collection sees the transformation of the 1461 shoe with BT21 character sketches on the exterior, and purple laces that add a pop of colour. Upon closer inspection, you'll also notice that a BT21 metal plaque is laced between the eyelets.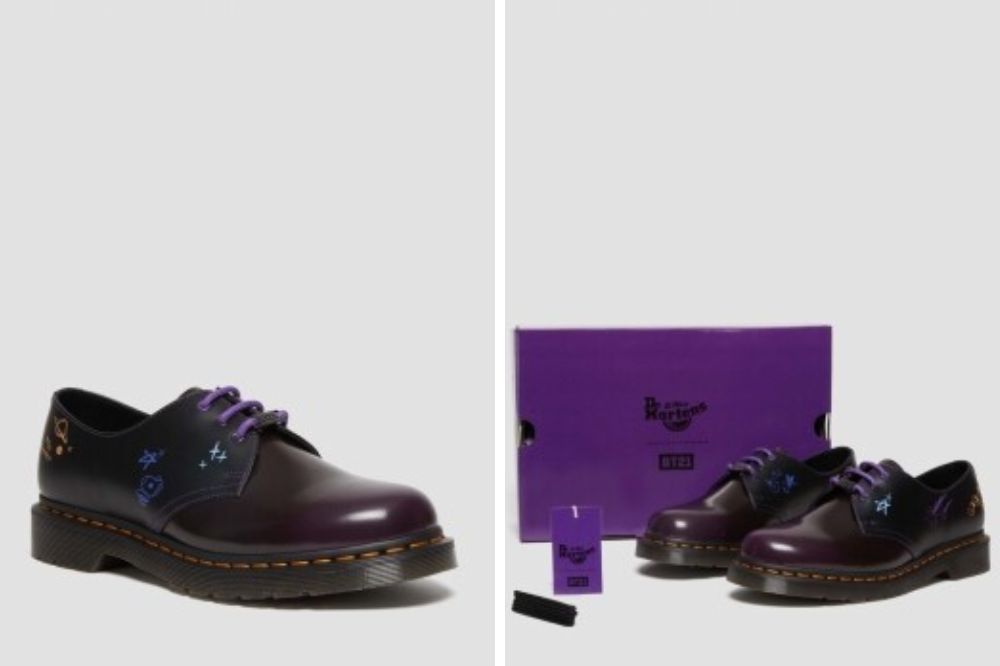 Since the 1461 shoe also features a platform for extra height, make them your go-to footwear, especially during concerts for better viewing of your favourite band. 
The BT21 1461 retails at KRW230,000 (~S$237.50). 
Every purchase of a BT21 shoewear also comes with a unique Dr. Martens shoe box in purple.
Backpack
K-pop concertgoers would understand the struggle of finding a stylish bag that fits essentials like a water bottle and a lightstick. The search ends here with the introduction of the Dr. Martens BT21 Mini Backpack.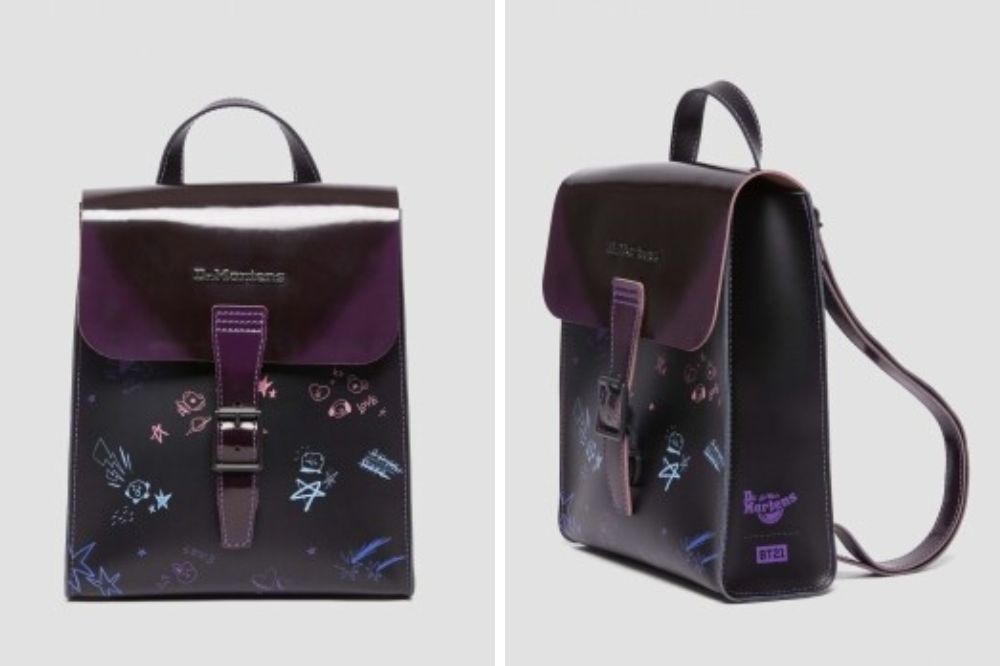 Designed for everyday wear, the mini backpack stands out with a unique purplish black leather flap that completes with a buckle fastening. Since the straps are also adjustable, you can wear the mini backpack at a length that suits your style.  
Apart from the BT21 character sketches on the exterior, you'll also find the logo of Dr. Martens on the front of the bag, and purple prints of it and the BT21 logo on the side. 
The BT21 Mini Backpack retails at KRW208,000 (~S$214.60). 
The Dr. Martens x BT21 Collection Is A Must-Have For ARMYs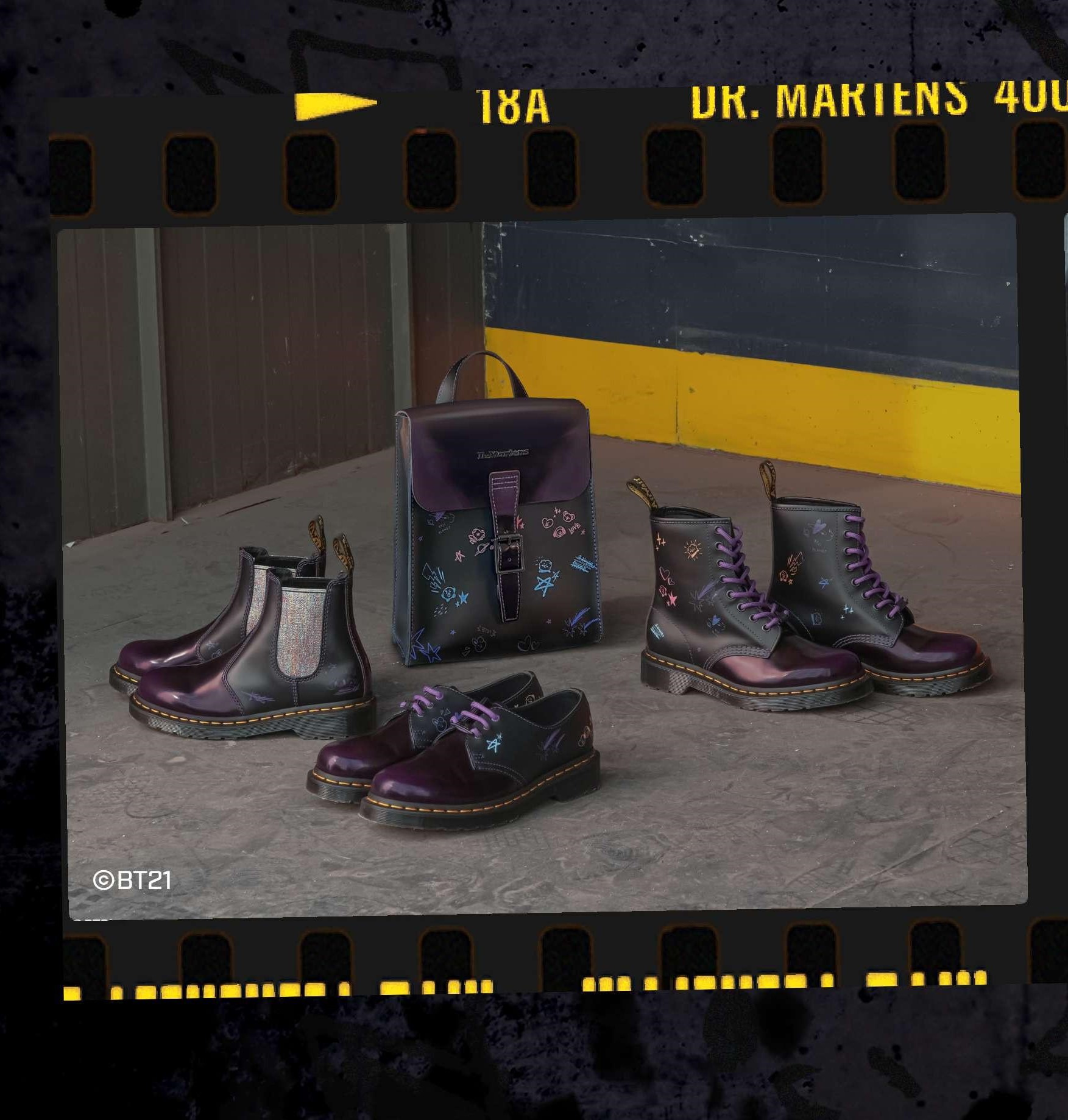 We know that ARMYs are eager to get their hands on the Dr. Martens x BT21 collection, but unfortunately, they are only available for purchase in South Korea for now from 30 March 2023. Fingers crossed that these exclusive fashion items will reach our shores in the near future. 
All images courtesy of Dr. Martens. 
Also read: 
The New BT21 x Crocs Classic Clog Comes With Adorable Character Jibbitz To Flex Your Borahae For BTS