BT21 Mahjong Set
August has been an exciting month for BTS's fans aka ARMY. Not only has RM promised the return of BTS as a whole in 2025, but fans were also treated to teasers of V's solo album, which will be released in September. Now, fans can also get together for rounds of mahjong with a cosmic-themed BT21 mahjong set while they await the boy band's comeback.    
The mahjong set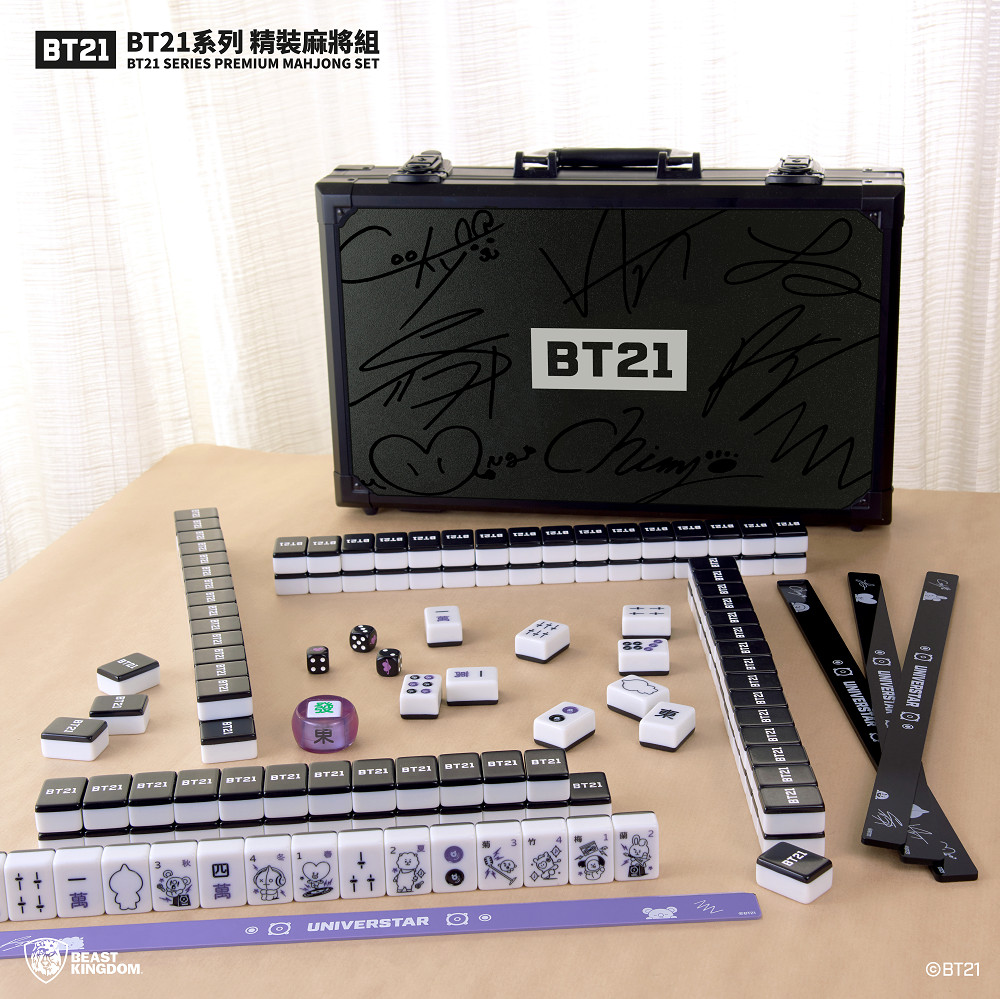 The phrase "I purple you", coined by V, is the reason why purple became a colour commonly associated with BTS. Surprise or not, the mahjong set comes with purple accents on the motifs on the tiles, rulers, and dice.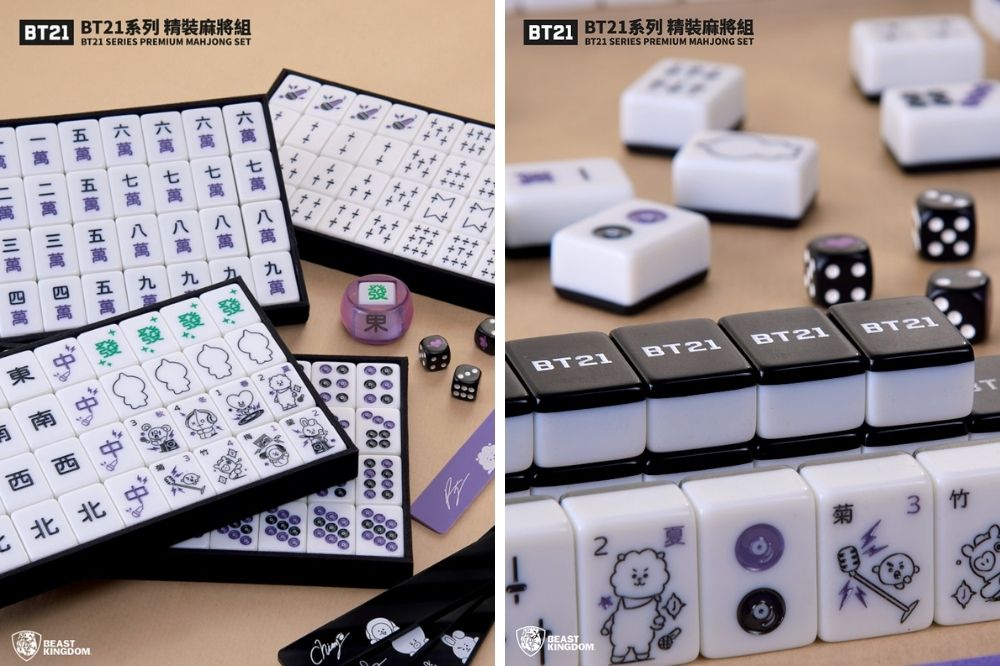 Among the 144 mahjong tiles, the flower cards stand out with unique motifs of the eight cosmic stars. Shooky appears to be showing off his singing skills, while Tata breaks out some dance moves on a vinyl record. Kooky lovers will also be pleased to see the rabbit strumming an electric guitar. 
Each mahjong tile also features a black base, complemented by white BT21 lettering.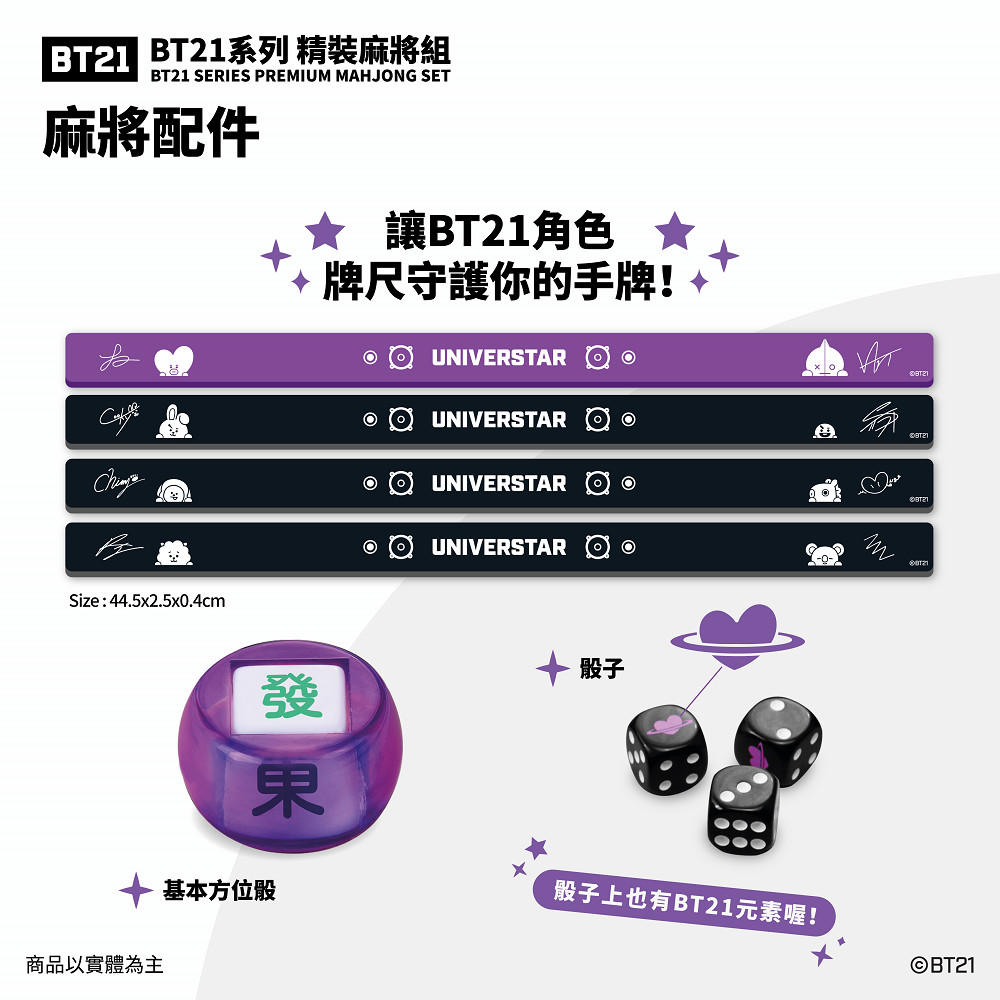 Each dice has a purple heart-shaped planet motif that symbolises '1'
Keep your tiles organised and pong straight away when your opponents discard a card you've had your eye on, using one of the four rulers included in the mahjong set. 
What sets them apart is the incorporation of BT21 character motifs, accompanied by their respective autographs in white. Not to mention, one of the rulers comes in purple.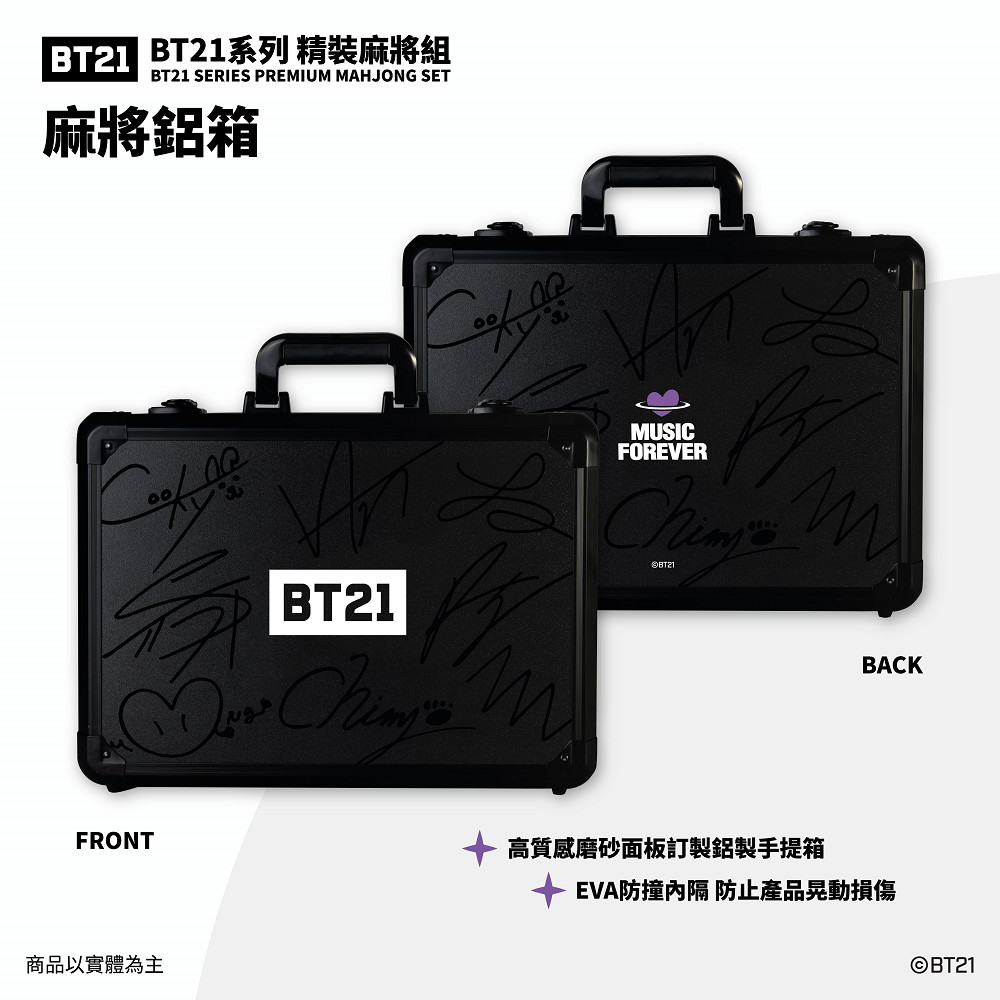 When not in use, store the mahjong tiles and accessories in a matte black briefcase adorned with autographs of the BT21 cosmic stars. On top of a BT21 logo on the front, the back of the case also showcases the "Music Forever" lettering alongside a heart-shaped planet motif. 
Aesthetics aside, the briefcase is made from functional and sturdy EVA material that protects the mahjong tiles and accessories. This means you can even bring the mahjong set overseas without worrying about potential damage.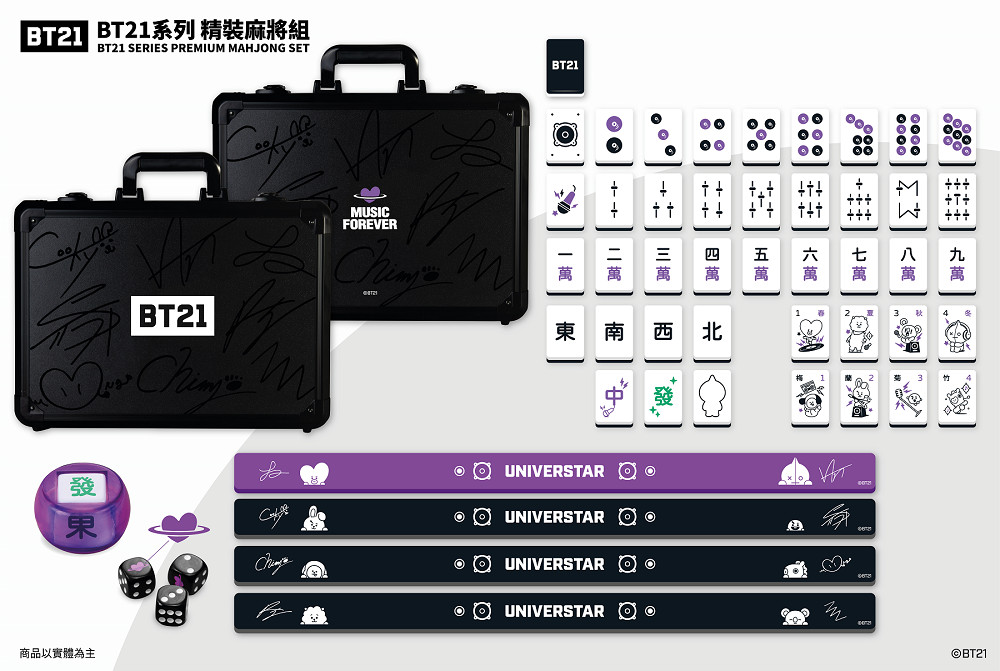 Considering how this mahjong set doubles as a collectible for an ARMY friend of yours, you might want to KIV and surprise them as a gift. 
The BT21 mahjong set retails at NTD4,500 (~S$191.50). 
Express Your Love For BT21 & Mahjong With The BT21 Mahjong Set
While we wait for the return of BTS as a group, jio your fellow kakis and enjoy rounds of mahjong with the BT21 mahjong set. The BT21 mahjong set is available for purchase on Pinkoi's official website, which provides free shipping to Singapore. 
All images courtesy of Pinkoi. 
Also read: 
This Greenland-Themed Mahjong Set Has Hand-Painted Designs Of Berries & Animals For A Relaxing Win