BT21 Party Night Collection
Hosting a sleepover is one of the best ways to bond with your girls, and you only need some midnight snacks and a good topic to stay up all night. For a more memorable session, BT21 now has a party night collection for you to get more comfy while you catch up on the gossip. Featuring the adorable baby characters, continue reading on to find out what is in the collection. 
The collection
The cosy 5 piece collection has a pink and red theme. All the items include a red heart with the word "love" repeated thrice in the design ‒ appropriate since BT21 is all about spreading love.  
Dress pyjamas 
Oversized T-shirts or dress pyjamas are the best to lounge in during a lazy day at home. In this collection, you'll find the BT21 Baby Party Night Pajama Dress in 2 colours, white and pink.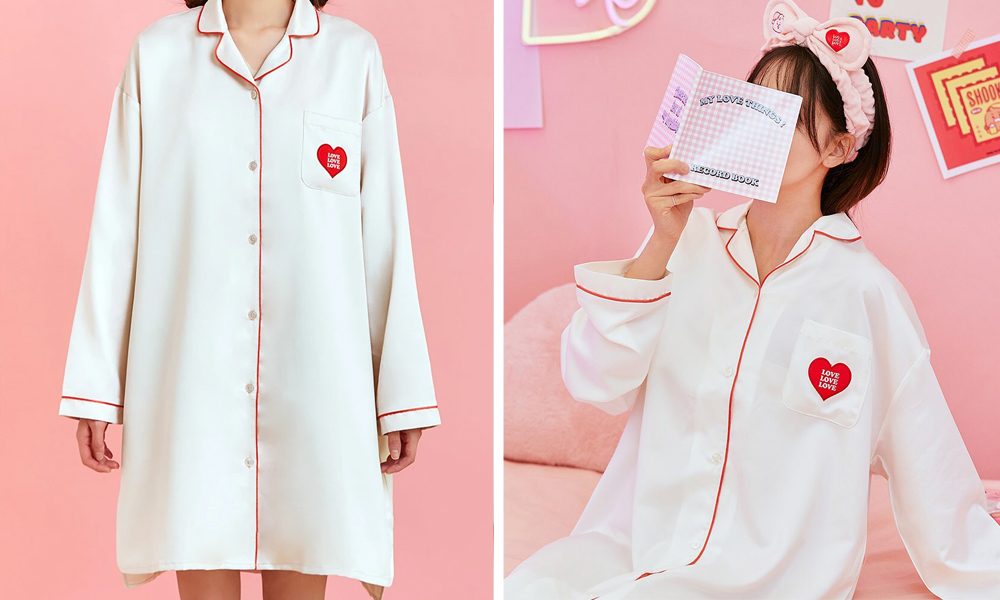 The button down pyjamas feature a red lining that runs down from the collar and the lining is also seen on the sleeves. It comes with a breast pocket on the left to keep small accessories like hair pins or even fit a cute BT21 plushie.  
As the dress pyjamas are 94cm long, it falls slightly past mid-thigh for most girls.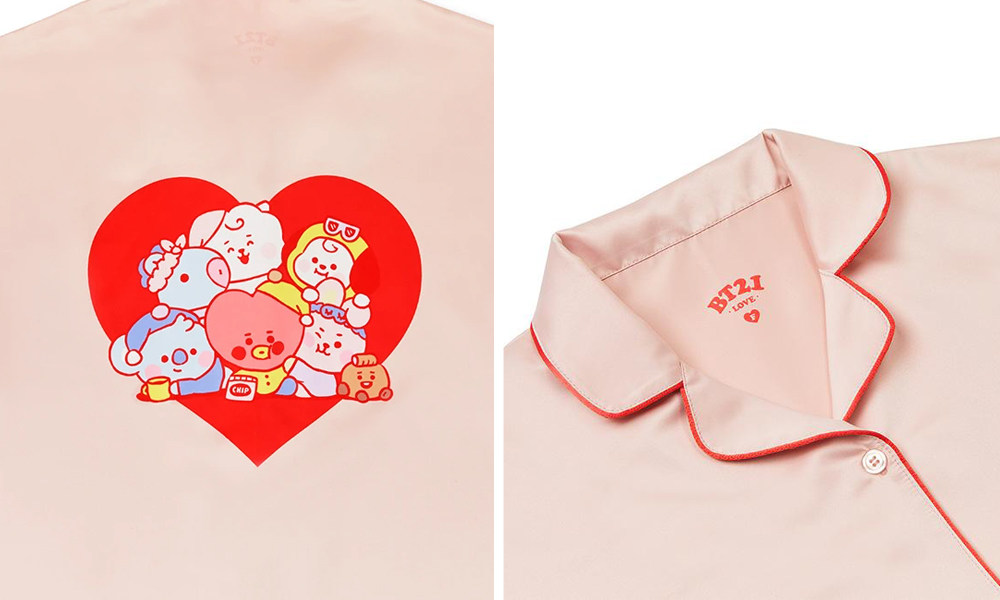 On the back, the BT21 babies are also gathered in pyjamas for their version of a sleepover. Someone please tell us how we can join them in their sleepover too. 
The BT21 Baby Party Night Pajama Dress retails at USD41 (~S$55.80). 
Socks
For those who get literal cold feet easily, you can keep them warm with these BT21 Baby Party Night Sleeping Socks.
The top part of the sock features the face of the adorable characters, and depending on which design you are wearing, the body of the sock comes in either light pink or red along with white hearts.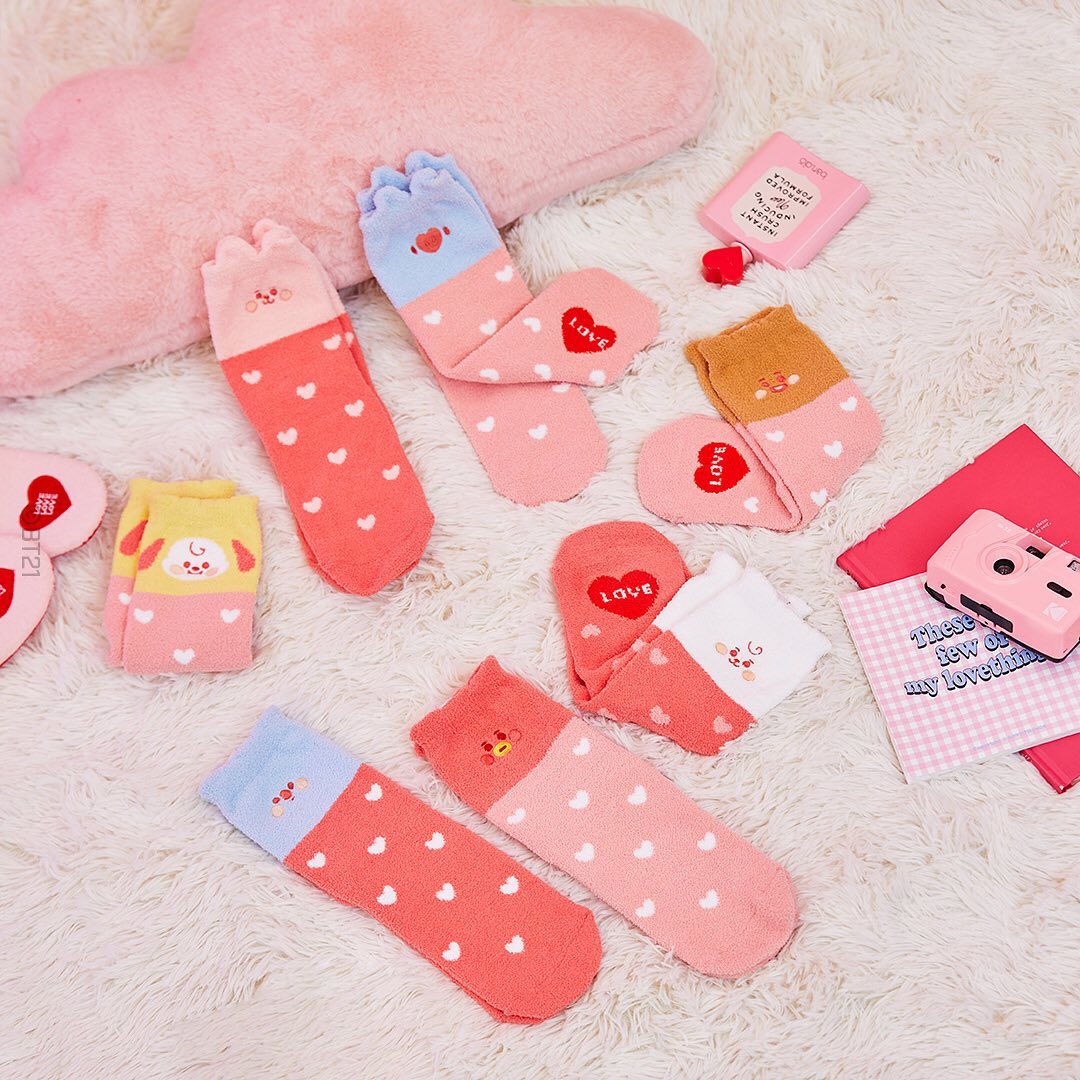 Another point to note is the warm and fuzzy material as it provides you with that extra comfort for a good night's sleep. 
Each pair of BT21 Baby Party Night Sleeping Socks retails at USD7.50 (~S$10.20). 
Indoor slippers
On the occasion that you're hosting a sleepover, you can have your guests put on this pair of BT21 Baby Party Night Indoor Slippers for extra slumber party vibes. 
The indoor slippers have a slightly furry texture and each slipper features a different set of BT21 Baby characters. On top of that, they are also surrounded by embroidered galaxies, stars and hearts.
A pair of the BT21 Baby Party Night Indoor Slippers retails at USD17 (~S$23.10).  
Face wash bands
Self-love is the best love and what is a sleepover without pampering your face with some rejuvenating facial masks together with your gang. 
To keep stray hair away from your face, make use of this pink BT21 Baby Party Night Face Wash Band. It comes with a ribbon on top and on each side, it features a BT21 Baby character as well as the red heart that appears in the collection.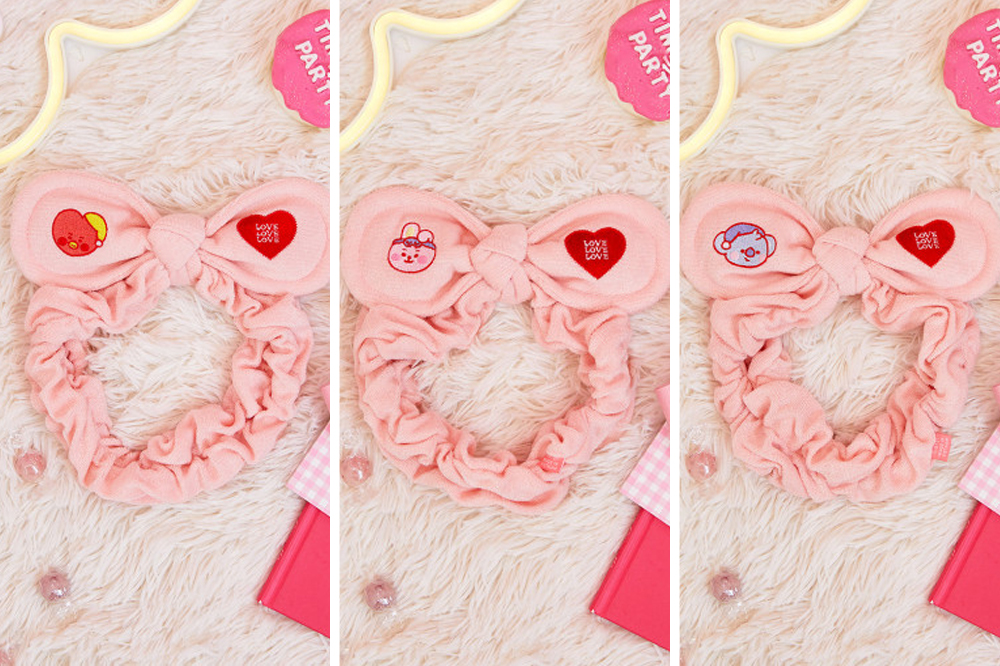 Plus, the elastic feature prevents the band from slipping off halfway so you can wash your face in peace.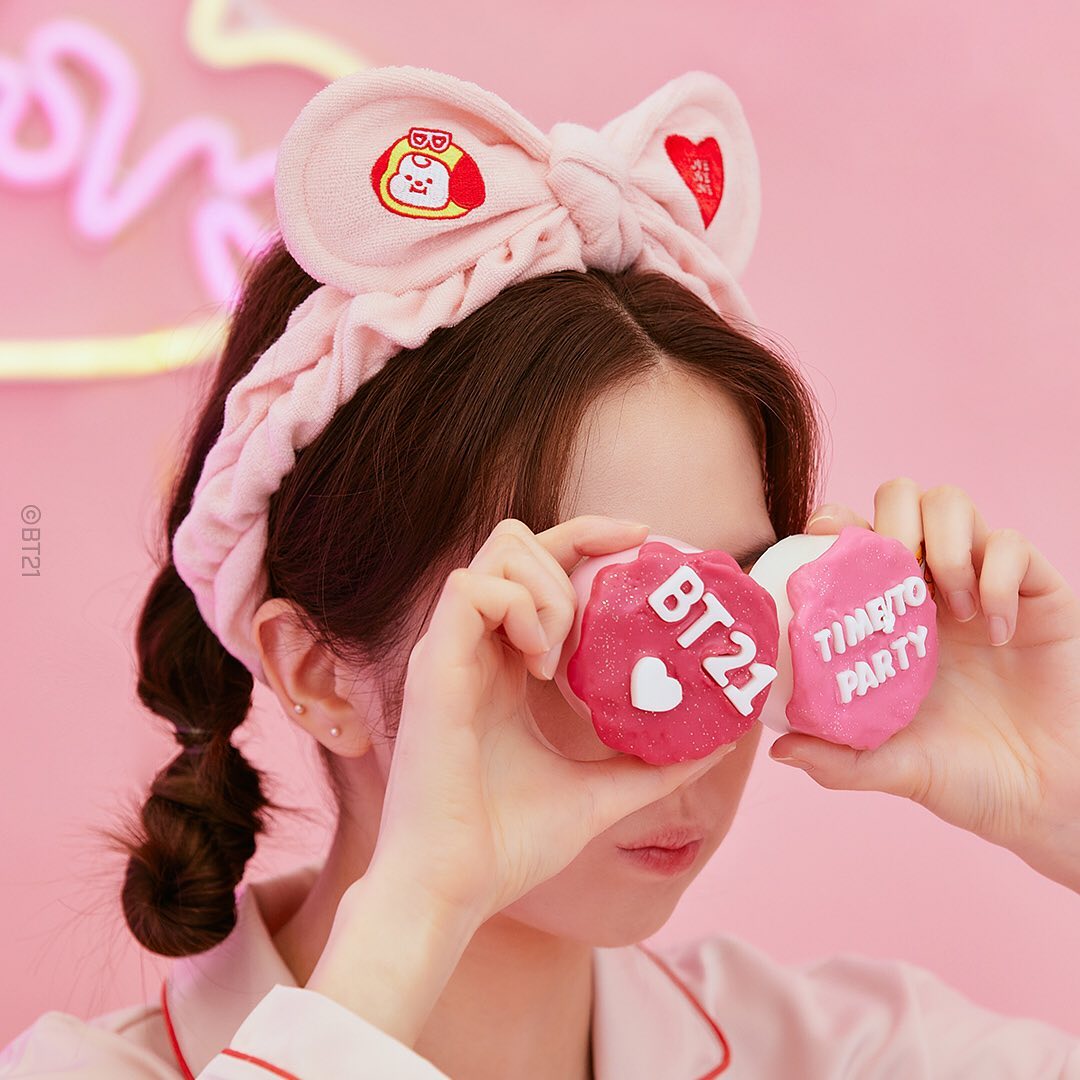 In case you and your friends are up for some goofy selfies, you can also double the face wash band as a cute hair accessory. 
Each BT21 Baby Party Night Face Wash Band retails at USD11 (~S$15). 
Goblet set
The party does not start until you've gotten yourself some beverages ‒ be it booze or juice ‒ while you catch up with your friends all night. To make things fancier, there is a goblet set in the collection to hold your drinks.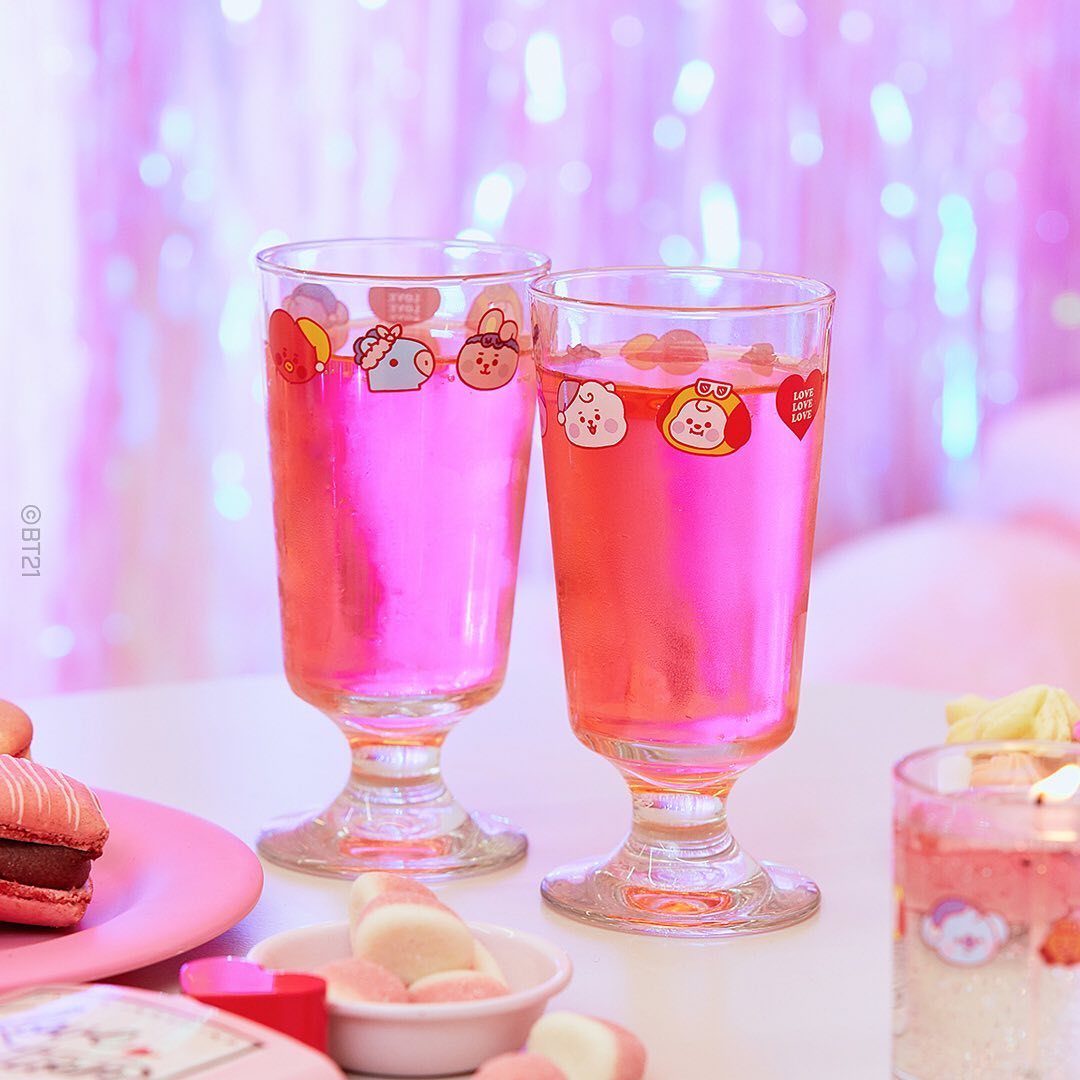 Made of glass, the cups are decorated with the motifs of the BT21 Baby characters near the brim. Each cup has a dimension of 7cm x 7cm x 15cm and weighs about 236g. 
On a daily basis, you can also use it as your go-to cup to hold your drink. 
The BT21 Baby Party Night Goblet Set includes 2 cups and retails at USD27 (~S$36.70).  
Plushies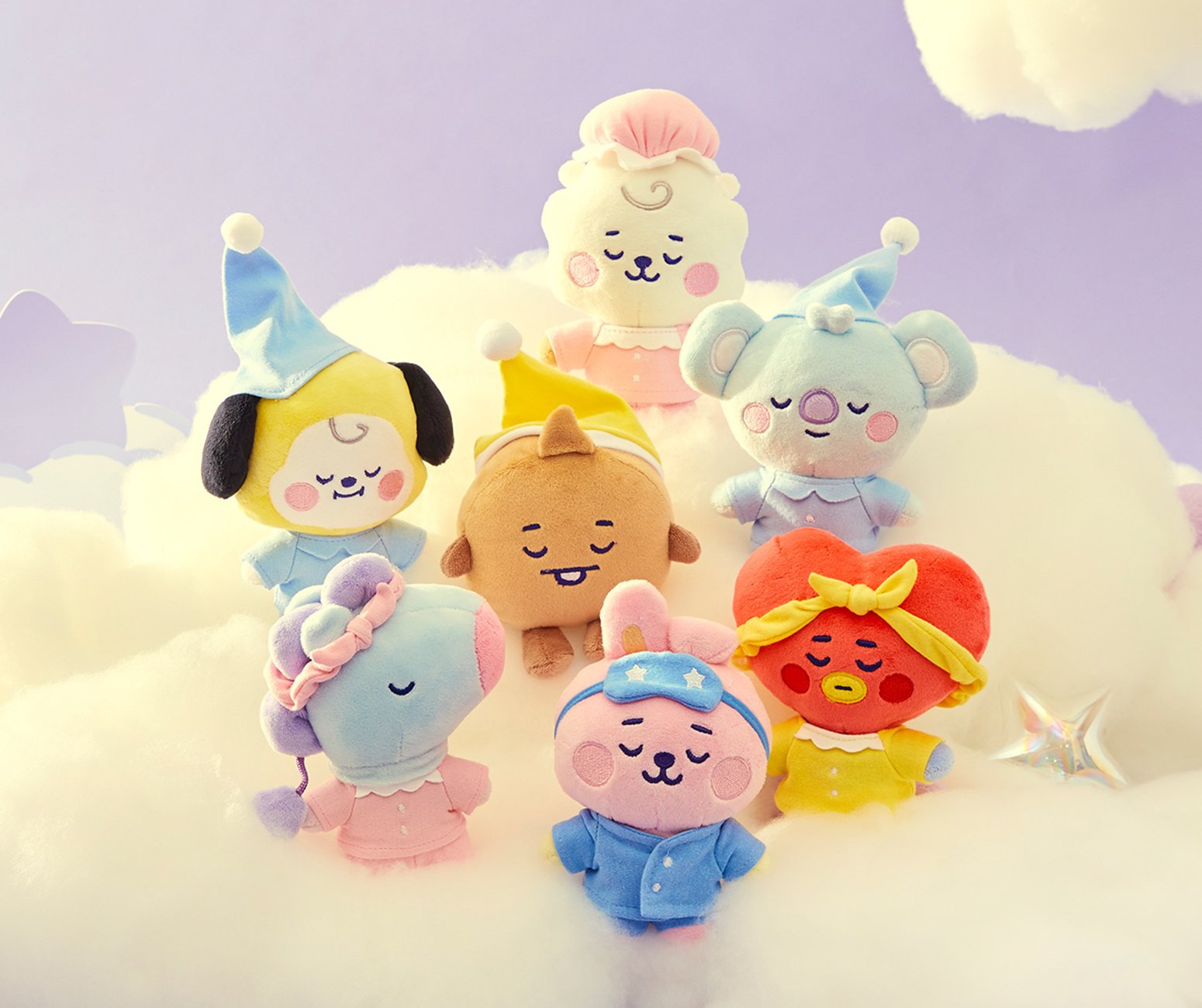 Though not part of this collection, there is a set of BT21 Baby plushies in pyjamas that can accompany you and your besties for a sleepover. All of them have a sleeping expression, seemingly enjoying their time in la la land. 
On top of their petite size which adds to their cute factor, their pyjamas are also removable. If you're interested in finding out more about the plushies, you can check them out here.
Get Cosy And Warm With This BT21 Party Night Collection During A Sleepover
Mark your calendar for a bonding time with your girls by having a sleepover party with this BT21  Party Night Collection. Be sure to cop them quick as some items are already sold out on LINE FRIENDS' Global Store. 
All images courtesy of LINE FRIENDS. 
Also read: 
The Melissa x BT21 Collection Lets You Customise Your Own Pair Of Sneakers With Character Appliques