BTS Break For Mental Health
Being a fan of BTS aka an ARMY for 5 years and counting, I look forward to June every year for a couple of reasons ‒ their anniversary that falls on the 13th which brings about a week-long of exclusive content. This year's celebration involved the release of their latest compilation album. Needless to say, I was over the moon…until their annual dinner show where they announced their group "hiatus". 
While the news left me stunned, I couldn't say I didn't see it coming. It was no secret that following their big break into the U.S market, BTS never had the opportunity to properly rest. The last thing I wished for them as a fan was for them to be miserable, burnt out, and dread the very career they worked so hard for.
Cheesy as it might sound, this "hiatus" also allowed me to better understand the importance of mental health and taking care of myself as a priority.
How I got into BTS and not other boy groups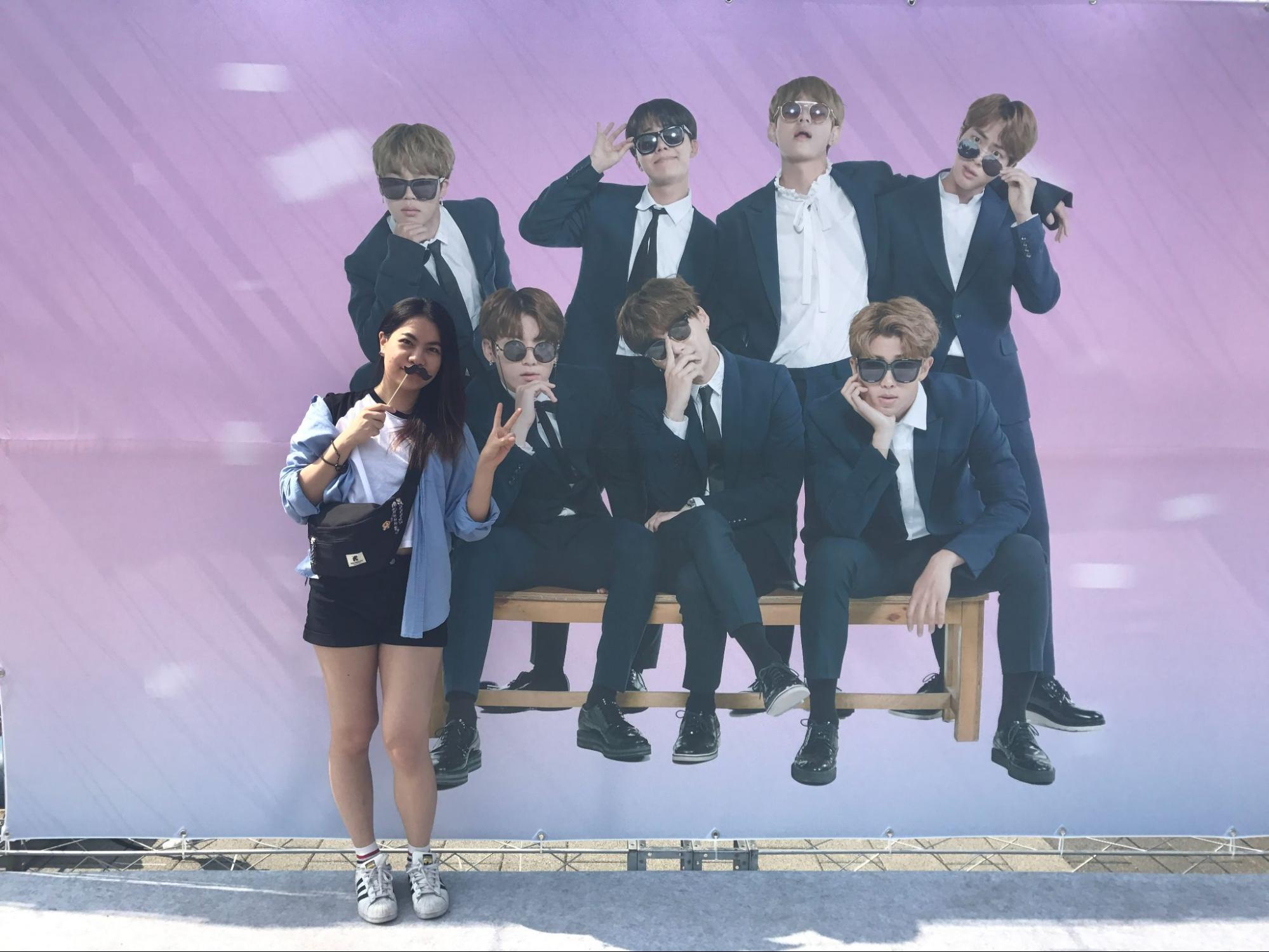 But before I share about how BTS became my unexpected life gurus. Let's rewind time to my beginnings as an ARMY. 5 years ago, I had the chance to watch a live music show recording in Korea, thanks to a friend who was working as a part-timer there. Little did I know that the visit would change my life as I saw BTS perform "Spring Day", which became my favourite song by them of all time. 
Perhaps needing something to fill a void after breaking up with my ex-boyfriend, I dived straight into the BTS fandom thereafter. 
It wasn't my first rodeo falling head over heels with a K-pop group as I had been following the genre since I was a teenager. But this was different. While my interest would usually subside over a couple of years for other bands, I still get amazed by BTS' music videos, and the messages they convey through the lyrics of their songs till this day. 
Rather than talking about love and breakups, their songs like "Epilogue: Young Forever" taught me to never give up on my dreams no matter how tough things get. "Blue & Grey" touches on the anxiety that BTS members experience, which I found relatable.  
Besides their catchy songs, good looks and meaningful lyrics, I also found myself becoming a hardcore BTS stan due to the fact that they constantly stayed true to themselves. Through their variety shows BTS Run and BTS In the Soop, they showed that they don't put on a facade, and treated everything they did with sincerity.  
Their Love Yourself series taught me to be kind to myself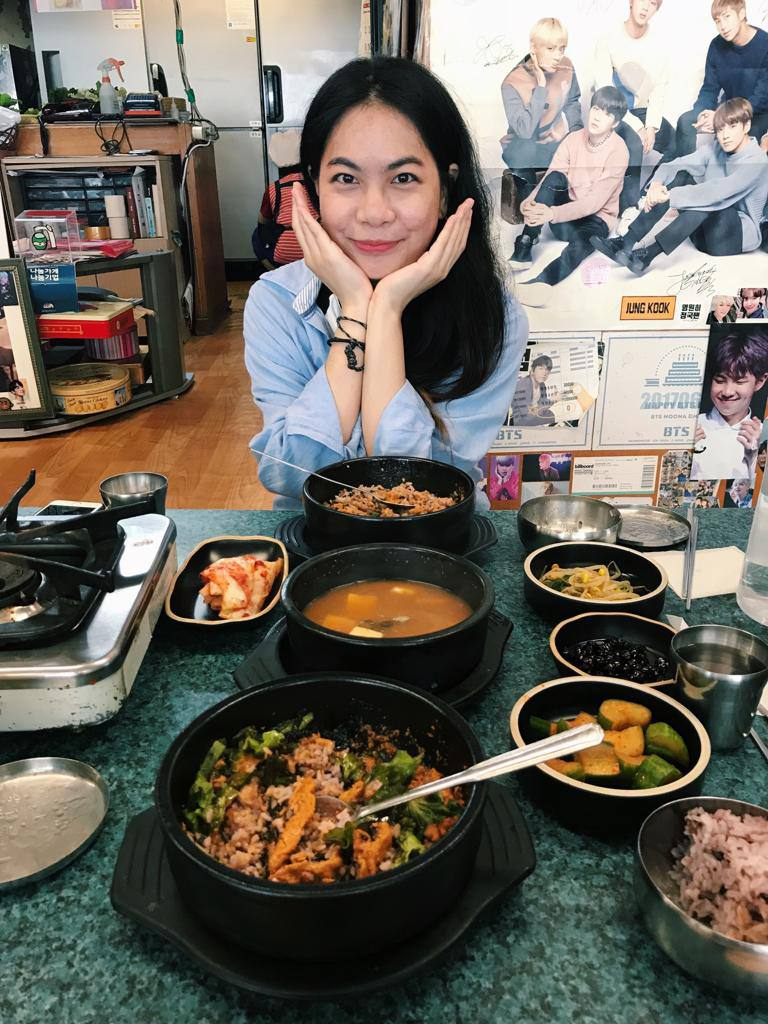 At the famous restaurant that BTS used to go to frequently
It's common to see self-love quotes on Tumblr or on gift mugs, but I only truly understood the concept of loving myself when BTS released the first of their Love Yourself album series in 2017. Around that time, I was struggling with insecurities about being flat-chested, and the message behind the album told me to embrace what I thought were my flaws and see them as my personal strengths instead. 
Thanks to this enlightenment, I never felt more dedicated to any K-pop boy group in my life. Their songs gave me hope and comfort, and I enjoyed every content they put out even more. 
Since their next two albums also revolved around the theme of loving yourself, they further helped me deal with other worries that I had. Back then, I was a fresh university graduate in Korea looking for a job, and I was subconsciously comparing myself to friends back in Singapore who looked as if they had a whole life plan set out ahead of them. 
BTS songs also made me realise it was okay to ponder the meaning of life, and to find my calling at my own timing. Not to mention, while I once was hard on myself when I had shortcomings, I grew to become kinder to myself and understood better that good things take time. 
As a way to "repay" and support their hard work, I tried my best to go to every concert and fan meeting that they held. While attending those events did take a toll on my bank account, I never regretted it because they were the ones that gave me a new perspective on life. 
In fact, it's safe to say that I could never imagine what my life would be if not for them. 
BTS's near-disbandment announcement was a wake-up call for me
Outside Gocheok Sky Dome for my first BTS concert in 2017
There were occasions when I wondered how different I would be if BTS didn't become part of my life. Perhaps I would have taken a longer time to realise that it was fine to do things by myself, or even continue to worry about things that I had absolutely no control over.  
As I watched them grow in popularity over time, break into the U.S industry and reach #1 on the Billboard charts, it never crossed my mind that they were actually unhappy during this process. 
During the Mnet Asian Music Awards 2018, Jin shocked the world when he mentioned that they actually thought about disbanding while the band received the "Artist of the Year" award.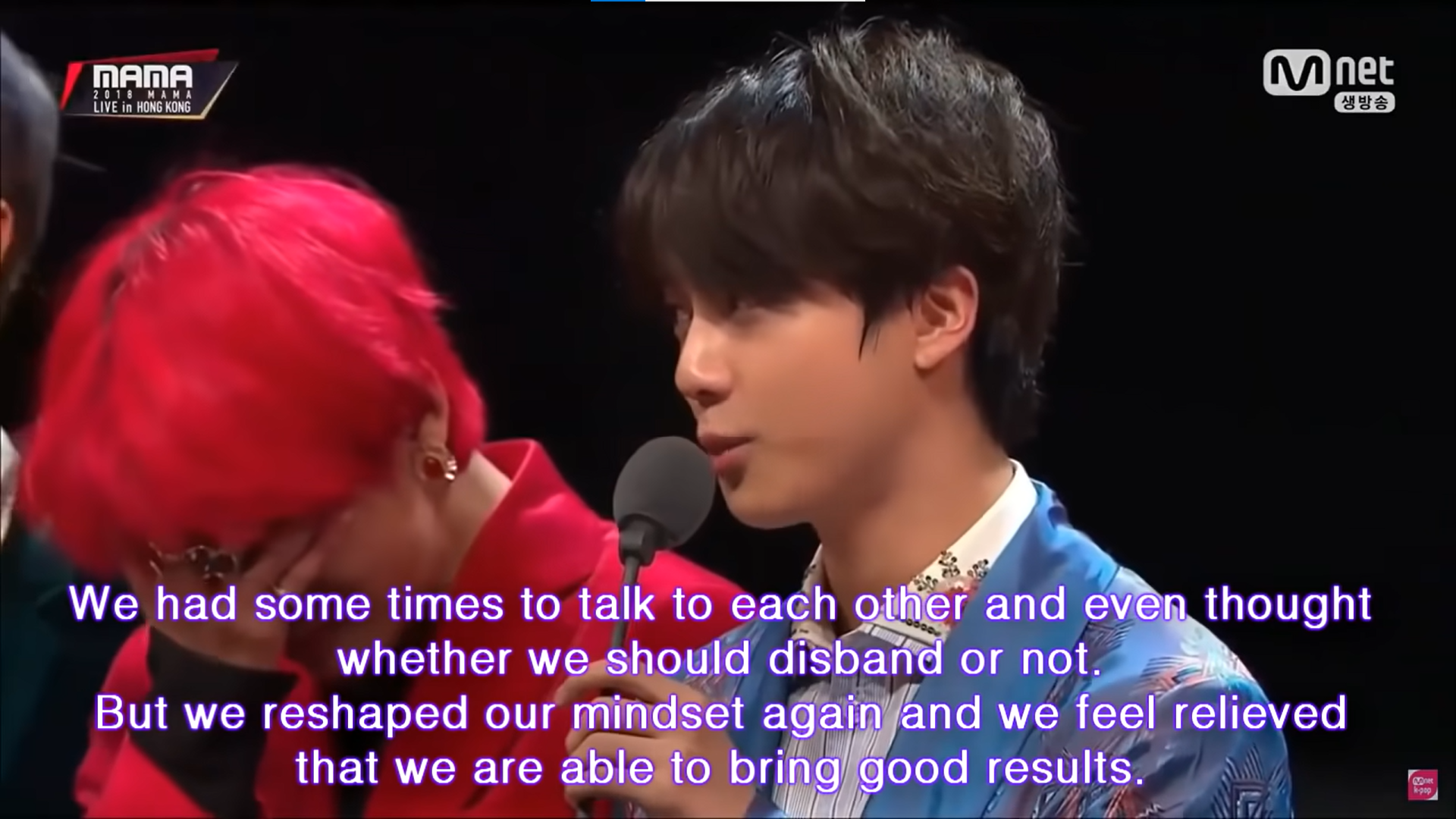 Source
I recall how my mind went into a state of shock — that was the last thing any ARMY expected to hear. 
Seeing how they were struggling mentally and keeping things under wraps broke my heart because beyond their brotherly jokes and positive exterior, they were going through difficult times behind the scenes. It made me realise that in exchange for the joy and comfort they gave me and other ARMYs, they were the ones who "sacrificed" their own happiness. 
Before this news, I always had the mindset that K-pop idols should always keep pushing themselves because their usual career span can be really short. Once you miss out on any window of opportunity, that's it ‒ the road to fame would probably never return.
Instead of being selfish and wanting my idols to be performative robots, I would much rather see BTS being happy and healthy than break down physically and mentally. After all, it's not like they haven't already proven their skills after winning accolades like the Billboard Music Award for Top Duo/Group for the past three consecutive years. 
Likewise, I would never want to see my loved ones exchange their mental health for something superficial. 
Also read: 
Travelling Overseas & Therapy Helped This Singaporean Heal From Her Divorce & Find Herself
Why I'm happy that they are finally going on a break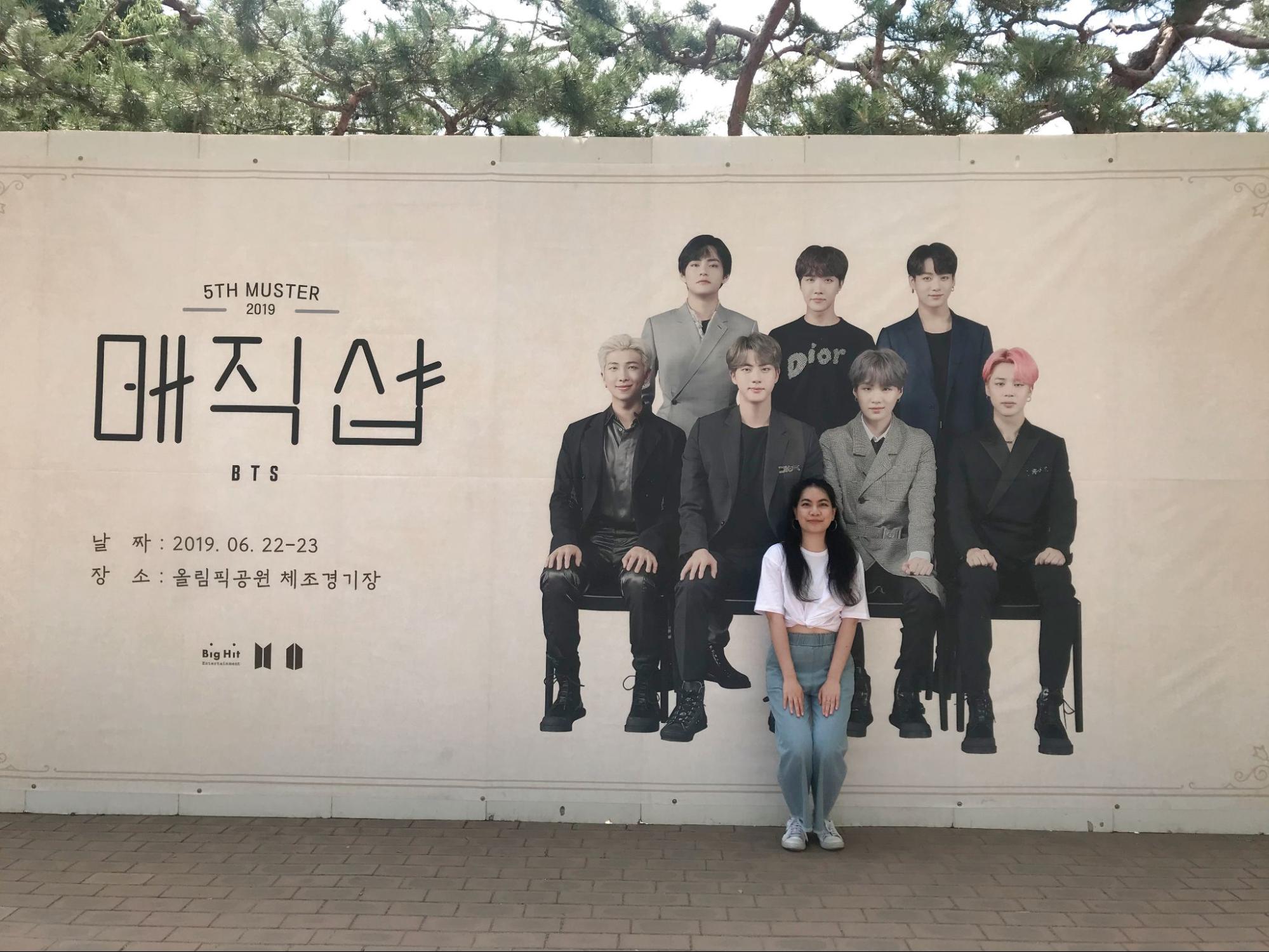 Outside a stadium in Korea before I attended their 5th fan meeting
Undeniably, the near-disbandment incident in 2018 felt like a prelude to the "hiatus" they just announced. As mentioned in this year's dinner show, they originally planned to go on a "hiatus" after their world tour in 2020 but couldn't do so. The plans were disrupted due to the Covid-19 pandemic, and they continued working as a group for two more years till now. 
In short, they pushed back the "hiatus", once again prioritising the fans over their well-being and mental health by releasing new music. 
Sure, while I admittedly didn't 100% love the idea that I won't get to see them as a group for some time, I was all in for their well-deserved rest. The "hiatus" would be a good way for each member to figure out what they want to pursue as an individual. Plus, they would finally get to spend quality time with their family and friends.
As the saying goes: "life is a marathon, not a sprint", and I believe every ARMY out there would fully support their decision of this break. Ultimately, we all have the same goal of seeing them reunite eventually and genuinely enjoy their careers again.
One fan I spoke to also agreed that while the "hiatus" announcement "sent [her] on an emotional roller coaster ride", she understood that "the decision is for the better". Plus, she "came into acceptance and would continue to fully support them".
This "hiatus" might even turn out for the better as a win-win situation for both BTS and fans ‒ BTS gets to go on a break, while fans can spend time to better focus on themselves after constant updates of BTS' whirlwind global dominance from the past few years. 
My plans on taking care of my mental health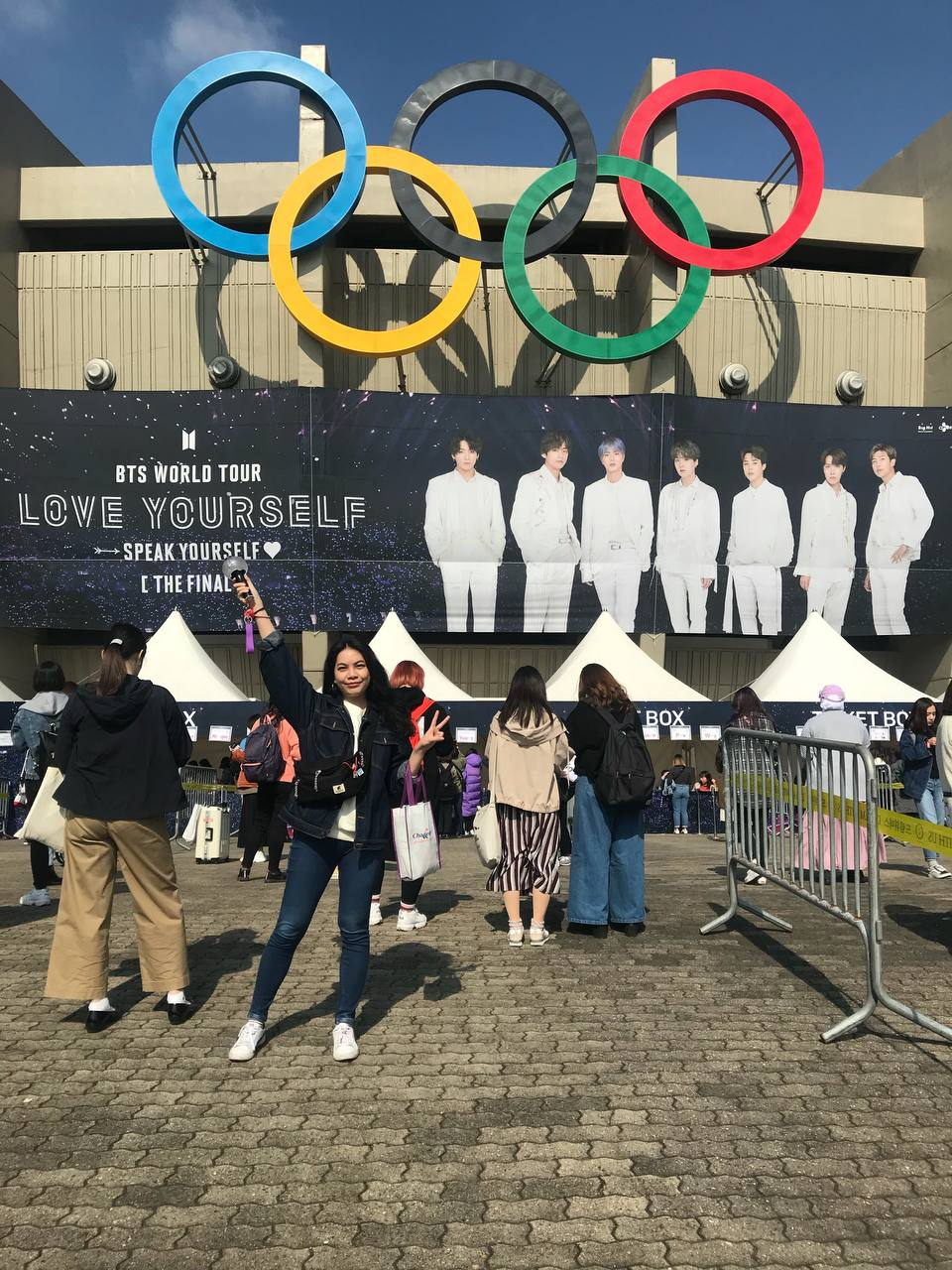 My last BTS concert in 2019 before Covid-19
Since I took it that BTS going on a "hiatus" was a sign for me to focus on myself, I reflected on IRL situations that stressed me out easily. As an overthinker and perfectionist, I came to realise that I was harsh on myself when it comes to producing results — be it for work or my relationship. In short, I constantly felt the need to see results quickly because I was insecure as a person. 
Saying that I went through an emotional turmoil might be a tad of an exaggeration, but over time, I did find myself succumbing to bouts of anxiety and frustration over minor inconveniences.
My plans to take care of my mental health moving forward are pretty simple ‒ to take things easy, step by step. If things get overwhelming, I'll always recall what BTS said about enjoying the process and little things in life ‒ just like how their song "So What" reminds me to let go of my fears and worries, and focus on living in the present. 
BTS's Break Shows The Importance Of Mental Health And That "Life Goes On"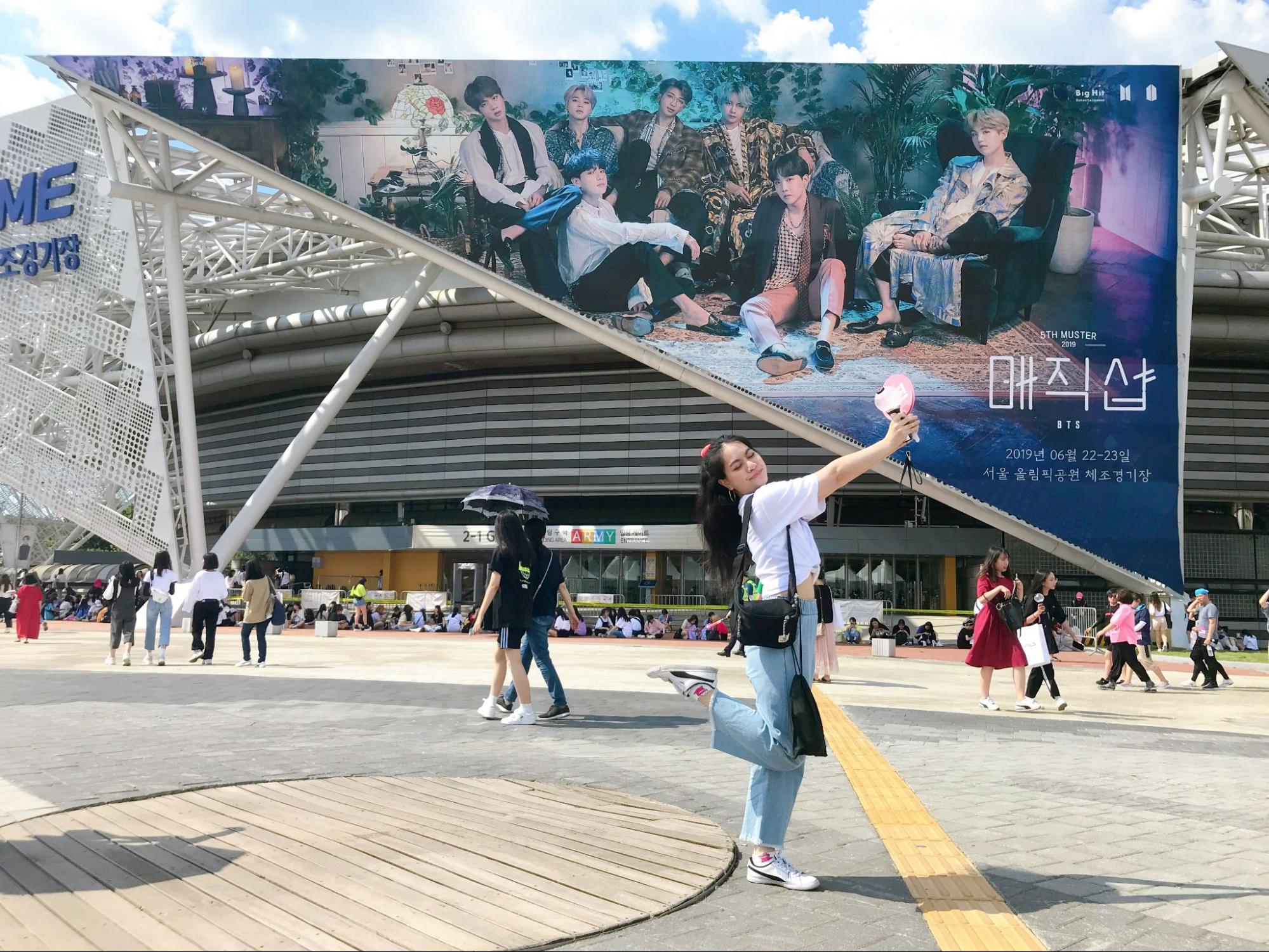 Just like the message BTS convey in their recent song "Life Goes On", life is indeed meaningful. Occasionally, we are bound to experience ups and downs, but everyone needs to find the strength to move on especially in difficult times. It is through those experiences that make us become a better version of ourselves. 
While not everyone may relate to how a Korean boyband changed my life, I'm sure that other ARMYs out there would know exactly what I mean about finding a new perspective from the journey of being a fan of BTS. 
No one can say for sure when BTS will be back together as a group, but I'm definitely looking forward to each member's individual activity. Jung Kook and J-Hope have already released solo work since the announcement. 
Perhaps also through this break, more people will recognise and acknowledge the importance of mental health. And you can bet I'll continue seeking solace and comfort with their songs on full blast. 
All images courtesy of the writer unless otherwise stated. 
Also read: 
Growing Up With An Absent Father & Handling His Second Marriage Taught Me To Prioritise My Mental Health