Foodpanda x Tiger Sugar Bubble Tea Mask
Many brands have released chio and quirky reusable face masks in all sorts of prints, colours and patterns to add some much-needed fun to our 2020. Now, foodpanda and Tiger Sugar are taking things further with a limited edition bubble tea mask. Read on to find out how you can get your hands on this exclusive mask!
The mask
Image courtesy of foodpanda
When you think of foodpanda, the first things that come to mind are probably its striking pink shade and panda mascot. This bubble tea mask combines both the brand's signatures, with the addition of bubble tea motifs. 
Gone are the days where you have to keep removing your mask to satisfy your boba cravings. The bubble tea mask comes with flaps to keep you safe outdoors while letting you partake in your favourite BBT order. All you have to do is pop the flap and feed your straw into the opening. When you're done, secure the flap back onto the velcro patch and you're good to go. 
How to get it
Source
Now, here's the part BBT lovers need to pay attention to. From 2 December 2020, for every Tiger Sugar pick-up order (per receipt) made via foodpanda, you will be able to cop this exclusive bubble tea mask. 
Plus, foodpanda is offering 15% off bubble tea pick-up orders and an additional $3 off with the code "PUNEW" for those who have not used the pick-up feature before. 
Also read:
Louis Vuitton's Monogram Mask Cover, Bandana & Pouch Set Lets You Stay Safe, Stylish And Bougie
foodpanda straw set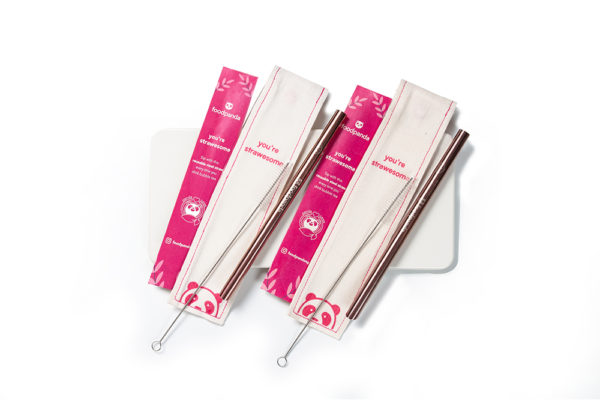 Image courtesy of foodpanda
While you're at it, ditch your plastic straw for a matching rose gold reusable straw set. 
The set comes with a metal straw, pouch and cleaning brush. You can cop it for $4 from pandamart and enjoy your bubble tea in style while saving the earth. 
This Foodpanda x Tiger Sugar Bubble Tea Mask Is What All Boba Lovers Need In The New Normal
BBT fans who have been complaining about how difficult it is to enjoy your favourite drink, this is your chance to nip things in the bud once and for all. Get your favourite Tiger Sugar drink as a pick-up order, and cop this limited edition mask, while stocks last.
Also read:
This Aesthetic Bubble Tea Tumbler Lets You Have Your Pearls And Save The Environment Too