Cafes With Activities In Singapore
When going on a first date, it's safe to say that you simply can't go wrong with cafes. However, beyond sipping coffee and staring into each others' eyes, the downside is that there's not much to do. 
We've compiled a list of 10 cafes in Singapore that combines both cafe vibes and fun-filled activities to level up your perfect date. From pottery, karaoke and even horse-watching, this list will ensure that your date will be nothing close to boring.
1. Café de Paris — Art jamming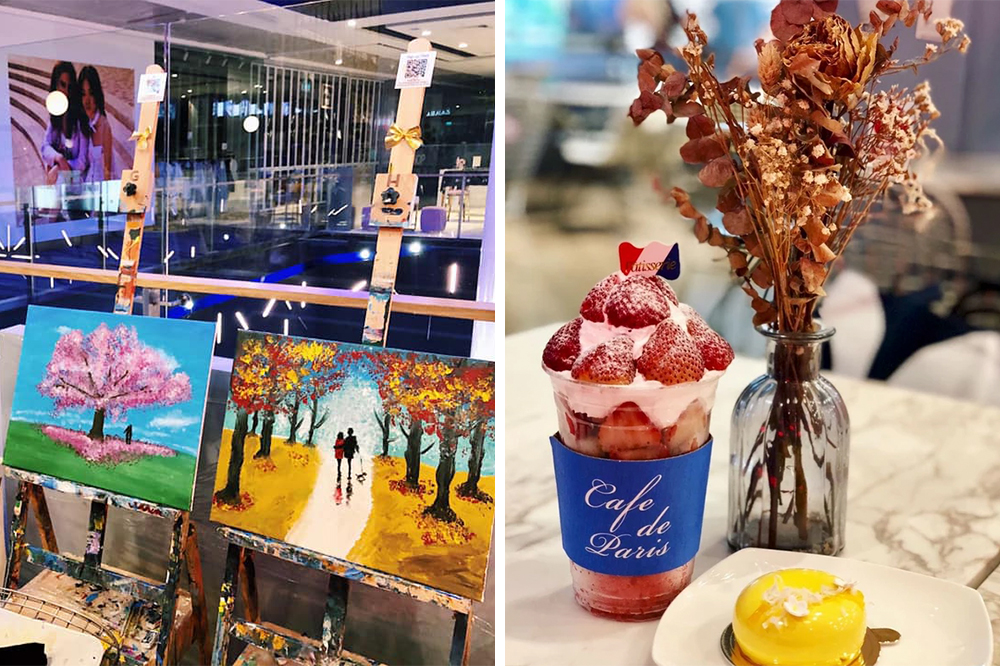 Source
Put on your berets and pick up your paint brushes, because Café de Paris offers art jamming sessions with free drinks to enjoy. The free and easy sessions cost $28 per pax and $50 for for 2 pax to enjoy a 3-hour sesh. Additionally, as an art jamming customer, you can enjoy 10% off regular-priced food and beverages, ending your date on a sweet note. 
Address: 313 Orchard Road, #B1-37, 313@Somerset, Singapore 238895
Opening hours: 11am to 10pm (Sundays to Thursdays) | 11am to 10.30pm (Fridays, Saturdays and eve of Public Holidays)
Website | Facebook | Instagram
2. The Mind Cafe — Board games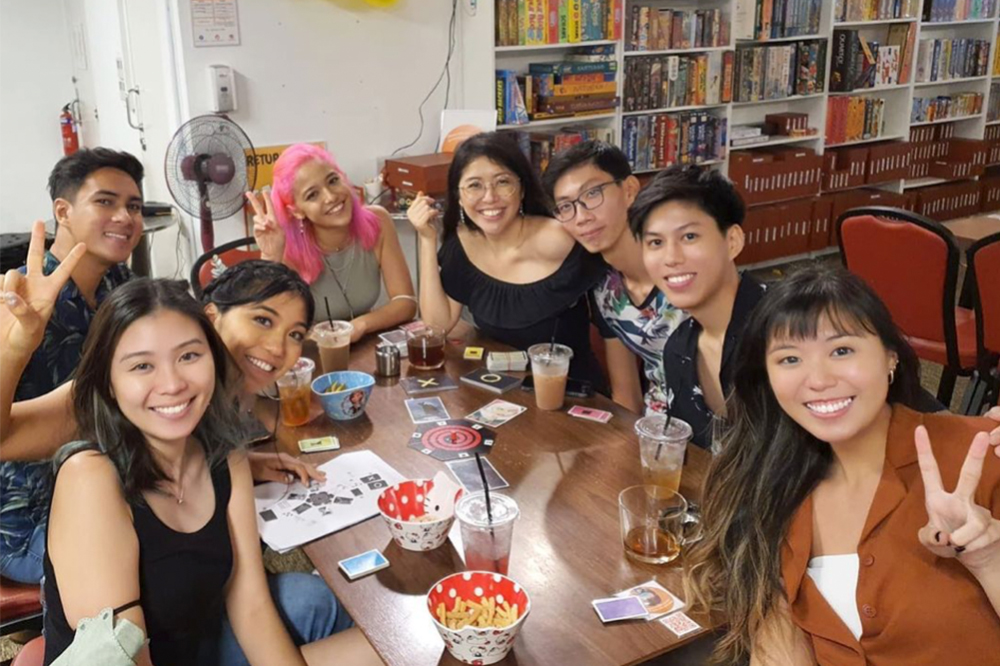 Source
Get your brain juices flowing at The Mind Cafe, which offers over 800 board games while you munch on cafe snacks. Even if you're unsure how a game works, don't worry, because the gaming and service staff will be able to guide you so you can have a fuss-free and enjoyable time. 
Pro tip: The Mind Cafe offers bonding games too, so this is your chance to get to know your bae even better. 
Address: 60A Prinsep Street Outlet, #02-00, Singapore 188664 | 30 Prinsep Street, #01-01, Singapore 188647
Opening hours: 11am to 2am (Sundays to Thursdays) | 11am to 6am (Fridays, Saturdays and eve of Public Holidays)
Website | Facebook | Instagram 
3. The Riders Cafe — Watching horses
Instead of laying in bed and binge-watching Netflix, perhaps you can escape to the countryside and watch horses for a change. The Riders Cafe is hidden behind the lush greenery in Bukit Timah, serving contemporary food with gorgeous sunset views and horses galloping in the fields. 
Address: 51 Fairways Drive, Singapore 286965
Opening hours: 8am to 9pm (Tuesdays to Sundays) | Closed on Mondays
Website | Facebook | Instagram
4. Am I addicted — Pottery
At Am I Addicted, you'll be able to experience fun pottery classes taught by professional ceramists. Even if it's your first time, the studio offers flexible wheel throwing trial classes at just $55 for 1 hour. After you've finished your masterpiece, treat yourself to their wholesome vegan Korean menu, featuring bibimbap and grilled cheese with kimchi.
Don't forget to snap some IG-worthy pics with their cafe walls before you leave! 
Address: 13 Stamford Road, #B2-51/52/53, Capitol Singapore, Singapore 178905
Opening hours: 11am to 9pm daily
Website | Facebook | Instagram
5. The Book Cafe — Reading
Calling all bookworms — the library isn't the only place where you can enjoy reading in peace. Nestled in Robertson Quay, The Book Cafe offers a cosy living-room space where you and your date can chill, flip through books and sip on coffee. Breakfast staples, bowls and burgers are available too, so you can discuss your newfound books over a warm meal. 
Address: 20 Martin Road, #01-02, Seng Kee Building, Singapore 239070
Opening hours: 8.30am to 8.30pm daily
Website | Facebook | Instagram 
Also read:
9 First Date Cafes & Restaurants In Singapore With Side-By-Side Seats For Introverts
6. Joya Onsen Cafe — Onsen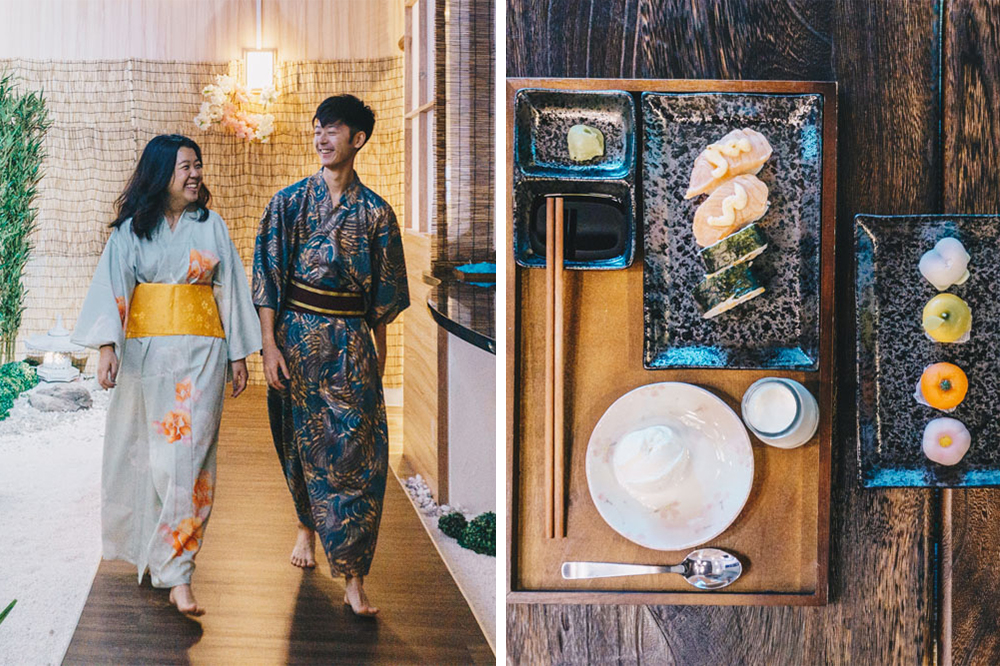 Source
For those missing the hot springs in Japan, Joya Onsen Cafe is a Japanese-themed spa with relaxing baths and a chio cafe serving up sushi and dessert. You're welcome to dress up in a traditional Yukata or Jinbei too for your post-onsen OOTD. If you're looking to spend an intimate time with your partner, opt for the private bath instead for extra privacy. 
Address: 511 Upper Jurong Road, Singapore 638366
Opening hours: 11am to 11pm daily
Website | Facebook | Instagram
7. Café de Nicole's Flower — Flower making workshop
Stepping into Café de Nicole's Flower almost feels as if you're stepping into a lush garden, since nearly every corner is filled with fresh and vibrant flowers. Zhng up your cosy brunch experience with their flower arrangement workshops, offering beautiful bloom boxes, baskets and bouquets. 
The cafe is also pet-friendly, so you can bring your furry friends along for a fun bonding session. 
Address: 224 Telok Kurau Road, #01-01, UNI Building, Singapore 423836
Opening hours: 9am to 9pm (Thursdays to Sundays) | 9am to 11pm (Fridays to Saturdays) | Closed on Tuesdays
Website | Facebook | Instagram 
8. Soul Coffee — Tarot card reading
Robot baristas, museum-like 4D immersive experiences and even tarot card reading sessions? Soul Coffee sounds just like a cafe spot straight from the future, and this unique location offers endless activities you'll never get bored of. Snap memorable photos of your loved one with the floor-to-ceiling projections that shift from an underwater world, to dreamy depictions of spring.  
Address: 11 Tanjong Katong Road, #02-16, Kinex Shopping Mall, Singapore 437157
Opening hours: 11am to 10pm (Mondays to Fridays) | 10am to 10pm (Saturdays and Sundays)
Facebook | Instagram 
9. 7th Heaven KTV & Cafe — Karaoke
After a long week, singing your heart out at a karaoke bar seems like the best way to end your TGIF. 7th Heaven KTV & Cafe offers a variety of Western food to enjoy while you serenade bae with a love song. If you're looking for more entertainment, the cafe also offers game rooms where you can play Nintendo Switch games or board games. 
Address: 1/A Tampines Street 92, #03-02, SAFRA Tampines, Singapore 528882
Opening hours: 11am to 1am (Tuesdays to Saturdays) | 11am to 11pm (Sundays)
Website | Facebook | Instagram 
10. Swee Lee Social Club — Music store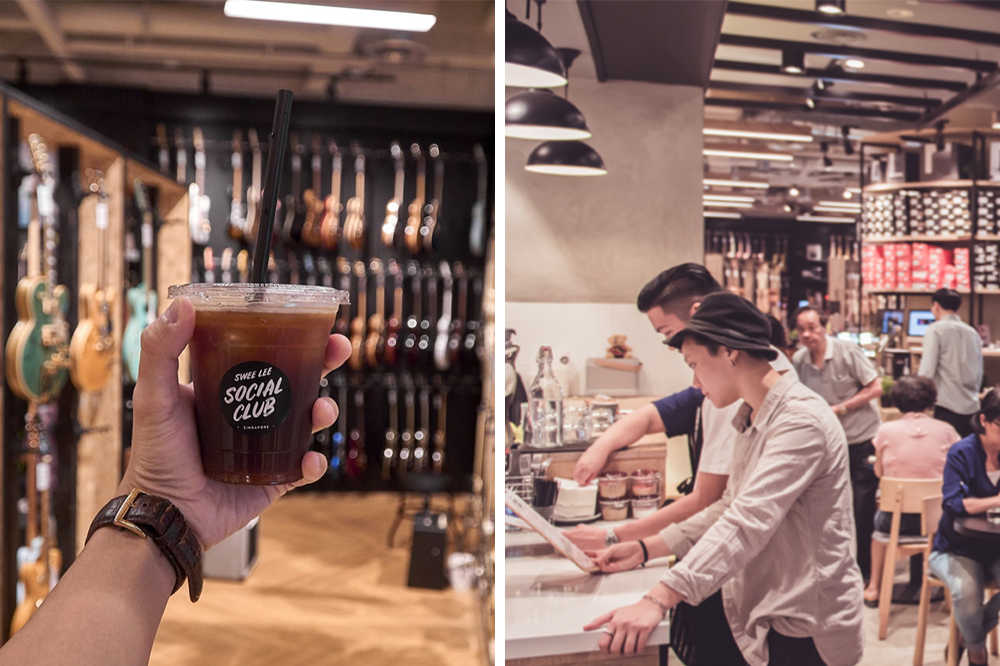 Source
Swee Lee Social Club may look like a typical cafe at first glance, but it's also a social event space for music lovers to bond. The store offers a wide range of musical instruments and repair services, and guitarists and drummers can also try out the equipment in their teaching rooms. 
Don't forget to treat yourself to their sweet desserts, such as their banana brulée waffle, before you go. 
Address: 1 Vista Exchange Green, #01-07/10, Singapore 138617
Opening hours: 10am to 7pm daily
Website | Facebook | Instagram 
These Unique Cafes With Activities Will Level Up Your Next Coffee Date
No need to wrack your brains when it comes to planning an upcoming date — these cafes with activities will ensure that there's never a dull moment while you fill your bellies too. 
Check out this article for more cafes and restaurants with side-by-side seats suitable for first dates to minimise awkwardness. 
Also read:
10 Cafes With Free Wi-Fi And Power Plugs For Small Meetings During Flexi-Working Season