Canon x Hello Kitty
If you've been looking for a Hello Kitty tech gadget to add to your Sanrio collection while waiting for the Hello Kitty Tamagotchi to launch, look no further. Canon has partnered with Sanrio to bring us a new take on its iNSPiC printer, so you can print pictures on the go.
Add Hello Kitty stickers, frames, or write your own messages to decorate your photos before printing them, like how you did in Neoprint booths back in your secondary school days. You can even stick the prints on your notebook or on the back of your smartphone.
Mini photo printer
The new Hello Kitty photo printer is designed after Canon's iNSPiC PV-123 model. The lightweight printer weighs about 160g, and is about the size of a regular smartphone. It is so convenient to carry around, you'll have no trouble bringing it along with you when you visit your favourite Hello Kitty theme parks and cafes in 2021.
The printer uses Canon's ZINK Photo Paper, which is ink-free. Snap pictures when you're out with your friends and print copies out immediately for the whole squad, before sticking the pictures on your phone or in your diary.
Also read:
10 Hello Kitty & Sanrio Theme Parks, Cafes Plus Museums To Visit In 2021
Canon Mini Print app
To print photos out with the gadget, you'll need to use the Canon Mini Print app. When you connect the Hello Kitty iNSPiC printer to your phone, the app will automatically update to a cute Hello Kitty-themed interface. This theme is only available for the Hello Kitty iNSPiC PV-123 model, and features Hello Kitty icons and motifs.
To commemorate the release of the Hello Kitty collaboration, Canon has also released Hello Kitty frames and stickers in the app so that you can style your own photos. These will only be available for one year only, until 31 October 2021, so use them all to your heart's content till then.
There are 3 Hello Kitty frames available. One resembles a postcard, another is a simple design of Hello Kitty taking a selfie, and the last one is lined with Hello Kitty's bow in various shapes and colours.

Source
You can also add texts and stickers to your photos, in true Japanese Neoprint style. Decorate your we-fies with 7 Hello Kitty stickers, including a Hello Kitty headband, Hello Kitty bows, or a simple "Hello" banner in red and white.
Various frames and stickers will be added to the app according to the seasons, so be sure to keep a lookout for the newest ones.
Print Your Favourite Squad Pics With The Canon x Hello Kitty iNSPiC Printer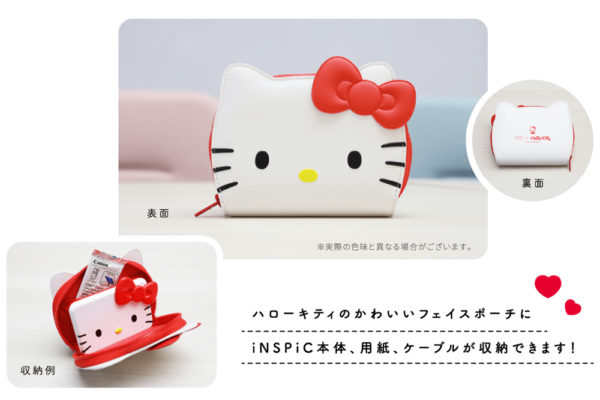 The Hello Kitty iNSPiC Printer is cute and useful too. You can order the printer by itself for ¥17,380 (~S$225.47) or as part of a 3 different sets.
The Paper Set consists of the printer, a 100-sheet pack of photo paper and a special Hello Kitty pouch; and is retailing for ¥22,110 (~S$286.70). The Photo Diary set has all of the same items, and includes an A5 sized-journal to keep your printer photos. It retails for ¥24,530 (~S$318.23). Lastly, the Mobile Battery Set has a portable chager in place of a journal and costs ¥24,909 (~S323.14).
The printer will only be released some time in mid-November, but pre-orders are already open in Japan on Canon Japan's online store. While shipping to Singapore isn't available on the site itself, you can try using forwarding sites like vPost. Hopefully, the printer will also make its way to Singapore, or show up on sites like Carousell and Shopee. 
Cover: Source
Also read:
Hello Kitty Tamagotchi Is Every '90s Kids' Dream Collaboration