Creative Things During Circuit Breaker 
Whatever your love language, we've all had to find different ways of conveying our affection to our loved ones during this era of social distancing. We asked 8 millennials to share with us some of the creative things they've done to show their partners that they care; be it grand gestures or #littlethings, for a special occasion or just 'cause.
1. She was inspired by Ellen's 12 Days of Giveaways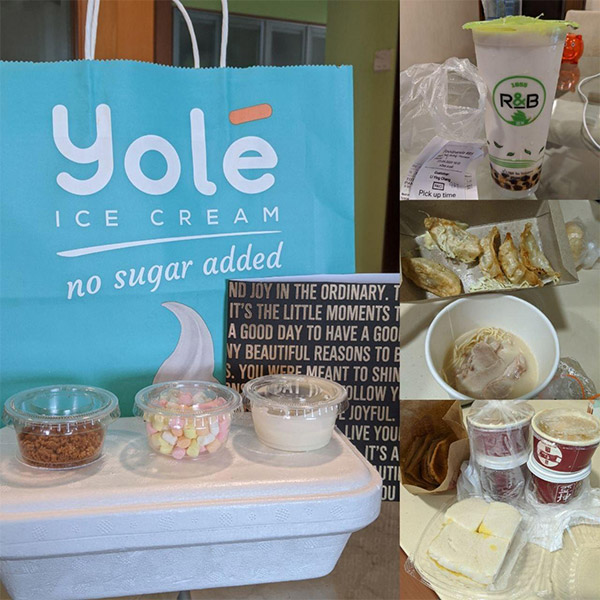 "For my boyfriend's birthday in April, I ordered food delivery to him (almost) every single day before his actual birthday. Inspired by Ellen's 12 Days of Giveaways, it was Li Ying's 7 Days of Birthday Deliveries.
He was very happy but started to expect the deliveries after a few days. He also said to stop sending him food because it was very expensive, and asked me to save up the money to treat him to a good meal after the Circuit Breaker ends instead."
—Chang Li Ying
2. She cooks for her boyfriend and drops off the food at his place every week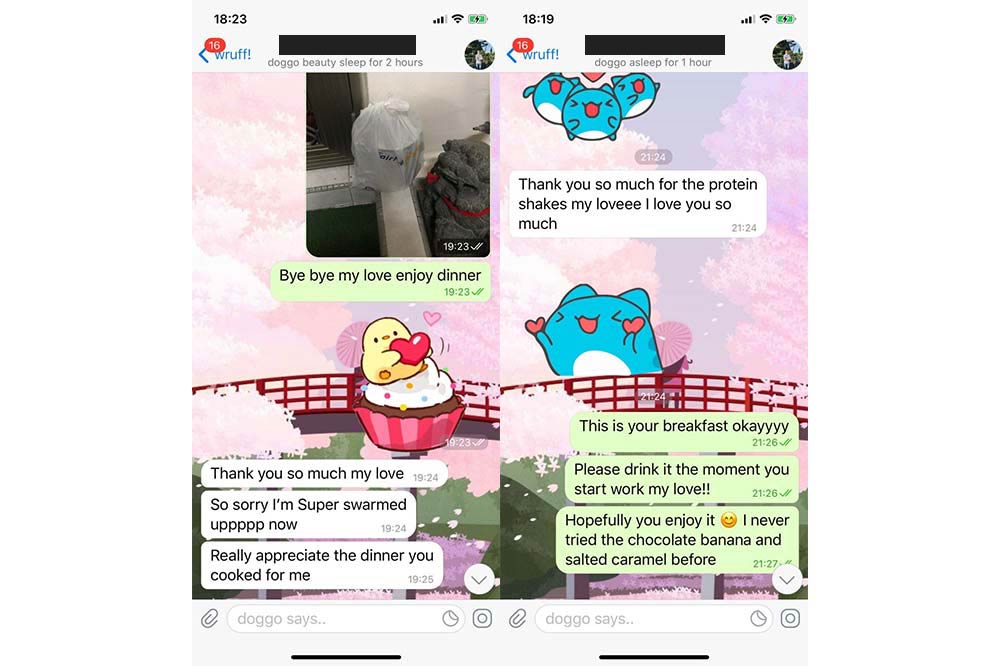 "I've been learning how to cook since Circuit Breaker. From simple ABC soup, I've since mastered cooking beef curry udon, herbal chicken soup, pan-seared salmon with lemon butter sauce, etc.
I'm eager to share my achievements with my boyfriend, so every Monday (my weekends are Sundays and Mondays), I prepare him dinner and take public transport to deliver it to his place. I'll leave it outside his door and he'll come out to take it once I'm leaving.
My boyfriend's lunch breaks are pretty hectic because of how demanding his work has been during this period. He talked about buying protein shakes for a while because they are easy to consume and rather filling for lunch. I bought bottles of protein drinks from FairPrice and asked a Grab driver to deliver them to his place too.
Once or twice, I surprised him by ordering him lunch via GrabFood. I asked the food delivery rider to let my boyfriend know to take breaks, not work so hard and enjoy his lunch. The rider was nice enough to show him the exact message.
I also recreated him in The Sims 4 so we can live out our romance in a virtual world!"
—Amanda Yeap

3. He helped her water her black roses on Animal Crossing
"My girlfriend is a huge Animal Crossing fan. I was into it too for a while, mostly because she was playing and we could visit each other's islands.
For her birthday, I brainstormed with her friend on how to get her to an island specially designed for her without raising suspicion, all while quite a few of us were gathered on the island.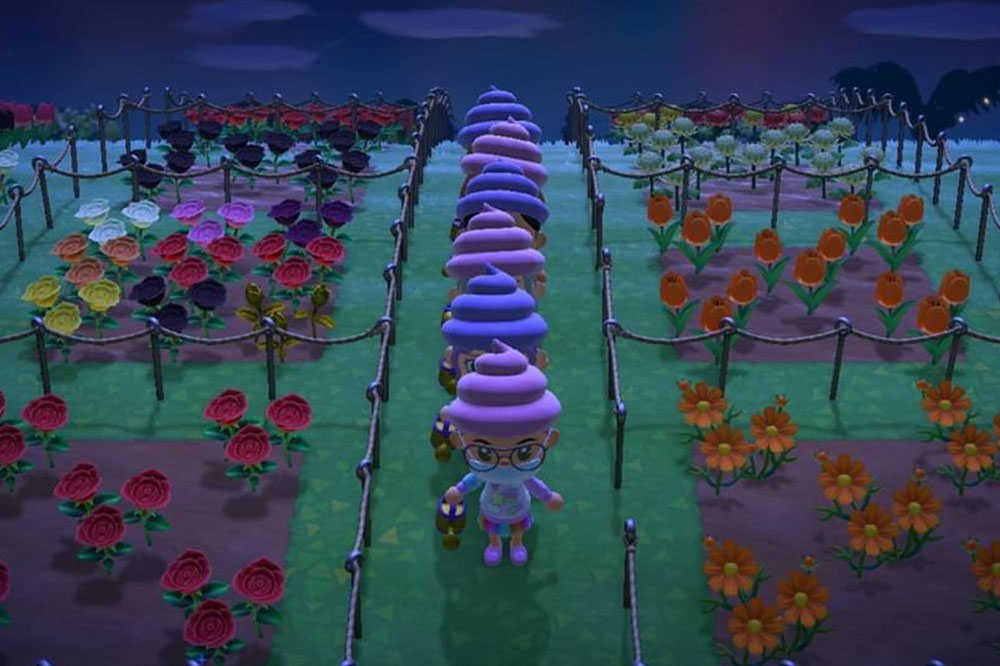 In the end, the plan failed because the connection was poor and we kept disconnecting. So we let the cat out of the bag and went to my girlfriend's island instead. Since we were there, we helped to water her black roses so she would have a higher chance of growing gold roses.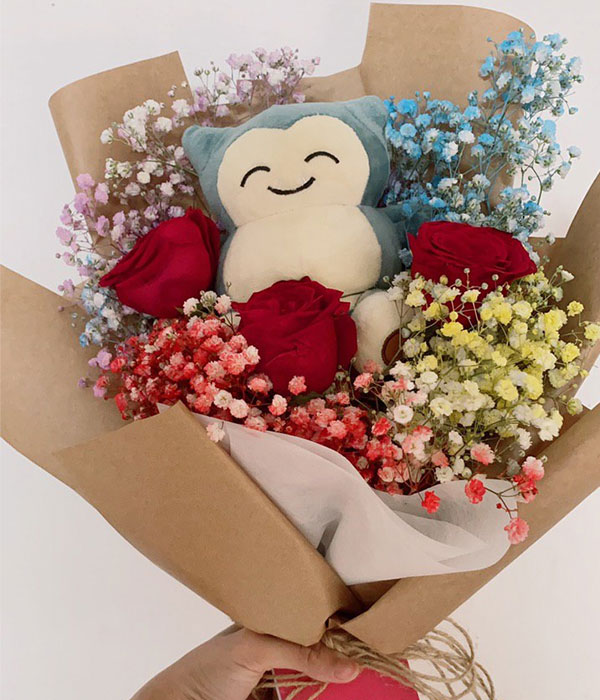 On the same day, I sent her a Snorlax bouquet and a gift. Snorlax because eating and sleeping are what we have been mostly doing over this period, and that's what she pokes fun at. It's also my favourite Pokemon and she associates it with me. So it was perfect that I could give her the flowers with something that could last longer."
—Gerald Seah
4. She baked festive staples and delivered them to his house

"The Circuit Breaker happened during the fasting month. Since we're encouraged to break our fasts with something sweet, we got sweet treats for each other like cakes, Malay kuehs or dessert to complement our meals. We had to time the orders carefully to make sure they arrived just before breaking fast (around 7pm) to ensure freshness.
During that period, delivery timings were unpredictable. It was sometimes an anxious wait to see when the food would reach the other person. In some instances, it arrived with only minutes to spare till the call for prayer or azan.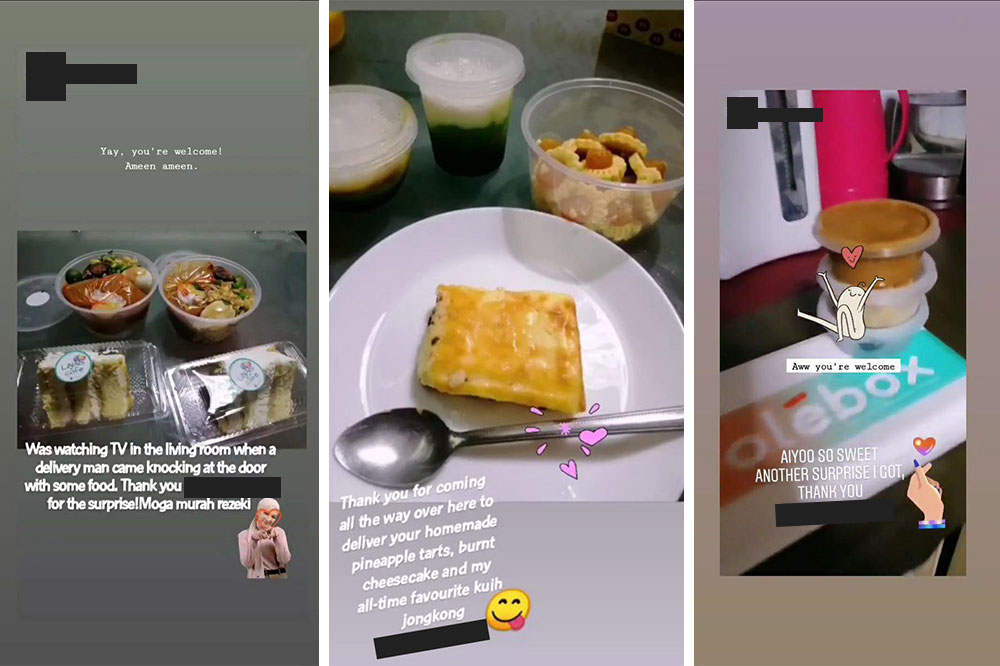 I also started baking about 2 weeks before Hari Raya, and drove over to drop the bakes off outside his house so we could say a quick hello. I made festive staples like pineapple tarts and kuih jongkong. The latter turned out to be his all-time favourite, which was a happy coincidence! He's not a picky eater but he loves traditional food, so this was on point.
Seeing him for that brief moment, while a relief, was still rather sad. It made the absence hit harder afterwards because we realised it could be a few more weeks of this extended break from each other. Regardless, the unfettered joy when he saw me was a small consolation. Seeing his face light up reminded me how much we constantly think of each other. That's something I think all couples, and even friends, should hold onto to carry their relationships through this time apart."
—F
Also read:
9 Singaporean Girls On The Joys Of Going Barefaced & Not Dressing Up During Circuit Breaker
5. She planned a virtual birthday celebration with his friends on Houseparty
"As someone who loves surprises, I like to surprise my friends and partner on their birthdays or whenever they need a pick-me-up. My partner's birthday falls on 13 April, but he refused to let me send things over to his house. Me being me, I ignored his request and sent over an Awfully Chocolate cake.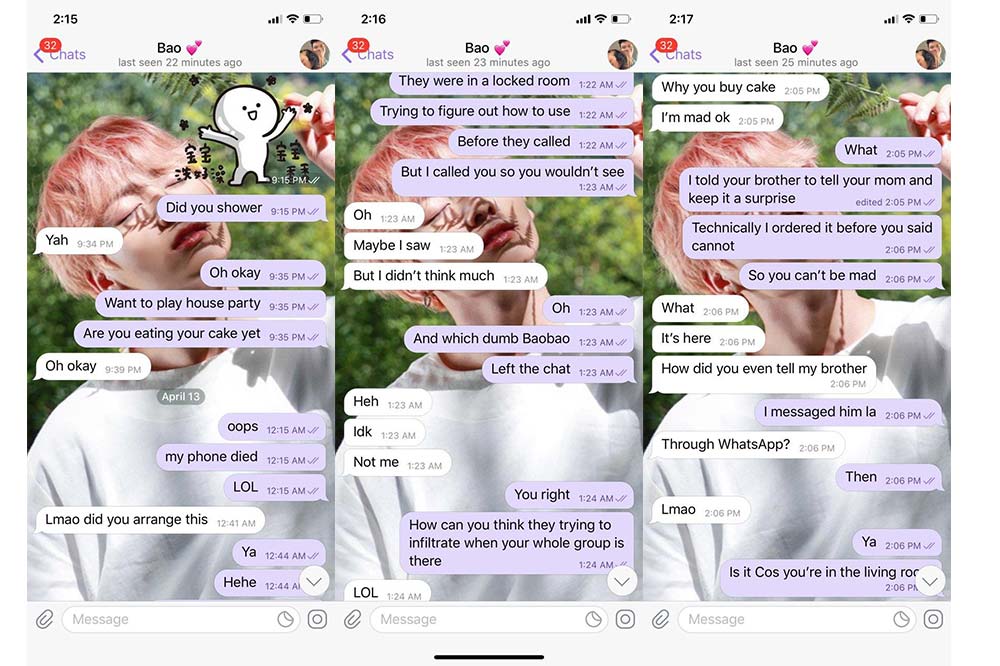 I didn't want him to spend his birthday alone, so I also secretly liaised with some of his close friends to virtually celebrate his birthday together. The night before his birthday, I tricked him into playing Houseparty with me. His friends entered the chatroom and surprised him. He thought that his friends had infiltrated our chatroom and, much to our confusion, left the chatroom immediately. We had to add him back and explain that it was a surprise. We then spent the night playing Houseparty for over 3 hours to ring in his birthday together.
Even though he didn't say much, I could tell that he had a good time catching up with his friends and definitely missed hanging out with them. I was happy that I was able to organise a mini birthday party for him and his friends even while apart."
—Joie Tan
6. He woke up at 5am to bake cinnamon rolls as part of a care package
"We were feeling stressed about university decisions in late April. It was a tough time for both of us. I'd gotten back into baking and had just discovered Grab Delivery. So I figured, why not send her a care package? I had enough ingredients to make cinnamon rolls, so I started at 5am to 6am before WFH.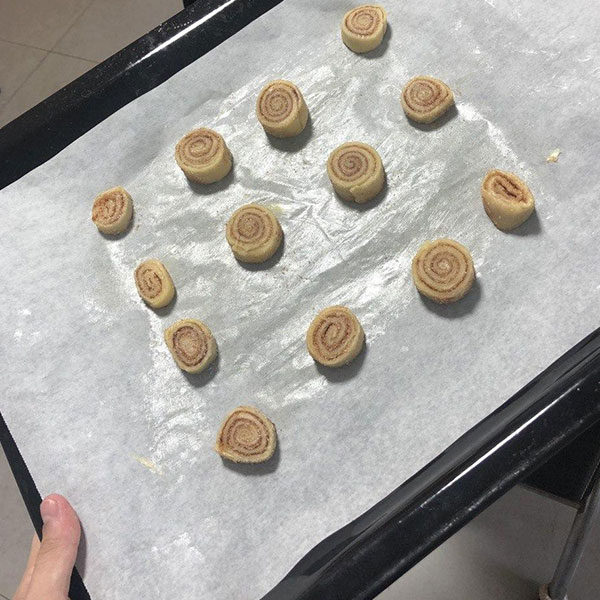 It was supposed to take less than an hour to prepare the rolls. But I accidentally used too much butter (something she doesn't know about), so the baking process ended taking 2 to 3 hours. In the time it took to bake, I assembled a care package. It consisted of a picnic blanket we co-own, a scrunchie she'd lost at some point at my house, random snacks, a plush toy and a letter.
She received it in the afternoon and we FaceTimed. After a week or 2, she sent me letters back, along with some stamps, because I've never mailed anything in my life and now is a good time to start."
—Billy Tran
7. He stitched together birthday wishes from his partner's family and friends into a video
"My boyfriend's birthday is in May. Obviously, the Circuit Breaker thwarted plans for a romantic weekend. But I still wanted to make it special and memorable instead of just sending over a cake.
Considering the unique circumstances we're living in, I decided to compile a video of his friends and family sending in their wishes through a video for a surprise.
I asked close to 40 of his family and friends to send over a 10-second-long clip each and stitched them together. Beyonce is his favourite singer, so I threw in a snippet of her singing "Happy Birthday" to the camera as a joke. I knew seeing everyone's faces again would make him feel less lonely during this isolating time too.
I wanted to see his reaction as he watched it, so we FaceTimed. He just kept giggling the whole way. He was clearly surprised, and nagged at me for bothering everyone to do this. I had to remind him to download and save the video, so we can always look back at it in the future."
—B
8. She sent him cookies to congratulate him on sticking to his workout routine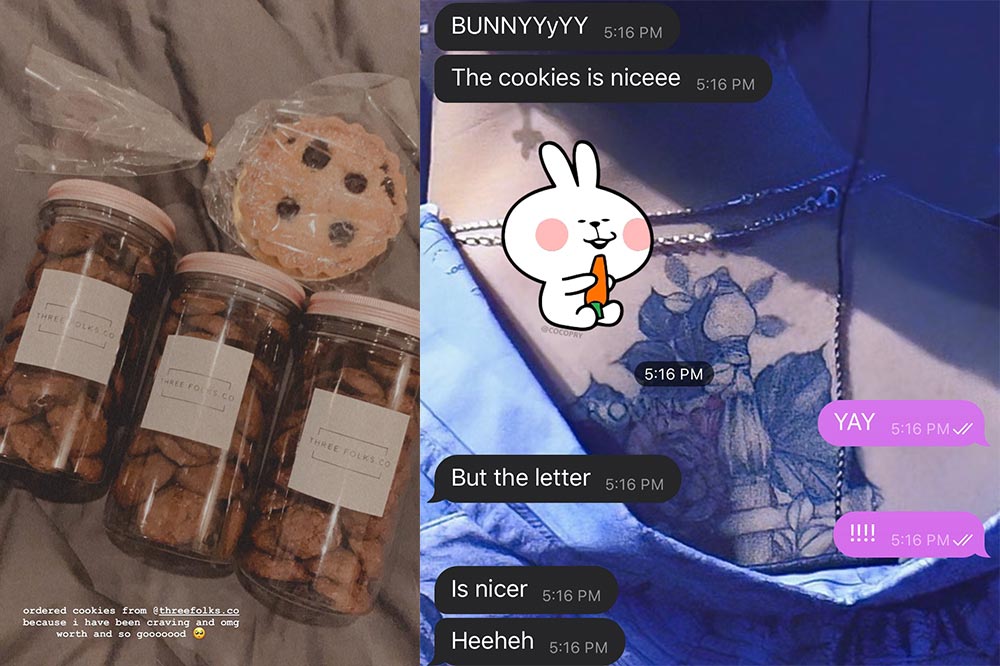 "I ordered cookies online (for myself and him) and sent a box to him with a note. It was my way of saying that I'm proud of him for sticking to his workout routine. I used to nag him about it because he wanted to do it throughout 2019 but was inconsistent. But during this CB period, he promised he'd work on exercising regularly and he did. I told him about the cookies but he didn't expect the letter.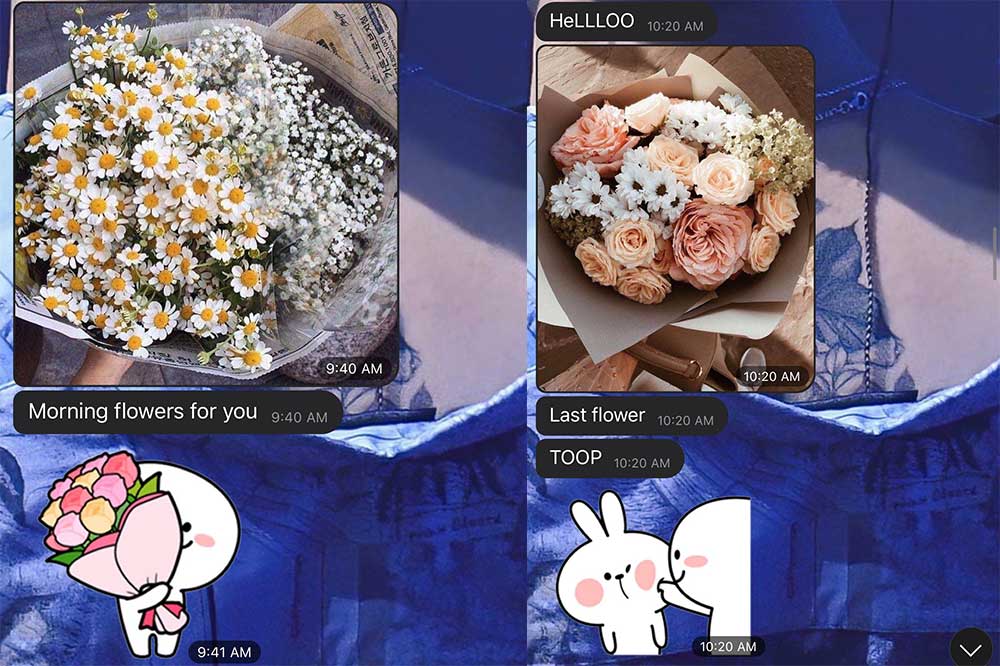 He also did some small things for me that I was very touched by. We have this thing where we give each other flowers on Telegram via a sticker pack. When we see each other IRL, we do the "giving each other flowers" action for fun. One week, he randomly sent me a photo of a flower and said, "Very long never give you flowers already." He'd saved all the photos in advance so he had one for every day of the week. Even if we can't do the action in person, he thought to send it over text and made an effort to do it.
These small actions are what I enjoy more than huge expensive gifts. We are both practical and rational people, so we don't usually make large romantic gestures. If we do surprise each other, it's little things that would mean a lot to the other party rather than something elaborate. It's remembering the details we mentioned in passing, like our favourite drink or what the other person said they were upset about the day before."
—Leah Shannon
These Are Some Creative Things SG Millennials Did For Their Partners During Circuit Breaker
When life gives you lemons, make lemonade. These Singaporean millennials show that not being able to meet your partner in real life can force you to come up with creative things that show your love instead.  
Also read:
12 Virtual Dating Ideas For Lovesick Couples In The Time Of COVID-19