Dating App Fatigue Is When You're All Swiped Out On Tinder
Like many millennials around the world, Singaporeans are also facing dating app fatigue. 
This is me saying goodbye… to that rush as a not-so-handsome stranger who looks nothing like his photo, touches my leg and laughs at something mediocre which leaves my lips. This is me saying goodbye to wondering how many other dates he has been on this week and if he will disappear from my Whatsapp and life, when this night comes to an end.
—Rose Goodman, Thought Catalog: This Is Me Saying Goodbye To Modern Dating
Like many good inventions, dating apps seem to fill a void. They allow for flirting where the pain of rejection can be contained within your phone screen. 
The avocado toast of dating apps, Tinder, seemed to revolutionise dating with its two-swipes-make-a-match feature—if you matched, it must mean you have chemistry and would hit it off right? 
No more pub crawling to hook up; no more awkward speed dating; no more guessing games. Or that's what dating apps seemed to promise. 
But things went south quickly. I try to understand from dating-app natives why they are feeling the dating-app burnout. 
Nicholas went on nearly 100 dates and found no one suitable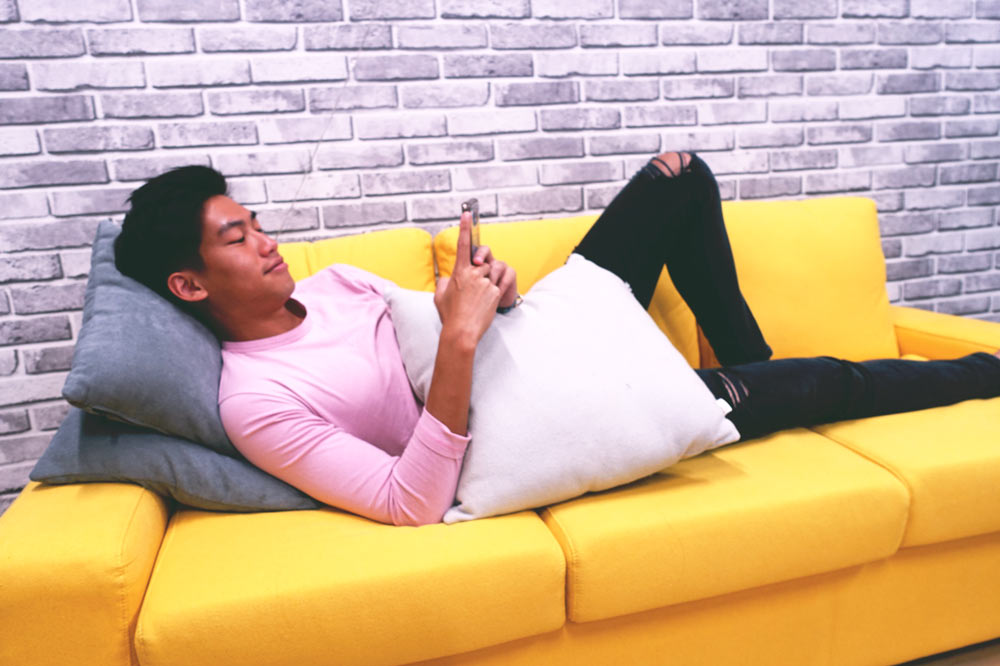 Nicholas, a third-year university student, lingered on dating apps for a good 5 years. Bumble, Coffee Meets Bagel,  Tinder; he tried them all.
The 24-year-old has been on close to a hundred dates but the experience felt more like Sierra Burgess is a Loser than 500 Days of Summer. 
He cites being catfished as one of the main reasons why online dating is tiresome. 
"Girls know the right angles to take, but in reality, they look different."
He's quick to admit that looks do matter. "Looks open the door, but personality keeps you there." Nicholas continues to tell me about how many girls were a disappointment on the first date. 
One ate fried chicken like a starving wolf while still craving for the cheese that topped another patron's chicken. He internally facepalmed and decided not to see her again.
He explains that sometimes, candidates that seem intelligent while texting turn out to be a total flop IRL. "Bimbotic girls turn me off."   
Once, a girl even asked him, "How does it feel to be catfished?" Inside, he was thinking, "But you are the one catfishing me what!"
He also got tired of people stalking his Instagram and deciding he is an F-boy before getting to know his romantic side. His pictures are an F-boy 101 starter pack but that is because he needs to hustle for his modelling career.
He once tried to be an F-boy on Tinder, matching with girls to show them a good time without strings attached, but eventually he chickened out. 
In an act of sobriety, he hit delete on all his dating apps, "I'm tired of dating; my career comes first."   
Kelly's Tinder matches just wanted to hook up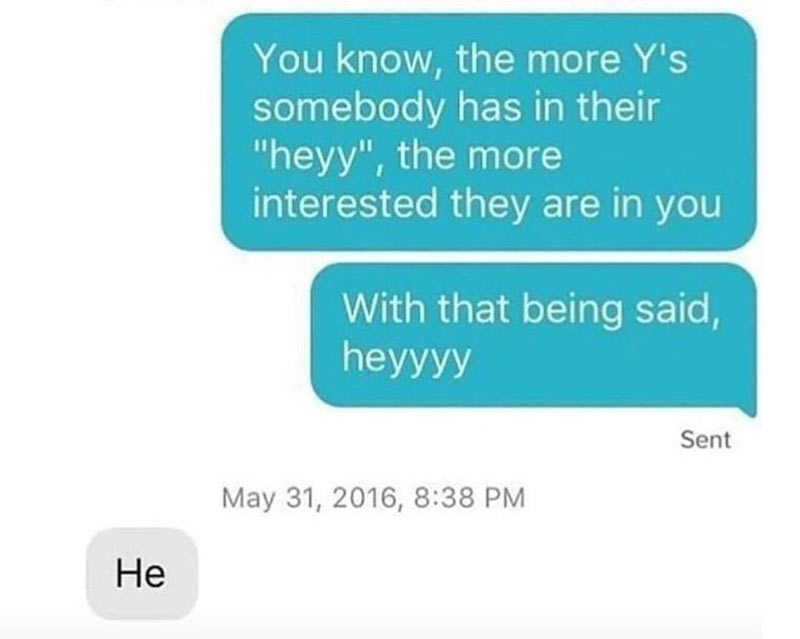 Source
Nineteen-year-old Kelly's* friend installed Tinder for her. At first, she was thrilled at the number of boys she could meet. Now, she tells me she is about to delete the app again for the second time.
"Fatigue usually sets in when you have certain expectations and they are not met." 
What she didn't expect was how many guys just wanted to get into her pants. 
One of the best dates she went on was with a 30-year-old business manager of a beauty brand. They chatted till late, admiring the view from One Fullerton on their first date. 
When it came to date 3, he suggested eating near his house.
After dinner, he floated the idea of going to his house. She kindly declined, asking,"I thought we were going for ice cream?"
However, at some point, she needed to use the restroom and the only toilet available was at his place. She told him, "Promise not to rape me," before agreeing to enter his door. After which, she requested, "Can you sit 1 metre away from me?"
The date ended with her picking out 3 of her favourite shades from a box of lipsticks as souvenirs. But he lost interest gradually after realising she wasn't looking for friends with benefits. 
Sometimes, she would meet guys from Tinder spontaneously before having an extended chat with them. After spending 20 minutes with one of those matches, she realised they didn't have chemistry.
"He was damn basic; wearing a Champion T-shirt, Stan Smiths and making lame jokes, wasting my time." 
Luckily, her best friend was waiting nearby in case the date flopped and she was activated to come to her rescue.
"I told him, 'I'm supposed to meet my friend and she ended work early." 
The date ended early too. 
Also read:
We Are More In Love With The Idea Of Love Than The Person We Are With
Kelly learnt that inviting a Tinder match to staycation is not a good idea
Kelly admits that sometimes she sends the wrong signals to guys, such as inviting them to a staycation. 
Her friends had booked her a room at Studio M Hotel for her birthday, and she just wanted to meet a guy for dinner.
After dinner, he came into her room and started taking off his pants. She got a shock and explained that it was not what she was looking for. They ended up lying down next to each other and going to sleep without sexual contact, "It was weird."
She attributes dating app fatigue to the sheer amount of guys available. 
"At first, you are excited because you can meet so many guys. But after you chat with a number, you realise you cannot focus. And then you focus on one and they disappear." 
Hisham feels that there is too much upselling on Tinder
Hisham*, 25, knows that dating apps are an upselling game. 
"I matched with someone who used hot pics of herself from 5 years ago and let's just say, she looks way different now. In isolation, it wouldn't have been a deal-breaker but her personality was so boring, I ghosted her."
After 4 months of swiping, matching and zhng-ing his profile, he's throwing in the towel.
"There's a limit to the amount of what's-your-favourite-TV-show questions a guy can take daily before he breaks."
He knows that dating apps are a game of constantly trying to beat the competition. "I think the implicit reality of dating apps is that it's the 80% chasing after the top 20%."
 "After a while, it gets tiring lah. Like you 'win' the battle but at what cost? People who only like an idealised version of you?"
Dating App Fatigue Experienced By Singaporeans
Dating apps seem to offer us love like a buffet spread. Pick and try the dish you like and if you don't fancy it, toss it away for something else. 
However, we often forget that we are all humans looking for love and validation. And of course, sometimes our sexual desires get the better of us. 
For better or worse, dating apps are here to stay. 
We can only control how we choose to use them and to spell out what we are looking for. There are other avenues to look for love that have been overshadowed by these apps in recent years. But our fatigue is teaching us to embrace them again. 
Ask a friend to introduce you to potential mates, audition for Zula First Dates, or slide into each others' DMs. 
But to dispel the potentially awkward catfishing, maybe it's best if we started chatting each other up at the bar once again.
Also watch:
Cover photo by Asher Mak