Going To A Concert Alone
Concert season is officially back in business after the pandemic, meaning the return of that adrenaline rush from seeing our idols IRL. As a K-pop stan, I was dying to finally see my ult boy group, NCT, perform live. My wishes came true when NCT 127 announced that they'll be performing at Singapore Indoor Stadium back in July. 
However, ticketing was only announced one day before the official ticketing sales, so I struggled to find someone to go to the concert with me on such short notice. See — I'm also an extreme extrovert through and through, and I'm not really fond of doing things alone out of fear of looking like a "loser". 
Most of my friends aren't NCTzens, aka NCT fans, and I was faced with the reality of the situation: to go for the concert alone or not go at all. 
I knew I would regret not going to the concert, but at the same time, the fear of being squeezed into a mosh pit all by myself striked utmost fear in my heart. Eventually, I decided to brave going alone, and realised it really wasn't as bad as I expected. Here's a personal recount of my experience, in case you're faced with a similar dilemma yourself. 
Looking for people to go for the concert together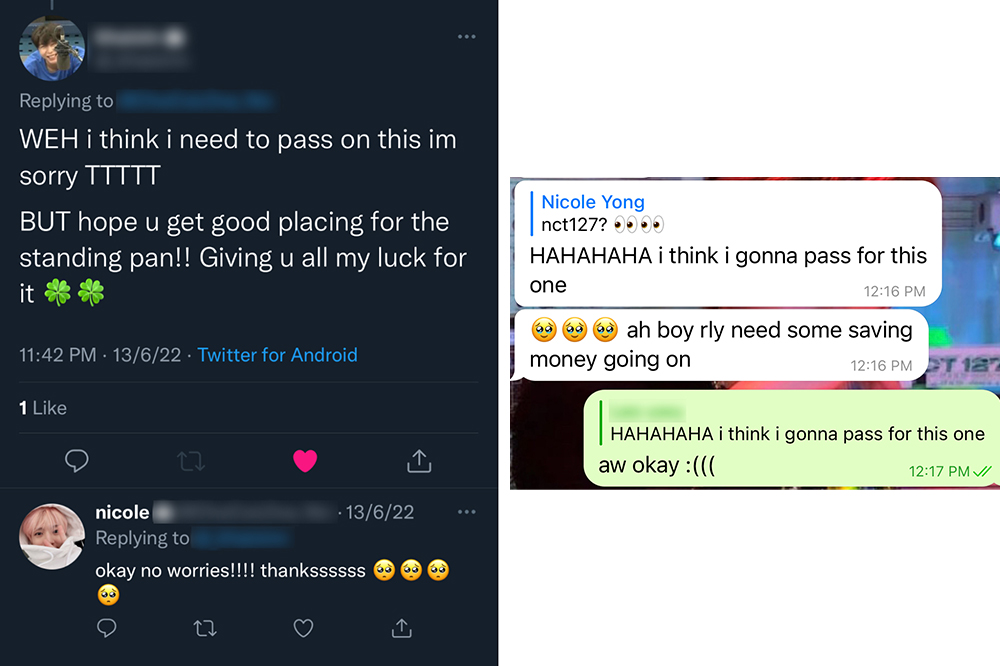 Reaching out to people through Twitter and text messages 
Here's the thing — I'm not a concert virgin. I've been to concerts before, just never alone. Right after the ticketing announcement, I was frantically looking for people to go with me. 
Prior to this "predicament", the thought of going to anything alone never crossed my mind. For me, it didn't even matter if the people I asked weren't close to me, I just needed someone to accompany me so I wouldn't feel alone. 
I even went onto Twitter to ask accounts I've not talked to before IRL — yes, that's how desperate I was to not go alone. Despite being stressed but also determined AF, I had no luck from everyone I asked. 
Succumbing to my fate of going alone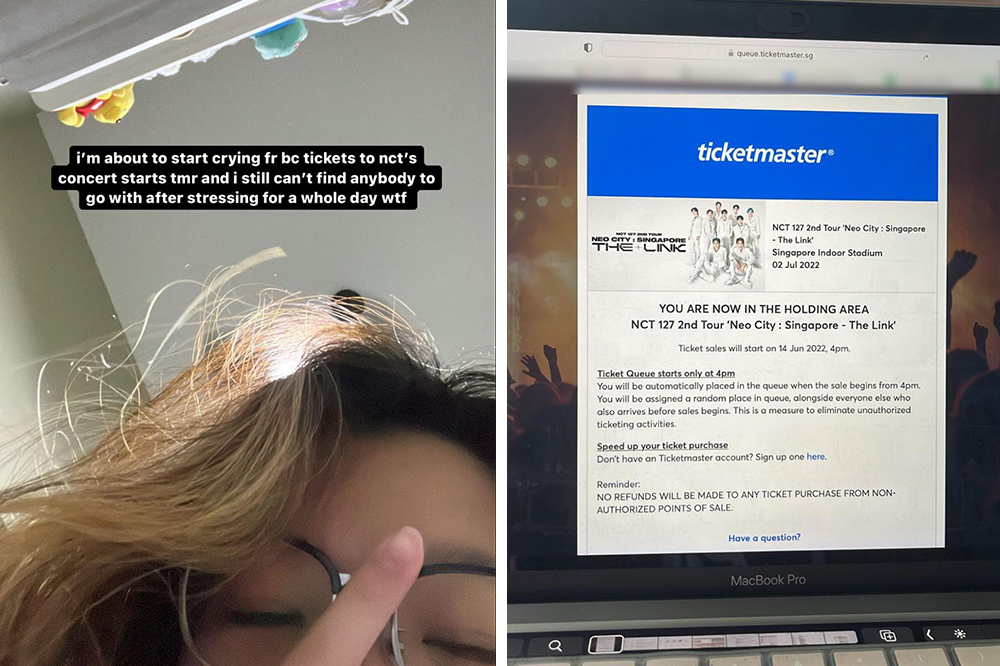 Sharing my insecurities on my Instagram story
Up until the day of ticketing itself, I was still looking for a companion. Unfortunately, after countless rejections, I succumbed to my fate — I had to wing it solo. There was no way I would miss out on seeing my idols live after all, and I didn't want to regret not going and having major FOMO
Ticketing day was also another stressful situation. Since it was my first time buying tickets by myself, I didn't have anybody else to rely on in case I couldn't get them.  
Pro tip: Open multiple devices or ask friends to camp on the website to help. If you're not working or in school, physically queue at the post office to get much better queue numbers. 
When buying tickets online, you will first be allocated to a holding area with a random queue number to enter the website. This number isn't based on first-come-first-serve, so even if you enter the website at the time of the ticket sales, others might still get their tickets before you. Whereas when you physically queue, there's no holding area to waste your time. 
After an excruciating tough battle online, I eventually got my ticket to the mosh pit! It didn't feel real until that moment, but excitement over seeing my idols live overruled my feelings of anxiousness.
Getting ready to enter the venue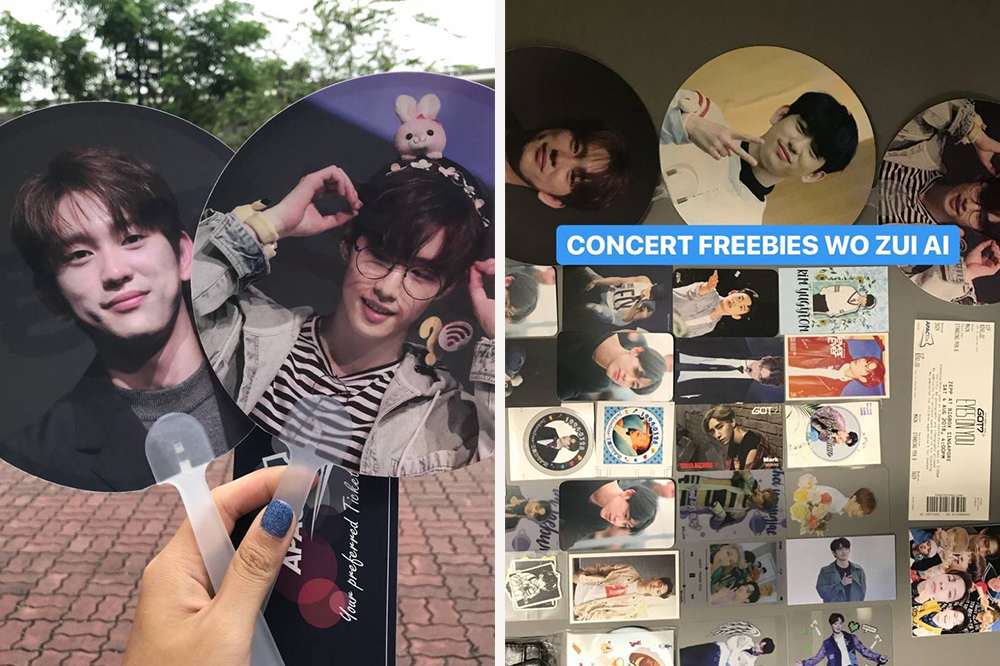 Concert freebies that I got from attending previous concerts
The day of the concert finally came, and I was thankful that I had a friend accompany me to have lunch near Singapore Indoor Stadium until it was time to go in. 
Pro tip: Go early for concerts, especially if you're in the standing pen. Arranging everyone according to their queue number takes up a lot more time than you expect. Plus, there's a cut-off timing for your queue number too, meaning if you reach past that timing, your queue number will not be valid anymore. 
Additionally, many K-pop fan sites will be there early to give out freebies. I didn't reach early for the NCT 127 concert, but based on my previous concert experiences, there's always a lot of photocards, fans, stickers and more to claim from generous fan sites. 
Which kiasu Singaporean doesn't like free stuff? All you have to do is a simple search on Twitter or Instagram to find out where fan sites will be stationed on the day of the concert.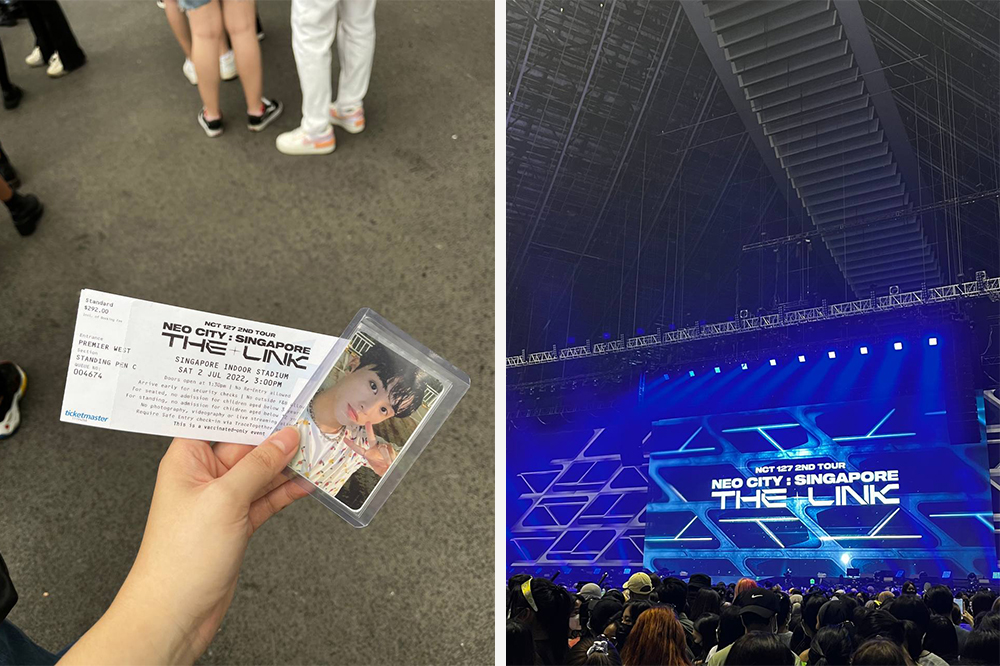 Bringing my photocard with me for emotional support while queuing
Here's another reason to come early — official merch. If you're looking to snag an official T-shirt or lightstick to commemorate your concert experience, the merch queue often has limited product quantities that you don't want to miss.
When it was time for me to join the queue, I felt a bit awkward and lost. Most people there had friends with them to talk to and pass the time. Meanwhile, here I was internalising my excitement, along with a photocard of my bias to provide emotional support — shout out to my Mark Lee photocard.   
Waiting to go in was the biggest obstacle. All I could do was use my phone to mindlessly scroll through social media, hoping that nobody would think I'm "weird" for being by myself. Thankfully, I saw a number of people who were alone in the queue too, which made me more encouraged to be brave by myself. 
Also read:
Why Eating Alone No Longer Scares Me, And There's Nothing Wrong With It
Being in the mosh pit alone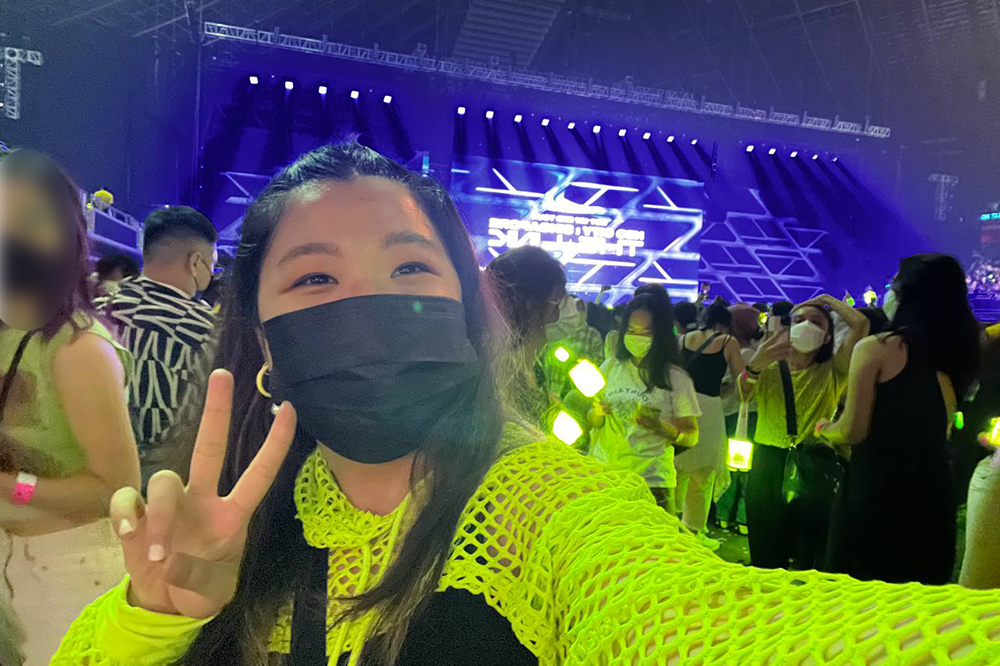 Me inside the mosh pit alone
Honestly, queuing alone wasn't as bad as my brain made it out to be. I made small conversations with other people, and there's nobody to really disturb or distract your peace. 
Here's the thing that not many first-time concert goers know about mosh pits — you have to stand inside, pressed up against other people for hours before the concert actually begins. 
With the overwhelming feeling of claustrophobia and body heat, I have seen instances where people have fainted even before the concert started. Not the ideal situation, considering that mosh pit tickets are so expensive. 
Pro tip: Bring sweets to chew on so you don't faint. You're not allowed to bring liquid into the concert, but you can bring an empty bottle to fill it up with the water coolers inside. If not, you can purchase water there too, though it might be a bit pricey. 
I've heard from a friend that Korean fans actually paste cooling patches that are designed for fever on their foreheads so they don't overheat, available easily at Daiso or Don Don Donki.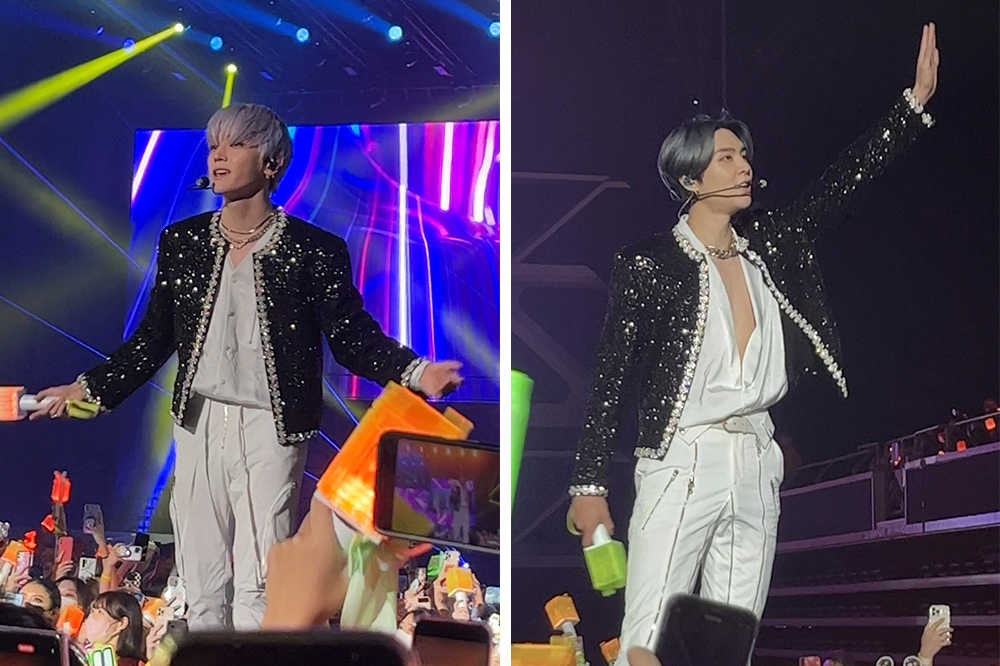 I saw all of my idols up close — it still feels unreal TBH
Since I only had me, myself and I in the mosh pit, standing my ground was the most important thing. Some people had terrible concert etiquette, like resting their hands on my shoulders, leaning on and pushing me. 
It also didn't help that I'm only 156cm, meaning my chances of surviving against people who were taller and bigger than me were pretty slim. But I am quite firm when it comes to not letting people push me around, voicing out whenever necessary.
Pro tip: If you don't want to fight crazy fans, you can actually get a better view of everything from the back. Though it's true that you are closer to your idols when you're squeezing up front, there are pros and cons to which position you choose to stand in. But safety should always be your priority. 
Also, for those who want to wear headbands of your idols, don't wear them into the mosh pit. Let me warn you firsthand — fans are vicious, especially if you're blocking their view. I've seen people mercilessly rip off others' headbands, so these should only be worn for the 'gram. 
When I finally saw my idols up close IRL, I immediately knew that I had no regrets going alone. I also realised that I could freely enjoy myself and express my excitement without fear of others "judging" me. This was unlike when I went to concerts with people I wasn't close to in the past, since it felt slightly awkward for me to scream and fangirl over my faves in front of them. 
Advice for others who are attending concerts alone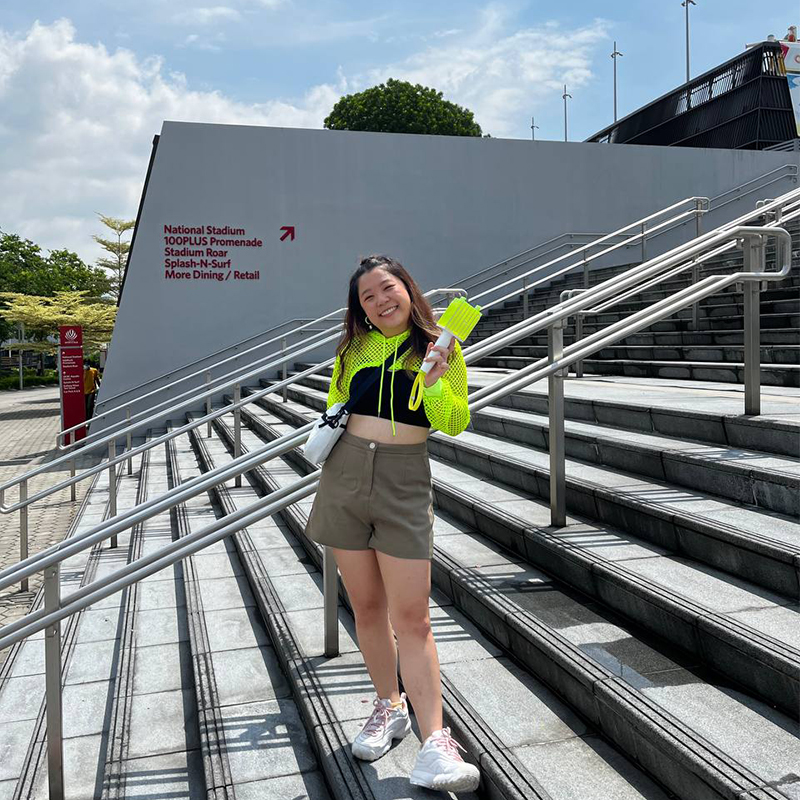 Not gonna lie, the post-concert depression hit immediately after the concert ended. I had so much fun that it didn't even bother me to see everyone leaving in groups while I was by myself. I was distractedly scrolling through all the videos and pictures I took during the concert, sending them to my friends and family. 
One major epiphany struck me: I would definitely do this again. 
If another artist I stan were to come to Singapore for a concert, there's no way I'm hesitating this much again to go alone. This concert with NCT 127 was hands down one of my best concert experiences ever.
I think it's important for people to note that other countries' concert restrictions aren't the same as Singapore's either. Some examples of these rules are the strict size limitations of sign boards and the banning of polaroid cameras. Make sure to read all the terms and conditions of the concert location before going.
Pro tip: Bring a transparent bag to store your belongings so that you can pass through the security bag check easily.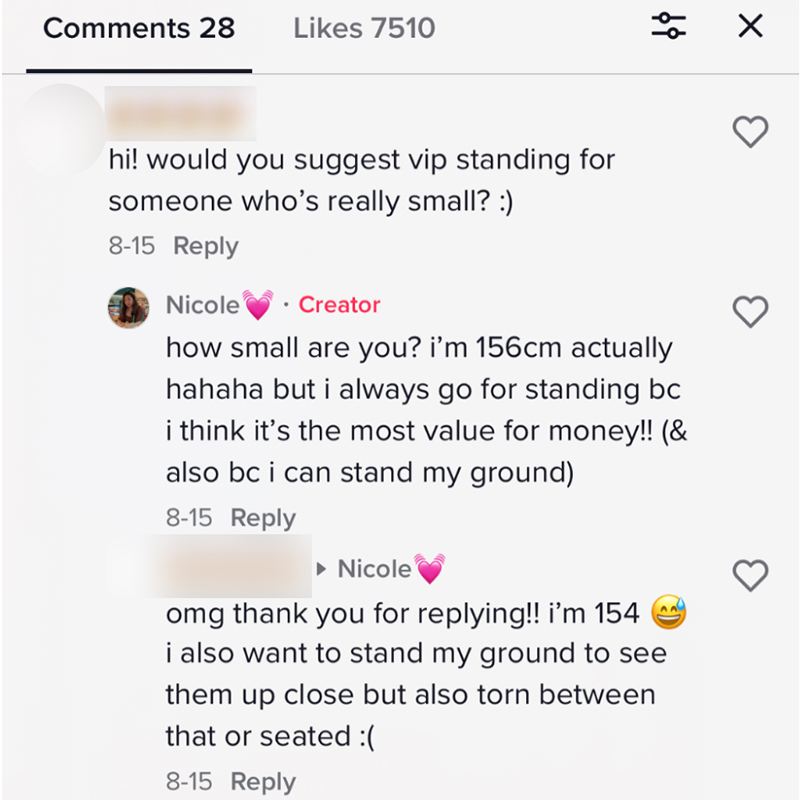 Strangers reaching out to me on TikTok
I posted my concert videos on TikTok and to my surprise, received messages from strangers asking me for advice. It was then I realised that there are a lot of people out there who really want to attend concerts and see their idols too — but the thought of going alone is holding them back. Of course, everything seems scary when you've never done it before. 
I'm grateful to have friends telling me that they were proud of me for going alone, even if they don't share my interests in K-pop. In fact, I now feel more encouraged to go for future concerts alone when the time comes. Mosh pit, we'll meet again. 
Even if you end up not liking being alone, ultimately, it's still an experience too. At least with the element of trying, there's no room for regret. You built up the courage to go, and that feat alone is something to be praised for. 
Attending A Concert Mosh Pit Along Taught Me To Let Go Of My Fears & Enjoy Myself Freely
I'm not gonna sugar coat this — from asking around for people to go to the concert with me to the stress of buying tickets and being in the mosh pit, everything intimidated me. Yet it felt so worth it in the end, because I didn't hold myself back and miss such a great opportunity to see my idols up close. 
My first solo concert experience after the pandemic made me feel more open and independent, and who knows — that might spill over to doing other activities alone too.  Hopefully, these tips and experiences will encourage those who are afraid of being alone to let go of your fears and enjoy freely too.
Also read:
Watching A Movie Alone For The First Time Helped Me Appreciate My Loneliness