Gucci x Doraemon
Earlier in July, Gucci presented a Doraemon bag as part of its Resort 2021 line-up. Now, the Italian luxury brand has released its full collaborative collection with the Japanese character. Consisting of 58 items in total, the Gucci x Doraemon collection sees your favourite blue cat gracing a selection of signature Gucci designs such as the Ace and Rhyton sneakers. 
Clothes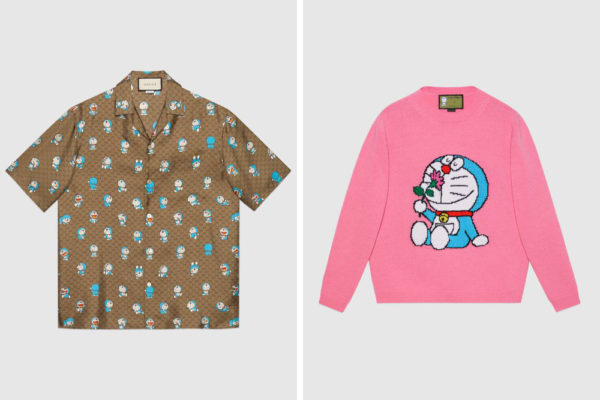 One of the key prints in this collection is a brown GG monogram print overlaid with multiple versions of Doraemon. It's splashed across bags, shoes, a phone case and clothes, including this silk bowling shirt. Pair it with the matching GG Silk Shorts for a stylish loungewear look.
The collection boasts 8 pullovers and 6 graphic tees. While many of them boast the Gucci logo and monogram, there are more unique pieces like the pink wool jumper above. It has a motif of Doraemon sniffing a pink flower that is sure to boost your mood any day of the week.
The Gucci x Doraemon collection also has 6 different jackets, including a reversible design. To show your love for the cartoon character, one side has the Doraemon pattern across the jacket with a plain collar. If you prefer a simpler, more subtle look, you can flip the jacket inside out to wear it as a plain jacket but with a Doraemon-patterned collar instead.
Also read:
Gucci's Doraemon Bag Will Bring You Back To Carefree Weekend Mornings Spent Watching Cartoons On TV
Bags
The Gucci Doraemon Bag made its debut during the label's Resort 2021 livestream show and now, it is available for sale. While the Large Tote Bag presented in July is suited for your shopping sprees, there are also smaller bags in this line-up for your essentials only. 
The Small Backpack and Mini Bucket Bag both have a singular illustration of Doraemon smiling widely in the middle. The other bags and wallets in the series have the patterned design seen throughout the collection.
Shoes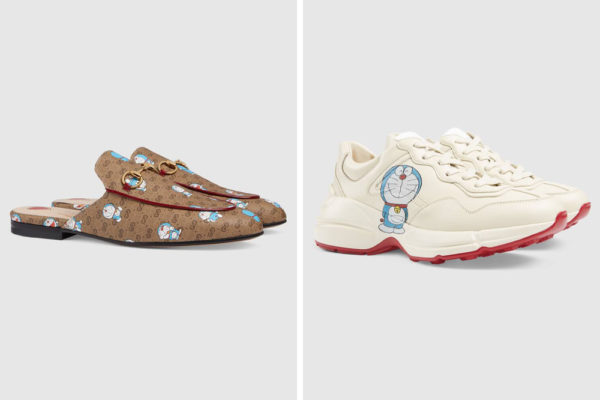 Aside from clothes and bags, this collaboration also brings about new takes to a few of Gucci's popular shoes. Doraemon decorates the Princetown slippers with his playful poses. He also makes an appearance on the Rhyton sneakers.
Gucci x Doraemon Has Over 50 Items From Clothes To Bags And Shoes
For a closer look at the full Gucci x Doraemon collection, check out Gucci UK's website. Prices range from £140 (~S$250.55) for a Silk Neck Bow to £3,960 (~S$7086.93) for a Medium Suitcase. The collection is already available for pre-order in countries including the UK and Japan, but for now, there is no word yet on when it will hit the shelves of Gucci stores in Singapore. Watch this space for updates, as and when we find out more. 
Meanwhile, you can take a look at the Supor x Doraemon multicooker to get your fix of the cat from the future while enjoying a hot meal.
All images: Source
Also read:
This Doraemon Multicooker Lets You Whip Up A Hearty Hotpot Meal For Your CNY Reunion Dinner