Hello Kitty Home Decor
It's been months since the term "work from home" became a reality for employees around the world. If you still haven't nailed your ideal home office set-up, this new Hello Kitty home decor collection might be just what you need to complete the aesthetic. 
Sanrio has collaborated with U.S. home furnishing store Pottery Barn's younger line, Pottery Barn Teen, on a series of Hello Kitty bedding and decor. You'll find plenty of workspace-friendly items in the mix, such as a pinboard, glass containers, table lamp, tray and more.
Storage
Instead of leaving your pens and pencils scattered all over your desk, this Hello Kitty Pencil/Brush Holder will help you stay organised in style. The minimalist white porcelain cup is in the shape of the standing feline. She's even sporting a gold bow for a cute and classy look. 
These Hello Kitty Lidded Glass Containers come in a set of 2, perfect for storing your washi tape and other stationery supplies. The gold lids are topped off with a 3-dimensional take on Hello Kitty's head and bow, and feature a hand-painted finish. 
For all your other miscellaneous bits and bobs, turn to the Hello Kitty "Hello" tray. The porcelain tray has a white glazed finish and is accented with a gold bow. You'll never have to worry about losing your hair ties, bobby pins or rings again. 
Also read:
9 Hello Kitty Home Appliances & Accessories For Sanrio Fans To Zhng Their BTO
Lighting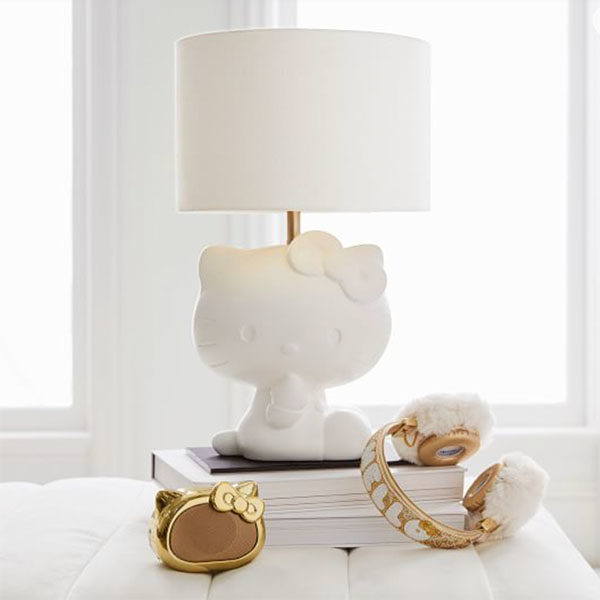 Light up your workspace with this adorable Hello Kitty Table Lamp. Hello Kitty's silhouette and the warm glow emitted from the fabric shade will keep you feeling comforted even if you're burning the midnight oil.  
Say goodbye to your boring ol' round mirror and welcome this Hello Kitty LED Vanity Mirror. Featuring a hand-stained gold finish and an outline of Hello Kitty, leave it on your desk or dressing table for when you need to freshen up right before a Zoom meeting. 
Pinboard
The Hello Kitty Pinboard features a linen fabric board outlined with a metallic gold frame in a semi-matte finish. The feline's signature bow has been turned into a mirror so the pinboard can do double duty. Pin up your to-do list, along with pictures of the colleagues you're missing while WFH. 
Bedding set
Lastly, this one's for those of you with work-from-bed set-ups. The Hello Kitty Reversible Jersey Quilt & Sham has Hello Kitty's face embroidered onto it. The bedding is also reversible, so you can choose between the grey or pink side depending on your mood.  
Furnish Your Workspace With These Hello Kitty Home Decor Items
These simple and luxe Hello Kitty home decor are perfect for Hello Kitty fans who like minimalist interior designs. The Hello Kitty home decor collection is now available on Pottery Barn Teen's website and is retailing from US$24.50 to US$209 (~S$33.26 to ~S$283.73). 
Unfortunately, Pottery Barn doesn't offer shipping to Singapore yet. However, you can try your luck via Airfrov, or check out our list of Taobao items to help transform your workstation into the home office set-up of your dreams. 
Also read:
11 Taobao Items That Will Transform Your Workstation Into A Stylish Home Office Set-up